10 Food Trends That Deserve To Die Slow, Painful Deaths
2017 was a tough year for a lot of us. We had to settle with the fact that a large orange Gremlin that someone fed too much Fox News and Diet Coke became president. We also came to the realization that like, 75% of men think it's cool to rub your shoulders or have lengthy convos about dicks with you at work. We felt a shiver of hope when black women literally saved Alabama. Then immediately fell down a dark hole of sad when net neutrality died.
Regardless, though, of the news both good and bad, we were faced with an alarming number of food trends this year. Some were okay (I see you, queso everything) but some were fucking stupid. Let us now reflect on these, our horrible food trends of 2017.
1. Burgers That Aren't Burgers
"Oh, I really want a burger, but not like, a burger." Oh I totally know what you mean, 2017. Let me fetch you a burger on an avocado bun, or a burger made of sushi, or a burger made of ground-up legumes and beets. If you want a burger, eat a fucking burger. It ceases being a burger when you get rid of one of the two main ingredients—burger and bun. If I see my medium rare beef burger sitting on a "bun" of avocado, I will tell you to go fuck yourself. Then I'll find a bun, sandwich all that shit together, and enjoy it the way it was made to be enjoyed.

2. Activated Charcoal
If you love eating the ingredients of a face mask, this trend is for you. For some reason, activated charcoal had a moment this year—we assume pushed by doctors who concluded that too many people would try to drown their sorrow in alcohol this year and needed a way to soak up the poison. The cool thing is that this turns everything black, but the not cool thing is that it makes birth control less effective, which we basically need to live.
3. Matcha
I know you love your matcha soy latte and your matcha hot chocolate and your matcha colored hair and your matcha matching socks, but fuck off. Do you know what matcha actually is? It's a type of green tea that blah blah can help boost your memory and improve cholesterol, but to most of us, it was just a weirdly sweet, chalky tasting substance that made us look cool at Starbucks. Hard pass.
4. Unicorn And Mermaid Shit
Apparently, 2017 became a 12-year-old girl and everything had to embody a nightmare starring Lisa Frank and pastel Care Bears. That horror bled over into our coffee this year, and I for one hope to never see it again. My hatred also applies to the differently named—but same concept—Mermaid anything. When you crave artificial coloring, lack of flavor, and sugar flavored sugar, this is what happens. This is why we can't have nice things.

5. The Instant Pot
This year, we were faced with what would happen if we fed meth to our slow cookers. The answer was the instant pot, and I think everyone over at Bon Appétit and Food & Wine collectively jizzed themselves over the sponsorship dollars that poured in when they declared this the biggest culinary wonder of 2017. Is it cool to cook eight different things in one vessel? Yah. Is it cool after a week when all I want is some spaghetti and Rao's? Not really. You will use this once, just like the wine aerator you were spurred to buy in 1998 and the spiralizer you scraped dollars together for in 2009.
6. Fucking Stupid Oreo Flavors
You know what ISN'T necessary? Improving on something that literally already makes a billion dollars (I assume) per year. Is it good to expand a little and see what you can convince stupid Americans to buy? Yah, totally. But branching into flavors like FRUITY PEBBLES and COCONUT CRÈME or even fucking JELLY DOUGHNUT are 100% unnecessary and an insult to the very people who inhale sleeves of these chocolatey godsends nightly to take the pain out of everyday life. Leave me my dignity, Nabisco.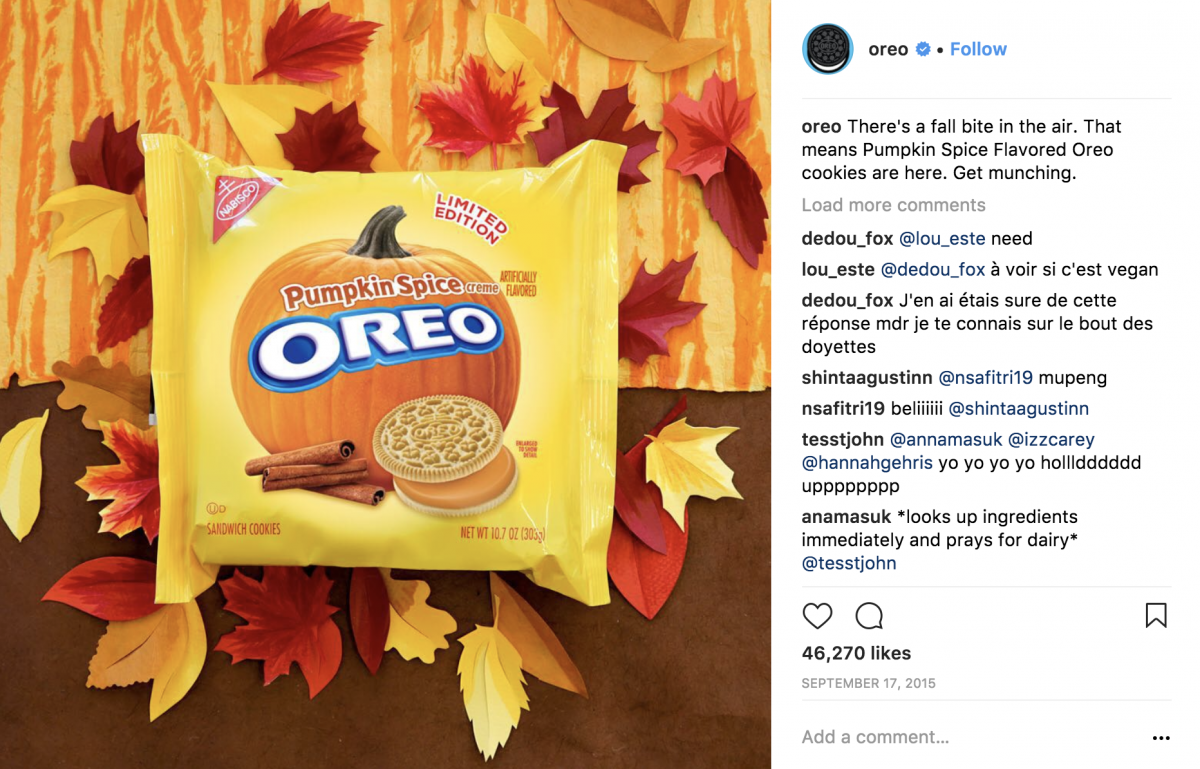 7. Cauliflower
"I LOVE SHITTY PALE BROCCOLI," said no one ever. Can we collectively come to an agreement that cauliflower rice, potatoes, pasta, pizza crust, coffee, chocolate, hope—whatever—needs to stop? I love carbs, and I know you do, too. There's literally no reason to pretend you're enjoying a big bowl of smooshed and sculpted wet vegetable matter over the fettuccini Alfredo you actually wanted. And if you're crazy enough to actually make a time-consuming cauliflower pizza, then you should be committed.
8. Cloud Eggs
Remember this shit? It popped up around January/February of this year, and it's just as stupid now, nearly 11 months later. Cloud eggs are what happens when you have too much time on your hands decide to beat and fluff the whites of an egg without disturbing the yolk. Do you know how time consuming that is? Do you know how not impressive it tastes? Picture an unsweetened meringue with an over easy yolk in the middle. I'll take my avocado toast elsewhere.

9. Ube And Other Purple Shit
If you missed the purple trend, it's okay because I slept my way through most of it. This purple yam from tropical parts of Asia was used in desserts all over my Instagram feed. I won't be sorry to see purple shit go, although Pantone seems to have a different opinion. Sidebar: the color of the year sucks. Nobody likes purple.
10. Avolattes
This one came and went in a flash—and for good fucking reason. It's exactly what it sounds like—a latte served in a fucking avocado. STOP. Put my coffee in and around my mouth and stop trying to combine breakfast trends.

7 Healthy NYC Lunch Spots That Aren't F*cking Salad Bars
There's something about lunchtime in New York City that's just so tough. I mean, the line at every salad bar within a 20-block radius is more painful than starving till dinner, and as much as we love our Sweetgreen, sometimes we just need a break from salad. Like, if Chrissy Teigen can eat fried cheese for lunch, we can have our raw kale hiatus. In the meantime, it can be tricky to find good lunch spots that are healthy and affordable, so we tried like, every restaurant in the city and found the best ones around. If you're looking for a healthy lunch that won't make you hate yourself, try out these spots:
Westville isn't new or particularly trendy, but the menu is amazing and the ingredients are healthy, so we're down to keep going back. However, they don't take reservations, so you should probably go during an off hour to avoid waiting in line with a bunch of bloggers debating between the dijon brussels sprouts or the Asian bok choy. Either way, Westville has a ton of options for anyone, whether you're hardcore dieting or literally just want a burger and fries. If you're trying to be healthy but don't want a salad, get their grilled chicken, salmon, or veggie burger, and their list of vegetable sides is longer than Caitlyn Jenner's memoir. You won't leave hungry.

Usually when someone suggests getting a poke bowl for lunch, it's a hard no. I mean, I'd rather die than eat raw salmon out of a tin that looks like the clearance bin at Sephora. Luckily, we've found a gem that actually makes poke bowls classy, and that gem is Chikarashi. Unlike most poke places in the city, Chikarashi isn't buffet style or gross, so you just order something off the menu and don't have to waste your time choosing ingredients to go in your bowl. The genius behind this place is the former executive chef of Neta, Michael Jonh Lim, and there's a reason for the long lunch line. Chikarashi even offers seared toro, which you won't find at any other poke spot. Right now they're only on Canal street, but apparently there's a NoMad location on the way, and we're pumped about it.

If you love the taste of curry but won't admit it because Indian food is unhealthy AF, meet your new Indian bff, Inday. Inday is build-your-own bowl style, and all of their food is antibiotic-free, local, and organic. Their slogan is "Good Karma Served Daily," and we're totally on board. Inday is all about healthy food with good vibes. Their traditional Indian flavors will destroy the bland salad you've been eating everyday, and the food is legit healthy. Think cauliflower rice, coconut tahini, golden curry chicken, and herb quinoa. For dessert, get their dairy-free dark chocolate avocado cocoa bowl. Sounds funky, but don't knock it till you try it.

Mulberry & Vine is one of those places that are perfect if you're out to lunch with the healthiest friend you have, or the friend who would rather die than eat a salad. You basically make a plate or a bowl, and you can pick a protein and sides. They let you sample anything before you get it, which is a huge plus since we tend to have commitment issues. In terms of ordering, people love the chicken and salmon, but the tofu is also amazing if you're vegetarian. Plus, the roasted sweet potatoes with coconut oil are low key crack. Like, better than sweet potato fries.

If you're vegan, vegetarian, or just need a break from your regular salmon avocado roll, Beyond Sushi offers amazing plant-based sushi rolls that are super healthy, obviously. First of all, they use black rice and six-grain rice instead of regular sushi rice, and their rolls are filled with roasted veggies, tofu, and really interesting combos. I mean, your lunch will literally look like a rainbow-colored sushi platter, so it may seem slightly extra, but the food is actually really good. They have a few locations in Union Square, Chelsea Market, Midtown West, and Herald Square, so there's definitely one close to you.

Bluestone Lane is one of those West Village Instagrammable spots with Free People models and Australian food bloggers, but don't let the crowd deter you. I mean, at least it's not tourists, or even worse, families with small kids. We love Bluestone because the dishes are super simple and not boring at all. Like, I think they have a salad on the menu, but people only order that to add some color to their Instagram. The avocado smash is obviously a go-to, but if you're feeling adventurous, go for the portobello mushroom toast with pesto or the Balthazar toast with ricotta and berry jam. You could also just order everything and convince your friends to split it with you.

When Union Fare first opened, everyone thought all they served was a croissant that looked like the result of a one night stand between the gay pride parade and a Funfetti cake. But after everyone finally got over the photogenic 5000-cal baked goods, people started realizing The Hall at Union Fare is actually pretty healthy without making you feel like you're eating a bowl of rabbit food. If you're into cute toasts, the avocado smash and banana berry toasts are really good, and if you want seafood, we recommend the tuna tataki or salmon skewers. The brussels sprout flatbread is amazing if you want to split with friends and pretend you didn't realize it came with bacon on top.

La Croix Has A New Flavor And You're Gonna Want To Buy 100 Cases Immediately
It's no secret that betches live for LaCroix. It is bubbly calorie-less deliciousness in a can and they make tremendous mixers and come in a shit ton of flavors. What more could you ask for in a beverage? We even ranked them by betchiness to help you make a wise, informed, non-shitty decision. You're welcome, btw. Of course, the regular suspects were all at the top: pamplemousse (or grapefruit for English speakers) and all the Curatés. Fucking duh. But then they went and released tangerine La Croix and fucked up our list because holy shit it's good. Like incredibly good. But instead of re-doing the whole thing and it being the exact same list with one addition, we're just gonna tell you everything you need to know about the yummy new can on the block.
First things first, it's not THAT new to some peeps in "select markets" *cough* LA and New York *cough*, but, just like everything that starts in the cool cities, now it's becoming mainstream so we can all have it. Unless, of course, you live in bumfuck nowhere and don't have a Whole Foods nearby or anything. Actually, that's not even an excuse. You can order La Croix on Amazon. If you're not drinking it, that's on you. Sorry.

If you like the citrus flavors—which you do, because they're the best chasers—tangerine is about to be your shit. Like, if you're married to orange or lemon—fuck, maybe even pamplemousse—tangerine is bound to be your new sexy, free-spirited mistress. In terms of flavor, tangerine finds herself (yes, it's a girl) somewhere in between having no taste at all and being so sweet you feel like you're having a watered down Mountain Dew. It's bright and fresh, and is hands down one of the bubbliest, which is key to achieving prime LaCroix status. Looking at you, coconut.

But I know what you're all wondering: 1) What's the best alcohol to mix tangerine with? Great question. I personally recommend vodka or tequila. Vodka because duh and tequila because it's like a little spin on a marg but it won't make you fat, and 2) Where would it fall on the betchy La Croix ranking? That one is a lot harder. On the one hand, it's my new fave flave. But I'm having a hard time taking the crown from the OG effervescent treat, pamplemousse. So let's just say this… It's def in the top three. Sorry lemon/lime, looks like you may have just gotten a demotion.