Where's The AAPI Representation On 'The Bachelor'?
Let me start by saying: I love love. Love can open new doors, help you see things in a different light, and completely change your world. I believe that everyone deserves a shot at experiencing true love, and finding the partner that makes them feel like the best possible version of themselves. And I'm all in—my entire career is built on helping others find their person.  
So yes, I'm a romantic. But when it comes to Asian dating in the U.S., I'm a frustrated romantic (though, not a hopeless one). As a longtime fan of The Bachelor franchise, I've tuned in every Monday (now, Tuesday) to watch live love in action. I love the romantic gestures, the fantastic dates, the proposals, and even the friendships that develop between contestants. But after nearly 20 years of watching the show, I've got to ask, where are the Asians at?!
Even though Asian-Americans are the fastest-growing ethnic group in the United States, Asian contestants are rarely seen on dating shows. And when they are, they're disqualified early on or made out to be drama-seeking villains. Tammy Ly, perhaps the best-known Asian franchise contestant, was continuously framed as a pot-stirrer by the editors and producers, despite being there for the same reasons as everyone else—to look for love. 
The phrase "reality TV" in and of itself is an oxymoron. We all know that what we see on screen is not a true reflection of life. There's a lot that goes on behind the scenes and in the editing room that turns normal interactions into the dramatic, tension-filled scenes we love to watch. It's easy to brush it off like it's completely unimportant, but what we see on TV and in movies matters, even if it's not completely true to life. 
In a period of time when Asian hate crimes are at an all-time high, we cannot stand by and ignore how the things we see on the screen perpetuate the real and terrible things happening to Asian people in the United States—on the street, in office buildings, and yes, on dating apps.
How many Asian women have been reached out to on Tinder with fetishizing, dehumanizing pick-up lines? How many Asian men have been told, "sorry, I'm just not into Asian guys"?
The true, lived experience of Asian people in the United States cannot be viewed as separate from the storylines we see on TV. Positive media representation alone cannot solve every problem, but it's a critical first step in ensuring that Asian people are seen as human beings, who are deserving of respect, empowerment, and love, just like everyone else. 
It's why I founded my company. I know what it's like to be a member of the diaspora: I am so proud of my Japanese heritage and the beautiful culture that comes along with it, but it can be a challenge not to feel othered when living in the United States. I believe so strongly in the power of love, and am empowered by the amazing community of other diasporic Asians that I have been able to connect with.
I am proud that the community I have been able to cultivate runs counter to so much of what we see on television. My friends and colleagues are not the side characters we are relegated to on television, nor are we the self-hating characters who turn their backs on our culture and resent their parents' accents and upbringing. We bring together the best parts of our cultures while remaining whole and proud.  
So this is what I ask: Let's think critically about the media we consume. Are the Asian characters on your favorite show playing into harmful, dangerous stereotypes? Are they purposefully villainizing female Asian characters, or emasculating their male Asian characters? We're no longer settling for crumbs when it comes to Asian representation. 
And to my Asian community: Don't give up hope on finding your person. Find ways to build your community and find friendships. Not only will that make you feel more fulfilled, but opening up your network can help grow relationships with people who value your culture, and have morals that align with yours. We're fortunate to have such a strong community here. Use that to your advantage when dating and seeking out relationships.  
Bachelor Nation, if you want to talk about casting, I'm happy to help find your next Bachelorette. And Tammy, if you're reading this: We're in your corner, don't let the haters (or the Bachelor editors) get you down. 
Image: ABC/Craig Sjodin
What Happened With Greg On 'The Bachelorette' & Why Everyone's Talking About Gaslighting
Despite the varying casts and locations, there are a few constants viewers can count on in The Bachelor and The Bachelorette. The lead delivers emotional, dramatic monologues (occasionally through tears) about making sure each contestant is tHerE fOr The RiGht rEasOns, but spoiler alert: they rarely are. While some contestants are able to be more subtle about their goal to ultimately become FabFitFun partners or start a podcast, others' fame-chasing aspirations get exposed. Another point that happens season after season without fail? There's always someone who, mid-filming, seemingly forgets that the entire premise of the show revolves around one person dating multiple suitors. Fueled by confusion and jealousy (and perhaps the desire for more airtime), that contestant has an on-camera breakdown that's equal parts perplexing and cringey.
This season, Greg Grippo has proven to be both of those contestants, after a confusing exchange with Katie Thurston and rumors about his acting past surfaced. Greg, who ABC described as "the full package" and "handsome, kind, vulnerable and serious about wanting to settle down," might be less of the full package and more of a wolf in sheep's clothing, depending on your interpretation of Monday night's episode. Fans and Katie alike fell for the New Jersey resident on night one; he received the first impression rose and melted our screens with his steel-cut bod and perfect locks. In the second episode and first one-on-one of the season, he shared an honest conversation with Katie where they bonded over the shared trauma of losing a father. 
But, in another spell of predictability, it turns out the frontrunner may have been a secret villain all along. Greg introduced himself on the show as a marketing sales representative, and although he only listed a Bachelor's in marketing at Saint Michael's college on his LinkedIn, he also studied at the prestigious William Esper Studio, a NYC acting school. In May 2019, Greg posted a shot standing outside the school, writing in the caption, "What a journey. Forever grateful for these last two years."
Bachelor Nation, upon learning Greg might be an actor: 

Was Greg for real, or was acting like he was falling for Katie just method acting? His premature, confusing exit from The Bachelorette has lead some fans to wonder if this was just an audition for his next role. It all went downhill during the franchise's cheesy excuse for hometowns, when Greg tearfully professed his love for Katie. Her immediate response? "I just love looking at you." Yikes.
Now, anyone remotely familiar with The Bachelor/ette knows the unofficial rule that prohibits saying "I love you" until the end. Moreover, Katie made it clear from the beginning that she didn't want to tell any of the guys she loved them until the finale. Nonetheless, she admittedly could have responded with something deeper than "I just love looking at you". Katie, the man is crying.
The gaffe sent Greg into a tailspin, first outside the hometown date, and then later, when he went to visit Katie at her hotel room. Even though Katie did everything except explicitly tell Greg that he would be her final pick (and before their confrontation, she told his mom, "Greg will 100% be at the finale, I have no question") Greg later told Katie, "It was never about a rose for me this week, and I was never asking you to confess your love to me. All I was asking for was Katie" He maintained that Katie had dismissed his feelings: "When I said I love you, I felt like I was telling it to a stranger," he said through tears. While, in her hotel room, Katie scrambled to figure out what, exactly, she'd done wrong and repeatedly apologized, Greg insisted, "I feel like you're giving me a surface level response." Ultimately, he decided that Katie had "put up a wall" and said her "whole demeanor shifted". After telling Katie "I've never given up on us", he left the show. As a reminder, before said scene, Greg stared straight into the camera and said, " no question in my mind that there can be an engagement at the end of this." 
Some fans were quick to point out that Greg's behavior looked like gaslighting, and Katie herself shared a thread of posts about gaslighting on her Instagram stories in the wake of the episode. According to the National Domestic Violence Hotline, gaslighting is a form of emotional abuse "that causes a victim to question their own feelings, instincts, and sanity". There are a variety of tactics an abuser might use to gaslight their partner, including countering (which the NDVH explains as "questioning the victim's memory of events"), trivializing ("making the victim's needs feel unimportant"), and forgetting or denial (pretending to have forgotten things that occurred or denying they did). 
Bachelor Nation had a lot to say about the confrontation. John, one of Katie's contestants who was eliminated on night two, wrote on his Instagram stories, "Along with many of you, I watched last night's episode and was shocked by some of the behavior I witnesses , namely the words and body language exhibited by Greg. Watching these actions get defended (and therefore normalized) strikes me as extremely unhealthy and a step in the wrong direction." He also pointed out, "It should be noted that an individual can be a good friend to some while simultaneously being harmful to others in another relationship; friendship cannot be an excuse to blindly defend someone's behavior."
Bekah Martinez, a contestant on Arie Luyendyk's season, wrote on Instagram, "I know he opened up to her and she said 'the wrong thing' but shutting down emotionally being like, 'wut, nothing's wrong why would you think that' and then punishing with silence is emotional manipulation 101."
Not everyone agreed with the assessment that Greg's behavior was manipulative, though. Andrew, another fan favorite on Katie's season, posted to Twitter, "I care for Katie and Greg very much," adding, "their love was sooo real! Hate to see Katie like that." Tre, another contestant of Katie's, tweeted, "Greg/Justin/Blake slander won't be tolerated on my TL." The next day, he followed that up with, "Katie slander OBVIOUSLY won't be tolerated either."
Others surmised that maybe this was all an act on Greg's part. Luke Stone, a contestant on Hannah Brown's season, tweeted, "I'm getting the strong vibe that Greg is sabotaging this on purpose. If you aren't into her be a man and tell her you want out rather than gas lighting the situation. My theory: Greg got further than he expected/wanted and pushed the eject button real quick."
While it seems like Greg has left the show for good, we'll have to wait until Monday to see what this all means for Katie—and co-host Tayshia Adams told Ryan Seacrest that the rumors about Greg's acting past "will be addressed". One thing we do know? After the Men Tell All, the Bachelorette told UsWeekly that her ending is "a first, for sure" and "a shocking ending". However it shakes out, for now, fans can take comfort in knowing that she's said, "ultimately I'm very happy with how everything turned out."
Images: Craig Sjodin/ABC; Giphy
The Best 'Bachelorette' Recap You'll Ever Read: There's No Crying In Bash Ball
Hello, Bachelor fam, and welcome back to your regularly scheduled Bachelorette recap! Yes, it's the day after July 4th and, yes, ABC had the audacity to air a new episode while their audience is violently hungover. It's fine. I'm only having to pause the episode every three seconds to pray for death and chug my Gatorade. IT'S FINE. 
What Do We Really Know About Blake?
Going into this week, Blake's sudden entrance into the house is still a massive storyline. If you'll recall, Blake scored the final rose at last week's rose ceremony despite the fact that 1) he was not present at the actual rose ceremony, and 2) he received his rose whilst wearing nothing but a retainer and his underoos, like a seventh grade boy before he crank calls his math teacher. To each their own, Katie, I suppose. 
Katie is worried that the men won't take the news well and goes to host Kaitlyn for advice. Kaitlyn had a similar experience during her own season of The Bachelorette when she severed the Bachelor Mansion's magical wards and let an evil spirit slither into the house in the form of Nick Viall. They both shrug and laugh like, what's the worst that could happen lol? And I think they're forgetting what a scourge on this earth Nick's time on the franchise was. Do we not remember how ABC held us hostage while Nick terrorized our television screens for four different seasons of this godforsaken franchise? I still have nightmares about him licking his lips in those chunky knit turtlenecks. That's the worst that could happen!!

Truly haunting
Katie decides that the best way to deliver the news is gently, with great care and respect for all the parties involved. So, she gives Blake gets the first one-on-one date of the week and tells the guys not to worry, there's just some "great chemistry there" that she wants to explore. Katie! Talk about shooting a man's horse! Look, I'm not going to tell you how to do your job, but this crowd that looks like at minimum they each drink 12 scoops of pre-workout a day. Their nerves are so frayed they'd jump that lamp if Katie expressed too much interest in it.  
On that note, Katie takes Blake for a romantic horseback ride. It's all fine and good but I literally cannot stop thinking about Blake's job description. His bio reads "wildlife advocate" which is a vague and meaningless title that at the very least suggests he's an animal person, AND YET, this big wilderness guy cannot get that damn horse to heel to him for him. He's like, "how do I make it go??" How do you make it go? What are you, a 16-year-old girl crying through her dad's lesson on driving stick shift? I thought this was your profession! Horses are like, the most domesticated wildlife out there! He looks about as comfortable with the wildlife as I do trying to fill out a W2 form. 
I was so disturbed at how bad he is with animals that I even looked him up on Instagram to see if I could glean some more details on his job title and, let me tell you, it's suspect at best. There are several selfies of him posing with various wild animals but all the images look cropped and are mostly up-close shots. What are we cropping out, Blake? It makes me wonder that if the full frame of these photos would reveal that he's actually handling these animals under the supervision of a petting zoo. Like, are you a wildlife advocate or do you just occasionally donate money to your local humane society? What is the truth? And what else have you been lying about, Blake? If that's even your real name!
View this post on Instagram
You be the judge…
I've been struggling to understand Katie's immediate connection with Blake. As I've said before, Blake just doesn't do it for me. And by "do it for me" I mean every time he speaks, my libido physically shrivels up and dies. But they do seem very into each other. Conversation flows between the two of them in a way that's sort of unnatural for a first date. At dinner he asks Katie about her journey to sex positivity, and I think I get his appeal even more. Once again, Katie rehashes her traumatic nonconsensual sexual experience and Blake handles it well. I'm sure he wasn't at all expecting her to launch into that kind of deeply personal territory, but he just goes with it in a way that feels genuine and supportive. 
And it works! By the end of the date they're making out on an abandoned dance floor while a band, that looks like they would pull a Jennifer's Body and sacrifice a high school cheerleader for this not to be the make-or-break moment of their career, strums along in the background. All is right in The Bachelorette universe. 

A Brief Break In Your Programming To Gush About Andrew S
Andrew S gets the other one-on-one date of the week, and I could not be more pleased. I'll admit, when Andrew first graced our television screens and his immediate play to enter the house was to lie his ass off to Katie with that fake English accent, I was almost certain I would hate everything about this guy. But week after week he continues to impress me. When the Thomas situation last week had the rest of the guys in the house acting less like romantic, supportive partners and more like angry TV dads in a sitcom about teenage daughters dating, Andrew was the only one to suggest that Katie is a grown-ass woman who can make her own decisions about the men she chooses to spend her time with. We love to see it. He's just consistently non-dramatic and it's refreshing to say the least.
Also, that smile: 
View this post on Instagram
That being said, their date is trash. I'm not sure who planned this excursion (and I'm using that term loosely here) but Andrew deserved so much better. While Blake got a scenic horseback ride and a romantic picnic, Andrew is tasked with answering riddles hanging from a tree like he's an extra in Pocahontas and this is Mother freaking Willow. Twinkle lights don't make this a romantic date, ABC!
At least Andrew is a good sport about all of this. He answers all of the tree's riddles, even the ones that force him to pretend he finds Katie's dance moves sexy. They both seem to think they have a lot in common, even if the only thing they've agreed upon thus far is that they don't hate Sundays and both like brunch. Can you imagine if one of them admitted that they hated brunch? How un-American.
ANDREW: I'm so glad we're doing this, I'm finding out we both have so much in common!
WHAT THEY HAVE IN COMMON: 

Honestly, I've made a relationship work off of less. 
During the dinner/drinks portion of the evening, their connection seems to deepen even more. Andrew opens up about his strained relationship with his dad and his past struggles in interracial relationships. When he talked about how his ex was hesitant to have children with him because she wasn't sure she wanted mixed children, my heart actually broke for him. Okay, Andrew is my favorite. I don't even want him for Katie, I want him for me. Andrew, if you're reading this, I am reading every single one of my DMs and would answer literally anything you sent me even if it's only emojis. 
There's No Crying In Bash Ball
Shortly after Katie announces Blake's arrival in the house, she decides to test the tenuous grasp the men have over their own emotions by hosting a group date disguised as an athletic thunderdome. Smart. Clearly, she's choosing not to pick up on any of the palpable hostility in the house. Katie, is it really in your best interest to throw a bunch of guys whose diets consist of red meat and protein powder into a televised Greek gladiator games? Hmm? Think about it. 
Of course, ABC can't come right out and call it that. No, this is Bash Ball, a totally-not-made-up  game that appears to be a distorted version of both rugby and basketball that has two main purposes: to humiliate and to maim. The humiliation aspect comes when the men are forced to don wrestling uniforms with shocking hem lengths and Katie's name all but bedazzled on their asses. I've seen less revealing workout sets in the clearance section of a Bebe. Michael in particular looks scandalized at how he's going to explain to his young children that daddy showing his nipples on live television is somehow a noble quest for love. Good luck with that, buddy.

Then there's the intent to maim. Every season ABC awards the most bloodthirsty of producers for coming up with some demented sports situation that results in bodily harm and outs at least five of the contestants as sociopathic. This season is no different. Perhaps no one has revealed their true self more than Hunter. The bloodlust radiating off of him on this field right now is absolutely astonishing. He looks like the type who psyched himself up in the locker room by pounding raw eggs and and violently masturbating to Braveheart.
HUNTER PREPPING FOR THIS GROUP DATE: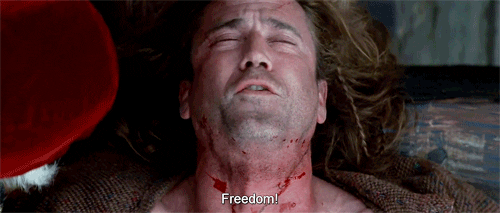 And what do you know? Hunter is the first to draw blood on the field when he tackles the sh*t out of Virgin Mike and practically bathes in his blood, he's so high off the carnage. This results in the rest of the men losing all semblance of self-control and launching into uncoordinated attacks all over the damn field. At one point Single Dad Michael gets injured. It's a harrowing moment in which a man who survived the death of his spouse is curled in the fetal position, shaking uncontrollably and looking like he might vomit into the grass, as production has the audacity to zoom in on his ass to emphasize the bedazzled hearts on his uniform. Jesus Christ, ABC. Show some respect!
It turns out Michael is fine—he's not hurt, he's just above the age of 26! But Katie still calls off the game and invites everyone to the cocktail portion of the date. While the rest of the guys look humbled by their behavior on the field, especially after Michael reveals that today is his dead wife's birthday and instead of grieving privately, production has gussied him up in a slutty wrestler's costume and then let loose a hoard of men on him who suffer from anger management issues. Greg is openly sobbing by the time Michael is done speaking. Meanwhile, Hunter is manically rubbing his hands together and is like, "yeah today was fun wasn't it?"
What's crazy is how Katie doesn't see any of this. Though he comes off as overly aggressive and cocky towards the men, he uses the opposite strategy with Katie. Sure, he's the same guy who got a hard-on from watching a single father practically dislocate his shoulder, but look Katie, he has pictures of his kids! Damn. He knows how to play the game, I'll give him that. 
Tensions in the house remain heightened between Hunter and the rest of the men during the rose ceremony. Even though Hunter snagged himself a rose at the group date (seriously, how did that happen?), he still wants more alone time with Katie. He doesn't give a sh*t about the men in the house who don't have a rose. He's William F*cking Wallace and he'll do what he wants. 
Cut to James, aka Box Guy, looking less than thrilled. Honestly, I can't take this dude seriously either. He's decked in all black, from his turtleneck to his skin-tight pants, with only a tiny chain necklace to break up his outfit.  I'm shrieking. He looks like a Rocky and Bullwinkle villain. 

I mean… the similarities are uncanny. 
All of this tension and drama ultimately leads to nothing. The episode ends with a regular ole rose ceremony. Boooo. Here's who moves on to next week: Blake, Hunter, and Andrew S., Greg, Aaron, Michael, Connor the Cat Man, James/Box Guy, Justin, Mike, Brendan, and Tre. Until next week, pals!
Images: Giphy (3); @andrewzspencer /Instagram (1); @blakemoynes /Instagram (1)
The Best 'Bachelor' Recap You'll Ever Read: I'd Like To Speak To The Manager
Well, fam, after 10 grueling weeks we're about to find out which woman won Matt's heart. We've come to know the best and the worst of these ladies. The best being a girl who carries a dildo around in her purse like it's a pack of gum and speaks entirely in email jargon (no, thank you for your feedback, Katie) and the worst being a Gangs of New York-style living situation where absolutely not one person has heard of concealer before. But at least I do know these ladies. I can't say the same for our pal Matt. In fact, his entire personality can be condensed into "guy who wears turtlenecks." He's really given us so much to root for.
Last week, Matt whittled his search for love down to two final women: a sexy, long-limbed school teacher and a girl who dressed as a sexy school girl for last year's Halloween party. I paraphrase.
MATT: There's Michelle—beautiful, smart, kind Michelle. And then there's Rachael…
MATT TRYING TO EXPLAIN HIS CONNECTION TO RACHAEL:

Hmmm… whomever will he choose?
Michelle Meets The Parents
Okay, is anybody else just tired? I know we need to go through the whole song and dance of Matt introducing the girls to the parents and having one last great date with them, but must we really? Like, just freaking pick one already, I don't need to watch you sit in a hot tub one more time. *takes one deep, calming breath* I suppose the show must go on, which means Michelle is up first!
Michelle walks into the room and Matt's mom is already weeping. She heard "school teacher" and saw she was wearing a woolen force field that covered all skin from the chin down and knew this girl would be absolutely perfect for her son. Matt's brother is also a huge Michelle fan. He's asking her all these deep questions about her family and past relationships and she's delivering clear, sincere answers without one single "like" or reference to TikTok.
Okay, yikes. Red flag that Matt's brother has never seen him in a relationship. Michelle asks him about Matt's last long-term relationship and his brother is like, "by long-term do you mean more than one date after slipping into a girl's DMs?" Christ. The man is almost 30! This is just further proof that he's not ready for an engagement at the end of all of this. If his last real relationship involved him checking "yes, I like you" on the back of some looseleaf math homework in grade school, then Matt has no business proposing in 90 minutes.
By the end of this date, it's so clear that Michelle is absolutely the right pick here. Matt himself seems shocked that a girl like this is here and interested in him. He actually asks her in stunned disbelief how she's still single after she absolutely kills it with his family. Hmmm, I don't know, Mattie. Maybe it's because men see that her TikToks involve less nudity and more fun multiplication hacks for her students and run for the hills from all that healthy, wholesome energy.
Rachael Meets The Parents
I already have a feeling Matt's family is going to hate Rachael. For one, she's daring to show her clavicle before noon. BOLD. For another, she's wearing a look of barely contained disgust at all that rouge on Patty's cheekbones. You can tell she's itching to get that woman a makeup wipe and some subtle highlighter before this date goes any further.
Rachael, of course, shows up to meet Matt's family wearing her standard muted palette of whites and blacks, and sporting that trademark middle part. Wow. Rachael is seemingly more committed to this middle part than Matt is to any relationship on this show.
Matt's brother gives Rachael the same brotherly interview he gave Michelle, but it just hits different. For one, Michelle is just so much more poised than Rachael. She's also a few years older and it shows. At one point, Matt's brother asks Rachael how many serious relationships she's been in and it's like, five years ago she was still in SAT prep courses! How many do you think she's been in??
MATT: So, mom, what do you think?
MATT'S MOM: She's… cute.
HAHA. That is something my mother says right before she verbally fillets them in the car ride home from Applebee's. In all fairness, Matt's mom seems skeptical that Matt is going to end up with either of these girls. She's like "so… you're actually going to go through with this?" He better, Patty! If I don't see an engagement at the end of this I will riot. MY GOD, THIS ISN'T A DATING SHOW. If Demi Lovato can give engagement the ol' college try, then so can Matt!
Matt's mom is like, "feelings aren't forever!" and, boy, what a pep talk to give your son a mere 24 hours before a proposal. It's cute that they think Matt has any choice here. Don't they realize his Bachelor contract was signed in blood, as are all deals with the devil?
Matt's Quarter-Life Crisis
I have never in my life seen a man spiral faster after a conversation about commitment than what I'm witnessing on my screen rn. Kidding! I have asked a guy "what are we?" before and watched the look of abject terror take hold of his face as he grabbed his pants, keys, and wallet, and backed away slowly toward the door.
MATT: My mom said feelings come and go… do you think that's true Chris?

Chris is genuinely stunned by this conversation. You can tell he's yearning for the day when contestants were jumping fences they were so in love, instead of having to placate these lukewarm feelings emanating from Matt.
CHRIS HARRISON:

View this post on Instagram
God, this is depressing. Matt's trying to moonwalk out of his engagement obligations and I'm not having it. THIS IS THE BACHELOR. You signed up to make the biggest mistake of your life for our collective enjoyment. You can't just go back on that sacred agreement because you don't feel like it!
After that bleak conversation with Chris, Matt resolves to soldier on through the rest of his Bachelor duties. I'm sure it has everything to do with his feelings for Michelle and Rachael and nothing at all to do with the fact that ABC producers have his entire family sequestered at an undisclosed location. Carry on.
Similar to how I drag out menial tasks like emptying the dishwasher or answering my boss' emails, Matt is going to drag out his Bachelor experience by taking the women on one last one-on-one date. For Matt's date with Michelle, he makes her rappel off the roof of a building to wine and dine on what appears to be an abandoned airplane tarmac. Seriously, how come Matt only offers romance if your life is challenged in the process? Did he forget what franchise he's on? This isn't Final Destination, Matthew! Why does he keep trying to kill these women? So he doesn't have to choose? "Whichever one doesn't break her neck gets to be my wife!!"
Michelle calls Matt her "teammate" and okay, yes, I am crying in the club. She is way too good for this clown. She gifts him with (probably) hand-sewn jerseys and Matt is, like, eyeing all possible exits, he's so freaked out. The more jerseys she hands him, the more massive his panic attack gets.
MATT: Michelle, I think I want a girlfriend, not a wife…
MICHELLE:

I love that Matt flees the scene crying. I'm sorry, but what did you expect from her? You just spent six weeks saying "my wife is in this room" only to take it back when it really counts. If she wanted a boyfriend she would have gone on that Zoom date with her coworker's weird cousin Alan.
In the end, the jerseys are Matt's undoing. His idea of commitment is watching your Instagram stories daily, but cropping you out of his profile picture for his Raya account. He can't keep leading Michelle on like this, so he gives her the axe.
At least Michelle got to go on a date, though. Rachael put on these hot leather pants for absolutely no reason. Matt is too distraught over his breakup with Michelle to go on a date with Rachael. Instead, he sends his errand boy Chris Harrison to deliver the blow. Chris tells Rachael Matt needs "some space." What's left unsaid is that Matt's "space" is in the Delta lounge as he books the next flight back to New York.
While Rachael falls into an abyss of despair, Matt has his own demon to face: Neil Lane. At this point, it's clear that Matt would rather singe his own eyebrows off than embark on a lifelong commitment with a human woman, but he humors Neil Lane with this ring appointment all the same. Neil hands Matt one of his bottom-shelf rings, and Matt acts like he just touched one of Voldemort's horcruxes, but instead of brushing the scraps of the soul of a genocidal sadist, he's just visibly recoiling at the feeling of all of that commitment. Perfectly normal behavior for a man in love.
The Proposal
Matt tells Rachael to "meet him at the lake for answers" and that is how every episode of My Favorite Murder starts, not the beginning of an eternal partnership between two people. But good luck with that, girl!
Also, lol at ABC trying to make us think that Matt will actually use that ring. I think Matt knows he could get away with not proposing to Rachael. Like, she's still buying gel pens to doodle in her Lilly Pulitzer planner. She would definitely be chill with just dating.
Speaking of Rachael, she shows up to the final rose ceremony dressed like the dragon Shrek fought to rescue Fiona. For someone who has dressed exactly the same for the last nine episodes, I'm shocked that this is the lewk she chose to be bold with.
Matt says rushing into marriage is what ruined his family, and it's like WELL WHY ARE YOU ON THIS MF SHOW THEN?! This is what ABC gets for signing a TikTok star to be their lead. I'm so angry I would like to take an entire jug of kerosene to his most beloved turtlenecks.
Matt's like, "I want to commit to you, but not in like any real, lasting way, you feel me?" And she does!! She signs up to be his girlfriend! This is insane! I bet she's super glad she survived that skydiving accident for this happy ending!
After The Final Rose
Even though I am full of unending rage at just having wasted the last 10 weeks of my life watching—in real time!—a man sift through his roster until he got bored, I supposed I will tolerate one more hour of this worthless f*cking show. That said, I'm not going to recap minute by minute because, frankly, I don't have it in me. So, here are the highlights:
Michelle Is Doing Just Fine
If you kids thought I was angry before, let me tell you, my rage boiled to cataclysmic levels when Michelle revealed that Matt refused to see her after dumping her. Before she left the Bachelor hotel, she asked production to ask Matt if she could have a few minutes with him to get some closure and, in classic f*ckboy fashion, he chose to ghost her instead. Now, if you'll excuse me I'm just going to take a page out of Beastly and place a witch's curse on Matt's unblemished body until he learns how to properly treat a lady.

ABC Isn't Racist, They Just Cast Racists, Okay!!
After a chill 120 minutes of finale footage and 15 minutes of Michelle updates, ABC finally, finally addresses the racism scandal. I still can't believe the first Black Bachelor picked a woman who probably doesn't understand how harmful the phrase "all lives matter" is, but here we are. Emmanuel takes over the hosting gig for the evening since Chris Harrison is currently in timeout. He gets into it with Matt about being the first Black Bachelor, and I cannot express enough how relieved I am that Matt is having this conversation with an actual person of color and not Chris' milky white ass fumbling over production's pre-written interview cards that start with: "so, my brother, how are you?"
Matt seemed genuinely hurt and upset by the Rachael scandal. One thing that stood out in particular to me was when he said his goal was to seem approachable to audiences. He wanted to normalize seeing Black bodies on TV and he was constantly aware of trying to seem nonthreatening. I'm glad he said that because, honestly, I've been pretty disappointed with Matt this season. Week after week he failed to show any emotion or personality. He seemed to gloss over any particularly heavy or dynamic conversations by pasting on a bland smile and giving the women vague, generic praise for their honesty. Now I'm wondering if that was a calculated move to seem, as he said, "less threatening." If that's the case, then I'm genuinely sad. It feels like we missed out on seeing some real, authentic conversations from people of color for the sake of placating The Bachelor's white audience.
I thought Rachael did an okay job at sitting in the hot seat. She stuck to script and took accountability for her actions, even with her entire body breaking out into stress hives. I can only imagine she hired the Olivia Pope of PR teams to get her through this only mildly unscathed.
Rachael And Matt Are No Longer Together
Matt revealed that after finding out about Rachael's past, he couldn't in good conscience continue to date her. He said she needs to do some "work" on her own. I think that's probably for the best. Though Rachael gave us some actionable items for how she'll be putting in the work to better understand racism, she thought that after three weeks she'd learned enough for Matt to take her back. That doesn't really feel like putting the work in, more like putting on a show so your S.O. will be less mad. At one point Matt says he doesn't want to be "emotionally responsible for her tears" and that's the most real thing that he's ever said on this show. It sucks that she's hurting, but it's not on him to accept her guilt and pain.
That said, I would also like Matt to work on himself. The man had no business getting engaged on this show. I don't want to see him on another Bachelor franchise until he's stopped using those turtlenecks as security blankets. If I start seeing some neck, I'll know he's emotionally ready for an actual relationship.
And The Next Bachelorette Is…
Katie and Michelle! That's right, double trouble, people! We will get not one, but TWO Bachelorettes. Katie's season will start filming immediately and will air during early summer. Michelle's season will film over the summer and air sometime in the fall. No matter that with the vaccine rollout we might actually be able to enjoy a summer spent amongst people—Mike Fleiss is having none of that. Chained to our living rooms we shall continue to be! Until then!
A Bro's Breakdown Of Clare's 'Bachelorette' Contestants
I'm Jared Freid. I'm a 35-year-old comedian who loves The Bachelor and The Bachelorette. I love them so much, I yell at every episode on my Instagram stories. As you can imagine, my father is very proud. Very. 
This is my preview for the season. I've been doing this preview for both shows for half a decade. When I first started writing this, Instagram couldn't pay a person's rent, and ABC would only give me a picture, a name, an age, a hometown, and a profession. That was my preview, and I'd make massive assumptions based on this small amount of information. Then ABC was like, "Let's interview these whackos," and suddenly my job got easier. Maybe too easy. The contestants began to give weird answers, and you could always tell who came on the show with aspirations to say to their IG followers, "a lot of you have been asking…" The last couple seasons, they've changed it to a short bio written by an intern who recently posted that we're all in this together from their parents' beach house. 
So, join me as I make massive assumptions based on very little (now secondhand) information. It's like sitting with me while wearing sweats and screaming "Yuck" at what people wore for an awards show red carpet. Please enjoy and follow me on Instagram where I'll be making fun of these crazies every Tuesday night. (Before you start this season with me, you can also check out the last two seasons in my highlights.) Let's have a fun season.
Clare Crawley / Tayshia Adams

With every decision about the Bachelor and Bachelorette, there are two things to break down: the decision itself, and the audience's reaction to that decision. Clare Crawley was a FANTASTIC choice for the Bachelorette. The show always needed an older Bachelorette so that it would force the contestants to be a bit older, making the show more realistic. There was just very little that was real about 31 25-year-old men looking to settle down after receiving 100,000 new Instagram followers. And because of that, we'd get a lot of contestants who could barely make it through the first night without becoming a cartoon. They'd basically fart on their way out of the limo as they flashed their Instagram handle where they were selling, "Yup, I just farted" T-shirts. What you'll see from the men below is that they're mostly pretty serious guys with serious jobs who all wrote something about being "ready"—and it's all somewhat believable. So it wasn't that I loved Clare as much as I loved how she helped the show. 
Well, the audience reacted to Clare weirdly. She was never really enough. She was never old enough. Every time I made the JOKE about her age, I'd get one person who was like, "38 ISN'T OLD!!!" But what people choose to forget is that she is old FOR THE BACHELORETTE. Even still, that storyline hit a little too close to home for some people. You could tell that Clare being considered "older" was a bit depressing for someone single around the same age who didn't have a whole show revolving around setting them up. 
Clare was also never representative enough. Sure, she yelled at Juan Pablo, but it's at least a year too late for her to be the face of #MeToo. The audience had moved on to wanting more diversity, and choosing Clare, a white woman, felt like sidestepping that movement—as if they'd searched every nursing home in the country to avoid picking a woman of color (again, I'm kidding. I meant "assisted living facility"). 
Lastly, Clare wasn't aspirational enough. Her big moment came before you could cash in with a social media following, so it wasn't like she had this army of people who felt like they knew her because they used her promo codes. 
(SPOILER ALERT…BUT NOT REALLY) Clare did find love on The Bachelor Winter Games, but that's a bit of a letdown. It's kind of like telling people you got engaged on a Carnival cruise ship. We're like, "Good for you!" but also a little sad that it wasn't one of the nice cruise lines. So when news broke about Clare finding a guy, basically ending her "journey", and Tayshia coming on, everyone kind of perked up. Tayshia has the social media following, and as a Black woman, she'll bring the diversity that the show desperately needs. Plus, she gave this season a bit of "anything can happen" vibe that The Bachelorette can sometimes lack, because there's usually only two marry-able guys who own a box spring.
AJ
28, Software Salesman, Playa Del Rey, CA

AJ is a 28-year old-software salesman from Playa Del Rey, California, who says that he's "very excited to pursue a woman like Clare who he sees as mature and experienced." I hope to god that's his opening line out of the limo: "Hi, Clare! I'm excited to meet someone who is as mature and experienced as you! Are you enjoying going through the change?! We can talk further about it in the mansion!" You thought the marches were tense this summer? Well, if AJ calls a woman under the age of 40 "mature" and "experienced", you'll see thousands of white women with midwestern haircuts marching on the White House lawn burning AJ cutouts in-between Activia yogurt breaks.
Ben
29, Army Ranger Veteran, Venice, CA

Ben is a 29-year-old army ranger veteran from Venice, California, who, due to a back injury that forced him out of active duty, is now a personal trainer who says he shows his affection through writing love letters. My favorite part of The Bachelorette is how they find guys I only thought existed in Hallmark movies. Ben probably looks at the moon while telling women how the nights in Iraq changed his perspective on life. (I, on the other hand, once told a woman that I have a bad relationship with cheese, and then we just stared at one another until she realized I meant it gave me diarrhea.) Ben's bio made me wet. Until now, I didn't know men could get wet. Well, tell that to my couch! Or maybe that was the cheese…
Bennett
36, Wealth Management Consultant, NYC

Bennett is a 36-year-old wealth management consultant from New York City who looks like he just shut down an orphanage to put an addition onto his ski mountain. Bennett's bio casually mentions he went to Harvard, and he's never really worked for a girl since high school. Bennett also lists that he "hates golf", which is the white guy who works in finance's version of a white woman saying she's not really into brunch. As if we're going to be like, "Whoaa, you hate golf?!?! Wow, Bennett, you're not like all the other Bennetts who went to Harvard who work in finance. You're like…different."
Blake Monar
31, Male Grooming Specialist, Phoenix, AZ

Blake is a 31-year-old male grooming specialist from Phoenix, Arizona, who looks like he's had more lines of coke than showers this week. "Male grooming specialist" is a job description that could only exist for a good-looking guy in Phoenix. Plus, men in Phoenix have the stupidity of a Floridian mixed with the confidence of someone who moved to Los Angeles to act. So I absolutely believe that a guy could walk around Phoenix claiming to be a "male grooming specialist" without anyone saying, "Oh, so you're a barber!"
Blake Moynes
29, Wildlife Manager, Hamilton, ON

Blake Moynes is a 29-year-old wildlife manager from Hamilton, Ontario, Canada. I like that there were two "Blake M's" so we had to learn their last names. They could've just gone with "Blake Bottle Service" and "Blake European Henchman From The Taken Movies" and it would've been easier. Anyway, Blake Henchman's bio is a lot like The Bachelorette in that it's a fairytale that women want to hear. It says, "Blake spent his Saturday nights hanging with his best friends, but now all of those friends are married and he's the last single man remaining." This is written as if it's a tragedy in Blake's life. As if his friends were like, "What? No wife? I guess we'll see you when you're married…hopefully, our kids aren't too far apart in age to hang at that point." No; that's a very female spin on a man's life, and it's just not how it works. Every time Blake mentions that he's single, his best friends probably ask to see his dating app matches, and then they high-five for an hour.
Brandon
28, Real Estate Agent, Cleveland, OH

Brandon is a 28-year-old real estate agent who looks like he should be on Selling Sunset. (They'd probably make him permanently stand seven feet away from the Oppenheim Brothers so you could never tell that they're actually three feet tall.) Brandon actually spent the last few years modeling in New York City, and now he's moving back to Cleveland where he grew up. Can you imagine a guy this good looking living in Cleveland?! Brandon will get off of the flight from New York and the people of Cleveland will kneel as if he were a plate of cheese fries. Then they'll remove their hard hats and unzip their zip-up hoodies as a sign of respect for their new leader. Brandon will rule the land benevolently and make sure that his people stay full on regular sodas and sampler platters for the rest of time.
Brendan
30, Commercial Roofer, Milford, MA

Brendan is a 30-year-old commercial roofer from Milford, Massachusetts, and his bio is the most 30-year-old single dude living outside of Boston bio that I've ever read: "After losing his dad at a young age, he knew that his purpose in life was to be a father. After relocating to Los Angeles, Brendan decided to move back home to Massachusetts to work for the family roofing business and be closer to his family—especially his nieces and nephews, whom he can't get enough of."
There's a very specific Boston guy who paints himself as this Mark Wahlberg/Good Will Hunting/Manchester By The Sea type who has a tough exterior and a soft soul. They're as plentiful in the greater Boston area as guys named "Sully". They love their nieces and nephews even though they've never babysat them, they have a Boston accent even though they didn't have one when they moved to LA, and they come back to work as a "roofah" because "Pop woulda wanted it that way." And even though they went to LA for, like, three months and never even got a job there, this is literally all they talk about in-between sips of a "LAHHHGEE REGULAHH" from Dunkin' that you paid for because they "FORGAHHT THEIHHH CAHHHHDDD."
Chasen
31, IT Account Executive, San Diego, CA

Chasen is a 31-year-old IT account executive from San Diego, California. Nobody has ever looked more "Chasen" than Chasen. I'm waiting for his wife, Madison, to passive-aggressively explain to me that their wedding band is unbookable for the foreseeable future. Also, I can't imagine any woman enjoying Chasen's description of adventure: "He is a self-proclaimed adventure seeker and loves to say yes to things other people might consider insane. His latest insane adventure? You're looking at it!" I'm sure that's what every woman wants to hear! That dating them is like a hike where they encountered a moody bear who had a dream last night that they HAVE to tell you about.
Chris
27, Landscape Design Salesman, Salt Lake City, UT

Chris is a 27-year-old landscape design salesman from Salt Lake City, Utah, who got asked to "describe himself as a lover". Being asked to describe yourself as a lover during an interview for The Bachelorette is brutal. There's no right answer. Chris tried to be subtle by answering with "I like to think I'm good at what I do" but that sounds like you lick a woman's belly button before asking if she came. Then again, what was he going to say?!?! He couldn't have been like, "I'M A COCKSMAN!" while tonguing the air. This is a family show. 
If I were asked to describe myself as a lover, I'd say, "Like a waiter at an understaffed restaurant, you'll appreciate that I'm doing the best that I can." And anyone reading this is invited to use that at their next family Thanksgiving.
Dale
31, Former Pro Football Wide Receiver, Brandon, SD

Dale is a 31-year-old former professional football player from Brandon, South Dakota, who looks like he should be playing a guy on a soap opera who's involved in an "entanglement". I don't trust Dale! He just says too many things that sound right, but ultimately could be huge red flags. He says that he's "passionate", that he "doesn't hold back", that he "doesn't want a woman who's turned off by his intensity", and that he's "yet to master patience"—which all sounds nice until you're at a restaurant with him. Then Dale gets his steak, and he's a little too passionate about medium rare. And instead of waiting for the waitress to come back, he starts snapping his fingers. And when she says, "Oh, I'm sorry about that!" Dale says, "You better be sorry or you'll be working at Denny's serving Grand Slams to widowers who can't afford to tip 20%!" And when the waitress looks to you to see if this is all some cruel joke, you'll have to say, "I'm sorry, he gets so passionate sometimes!" while reaching for your pepper spray.
Demar
26, Spin Cycling Instructor, Scottsdale, AZ

Demar is a 26-year-old spin cycle instructor from Scottsdale, Arizona, who says that his dream job is to be a DJ on the Las Vegas Strip. I've always believed that The Bachelorette should have a minimum age of 30 for the men. It's just not believable that a guy who dreams of being a Las Vegas DJ would also want to get married. At 26, you can say stuff like that and it's actually a possibility. You can mess up. You can go to Vegas, DJ, get sad, and come back to wherever you came from for rehab. At 30, you dream of a yard and naps and bars with comfortable bar chairs. A guy who's ready to get married isn't dreaming of becoming a DJ; he's dreaming of a bar with a place to sit in front of a TV.
Eazy
29, Sports Marketing Agent, Newport Beach, CA

Eazy is a former NFL player who is now a sports marketing agent. Eazy's bio says he has "a smile that lights up a room" and that "nobody hypes up Eazy like Eazy" because OF COURSE! His name is Eazy! Did you think he was going to be quiet and shy? Did you think Eazy's bio would be about his love of accounting and plain Triscuits?! No. And I love it. I'm not sure if being named Eazy makes you a certain type of person, but it has to help. Like, maybe having the name "Jared" made me predestined to wait by the door where the appetizers come out during the cocktail hour. Maybe it's the name "Jared's" fault that I can only eat cheese while being confident that I'm in a comfortable toilet situation. Maybe if my name were Eazy, I wouldn't flinch when a subway dancer does a move within seven feet of me.
Ed
36, Health Care Salesman, Miami, FL

Ed is a 36-year-old health care salesman from Miami, Florida, who needs a girlfriend. He needs one immediately, because look closely at his eyebrows. Those are single man eyebrows if I've ever seen them. Ed looks like he shut one eye to pluck each brow while forgetting that he was actually semi-blind. One is thick and the other is half missing. They look like they're backing away from one another after a fight. They might be drawn on with a magic marker. And sadly, he has no clue. Let's hope that Ed finds a woman so he can stop wondering why people always look at him just a bit above his eyeline.
Garin
34, Professor of Journalism, North Hollywood, CA

Garin is a 34-year-old professor of journalism at the University of Southern California. I've gotta say, the producers have made a real effort to diversify the cast this season. And not just racially, but also the ages and especially the jobs. A professor? Usually it's some vague title like "tech entrepreneur" which actually means "my parents invested in my company that's an app that already exists, but this buys me time to live at the beach until they make me go to fully-paid law school and become an in-house counsel that makes six figures right away."
Ivan
28, Aeronautical Engineer, Dallas, TX

Ivan is a 28-year-old aeronautical engineer from Dallas, Texas, who is very obviously a "catch". He builds jets for the U.S. Military and he talks with his mom on the phone every day (even though the person who needs therapy most at your brunch would probably be like, "talks to his mom every day?! RED FLAG!"). Ivan's bio says that he's "hoping to find someone who is not only beautiful and nurturing, but also smart and ambitious." I just wish Ivan was a little more honest. Of course you want someone who is beautiful, nurturing, smart, and ambitious. Just once I want someone to be like, "I want a woman who doesn't like to leave the house too much, will laugh every time I fart, and knows not to touch my stomach after we eat too much Chinese food."
Jason
31, Former Pro Football Lineman, Arlington, VA

Jason is a 31-year-old former pro football lineman from Arlington, Virginia, who has lost 120 pounds since his playing days. Jason is going to have a problem. You see, the men on The Bachelorette aren't built like normal people. For the most part, they're all massive. I remember I met Jed from Hannah B's season. Based on the show, I thought he was built like a miniature horse. Boy, was I wrong. Jedd was a full-sized horse! The point is that the men on the show are so jacked that they can make a strong guy look mini. The same thing happened when I met Josh Murray. I looked like the "before" picture in an ad campaign for a protein shake. Now, what does that mean for a guy who just lost 120 pounds? A roller coaster ride of emotions. He's going to walk into the house feeling great with his shirt tucked in with a huge belt buckle (the championship belt for any guy who's lost a lot of weight). Then someone's going to yell, "POOL TIME!" And Jason will see abs so sculpted and ripped that he'll probably yell, "Anyone want hotdogs?! I'm grilling!"
Jay
29, Fitness Director, Fort Lauderdale, FL

Jay is a 29-year-old fitness director from Fort Lauderdale, Florida, who looks like a boy was being turned into a man and they stopped the process halfway through. Jay says that "nothing annoys him more than being on a date with a woman who is half in the conversation and half scrolling through Instagram." I think that's just called a bad date. I don't think there's this community of women who are defending their right to scroll Instagram during a date. Like, maybe Jay needs to take some responsibility in this one. Maybe his story about switching from Paleo to Keto wasn't great. Maybe she pulled out the phone when he said, "I guess this is my cheat meal!" after ordering a burger. I'm just not buying that people act like disinterested executive assistants when you're killing it on a date.
Jeremy
40, Banker, Washington, DC

Jeremy is a 40-year-old banker from Washington, DC. Remember when we all used that old person filter that made us look 80 while giving all of our facial information to Russia? Well, Jeremy is using that for his headshot. He is the oldest Bachelorette contestant in the history of the show. That's either really fun or sad based on how you look at it. Like, you might say, "Wow, a banker who made some money, lived some life, and is still taking chances like going on a reality show!" And then you read in Jeremy's bio that "during quarantine, Jeremy developed a love for painting and taught himself how to rollerblade" and it gets a bit sad. Like, imagine a 40-year-old man rollerblading home from his job at the local Chase Bank to paint in his apartment that has nothing in the fridge.
Joe
36, Anesthesiologist, NYC

Joe is a 36-year-old anesthesiologist from New York City. Joe's bio talks about him working the front lines during the pandemic, and I love and appreciate all of the front line workers, but isn't it still happening? Didn't they tape this over the summer? I'm not saying Joe isn't a good guy, but that must have been a weird exit. Like, "Hey guys, I'm taking a month or two off! Good luck with the global pandemic that still has no vaccine or really any end in sight! I'm going to find a wife on a TV show in Hollywood!"
Jordan C.
26, Software Account Executive, NYC

Jordan C. is a 26-year-old software account executive from New York City. He says his older sister has never liked any of the women he's brought home. Well, I don't think winning The Bachelorette is going to change that. "Hey sis! Meet my new fiancée! She decided on me after having sex with myself and two other guys like someone trying out flavors at Baskin-Robbins. And, oh yeah, about a week into the show, the original woman I tried to date freaked out and this was her replacement!"
Jordan M.
30, Cyber Security Engineer, Santa Monica, CA

Jordan M. is a 30-year-old cyber security engineer who is 6 foot 8 inches tall, likes to hike, writes poetry, and enters into "hacking competitions". He also says that people his age "don't have the same priorities" and they all seem to be "looking for the next best thing". The whole "everyone is looking for the next best thing" is a very 2020 dating complaint that assumes liking someone means it should work out. Well, they have to like you too. And Jordan M., I'm sorry to break it to you, but you're getting a lot of first dates because you're over six feet tall. Go look at the millions of "Do I like him or is he just tall?!" memes that exist by people who claim to be funny. I'm assuming the person who goes on the date with any tall guy isn't pumped to hear your newest poem about a robot you coded into having a heart.
Kenny
39, Boy Band Manager, Chicago, IL

Kenny is a 39-year-old boy band manager from Chicago, Illinois. If you're wondering what a boy band manager is and why that job would take place in Chicago, then we are very much alike. Kenny's bio says he "creates and manages boy band cover groups" and then the bio moves on to how he's concentrated too much on his career and the type of woman he wants. Ummm, what?! Let's take a step back to the creation of boy band cover groups. Imagine marrying someone with that job. I wish Kenny nothing but success, but I couldn't handle the dinner time conversations. You have to hear about auditions and how he "really likes this kid Jason" because he's got "that great pouty look teenage girls love!" And then you have to stop dinner so that he can take a phone call because the "Blumenfield Bar Mitzvah in Skokie is a mess!" and "JZ says they interrupted their final routine with a goddamn Weiner's Circle buffet."
Mike
38, Digital Media Advisor, Calgary, Alberta

Mike is a 38-year-old digital media advisor from Calgary, Alberta, Canada. Mike has a whole bio about being a nice guy from Canada that lacks any real honesty—he's looking to find the right girl?! What?! He wants someone who's trustworthy?! OMG! At one point it says, "After his last relationship, Mike put up serious walls when it came to allowing himself to be vulnerable, but now he's back and better than ever!" And that's how you know that Mike is the nice guy who is good at lying. Mental issues don't just clear up like that. Nobody just wakes up and says, "The walls are gone! Let's be vulnerable again!" The only way to be 38 and sexually active without too many attachments is to tell women a vague story about an ex who hurt you. Women are so open about this stuff that they respect the troubled past too much and ask no more questions and when their friends ask, "So what's the deal with Mike?!" You say, "I think someone really messed him up, so we're taking it slow," while he's telling the same story to someone else on another date.
Page
37, Chef, Austin, TX

Page is a 37-year-old chef from Austin, Texas, who was featured in Food and Wine Magazine as one of 2016's best new chefs. I've watched The Bachelorette for a long time and this is the best group of men that I've seen. For the most part, they have real jobs and ages that make sense for a guy to get married. Page basically has the character profile of a lead in a rom-com. Hannah B. had to choose a dog food jingle creator who came on the show already having a girlfriend, and Becca had so few options that she ended up with an Alt-Right sympathizer. So it's not like the bar was too high for the producers. Page could've been like, "I'm pretty good at microwaving stuff!" and I probably would've felt the same way about this season's cast.
Riley
30, Attorney, Long Island City, NY

Riley is a 30-year-old attorney from Long Island City, New York, whose bio says, "don't ask him to go to a museum with you, because that's not going to happen." I love that. Men have no issues sounding uncultured. Not many women would give as honest an answer. My girlfriend claims to LOVE museums. And yet, not once has she said to me, "Off to the Met! See you in a few hours!" And I promise she'll read this and say, "But you never want to go with me!"
No. No, I don't. Because, just like Riley, I don't like museums. I don't want culture. I don't want history. And I don't want art! I want to sit on my couch and say horrible things about the dresses women choose on Say Yes To The Dress. And you know what? That's exactly what my girlfriend wants to do, too! But Riley and I are the only ones willing to be honest about it. #Brave
Robby
31, Insurance Broker, Tampa, FL

Robby is a 31-year-old insurance broker from Tampa, Florida, who works at his family's brokerage while splitting time between Tampa and LA. It's always funny to me when someone is good at lying without lying. Like Robby could have the red pin with "Tampa/LA" as his Instagram bio and it would be "true". But nobody "splits their time between Tampa and LA" unless they're a professional athlete or they have a large OnlyFans following. And guess what? Robby doesn't play for the Tampa Bay Rays, and he doesn't look good in a Fashion Nova bodysuit. But that's the beauty of the lie that isn't a lie. None of us have the energy to look into his bicoastal life, so we all kind of accept that Robby is doing "well" and we're kind of not. Luckily for you, I've sold insurance, and let me break it down: Robby's dad sold a lot of insurance. Insurance contracts pay residuals to the brokers for the life of the contract. The goal of being an insurance broker is to sign enough contracts so that you can live off of the residuals. Robby's dad sold so much insurance that he was able to make Robby the servicing broker on his accounts so that they could split those residuals. Now, Robby gets to fly to LA for a weekend a month and tell women at bars he has homes in Tampa and LA while buying drinks for them on a credit card that has his dad's billing address. See?! That "📍Tampa/LA" can be VERY deceiving.
Tyler C.
27, Lawyer, Morgantown, WV

Really tough spot for "Tyler C.". He didn't ask to have the same exact name as the most mastubated-to Bachelorette contestant in the show's history. And here we are, looking at a Tyler C. that is not even close to OUR Tyler C. The one that invented the acronym WAP. The one that's responsible for the increase in removable showerhead purchases last year. No—this new Tyler C. doesn't really have a chance. I can't imagine how this Tyler C. is dealing with the pressure. He should've asked them to use his middle initial, too. Just as a subtle nod to his lack of Tyler C-ness. He'd get out of the limo and be like, "Hey, I'm Tyler FC! Like a Football Club!" And Clare would stare back at him a bit confused and he would break down like, "I'M SORRY! I'll never be him!!" Then he'd look directly into the camera and be like, "I PROMISE TO UPHOLD THE NAME. I WILL MAKE YOU CUM. I WILL MAKE ALL OF YOU CUM IF IT'S THE LAST THING I DO!"
Tyler S.
36, Music Manager, Georgetown, TX

Tyler S. is a 36-year-old music manager from Georgetown, Texas, who manages his brother, Granger Smith. I had to look up Granger and he's a legitimate country rock star. He's the type of star who would come on The Bachelorette for one of those special concerts, and I'd make fun of the people acting like this was a big deal. Then I'd get, like, 40 DMs from people being like, "THAT'S GRANGER SMITH!" as if I just made fun of someone for getting too excited about Adele. Tyler S. spends a lot of time on the road with his brother and says that "if he can't show his mama a girl's Instagram, then he can't date her." And I'd love to ask him "What about TikTok!?!" and then watch him laugh for a few minutes before abruptly stoping and getting very stern to say, "No, she better fucking bring it on the Tok. Ain't no mammas looking at no Toks. That's for big daddy Tyler."
Yosef
30, Medical Device Salesman, Daphne, AL

Yosef is a 30-year-old medical device salesman from Daphne, Alabama, who has a 4-year-old daughter. Yosef is the contestant that your Jewish mother won't be able to stop asking judgmental questions about. She'll be like, "Yosef? Is he Jewish? A daughter? Where's the mother? Doesn't he work? He's from where? Alabama? What type of Jew lives in Alabama and goes on a dating show while his daughter lives at home?" Then she'll tell you to look him up on "The Facebook" because "Ya nevah know!"
Zac C.
 36, Addiction Specialist, Haddonfield, NJ

Zac C. is a 36-year-old addiction specialist from Haddonfield, New Jersey, who looks like a mid-forties version of Nick Viall. Last year, we had Peter, who looked like a 13-year-old version of Nick Viall. I feel like we're going to get a different Nick Viall every season until the end of time. And the only person in the world who will love that is Nick Viall. I'm honestly angry that I'm still talking about him. He's the Voldemort of The Bachelor universe. We're going to have to deal with all of his horcruxes until someone finds the Sword of Gryffindor and finally chops his head off.
Zach J.
37, Cleaning Service Owner, St. George, UT

Zach J is a 37-year-old cleaning service owner from St. George, Utah, whose bio says the following: "Zach J. says that he has had a major crush on Clare ever since seeing her tell off Juan Pablo during the finale of his season. And while he is definitely excited for the journey to begin, he wants to make it clear that he is only here because he believes Clare is the perfect woman for him." That season was more than SIX YEARS AGO. Nobody found that creepy?! A producer heard that answer and was like, "Awww, I hope you make it to the fantasy suite!" Only hot people are allowed to have crushes on someone for over six months without it being creepy. If Zach J. looked like the guy who brought your Seamless order tonight, you'd be calling the police saying that "HE REMINDS ME OF SOME BAD PAD THAI I ATE ONCE." But Zach J. has a great jawline, so we're all going to be cool with him having a crush on a very obscure Bachelor contestant who most of us had to look up online before saying, "Oh, the one that yelled at Juan Pablo! Wait, she's 38? Wow I'm old." Okay, just making sure I got this straight.
Don't miss out on anything happening in Bachelor Nation. Subscribe to our weekly newsletter here. 
Images: ABC/Craig Sjodin (32)
The Best 'Bachelor In Paradise' Recap You'll Ever Read: Why Isn't This The Finale?
Sponsored by SkinnyPop
Friends, I am going through a roller coaster of emotions. When the episode began I was so excited, so blessed, because I thought that after today my life was my own again. No more Tuesday nights chained to my couch, worshipping at the altar that is ABC. I could finally make plans! I could go out! I could watch that episode of SVU again! I could go to bed early! The possibilities were endless and beautiful. But most of the way through this episode I thought to myself, "it sure seems weird that they'd pack fantasy suites and proposals all into nine minutes." And now I am devastated, because it turns out that just because you hope something is the finale, does not make it so. So here we are, just a bunch of idiots, watching the second-to-last episode of Bachelor in Paradise. Let's get on with it, then.
On last night's third-to-last episode of BiP (no, I'm never letting this go), Caelynn rode off into the sunset in Dean's van, Old Matt Donald couldn't remember the new girl's name, Kristina finally got her revenge on Blake for Stagecoach, and they both went home.
It's daytime on the beach and everyone is discussing the end of Paradise. JPJ is feeling pressure over what to do about Tayshia and is making predictions about what will happen with all the couples. This is fun, I also have a prediction. Here it is: All the couples will eventually break up, they will use their Z-list fame to promote fit tea/start a podcast/write a book and then fade into oblivion when a YouTube star steals their spotlight. Just a hunch!
Haley asks Demi if she would be ready for an engagement and Demi looks like Haley just dared her to bite the head off a dead frog. Kristian is stressed about it and venting her frustrations to Katie and Hannah. Katie gives her a hug, and uh-oh, is she flirting with other girls again?! That Kristian really gets around.
Demi and Kristian are having a serious chat about their feelings and yet they're not even looking at each other. It's like what happens when I ask my puppy if she knows how much it hurts me when she deliberately pees on my shoes. Demi says she wants to get engaged and she wants to be with Kristian but she is still worried about what people will think if they see them kissing on the street.
I have a feeling that Tayshia and JPJ aren't going to work out. Their serious conversation goes a little like this:
JPJ: I think we're on the same página
Tayshia:



I know fake laughter when I see it, because I do it every day at work.
Hannah and Dylan get a date card and it appears this date will consist of attending a birthday party for a Mexican child? This poor thing. I hope the producers slipped him a pile of cash. Although, if this is what they're doing for dates now, are they all out of cash?
After they sing "Happy Birthday," take pictures of the kids, and show them how to Facetune their bodies into the perfect hourglass shape, Dylan tells Hannah he is in love with her. She says it back. Sure.
Then Dylan tries to speak Spanish and it's so embarrassing. The American education system has failed him. He tells people that "My name is Hannah!" That alone would make me break up with him and enter witness protection.
Back on the beach, Connor, the only person that should still be invited to a child's birthday party, tells us that he met Whitney at the wedding and that he's into her. Does he know she's not on this show? You can't "only be on Paradise" for someone that isn't there! Also, I think they should have just filmed this whole season at that wedding. I'm sure that show would have it all! People sleeping together, people puking in their sheets, people pretending this marriage will last longer than five months, people looking at Blake in disgust. THAT'S a show I would watch.
Connor says if Whitney doesn't come down the stairs he is just going to leave Paradise. Well yeah, the show is over, so they're going to make you leave, sweetie. It's about time for freshman year to start, anyway.
It seems the producers heard Connor's wails of desperation, because they are sending Whitney to meet him. At the same time, Connor decides to leave because Whitney isn't there. It's just like the Gift of the Magi! Except instead of being a beautiful story about love and sacrifice, it's about two semi-undressed Instagram groupies just missing each other.
Production lets Connor grab his bookbag, get on the big yellow school bus, and let the wheels go round and round all the way home, despite the fact that Whitney is en route. I love that the producers are doing this. If they are not instruments of the Devil then they surely are just on lots of cocaine.
Whitney walks in with her date card and Sydney is like "ohhhhhh sh*t, yeah he went home." Whitney decides to chase after him. I imagine it will go a little like that scene in Love, Actually, only with less clothes and no real feelings involved.
Apparently they put Connor in a hotel before sending him home? HOW CONVENIENT. Whitney tells him that she chased after him. Wow, they get to be together and be in air conditioning, they played this right. They make out on the balcony and I'm so happy that their drunken connection at a pretend TV wedding has brought them together. True love does exist!
Clay and Nicole go on a date. Clay says they'll need to talk logistics, and wow, this is getting so romantic so fast. Clay thinks that he can possibly get to a place where he would maybe eventually at some time in the very distant future get a two-bedroom apartment with Nicole if it's big enough.
And then Nicole tells him she's falling for him. Clay looks like someone put eyedrops in his drink and the effects are starting to reach his digestive system. But he also manages to mumble reluctantly that he is falling in love with her. Then they dance to a serenade and Clay kisses Nicole to stifle his screams.
Tayshia pulls JPJ aside and says she has something serious to discuss. No, it's not about their future. No, it's not about the meaning of life. It's about JPJ stuffing his dick into a tiny denim speedo. But of course. And then she draws him like one of her French girls.
They're trying to recreate Titanic, and if I didn't already hate that movie I'd be pretty pissed. Is this supposed to be hot? Because all I can think about is how long it will take me to get my sex drive back after watching this.

If I may say so, she did not do a good job.
To top it all off, they stand on the balcony and JPJ shouts that he's king of the world. Neither one of them falls. Pity.
Chris and Katie remind us they are still here by being mopey and annoying. To be fair, I do the same to my mom.
Chris Harrison then shows up and basically tells everyone it's time for the single losers to GTFO. He cancels the cocktail party, and decides it's time to get this rose ceremony on the road. He has a massage scheduled in a half hour.
Chris calls this week "volatile" like they were hit by Hurricane Dorian, and it wasn't just people leaving Paradise to go DM better options at home.
The men are handing out the roses tonight:
Luke gives his rose to Bri. SHE SAYS NO. And yet, she doesn't leave, she just goes right back to her spot. This is awkward. Chris asks the class if anyone would like Luke's rose. No one does!! He sends him home. I just died of secondhand embarrassment. Carry on.
On his way out, Luke says, "I think I made the right decision to leave." Oh honey, they kicked you out.
Matt gives his rose to Bri. She says yes.
Dylan gives his rose to Hannah.
JPJ gives his rose to Tayshia.
Clay gives his rose to Nicole, and then gives her a platonic hug.
Demi gives her rose to Kristian.
Chris gives his rose to Katie.
Lol Sydney leaves saying, "Matt's gonna get dumped." At least you can leave knowing you're right, Sydney. Then she cries in the car, because she's "tired of waiting." Well you know what, Sydney? I am tired of listening to classically attractive, cosmetically enhanced people cry "poor me, poor me" on my TV for four hours every single week, BUT I'M STILL DOING IT. We're all f*cking tired. Grow up!
The next day Chris Harrison shows up in a sports coat, ready to kick the idiots that are less committed to this charade out of Paradise. He tells the couples to have a serious conversation and decide if they are ready to take the next step, and if not, to stop living on his dime and go buy their own GD iced coffee at the airport.
Matt pulls Bri away to talk. Matt says he feels confident and she says he only picked her because she's hot, he doesn't know anything about her, and he can go shave his back now. Hey, at least he remembered your name, Bri!
Chase and Angela wave goodbye lol. Maybe they'll see each other again on the next season of Ex on the Beach! When will Chase age out of that?
Hannah and Dylan decide to continue on and go to fantasy suites. Duh, she won't break his little cropped sweatshirt-loving heart until she's milked all the screen time out of this she can.
Clay and Nicole go talk. Naturally, she is crying. He says he is hopeful but he can't even look her in the eyes, and as I have learned from those SVU reruns, that means he's hiding something.
JPJ tells Tayshia he has had some of the most magical moments of his life with her. And that he'd like to dance with her at their wedding someday and that he's in love with her. She kisses him, but all she says back is "That's a lot, huh?"

Then Tayshia continues on to say that she's definitely not there yet. She also tells him he doesn't actually know what he wants. JPJ repeats again that he's had some of the most magical moments of his life with her. They must have accidentally written it again on the cue card. Stupid drunk interns! Then he leaves. Tayshia chases after him to say she is sorry. He carries her away. This is not your wedding day, sir. This is your breakup. He leaves pretty quickly after that—he must have heard about that air conditioning from Connor.
JPJ doesn't even vomit once throughout that whole exchange, and that's how I know this whole thing was staged.
Kristian and Demi go to talk. Demi feels insecure, and recognizes that her anxiety is getting in her way. She tells Kristian she is scared but that she wants to keep on going and growing. I am thankful this conversation is finally over.
Now it's Chris and Katie's turn to go and talk. He cries. I'm crying too Chris, I'M CRYING TOO. Katie starts crying. We are all crying now. For different reasons, I think. He says that he pushes people away that he likes. Save it for your therapy session, Chris. Actually no, just Venmo me $200 for this hour of listening to your sh*t and we'll call it even. Katie tells him she wants to be with him, and whether he chooses her or not, he clearly needs to get mental help. He decides he wants to give it a shot. She does too. Seems like this will work.
Chris Harrison shows up and tells them to have fun fornicating tonight, but also maybe talk about life, please.
And yes, it is as I feared. The finale is next Tuesday. I hate these people. I hate ABC. Farewell.
Images: ABC; giphy (3), bachelorinparadise, babydylaann/Instagram
The Best 'Bachelor In Paradise' Recap You'll Ever Read: Dean's Got The Van Running
Hello, Bachelor Nation! I think we're in the bad place. We all survived a long weekend of drinking and debauchery only to be rewarded with writing a recap of a show where people are snotting out their spicy margaritas. Just me? Fine, you enjoy, I'll suffer. Shall we get on with it?
Last night on Bachelor in Paradise, Derek eliminated himself because no one will ever love him wahhh wahhh wahhh, Old Matt Donald and Nick Viall's pre-plastic surgery doppelganger showed up, and JPJ cried over Tayshia.
It's the morning and Blake shows up to the bar, super confused that Derek left. Where were you when Papa gathered all the kiddies around his knee to tell them his bad news, Blake? Stealing a producer's phone to DM future Bachelor contestants?
Blake tells us that he feels like he's "burned" bridges with every woman here. Those quotes were his own. I do not think Blake knows how to use air quotes. I'll be adding this to the list of grievances I have on him. We're on to page two.
JPJ is still distressed about Tayshia and is seeking counseling from everyone. Chris B is not a therapist just because he's old, John! This is a man who competed on the god-forsaken Bachelor Pad. I'm not even confident he has a high school education. Do not trust him!
Chris and Katie are talking about taking their relationship to the next level, and good for them, but I totally forgot they were a thing. But why is he dressed like Huckleberry Finn?

JPJ decides it's time to talk to Tayshia after everything that happened between them. She says she needs him to trust her and not to question her, and he agrees and is this what it looks like when someone is hypnotized? Because JPJ seems very out of it. Tayshia also tells the audience that she can't see him long-term. So I guess she just wanted to hypnotize him into sleeping with her, and then keep a lock of his hair in her memory box to sniff and reminisce when she's old and gray.
Guys, Clay is in his feelings about Angela. He says that it's hard for him to watch his ex hanging out with other men, but that he doesn't have feelings for her anymore. His face tells a different story.

Chase from JoJo's season shows up. I guess he wasn't able to find love on the countless other reality shows he's frequented since JoJo dumped his ass. He claims he's into Angela, they had a good time at the wedding, and he'd like to get to know her better. Does this actually happen? Because anyone I've ever had a good time at a wedding with seems to have joined witness protection.
Chase gets a date card and immediately invites Angela. Clay throws up in his mouth, chokes it down, and claims he's totally not jealous! He seems very stressed about the idea that he has to continue to see his ex dating, and says he didn't sign up for this. I would say you should learn to read your contract a little closer, sweetie, because I'm pretty sure ABC puts "we live to f*ck up your life" over and over in the fine print.
Okay Clay is OBSESSED with Angela. He continues to talk about her. If I have to hear her name out of his mouth one more time I swear I'm shutting this TV off right now! And then turning it directly back on because I'm sure you all would burn me at the stake for missing this recap! But I would turn it off for a second! And then rewind the parts I missed! I'm so mad!
On their date, Chase asks Angela how she feels about her "ex on the beach" right now and he's definitely confused about what show he's on. Chase, honey, you WERE on Ex on the Beach, a show so atrocious not even me, queen of garbage, could make it through a season. THIS is Bachelor in Paradise. Work the correct name into casual conversation, or stop going on trashy reality dating shows. Your choice.
Blake is contemplating life, love, and what his mom is doing right now, when it dawns on him that he wants to be with Kristina. He says they've never been all in on each other, which must feel real nice for Kristina coming from a guy she f*cked, but that he wants to give it a try now. She asks him if they can continue this conversation tomorrow to see if he still feels this way, and by that I assume she means to see if he sleeps with Caelynn tonight.
Oh we're headed to a rose ceremony. I forgot what these were like. Oh, Chris Harrison. I forgot what he was like. Oh yes, he's a sassy b*tch, love you Chris!
Sydney asks Matt if he likes her and if he wants to kiss her.
Matt:


Okay Matt, it's cute that you're shy, but this is a dating show! Someone get this man 11 tequila shots. Wells?! Where you at?
Oh GOD, now even Chris has to give Matt a talking to. So last season he was forced to explain to Colton which hole it goes in, and now he has to coax a grown man into using a little tongue. I imagine Chris just walks around mumbling "I'm too old for this sh*t" all day long.
JPJ is giving Matt Donald the most action he's seen on this show when he towels him down to get all the sweat off him. Once Matt is fully dried off, he heads over to Sydney to give us the cringiest makeout scene of all time. I watched it through my fingers and that was still too much of this.
"My mom is going to kill me." I'm sorry, but doesn't his mom know what this show is? Just because she's deaf doesn't mean she hasn't heard about the trash that is Bachelor in Paradise, Matty. She knows you might put your tongue in someone else's mouth. SHE KNOWS.
Clay decides to confront Angela, because he's totally not still hung up on her, and says he wants to get things out in the open. The only thing I'm getting out of this conversation is that they disagreed on the amount of time a person should spend in the gym. I'm with Angela on this one—four hours a day is too much time for a person to spend anywhere other than on the couch binge watching old episodes of Criminal Minds. You're a sick man, Clay.
Blake and Kristina have another serious conversation, and he asks her to give him a chance. She is skeptical because she has met him.
Oh wow, I forgot it was a rose ceremony again. I really never remember that there is a purpose to these shows other than to punish me for wishing my coworker's children that are running around the office all day will trip on something.
The women have the roses tonight, and it goes as such:
Nicole picks Clay
Angela picks Chase
Kristian picks Demi
Hannah picks Dylan
Katie picks Chris
Haley picks Luke
Caelynn picks Connor
Sydney picks Matt
Tayshia picks JPJ
Kristina picks Blake
This means Mike has to go, which is a bummer for everyone, because even though Mike calls women his "queen" and says things like "it's beautiful you say that," he's a freaking catch.
The next day, Kristina and Blake are talking about their future and what's going to happen between them. He says if a new girl walks down the stairs, he doesn't think that anyone would go on a date. And it appears he spoke too soon, because Bri shows up and Blake looks like if he had access to a genie, he would wish he could take the last 48 hours back.
Bri pulls Blake aside and asks him to chat. His genie is working! Oh, apparently they met at the wedding too. Was this a wedding or a f*cking meat market? I'm convinced no vows were exchanged and this was just one giant orgy.
Blake asks Kristina to chat. He tells her that he did talk to Bri at the wedding, but that he turned down the date because he knows what he wants. And that's to not have Kristina sever his genitals with her bare hands tonight.
Bri asks Matt if he would like to go on the date with her, and I think she's going to be disappointed when she finds out what a prude he is.
Bri and Matt go surfing. Matt seems pleased with the distance these waves afford them. I think he's hoping he'll drown before he has to tell his mother he kissed another girl on national TV.
OH WOW. Matty has no problems getting it up for Bri! He definitely wasn't thinking of his mom right now. Or maybe he was…
Hannah and Dylan start talking about life after Paradise.
Hannah: I can move to Cali and we can go on walks and be normal
Dylan: and we can wear cut off sweatshirts
Me:


Does Dylan remind anyone else of Tom Sandoval?
Caelynn tells Hannah that she and Connor are "going to the boom boom room" tonight. I really feel like all my trashy reality shows are being mixed into one large heap of garbage. Caelynn also says that she completely forgot about Dean, and she's happy she didn't end up with him. So naturally Dean's about to come in like a wrecking ball.
Dean walks down the beach, mustache free, as if a quick shave will help redeem his awful personality. He immediately asks Caelynn if they can talk for a sec.
Oh good, he is giving Caelynn a full recap of what happened between them. Dean. This whole filming process is like nine days. She remembers. We remember.
He says he rented a car and drove to the Grand Canyon? Isn't the point of living in your van the fact that you can drive it? In fact, you can drive it right off that cliff if you want!
Caelynn says it's easy with Connor, and Dean says "who the f*ck wants easy?" I raise my hand alone in my apartment.
Caelynn is torn between her precious eighth grade graduate and the man who until recently had a pervy mustache and celebrates half birthdays. It's a tough choice, I'll give her that.
Dean says he needs to stop running from the good things in his life and he'd like to figure it out with Caelynn. He wants her to leave Paradise with him today. Why must it be today? Did he leave the van running?
Next week, Caelynn must make her very own Sophie's Choice, and Paradise will mercifully come to an end. Can't wait to see who pretends to get engaged!
Images: ABC; bGiphy (3); Immortal Illustrated Classics; bachelorinparadise/Instagram
The Best 'Bachelor In Paradise' Recap You'll Ever Read: I'm Rooting For The Piñata
Sponsored by SkinnyPop
For those of you who missed last week's episodes of Bachelor in Paradise, well then congratulations, you're not better than me—you missed one hell of a week. I say "hell of a week" because I'm convinced this show is actually hell on earth and my own personal Bad Place for that one time I wrote "call Ashley for a good time" on the bathroom stall in middle school.
But back to the show! A lot did actually happen last week. If you'll recall, Demi finally told Derek that she is taking the term "hot girl summer" literally, and would like to only date hot girls. Respect. Meanwhile, Caelynn just so happened to find revenge—I mean love  (obviously I meant love!)—with her arch enemy's ex-boyfriend. Her romance with a homeless man who hasn't showered since the 2017 didn't feel at all malicious or suspiciously timed to make the Russian orphan cry. Nope. Not at all. Dylan and Blake continued to fight over their favorite life-size doll: Hannah G. And finally, Nicole and Clay's solid four-day romance was absolutely ROCKED with the arrival of a new man in Paradise: Christopher. Or was it Charles? I want to say Christian but I'm about as confident in that answer is I am in Christoff's ability to speak an entire sentence without one sexual innuendo.
Which brings us to this week: back at the beach, Jordan decides that enough is enough and he simply won't stand for the way Clay is being treated. Clay did ask very nicely for some time alone with Nicole, only to be instantly rebuffed by Chasen. It was a little like watching George McFly try to ask Marty's mother to the under the sea dance, but without the pressure of Marty's existence ceasing to exist and the collapse of the space time continuum literally nothing happens, except Clay wishes them a good night and then slinks off to the bar to have a Wells make him a virgin piña colada. Better luck next time, buddy!
This simply won't stand with production Jordan, so production Jordan decides to take things into production's his own hands by throwing Chandler's piñata into the sand. As two grown men wrestle over a child's birthday party decoration, ABC does their damndest to make us believe that this fight is actually legit. I'm sorry, but I'm just not buying it. I've seen better fights at a sorority house. Just saying.
Naturally, Nicole makes this entirely about herself. She's like "that was the scariest moment, I felt like I was in such danger." Sweetie, I've felt more in danger on the M train at 8:30 in the morning. If you can't handle two metrosexuals pretending to fight for ratings, then I don't know how you have survived this long.
Nicole: "oh no clay, christian, don't fight over me I can't take it!!"#BachelorInParadise pic.twitter.com/FIJMsaXbne

— Mary (@therealmehevans) August 14, 2019
Uh oh! They're calling in daddy-o Chris Harrison! They must be in real trouble now. I love that Chris Harrison isn't even rebuking the men. He actually doesn't even speak throughout the entire ordeal, he just lets the producer who holds up his cue cards during the rose ceremonies do all the talking. He's really only a figurehead, I suppose. Like the queen.
It is determined by production that both Jordan and Chadwick will be sent home over the piñata fight, as it's the only fair way to resolve the issue. Tbh this feels a little unfair considering Jordan was the instigator and production scripted this fight sequence line-by-line, but fine.
The Rose Ceremony:
Even with their elimination, three more men are still going home this week. So does this mean Clay will be getting Nicole's rose by default? Clay is wondering the same thing, because he pulls Nicole aside so they can "talk." He doesn't want her to get the wrong idea that he might be aggressive like Chett. You get that? An NFL player does not want to be seen as aggressive. You better hope your agent doesn't hear you talking like this, Clay, or you'll never get back out there!
Meanwhile, the Blake/Hannah/Dylan saga continues. Hannah is torn between which vitamin she should take and honestly this comparison of the men to vitamins is making me worried that she considers vitamins an actual food group. Tbh, it would explain a lot.
DYLAN: Hannah is so beautiful. I could just stare at her all day and wear her bathwater in a vial around my neck, you know?
MIKE:


Since a rose is now on the line, Blake decides it's time to really step up his game in wooing Hannah. Before he was just like, medium interested in her. And by "medium interested," I mean actively pursuing any woman with a working vagina, of which Hannah also has one. He decides a mariachi band should do the trick. Really, Blake? A mariachi band in Mexico? Groundbreaking.
HANNAH: That was so sweet of you. Thank you!
BLAKE: Well I wanted to remind you why you have a crush on me.
I WANTED TO REMIND YOU WHY YOU HAVE A CRUSH ON ME. I'm dying. I'm going to start saying that to people and see if it works.
Chris Harrison calls the rose ceremony to order, though it's hard to hear him clinking his glass over the sounds of Dylan sobbing in the bushes. Before he can even launch into his contractually obligated 3-6 sentences for each episode, he's interrupted by Onyeka, who has decided to send herself home. As it turns out, she would rather sit in a Mexican airport than contend with advances from Cam for one more goddamn second. I knew you were a real one, girlfriend.
The rose ceremony goes as such:
Demi picks Derek

Katie picks Chris B

Nicole picks Clay

Caelynn picks Dean

Tayshia picks JPJ

Sydney picks Mike

Hannah picks Dylan (if only because she would like to substitute prosciutto for his heart when she makes her next charcuterie board. It's fun to try new things!)

Kristina picks Blake??? WHAT. I was rooting for you, Kristina! We were all rooting for you!
Couple Updates:
Blake & Caitlin:  Paradise is not treating Blake well, and Blake is making sure everyone knows this. After Hannah's rejection at the rose ceremony, he watches the happy couples with a look that says he just wrote his mother the saddest letter about his time at camp.

"Mom? Can you come pick me up? The food is trash and my bunkmates are picking on me!"
Blake's luck changes only slightly when Caitlin walks into Paradise and there's literally no one else for her to take on her date. There was a moment where I thought she might be into Dean, but then I guess she opened her eyes and realized he looked less like boyfriend material and more like someone who should be delivering the "pizza" in a porno.
Oh Jesus Christ, Blake met this girl at Stagecoach too?? Is Stagecoach code for something other than a country music festival? Like, Bachelor-sponsored orgies?
Their date involves trying out tantric yoga, which feels like a horrifying activity for two complete strangers to do with one another, but okay. I love how everybody hates Blake, but someone takes one for the team and asks him out anyways, and he STILL bitches the entire time. He's like "could I catch a f*cking break here?" as a woman does yoga flow right on his dick. GROW UP, BLAKE.

Dylan & Hannah: I guess production finally decided they were done testing the limits of Dylan's sanity, because they throw him a bone and give him a date card. He, of course, invites Hannah, much to Blake's chagrin.
Throughout this whole date I can't help thinking that Hannah is really, really lucky she looks the way she does. Like, if she was just average looking, would a guy be putting up with her bullsh*t like this? She tells Dylan she's sorry she's been so indecisive and straddling other men in front of him but like, that's what Paradise is all about, isn't it?? Dylan takes all of this in stride and is just grateful she didn't make out with their waiter just now. Baby steps!
DYLAN: I'm falling so hard for you.
HANNAH: *shrugs*
HAHA. At this point, Hannah has expressed stronger feelings towards a charcuterie board than this human man in front of her handing her his still beating heart. Bless it.
Tayshia & JPJ: This is a couple I didn't see coming but am actually very here for. JPJ and Tayshia appear to still going strong. JPJ even goes as far as to say he feels "intoxicated" around Tayshia but like, I'm pretty sure that's just Wells' margaritas…
I love that JPJ's sob story is that he thought about getting married to his college sweetheart but decided he'd rather not. I guess that's as far into his privilege as he could possibly dig. I'm sure that girl is watching now and not at all contemplating ways to behead him while listening to him talk about how he was committed to her for YEARS and couldn't imagine marrying her, but can see a future with this girl he's been making out with for five days.

Honestly, they deserve each other.
Demi & Derek: Meanwhile, Demi is still thinking about the girl she left at home while casually stringing Derek along. Look, I'm all for Demi being a queer queen and would LOVE to see more diversity on this whole milk of dating franchises, but I don't love that she came on this show while dating someone else. Doesn't that sort of defeat the purpose here? If Blake had to break up with all five of his girlfriends, then so should Demi!
DEMI: Sometimes I want to make out with him and sometimes I can't stand to breathe the same air as him, you know?
Yes, I do know girl. Write that on my f*cking headstone.
Wait, so her girlfriend's name is Christian also? Why does this make me nervous that Nicole's Christian is about to pop out from behind a palm tree, only in a wig?
My queen Alabama Hannah shows up in Paradise to talk to Demi about her predicament. Look, nothing against my girl Hannah, but maybe Demi shouldn't be taking relationship advice from someone who had Tyler C in her clutches and let him slip away in favor of a man who's monthly income is probably $23.75 plus the spare gum someone threw into his guitar case out of pity.
Their talk only makes Demi more upset. She says it's not really fair that she should have to choose between someone who's there and someone who isn't there and then goes off to ask Chris Harrison if she can bring a plus one to the next rose ceremony. Or so I assume, because that's where the episode ends. Until tomorrow night!
Images: Giphy (2); ABC (2); @therealmehevans /Twitter (1); @thebetchelor /Instagram (1)