5 College Stereotypes To Avoid Becoming
As you embark on the sh*tshow adventure that is college, you have the ability to be whoever you want. Whether you join the yoga club and turn into a Birkenstock-wearing queen or get tapped into a secret society and fall off the face of the earth, there's no wrong identity, and college is the perfect time to experiment. However, while you're going through your waves of being a hipster stoner to a frat bro enthusiast, try your best to avoid falling into the following stereotypes, otherwise your academic and social status will suffer.
The One Who Never Goes To Class
Congratulations on getting into college, you deserve a break! Too bad that break was summer and college is NOT the time to sleep through the day. Trying to pass off "staying in bed all day" as a personality trait is such a cop-out because it's actually just you being f*cking lazy. Don't waste the literal tens of thousands of dollars you or your parents are dropping on tuition, because there are some people who would risk going to jail (#fighton) to be sitting where you should be—in class!! Go learn something, we love a smart betch. 
View this post on Instagram
The One Who's Stuck In High School
This person spends all their free time FaceTiming their high school boyfriend and searching for a new "cliquey" girl squad to replace the one they left behind. You swear you were super popular back home, but sadly no one gives a f*ck about who you were in high school. College is time for a fresh start, so ditch your home life dependence and join us adults in the present. 
Sad how some adults are still stuck in the bitchy high school phase, grow up bbs xo

— M A D Z ? (@madison_16xox) September 6, 2019
The One Who Lives For Her Srat
Joining a sorority is great—fabulous, actually—but if the second you get a bid you can't be caught dead not wearing your letters, we have a problem. Your identity and self-worth should not be defined by a four-year hierarchical social construct, and quite frankly, it's pretty embarrassing if it is. Explore your university, talk to some non-Greek people, and stop spending time researching every item you can possibly print your letters on!
The One Who's "One Of The Bros"
You like to chill at home and watch TV, you shotgun beer, and you "haaaate drama" (aka you're a fraternity groupie). I don't care how much time you spend sitting around the bong coffee table littered with empty bottles and unidentifiable substances, at the end of the day you don't have a d*ck and you're not part of the "brotherhood." Swooning over the boys by picking up their Chipotle and watching them play Fortnite is not a basis for lifelong friendship. Ultimately, all your efforts going toward the boys means you'll probably miss out on the impressive solitude of female friends. Sad. 
the girls who say "they hate drama" are usually the ones starting it all?

— bean ?? (@analyssemayraa) November 10, 2016
The One Who Already Added You On LinkedIn
All of your special skills on LinkedIn have been exclusively endorsed by your best friend and your mom, and you posted allllll about your "life-changing" summer internship on every social media platform (so glad your parents found time to make that phone call for you, sweetie). You joined seven clubs your first weekend on campus, and followed half the freshman class on Instagram before classes even started. While there's nothing wrong with striving for excellence, no one likes a show-off. Let's cool it on the public persona and desperation to "connect." Put the f*cking phone down and try making real friends offline. 
Everyone says college is the best four years of your life, and they're not wrong. However, in the midst of going to darties, making bad decisions about texting the guy who ghosted you last week, and shoveling pizza into your mouth at 1am, you need to make a conscious effort to keep your priorities (which should be academics) in check and stay true to yourself. 
Speaking from experience, you'll definitely become your truest self in college, so don't waste your time and efforts being an obnoxious fake bitch because spoiler alert: NO ONE likes that behavior in college and they'll hate it even more in the real world.
Images: Tim Gouw/Unsplash; Betches/Instagram; madison_16xox/Twitter; Lien Caputo/GIPHY; TeamCoco/GIPHY; Analyssemayraa/Twitter
7 Reasons Jennifer Lawrence Is Our Girl Crush And Life Inspiration
It should go without saying, but in case you missed it, betches love Jennifer Lawrence. After years of being Hollywood's fave Cool Girl, it's time we recognized the amount of effort she puts into seeming effortless. Honestly, she's an inspiration to us all, and I have not once gotten tired of seeing her face plastered everywhere since 2013, or whatever year that one movie about extreme camping came out. I didn't pay attention; I was too busy believing every word Jennifer Lawrence said about maintaining a perfect body sans exercise or clean eating. But if her in-no-way-grating "honesty" hasn't managed to turn you into a superfan yet, here are seven reasons JLaw is #lifegoals forever.
1. She's Graceful

Like every action star, Jennifer Lawrence is always poised and camera-ready in public. But oh my god, wouldn't it be the most relatable thing ever if she fell on the red carpet?
2. She Has Great Taste In Tattoos

It's super cute that JLaw's first tattoo is a scientifically inaccurate reminder to stay hydrated. I mean, if you're going to get something tattooed on your body forever, you might as well make sure it's pointless, half-faded, and jumbled looking from the get-go. Besides, isn't it, like, super cute that she forgets to drink water, a basic human function?
3. She's Irresistibly Sexy

As a famous person, JLaw can have any dude she wants and definitely has no trouble getting a date. That time she told Vogue her hymen was growing back from a lack of sex doesn't count because she was just being cute.
4. She's Super Polite

Our girl Jennifer has never spoken rudely to a journalist in her life. Just look at every press conference she's ever given—this is a woman that respects the press and understands that publicity is the reason she's a movie star.
5. She Never Complains.

JLaw understands that being a celebrity means she'll never want for food, money, or hookups ever again, and she never complains because that would be gauche. "I am lonely every Saturday night. Guys are so mean to me," she said once. Such a trooper!
6. She can party with the best of us.

Jennifer Lawrence might puke basically every time she drinks, but that's what friends are for. Who wouldn't want to spend the entirety of an Adele concert holding back her flaxen hair?
7.  She Has Eaten Pizza

Before Jennifer Lawrence, no woman had ever publicly disclosed that she likes pizza. Every time Jen talks about craving pizza, fries, or some other junk food, it's a win for feminism.
Thank you, Jennifer Lawrence, for being the totally relatable millionaire/Oscar-winner/world-famous celeb we all know and some of us love.
5 New Resting B*tch Faces for Spring
Spring has arrived which means it's time to trade in our all black outfits for different black outfits, and more importantly, to stay on trend with the latest resting betch faces. While last season was all about mid-winter depression and post-election angst, this season is all about showcasing how warmer temperatures equal less fucks given. We're bringing you five of our favorite new scowls for an RBF update that will have you looking bitter and better than ever.
1. Danielle Bregoli AKA "Cash Me Outside"

Danielle became a viral meme earlier this year when she went on Dr. Phil and threatened to fight an entire studio audience, whom she referred to as a bunch of hoes. Naturally, the response is that everyone fucking loves her and she now gets paid $40,000 to show up at events because it's 2017 and God isn't real. As a certified juvenile delinquent, the "howbow dah" girl sports RBF that feels like an instant classic, no matter how badly you want it to just go away already, and will pair well with any casual ensemble and extreme sense of entitlement this season.
2. Sean Spicer

Press Secretary Spicer has quickly become the angriest looking person in D.C., and it's not just because you could land an airplane on the bags under his eyes. Spicey's facial expressions, even when he's not speaking, are filled with a vitriol only experienced by someone forced to commit political suicide everyday as part of their job. He's 100% dead inside, and 100% a must-have in your wardrobe.
3. Lorde

These days Lorde is extremely excited about releasing the smash hit "Green Light" off her new album, but you'd never know it by looking at her. That's because her face naturally emanates hate beams for miles and actually has the power to kill people. Her sleek RBF look is best worn for a night out on the town and is guaranteed to elicit a worried "What's wrong? Are you mad at me?" from everyone who crosses your path.
4. Grayson Allen

Pretty much everyone who follows college basketball hates Duke's shooting guard Grayson Allen, but not as much as he loathes us and life in general. Allen is known for tripping his opponents and consistently demonstrating the opposite of good sportsmanship, all while flaunting his signature death stare. With Duke's crushing loss in the NCAA tournament still so fresh, this look is literally all the rage.
5. Blue Ivy at the Grammys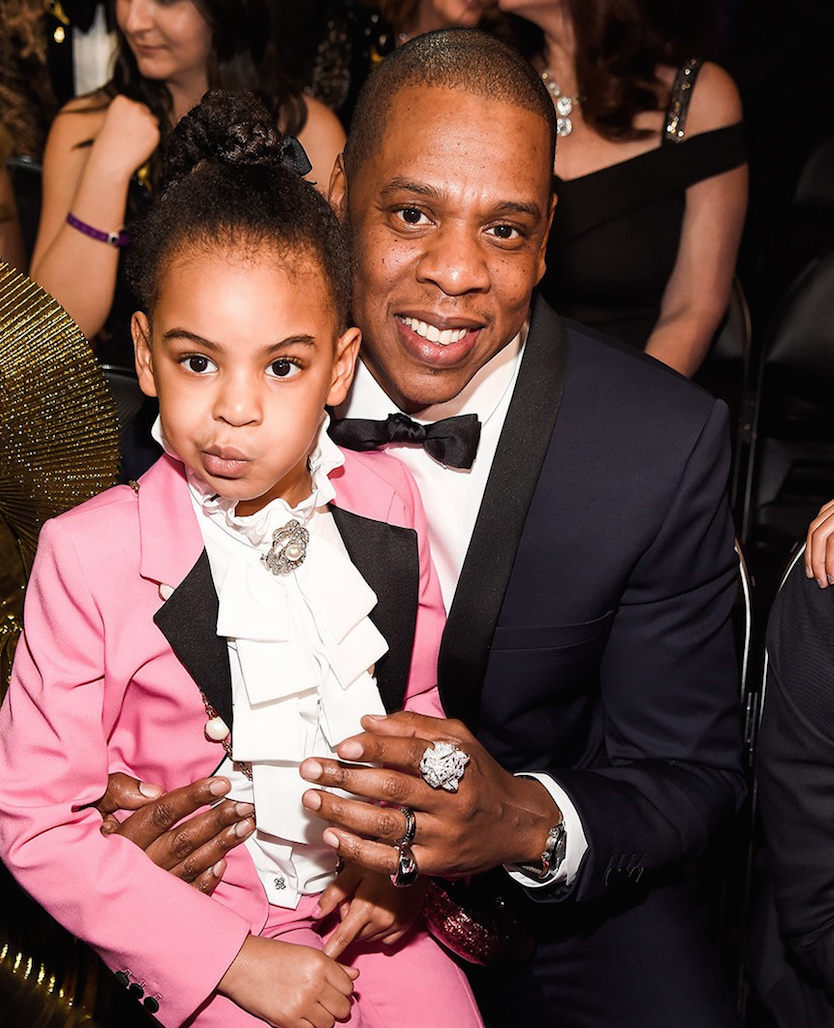 Holy god damn. The world has never seen a 5-year-old harder and fiercer than Blue Ivy Carter, not that we're surprised in the least since she's the offspring of demi-god Beyoncé. At this year's Grammy Awards she sported a $3,000 pink Gucci tuxedo and made everyone from James Corden to Nick Jonas feel inferior with her devastating shade. Wear it out of solidarity for Lemonade, or just wear it because you're a fucking badass. Either way, everyone needs to be sporting the Blue Ivy betch face this spring. 
Lisa Vanderpump's Top 10 Betchiest Quotes of All Time
Bravo is pretty much a channel dedicated to being a betch. It's just a bunch of rich women being hot and passive-aggressive with each other and just all in all living their best lives. But there's no Bravolebrity betchier than Lisa Vanderpump. I mean, I wouldn't dare be named after some mid-level Bravo betch. Fucking duh. And yes, Lisa Vanderbetch is obviously the real name my parents gave me at birth. Despite the fact that Lisa is a wealthy boss-ass bitch and pretty much runs the entire Bev Hills social scene, her real betchhood shines when she's talking shit. So as an ode to the queen, here are her top 10 betchiest quotes of all time.
1. That Time Kyle Said Being LVP's Friend Was Like Playing Chess And Instead Of Being Insulted She Took Being Smart And Powerful As A Compliment.

Me whenever the waiter asks if Diet Pepsi is okay and I say "no."
2. Because What Betch Doesn't Do This?

Don't lie.
3. That Time Her Husband Did Something Nice And She Knew Exactly How To Say Thanks

Every betch on Valentine's Day knows this feeling.
4. When She Hit Below The Belt So Taylor Would Finally STFU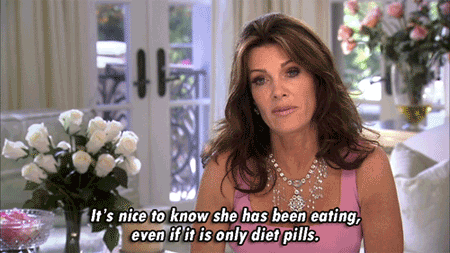 Way harsh, Tai. 
5. That Time She Read Stassi For Filth

Iconic.
6. Because Who Wants To Be At A Party Sober?

Me re: the water cooler at work.
7. When She Knew She Was Being Bitchy And DGAF

Also the appropriate response to "I wish I hadn't eaten that donut."
8. Because Fuckboys Aren't Safe From LVP Shade Either

Just save this gif and keep it on hand the next time you get a spontaneous dick pick. You're welcome.
9. Because These Wives Ain't Loyal

Lisa Vanderpump has many a frenemy, making her extremely betchy.
10. That Time She Told Moderation To Go Fuck Itself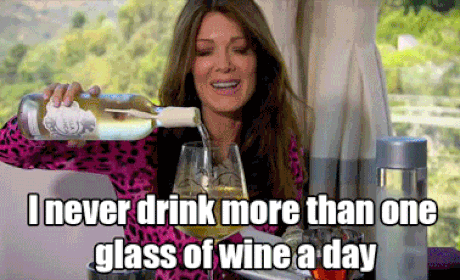 I'm gonna start saying that to my doctor. But first I need to buy a bigger wine glass.