The Best Nude Lipsticks To Make You Look Tan
I think I can speak for most people when I say that the two main summertime activities are day drinking and doing just about anything to make yourself look tanner. From carefully selecting nail polishes to make your hands look tanner to trying out all of the best self-tanners to get a bronze glow without the harmful UV rays, it seems like we're willing to go to great lengths just to make our skin look more bronzed than it actually is. Well, to add to your list of secrets to give you more of a bronze glow, we've rounded up the best nude lipsticks to make you look tanner, since picking out the right nude lipstick for your skin tone is more of an art form than a simple stroll down the beauty aisle in the drugstore. If you've ever  found yourself wearing the wrong nude shade, it was probably one of three things: too light so it looked like you have powdered donuts (or worse) around your mouth, too pink so it pulled out the red undertones in your skin to make you look like you're blushing all of the time, or too dark and so it looks like you got done sneaking into a jar of Nutella. Well, those problems should no longer be an issue, thanks to our lest of the best nude lipsticks to make you look tanner.
Read on if you don't want to look like a pale naked mole rat this summer.
The Best Beige
ColourPop Ultra Matte Liquid Lipstick in Times Square
If you're SUPER fucking pale, like transparent pale, odds are your skin will have reddish undertones that you'll want to make disappear. If that's the case with you, then you'll want to cop a light beige that will cancel out rosy shades and promote a glow. Therefore, get your hands on ColourPop's Ultra Matte Liquid Lipstick in Times Square. The color is intense (just like the amount of tourists sightseeing in Times Square), so it can be easily applied in one swipe and will dry to a super matte finish.
The Best Mauve
Maybelline Superstay Liquid Lipstick in Dreamer
If you have medium skin with cool undertones and want to make your face look tanner with the swipe of a lipstick, grab Maybelline's Superstay Liquid Lipstick in Dreamer from your corner drugstore. This shade of mauve will enhance your pout and glow all day (and night).
The Best Taupe
Kylie Cosmetics Matte Liquid Lipstick in Maliboo
So, if we're being honest, it took me multiple failed attempts at finding the right nude lipstick before I tried (and became obsessed with) Maliboo by the youngest Jenner sister. Call me a sell-out, but Kylie's Liquid Matte Lipsticks are actually really good quality that dry matte without the flaking, have really good colors, and last a really long time—even through some really long nights. So good that one time, I left one of the liquid lipsticks in the backseat of an Uber and filed five "I lost an item" claims and by the sixth one, I still hadn't heard back so I claimed that I left my kidney in the backseat. (It was never returned.) And still, I continued to dump my (sorta) hard-earned money into Kylie's empire all in the name of finally finding the perfect nude lipstick. The beauty empress' lippie collection has a shit ton of nudes but this light, cool-t0ned nude that dries a nudish taupe is good to make pale- and medium-toned people look much tanner (hence my obsession).
The Best Pinkish Nude
Nudestix Magnetic Matte Lip Color in Blossom
If you've never tried (or heard of) Nudestix, they're multi-use pencils can be used as a lip liner, lipstick, or lip stain and come in wide range of super pigmented nudes. The stick is like a grown-up version of a Crayon that can be easily applied to the lips for a lipstick that is creamy yet dries matte and lasts all day long. Blossom, a pale pink shade, is good for pale people who want to play up their rosy shades to give them a more of a reddish tan.
The Best Peachy Nude
Fenty Puma Mattemoiselle Plush Matte Lipstick in Nude Peach
Nudes with hints of orange will do the trick for those that have medium skin with olive tones. The warmer nude will help the skin appear brighter and cancel out the yellowish/greenish undertones in the skin. The number one rule of thumb for those with olive skin tones is to avoid nudes with hints of yellow, as they wash you out. So for those with olive skin, reach for Rihanna's Fenty Puma Mattemoiselle Plush Matte Lipstick in Nude Peach. The rich, highly pigmented color goes on smoothly and sets in with a weightless matte finish, so even if you can't have the same closet and bank account as Bad Girl Riri, at least you can have a similar pout.
The Best Golden Nude
NYX Round Case Lipstick in Circe
NYX's Round Case lipstick in Circe is a sheer golden nude that hydrates the lips and leaves them with a shiny, golden pout that will make medium skin tones with warmer undertones look tanner. While the lipstick isn't as pigmented as the other shades on our list, the golden nude will give your mouth a soft, shiny finish.
The Best Brownish Nude
Profusion Cosmetics Mixed Metals Lip Set in Cocoa
For those with darker skin tones, bronzish brown nude lipsticks will enhance the skin's natural glow. This three piece set in Cocoa by Profusion Cosmetics features a creamy lip liner, a matte liquid lipstick, and a metallic lip topper to create a metallic look. The set dries to a creamy matte finish that is a chocolatey brown shade. The best part? The entire kit will only set you back five bucks, so you'll still have plenty of money left over to partake in the other main summer activity: day drinking.
Image: Atikh Bana / Unsplash
This Is The Best Nude Lipstick For Your Skin Tone
If there's anything that frustrates me more than listening to obnoxious assholes chew food louder than a farm animal, it's finding the perfect nude lipstick for my skin tone. As you can obviously see, I feel very passionate about this so I'm determined to stop buying a hundred lipsticks that all look the fucking same. Why am I like this? Asking for a friend. I go too dark and look live I've smeared coffee grinds across my face. I go too light and people start to ask if I've been drinking enough water because I look sickly. I find a color that matches too perfectly and I look no different, aka I hate myself for even trying (JK I love my egotistical self). In efforts to make all of our lives a little easier, I did the time and the research so you don't have to keep drawing swatches on your arm like a 2-year-old. Here are the best nudes you need to reply to your next dick pic from a fuckboy for your skin complexion.
Also, please note that YES I've heard that your so-called "perfect nude" is the color of your nipples but given that flashing the staff at Sephora is frowned upon and highly illegal (or so I am told), I'm not going there.
If you're v pale, it's fine. We can still make you look thriving and full of life. You'll want to find a sheer light pink with cool undertones so you don't look yellowy and diseased. This pastel color brightens your entire face so you look rejuvenated and not like a dehydrated raisin (aka me when I'm outside for two minutes). Stay with a pearl finish to really define your lips and bring out your lip's natural shine.

A subtle salmon pink can look very natural as long as it's not too orangey. This is super ideal if you want to convince people you *do* have blood coursing through your veins and you're like, not a vampire or anything. It'll bring a shit ton of warmth to your face, especially if you wear some blush to complement it. Avoid matte finishes because you'll look dry and gross.

For Tan/Medium Skin Tones
Dark pink hues look seriously fab on medium skin tones. The warm color makes your lips look super full and healthy since your skin tone is warm as it is. Wear with a peach blush for the perf rosy glow.

Wearing a lipstick that just slightly contrasts with your skin tone can be done without making you look crazy. If your skin is more of a caramel shade, you'll want a natural-looking tan that really gives off a gold shimmer. The shiny finish defines your lips for thotty kissy face Snapchats and overall makes your lips look better than Angelina Jolie's. Just trust me, OK?!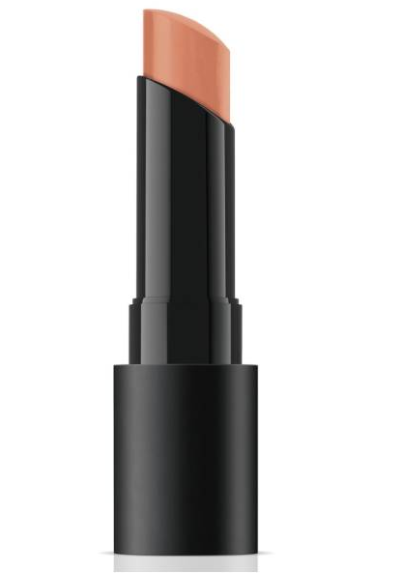 For Deep/Dark Skin Tones
The right shade of brown lipsticks on darker skin tones can make you look like a goddamn goddess—but only if you choose the RIGHT brown. If you choose a beige shade or literally anything lighter other than this gorg toffee, you will look like a zombie straight from The Walking Dead. A toffee blends in perfectly, giving you a glossy lip and serious upgrades from a lame AF naked lip.

For something still full of color without being over-the-top, an intense dark pink is ~the one~. The darker pink can still pass for a vibrant nude if you're looking for something that flushes your cheeks to make everyone think you like, just had sex worked out or something. Pair the color with a similar blush shade for a rich pink shine.