The Best TV Shows & Moves To Binge On Netflix This December
You made it through Thanksgiving, but there's like, so much more holiday season to endure. That means more family, more spending money, more office parties, and more blizzards. What a joyous season. The only good part about December is that it means 2018 is slowly coming to an end. That's a good thing at least. So to close out the year, here are some of our top movies and TV shows for you to watch on Netflix this December.
Dec 1: 'The Big Lebowski'
My ex-boyfriend's Instagram bio was "I don't roll on Shabbos" and I thought that was a reference to rolling joints. Turns out it's from this movie, which is about bowling. Basically, these two guys share the same name, Jeffrey Lebowski. But like, one's an avid bowler and one's a millionaire whose wife gets kidnapped. Millionaire Jeff doesn't want to get his hands dirty, so he hires bowling star Jeff to go pay his wife's ransom. Obviously, sh*t goes wrong because you trusted a guy who spends his time in rented shoes with your money and wife's life. This movie is apparently a "cult favorite" and my ex-boyfriend's, so go watch it.

Dec 1: 'Cloudy With A Chance Of Meatballs'
This movie is pure nostalgia. Remember the book we all read and loved in like, elementary school or whatever? This is that, but with a twist. Flint Lockwood sucks at inventing things, but one day makes a food machine that flies up into the atmosphere and actually works. His town is f*cking thrilled (as one would be) but end up getting too greedy and fat making the machine go haywire. IDK about you, but this movie f*cking scared me when it originally came out in 2009. People were legit getting squashed by cheeseburgers and spaghetti tornados coming from the sky. Now thinking about it, that sounds like a pretty good way to go.
Dec 1: '8 Mile'
Once you've binged Lady Gaga and Demi Lovato's documentaries, you can move on to this. It's not really a documentary, but more ~based on a true story~. Eminem plays Jimmy, a guy from Detroit who hates his life working at a car factory and want to be a rapper. Brittany Murphy (RIP) plays Jimmy's love interest and has sex with him in the car factory cause she finds it hot that he stands up for his gay co-worker, Paul, who was getting insulted via rap battle. If that's not reason enough to watch this, here's another: Mom's spaghetti.

Dec 7: 'Free Rein: The 12 Neighs of Christmas'
If you've already watched The Princess Switch and are still in need of your terribly wonderful cheesy Christmas movie, look no further. This movie is based on the show Free Rein, a British TV series with major horse-girl energy. Zoe drops a Christmas ornament and somehow discovers a ~family secret~. Who TF hides family secrets inside Christmas ornaments? How did you even get it in there anyways? This movie includes a Mistletoe Ball, evil b*tch boss, hot elf man, and some sort of Santa in a shack—I like it already.
Dec 7: 'Dumplin'
This movie is what would happen if Toddlers & Tiaras suddenly became woke. The movie stars plus-size teen Willowdean Dickson (find a more southern name, I actually dare you), who signs up for her mom's pageant because she wants to start a "revolution in heels". This is the feminist, body-loving movie I've been waiting for. I feel like this is a role Rachel Green would've died for had she taken up an acting career. I'm just praying it doesn't turn out like Sierra Burgees Is A Loser because that was an abomination. Besides, how could something with Jen Aniston AND Dolly Parton SINGING be bad? The answer is simple, it cannot.

Dec 7: 'The American Meme'
Be #cultured and spend your time watching a documentary starring the likes of Paris Hilton, The Fat Jewish, Emily Ratajkowski, Hailey Baldwin, and more. Watch how these influencers with literally no talent other than posting photos make a sh*t ton more money than you. After showing at the Tribeca Film Festival earlier this year, Netflix jumped to purchase this work of art. Any movie where Paris Hilton and The Fat Jewish are quoted as experts is one I want to see. This documentary may or may not be educational, but either way, it's going to be entertaining.

Dec 16: 'Baby Mama'
This movie is one of Tina Fey and Amy Poehler's best works. Kate, played by Tina Fey, is a single businesswoman who put her career before her personal life and forgets to have a baby. The struggle is f*cking real. She can't get pregnant or adopt, so she hires Angie, played by Amy Poehler, as the surrogate. Angie fakes her pregnancy for a little while thinking she could just steal Kate's money and peace. But then she ends up actually being pregnant with her own baby.
Dec 14: 'Fuller House' Season 4
This show is absolute garbage yet I find myself binge watching it with a half-empty bottle of wine more often than not. Nothing will ever live up to the original Full House, but this show has made it four seasons, so I guess it has to be kind of good? Mary-Kate and/or Ashley have still not returned as Michelle and that's thoroughly disappointing. But there's a Christmas episode included in this season, so it's totally festive. Joey dresses up as Santa so like, that might be charming or scary depending on who you are. And we get to find out the fate of Danny Tanner's love life after Vicky made a return at the end of season three. Thrilling.

Dec 14: 'Chilling Adventures Of Sabrina: A Midwinter's Tale'
Even though it only came out a month ago, you've probably already binged the entire season of the Chilling Adventures of Sabrina. If you aren't scared sh*tless of this show by now, get ready for their holiday special. Christmas time means that the Church of Night (a totally not suspicious name) celebrates the Winter Solstice, the longest night of the year. They all sit around a fire and tell ghost stories. Sounds cute and harmless until you remember that they all literally worship the devil. This is def not your traditional Hallmark holiday special, but if you're a spooky b*tch, you'll enjoy it.
Dec 14: 'The Fix'
Does reading about the state of our crumbling world make you want to hide in a cave for the rest of existence? Yes? Then this is the show for you. Netflix's latest panel show hosts top comedians and poses them with questions about how to solve some of the world's greatest conundrums. Will they solve anything? Probably not. Will they be a hell of a lot closer than our current government is to solving anything? Definitely.
Dec 21: 'Back With The Ex'
The title of this show is also known as the worst possible text message you could ever send to or receive from your best friend. This Australian reality show takes four singles and reconnects them with their exes. I think I would rather tweeze every hair on my body than partake in this, but I'm totally down to watch other people try. The only thing that would make this show better is if there was a Bachelor(ette) spin-off where they put former couples back in the mansion together. I want a full Jake and Vienna breakup meltdown all over again.

Dec 25: 'Anthony Bourdain: Parts Unknown' Season 11
The second last season of Anthony Bourdain's show is coming to Netflix to on Christmas, how pleasant. *Wipes tears*. As a world-famous chef and travel documentarian, Bourdain explores unusual foods and fascinating places around the world. This season takes us through West Virginia, Uruguay, Newfoundland, Armenia, Hong Kong, Berlin, Louisiana, and Bhutan.
 Dec 26: 'YOU'
Just in case you needed to hate Dan Humphrey a little more, here it is. Penn Badgley plays Joe Goldberg, a bookstore owner (classic Dan) who develops a crush on an aspiring writer, Beck. Aw, cute. Until it's not. Turns out, Beck has sh*t privacy settings and Joe knows a thing or two about stalking people (perhaps from his days as Gossip Girl?). In true Dan Humphrey fashion, what starts out as an innocent crush on Serena Beck eventually turns like, criminal. Explore the blurred lines between love-struck or dangerously obsessed with this feel-good show that reminds us all that men are trash.

Images: JESHOOTS.com/Pexels Giphy (6)
Every Thought I Had While Rewatching 'How To Lose A Guy In 10 Days' In Honor Of Its 15 Year Anniversary
If you were a true betch in the early 00's then you know you weren't shit unless you were watching the latest and greatest rom-coms that graced your television screen. And the best rom-com in the early 2000s was How To Lose A Guy In 10 Days, which was arguably a national treasure of its time. It's been 15 years since the release of the movie—yes, let that sink in, FIFTEEN YEARS because Jesus we are old—and I'm still learning new shit every day from watching it. For example, I don't need 10 days to lose a guy, all I need is 10 minutes and the mere mention of commitment. *sips wine* In honor of the movie's 15 year anniversary I've decided to re-watch it and gift you all with every thought that ran through my head while I watched it. You're so welcome. Now, shall we begin?
1. Okay I've spotted my first problem with this movie already, and it's not that this girl somehow managed to get a job at a huge women's magazine in New York City as a FULL-TIME PAID STAFF WRITER right after grad school. No, HOW did this bitch manage to flirt her way into court side Knicks tickets? I can barely flirt my way into a text back…
2. I'm listening to Matthew Mcconaughey talk to his female competitors, and it's good to know that 15 years later sexism is still just as much alive and well in the workplace.
3. (But low-key Matthew McConaughey still looks fucking amazing in this. Seriously, gift that keeps on giving on my TV screen rn.)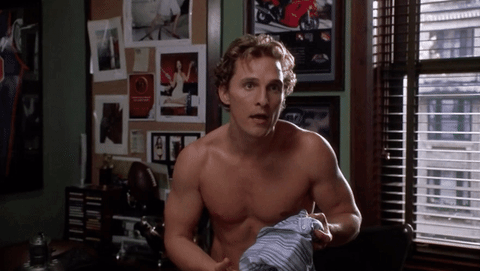 4. Okay this Michelle girl is a fucking psycho. She cried during sex? Said I love you after two days? If I were Andie I'd ghost her as a friend just listening to that story.

5. This editorial meeting is an absolute joke.
6. 10 dates in 10 days is fucking insane. The only thing I can commit to doing for 10 days in a row is my Netflix account, and even that is pushing it.
7.  Problem #2 with this movie is that Andie thinks she can just "find a guy" at a bar. Well good thing this story is about Andie and not about me, because I've been looking for a guy at a bar going on five years now and have yet to be successful. It would make a boring comedy, but perhaps a compelling horror movie. 
8. Why is this bar so well-lit? The only way I will speak to strangers when I'm out is under an extreme cover of tequila darkness. Also, why is the median age at this drinking establishment 55? The assignment was for her to find a guy to date, not help him exercise his mid-life crisis. Andie, honey, if you're looking for bar whose patrons are terrified of commitment then let me introduce you to Hair of The Dog.

9. I can't believe Andie is just going to ride off into the dark with this absolute stranger. Sober. That's the real inaccuracy here.

10. LOL he took her to Red Lobster. I know I've seen this movie, like, 100 times but I'm still waiting for Ben to creepily insinuate that shellfish is an aphrodisiac.

11. Ben, a white male in advertising, just chose Nelly's "Hot In Herre" as mood music. I now know why seventh grade me was so attracted to him…
12. Things I whisper to myself when I get a new match on Hinge: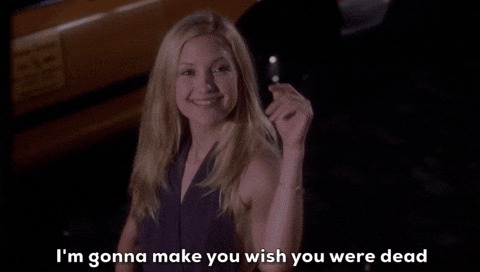 13. YO THAYER IS REAL AF. Case in point:
BEN: It's a marathon, not a sprint
THAYER: A marathon is 10 days?
14. So in order to get a guy to go on a second date with you, you need very expensive basketball tickets? And here I was thinking you could just put out.

15 OMG KRULL THE WARRIOR KING. I'm fucking screaming. This whole penis naming scene is pure gold.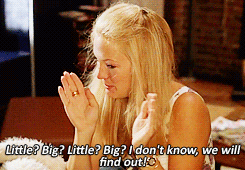 16. This entire plaid/khaki ensemble happening on my screen rn is so 2003 it hurts. Also, Thayer continues to kill it with the savage one-liners:
THAYER: You're a vision in khaki.
Seriously, Thayer, you are a national treasure. Don't let anyone tell you different.
17. Sooo making a photo album of your future kids with a guy is the equivalent of tagging a him in something on Instagram today? Interesting. One seems crazy and the other just seems like something that should be socially acceptable to do with a person after seeing each other for four months? But idk.

18. Is this her own personal rooftop that Andie and her friends are drinking/sunning on? WITH LOUNGE CHAIRS AND FLORA? And she can afford this on a writer's salary?? I mean, I too have access to my building's rooftop but there's less of a lounge chairs and flora situation happening and more of a potential lawsuits and liabilities.  
19. I'm watching this poker game and all I can think is Ben can fit an entire pool table in his apartment and my "bar cart" is an empty bud light box. Similar, but different.

20. The most unrealistic part of this movie is Ben being upfront with Andie about how "crazy" she's acting. If this were today he'd just never answer any of her phone calls and evaporate into thin fucking air only to resurface six months later between the hours of 2 and 4am.
21. BEN: You have more than enough personalities to keep me occupied
ME: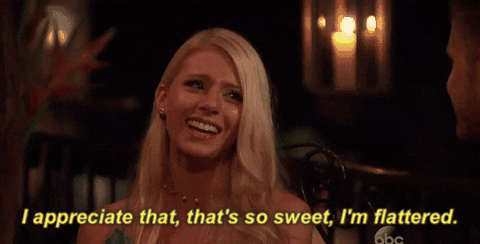 22. This therapist just said the words "positive idea" and "Staten Island" in the same sentence. K.
23. I love that the moment Andie starts to feel emotionally and physically attracted to Ben is the moment she realizes one of his greater strengths is bullshitting other people. It really comes full circle here, doesn't it?
24. Why does Ben's family sound like they're from Texas? Is this what Staten Island people are really like? Is this really where I can find a Southern sounding man who looks and dresses like Matthew McConaughey? Because if so, I've been seriously misled about wtf happens in Staten Island.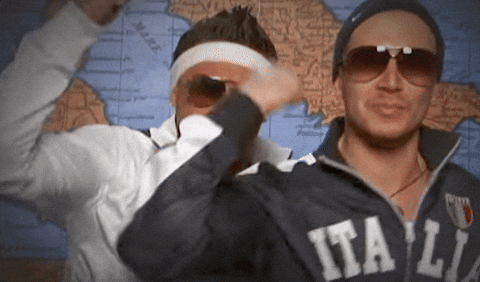 Seriously. Misled.
25. Let me get this straight. The first time they have sex is in his parents' hall bathroom? Why did I ever find this sexy? Are they full-functioning adults with paying jobs or college freshmen home for Thanksgiving break? 
26. She lives in a building with GOLDEN doors and an actual doorman. That rooftop is starting to make more sense, the salary of her profession and current fashion statement of wearing her jeans unbuttoned for the chic-ness of it are not:

Fashun. 2003 was wild, people
27. LANA: Do you see any patches or insignia on my outfit? No? That's because I'm your boss, not your girl scout leader.
Lana is me. I am Lana.
28. 15 years later and I'm still obsessed with this yellow dress.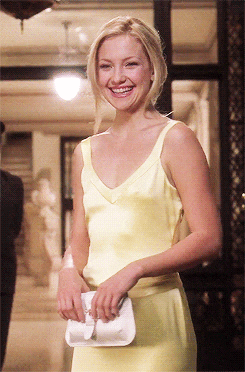 29. This party is littttt. It's also making me want to email my boss and ask her why I don't get to "frost myself" with millions of dollars worth of diamonds at our corporate happy hours. (I only get to sample the house wine.)
30. Ben's boss keeps asking Andie if she loves Ben and she's like, "Noooo, I can't? But I might?" and it's like, NO YOU ABSOLUTELY CAN'T BECAUSE IT'S ONLY BEEN 10 FREAKING DAYS. And he's been lying to you this whole time! Because he is a literal stranger to you.
31. Looking back,  "You're So Vain" was a fantastic song choice for this scene. I'll make note of it for the next time I want to publicly drag my ex for all the world to see.
32. Wait, this whole time I thought Mike was some huge player and instead he looks like he'd be more comfortable selling Verizon cell phone plans than trying to steal your girl. Are you kidding me with this?
33. Tbh the most realistic part of this whole movie is Michelle taking back a fuckboy with the flimsiest of excuses as to why he stopped seeing her.

34. Wait this is the high-end advertisement campaign they came up with for the diamonds? I have seen more high brow advertising come out of a Forever21 campaign. 
35. Looking back, this car chasing scene might be the reason I bang preppy looking fuckboys have trust issues.
36. So let me get this straight. She was leaving New York to advance her career and decided to stay because a guy she's known for 10 days asked her to? By romantically declaring his "love" for her by yelling "bullshit" at her? Seems right.
37. THEY JUST GAVE AWAY HER LUGGAGE TO A RANDOM CAB DRIVER? Yeah, be prepared to never see those belongings again, sweetie. I have a feeling their first official fight is about to happen 30 minutes after this scene when she realizes he just handed over her laptop to get sold on the black market.
38. Well this movie taught me that the more you push a guy away the more he'll realize how good he's got it and will fight for your relationship. Lol KIDDING. Nah, I didn't learn shit from this movie except that lies are an important step towards accepting love, and that if a beautiful man who works in advertisement approaches you at a bar, it's because he's just using you to win a bet. But you'll be into it anyway. Okay BYE.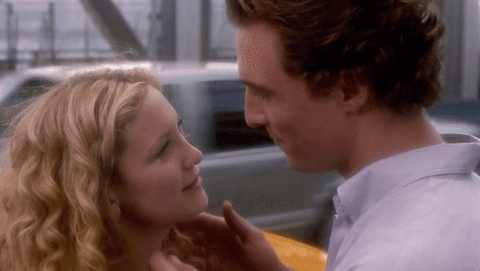 Images: Giphy (9); Netflix (5); Movieclips.com / Youtube (1)
The Only Christmas Movies That Are Acceptable To Watch This Holiday Season
Now that Thanksgiving has passed, we've all gained 20 pounds, gone down the dark road that is family time, and are on the darker road to Chrismahanakwazakah, it's time to round up the absolute best ways to kill time alone because sweatpants is all that fits us right now holiday movies. Yah, we've all seen them a million times, they're tacky, and you may be caught dabbing tears out of your eyes, but they're one of the only things that make us feel feelings during this season of materialism, overcooked in-law dinners, and ironic sweaters. May you, too, be filled with fuzzy and warm feelings of holiday cheer or just get really drunk and enjoy these.
1. 'Elf'
This is Will Ferrell at his fucking finest. Traipsing through New York, getting plowed into by taxis, tasting shitty coffee, and singing loud for all to hear are all part of this magical adventure, and I'm honestly here for it. If you haven't said "Byeeee Buddy, hope you find your dad" to at least one friend when she wanders out of a bar, I don't want to know you.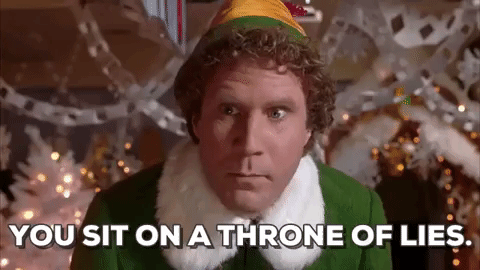 2. 'It's A Wonderful Life'
If you like, need to cry and feel appreciated, this is probs what you should watch. Grab your sweatpants and watch the 1940s movie that will make you feel low-key annoyed no guy ever offered to buy you the moon.
3. 'Die Hard'
I don't even care if this doesn't count—it's amazing. It's amazing in July, it's amazing in September, and goddamnit, it's amazing at Christmas time. Watching Bruce Willis in his glory days thwart crime while making v 80s comebacks is perfect with alcoholic eggnog and a slice of pie.

4. 'Rudolph the Red Nosed Reindeer'
This OG creepy claymation movie is life. It's the ultimate story of revenge—kid gets made fun of for having what is clearly a serious deformity, runs away, meets a monster and homeless Yukon pervert who licks gold, kidnaps a lady deer, then takes vengeance and highjacks Santa's sleigh. That's pretty much exactly how this movie goes, with all its 60s wholesomeness plus some sing-a-longs.
5. 'How The Grinch Stole Christmas'
NOT THE ATROCIOUSLY BAD JIM CARREY VERSION. I'm talking the original animated 30-minute Grinch that struck fear into children's hearts back in the 60s. Not only do I know all the words to every song in this feature, but I identify a lot with the Grinch, who, at the end of the day, just wanted some goddamn peace and quiet. My heart, too, is several sizes too small, and I'm not ashamed of that.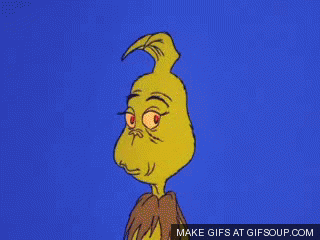 6. National Lampoon's 'Christmas Vacation'
Nothing helps me identify with feeling like I'm in a goddamn insane asylum when my in-laws are around than watching Chevy Chase literally hallucinate imaginary women in this classic. If you, too, get kicks from animals being electrocuted by trees, sewage running down streets, and rampant child endangerment, this is the movie for you.
7. 'Home Alone'
Full disclosure, I hadn't seen this movie all the way through until last year. My first question is, who are these parents that leave a kid at home in that fucking mansion? Second question, wtf does Mr. McCallister do for a fucking living and is he available? Watch this and the sequel just for the Trump cameo, then cry yourself to sleep.

8. 'The Nightmare Before Christmas'
Idk if this is a Halloween movie or a Christmas movie, but something about kidnapping Santa, terrorizing children, and ghost dogs really got me. Real thought—isn't this a lil dark to be a children's movie? I feel like it more closely aligns with being an artistic autobiography of Tim Burton's real life adventures.
9. 'A Christmas Story'
So much good here. If you, for some unknown reason, have not managed to see at least 30 minutes of this while it airs for 24 hours straight on Christmas day, shame on you. Do yourself a favor and bask in the glory that is a fishnet-clad lamp, the wonder of saying "fuck" in front of your parents, and understanding what happens when you lick a frozen flagpole.

10. 'Charlie Brown Christmas'
You know you've referred to the bundle of sticks you call a tree as a Charlie Brown Christmas tree. This shit has a chokehold on visions of Christmas, and it's all thanks to these wacky kids and their unsupervised adventures.