What Not To Do If You Have A Pregnant Bridesmaid
The best part about getting married (other than the whole "finding someone to stand by your side during the good times and bad for the rest of your life" thing), is that for once, FINALLY, everything is all about you. Sure, in your head it usually is, but now? Now it's for real. Estranged friends come crawling out of the woodwork clamoring for an invitation to the wedding. Acquaintances who are trying to make their calligraphy businesses take off DM you about place cards. Family members comment on how prominent your collarbones are. It's the stuff of dreams.
And then it happens. The phenomenon that occurs when a bride is of moderate popularity and child-bearing age: One of your 4-12 bridesmaids has the AUDACITY to get pregnant. 
View this post on Instagram
Whether she had been trying to get pregnant for years or this was a total accident miracle baby, you're now faced with the fact that NOT ONLY is one of your besties jeopardizing all of your plans, but now she's, dare I say, upstaging you? Before you throw her out of your wedding and wish ill upon her unborn child, take a deep breath and do your best not to jeopardize your entire friendship over something as small as bringing another human life into the world. If you want to ensure your friendship lasts beyond the second trimester, heed our advice and remember: Pregnant friends now make for great babysitters if you pop out a few of your own in the future. So if you do have a pregnant bridesmaid, here's what NOT to do.
Don't: Make Her Feel Like Sh*t
The most impressive thing my body has ever done is digest 14 breadsticks while hungover at the Olive Garden. Your friend is growing a human inside of her. Rumor has it, that sh*t takes work. Odds are, she's already feeling bad. Between the morning sickness, backaches, and nightmares about having to take care of another human for the rest of her life (I'm just spitballing here), she's already dealing with a lot. While it's a bummer that she's not going to be tossing back tequila in Cancun with you at your bachelorette party or partaking in some ceremonial puff-puff-pass after getting back to your Airbnb, do your best to love her in this stage. Take a million 'grammable party bump pics and utilize your other friends for their overzealous alcoholic tendencies. Her ability to down Fireball like a fish may be gone for now, but her spirit is always with you. RIP. 
Don't: Expect The Same Level Of Commitment
Being a bridesmaid is like working two 9-5 shifts in a row and not getting paid

— betchesbrides (@betchesbrides) September 30, 2019
Before she started growing a person inside of her, there was a good chance your friend would have been right by your side (physically and mentally) every step of the way. Dress shopping, mother-in-law bitching, wine nights to stuff invitations that turn into party nights to complain about how your fiancé doesn't seem to care which linens you pick—she was your go-to. Now? She's going to the doctor twice a week (disclaimer: I have no idea how often pregnant people go to the doctor, but this feels like a solid guess), sitting with her legs elevated 24/7, and insisting she needs to go home by 9pm. 
Instead of expecting her to perform at the same caliber as she would have been if she hadn't forgotten to use a condom gotten knocked up, use her condition to your advantage. Ask your other, less pregnant bridesmaids to do the heavy lifting and hide out with Preggers in the other room, catching up and whispering curse words to her fetus. Bow out of the extended small talk at your shower to "make sure your pregnant friend is okay," while really just talking sh*t together in the bathroom. It might not be what either of you had originally pictured, but it doesn't mean it's going to suck total ass, either. It could be worse. I mean, YOU could be the one who's pregnant, so praise be for that not being the case, amiright? 
Don't: Be Unwilling To Change Your Plans

Turns out, having a baby wreaks havoc on not only your lifestyle but your body too—who knew? Between swollen ankles, an exhausted body that is literally growing another body inside of it, and the fact that you're not allowed to drink alcohol for the longest period of time since you were like, 16, it's a f*cking lot. What, I imagine, would make it harder, would be to have one of your besties be unwilling to accommodate you in order to be a part of her special celebrations. Sure, it's a drag that a bachelorette party during your friend's third trimester might not work or that a trip to somewhere with Zika might be out. But, as you'll quickly learn with wedding planning, things tend to not go as planned. You can either embrace it or you can be a total bitch and try to fight it. The first option causes less stress-induced breakouts. 
What is comes down to is this: If she's one of your day ones, and you can't imagine not having her at as many things as possible, talk with her and be willing to alter plans and compromise together. Unless she's a total see you next Tuesday, she'll understand that some things you can't change, but can compromise on others. At the end of the day, what matters more: having her with you or having the dream events you envisioned in your head? Bonus question: If she's not there, wouldn't it mess up your dream anyway? 
Don't: Compare Her Now To What Could Have Been
Before she got knocked up, there's a good chance she would have been right by your side, throwing up tequila at your bachelorette party or getting drunk with you after your bridal shower and laughing at all of the weird gifts you got from distant relatives (thanks for the fertility herbs, Aunt Jenna). Now? She's in bed by 10pm at your bach party, if she even went at all, and she left as soon as the gifts were opened at your shower because a wave of nausea hit her. It's easy to judge and compare her to what your friendship was like before, but ready for some hard truth? Sh*t's not the same anymore. Not for either of you. 
You're getting married and she's about to push a human out of her vagina. Instead of dragging your feet and complaining about how you pictured it all to go, try to remember that if everything stayed the same you would still be crying at the club (yes, the club. You'd still be going to CLUBS) about some loser who didn't text you back instead of getting ready to walk down the aisle. Embrace the changes and do your best to celebrate both of you, as annoying as it might seem in the moment. 
Don't: Make This Time All About You

Remember at the beginning when I said this time was all about you? Joke's on all of us, because one of your besties failed to practice the ol' pull and pray. Now, as all of your college friends rush to see your ring, they're also elbowing their way to your friend to get a bump picture for the 'Gram. Yes, it's annoying. Yes, it's unfair. No, you can't be a total bitch about it. While in a dream world everyone's special moments would fall at different times so you could all have your own undivided attention, it tends not to happen that way. It's the curse of having lots of friends. Sorry, you're like, really popular.
The key? To ensure everyone has times that are all about them (showers, food tastings, baby registry shopping, etc.) and to focus on their milestones. While your wedding might not be the year-long "all about you" celebration you always pictured (which is obnoxious anyway), it's better than losing a friendship over a baby that could, potentially, hold your finger with its entire hand someday and cause your ovaries to explode from sheer cuteness.
Don't: Bend Over Backwards 110% 
Sure, she's a goddess, a gift from heaven, and a glowing, gorgeous example of femininity. But, while her pregnancy announcement is big, your news is too. Compromising so she can be at the shower, understanding if she can't stay over in your hotel room the night before the wedding, and accepting that standing at the altar for an extended period of time might be too much, are one thing. Her making this time ONLY about her is another. While brides can become bridezillas, moms-to-be can become future-momzillas. If you're compromising, so should she. 
Just like a marriage isn't a one-way street, neither is friendship, especially when you're both experiencing exciting, scary, and life-changing moments. You need to be there for each other by listening to the venting, not undermining each other's fears, and cherishing these special moments without undercutting the other. It's just as important that she's on board to compromising because while this time isn't all about you, it's (shockingly) not all about her, either. 
Don't: Forget Why She's In Your Wedding In The First Place
Unless you got wasted and accidentally asked her to be in your bridal party (been there, done that), odds are she's a pretty important person in your life. Whether she's knocked up or not, she's been there for you through tears, triumphs, and most likely lots of bitching about the person you're going to marry that she PROMISED to take to the grave. 
So, as you're adding "find a breast pumping room" onto your venue to-do list and changing your bachelorette party date to a time when she won't look and feel like a total beluga whale, remember that this friendship is about more than just a bachelorette party, a picture-perfect wedding, and bridesmaids in dresses that make them look bangin' but still slightly less hot than you. It's about being there for each other through the highs and the lows, the wedding planning meltdowns and the post-birth vagina stitches.
At the end of it all, friendship means never having to say, "I'm sorry I was a total bitch to you when milk was seeping out of your nipples at my wedding," or something like that. 
Images: pyrozhenka / Shutterstock.com; betchesbrides / Twitter; Giphy; boredpanda
3 Signs His Female Friend Is Sabotaging Your Relationship
I can already anticipate all the backlash to this article (I announce to my three readers). People of different genders can be friends without being attracted to each other, When Harry Met Sally set us all back decades, blah blah blah. Ideologically, I want to and kind of do believe all that. But I was also single for basically the entirety of college, better known as the four horniest years of everyone's life. So, I can tell you with complete confidence that single women competing for male attention are among the most vicious, scheming creatures on this earth. If you are a heterosexual woman in your twenties, it's pretty much guaranteed that you have at some point toed the line of acceptable behavior with a guy in a relationship. Similarly, you've likely felt threatened by a female friend who you suspected would rather see your relationship fall apart.
Then again—purely statistically speaking, definitely not from experience—you've probably also ruined, or at least damaged a relationship by being a jealous psycho when nothing was going on. So, from my vast experience, here are the three signs to let you know that a female friend is actually something to worry about. Read on before sending your 50th passive-aggressive text about Karen from work.
1. She Pretends You Don't Exist
This seems like an obvious one, but you'd be shocked how many well-meaning boyfriends pretend not to notice don't notice it. Typically, I allow my close friends to go on five dates MAX before I start angling to meet whoever they're dating. If your boyfriend has a close female friend who shows zero interest in getting to know you, that probably means she's busy pretending you don't exist—and encouraging him to do the same. By never asking to meet you, your boyfriend's "friend" is, at best, undermining your importance in your boyfriend's life and subtly implying that you won't stick around long enough to be worth meeting. At worst, she's implying that it would somehow be awkward or unthinkable for her to meet you—after all, you wouldn't introduce one girlfriend to the other, right?
Since you can't exactly tell what's going on in her head, here are a few warning signs. If she exclusively invites your boyfriend to hang out one-on-one at bars, date-y restaurants, or activities she knows you're not into, not great. If he has to ask if he can bring you whenever she invites him to a party, not great. And if, when you arrive at a party with him, she pretends you're not there while treating your boyfriend like they're the only two people in the room all night, really really not f*cking great. Finally, if you go out of your way to be friendly to her—DESPITE ALL THIS—and she barely acknowledges you? That's when you walk out.
Basically, if she's trying to will you out of existence so she can keep pretending she has your boyfriend all to herself, you have a problem. And if your boyfriend lets her get away with this, you have a sh*tty boyfriend.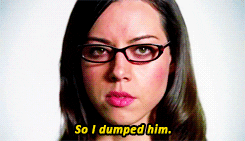 2. She Touches Him—Like, A Lot
I am not a total psycho. (Well, I kind of am, but that's not pertinent here.) I understand that friends make physical contact, and I am not suggesting you burn all your boyfriend's possessions every time you see him give someone a hug. That being said, if you're reading this article, I assume you have at some point flirted with a man. You know what friendly touching looks like, and you know what flirty touching looks like.
When it comes to this particular issue, I really encourage you to trust your gut. When I was 17, I spent months watching my best friend "playfully" hit my boyfriend's chest whenever he made a joke. I was told by everyone I knew to "calm down," and they were just friends. Even the friend in question just pulled the excuse that she "expressed herself physically." Lo and behold, six months later I find out they've been having secret sleepovers. So no, you can't exactly require that your boyfriend abstains from any physical contact with other human beings. But if you're watching someone touch your boyfriend in a way that makes you feel sick, pay attention to that feeling.

3. She Sends Him Emotional Drunk Texts
Again, I understand that friends are there to offer each other emotional support. If she tells him intimate things or goes to him for support after a breakup, that's not necessarily a red flag. But if she texts him highly affectionate or deeply personal things when her inhibitions are lowered (aka she's drunk AF), it may be a clue into what she wishes their relationship was like. And obviously, if she texts him anything along the lines of "come over," you need to have a serious conversation about boundaries.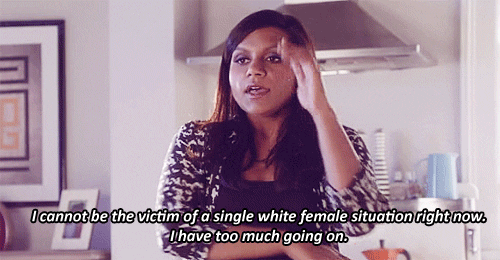 I'm not going to lie—this was a tough article for me to write. Like, had-to-take-a-walk-around-the-block-and-ward-off-a-full-scale-panic-attack tough. I've been cheated on, and I've also been the other woman (I think—they didn't mention their girlfriend for the weeks/months we spoke, but it later sure seemed like a girlfriend existed). So while I really do trust my boyfriend, I've seen firsthand how a seemingly happy relationship can be sabotaged from the outside. Is it usually a sign of an underlying problem? Sure. But even if it doesn't go to the point of cheating—if there's just another woman in his life who consistently forces your boyfriend to choose between her comfort and yours—it can make the strongest relationship feel shaky.
So, if your boyfriend has a female friend who exhibits the above behaviors, I encourage you to talk it out. No ultimatums, no screaming I WILL CUT THAT B*TCH (just me?). An honest conversation about what would make you feel better, and whether those are steps he's willing to take. If he refuses to even entertain the conversation, or—*gasp*—calls you crazy, then it's time to consider how much of the problematic dynamic is actually being caused by your boyfriend.
Images: Giphy (4); Parker Whitson/Unsplash
PSA: It's Weird For Your Mom To Be Your Best Friend
We here at Betches celebrate moms. Moms are great to talk shit with. They always take your side. And, most importantly, they gave us at least 50% of our current beauty. But just like all things that are great—like cheese and my regular coke binge—limits are key. It's great to be close with your mom, but you've got to have boundaries. Otherwise it's just plain weird. And that's why I'm here, to write a response piece to an article I read called "My Mom Is My Best Friend And That Is More Than Ok." I, a random Betches writer with literally no personal interest in the matter and who doesn't even know you, am here to tell you that no, it's not okay—it's fucking weird.
Literally the first words of this piece are "Thank you for being the Lorelai to my Rory," so I was already suppressing my gag reflex to begin with.

Things did not get any better for me when I came across passages like:
"Many people can see this as a bad thing or that it means that your mom is your only friend, but that is far from the truth."
Okay, I am down with the whole "mom as a friend" idea to an extent—which we'll get to later—but your ONLY friend? Honey, that is concerning. You need to have friends your own age, and you need to have friends that aren't basically required by virtue of being related to you/having housed you in their womb to be your friend.
Like, if your mom is your ONLY friend in the entire world it means either of a few scenarios are possible. 1) You just moved, which, okay we'll cut you some slack, Squid. 2) You can't relate to people your own age which indicates that you should stop watching Oxygen and go to a party or something. 3) You just suck as a person so nobody who doesn't have to be your friend will. Both the latter two options are troubling, to say the least. If you have ZERO friends other than the woman who carried you in her uterus for nine months, it's time to look at your life, look at your choices.

"I may have seemed unappreciative growing up, but truthfully I just did not appreciate you enough."
That … that is literally what unappreciative means.
"My mom is always the first person I call in the morning and the last person I call at night."
Oh, so you're one of THOSE. Look, I'm sorry, but between the time you called your mom at night, slept, and woke up, what could have possibly happened in your life that you need to fill your mom in on? Did you have a bad dream? Sorry, but seeing as you're not Martin Luther King Jr., literally nobody cares. Not even your mom. Yeah, I said it.
"She knows all there is to know about my life and I would not want it any other way."
See, this, this right here is the problem. Is it great if you're close to your mom? Yes. Sure. By all means, have a ball. Should your mom know ALL THERE IS TO KNOW about your life? Hell to the no! It's all about BOUNDARIES. Say it with me now. For instance, it's cool to tell your mom you went out on a date. It's even fine to tell her you met your date on Tinder. It's NOT cool to tell your mom you and said Tinder date met up in an Kroger parking lot and you sucked his dick in the backseat of his car. I'm using a completely random and made-up example for illustrative purposes, obviously.

See what I mean? If your mom really and truly knows every detail about your life it means there's something wrong with the both of you. Like, my parents love me and are interested in my life and all, but when they asked me what I was doing last Saturday night, they didn't really want to know what I was actually doing, which was mixing vodka and Adderall emotions at a lingerie party in Brooklyn. They just wanted to know that I was going out with some friends. Both statements are technically true, but only one allows me to keep my inheritance. Feel me?
In short, if your mom is really your best friend, it's fucking weird, and I don't think it means what you think it means. I tell my mom about 20% of what I tell my ACTUAL best friends (sorry, Mom). If you think of you and your mom like Rory and Lorelai Gilmore, there's probably something wrong. Then again, I never watched Gilmore Girls. 
Appropriately Distant Kisses,
The Betches
10 Thoughts You Have When Your Best Friend Gets Engaged
Sometimes shit happens and your main betch catches feelings for her fuck buddy, and then her fuck buddy becomes her boyfriend and then her boyfriend becomes her fiancé and oh god, you're going to die alone with 100 cats, aren't you?? Chill, betch. We're here for you. Your best friend getting married is a tough time—for you, not for that lucky bitch. You may be thinking "How could she betray me like this? Should I download Bumble? Apply to be the next Bachelorette?" Well we can't all be Rachel, so you'll have to put that last idea on the backburner for at least 2 seasons. But don't worry because we're here to commiserate. We don't have any actual advice, but we do know exactly what you'll be going through. Check out the video below for the roller coaster of emotions you go through when you find out your bestie got engaged (we know, it's like we're in your head).
For more love advice, buy our second book, I Had A Nice Time And Other Lies: How To Find Love And Shit Like That.