The Hottest Swimsuits For Your Body This Summer
With the exception of the latest Nor'easter that fucked up my entire existence, the slight increase in temperatures has me already searching for the hottest swimsuits to rock this summer. It's always better to start looking for the next swimsuit trends sooner than later because well, the basics get to them and before you know it, every style you love is sold out of your size. Obviously, This summer's hottest swimsuits are full of ruffles, pastel hues, one-pieces to hide your winter weight, and high-leg bottoms. Maybe you're prepping for spring break, summer 2018, or you just feel like spending money (because same). Regardless, here are summer 2018's hottest swimsuits for your body type.
If You Have A Small Booty…
You'll def want a high-waisted bottom to even out your curves. Not only do they always make you look five pounds thinner, but they keep your hips in so your butt looks phenom, so round, and like, out there.

Out From Under Chloe Scallop High-Waisted Bikini Bottom
If You're In The Itty Bitty Titty Committee…
You'll want a bikini top with frilly shit and a lot of ruffles. The illusion of a busy chest area will make people totally think you're probably a cup size or two bigger than your normal, which is always a good thing.

Billabong Let's Wander Ruffle Bikini 
If You're Long And Lean…
Consider hopping on the next monokini train. Belted swimsuits will be very much a thing this summer, so whether yours actually has one or just the illusion of one, it fucking works. Ribbed fabric and a plunging neckline will bring attention to your center and create the hourglass summer bod you've been wanting…without actually stepping foot into a gym.

If You Have An Hourglass Shape…
So, you agree? You think you're really pretty? Then all you'll want is a modern bikini that brings out a perfect summer glow with a fun, warm shade. MUST BE NICE. The lighter and warmer in color, the more tan (and therefore hotter) you look. You're welcome.

So Fine Bikini In Sage Metallic
If You're V Busty…
All you need is some extra support for the twins. Opt for an edgy, colorful one-piece that kind of looks like a bikini, but isn't. Stick to styles with extra or thick straps that are totes adjustable for your preference.

ASOS Tie Front Cut Out Swimsuit
Images: Christopher Campbell / Unsplash; Urban Outfitters (1); PacSun (1); Revolve (1); Showpo (1); Asos (1)
The Best Jeans For Your Body Type
A betch loves shopping more than she does most people and some dogs. But going to an actual store means potentially falling in love with an article of clothing you aren't sure will fit. So, you're going to either buy it anyway, hope for the best and if it doesn't make you look skinnier fit, return it or, you'll just enter the dreaded fitting room. Both options are fucking awful, but the first is def out of the question because like, tbh we're lazy. This is why online shopping > going to a physical store, ever. Trying shit on isn't always traumatizing unless it's one of two things: a bathing suit or pair of jeans. Bathing suit season is done and over with because well, it's August and fall is just around the corner (sorry, again) so jeans are the next ones up. No two jean sizes are apparently ever the same so trying them on, hoping they make your ass look good and your waist smaller is like, nearly impossible. Here's where I save the day (as usual) and save you from all that trouble. Here are the best jeans for your body type that make you look good af.
If You Have A Long Torso, Try…

Even if you're not super tall, you can just have a long torso that makes trying on jeans dreadful. You don't want to look like fucking Steve Urkel. To flatter your torso and make you v skinny, you'll want to find a pair of really high waisted jeans. These will elongate your legs, flatter your torso, and still sit comfortably on your hips so you don't feel and look hella awkward.
If You're On The Shorter Side, Try…

If you're 5-foot-something, your jean struggle is finding a pair that won't sag every time you walk, or finding the right length so you're not tripping over your own two feet. Hi, welcome to my life. My go-to style are jeans that run mid- to low-rise on my hips. They make me look semi skinny taller and still sit right on top of my ankle. This distressed pair comes in the boyfriend fit so they're super trendy, comfortable, and hug your waist just enough so you don't find yourself pulling them up every five seconds.
If You Don't Have An Ass, Try…

I really have to thank my homegirl Fergie for changing my life aka making me love my ass in jeans again. It was in that iconic song, "My Humps," where she said her ass is loved in True Religion jeans. Bless. If you have nothing in your trunk, you want to find jeans that have detailing on the back pockets to add more dimension. Any shading kind of works as your fave highlighter by illuminating your cheeks and making them pop. Bonus points if they're also mid- or high-rise because they go a little tighter on your waist, making you have the perf hourglass figure.
If You're Really Tall, Try…

The worst part of being tall and finding a new pair of jeans is finding a pair that doesn't leave an awkward gap showing your ankle. The best solution is a style that widens out at the bottom like bootcut or flare, so they're guaranteed to stay long enough to sit right on top of your foot like a normal pair of jeans should. These come in a slim fit that flatter your waist (so like, make you skinnier) and comfortably fit around your thigh since they flare at the knee. If you're looking for something to change your life, this is it.
If You Got A Big Booty, Try…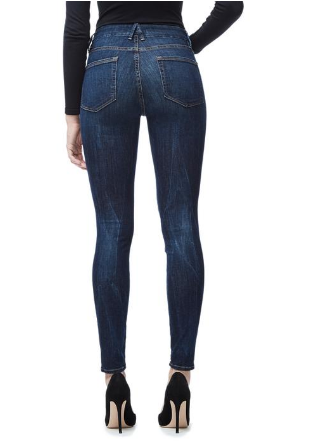 If you got a big booty and you know it, sometimes finding a pair to simply zip up without blocking your airways is like, kind of a big deal. To enhance your curves, find a high rise skinny jean to accentuate your lower half. A dark wash with light sanding will give you the perf body shape illusion and still allow you to breathe at the end of the day. Khloé literally came up with this line because she couldn't find a pair to fit her and her fake Kardashian booty comfortably so you know these will def fit like no other.