The Best Drugstore Dupes For Expensive Makeup
Makeup is fun, but it can also be irrationally expensive. Last week, I dragged my boyfriend to Ulta to grab a new tinted moisturizer and concealer, and it totaled $85 for the two. We both mumbled "what the f*ck", I paid, he cringed, and life went on. 
While I was playing myself by getting products recommended by my favorite MUA on Instagram, it dawned on me that I should do some research and find the best drugstore dupes for my favorite products. Why pay $45 for foundation when I can pay $13.99? Am I paying more for better ingredients? No, turns out most luxury brand ingredients have the same sh*t in them as the drugstore stuff, you're just paying for the name. Cringe. 
So if your New Year's Resolution is to save money, here are the best drugstore dupes for your favorite luxury products.
Primer

It's been said more times than once that primer is pointless, yet we still continue to use it. There's heavy buzz around Tatcha's Silk Canvas Protecting Primer, which retails for a whopping $52. I'm not knocking you if you've purchased this in the past, but I am here to introduce you to e.l.f.'s Poreless Putty Primer, which retails for a whopping… $8! At one-sixth of the price, with great reviews, and the seal of approval from Allure, I'm gonna go ahead and deem this the dream dupe.


Foundation
When it comes to foundation options, the limit does not exist. We've got matte finish, silky, luminous, full-coverage, tinted moisturizer, you name it. Following the "glowy" trend, made popular by Instagram-famous MUAs such as @nikki_makeup, I decided to find a dupe for the ever popular ARMANI BEAUTY Luminous Silk Foundation ($64). My choice drugstore dupe is L'Oréal Paris True Match Lumi Healthy Luminous Makeup ($12.99), which still gives the hydrating, luminous glow effect at an affordable price.

Setting Powder

Liquid foundation needs to be set with a powder (don't ask me why, I don't make the rules here) and any makeup lover will tell you that Charlotte Tilbury Airbrush Flawless Finish Setting Powder is THE holy grail. It's $45 of pure greatness, but, it's $45. So, who can match up to this flawless powder? None other than Maybelline Fit Me Matte + Poreless Powder Makeup ($7.79). This has been praised by beauty YouTubers and regular people alike, at a price I am deeming unbeatable.

Concealer

When it comes to concealer, there are a few staples in the beauty world, one being NARS Radiant Creamy Concealer. My friends have RAVED about this product for some time now, and I was always a Tarte Shape Tape cult user, but I finally tried NARS and have not been the same since. It has a more natural finish, but still covers my "I haven't slept in years" under-eye dark circles. This bad boy retails for $30, and its dupe, NYX Professional Makeup HD Concealer retails for $3.99. Yes, you read that correctly, $3.99. The reviews are as good as the price, so this may be the most valuable dupe yet.

Blush


My first non-drugstore blush purchase was none other than NARS Orgasm, much to my parents' dismay. It is the perfect blend of peach and pink, and gives your cheeks a flawless glow. The blush retails for $30 and has become a staple in the beauty world. So much so that there are multiple dupes in the drugstore world for this iconic shade. After some personal investigating and using my own skin as a test subject, I can say with confidence that Milani Baked Powder Blush in shade Luminoso 05 is the closest to the real (expensive) thing. It retails for $9.49 and is praised by all those who use it.

Bronzer


If you're like me, meaning you're so pale it scares people, it can often be difficult to find the perfect bronzer without looking Oopma Loompa orange (this should be a crayon name). The Marc Jacobs Beauty O!Mega Bronzer Coconut Perfect Tan is kind of amazing because they somehow managed to make only two shades that work with a wide range of skin tones. The bronzer retails for $49, which is a bit of a splurge in my book, so I often go with my favorite drugstore dupe, NYX Professional Makeup Matte Body Bronzer. This one retails for $9.59, has three shades, and gives a natural/healthy bronze. Given that you can buy five of these for the price of one Marc Jacobs, I would say this is a steal.

Highlighter

If you're extra like me, you know that no two highlighters are the same, and you must always proceed with caution prior to purchasing one. I think I have over 100 highlighters (literally, why?) and use maybe two of them religiously, one being BECCA Shimmering Skin Perfector® Pressed Highlighter. It retails for $38 and makes my skin look like glass. Worth it? Yes. Is there a dupe for it? Yes. Wet N Wild MegaGlo™ Highlighting Powder made waves this year and was on the radar of major beauty influencers, including Jeffree Star. At only $5.29 (!!!!!) this highlighter is everything and more. 

Brows

Brows were arguably one of the biggest/most important trends of 2019, and I hope they remain so in 2020. Thin brows are dead and gone (please never return) and fluffy, healthy brows are in. Due to the fact that I have five blonde hairs sticking out of my face claiming to be my "eyebrows", I'm always in search of the perfect brow products to give the illusion that I have them. My Anastasia Beverly Hills Brow Wiz pencil has always been a go-to, and at $23 it's definitely worth the price. Still, in the words of… me, there's a dupe for that! At less than half the price ($10.49) I give you L'Oreal Paris Brow Stylist Definer. It looks and operates the same way as Brow Wiz and has over 800 five-star reviews, confirming I am not the only one who thinks it's great.

Eyeshadow

Eyeshadow trends have come and gone, but the classic nudes and browns have always stayed in style. One of the most sought-after palettes in the industry is Natasha Denona's Biba All Neutral Eyeshadow Palette, but it retails for… $129. Yikes. TBH, I don't think any eyeshadow palette on this earth that could possibly be worth spending so much. Who buys this? World's youngest billionaire, Kylie Jenner? Idk. Anyway, there are a million and one dupes that are at a much better value, but I specifically enjoy Milani Most Loved Mattes Eye Shadow. This retails for $19.99, a mere $109 less than ND, and is just as pretty IMO.

Mascara
I have fake lashes because I happened to find the most amazing lash extension place in New York (Iconic Lash Lounge if you live in Westchester), BUT, I am still all too familiar with the quest to find the perfect mascara. Prior to my lash extensions, I was hooked on YSL Beauty's Mascara Volume Effet Faux Cils – The Curler, but $29 for mascara adds up quickly. If you are a living, breathing human, you've seen over one million Maybelline mascara commercials, and for good reason. Maybelline Lash Sensational Washable Mascara is an amazing dupe for almost any luxury mascara, and it seriously is volumizing. Again, as a pale blonde, I looked like a naked mole rat prior to mascara application, but this one always held me down.

Lipstick

Last but not least, lipstick. Lipstick can make or break your look, and I am all too familiar with a bad lipstick ruining my night (dramatic, but relatable). My favorite lipstick at the moment is none other than Pat McGrath Labs MatteTrance™. It comes in over thirty shades, my personal favorite being 'Christy'. The formula is hard to explain because it feels a bit dry when going on, but it looks SO GOOD on the lips and literally does not budge. I'm talking multiple-vodka-sodas-in-drunk-still-looking-flawless level good. So, if you have $40 to spare on a lip, this is your moment. However, its dupe is $6.99 with the same matte no-budge finish. I present you with yet another Milani product, Milani Bold Color Statement Matte Lipstick (Milani, sponsor me?). The 16 shades are all matches for Pat McGrath, and are also vodka soda proof.

If you've made it to this point, congratulations, and thank you for listening to my TED talk. Enjoy your beauty on a budget, and feel free to drop all dupe recommendations in the comments below!
Images: Unsplash
Betches may receive a portion of revenue if you click a link and purchase a product or service. The links are independently placed and do not influence editorial content.
The Best Bronzers For The End Of Summer So Nobody Has To Know How Pale You Get
As we head into depression fall, our summer tans we worked so hard on will fade faster than you can say, "PSL." The idea of a tanning salon sounds great and all, but IDK about you. Absorbing a massive amount of UV radiation into my skin doesn't sound fabulous after all. And like, did I mention the cost? You have to at least be willing to give up a weekend of ringing up a bar tab in order to afford decent tanning so you don't look like a cast member of Jersey Shore. Well, it's a good thing we live in a society where looking racially ambiguous at all times is encouraged (unless you actually are racially ambiguous, in which case you're SOL). Otherwise, we wouldn't have a cheaper tanning alternative, bronzer, to rely on for a golden glow. So honestly there's no reason why you can't be tan 24/7 in temperatures below 70 degrees. With summer being another nine months away (kill me plz), here are the best bronzers to cover up pasty pale skin since all you'll do this season is Netflix & thot chill.
With five different shades designed for every skin tone, this bronzer will give you the perfect sun-kissed tan without looking like Trump. The powder-based bronzer has a super creamy texture with a shimmery finish so you can apply and blend in easily. That way, your contour won't look as though you just smeared brown lines across your face and you can stay looking ~lit~ all night long.

This is like, magic of a bronzer if I've seen it. The silky powder immediately sinks into your brush's bristles for the most seamless application you can imagine. Like, honestly, this is the only bronzer I'd drop more than $35 on, and that's saying a lot. The matte finish won't make you look like a walking disco ball and even allows you to apply it for all-over body bronzing. Fucking bless.

Have you ever wished you could be tan without using a source of heat? Um, same and so does probs every other normal person, which is why Guerlain created the closest thing to it. This bronzer apparently leaves varying shades of "sun" to make your sunless tan look as realistic as possible. The moisturizing ingredients won't dry your skin out and they enhance your skin's natural shine without making it look greasy. Also, this makes you smell like your annual Aruba vacation, so what's not to like?

This godsend of a baked bronzer is for those of you who want something that's weightless and sheer enough to make you forget it's even on your face. There's a wide range of shades created exactly for your skin tone so you truly (and finally) can pull off the "I just rolled out of bed and literally put this on to say I tried" look. Haven't heard of it? It's like, slang from England I'm going to make happen. It has bomb buildable coverage so you can reapply as you desire.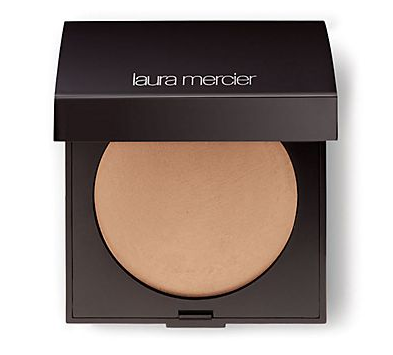 If you could wear a single makeup product everyday for the rest of your life, it would def be this—no questions about it. It's a non-comedogenic bronzer, so it won't clog your pores and cause breakouts if you "accidentally" fall asleep with it on. And that's not even the best part. It also has rosy pink hues to provide a natural-looking flush and brighten the palest of skin tones so you no longer look like a vampire.