We Must Never Forgive Bennifer For The Trash Heap That Was 'Gigli'
"One of the most hated rom-coms of all time."
"The movie that should have ended Ben Affleck's acting career."
 "One of the worst movies I've ever seen."
2003 marked the year of Gigli, a movie with no artistic merit but major importance in pop culture history as the tarnished platter on which Bennifer was served to the world. Jennifer Lopez and Ben Affleck met on the set of Gigli and were engaged by the time of its release, despite her being married to Cris Judd at the time of filming. The pair ushered in the first ever celebrity couple blended nickname—Bennifer. Today's generation identifies their courtship mainly through vintage paparazzi photos and the iconic ass grab from the "Jenny from the Block" music video. The rekindled lovers reunited over the weekend, confirming romance rumors with not-at-all staged yacht photos in which Ben covered his enormous back tattoo with a button-down (as if we'd forget, Ben). 
View this post on Instagram
On the tails of the couple's Instagram announcement, I'll celebrate the official coming out of Bennifer 2.0, but I'll never forgive them for Gigli, the couple's cursed love child, now 18 years old. 
With a Rotten Tomatoes score of 6%, Gigli sits at the top of Yahoo Movies' worst-rated movies of all time list. One of the greatest flops in cinematic history, the film earned $7 million at the box office against a $76 million budget. After only a few weeks on the big screen, the movie was pulled from most theaters across the country, and its writer and director, Martin Brest, has not worked on another film since.
How did Ben Affleck, having just written the Oscar-winning Good Will Hunting, and J.Lo, once named Forbes' "Most Powerful Celebrity in the World," come together to create such pure chaos? How is this movie that bad?
I thought I'd get better use out of my film studies minor than this, but hey, I watched it so you don't have to.
This is a movie about a mobster named Larry Gigli, which despite being pronounced as "jee-lee," has already been cemented into your mind as "jiggly." Larry Gigli is instructed to kidnap a prosecutor's mentally disabled brother under the close watch of his fellow enforcer-turned-sexy-babysitter, Ricki (J.Lo).
In his groundbreaking, never-before-seen portrayal of "Italian Mobster Who Resents Opinions of Women," Affleck leads the film, which follows Ricki and Gigli as newfound partners in the New York mob scene. But wait—trouble is ahead for Gigli as he learns that Ricki, with her mini-skirts and blown-out hair, is a lesbian. Don't fret—the gay agenda is no match for this early 2000s white heartthrob.
The plot details of Gigli are so confusing that not even a Wikipedia page could keep me on track. Somewhere between Christopher Walken's early monologue as a suspicious detective who never again appears in the movie and the mutilation of a corpse, I got lost. I traced the lines on Ben's massive back Phoenix and made my way home to the central plot of this god-awful movie.
Tasked with hiding Brian, the prosecutor's brother, the duo lies low. Flying under the radar like any good mobsters, Gigli and Ricki drive the hostage through every street in Los Angeles in a top-down convertible. Discreet. During an unexplained pit stop at her house, Gigli introduces Ricki to his mother, who takes a liking to her, despite her being a lesbian. "Never mind," says mom, "She's been with fellas before, am I right, darling?"
We hard cut to J.Lo doing near-naked candlelit yoga as Gigli looks on, sporting the "I can turn her" game face. The pair begin a classic battle of the sexes debate: Gigli's "frontier conquering" and "obstacle eradicating" penis versus her vagina, wrapping up their discussion with longing stares as out-of-place romantic music swells in the background. The romance is quickly interrupted by a call from the mob boss instructing Gigli to cut off Brian's finger, because why not? The mafia does that, right?
CONTENT WARNING: The following section contains discussion of suicide, which may be upsetting to some readers.
The following day, Ricki's ex-girlfriend shows up at the door of this highly discreet mafia hideout and slits her wrists. Gigli and Co. take her to the hospital, where our leading man removes the finger of a corpse in the morgue to spare Brian's and we literally never speak of the ex-girlfriend again. After the romance of a violent suicide attempt and the aromas of the morgue, Gigli confesses his love, calling Ricki a "fucking untouchable, unhaveable, unattainable brick wall f*cking dyke-a-saurus rex."
That's a direct quote.
Having been swept off her feet via sexual harassment, Ricki opens herself to love and sleeps with Larry Gigli. Now, while everyone involved with the making of this monstrosity should be brought up on criminal charges, the real enemy is the writer who made Jenny from the Block turn the words "it's turkey time" into dirty talk, having her literally say, "It's turkey time. Gobble, gobble" as an invitation for sex. Accused of ruining cinema and the careers of two Hollywood darlings, Gigli has now ruined oral sex.
The duo is called to meet with the mob's top dog, played by Al Pacino, whose involvement in this movie is such a betrayal it brought a tear to my eye. Pacino kills one of his mafiosos on the spot before turning his attention to Gigli and Ricki, who come within an inch of their life, only to be saved by Ricki's feminine superpower—basic communication. The pair escape safely and leave the mob life together.
In the end, Ricki breaks it off, vowing to go "somewhere clean"—a line I'm still left wondering about. Ricki and Gigli drive Brian to the beach and, I guess, leave him there? Through tears, Gigli gives Ricki his car and, I guess, walks home?
At a painstaking two-hour runtime, Gigli is a movie about toxic masculinity winning out in the end. By 2003's standards, a tough guy in a Zara leather shacket is an unstoppable force, and in the end he gets his girl (whether she wants to be there or not). The 2021 version of Gigli would likely end with Ricki stealing the car and—just kidding, there is no 2021 version of this mess. The tear-jerking closing line is as follows: "as far as the lesbian thing goes, if you ever think about hopping the fence, give me a call." The two share a final kiss and Ricki drives away to the melancholy notes of a violin. 
That is, until minutes later when Ricki returns to pick up Gigli and the two drive off into the sunset together. 
The end.
Following production of the world's worst movie, Ben Affleck placed multiple trade ads all over Los Angeles, amounting to thousands of dollars a pop. These ads were often taken out by industry executives to congratulate other industry names on their recent achievements, very insider baseball. Affleck's ad was a love letter to Jennifer (married at the time), reading, "You have shown kindness, dedication, diligence, humility, graciousness of spirit, beauty in courage, great empathy, astonishing talent, real poise and true grace. It has been nothing but an honor and a pleasure to work with you. I only wish I were lucky enough to be in all your movies. With love, respect and gratitude, Ben Affleck." Hey @Tinx, what box is this?
By 2004, J.Lo had married Marc Anthony, Ben Affleck had made out with Jennifer Garner at a World Series game, and Gigli had been forgotten.
Too often, we hear stories of star-crossed lovers parting ways after tragedy; some wounds are too deep to recover from. I can't speak for Bennifer, but as a pop-culture enthusiast, I can never go back to a time before Gigli. Following the big-screen flop, Gigli's ghost haunted late-night monologues and SNL sketches but was laid to rest following the breakup of Hollywood's It Couple. The impact of this truly awful piece of cinema underscores every Bennifer headline or Deux Moi blind item. For their performances in Gigli, Jen and Ben won Razzie Awards for worst actor, actress, and on-screen couple of the year, but something tells me the combined $24 million paycheck helped the couple sleep at night.
Somewhere in the French Riviera aboard multi-million-dollar yachts, with her newsworthy six-pack and his rainbow body art (third reference in the can), Bennifer is locking eyes and thinking, "it's turkey time." While somewhere in Los Angeles, A-Rod is weeping. 
If you are struggling with thoughts of suicide, contact the National Suicide Prevention Lifeline at 800-273-8255 or visit suicidepreventionlifeline.org.
Images: jlo / Instagram; Featureflash Photo Agency
Why Is Ben Affleck Suddenly All Over My News Feed?
Today I'd like to address a very pressing matter that, frankly, is not getting enough national attention: the hostage situation that is Ben Affleck's constant appearance on my social media feed. For those of you Gen Zers reading this and asking yourself "who?" and "but really who??", Ben Affleck is an actor (an actor is like a TikTok star but with actual talent and the ability to memorize lines beyond 60 seconds of content). You have not seen any of his films. On the off chance that you have seen one of his films, you remember the cold fear of having to learn how to work a DVD player in order to watch it. Moving on.
Lately, Ben Affleck has been dominating entertainment news feeds in a way that no man his age has any right to. While some of us spent the pandemic cultivating our bed sores and watching The Vampire Diaries from start to finish just to feel something again, Ben spent the pandemic sucking face (or trying to suck face) with every barely legal girl in LA. There's just something about a man his age exhibiting more thirst than my college spring break photo reel that feels like an abomination. And, trust me, I say this with love! Ben's Boston accent in Good Will Hunting is the reason I have intimacy issues (and the reason my love language involves delicate gold chains and men whispering "sweetheart" to me in such a way that it sounds like it's butchering the English language). I do really only want good things for the man!
But as of late his thirst levels have reached epic proportions and I can't ignore it any longer. It's to the point where I'm worried the fabric of the universe will disintegrate at the seams now that my Instagram feed is recommending me as much Ben Affleck content as it is Maddie Ziegler. Something is not right here, people! And so, I got to wondering, is there a larger force at play here? Is the man who got caught on camera spilling an entire staff meetings worth of Dunkin Donuts on himself actually strategically engaging in this self-destructive romantic behavior for some sort of personal gain? Is this real or a PR stunt? Let's take a look at the evidence.
Exhibit A: The Ana de Armas Relationship

In order to understand the full extent of Ben's year in the media, we must first go back to the beginning: March 2020. Let's set the scene: The world is on lockdown. The only thing that comes in or out of my apartment is my wine guy with his weekly delivery of the goods. Meanwhile, Ben must be the last living, breathing guy in LA, because he is the only figure the paparazzi are constantly capturing on the streets. At this point, Ben has been romantically connected to Ana de Armas for three months. This pairing felt weird to me because of the 15-year age gap between the two and also the fact that I had never heard of Ana before their courtship (she's never been featured on a Freeform show and she calls herself an actress?). This pairing alone would be suspect of a PR stunt… and then the pandemic hits. Now, the couple are photographed within an inch of their lives. There's pics of them walking the dog, laughing and walking the dog, laughing and walking the dog while smelling the dog's sh*t. At one point I was seeing more of Ben and Ana than my own image reflected back in the TV screen—and I was watching a lot of TV then!!
What makes me question the theory that this relationship was a PR stunt is that the ruse continues long after it needs to. After the summer—and the worst of the pandemic lockdowns—ends, they stay together! They continue to walk their dog and laugh when they get a whiff of its poops. They aren't the only celebs willing to incur the wrath of Dr. Fauci for a Dunkin order, and so they become less photographed. Where things get murky is the two decide to move in together in December 2020, only to break up a month later. A life-size cardboard cut-out of Ana is found in Ben's trashcan after the break-up. Look, I know that looks bad for Ben, but keep in mind the man once got an enormous back tattoo and was so embarrassed by it he tried to deny its existence to the press FOR TWO YEARS. Getting caught with a cardboard cut-out of his hotter, younger ex-girlfriend post-split is the kind of thing Ben would do without any ulterior motives.
Exhibit B: The J.Lo Sightings
More recently, Ben has been connected to his ex-fiancée Jennifer Lopez, following her split from Alex Rodriguez. The two have been spotted multiple times together, sparking romantic rumors even though they've continued to tell the press that they're "just friends." Sure, Jan. Look, it's covid times, so I understand falling back into it with an ex. I have a few exes on my roster at the moment, if only because I don't have to go through the hassle of sussing out if they're secret anti-vaxxers. I imagine Ben and Jen are feeling the same. Not to mention, there's nothing trendier than an aughts couple revived. The '00s are HOT right now, and a summer of watching Bennifer 2.0. is the kind of media event that might make the world forget A-Rod's recent cheating transgressions and Ben's sad cardboard cut-out.
Exhibit C: Raya And The TikTok Heard 'Round The World
And finally, Ben's most recent offense: RayaGate. For those who are unfamiliar, Raya is a dating app for celebs and the celeb-adjacent, which apparently counts as TikTok stars now. Never mind that I've been applying for months. I guess "saw the back of Kristin Cavallari's head at an Uncommon James one time" doesn't count as celebrity-adjacent enough any more for these people. Rude!! Anyway, earlier this week a TikTok told the story of how Ben, who has staunchly denied using dating apps in the past, matched with Nivine Jay. She thought she was being catfished and so unmatched with him. Ben then sent her an Instagram DM with a personalized video to confirm his identity and ask why she unmatched with him. I'm not going to say any more on the story, just going to let the TikTok do all the explaining for me:
Who allowed this man to have access to a working phone!! My father, who is only a few years older than Ben, fails to grasp how Google docs saves changes instantaneously—and that's the way it should be!! The video went viral immediately because of course it did. Again, this looks pretty bad for Ben. Surely, surely, he considered that a girl whose Instagram bio is just a shameless link to her podcast (a podcast dubbed "Swipe Left Podcast" no less!!) was absolutely going to share that video for her own personal gain. If this isn't a desperate bid to stay relevant then it's just… desperate. Yikes.
Look, the cynic in me would love to write all of this off as a PR stunt, and while the evidence is stacked against Ben, I just keep coming back to that fact that he's no Kris Jenner diabolical mastermind. In fact, my favorite thing about Ben is that he constantly gets himself to the top, only to destroy himself once again. It's an underdog story over and over, if only because the man has no sense of self preservation. He's hapless and sad, like Winnie The Pooh but with a better jawline and occasionally six pack abs, but still always getting caught with the honey pot. You truly love to see it. Can't wait to see what the rest of 2021 brings for him!
Images: Tinseltown / Shutterstock.com; BG004/Bauer-Griffin/GC Images
Ben Affleck And Jennifer Garner Are Getting Divorced For Realsies
It's the end of an era. After almost 12 years of marriage, Ben Affleck and Jennifer Garner have officially filed for divorce. If this feels like déjà vu, you're not wrong: Bennifer 2.0 first announced their plans to split up way back in June 2015, but have spent the past two years sending a shitload of mixed signals about what would really happen.
Just last month, there were major reconciliation rumors (which we fell for) because they were hanging out together like 24/7, but it looks like they were just doing it for attention. Or because marriage is complicated especially with kids involved. One of those two. Unfortunately for those of us who love drama, they're going with the most amicable kind of divorce, where you don't even hire a lawyer, which is boring for us but probably best for everyone involved. They've always been super conscious of what will be best for the kids, and after dealing with Ben fucking the nanny they just really need this to go smoothly.

Even though we've known they were splitting up for literally 22 months, this still feels like a big moment in Hollywood-land. Like, we remember way back in the day when the original Bennifer was a thing, but J.Lo just wasn't the right girl named Jennifer for him. Bennifer 2.0 always seemed like a pretty perfect couple, mainly because Jennifer Garner is basically an angel sent from heaven and anything she is involved in just naturally seems correct. Like, somehow she manages to be so cool but also so perfect? We don't understand but we love her for it.
So what's next for the ex-couple? Ben has the Justice League movie coming out later this year, which should be awesome because he did suuuuch a great job in his first Batman movie. Jen just has one movie coming out later this year, but she also makes bank doing credit card commercials so she should really be fine. In the mean time, we'll be waiting patiently for a 13 Going on 30 sequel, because that's what she's always deserved.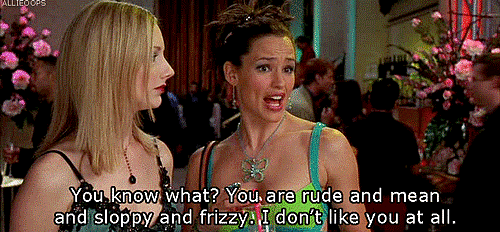 In terms of love, there's no telling what will come next for these two, but we have a feeling Jen's next man will be super fucking classy, and Ben's next girl will be a solid 15 years younger than him. Idk, just a feeling.
Ben Affleck & Jennifer Garner Are Back Together & It's The Ray Of Hope We Need Now
Close your eyes and think back with us to early 2015. It was a gentler time in the world. Crop tops weren't played out. We thought Jeb(!) Bush might be the next President. And Taylor Swift still seemed like kind of a cool person (emphasis on the kind of.) Then one of our fav couples, Ben Affleck and Jennifer Garner, announced they were divorcing and we were all like, "There's nothing that could be worse than this. Not even Donald Trump being president, which would never happen anyway. Now please excuse my while I enroll in Obamacare." 
If, for some reason, you don't already have every detail of the Ben Affleck-Jennifer Garner relationship memorized, here's a refesher: Jen and Ben got together in 2004. They were both fresh out of long-term relationships. Jen had broken things off with the dude who plays Jake Ballard on Scandal, and Ben had ended a v high-profile engagement with J Lo, probably after discovering that she was going to use the giant engagement ring he bought her as the cornerstone of a spell to stay young forever. Which totally worked, BTW. While immediately trading one Jennifer for another is kind of a shady move, they were a great couple together. It seemed like happily ever after, with three beautiful children and a fairly low-key life. Kind of boring, but aren't all healthy relationships? Sadly, in 2015, everything fell apart. The divorce went public, and before long Ben was fucking nannies on TMZ.

Only thing is, it never really seemed that over. Any betch whose ever been in an on-again-off-again thing could spot all the telltale signs of not really being broken up. First off, they never stopped spending time together, always saying that they were doing what was" best for the kids." Because living in a big-ass house and going on lavish vacations with someone who you publicly claim you're not into anymore is a totally standard environement for children. #RichPeopleThings.

Now reports are surfacing that the divorce has been called off, and that Bennifer 2.0 are trying to work through their issues. Honestly, we're just exhausted at this point. Like, I already spent the last year and a half going over on data trying to get my sister and her ex to admit they're still together. I can't go through that all over again with celebs. And while we obviously hope for their sake they can work things out, how does it take two years to get to this point? Hollywood divorces usually take a long time, but really? Whatever happens, Jennifer definitely won't let Ben get anywhere near a hot nanny this time. That's for fucking sure. 

So, what do we think? In a world of celebrity divorces, will this one just be a false alarm? Maybe, maybe not. But if Beyoncé and Jay Z made it through whatever she was singing about on Lemonade, Ben and Jen should be fine.