Lash Extensions, Lifts, Or Tints? Which Lash Treatment Is Worth It
The more reality TV I watch, the more I notice one, highly specific effect: I become obsessed with the relative lushness of my eyelashes. It doesn't matter that reality stars openly discuss their extensions, falsies, or long-standing relationships with Latisse. Every time I see a new VPR cast member upload a selfie, then take a quick peek in my own front-facing mirror, I'm left disappointed. SO, I did what any self-obsessed part-time beauty blogger sane person would: sent some emails, booked some appointments, and tested out each lash treatment du jour for myself. In the past year, I've tried out lash extensions, lash tints, and lash lifts—here's what I found out.
Lash Treatment #1: Lash Extensions
Lash extensions were the first treatment I wanted to try, mostly because I didn't really know lash lifts and tints existed until a few months ago. I've gotten lash extensions three or four times now, and the best advice I can give is that the quality really, really varies by location—so do your f*cking research.
Pros: If you're going to be on camera, or you just really live for a dramatic lash, then extensions are the way to go. If you're the kind of person who wants to pretend their lashes are totally natural and not have anyone be able to tell: this treatment is not for you. It makes sense that this treatment has the most pronounced effect, since it's the only one that actually gives you more lashes than you were born with, in addition to making them darker, longer, and thicker.
Cons: First of all, they're expensive. Not to burst anyone's bubble, but if you're paying under $100 for a service, then the service they're performing is likely very questionable. I also find the process fairly unpleasant, given that it's up to two hours of someone repeatedly, if softly, jabbing your eyelid. I've also had some stinging reactions from the glue they use, but whatever, beauty is pain. The other downside I'd note is that my real lashes do seem distinctly droopier for a few weeks after the extensions come off. It could just be in comparison to how lush the extensions seemed, or it could be that my lashes are not quite as load-bearing as I hoped. Either way—once I started getting extensions, not having them seemed like a real bummer. And financially, constantly having them just isn't an option.
Please enjoy this heavily filtered picture of me 3 hours post-extension treatment:

Lash Treatment #2: Lash Tint
For those of you who don't know, a lash tint involves, well, tinting your lashes. Ideally to a darker shade, but I guess you could get weird with it if you wanted. I visited the Benefit Brow Bar back in February for a lash and brow tint, since I was in LA at the time and feeling intimidated by all the women marching out of hot yoga without mascara streaming down their cheeks. I'll just discuss the lash aspect below, but I'd like to mention here that I also LOVED the brow tint—I usually stuck to a brow pencil that was similar to my natural shade, but I loved the added drama of going darker.
Pros: This is by far the most affordable service: at Benefit, it's only $21. The process is also very easy and painless—you're in and out in under 20 minutes. And it definitely works: I had jet-black lashes for the next 3-4 weeks. 
Cons: Honestly, it just wasn't a dramatic enough change for me to want to do it again. (Unlike the brow tint). I can see where this service would be useful if you have super-light lashes (looking at you, my blond and ginger friends), and color would give your eyes more of a pop. But unless your lashes are also naturally as curly and thick as you want them to be, I don't know that it'll fully replace your mascara routine. It also only lasts 3-4 weeks—as opposed to extensions and lifts, both of which should last at least 6 weeks.
I couldn't find a picture of me post-lash tint that looks like anything, so here's a video of Benefit's tinted lash primer instead:
Lash Treatment #3: Lash Lift
Okay, admittedly the service I got at Lash Loft is both a lift and a tint—so I can't really speak to what it would look like if my lashes were only "lifted." Lash Loft uses a Keratin-based treatment that "turns lashes upwards" as well as tinting. They also offer a service called a "lash perm," which adds curl but not color, and which is slightly cheaper so I'm considering trying it next time. Anyway!
Pros: This was my favorite treatment of the three. The application time was shorter than extensions (under 90 minutes), the look is more natural, and I don't constantly have stray extensions shedding down my face two weeks after getting the treatment. Where extensions felt like a necessary evil for my natural lashes, this treatment actually feels like it's helping them—the lashes on my face are 100% my own, but they've never looked thicker, or framed my eyes so nicely. Simply put, I'm in love.
Cons: Also expensive! It costs $160 for the full lash lift treatment at Lash Loft, and $100 for a lash perm. Like extensions, they're meant to last 6-8 weeks (I'm in week 3, and will keep you posted), but my lash budget is just not that high. Also, if you're getting these specifically for a photo op, you'll want to add mascara on top—it's not quite the dramatic pop of extensions.
My newly lifted lashes; ignore how dead I look in the eyes:

All in all—and depending on what your natural lashes look like—extensions are likely the only method that will replace mascara for you completely. But if you're comfortable with a natural look, my personal preference for a no-makeup morning is the lash lift. So until my reality career is in full swing, I'll be sticking with lifts—and the occasional swipe of my favorite volumizing mascara.
Images: Victor Hughes / Unsplash; @benefitcosmetics, @louisabhaus / Instagram
Sephora's Weekly Wow Sale Has Tarte & Urban Decay Palettes For Super Cheap
I am so fucking happy that today is Thursday, I literally can't even. Obviously because tomorrow is Friday and I needed this week to end like, the second Monday started, but also because it's the start of another Sephora Weekly Wow. Like, guys, I wish I was exaggerating when I say this one is the best one by far and I won't even feel bad about blowing my entire paycheck in one sitting (#CantStopWontStop), but I'm not exaggerating in the slightest. From a Tarte multi-purpose palette that makes you look like an Amazonian princess and a ~sparkly~ Urban Decay eyeshadow palette to a lip treatment that prevents your lips from looking chapped AF this winter, this is best thing Sephora could ever give us. I'd say start loading your cart now but, if you know what's good for you, you're already grabbing your wallet. These will def sell out ASAP, so shop now or forever hold your peace.

This might be a set of 12 eye shadows, but these special neutral and smokey matte shades are good to use for an intense contour anywhere, including your nose if you want people to think you got a nose job or whatever. All of the shades are seriously to die for, because they look amazing on every skin tone. I mean, LOOK at those swatches. Since they're made with Amazonian clay they will look 100x better than like, regular stuff by making it look natural, crease- and flake-free.

Urban Decay's Moondust palette is everything, in case you haven't noticed just by looking at it. The eight shades fulfill all of our dreams with one-of-kind colors like Lightyear green and a Galaxy blue-purple-gray-whatever that looks something like my next manicure color. Your go-to smokey eye just got a HELL of a lot better.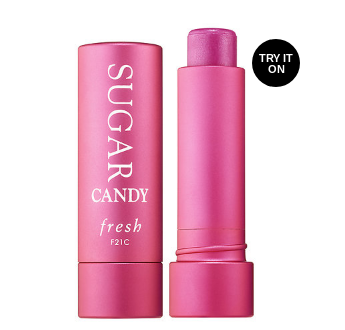 Behold, the Chapstick you've been looking for that works so well, you'll def never want to lose it again. The award-winning treatment (Did anyone know lip balms got awards? No? Okay, that's what I thought) protects and smooths your lips instantly by providing much-needed moisture. It protects from sun damage and also offers buildable coverage from 14 different bright shades. Trust me, you'll want them all.

Who doesn't need new makeup brushes? I mean, it's not like you actually wash yours anyway. Ain't nobody got time for th—JK, that's fucking gross and you should wash them immediately after work today. But if you're like me lazy and most definitely not going to wash your brushes after work today, buy this five-piece kit. Each brush allows you to sculpt gorg eyebrows and make killer smokey eyes. Plus, they come in a little pouch, so… new makeup bag? Yes, hi, sign me up.

This is basically a miracle exfoliator that clears breakouts, erases scars, and fixes discoloration after the first use. If you've used this, you'd know I'm not even exaggerating. It also absorbs excess oil, so like, no more having to buy blotting sheets every week. And it smells like roses, so it's def worth the splurge.

This petite, lightweight, and v powerful blow-dryer was designed to make all of our fantasies come true, namely, achieving a last-minute blowout on-the-go. The portable blow-dryer is made for styling and speed-drying your hair wherever tf you are by coming with a travel pouch and dual voltage options. Although smaller than usual, it eliminates annoying af flyaways and frizz and still provides salon-worthy results for any hair type. Fucking miracle.
Sephora's Weekly Wow Is Back With This Lipstick You're Going To Want To Snatch Up Immediately
Alright guys, it's yet another Thirsty Thursday *and* another Sephora Weekly Wow. Lord knows I need to chug six gin and tonics (hold the tonic, pls) and then indulge in some retail therapy, because how else does one "healthily" cope with the recent Kardashian-Jenner baby boom? Yeah, I thought so. Last week's Weekly Wow wasn't really all that "wow-ing" tbh so I didn't fill you guys in. Believe me, you didn't miss out. BUT, since this week's Weekly Wow is under $15 again (PRAISE BE) and involves must-have lipsticks and non-glittery highlighter. This is worth a look. Below, I present you this week's winners, but remember, once these are gone, you're basically SOL.
Known for their insanely smooth application and comfortable wear, these bold lipsticks provide a highly pigmented look unlike any other lipstick you've ever tried—and I know that's saying a lot. Seriously, Make Up For Ever means what it says. The fun, bright colors are made to stay on basically forever without fading, and most importantly, not drying out your lips, because there's honestly nothing worse than paper mâché mouth.

There's nothing I love more than a lipstick that also works as a chapstick, because like bobby pins, I literally always lose mine. ALWAYS. This full coverage lipstick hydrates your lips for up to six hours a day (um, amazing) and can be bought in either a matte or shimmer finish. It's super lightweight, so you'll probs forget you're even wearing anything. An added bonus? It's made with a betch's fave fruit, avocado.

This #flawless, non-glittery-shit-show of a highlighter is everything our dreams are made of. The cream-to-powder formula allows you to apply seamlessly for model-looking cheekbones and easily blend with its attached soft-glow blender. It's a natural-looking Champagne glow that looks gorge on every skin tone. No wonder why it's a best-seller for us Sephora addicts.

Highly Anticipated Spring Beauty Products To Get You Through The Shitty Winter
Are you bummed about everything happening in the world right now? Is it cold? Are Trump's alternative facts weighing you down? No worries. Since the great US of A is built on the foundations of consumerism, maybe it's time you buy yourself some shit. But not just any shit. Shit to make yourself look pretty. And therefore feel better. Kind of? I guess?
Here are some spring beauty launches to get you through the cold of winter and the nightmare that lays ahead. Some of them are already available for purchase, some are coming out soon. Godpseed!

The cult eyeshadow color, Kitten, is finally available as a highlighter. It only took them like 10 fucking years, but w/e.

As part of their Spring 2017 launch, Urban Decay put out a bunch of new products that help your skin. Not only will this primer make your pores look almost nonexistent (I mean, almost. No one's perfect except maybe me.) It also has SPF which you need so you don't get wrinkly and disgusting.

If you don't want to put face wash on your hands, here's a stick. Congrats. (Read: this is great to use when drunk and/or hungover because during both of those times, washing your face in the sink is the hardest task you'll ever fail to do.)

A "liquid" blotting compact might sound backwards (like, why would I want to put more moisture on my already oily face LOL?) but WRONG. One swipe of this and your face is instantly matte again.

Again, putting more liquid into your already greasy hair sounds like a bad idea right? Well, not according to the experts at OUAI. Apparently this stuff, which was released earlier this month, is like regular dry shampoo on crack. Say crack again.

A limited edition mask inspired by Sonic the Hedgehog (TBT, but nerdy). It does definitely make you look like you're part of the Blue Man Group, though, so I suggest doing it in a locked room. Alone.


Benefit's anticipated new Box o' Blush won't be here until March, but with its warm golden hues and vanilla/grapefruit scent, p sure it'll be worth the wait. P sure.