Ben Higgins Is Hanging Out With Ashley Iaconetti
Less than a week after breaking off his engagement with Lauren B., it seems Ben Higgins may have already moved on to a new Bachelor alum: Ashley Iaconetti. The two were spotted at a Bryan Adams concert in LA over the weekend, and may have been the only people under the age of 45 in attendance.
Eyewitnesses told TMZ that Ben and Ashley definitely went to the concert together and "were chatting it up," as one does when one attends a concert or social gathering in the company of another person. So scandalous. However, before you get too excited or start tweeting "HOW COULD YOU??" at Ben, apparently sources say they weren't "chatting" exclusively and there was no PDA between the two.

SNORE. Where's the drama? Oh right, I forgot that Ben was one of the most boring Bachelors in history and his most scandalous moment was telling two women he loved them. I know that's like, a cardinal sin in the Bachelor-verse, but really when you think about it, a guy displaying the emotional intelligence of a goldfish is not exactly new or controversial. Anyway, Ben and Ashley are apparently launching a podcast together called "Almost Famous," so this whole thing was basically just a publicity stunt that we all fell for. I will not be listening to their podcast out of protest of this fake news (and not because I never would have listened to it in the first place and didn't even know it existed).
Ashley I. herself told UsWeekly that she and Ben are "Totally just friends!" which is suspiciously what every couple who is decidedly not just friends says. So could romance be on the horizon for these two? I mean, I could see it. They both cry a lot. And are brunettes. And if that's not the foundation for a rock-solid relationship, I don't know what is.

We still don't know who's going to be on Bachelor in Paradise yet (*looks angrily at Mike Fleiss*), but an Ashley I./Ben H. mashup isn't totally out of the question. Will Ashley ever find a guy to love her? Will Ben become the new Jared? Will they cry a literal river of tears and then float off together into the sunset? Anything is technically possible when we have literally zero details and all we can do is wildly speculate!
I don't know, guys. It's a slow news day. Namaste.
Ben Higgins And Lauren Bushnell Broke Up
In a move nobody saw coming except all of us, Ben Higgins and Lauren Bushnell have broken up. It's time to hit up the group chat and collect your wagers, Bachelor Nation. The couple got engaged on March 14, 2016 and has broken up a year and two months later—almost to the day—on May 15, 2017 (a day that will live on in infamy). It's such an oddly specific date to break up, it's almost like Ben and Lauren were waiting for something? Like, the stipulations put forth on a signed piece of paper to expire, perhaps? Hmmm…
The couple announced their split to People this afternoon, saying, "It is with heavy hearts that we announce our decision to go our separate ways," adding, "We feel fortunate for the time we had together, and will remain friends with much love and respect for one another. We wish nothing but the best for each other, and ask for your support and understanding at this time."
Translation: We're just glad we can stop pretending to keep up this charade of a relationship. You will never know the real reason we broke up, so please don't @ us.
However, I don't think it's too hard to jump to conclusions make an educated guess about their breakup. If we learned anything from Ben And Lauren: Happily Ever After? it's that Lauren was pushing way too hard for that MRS (I'm a pusher, Ben. I'm a pusher). Meanwhile, Ben was growing more and more uncomfortable at the thought of marriage by the day—an odd choice considering he willingly entered a reality show where the ultimate goal is to get engaged. Also if Ben and Lauren's spin-off was accurate to real life, they spent more time hanging out with Grant, Lace, and the twins than they actually spent together. When you're voluntarily spending most of your time with two people who think being a twin is a full-time job and cannot boil water on their own, that kind of says a lot about your relationship.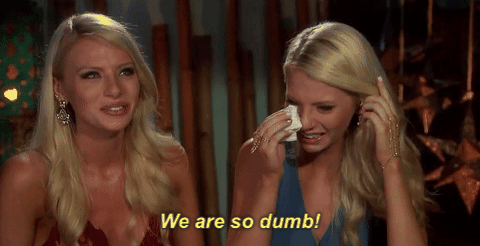 I'd also take a step further and add that Lauren was definitely still not over Ben telling Jojo he loved her on the Fantasy Suites date. I say this because she told People in October, "For a long time, I was really angry for being blindsided. And that resentment and anger affected our relationship much longer than it should have." Like, girl, get over it. You went on a show where the whole premise is that you're dating a guy who's also dating 29 other women. Earth to Matilda! I can imagine every fight Ben and Lauren had ending like:
Lauren: Well at least I didn't tell some other guy I loved him the night before proposing to you!
Ben: Oh my god, that was one time!

Now that a second season of a shitty reality show spin-off that nobody watched is no longer in the cards for them, it's tough to say what's next for Ben and Lauren. Ben could resume his failed political career. Lauren will probably launch an online wedding magazine so she can vicariously live out her dreams of being a bride. But who really knows. I never thought I'd say this, but are Jojo and Jordan the best/most legit Bachelor couple left? Man, 2017 is weird.