The Best & Worst 2000s Trends Making A Comeback
2020 fashion seems to be one big mashup of years past, and I mean, who can really blame us? This year is nightmare fuel, to put it nicely, and I for one am here for the return of most of the 2000s trends that have come creeping back into our lives. The 2000s were an easier time, you know? Where your biggest stress was which CD you were going to purchase from FYE (My Chemical Romance for me, always) or if the cute salesperson model in front of Abercrombie was going to notice you. Like I said, easier times.
So let me take you down memory lane, 2020 reboot style, with the best and worst 2000s trends to return this year.
The Best
Velour
I'm just going to start here with velour, because it feels really relevant to current times, and I am absolutely on board with this comeback. Obviously, we're in a time where comfy clothes have never been more relevant, and it feels like the perfect opportunity for velour tracksuits to be a thing again. If you haven't been on social media in the past few weeks, Kim Kardashian's SKIMS dropped a collaboration with the president of velour sets, none other than Paris Hilton. That's hot. I'm going to be honest, I bought a set myself after telling everyone around me how I couldn't wait for the affordable Target knock-off to launch. I simply had no self control, and I am not even sure why. Let us pray that $80 sweatpants are in fact worth it.

Juicy Couture's Limited-Edition 25th Anniversary Collection in partnership with New York City Alliance
On the topic of overpriced velour sets, we also have the comeback of the absolute OG velour sweatsuit brand, Juicy Couture. Personally, I am not ready to see "JUICY" slapped across the behind of my peers, but like, I'm still glad the brand is back and thriving. The brand is actually now celebrating its 25th year, to make you feel super f*cking old, and announced a bunch of new collabs, so it's going to feel like middle school all over again with everyone you know sporting a Juicy tracksuit. That being said, Juicy obviously has a place in the best comebacks category, because I dare not disrespect a brand that influenced a generation of fabulous middle schoolers.
Tie-Dye
View this post on Instagram
At this point, there's not much to say about tie-dye, except that it was the biggest trend of 2020. It was like a summer camp in every person on the planet's living room, tie-dying anything we could get our hands on. Eventually we all gave up and brands like BrownDyedGirl (who I found from Hannah B. Who even am I anymore?) came to our rescue bringing tie-dye sets to our doorsteps without the hassle of actually hand-dying pieces. I'm putting this in the best category for a few reasons. It hits all the Cs: cute, comfortable, cozy, casual, classic. If I'm being real, I'm not sure how long this trend will actually last, but for 2020 it has served its purpose.
Color-Tinted Sunglasses

Everyone who was someone rocked color-tinted sunglasses in the 2000s, and when they came back to life I was all in. Now, disclaimer, I literally look like Mrs. Potato Head in ALL sunglasses, but that simply did not stop me from hopping on the bandwagon. The pastel colors hit different and make me feel like a pop star. I shamelessly bought a pair from Vogue Eyewear (taking Watermelon Sugar to new levels here). I hope to see this trend live on for a few years, but if not, I'm glad it had its comeback moment.
Press-On Nails

I mean… come on. These things are so convenient. When I was younger I freakin' LOVED press-on nails and my mom thought I was pure trash. Now we've upgraded from the CVS claws to brands that actually are custom printed to fit your nail, and I really think this is the hack that we all need. I personally have been using ManiMe as my go-to, but there are multiple brands with similar concepts that are doing it right. This is great for my people who are feeling lazy, and also great for those not comfortable and ready to go back to a nail salon.
Glasses Chains
In 2020, glasses chains DID make a comeback, and it was a chic one at that. Early 2000s glasses chains were strictly for grandmothers who lost their reading glasses if they weren't literally tied around their neck, but 2020 glasses chains were a cute accessory just because. It also influenced a much bigger and more important trend, the mask chain. The first time I saw a mask chain was on Lara Eurdolian's Instagram (@prettyconnected), and then I blinked and everyone had one. They're convenient for the same reason a glasses chain would be, but also spruce up your mask in the most needed way. If you told me in January that this would be the best accessory of 2020 I'd laugh, but here we are… and that's on pandemic fashion.
Vests

ASOS Neon Rose relaxed sweater vest in marble knit
2000s vest fashion consisted of diamond checkered sweater vests that could only be rocked by Avril Lavigne. If said vests returned in the same style, this would be at the top of my "worst" list, but now they've come back in a cute and fun way, and I'm obsessed. The oversized sweater vest and button-up shirt dress combo is currently the vibe I'm enjoying, and if there wasn't a pandemic, you bet I'd be seeking fall activities weekly to rock this look. Instead, I'll be ordering this outfit and asking my mom to snap a pic of me in the yard, because that's 2020 in a nutshell.
Flavored Lip Balm

If you didn't have EVERY flavored Lip Smacker balm, were you even alive in the 2000s? I don't even recall if these actually hydrated your lips or just made them more chapped, but I do know that the sweeter the smell, the happier I was. While I would not opt for an actual Lip Smacker in 2020, I have noticed the rise of candy flavored lip products returning. My personal favorite is the Laneige Lip Mask, because it makes my lips feel super hydrated for long periods of time and the flavors are real good. Sweet Candy, Gummy Bear, and Vanilla are my top three, but really they're all delicious. As someone whose lips are literally always chapped (no amount of water can save me, I've tried), this is a trend I am here for today and every day.
Furry Sweaters

Tobi Dream of Me Fuzzy Lavender Sweater
#WinterIsComing and as someone who is ALWAYS cold, this is the type of sweater that never left my closet. That being said, I am well aware that a furry fluffy sweater hasn't always remained on trend, but this year, they're back. I picture a young Mary-Kate and/or Ashley rocking this with some pigtails, and that is the energy I am trying to bring back this winter. This sweater in particular is from Tobi (calling all my sorority girls), but it's safe to assume you can find this staple at any store.
G-Shock

Honorable Mention goes to G-Shock. I NEVER saw this comeback coming, but given the fact that these watches fashionable now must be acknowledged. What's next, Etnies?
The Worst
Visible G String
I don't think I have to go too deep into an explanation as to why this trend is falling under my worst comebacks. The first time this trend existed, I was seven years old, so I didn't really understand it. Now, I am 27 years old and still don't really understand it. The wedgie-but-make-it-fashion look is not for me, and while it might be done tastefully by Hailey Bieber and Kim Kardashian, it most certainly does not suit the average human.
Butterfly Clips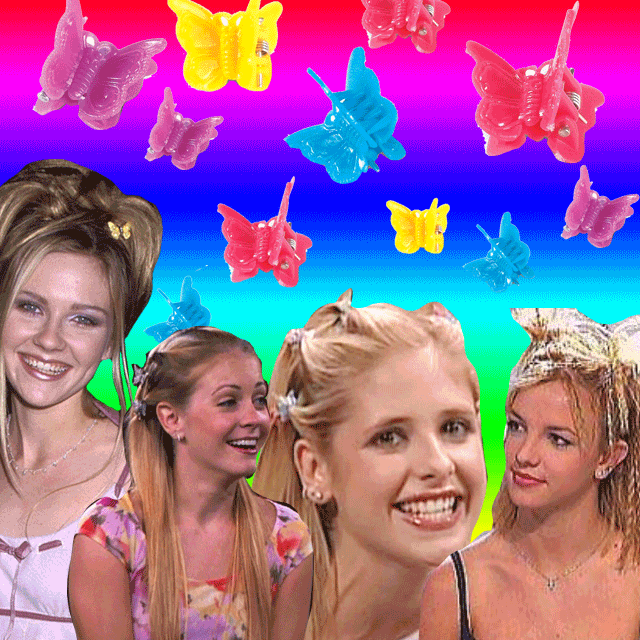 I'm kind of torn on this one, so don't hate me for putting it in the worst comeback category. That being said, I need to be a little realistic here. Butterfly clips were cute AF when we were young, but they were never practical. They never actually held my hair back (granted I have frizzy, curly hair that pre-heat iron days could literally not be tamed) but even worse, the fancy ones would get tangled and lost in my lion's mane and hurt. Now, seeing adults wear them in 2020, I am just wondering… why? Is it for the looks? Is it to test your detangling skills? Again, I see this trend fizzling out quickly, but if you can rock it and make them look as chic as above—all the power to you.
Low Rise Jeans
View this post on Instagram
Not much to say here. I thought low rise jeans were dead and gone, and I was happy about that. Low rise jeans flatter no one, and I thought we all accepted that we just don't need our jeans to expose our pubic bones? I'm just not here for it. So yeah, let's keep these bad boys in the past, please and thank you.
Money Piece
View this post on Instagram
So let me start this bit by saying I myself currently am rocking a money piece, and a thick one at that. But, I am well aware that this trend will be over in no time, and I'll look back and wonder wtf I was thinking. I have physical reactions to how strongly I dislike chunky highlights, so I assume my views will be similar in a few months. I do think they are cute and fun at the moment (when done correctly), but the upkeep sucks, and when the roots start creeping in it goes from funky to disaster real quick. Let's mark this under "worst comebacks that I am currently enjoying but can still acknowledge are the worst."
And there you have it sk8er bois and girls. 2020 has been a fun blast from the past (even the roaring 20s are making an appearance!!!) but the trends remain sharper than ever.
Betches may receive a portion of revenue if you click a link and purchase a product or service. The links are independently placed and do not influence editorial content. 
Images: Jun Sato/ WireImage; Provided by Tobi; GIPHY; SKIMS, Juicy Couture, BrownDyedGirl, DoYouLoveThe2000s, ManiMe.Co, PrettyConnected, TheFrankieShop, Laneige, G Shock, NewBalanceLifestyle, Bella Hadid, Brittany Xavier / Instagram
Did Gigi Hadid Have Her Baby? An Investigation
Literally the only thing that's been getting me up out of bed in the morning during these harrowing times is knowing that Gigi Hadid and Zayn's baby is about to strut into the world having already won the genetic lottery. When TMZ first broke the news that Gigi was 20 weeks along back in April, it didn't even take, like, three hours for her mom Yolanda Hadid to word-vomit the news against Gigi's will. 
For the record, I'm not discrediting Gigi's ability to pull a Kylie Jenner on us and keep this baby a secret. For god's sake, she literally fooled us all by walking the runways during Fashion Week while pregnant, which should be a clear-cut sign that she can pop this kid out any day without ever needing to tell a soul. 
The Hadids' inability to keep their cool, on the other hand, literally caused poor Gigi to have to confirm the news of her pregnancy to Jimmy Fallon of all people, and don't even get me started on that. But since we've somehow blinked and crept right into September, aka Gigi's due-month, the entire Hadid family has collectively lost their sh*t by writing poems, sobbing uncontrollably, and basically giving media outlets free press. And there's one internet theory that could explain the family's behavior: Gigi has already given birth, and they just can't help themselves from going apesh*t. But does this theory hold any water (no pun intended)? We investigated so you can sit back and continue on your day with your Selling Sunset binge.
The Poem
Bless Mohamed Hadid and his zero regard for his very high-profile supermodel daughter's privacy, because he wrote and posted a poem to Instagram that basically said, "Roses are red, violets are blue, your baby was born, so proud of you." 
Mohamed Hadid is so pure. Congrats to Gigi Hadid & Zayn Malik on the birth of their child Xx pic.twitter.com/bfi0oKkdq8

— Aleesha Khaliq (@a_leesha1) September 16, 2020
Ok, so it was a little more cryptic and a lot more thoughtful, but based on the fact that he's already calling himself a grandpa and that he vowed to protect this child 'til death do him part, something has clearly kicked Mo square in the feels, and that something could very well be an excruciating birth contraction. 
Not to mention, he even captioned the photo, "In the name of God the merciful, I want to say l love you and I'm so proud of you @gigihadid." Like… what else would he be referring to? Being proud of his daughter for getting knocked up by an ex-boy-bander? I think not.
Anyway, Mohamed has since deleted his poem on account of the internet literally shattering, and his Instagram being bombarded with One Direction stans asking if Gigi and Zayn had their baby. He even responded to a fan who straight-up asked for the no-B.S. truth about whether or not Gigi had given birth, saying, "no not yet."
. Mohamed Hadid via IG

"Did Gigi give birth to her baby"

Mohamed: " no not yet" pic.twitter.com/JwAUvF9saC

— ZTΔTUS (@ztatus) September 16, 2020
Yeah, sure Jan.
Bella's Food Baby
K, first off, I have a bone to pick with this photo that Bella Hadid posted earlier this week. How do you look like THAT after ingesting an entire burger? Someone please humor me. Like, people actually have to pay work to get that belly (or lack thereof), but whatever, my raging jealousy is not why we're here today.
What really made people believe that Gigi gave birth or had already gone into labor was the fact that this photo was taken back in June and was posted three months later… literally out of nowhere. Also, Bella wrote at the end of her caption, "I love you both so freaking much—can't stop crying." Bella was def motivated to post this by something, and I'm pretty sure it wasn't remorse from pretending to inhale that quarter-pounder.
Gigi's Livestream
Ok, so I'm totally reaching here, but nobody voluntarily turns on a country music award show unless they're bored out of their mind or in need of some white background noise. A fan noticed that Gigi joined the livestream for last night's ACM Awards, so could it possible that Gigi finally had some down time after learning how to swaddle in Hospital Room A?
GIGI HADID JUST JOINED THE LIVE STREAM FOR THE ACM AWARDS OMGHAJDDJ SHES SO SUPPORTIVE I LOVE HER pic.twitter.com/WljDQf4CGa

— cody (@codyswiftgomez) September 17, 2020
It's possible, but she probably just joined in to watch her BFF Taylor Swift perform, because if we're being real here, that's the only reason anyone would've watched. 
Yolanda's Mouth
Why is it that the Hadid parents that can't seem to keep their mouths shut on behalf of their children? Not that I'm complaining, because shout-out to Yolanda Hadid, who just made my job that much easier, but literally a day after TMZ broke the news about the pregnancy, Yolanda let the cat out of the bag. 
She appeared on a Dutch celebrity news show RTL Boulevard, and not only gushed about how excited she is to become an "Oma" but even gave away Gigi's due date. She said, "Still shocked our little secret got leaked to the press. Of course we are so excited. I'm excited to become in Oma in September, especially after I lost my mom so recently."
This interview also came at the end of April when it was reported that Gigi was already 20 weeks along, which would mean that if she got pregnant at the end of December, she'd be due in 9 months aka September. But whatever, none of this hard-hitting investigative journalism even matters as Yolanda clearly did the lord's work.  
Moral of the story? The Hadid family couldn't keep a secret if their lives (and NDAs) depended on it. While we can't say for sure whether or not Gigi has actually had her baby, it wouldn't surprise us if she kept her birth super low-key. And can you blame us for being excited to behold the baby who will probably rule over us all one day?
Don't miss out on any pop culture or entertainment news. Subscribe to our weekly newsletter here. 
Images: Shutterstock.com; rtlboulevard, bellahadid, / Instagram; @codyswiftgomez, @a_leesha1, @ztatus / Twitter
Is The Weeknd Releasing A Song About Selena Gomez? The Evidence
Right off the heels of Selena Gomez releasing a song about Justin Bieber (okay, so like, a few weeks), it seems like another member of the Justin/Selena/Hailey/Bella/Weeknd/Selena/wait-where-am-I love triangle is releasing a breakup anthem of their own. According to the American Society of Composers, Authors and Publishers, The Weeknd registered a song titled "Like Selena". E! News initially found this out, and honestly, these people need an award because I didn't even know the ASCAP was a thing, and I worked in the music industry for over two years after I graduated college. Okay, so maybe this is more of a personal problem. In any case, this was a great find.
So, it seems like Abel is back on his bullsh*t, because literally, what else could a song called "Like Selena" be about? Adding fuel to the fire are his recent Instagram story and post. Yesterday, he put up an extremely blurry photo with the caption "the fall starts tomorrow night", which nobody has really bothered to explain why or how this points to a definite Selena diss track, but probably is loosely related to the fact that The Weeknd has a song called "The Fall", a song called "King of the Fall", and his 2014 tour bore the same name. Safe to say, this dude is really clumsy!
View this post on Instagram
The Weeknd also posted the same picture to his stories, captioning it, "tomorrow night we start again." We hear ya, Abel. It is going down tonight! We will keep our ears to the ground and Spotify memberships ready.
If the song really is about Gomez, it wouldn't be the first time The Weeknd has talked about their relationship. His 2018 album My Dear Melancholy included what people think are clear references to Selena, with lyrics like "We found each other/I helped you out of a broken place/You gave me comfort/But falling for you was my mistake" (perhaps referencing how Selena and The Weeknd dated post-breakup with Justin Bieber and while Selena needed a kidney transplant); "Ooh, when no one know what love is/And I know it ain't you for sure/You'd rather something toxic/So, I poison myself again, again/'Til I feel nothing" (probably alluding to her desire to get back with Bieber even though he objectively sucks for her); and my personal favorite, "I said I didn't feel nothing, baby, but I lied/I almost cut a piece of myself for your life" (which seems like it's saying Abel offered to donate his kidney to Selena… and I can't even get a guy to commit to plans, smh).
The Weeknd has also used his other ex, Bella Hadid, as lyrical inspiration, singing on the same album, "Wasted times I spent with someone else/She wasn't even half of you," which seems like some clear Selena shade/attempted Bella flattery.
All this proves that The Weeknd is definitely not above writing songs about his exes. But will "Like Selena" actually be about Selena Gomez? Call me crazy, but I actually don't think so. I think that's too literal. Even in the past when The Weeknd has been clearly singing about his exes, he wasn't so dense as to title his songs, like, "La Vita è Bella" or whatever the f*ck. So why would he take such a hard left turn and call her out by name, so long after his breakup with Gomez, when those feelings aren't even as raw as they must have been in 2018?
When I read a song name like "Like Selena", I think of songs like "White Iverson", "Bill Gates", "Moves Like Jagger"—songs that invoke a famous person's name as a vehicle for boasting or a point of comparison. And when you think about it, I feel like we, the public, don't know all that much about Selena Gomez to know what behavior would be "like" her. Ya know? Like, short of getting a kidney donated, what could I, the average listener, do that would be "like Selena"? No, I actually think there's another answer here: the late Selena Quintanilla-Pérez, who was hugely influential as both a singer, model, actress, and fashion designer. Now that would be a tribute that would warrant using a first name in a song title. And it would also be incredible marketing, to get everyone all psyched for a shady ballad and instead get a homage banger.
Of course, I could easily be wrong, and that would be super embarrassing for me. Let me know if you buy my conspiracy theory or not!
Images: Shutterstock.com; thweekend / Instagram
5 Lies The Victoria's Secret Fashion Show Told Us
Pour your zero-carb appetite suppressant out for the Victoria's Secret Fashion show, which was officially canceled yesterday in a statement by their parent company, L Brands. Apparently, the VS fashion show is taking the year off to "evolve the messaging" of the brand, aka to consider working with people who are not six foot tall cis women that weigh the same as an apple. In the #MeToo era, it comes as no surprise that a show as blatantly male gaze-y as the VS Fashion Show would have to rebrand (also, model Shanina Shaik leaked the news to the Daily Telegraph back in July). As someone who, for whatever reason, found herself watching the Victoria's Secret Fashion show year after year, the news is bittersweet. Sure, I won't be subjected to a parade of damaging body standards that leave me seriously considering an all-soup diet, but I also won't get to see Kendall Jenner wearing a space bra covered in glitter.
Obviously, I'm kidding. I will not miss wasting three hours on this event, which I inevitably would have done because I'm a sick millennial who is addicted to screens. But in honor of this iconic show's demise, here are five iconic lies they've told us over the years. Here's hoping the Hadid sisters use the show's end as an excuse to let loose and try a piece of cheese.
1. This Is What Normal People Look Like In Underwear

Let's be clear: I'm not saying that nobody looks like this. Some people do! And all 20 of them are in the Victoria's Secret Fashion Show. Yes, there are a blessed few who pop out of the womb with the genetics to be 5'10 and 119 pounds, but for most of us, that is just not happening. And for the people who are 5'1o and 119 pounds? Yeah, they mostly don't look like this:

Anyway, back to watching Netflix on my couch wondering why I don't have a six pack even though I went to the gym for 20 minutes three months ago.
2. This Is An Appropriate Costume

Yeah…don't do this. Don't even think about doing this. Unless you're actually Native American*, in which case do whatever the hell you want. You've been through a lot. This photo is of Karlie Kloss from the 2012 VS Fashion Show, approximately 500 years after Columbus sailed the ocean blue and made this not okay to do. (Rhyme intended.) Funnily enough, Karlie stopped walking for VS in 2014 after "studying feminist theory" at NYU and realizing it sent harmful messages to young girls. Models! They're just like us! (Getting woke after taking one women's studies class in college.)
Also, anyone who wants to comment on this post saying VS was just trying to "honor" Native American culture is welcome to do so, but they also legally must Venmo me $12. Call it an ignorance tax.
*finding out you're .00007% Chippewa on 23andMe doesn't count. 
3. This Is What A 37-Year-Old Woman Looks Like

This photo is from last year's show, where a 37-year-old Adriana Lima walked her final runway. Now, I'm not saying that a woman in her late thirties can't be a gorgeous, sexy, sensual being in the prime of their life. But what we see above is an actual abomination of nature. A gorgeous abomination, sure. But an abomination nonetheless. For reference, here is what I, a 29-year-old woman, will look like in exactly one year talking about the time I went to Bonnaroo:

Time is a cruel mistress.
4. Trans Women Can't Be Fantasies

#TBT to a little over one year ago, when Victoria's Secret was forced to issue an apology after Ed Razek, the guy literally known as "the man behind the Victoria's Secret Fashion Show," said he would never allow "transexuals" (his word, not ours) to walk the catwalk because the show "is a fantasy." He then went on to say the same thing about plus-size models.
First of all, trans women are women and plus-size women are women and the whole point of the show is to sell clothes to women, so wtf are you even talking about? Second of all, anyone who doesn't think plus-sized or trans women can be "a fantasy" is a narc who has never even glanced at porn.
Anyway, Razek left L Brands this August, and shortly before his departure, Victoria's Secret hired Valentina Sampaio (pictured above) as their first trans model. You simply love to see it.
5. This Is What Running Into Your Ex Is Like

We couldn't talk about the VS Fashion Show without mentioning the iconic moment, also known as "the only good thing that happened in the year 2016." Let's set the scene: Bella Hadid and The Weeknd had been dating for a year when they split up just a month before Bella's first-ever VS Fashion Show. They were then reunited live on stage as Bella made her VS debut looking like a low-carb snack. And thus a million revenge fantasies were born.
Unfortunately, a moment like this is not available to the vast majority of the population. For us non-models, reuniting with an ex looks more like running into them with their new girlfriend while we are making a tampon run in old sweatpants. But this moment was amazing television, and almost makes the 23 years of toxic beauty standards and bad body image worth it. Almost.
Images: Giphy (4)
UPDATED: The Extremely Stupid Reason Selena Gomez And Bella Hadid Are Feuding
Sometimes, celebrity feuds are messy, knock-down, drag-out wars. Other times, they're so subtle that you almost miss them completely. This latest bit of drama between Selena Gomez and Bella Hadid falls into the latter camp, with the feud being so subtle I almost couldn't figure out WTF was going on at first. That's because it involved an Instagram follow, a comment, and a dirty delete. Grab your microscopes, everybody, because this sh*t that went down between Selena Gomez and Bella Hadid on Instagram is what we in the business call "minute and inconsequential." But I've got nothing to do today (that's a lie), so I'll explain this entire scenario. As for why you should care about it, I'm sorry, I can't explain that.
In order to understand why anyone would even take note of what Selena Gomez may or may not comment on Bella Hadid's Instagram, you first have to understand the history of their friendship. Or, I guess I should say, lack thereof. Sources tell InTouch that Selena Gomez and Bella Hadid were never really friends per se, but they obviously knew of each other because they both A) are super famous and B) dated The Weeknd. Hating your boyfriend's ex, simply because she used to date him? It's a tale as old as time. In January 2017, when Bella learned that Selena was dating The Weeknd, she unfollowed her on Instagram. In March 2017, Selena and The Weeknd both unfollowed Bella Hadid in turn, which really has got to make me wonder what those two did for fun during their relationship. Like, they really sat around and mutually decided to unfollow Abel's ex on Instagram? Couldn't you just like, go for a walk instead?
But things seemed to have cooled down between Selena Gomez and Bella Hadid in May, when Bella liked an Instagram picture of Selena. I know, I know, this is all so stupid, why do I waste my time thinking about these people? I can't say. It's an asinine job, but somebody's got to do it.
Well, the cold war between Bella and Selena started up again last night, when Bella posted a picture of herself. Selena Gomez commented "stunning" with the heart eyes emoji, and the next thing we knew, Bella deleted the pic. Fans quickly speculated that she deleted the photo because Selena had commented on it. While certainly possible, that would be extremely weird. If anything, wouldn't you just delete Selena's comment? Maybe the post just wasn't getting good engagement… or maybe Bella didn't realize Instagram is taking away likes. Or maybe she really is that bizarrely petty. I don't know the girl, so I can't say! (If it were me, then you could definitely say she's just that bizarrely petty.)
This all became actual news when a Selena Gomez fan account posted Bella's then-deleted picture and called attention to the dirty delete, writing, "She's all about supporting women. You all just can't take it nicely. Btw Ms Hadid deleted the post." Or, put in a way that makes actual sense that you don't have to re-read three times, "Selena Gomez is all about supporting women, Bella Hadid just can't take a compliment and deleted the post." Or maybe "you all" refers to people who may have commented on Selena's initial comment? It's hard to tell, and we'll never know now that the original post with the comment has been deleted.
View this post on Instagram
Selena Gomez commented "That sucks" with a sad face, and that's it. That's the drama. Selena Gomez tried to comment something nice on one of Bella Hadid's Instagrams, so Bella responded by deleting the entire post. Lmao. I kind of love the ruthlessness of it all. It's like, "my enemy commented on my post, so I'm gonna throw the whole post away—that will teach her to compliment me!" What a ridiculous power move.
UPDATE: It seems like I was probably right, and Bella Hadid didn't delete her photo just because Selena Gomez commented on it. In a new Instagram caption (god, why can't these people just release a statement through their publicist), Selena put the rumors to rest… sort of. In a comment on a pic Elle posted about the not-feud feud, Selena said, "NO. I shouldn't of spoken without knowing the truth. I'm sorry. Please don't be hurtful. She is a wonderful person and it is all a misunderstanding."
View this post on Instagram
Soooo I was probably right in that Bella deleted the original picture because it got bad engagement, or maybe she didn't have the rights to post it, or something. Probably completely unrelated to Selena Gomez. Well, this has been a fun exercise in jumping to conclusions! Now, if you need me, I need to figure out what it means when Instagram said 15 minutes ago that someone was online two hours ago, and now it jumped to two days ago.
Images: commentsbycelebs / Instagram
Photoshop Fail Of The Week: The World's Most Beautiful Woman Still Facetunes
Bella Hadid is one of the biggest supermodels of our generation. Personally, I love her and Gigi. I hope we'll continue to move away from using only the super tall, super thin, super conventionally beautiful body type as models, but in terms of their careers, the Hadids are killing it. Bella's had a good week in general too, because she was just announced as the most beautiful woman in the world, according to science. I mean, I think beauty is subjective, and I'm super confused that this is the science we're reading about instead of, you know, tackling global warming, but okay. She is definitely one of the most beautiful women, without a doubt. However, somehow, being the most beautiful woman still does not spare you from the siren call of Facetune.
Bella's been caught editing a few times in the past, especially her body (which I don't understand at all, but k). Like, if someone that thin thinks her body needs to be edited, imagine, just IMAGINE, what she'd do to a pic of my size 8 ass. She'd probably just have to throw the whole pic away. But I wanted to take a look at what regular, run-of-the-mill selfie editing Bella does on the reg. If I were the most beautiful woman in the world, I would do none. I already do none because it's honestly too much work and I don't care. But models are just like us, and they also have insecurities. I don't agree with using Facetune to hide them, especially as public figures (of beauty, no less), since it creates a very toxic standard for what women are supposed to look like. But until Bella gives me control of her phone, this is just the reality we live in. That said, I will definitely continue to call it out so people can understand that it's not real, and nothing to aspire to.
So here is Bella, looking like the most beautiful woman in the world, in a regular selfie:
Like, she's just stunning.
And here she is in a paparazzi pic that is (to my knowledge) unedited:

Also stunning.
But there are definitely a few differences I noticed right off the bat. Aside from just the basic, she has a tan, her hair color (which is dyed and not Facetuned), the amount of makeup she's wearing, the thing that jumped out most to me was her face/jawline. Bella has a clean strong jaw, which I actually always thought was a good thing? Maybe I don't know what's cool with the youths now? But in her own pic, her face is really, really thin and much softer. She looks like she's wearing less makeup in the selfie, but somehow her nose bridge is completely blended out/gone, and her nose looks smaller. Proportionately, her eyes do look bigger, although it could just be makeup/angle differences. And her lips look bigger, but still the same shape. But the pics are at different angles so it's hard to tell.
So I moved it.

Even I was surprised when I made this GIF. Her face is basically half the size in her own selfie. But like…why though? She already apparently has the most beautiful face in the world? Her lips are made a lot bigger and her nose was definitely smoothed. It does look like the eyes are made bigger, too. One thing I will say is that it doesn't look like she airbrushed her skin at all besides the nose, so Bella must just have perfect skin a good dermatologist. I like when we can actually see celebs with pores instead of the scary plastic-y skin they're all so fond of.
So there you you have it. The most beautiful woman in the world and she still can't take a selfie unedited because of the crazy standards we put on women as a society. Bella, you're the most beautiful woman in the world, you really don't need the editing, I promise you.
Have you seen some of Bella's other Photoshop Fails? Do you think it's crazy that these insanely perfect women still do this shit? Let me know!
Images: Getty Images; bellahadid / Instagram
Khloé Kardashian's 'Revenge Body' Trainer's 5 Moves For Toned Abs & Glutes
I don't know about you, but my favorite moment in television history was when Bella Hadid strutted past The Weeknd on stage during the Victoria's Secret Fashion Show, looking hot as hell, while he just stood there looking mad regretful. Honestly, I would do just about anything for that kind of high, because I can't imagine that anything feels quite as good as reminding a guy who didn't want to be with you just how hot you are. If you are feeling a little meh and want to change that, getting in shape is a good way to start. To quote the great Elle Woods, "exercise gives you endorphins; endorphins make you happy…" The rest isn't really relevant to my point, so I'll just stop there. So if any of this sounds appealing to you, you'll love what's to come!  Trainer to the stars Autumn Calabrese—you probably know her from Khloé Kardashian's Revenge Body—created a special ab and glute workout just for Betches readers! What's more, Khloé's revenge-seekers aren't the only people Calabrese has whipped into shape. She used to be Kendall Jenner's personal trainer, too. Tbh, this workout is not for the meek. It's hard af, but so is life, so get to work.
Weighted Side Bend
This one is pretty straightforward, so I won't spend too much time explaining it, but I will take a second to tell you why it's amazing. Ok, so you know how Jennifer Grey in Dirty Dancing has those really subtle yet very enviable ab dimples on either side of her torso? That's probably because she was doing weighted side planks all damn day! 
Even though it does a lot, the actual movements aren't super challenging. To start, grab a weight that feels heavy, but not so heavy that you might drop it. Stand with your feet parallel and about hips-width apart. Place the hand that isn't holding the weight behind your head like you would for crunches, and then, without breaking your posture, lean sideways toward whichever side the weight is on. So your upper body bends sideways at the waist and your lower body doesn't move at all. Calabrese says, "I love this move for sculpting the obliques. Perform two sets of 15-20 reps on each side." You'll def feel this one the next day. 
Dumbbell Hip Hinge
Or as I like to call it, the weighted bend-and-snap. Grab two weights and stand with your feet hip-distance apart. Hold the weights in front of your body (as opposed to down at your sides) with the backs of your hands facing forward. Now, without curving your back, slowly bend your body forward at the waist. Your legs should also bend as your upper body hinges forward about 45 degrees. Then, snap back up. Don't lift slowly; you want that part to be pretty fast. Calabrese says, "This move is great for lifting your butt. It works the hamstrings and the gluteus maximus. To build your butt, you need to lift heavy, so pick a weight that allows you to perform 10-12 reps where you can't do any more with proper form by rep 12." And then you will probably keel over and need a nap, but you'll get results. 
Single Leg Tap Back
Hearing the phrase "tap back" is giving me major SoulCycle PTSD, but I'll pull it together. Doing single leg tap backs every day will give you a Kardashian butt…in that it will be round and shapely, not full of silicone. For this one, start with your feet touching and a weight in one hand. Just for simplicity's sake, let's say the weight is in your right hand. Bend your left leg and step your right foot all the way back so that your toes are touching the ground. It's kind of like you're in a modified runner's lunge. Now, the hard part! Without sacrificing your flat back, lift your right leg up slowly so that it's at the same height as your hips. Do not, I repeat, do not let your upper body dip down. Keeping that weighted balance is what strengthens your butt and will ultimately make it look like a peach emoji. Calabrese says, "This move is great for working the gluteus maximus and helping lift the butt. It's also going to help you build your backside. You want to pick a weight that allows you to perform 10-12 reps and  you'll want to do three to four sets of the move." Ugh, ok fine. 
Plank Triple Knee Tuck
Luckily, there are no weights involved in this ab exercise, so if your hands were starting to develop calluses, congrats, you're done with the weighted portion of the program. You do, however, need two gliders, which are cheap af on Amazon. To start, get in plank position with your arms extended, and place the gliders under your toes. Then, glide your knee to the opposite elbow and then extend back to plank position. You're going to alternate each knee and do both knees toward their same-side elbows at the same time. This kind of looks like the position you do in leapfrog right before you leap. Good visual, or did I just make that more confusing? You decide. Calabrese says, "This move works the whole body with a strong emphasis on the core. It will help tone your obliques as well as your lower abs." I like the sound of that. 
Glute Bridge With Knee Opener
Get a mat for this one if you don't want a bruised tailbone. Lay on your back with your knees bent and feet together on the floor. Cool, you're done! Kidding. Place a resistance band around both legs right above the knee, slowly lift your hips up and then spread your knees, but keep your feet together. Move your knees back together and then slowly lower your hips. This may sound easy because you're lying down, but don't be fooled. Your butt will feel like it's falling off the next day. Calabrese says, "This move is great for shaping and toning the sides of the glutes or the gluteus medius.  You want to use a heavy resistance loop for this. Perform two sets of 15-20 reps." 
I did this on a Sunday morning and seriously considered working from home the next day so that I could take an ice bath every few hours. It hurt so good. I fully trust Autumn Calabrese because I've seen her magic unfold on Revenge Body, so if you need an at-home workout that will actually challenge you, you're welcome. 
Images: Courtesy of Per Bernal, Autumn Calabrese (5)
UPDATED: We Called It—Bella Hadid And The Weeknd Broke Up
UPDATE: I wanted to say that I called it, but really, our lovely tipster Tamara called it. E! News is now reporting that Bella Hadid and The Weeknd have called it quits again, after a source exclusively confirmed it. The source claimed that distance played a role in their breakup and explained, "They are in different places right now, physically and mentally." The "physically" qualifier seems unnecessary, but ok. On the one hand, Bella is prepping for fashion week stuff and The Weeknd is working on his new album and—get this—"his upcoming acting debut".
According to the source, Bella and Abel hope to get back together at some point but for now "are focused on themselves and their projects." I mean, don't we all? Anyway, wow. Now that we know for sure that The Weeknd and Bella Hadid are broken up, all I can say is: I cannot wait for the new Weeknd album.
There are a lot of celebrity couples I'm constantly thinking about, but I'll be honest, The Weeknd and Bella Hadid are not one of them. That's not to say I'm not a fan—I am actually a huge fan and never understood his relationship with Selena Gomez—but they seem pretty stable. As a couple, they're not really in the news all that much, and we don't hear a lot of drama about them. As far as celebrity couples go, they seem like a nice constant presence I can take for granted without having to constantly monitor. That is, until a hot tip came into my inbox this morning from Betches fan Tamara Barracosa, who thinks The Weeknd and Bella Hadid have broken up.
First, a brief timeline of The Weeknd and Bella Hadid's relationship. Bella and Abel got together in May 2015 and broke up in November of 2016. He dated Selena Gomez for 10 months, and then in November of 2017, was spotted leaving Bella Hadid's apartment. (Who among us has not hooked up with an ex as a rebound?) They have more or less been together since May 2018. However, there might be trouble in paradise… literally. Our girl Tamara noticed that Bella Hadid has been on vacation a lot, with no sign of The Weeknd. To be fair, he could just be busy with other things (he's working on an album), but it's a little out of the ordinary for there to be no sign of The Weeknd on Bella's social media in months. In June, she posted him to her Instagram story when he surprised her with a visit. And on May 23, Bella was missing her mans, so she posted a TBT pic of them in Abu Dhabi, writing "I miss my king". So, even though they're a pretty private couple, they do post about each other. Or at least, Bella will post about Abel regularly enough. His absence could be telling of something more serious.
Sadly, all good things must come to an end, and their relationship might be on the rocks. Two weeks ago, tabloids were reporting that their relationship is "at an all-time low" and they're constantly fighting. On July 31, The Weeknd posted a selfie to Twitter (weird move, but ok), where he's drinking a cocktail and living some semblance of his best life.
— The Weeknd (@theweeknd) August 1, 2019
Noticeably absent from that selfie? One Bella Hadid—though, to be fair, a browse through The Weeknd's Twitter history shows that he doesn't really post about her on there, ever. (He mostly retweets news articles about himself.) So it's not that weird that he wouldn't tweet about his girlfriend, especially since Twitter isn't really the platform you go to to post about your relationship—Instagram is. But guess what's on The Weeknd's Instagram?
Nothing.
UPDATE: !!!!! he deleted his insta and she deleted recent pics of him!!!

— Tam Hanks (@TamaraBarracosa) August 1, 2019
That's right, The Weeknd deleted his Instagram. That's definitely suspicious, and could point to a breakup, but there are easily other explanations. Mainly, The Weeknd is currently working on a new album, Chapter VI, and according to some music blogs, his fans have been bugging him nonstop on social media about it. Yeah, if strangers were constantly DMing me about my latest article or whatever, I'd be annoyed too, and might just go nuclear and slash and burn my entire account. Also, artists delete their Instagrams in the time leading up to a new release all the time. Taylor Swift did it for Reputation, and Cardi B did it as well after the 2019 Grammys. Fans thought it was in response to the backlash of all her wins, but then she ended up back on Instagram a short time later to promote a new song. With The Weeknd deleting his Instagram, I'd bet this is less of a sad boy thing and more of a PR maneuver.
However, Bella's Instagram is also kind of suspect. She hasn't posted a picture of The Weeknd since March 30th, which is a long time ago, but then again, Bella Hadid's Instagram is mostly professional shots of her anyway. It makes sense that she's not actually using Instagram for its intended purpose, i.e. posting real photos of her life taken on an iPhone, considering she's a model and also a celebrity. Unless Bella Hadid has a finsta, this is kind of a dead end. Could it be indicative that their relationship has come to an end? It could. But it could just mean that she doesn't post her boyfriend to her feed to begin with. I don't have a photographic memory of Bella Hadid's Instagram feed, so I can't say for sure that she did have photos that were taken down. I checked out a few Bella Hadid fan accounts (I know), and even they don't have many photos of her with The Weeknd. So could it just be… that she doesn't take many photos of him to begin with? Sometimes the most obvious answer is the correct one.
Basically, when an already quiet couple goes even more quiet, it's hard to determine what's up. It's equally likely The Weeknd and Bella Hadid broke up as it is that The Weeknd has just been sequestering himself away somewhere while he finishes his album, so I'm sorry to give you all blue balls, but it's impossible to say for sure. Looks like I'll be adding The Weeknd and Bella Hadid to my roster of celebrity couples I need to keep constant tabs on to make sure they're okay, right after Chrissy Teigen and John Legend.
If you have a tip you need the one and only Sgt. Olivia Betchson to investigate, send us an email to [email protected] with your piping hot tea.
Images: Shutterstock; TamaraBarracosa, theweeknd / Twitter