What Your First College Party Will Actually Be Like
Your first college party is an exciting and slightly terrifying experience. Your imagination has probably run wild with what to expect based on what you've seen in movies, TV shows, and stories from graduates from your high school who are somehow always still hanging around your basement kickbacks (can you say peaked?). You may be expecting to be in a mansion of a frat house that's decked out with Euphoria style lighting and decor, but allow me to set the record straight. This will tell you what's true, what's overhyped, and what's just flat-out not gonna happen so you don't get your precious party dreams crushed. 
The Pregame
Expectation: The pregame will be a fun and exciting way to meet new people. You'll play drinking games, listen to some good music, and take a few too many shots with the girl you just met who is now your new bestie. You'll have incredible conversations about what you're excited about in college and exchange numbers with all the new people you just like, click with.
Reality: It's a complete and total f*cking nightmare unless you're appropriately buzzed. "Old Town Road" has been played 10 times just in the one hour you've been there, someone's standing on the coffee table trying to teach everyone their favorite TikTok dances, and the punch you paid $10 for tastes like it has maybe one shot in the entire bowl. Your night will go one of two ways: you'll black out and never make it to the party or you'll roll up completely sober. Choose wisely. 
Your Outfit
Expectation: You look perfect the whole night. The time you spent tearing apart your closet to decide which black top among a sea of black tops you were going to wear, redoing your eyeliner a hundred times, and starting to get ready two hours early to give your hair the perfect beach waves has all paid off. No amount of humidity or dancing could possibly destroy your Insta-worthy look. 
Reality: Five minutes after you get to the party, you catch your reflection and your look's already gone to sh*t. Your makeup has melted and your hair, which was once as sleek and smooth as an influencer's Facetuned skin, is now a mile high with frizz and chucked up into a messy bun. Oh, and someone spilled their drink on you the moment you stepped in the door. Thankfully you were too drunk to notice. To top it all off, by the end of the night your shoes got destroyed and you lost your jacket, but hey, at least you took pics before you left! 
The Actual Party
Expectation: You'll spend the night dropping it low with your friends while scream-singing your favorite songs, impress everyone with how unexpectedly good at beer pong you are, and miraculously wake up without a hangover despite out-drinking everyone else. You'll be the undeniable life of the party and your plan to totally kill it at this ~college thing~ will go off without a hitch.
Reality: You're going to spend more time trying to find a bathroom that isn't totally disgusting to pee in and looking for your friends who somehow disappear every five minutes than you will socializing and dancing. After a while you'll settle on peeing outside and accept that you're friends are probably dead now, but honestly, the three minutes you'll lose your sh*t while "Stacy's Mom" is on are totally worth it.
Your New Obsession Crush
Expectation: You're going to meet the love of your life. You spot each other across the room the moment you walk in and he somehow only has eyes for you. The crowd parts as you move in slow motion to meet each other. The music playing in the background somehow matches the moment perfectly. Everything is so perfect, it's almost as if it was cut together by the editors of The Bachelor.
Reality: You spend almost an hour on the porch talking to some dude wearing a half-buttoned Hawaiian shirt (disgusting, but he's the best-looking one there). You'll probably get his number and save it under something like "frat guy Hawaiian shirt," make out a little, but he'll ultimately end the conversation by being pulled away by one of his frat bros to go play Edward Fortyhands.
The End of the Night
Expectation: Your night will end with a legendary story. Maybe you'll climb to the roof of your lecture hall, break into the basketball court at 2am, meet someone famous (you know, if you don't go to school in a cow town), or literally do anything that will make your friends who decided to stay in jealous as f*ck. 
Reality: By the time the party gets shut down, you'll be too exhausted to even take off your makeup, much less go anywhere other than straight to bed. The only logical way to end your night is by debating whether or not a $4.99 delivery charge is truly worth getting greasy food sent to your room, to which the answer is always yes. You'll spend about six minutes scarfing down an entire pizza and TBH, in that moment you won't be able to think of anything more satisfying. 
Granted, there may be a few schools out there where the parties are genuinely incredible and meet your expectations, but I've yet to experience that. Whether you're a freshman going strictly to frat houses, or a senior who frequents the bar and experiences the occasional frat relapse (no shade, we've all been there), odds are, the only stories you have from your nights out are about your friend throwing up in your Uber, how you made a total ass of yourself in front of the guy you've been talking to, or, my personal favorite, you won't have any stories at all because you went too hard and can't remember a thing. Better luck next year!
Images: Aditya Chinchure / Unsplash; dietstartstomorrow, off campus (2), betches / Instagram
The Super Bowl Party Foods To Avoid At All Costs & What You Should Eat Instead
As Americans who proudly DGAF about sports but still want to partake in a national tradition we'll never understand, we really have no other choice than to eat an endless amount of calories during the Super Bowl. Super Bowl parties are known to include every American high-fat culinary embarrassment from mac and cheese to spicy wings, and unless you intend on getting through the game by drinking a room-temp Corona Light and pretending to understand what's going on, you'll be eating. Making healthy choices during the Super Bowl is almost impossible, but if you're looking to host or attend a Super Bowl party without eating a month's worth of calories in one day, here are the foods to avoid and some healthier alternatives to consider:
1. Fully Loaded Nachos
Super bowl nachos are basically a death sentence, but they're also tragically amazing. Like, whoever invented these was definitely stoned and had definitely been working too many hours at Taco Bell. If  you really insist on having some, try grabbing from the corners of the bowl, where the chips aren't completely drenched in cheese and sour cream. If you're hosting your own party, bake your own zucchini chips or kale chips and season the shit out of them. They're obviously not hardcore nachos, but they're way less calories and still taste good, so don't knock it.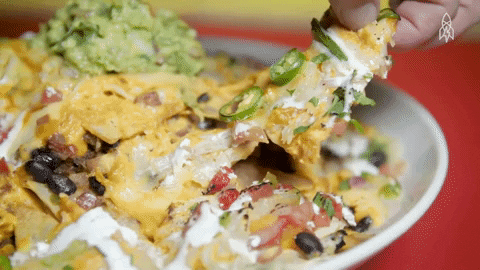 2. Buffalo Wings
Apparently Americans eat 1.33 billion chicken wings during the Super Bowl every year, and they all regret it the next morning. Wings are always a bad call if you're trying to stay somewhat healthy. Don't try to convince yourself that you need protein, because it just doesn't count. If you're making your own, try a basic recipe with no added sugars, using just tomato sauce, garlic, onion, honey, apple cider vinegar, paprika, and salt and pepper. Always bake instead of fry. If you're eating them out of a red KFC bucket, they're probably a lot worse for you than you'd think. Put down the wings.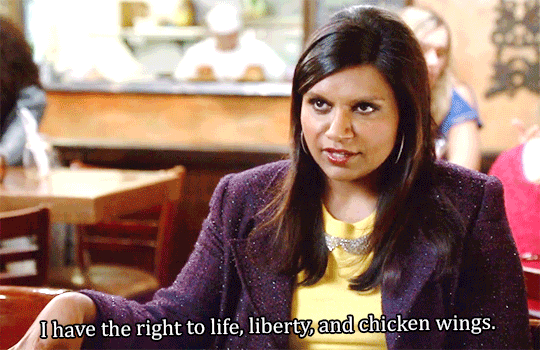 3. Pigs In A Blanket
Okay, YUM. If you didn't spend your adolescent years heating up frozen pigs in a blanket and french fries after school, I'm so sorry for you. These are addictive, but honestly unless you have the self control of a Victoria's Secret model, don't get started with these. You'd think they're so small and harmless, but eating only four of these equates to over 20 grams of fat, so be careful. You tell yourself you'll only have a few, and then suddenly you're Guy Fieri going ham at a random diner in the midwest. If you need something to snack on while refreshing Instagram watching the game, I'd stick with pita chips and hummus as a safer option.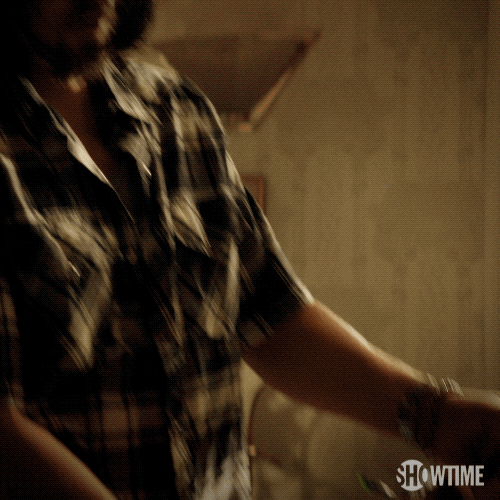 4. Queso Dip
We already spoke about cheesy nachos, but let's take a moment to discuss queso, the dip that is essentially glorified melted cheese. With some butter and milk. Maybe a sprinkle of garlic and cayenne pepper, but we all know the cheese is the real star here. This dip is a heart attack in a bowl, and honestly it's really not worth the calories if you're *basically* sober at 5pm on a Sunday. If there's guac around, go for that instead, and if you're making your own dip, find a spinach artichoke dip recipe made with Greek yogurt and light mayo. It's a fraction of the calories, it's delish, and if it means avoiding 400 grams of fat, we're here for it.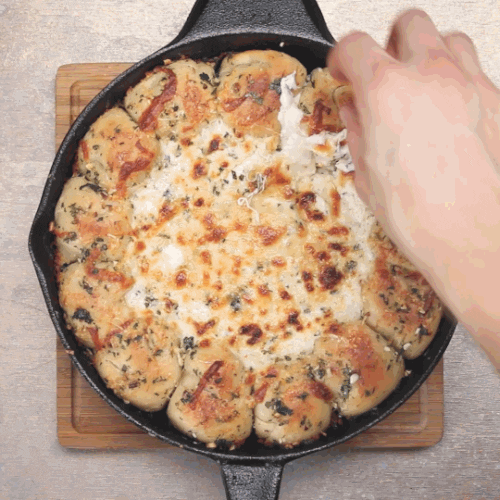 5. Chili
Chili is made in different ways so we can't say all of them are horrible for you, but usually, if you're consuming a dish made from ground beef, beer, and sour cream, we're gonna suggest you stay away. Chili is also one of those dishes where no one really has any perception of a serving size, so you just end up eating it like you're a bottomless pit who just finished a Yom Kippur fast. Instead, go for the salmon burger, the grilled chicken, or even the meatballs would be a better option. At least in that case you can count how many you've had.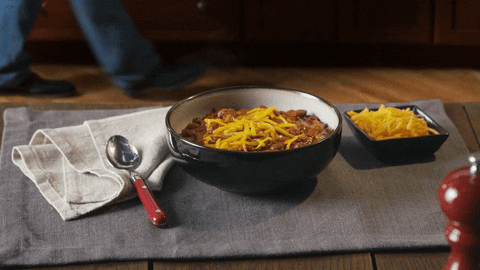 6. Soda
We've already accepted the fact that you'll be blackout by the halftime show, so let's disregard alcohol calories for a second. If you're mixing your drinks with soda, or even worse, just sipping on a Regular Sprite because you're not in the mood for water, put the cup down. You're eating enough calories at this party to feed a small village. You really don't need to drink your (non-alcoholic) calories, too. Keep your alcohol choices simple and avoid all regular sodas and sugary syrups. If you're making a mixed drink, stick with zero-calorie options like La Croix or Diet Coke instead. Straight vodka works too. It's a long game.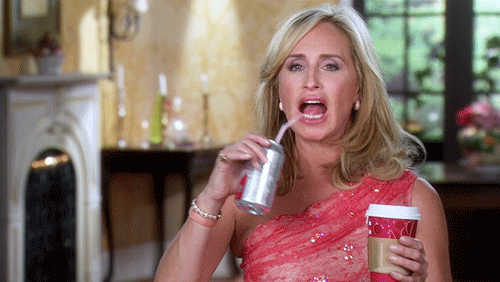 Images: Niklas Rhose / Unsplash. Giphy. 
What To Drink On New Year's Eve So You Don't Get A Hangover
No matter how often we drink throughout the year, there's nothing worse than a New Year's hangover. Everyone knows NYE is literally an invitation to black out, forget about all the mistakes you've made in the past 365 days, and maybe hook up with one more rando before your resolutions come into the picture. It's the last hurrah of the year, and if you don't wake up with mascara on your pillowcase and a colossal headache, you probably didn't do it right. Although the New Year's day sunglasses and Advil combo is inevitable, we're here to discuss what types of alcohol are the worst for your hangover, and which are *slightly* better for you. In order from the worst to the best options, here's what you should (and shouldn't) be drinking:
5. Champagne & Tropical Drinks
If you want to play it safe on NYE, avoid bubbles and sugar. Champagne might be a New Year's staple, but the combination of its bubbly texture and its added sugar is a recipe for an awful hangover, and it's honestly not worth it. Like, you could be having stronger drinks that won't screw you over in the morning, so just stay away—and if you must, stick with the driest (i.e., with the least added sugar) bubbly you can find. Tropical drinks are also a no-go. Aside from the fact that the mix of sugar and alcohol makes your hangover so much worse, it's also just weird to be drinking some 14-year-old's drink on NYE when your friends are taking shots. Put down the Piña Colada. It's embarrassing.
4. Rum & Bourbon
People think rum wouldn't give them such bad hangovers, but that's only if you stick with the clear stuff, and then only if you don't mix it with sugary bullshit—and have you ever heard of a rum drink that didn't sound like it belonged on a Carnival cruise to Havana (ooh na na)? And as for dark rum, just, no. In fact, people say you should avoid dark alcohols in general. Bourbon is in the same category, but like, unless you're an 80-year-old man holding a cigar and a newspaper, we're assuming you're not drinking bourbon on New Year's. Either way, avoid both of these drinks and you'll be fine the next morning. I mean, not fine, but better.

3. Beer
Beer isn't great for your hangover because of its bubbles and carbs. But then again it doesn't have that much alcohol in it, so if you're actually hungover after only drinking beer, you need to get out more. Unless you literally have your head over a keg stand the whole night (or weigh like 100 pounds), you're going to have to put in some work to get sufficiently wasted. Beer is a safe bet on New Year's just like white wine is a safe bet on Spring break. You'll feel fine, but like, at what cost?
2. Vodka/Tequila/Gin
If you want to keep things simple, stick with the basics and you can't go wrong. Any clear alcohol is going to be better for you in terms of a hangover. A lot of people say tequila makes you less hungover than vodka, but it probably depends on the person. We're not saying that you won't get hungover by pounding tequila shots all night, but if you're avoiding syrups and other additives in your drinks, you'll be better off in the morning. Stick with clear shots and chase with a lime or lemon slice. Nothing with sugar, because that obviously defeats the purpose.

1. Sake
If you're out with friends for sushi before you go out for the night, sake is actually a solid option for getting tipsy without too many repercussions. Apparently sake doesn't lower your body temperature like wine or beer, and the ions in the water actually give you energy instead of making you crash. It's kind of like mixing your alcohol with a sports drink that revitalizes your body and gives you energy. It's also a great addition to your spicy tuna roll, so just do it.
A Guide To Buying Booze As A Gift So You Don't Look Cheap
Shopping for Father's Day is stupidly difficult. If you're wanting to skip the "fun" mugs, ties, and yard tools, wtf else is it that a dad wants?! Like us, most dads love booze. Whether they like to get weird with tequila or are happy cracking open a craft beer, most dads just want to be left the fuck alone to drink and grill with some goddamn peace and quiet. I can respect that.
So, this Father's Day, don't fuck up by getting a chocolate hammer and "No. 1 Dad" mug for the fourth year in a row. We've rounded up top contenders in all the booze categories to make this a bitchin' (and drunk) Father's Day.
1. Red Wine

If dear old dad is into a nice glass of red wine for sippin' at dinner, look for something that goes with literally everything. We like 2014 Cultivate Pinot Noir—a blend of grapes from several California regions that goes really well with red meat AND chocolate. It has tasting notes of everything from ripe red fruits to a touch of black tea. Sounds manly. Plus, it's about $27, so it counts as a legit gift.
2. White Wine

If for some reason dad is into white wine (maybe red wine gives him heartburn or makes him angry), reach for something that blends well with shit like grilled chicken, spice, and seafood. Grab a Sauvignon Blanc since it isn't especially sweet AND it keeps dad away from basic bitch territory like Chardonnay (shudder). We like 2015 Hawkes Bay Sauvignon Blanc cause it's got a bitchin' blend of acid and sweet with hints of citrus. Make sure dad knows to chill his wine and serve it with something Asian-inspired—like food from that Japanese place he loves so fucking much.
3. Bourbon

If dad is into bourbon, there are a few decent ones you need to be looking to buy. One is Bulleit Bourbon which, at 90 proof, is likely to give dad a hangover Father's Day he'll never forget. The good thing about this shit is that it's smoother than most bourbons since it's 2/3 corn and 1/3 rye. It has mild spice and a littttle sweetness, perfect for drinking straight or mixing into whatever dad needs.
4. Scotch

.


If daddy has an American Express Black Card and you get your pretentious betchiness from him, chances are he drinks Scotch. Bonus points if he does the flicky water thing and sips it in a Hannibal Lecter sort of way. Anyway, if you're looking for a good but affordable Scotch for dear dad, try Chivas Regal 12 Year Old (Blended) or Bowmore Small Batch (Single Malt). Both are under $40 so you won't break the bank, but they're also recognized and awarded as super smooth with interesting flavor profiles. If you're dad's into Irish whiskey (I know it's not the same as Scotch, fight me), get him a bottle of Bushmills Red Bush. It's distilled in bourbon casks for a well-rounded yet versatile flavor profile.
5. Vodka

So if you're Russian or something, dad probably likes his vodka. Is that profiling? Whatever. Anyway, if you're ready to drop about $40 on good, organic vodka, try Purity Vodka. It's made in Sweden or something and has a really clean taste with notes of vanilla and pepper not usually in vodka. Definitely a step up from Dubra and Smirnoff.
6. Gin


Is dad a psychopath who enjoys gin? Is this where you got your psycho tendencies from? Great! Picking a good gin is NOT as simple as grabbing a bottle of Bombay (stop). Look for something decent like The Botanist. It doesn't taste quite as much like a cleaning solution and focuses on a niiiiice peppery kick. Plus it's only like $40 so you can't afford NOT to get it. Or if you want to trick Dad into thinking you spent a lot of money on his gift as penance for maxing out his credit card again or something (speaking for a friend), pick up some Sipsmith London Dry Gin. It's made in London (and therefore automatically classy) and it has a dry finish with spicy notes of juniper and a hint of lemon tart. Dry, spicy, then tart—kind of like dad. Too corny? Sry.
7. Tequila

Are you looking to splurge? Tequila makes us crazy, so if you want to blow dad away for Father's Day and try to make him forget that time you totaled his car, opt for the Avion Reserva 44, which clocks in about $150. It's super rich, aged, and has a really unique taste. If all you've been drinking is Jose, you won't know what planet this shit is from.
8. Craft Beer
If dad is a simple man who just wants to be left alone with a beer, give him the gift his heart desires (and then leave him tf alone). There are literally millions of craft beers out there, so head to Trader Joe's, grab an empty six pack, and start putting together a tasting you think dad would like. Like, any asshole can grab a case of Sam Adams—it'll just mean SO MUCH that you took the time to put that shit together. You're such a great daughter.
7 Rooftop Bars In LA That Will Definitely Up Your Insta Game
In case you haven't seen Entourage, day drinking and living in LA go hand in hand. Because what else are you supposed to do in perfect weather when you don't have a real job? Rooftop bars are perfect for day drinking because you can get drunk while looking down on everyone working on your tan. In honor of Memorial Day weekend, here are the best rooftop bars in LA to make questionable decisions at.
1. The Standard Downtown
The Standard has one of the best hotel happy hours on their rooftop bar. There's a beer garden, a cocktail bar, and a pool (duh). It's right in the heart of downtown, which means you'll be able to bar hop your way around once you get tired of being above everyone else.
2. EP & LP
This West Hollywood bar was very trendy when it opened a few years ago and it still is. There's an Asian fusion restaurant downstairs, because of course there is. The sleek gray interiors and hot gay waiters and waitresses set the mood for Hollywood types to sit and spend. The convenient rooftop bar also makes it easy for you to transition from a business meal to getting wasted on the roof. It's a good place to people watch, but don't wear flats here or you'll feel underdressed.

3. The Red Lion Tavern
This Echo Park bar is very hipster and chill, which is good for groups (aka co-ed groups) that might not be into a scene type of place. The Red Lion is an old school German beer garden type, so the bar maids and bartenders are slow and a little grumpy, but the good news is the beers come in boots if you want to order more and save yourself the hassle of having to get the bartender's attention again. The roof is small but nice especially during the day when all of Silverlake and Echo Park is out. If you're hanging out in this area, chances are you live on the East Side and you'll probably run into at least three people you know, including someone you went to high school with.
4. Perch
Another downtown rooftop bar with a great view of the city. The vibe here is definitely more work crowd than struggling artist, but you'll enjoy talking to people without them asking you to read their screenplay or worse, check out their reel.

5. Hotel Erwin
So Venice might not technically be LA, but fuck it it's almost summer and you belong by the beach. This is a great bar to take visitors in the summer because they'll want to (ugh) see Venice and you can pop over to Hotel Erwin after for some watermelon cocktails and amazing views of the sunset. Just don't fall in love with the DJ here or you might never leave Venice.
6. Mama Shelter
This rooftop bar is kitschy but cute and sits on top of a hotel in Hollywood. They're also a restaurant with food served until late night if you get drunk munchies. It's also close to all the clubs in Hollywood, or if you want to go dance at Davey Wayne's you're right around the corner.

7. Skybar
This is part of the Mondrian Hotel in Hollywood, but there's a separate secret entrance to get up to the rooftop. This is like a go-out-all-night-because-IDGAF kind of bar, so expect to get blackout or see the sun come up. Probably both simultaneously. Chances are if you're going out with your girlfriends here, somebody is on the rebound. Nothing like going to a rooftop bar in a hotel to remind you that the fuckboy who dumped you probably couldn't even make it past the lobby. Sorry, but I'm too far above you to care what he's saying.
Want to read about the best outdoor bars in New York? Click here!
9 Ways To Prevent A Hangover So You Might Actually Get Sh*t Done This Weekend
Ever since someone (probably a dude) figured out that drinking fermented yeast makes you feel funny, humanity has been on a noble quest to figure out how to prevent a hangover. Nerds and people who don't understand the concept of "fun" will tell you that the easiest way to avoid a miserable morning-after is to drink less. Since the very idea of not getting wasted every weekend is unfathomable, the only proper response to this is to point and laugh.
But there's only so much coconut water and aspirin a betch can take without going crazy, so it's in your best interest to try to mitigate a hangover before you go out. If you take the following precautions, you might spend only three hours in bed tomorrow morning instead of the usual six. Best of luck, comrades.
1. Alternate Shots & Water
Most betches understand the science of hangovers better than anything they learned in biology class, but in case you missed it, the headache is mostly the result of dehydration. Alternate a shot of alcohol with at least a little water, and you might wake up tomorrow feeling merely gummy instead of like a desiccated corpse. Yes, you'll be in and out of the bathroom all night, but suck it up and take some drunk selfies while you're there.
2. Go Easy On Bubbly
According to a decent amount of research, fizzy alcohol gets you drunk faster because carbon dioxide or something. You obviously know your limits, but know that you'll get lit way too quickly if you accept that offer to do a keg stand with Champagne.

3. Eat Dinner (A Real One)
Eating a legit dinner before you go out seems counterintuitive to me. Why would you eat a bunch of food when it'll just soak up the alcohol and make it harder to get drunk? Plus, even clear liquors have calories, so you'll just feel fat. Research shows that food slows the absorption of alcohol, so it's true that you won't get drunk as quickly as you would if you skipped dinner.
But getting drunk slower also means you won't get wasted and puke in someone's trashcan at the pregame—save that for when you're rolling up to the club, where it's totally acceptable to boot and rally (as long as you do so discretely). In the morning, you'll hate yourself less because you didn't go full-on blackout, and you won't wake up starving to death. It's a win-win.
4. Stock Up On Juice
Alcohol causes wacky blood sugar levels, so keep some juice in the fridge to help it even out in the morning. IMO, you're totally justified in claiming you're going on a cleanse this weekend.

5. Stick To Light Liquors
Hangover researchers (aka heroes of the modern age) think that these things called congeners make hangovers worse, and they're found in dark alcohols like red wine and whiskey. Good thing vodka sodas are already a betchy classic.
6. Take A Vitamin
According to Harvard's School of Public Health, which probably knows what it's talking about, alcohol depletes your body of important stuff like vitamins. After work on Friday, run to the store for those Flintstone gummies everyone loves.

7. Get Sleep The Night Before
Half of what makes hangovers so terrible is the sheer exhaustion. Getting legit sleep after a night of drinking is pretty much impossible, but you can at least get enough sleep the night before or nap before going out. Who doesn't enjoy an excuse to sleep more?
8. Make Brunch Plans
Above all else, make sure you have plans for brunch the next morning. After a few mimosas, you won't even feel the hangover anymore.
How To Hide Your Hangover At Work Without Puking Into Your Trash Can
It happens to the best of us. You get too lit on a Wednesday and then wake up on Thursday feeling like death. Unfortunately for those of us who are no longer in college (RIP social life), turning off your alarm and copying the notes later from that dude who is always staring at your ass is not an option. Nope. You have a job and responsibilites and bills to pay and a boss who gives a fuck if you show up and shit. You also can't just roll up hot reeking of last night's tequila and telling everyone who will listen about how you feel like you're going to die. You have to find a way to appear as if you're a fine, normal, human adult who totally did not black out mid-week just because her one funemployed friend told her a bout half priced shots. Basically, you have to lie. But no worries because, as they say, if Britney could get through 2003, you can get through anything. Even a hangover that feels like it may be moving from just regular sickness into imminent death. And sure, 90% of getting over a hangover is just staying hydrated, but when was the last time you remembered to do that? Ugh that just reminds me I haven't had a glass of water in over six months. BRB…
5 Beers To Drink During The Super Bowl That Won't Make You Bloated
You want a beer but you don't want to be bloated and farty. It's a dilemma that has plagued betches the world over since the dawn of time. Plus, beer tends to unfortunately add to our waistlines, which is less than cool.
With the Super Bowl coming up on Sunday, we need a game plan right fucking now to combat the potential for un-cute, disgusting, bloated bellies.
Here are five beers to stick with to prevent it. Of course, if none are available, drink some vodka like a fucking adult.
1. Sam Adams Light

At 119 calories for the bottle and only 10g of carbs, this one is a fucking winner. Sure, Sam Adams is pretty basic, but so is a girl with a pudgy stomach. So, you be the judge.
2. Bud Light Lime

Speaking of basic, we know this beer is beloved by beach rednecks, but the lime taste and only 116 calories make it super awesome for not ruining your eventual beach body. Pair with shots of tequila for a blackout party. You didn't hear that last part from us.
3. Guinness Draught

Shockingly, this one only weighs in at 126 calories AND gives you the Guinness taste without the Guinness bloat. Now you can sip, reminisce about being abroad in Ireland, and piss off everyone around you.
4. Bold Rock Hard Cider

Not a beer girl? That's fine—opt for a low calorie cider like Bold Rock, which clocks in at about 120 calories. Plus, the sweet apple juice taste makes for prime sippin'. It isn't bad mixed with bourbon either, JUST SAYING.
5. Michelob Ultra

What has 4.2% alcohol, 3g of carbs, and only 95 calories? Michelob Ultra. This beer is found literally everywhere and you shouldn't have a hard time knocking back two or three without feeling too guilty.
Beat the bloat even more by pouring your beer OUT of the can or bottle and into a fucking glass. Not only will you look like a civilized member of society, but the wider drinking surface area will result in you taking in a lot of air. Thus, less bloating and more science.