Does Dry Brushing Do Anything? Here's The Deal With This Wellness Trend
Self-care has never seemed as important as it has in the last few months, and with everyone having so much more time at home, there's no excuse not to show your skin some love. Although wellness trends seem to be a dime a dozen, some of them are actually a worthy addition to your weekly routine, even if they don't perform all of the miraculous functions they're touted for. 
Dry brushing has been around for centuries as an ancient way to detox the body, increase circulation and aid in digestion. In recent years, it's ridden the wellness wave into our homes as an easy way to reap major benefits and rid the body of toxins from the comfort of your own bathroom. But what is it, and does it actually work? We spoke to board-certified dermatologist Dr. Adam Mamelak and pharmacist and natural health and wellness expert Dr. Lindsey Elmore to comb through the details (see what we did there!)
What Is Dry Brushing?
Dry brushing is a centuries-old practice that is well known in Ayurvedic healing. It employs a brush with stiff yet soft bristles and a wooden handle to softly and methodically brush away dead skin cells over large portions of the body. Although primarily an exfoliation practice, dry brushing has been plugged for potential detoxifying properties. It's also been heralded as a way to miraculously brush away cellulite (if only it were that easy!). Unfortunately, there is no hard evidence to support the idea that dry brushing is the dream technique your tush has been looking for, but that doesn't mean it's devoid of all benefits. 
What Are the Health Benefits?
That's a bit of a gray area. It's been said that dry brushing can help reduce cellulite, increase circulation, and detoxify the body. Wellness influencers and celebs alike have been drawn to this trend, with beauties like Gwyneth Paltrow and Victoria's Secret model Josephine Skriver adding it to their routines. Hell, even dream girl Cindy Crawford calls it a "miracle tool." However, the results are mixed, and there isn't much hard science to support all of the things you've heard. 
Dr. Mamelak says that "Exfoliation is by far the greatest benefit of skin brushing. The dry bristles help remove dead and flaky skin from the surface, leading to a brighter, healthier and more vibrant glow." As we know, exfoliation is a great way to scrub away dead skin cells, unclog pores, and leave you with a more lively look. It is also thought to increase circulation and encourage lymphatic drainage, which would in turn encourage detoxification, says Dr. Mamalek. Dr Mamalek says "Rubbing the skin could theoretically increase circulation to the area and encourage lymph movement. While this could help encourage fluid movement in and out of the area, the brushing itself would not necessarily eliminate toxins from the body." Dr. Elmore goes on to explain that by stimulating the skin's lymphatic system through brushing, it could help to release waste and environmental toxins from cells.
When it comes to reducing cellulite, Dr. Elmore says, "Unfortunately, though many women swear by it, there is little to no evidence that dry skin brushing can improve the appearance of cellulite. What is likely happening is that the increased circulation makes the cellulite dimples plump up. 
How Do You Do it?
As the name suggests, neither the brush or the body should be wet. Use a brush with soft, yet stiff bristles and a wooden handle (this one from Goop is specifically designed for those hard-to-reach places). Dr. Elmore suggests starting at your feet, then "gently drag the brush bristles over the skin in sweeping patterns towards the heart." She recommends adding this practice to your morning routine (before your shower) as it's thought to have some energizing properties, and could give your skin a more vibrant appearance.  Dr. Mamelak recommends starting with 5-10 sweeping strokes per area of the body about 1-2 times per week.
Can Anyone Do it?
Although almost anyone can dry brush, Dr. Elmore says there are certainly some people who should exercise caution or avoid it altogether. If you have inflamed or irritated skin, or if you're experiencing a skin condition like eczema or psoriasis, it's best to skip it. Also, she notes, you should definitely not use a dry brush on wounds or skin with an infection.
The Bottom Line?
Dry brushing is a fantastically effective way to exfoliate and reenergize dry or dull skin. It can also increase blood circulation and might help to support lymphatic drainage. If you want to add an easy, energizing and indulgent wellness practice to your routine, this is a great one to incorporate. All other miracle cures should be met with a skeptical eye.
Images: Zainchkovska Kateryna / Shutterstock.com
At-Home Beauty Devices You've Seen On IG That Aren't Worth It
Every day during my daily social media scroll, I pass by influencers, friends, and just general Instagram users who are now self-proclaimed skin care experts. You know, the friend who watched six TikToks and now believes she knows more about your own skin than you. We are living in a strange time where 15-year-olds dancing on an app are as influential as the Kardashians, and if you ask me, that signals the end of society—but that's not really why we are here.
I have seen every skin care tip and trick in the book shared across these platforms, and while some tips are amazing, some are not so great. I know, hard to imagine that social media can be misleading! But, on a serious note, don't believe everything you see (especially on the internet). Since I'm actually upfront about the fact that I'm not an expert, you don't need to just take my word for it: I spoke to Candace Marino, aka the LA Facialist and Kourtney Kardashian's trusted medical aesthetician. I asked her to break down the negatives of self-care at home, and which shiny new tools and tricks you may want to avoid.
"There are brands out there that want to cash in on professional services, making them 'easy and convenient' for at home use, but let's be honest, they do not compare," explains Marino. "Medical device companies spend thousands of dollars on research and development and clinical trials to ensure professionals can safely and effectively treat people with lasers, and microneedling, etc."
If you're currently worshipping your $150 at-home microdermabrasion tool, prepare to be heartbroken. So what products should you not bother with? We're here to break it down for you.
Triple-Digit Tools
Let's start basic and broad, because these are the tools that most of us have fallen victim to. Any massage tool, roller, gua sha, or sculptor with a triple-digit price tag is a ripoff. If something is real stone, it has the same impact whether it costs $10 or $100, and that is where the trouble comes in. "These prices are NOT worth the investment. I've seen these gorgeous facial rollers at Bergdorf Goodman for $290, I have to roll my eyes," Marino explains. Because, as mentioned before, these expensive rollers are the same thing as an inexpensive tool.  Or you can even forego the tool entirely: "Save that money for a treatment that will actually do something for you," Marino advises, "and massage your face with your hands."
Her reason for passing on these products? "Half of you are going to see an ad, get jazzed about it, buy it, do it for one week and then lose it in your sea of beauty products," she says. Okay, I feel attacked but also seen. I don't want to say this rattled me, but I will admit that I've definitely considered splurging on a "good" gua sha or face sculptor. That being said, as long as the stone is real, it's safe. And if you want to skip altogether, your hands are always free.
Facial Steamers
I am proud to say that while I've seen these all over the 'gram, I have not been tempted to purchase. After all, I live in a Manhattan apartment, aka my windowless bathroom doubles as a steam room. "Are you really going to waste $50-200 on a facial steamer when steam is FREE? Boil a pot of water, throw a towel over your head and voilà," Marino says, validating my thoughts. "Or simply jump in a shower. Plus, I don't think people should be regularly streaming, it's actually more harmful than good when done too much or too regularly. This is definitely not an essential piece of beauty equipment. Save. Your. Money."
Dermarollers
What is a dermaroller, you may ask? Well for starters, if you're asking, you can mark yourself safe from these. But, if you search the internet, you'll see that a dermaroller is a spikey little torture device used to poke holes in your face. JK—sort of. "These are NOT the same as professional microneedling," Marino is quick to say. "I see people digging into their faces with these. First of all, you should not be puncturing yourself with anything that isn't sterile. You're opening up your skin to infection, and also potentially damage."
Marino emphasizes, "I'm not an advocate of home dermarolling. Of course people are going to still do it, but I hope they have a professional to guide them. I've seen more harm done from these than good." If you are going to use one, she advises, "make sure the depth is less than .5mm. Anything larger than that is just tearing the skin, and you should be leaving anything that punctures the skin to a trained professional." I for one would never purchase one of these, simply because I don't trust myself doing such a risky procedure. But, I do have many friends who own these, and furthermore rave about them. So for this one I'd say, (derma)roll at your own risk.
Pore Vacuum

"This is a great way to break capillaries, damage your skin and cause bruising," explains Marino, urging people, "Please don't buy into the hype. It's a $260 investment that will literally damage your skin. I've had customers debate me on this, saying 'diamond glow and hydrafacial and microderm all use suction, how is this any different?'" The first is rather obvious: these are professional devices used by trained professionals who have the knowledge and skillset to properly treat skin issues. I hate to be the bearer of bad news here, but someone's gotta do it: watching hours of YouTube does NOT make you a professional.
The second, less common-sense reason is that blackheads are waxy plugs in the skin (ew), so the approach with this device might be wrong from the start. "A vacuum isn't the answer, it's going to have to be awful strong to magically pull a true blackhead from the skin. What you do get is bruising, sensitivity, and broken blood vessels," Marino explains.
Extractors
Again, if you're like "wtf is an extractor", do a little internet search and you'll likely recognize these sneaky little tools. The good news is, these aren't dangerous when used properly. The bad news is, your favorite influencer is probs using it incorrectly, and therefore you likely are too. "I see people digging into the skin…that's not what they're intended for," Marino says. "You should be gliding the extractor gently, not pressing, which causes injury and may lead to scarring." Yes, scarring. So be careful!
I also asked Marino to help debunk some myths floating around TikTok and the internet in general.
I recently saw a video that basically tried to *end* jade rollers, saying that jade stone holds in dirt and particles (gross). The video also mentioned rose quartz was the safe way to go, so I asked Marino what the truth is.
"The healing power of stones and crystals have been used for centuries—their ability to cool the skin, yet warm up once worked with makes them great tools to use at home and in the treatment room," Marino says, confirming that jade is OK to use, when real. "When discussing the powers of rollers, I always say, don't look for a miracle. This isn't going to change your life or your face. Is it a good self-care practice? Yes, you're doing no harm, you're encouraging circulation and you'll definitely look more plump, alive, awake. Go for it, just be realistic with your expectations." *sigh* When rolling my face, am I expecting to come out of it looking like Bella Hadid? You bet I am. I guess I'll have to live on with chubby cheeks for another day.
I also asked about the ever-popular ingredient debate. Are clean beauty ingredients really better? Are essential oils all safe for your skin? Are there any ingredients you should actively avoid? I, for one, have a skin care cabinet that could last me a lifetime, and I wanted to be educated by someone other than the internet.
"I don't chat ingredients," Marino says.  "What's important is formulation. People want to talk ingredients like they're chemists. They question simple things like an alcohol, an ester or an oil and automatically assume a product is bad… you can't base a product on one ingredient alone." To this I say, stick to your dermatologist's advice. Different ingredients work for different people, and Marino can't exactly diagnose all of our skin needs simultaneously.
So now that we've addressed the bad and the ugly, don't be afraid to rid of your favorite tools. Trust me, a few dollars wasted today is better than permanently damaging your skin. On the bright side, I can keep my $12 jade roller and put that rumor to rest. On the even brighter side, I am now one step closer to being the first (naturally) blonde Kardashian. An all around win if you ask me!
Stay safe out there kids, and be good to your skin.
Images: Mariya_nova / Shutterstock.com; Candace Marino, Instagram; Bergdorfgoodman.com; Dermstore.com; Beautybio.com; rodanandfields.com
4 Lessons My Nose Job Taught Me
In my junior year of high school, I was sitting in a spin class when I had an epiphany. 
In the middle of the class, I looked to my left, and the girl next to me had smooth hair and a perfect nose, and I was so f*cking jealous. TBH, the frizzy hair was not that big of a deal to me because I had Keratin scheduled the next week—it was the nose that pissed me off because no matter what Kardashian-Jenner bullsh*t contour tip I tried, I was always going to have a f*cking beak on my face.
Usually, I'm really against workout instructors trying to be super inspirational, but I guess that day when the teacher tried to convince me that I truly was in charge of my own destiny, something changed inside of me. I realized that it wasn't like there was nothing to do about my nose—helloooo plastic surgery. 
That wasn't the first time I'd thought about getting a nose job. From the boy who told me I looked like a toucan in my eighth-grade art class, to the one who didn't slow dance with me at a bat mitzvah in seventh-grade because I was "kinda cute but had a weird nose," I definitely had some pent-up insecurities. 
It got to the point where I would spend hours watching makeup videos on YouTube trying to contour my nose and getting pissed off because it only made it look more obvious. At some point in ninth or tenth grade, I started covering my nose in pictures, opting for a pose that I thought looked cute or candid but was just there to mask (what I saw as) the enormous trumpet on my face. 
So, my eventual nose job was always pretty much always an unspoken thing. When I came home and told my parents that it was time, they weren't exactly surprised. It was not like they encouraged me to get one before I expressed interest, but a nose job was pretty much always on the table.
The fact that I had a nose job isn't new or revolutionary information to my friends—it's like my number one personality trait (having a nut allergy comes in as a close second). My relationship with my nose has always been a huge part of my life, more so before my surgery than now, and the insecurity it caused me was incredibly consuming.
While I literally regret nothing about the decision I made, there definitely are some things I wish I looked into and knew before I had the surgery. Some of these seem pretty intuitive, but trust me, when you're on whatever pain med your doctor gives you, and you have a weird pad thing under your nose, you aren't thinking rationally. Whatever, you live, and you learn… right? Here's what I learned from getting my nose job that I wish I'd known beforehand.
It's Not Going to Be What You Expect 
It's not like in that episode of Glee when Rachel Berry brought Quinn to the plastic surgeon to show him what she wanted to look like. My doctor actually didn't really take my input and didn't show me a picture of my future self that I could have made on FaceTune. 
In so many words, my surgeon (WHOM I LOVE) said to me, "if you really have a vision that you're committed to, you can show me, but I'm basically just going to balance out your features. You're not going to look like a whole new person." At the time, I might have wanted that, but he was totally right—I just needed to trust him. He also asked me if I wanted a chin surgery because I guess those normally go hand-in-hand, and to that, I said thanks, but no thanks. 
There Is No 'Right Reason' To Get Plastic Surgery
TBH: I got a nose job because I was insecure. I was aware that my insecurity made me quite bitchy intolerable. I didn't like how I looked, and I really didn't like how I projected that onto other people. 
Okay, even that wasn't completely honest. While my insecurity was the rationale for me thinking about the potential of having a nose job, that isn't why I pulled the trigger. As my surgery date grew closer, and I let more of my friends in the loop, I started becoming more aware that the people in my life didn't think I would go through with it.  

So, yeah, my rationale for actually getting on the operating table and actually going through with my surgery was the same rational frat guys use when they jump off a roof onto a folding table: "do it b*tch, you won't." 
In all seriousness, I don't regret getting my nose job. I wouldn't change a thing about the way I approached it, but I do wish I treated this life-altering decision with a little more gravity. There really are no wrong answers or justifications for getting plastic surgery (but, like, maybe the "do it, you won't" thing wasn't my best call).
Okay, I lied. There is one wrong answer: your reason to get plastic surgery should not be that you think it will fix everything in your life. Not to be gross and cliche, but plastic surgery should never be the answer to finding happiness, but it can be something that helps you get there.
Recovery Might Not Be the Hardest Part
Everyone's process is different, but the surgery itself and my recovery weren't the hardest parts of my nose job experience. Recovery wasn't like a trip to the spa, I had to go back to the ER having to go on my first night due to aggressive bleeding, and I went to my first ever OB-GYN appointment with my cast still on. That said, it wasn't awful. It was comparable to, like, an especially bad hangover. 
The hardest parts were making the decision to go through with it, and the day I got my cast off. As ridiculous as it may sound, I assumed that the minute I looked in the mirror with all the surgical tape and packing off of my face, I would look hot as sh*t and feel, like, complete. This was not the case.  
I was swollen, there was blood caked on parts of my face I hadn't seen in a week, and I couldn't blow my nose. The most shocking thing about looking in the mirror was that I couldn't smile. It doesn't happen to everyone, but some people get minor temporary nerve damage. So, when you smile, you end up looking like someone who is being forced to smile in a ransom video to prove they are alive and well. 
I started my senior year of high school a week after I got my cast off. Truthfully, I was mortified. I felt as though I went through all of my internal debate about the surgery, pain, and discomfort for nothing. It felt like everyone knew that I was getting a nose job, but I had nothing to show for it. 
But Rome wasn't built in a day, and neither was my perfect side profile. It turns out that you have to wait for the swelling to go down and the nerves to heal before you really get a sense of what you'll look like. While it felt like months before this happened, it was really only a few weeks, and I came out the other side looking and feeling really good. 

There's No Right Narrative
There's no right and wrong reason to have your nose done, and there is no right or wrong thing to tell people about why you got it done. But, just a tip, you might want to keep it consistent. 
Initially, there were plenty of people who realized I had surgery on their own, and, feeling a little uncomfortable with my decision to have it done, I lied to them. Most frequently, I told people I wasn't close with that I had a deviated septum. If that's what you want to do, there is nothing wrong with fudging the truth a little to create a narrative you are comfortable with, but lying just made me feel more insecure. Like, we all know how believable it is when celebs claim they "fixed a deviated septum". Blaming my nose job on a fake problem just brought about more feelings of insecurity (can they tell I'm full of sh*t?) and shame (for not owning my decision).
Now, I'm more vocal about my experience. (I mean, obviously, I'm writing an article about it.) Partly because of my personality and partly because of the circumstances that contributed to my decision. I go to college close to 1,000 miles away from my high school, where I'm the only one from my graduating class. I got to have a fresh start and reinvent parts of myself—one of those being the way I talked about my surgery.
Going through with my nose job made me a more confident and better person, but as I said, those changes didn't happen overnight. I'd like to think that the 21-year-old version of myself is above falling victim to stigmas against plastic surgery and hope that I would be more confident in owning my decision today. 
At the end of the day, I would undoubtedly do it again, but I wish I handled it differently. I literally hate people who talk about their *journeys, * but that's what this was for me. For some people, getting a nose job stops being important as soon as your black eyes and swelling are no longer visible. For me, it took a little longer, but I came out the other side just fine.  
The most important lesson that my nose job taught me was that it didn't make me superficial or stupid to want to like how I looked. We don't call people who dye their hair or start working out those things. I think that it's probably time to stop treating people who get plastic surgery like they aren't deep or smart or confident.  
In the meantime, there's a lot of satisfaction to be gained from the guy who called me and my "big ass nose" ugly at camp one summer thinking that I'm hot now. 

Images: Max Andrey / Unsplash; Giphy (2)
Are Millennials Killing Beauty Treatments?
On the idyllic, tree-lined streets of Manhattan's West Village, nestled between rows of understated brownstones and unassuming Michelin-starred cafes, you'll find a small storefront with 23-karat gold lettering on the glass, a powder-pink window seat, exposed Edison bulbs, and plants in every corner. By all evidence, the 10th Street space looks like any other Instagrammable downtown spot, but unlike the patrons at neighboring establishments, customers here aren't snapping photos of $17 cocktails or avocado toast; instead, they're at JECT to get Botox, fillers, and other top-shelf skincare treatments quickly and conveniently. As young women—and the occasional man—flutter through the door and disappear behind a cloud of dark green curtain, it's clear that the days of booking injectables a month out and spending hours in a joyless doctor's office are a thing of the past. Instead, it seems, the future lies in comfortable, millennial-friendly destinations, where getting a pinch of Dysport or a dash of Restylane is as seamless as ordering a coffee.
For much of history, beauty treatments—be it a facial, massage, or even facelift—were something to be savored. The best things in life take time, they would say, and these sorts of indulgences shouldn't be rushed. But as younger generations have become more and more savvy about skincare and aesthetics, so too have they realized the importance and value of their time. While taking care of one's skin is now seen as a necessity rather than an indulgence, consumers are increasingly wary of wasting their time, and they're no longer willing to spend entire days at the spa or plan their weeks around a dermatologist visit as a result. Companies like Drybar and Anastasia Brow Bar were of course among the first to capitalize on this shifting approach to beauty, but in recent years, more and more specialized spots are popping up, where clients can get a facial, a wax, or injections in the time it takes to re-watch an episode of Friends for the millionth time.
"I think part of the reason we've been so successful is that we're really selling time," says Rachel Liverman, the co-founder and CEO of Glowbar, a recently opened Tribeca skincare destination that offers 30-minute facials. "The traditional facial takes an hour and a half, so we're literally giving people that hour back to do the things that bring them joy." Liverman, a former Birchbox executive, built the business with her own needs very much in mind. "I was a 30-year-old, busy, career-driven woman in Manhattan, and all of those things kind of made time very precious," she recalls. The Glowbar CEO couldn't find a facial that was not only quick but also effective, so she started to think about how much time someone like her would actually have for a facial, ultimately arriving at 30 minutes. "There's a whole movement right now of only doing things that bring you joy, saying no, and being cognizant of your time," Liverman says. "I had such a busy life, and I knew that any free time I had was being spent with family and friends or exercising or meditating, but outside of that, I thought, I really only have that 30 minutes."
Obviously, the shorter duration, appealing as it's been to busy urbanites, has meant that certain luxuries offered in a traditional, 90-minute facial have been 86'ed here. "I had to create a treatment that was results-oriented, and what that meant is that we couldn't wash your face for you because we wouldn't have time, we couldn't steam your face because that's not totally necessary, and I wouldn't be able to massage you," Liverman explains. "I cut out those three things really so that we could get down to business in the treatment room." Despite these trimmings, though, clients love Glowbar's focus and favor the quicker option. "I love it because it's 30 minutes in and out, and it makes facials accessible in a way that you can maintain over time and see the full benefit," says Bevin Prince, a master SoulCylce instructor and co-host of the "Be My Neighbor" podcast. "Honestly, taking the 30 minutes once a month has been so much better than taking two hours every few months. It's definitely not the same as going to the spa and taking all the time and putting the robe on and the whole thing, but having half an hour for myself is great, and the maintenance factor and regularity makes it all worth it." 
Many businesses offering fast beauty have also implemented membership programs, an initiative that has proved extremely successful with their largely millennial-based clientele. "It was really about forming more of a community and feeling like you're a part of something," says Gabby Garritano, the founder and CEO of JECT, which recently launched its $99 annual membership option. "You get the membership card, you get perks at other places, like SoulCycle, and of course, you get the discounts at JECT, so pretty much all of our clients have opted for the membership." The offering builds on the notion that beauty treatments are a necessity for most modern New Yorkers and require consistency. Memberships feature lower pricing, which in turn allows customers to do something like injectables both more frequently and everywhere they're needed rather than having to pick and choose, but the programs also ensure that clients stay with their treatment plans and therefore see optimal results. "The price point is amazing, and you really can't beat that," says Prince, who recently purchased Glowbar's $55 monthly membership. "But it also kind of holds me accountable to make sure I go and prioritize my skin more than I have in the past."
It seems only natural that places like JECT and Glowbar have been met with such success in the New York market, where customers have overbooked schedules and busy lives, but it seems the demand for fast beauty is as alive in the suburbs of middle America as it is in urban centers. "I think it's already widespread," Liverman notes. "Some of these blowdry franchises already have thousands of locations across the United States, if that gives you any indication. They're predominantly on the coasts, but obviously, New York and LA are trendsetters, and everyone else kind of looks to those places to see what's going on." In the year or so they've been open, both Glowbar and JECT have consistently received suggestions of where to open their next locations, and they've mostly been in unexpected places. "We have a lot of people saying, 'come to Chicago, D.C., Philly, Dallas,' and there are so many middle states that would actually be great places for us to go to," says Liverman. "Cities and urbanites are definitely looking for quick options and things that bring them joy, but I think that's actually a country-wide phenomenon." 
Of course, the rise of fast beauty has been most popular with younger generations, who devote more attention and care to skincare than their parents and grandparents could have dreamed of, but also value their time more than ever. But the trend seems to even be catching on with older clientele and will likely continue to attract customers from teenage to nonagenarian as these businesses expand across the country. After all, as JECT co-founder Devon Nagelberg says, "we're all millennials at heart, and that's really all that matters."
Images: Y Photo Studio/Shutterstock
Is Social Media Killing Natural Beauty?
When I scroll through my Instagram feed, there are five types of photos that I see. Influencers with filler for days, influencers who are preaching about their life-changing clean beauty routine, puppies, engagements, and babies. But leaving off the puppies, engagements, and babies for a sec, let's focus in on the two types of faces you see on Instagram. In 2019, we're witnessing a war between the filtered-in-real-life influencers, and the ones who preach about their chemical-free skin care routine that nobody actually asked for. We have two extremes, and it's hard to decide which approach is better (or, tbh, if either are good for you). It's a lot to sort through, when so many of us have only just started using an eye cream. Don't worry, I'm here to help. 
For those of you who don't spend all your time on beauty blogs know, the mainstream term for clean beauty is still open for interpretation, and different brands have different definitions when it comes to "clean", with no industry standard quite yet. However, if you read any of the following ingredients in your beauty products, know that they are not considered clean: Aluminum Compounds, Ethoxylated Agents, Formaldehyde, Fragrances, Hydroquinone, Oxybenzone, Parabens, Refined Petroleum, Silica, Talc, or Triclosan. 
Translation: Clean beauty means natural, nontoxic ingredients. If a brand is not clean, it may contain harmful (toxic???) ingredients. Brb while I go intensely wash my face. 
Clean beauty products and the "clean" trend as a whole have skyrocketed in 2019, and the concept does not seem to be slowing down. Larger clean brands, such as Drunk Elephant, have quadrupled their sales in the last two years (Shiseido just purchased Drunk Elephant for a casual $845 million), to give you an idea of just how big the shift toward clean products seems to be. But at the same time, fillers too seem to hold onto their reigns… especially if the faces you see on Instagram are an indication of trends.
RN and certified injector Danielle Repetti (@refresh_nurse) explained to us, "With the world of social media being so prevalent in our lives, facial enhancement isn't going anywhere." 
This did not surprise me, as injections have become more and more normalized in society. With similar price tags, and similar audiences, it made me wonder, do injections go against all ideas clean and green?

I first looked to celebrities supporting clean beauty for some answers. The initial person that pops into my mind is Gwyneth Paltrow, who is miss au naturel. The founder of Goop Beauty (a clean beauty pioneer) has admitted to getting Botox in the past, and all I have to say is, if the queen of green will take a needle to the face, something tells me that we all will. 
But will clean and natural beauty wipe away the "Instagram face" trend? There are only two ways to find out: input from a board-certified injector, and an Instagram poll. 
I asked Repetti what the current trends are in the injection world, and her answers actually surprised me. "Currently I'm seeing more and more interest in under eye filler," Repetti explained. "The reason it's becoming so popular is because when done correctly, it's near impossible for anyone to know you've had 'work' done." 
I assumed lip injections were consuming most of her time, but as the age-old saying goes, we know what happens when we ass-u-me things. 

I also asked her opinion about the cross between clean beauty and injections, and if there was any correlation or discrepancies between the two. 
Repetti explained that people appear to be more concerned with clean/green topical products, rather than injectables. She says that when it comes to clean beauty, "There are some things that people will make an exception for—injectables seem to be that thing. Technically, our fillers are made of hyaluronic acid and calcium hydroxyapatite, all of which are found naturally in our bodies. Clients who prefer 'natural' approaches to life have nothing to worry about." 
This explains why Kourtney Kardashian preached that her unborn children must be clean and vegan, but she herself has (allegedly) dabbled in injections and gone under the knife. 

Clean products and injections have their pros and cons, some overlapping. Both are created with the intention of a beautiful end result. Younger, healthier looking skin can be achieved both ways, depending on the route you choose. Clean beauty says goodbye to toxins and hello to face-friendly ingredients. Injections say goodbye to any wrinkle you thought you once knew, and can make you feel young and alive, regardless of what your skin's truest form may be. 
When you look at the price tag of injections, they vary by procedure and location. Botox typically retails from $10-15 per unit (the average patient requires minimum 30 units), while popular procedures such as lip injections and under eye filler retail on average between $450-700. Compare it to a four-step skin routine from Drunk Elephant, with products retailing from $60-90, the average spend is not far off. 
The cons? First and foremost, *the unknown*. We've yet to see the long-term results of clean beauty products or injections, and while clean claims to only have benefits, do we really know? Injections, too, claim no harm, but at the end of the day, sticking a needle and foreign substance into your body does not exactly scream health. And… there's always the option of bad injections or taking fillers too far. (Have you seen Brandi Glanville? Sorry, but it's true.)
I took an Instagram poll and asked followers whether they felt clean beauty would prevail in 2020, or if injections were here to stay. 76% of these trusty souls chose clean beauty, and while I do believe they are right, I still think injections will rule the world as long as social media is thriving. As someone who overdraws their lips and (poorly) contours their face in hopes of some Bella Hadid cheekbone action, I'll openly admit my temptations to try injections are there. I also think the shift toward clean is very real, from beauty to food, and we will see more and more integration of these products into our everyday lives. 
So, I guess what I'm trying to say here is, in 2020, you'll see more clean products on the skin, more injections under the skin, and the same amount of Facetune for final touches. In other words, even more pressure to look perfect at all times. Great.
Images: Giphy (5)
6 Uses For CBD That You Haven't Tried Before
CBD is all over the place right now, especially in LA. Everywhere from my favorite coffee shop to my dog groomer carries products with CBD. And tbh, I totally can see why. CBD does not get you high, but instead can help with pain, arthritis, anxiety, depression, blood pressure, and it seems like a million other things. Like most popular health kicks, everyone tries to get it on it. Here are a ton of products that I would have never thought would have CBD, but do, and their unexpected uses for it.
1. High Heel Pain

I'm sorry, what? I love heels and I'm famous for being able to wear my shoes all day and night without flinching. I've walked the entire Vegas strip in 6-inch stilettos. It's mostly due to my paralyzing fear of germs, and over my dead f*cking body would I ever walk around barefoot, especially somewhere as dirty as Vegas. But anyway. There is now a foot cream called Cannuka that uses CBD to ease inflammation and calm angry feet so that your heels don't kill you by the end of the night. It also can be used to help with any skin ailments like dry skin, lips, acne, eczema, and psoriasis. No pain and I don't have to take my shoes off? What is this, witchcraft?
2. Athletic Recovery

Weirdly enough, I would never think this would apply to me, but I'm currently in so much pain from doing squats for the first time in a while two days ago. Seriously, I've been half-limping all day. Elevate Pain Relief Cream is to help actual athletes, instead of just out-of-shape people like me, recover from their workouts and injuries without prescription painkillers. It also helps them bounce back quickly to get back to training. I'm all for using a natural product over highly addictive drugs, so yeah, this is a really great idea, regardless of your athletic level.
3. Dry Skin Relief

Body creams with CBD (like this one from Extract Labs), help with winter skin, dry skin, and itching. It also helps your skin heal and rejuvenate faster. As a victim of adult acne (and chestne, backne, assne, etc, is it skin? I get acne on it), it's super hard to find lotion that is heavy and moisturizing enough but also doesn't make me breakout. Since CBD is also an acne treatment, this seems like it would basically solve all skin problems? Is that possible? That's pretty cool.
4. Concentration

Sweet Reason Strawberry+Lavender
Ladies, put down your Adderall. Sweet Reason is a CBD sparkling water company, and honestly, I want it just because the bottles are so cute??? Like, this is way chicer than La Croix. Anyway, by putting CBD in the water, Sweet Reason boasts that you'll feel calmer, have less anxiety, be less stressed out, and be able to concentrate better. So yeah, way more beneficial than La Croix that is just expensive flavored water. I say, un-ironically, as I take a sip of my La Croix (it's the mango one, unsure if I like it). And don't be grossed out by the thought of drinking CBD—I promise, it does not taste like the smell of your college dorm. And their flavors actually sound really good, like Grapefruit, Cucumber and Mint, and Strawberry and Lavender.
5. Sexual Arousal

Foria Awaken Natural Arousal Oil
Yes, you read that correctly—CBD is in lube now. Foria is the first company to make an "intimate arousal oil" with broad-spectrum CBD and botanical and aromatic oils. The company says it's "formulated for women to enhance tactile sensation and pleasure while decreasing tension, discomfort and dryness" and has a chocolate and mint aroma. It's only intended for topical use, but it is edible, vegan, and gluten-free. It really checks all the hippie boxes.
6. Dry Lips

This lip duo from W!NK will be your CBD fairy godmother when it comes to dry or chapped lips. It includes a scrub and a balm to first exfoliate, then hydrate. Honestly, I usually end up eating half my lip balm every time I apply it, so at least this one is all natural. (But to be clear, you should NOT eat this.) Plus, there's no animal testing, which we love. W!NK creates CBD wellness and skincare products, so if you have naturally hydrated lips (jealous), they have tons of other CBD products you can try. 
Image: Kimberly Nanney / Unsplash
Betches may receive a portion of revenue if you click a link and purchase a product or service. The links are independently placed and do not influence editorial content.
I Drank Collagen For Two Weeks, And Here's What Happened To My Skin
Collagen Peptides. So hot right now.
No, but really. If you are even remotely up to date with your health and beauty trends, then you know that it's nearly impossible to escape a conversation about skin care without someone attempting to drag you to the nearest Whole Foods to drop $40 on a bucket of miracle powder that, no matter what anyone tells you, does not tastelessly dissolve in water. No? Just me? Cool. Let's rewind a bit then.
What Is Collagen?
Great question for those of us who did everything in our power to avoid taking a single science class in college. Collagen is one of the most important proteins in the human body; it basically holds us together. Your hair, skin, nails, and tendons rely on collagen to maintain their structure and keep you both pretty and mobile. So, in short, it's kind of a big deal. The issue is that as we age, collagen production in our bodies decreases, which means that our hair gets less shiny, our skin starts to sag, and eventually, we succumb to death. Welcome to your twenties.
Enter: collagen peptides. They're a water-soluble supplement that is said to improve hair strength, skin elasticity, and sometimes gut health, depending on the kind you take. Basically, they're a miracle drug, but they are neither a drug nor a miracle. Just science. Crazy, right?

High-end grocery stores sell buckets of collagen peptides from a variety of brands that you can mix into your morning coffee or water and drink throughout the day. So you would think that the simple solution here would be to get off your ass, buy some, and then integrate them into your daily routine, adding yet another step to your never-ending battle against mortality, right? If only it were that easy.
The thing about routines is that I struggle with them. Constantly. I'm currently rocking, at best, a 20% consistency rate on taking the three vitamins I'm supposed to be taking daily. I've ruined enough birth control cycles in my life that it's probably redundant for me to even take the pill because I've run my uterus into the ground. It takes an endless barrage of Post-it notes, phone reminders, and meticulous to-do lists to get me through my day, and I still manage to forget something most of the time. So buying a jug of collagen peptides to collect dust in my cabinet isn't something that I really feel like I could validate. Then I came across Dirty Lemon.
Dirty Lemon
If you're a woman in your twenties who's ever shown the slightest inclination for health, beauty, or spending money on things you don't need, you've probably been targeted with Dirty Lemon Instagram ads. Trust me, I know. I work in media.
Per their website, Dirty Lemon sells "better beverages." Their line of natural elixirs and tonics cover all kinds of wellness topics, from charcoal cleanses and anti-aging remedies to sleep aids and energy boosters. What caught my attention was the Beauty Elixir, which they formulated to "hydrate skin, increase elasticity, reduce wrinkles and trigger new collagen production." The ingredient that caught my eye was the Hydrolized Marine Collagen Peptides, something that I've been interested in ever since I wrote an article about Kourtney Kardashian's diet regimen. If it's good enough for Kourtney, it's likely too good for me, so I was sold.

Just to clear things up: This is not a meal replacement or a cleanse. All Dirty Lemon products are designed to work with your normal daily diet, meaning you can enjoy them and not suffer the side effects of a typical cleanse. It definitely sounds too good to be true, but it's at times like this that I like to remember that not every aspect of our lives has to be miserable. A refreshing pre-2018 notion, but it still stands.
Dirty Lemon recommends that you drink their products for two weeks to experience optimal results, so that was my plan. While weight loss was not promised and I didn't expect to see any come from this, I did decide to drink my daily elixir first thing in the day to see if it would stave off that early morning appetite I've suddenly accrued in my mid-twenties. Tragically, that was not the case.
My initial impression upon receiving my first Dirty Lemon shipment to my office: it's cute as hell. These tiny branded bottles are literally made for Instagram. Although smaller than expected, they still look super chic when you're running around the office pretending to be very busy. Sorry I was late for this meeting, I was busy drinking Beauty Elixir and looking young forever.
The taste of the Beauty Elixir was a walk down memory lane for me, because it tastes like a less aggressive version of the Master Cleanse, with the added benefit of getting to eat food while you enjoy it. If you, like me, have a taste for sour things with a slight cayenne kick at the end, you'll love it. If not, have fun aging.
An added benefit? Dirty Lemon products make great mixers—something I was very excited to hear heading into Memorial Day Weekend. Does drinking collagen peptide vodka cocktails kind of negate the point of this whole ordeal in the first place? Maybe. But no one ever said being sober and looking young forever had to be mutually exclusive.
My favorite part about this experiment was that, unlike any other supplement I've ever purchased and forgotten about, it wasn't difficult to incorporate the Beauty Elixir into my daily routine. In fact, I was excited about it. Sure, now I wake up and immediately crave a sour drink, but that's a problem to be dealt with at a later time.
Down to what we all actually care about, though.
The Results
I would be lying if I said I didn't come into this a bit skeptical. Despite the fact that collagen peptides have a proven track record of working for a wide variety of people, I have a problem letting myself truly believe in them. It just seems too good to be true, you know?
Well two weeks later, consider me a changed woman. The results were slow to manifest, but once they kicked in, it was hard to ignore. Since my skin isn't naturally flawless, I work very hard to keep it looking good. The only routine I've managed to successfully maintain is my stringent morning and nighttime skin care regimen, but even that doesn't have me looking like a Neutrogena commercial model in my day-to-day life.
My skin, albeit generally clear, is incredibly fair and prone to pinkness. I wear a light serum foundation every day to even out my tone and neutralize any pink spots. Or because I've been socially conditioned to suffer an anxiety attack if I think about leaving the house without makeup on. Your call.
After about a week of using Dirty Lemon, I began to notice how much smoother my makeup was going on in the morning. In fact, I started using about half as much foundation as I had been previously. I thought maybe this was a user bias on my part until someone at work commented on how bright my skin was looking.
What really made me a believer was what occurred during a workout class just two days before my two weeks were up. A side effect of that incredibly fair skin I mentioned earlier? At the first sign of any amount of physical exertion, I immediately turn an almost concerning shade of red. It's like my body recognizes that I may be in danger of exercising, and suddenly every capillary I possess is visible through my skin. It's because of this that I've spent my entire life actively campaigning against running in public places or working out around anyone that I know. Also, just fuck running. It's the worst.

But here I was, 30 minutes into a particularly hellish class, looking at myself in the mirror, and realizing that not only was I not a splotchy mess, but I was glowing. I was so shocked that I proceeded to stare at myself like a psycho, examining my face at every angle in search of an all-too-familiar red patch that would soon expand across my entire face and chest. It wasn't there. Sure, I felt like puking on the floor during the class, but you would never have been able to tell by looking at my face. Some people might say that could just be a sign of naturally getting more in shape, but those people have too much faith in my physical abilities. I was sore as hell, quaking with every pulse, and considering abandoning the class early under the pretense of a forgotten appointment, but my skin was fine. Better than fine—it was clearer than I could ever remember it being.
Now here I am, after two weeks of a daily dose of elixir, and my skin looks amazing. I've had a long, tiring week and have been patchy at best with my nightly routine, but it's not showing. I haven't necessarily noticed any extravagant change in my hair, but that could be because at any given moment, there is three days' worth of dry shampoo caked in it. I don't think I can technically blame Dirty Lemon for that, so I'm chocking this one up to a win.
The Beauty Elixir worked for me, and if I could rationalize spending $45 a week on it, I would do so in a heartbeat. If you're looking for something to kick-start your skin care routine while also serving as an impromptu chaser, this is the product for you.
Are Eyelash Extensions Worth It? What To Know Before You Book
For the past few years weeks, I've been getting increasingly restless. (I'd call it spring fever but given the weather, that seems cruel.) Specifically, "restless" meaning I want to replace my entire wardrobe, dye my hair, and suddenly burst out of a winter cocoon into Spring Self 2.0. And since eyelash extensions have been slowly creeping into the mainstream, this naturally means I'll need a set of those. To be clear, this is not suddenly an "expected" thing. I only have one other friend who's ever gotten them, and many more who have never even heard of it. But since I'm kind of obsessed with myself anthropologically curious about the beauty industry, I couldn't resist the idea of having Bachelor contestant lashes for six whole weeks,* no makeup required. Here are my thoughts on eyelash extensions: the good, the bad, the money etc.
*Duration absolutely varies. More below.
The Good
First of all, if you live somewhere hot and/or water-adjacent, I cannot recommend eyelash extensions enough. I mostly got them while living in LA, because I was physically incapable of not sweating off my makeup. When done well (more on this later), eyelash extensions are nothing short of magical. The lashes are thick enough that they add definition to your eyes, creating the illusion of effort and/or being awake. But, they're not so thick that it looks like you forgot to take off your falsies from the night before.
Overall, they slightly enhance your face like a good haircut—people notice you look better, but they won't immediately zero in on why. And when you do go full makeup on top, it finally looks like the Instagram you're using for inspiration. (You know why? Because they ALL HAVE EXTENSIONS. THEY HAVE TO.) If you're using a reputable place where you know you'll be happy with results, I absolutely recommend the summer splurge.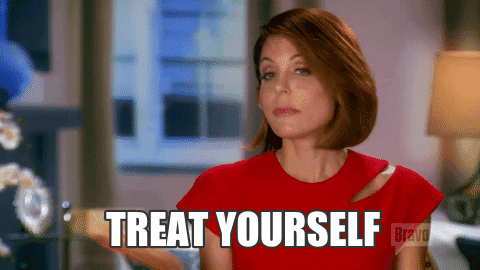 The Bad
Unfortunately, all services are not created equal. Last time I got extensions, I was living in DC (mistake #1) and suddenly decided I had to have eyelash extensions within 12 hours (mistake #2). This led to me paying someone $45 via Venmo, walking up three flights of stairs, and then submitting to three hours of torture, after which my eyes burned until 2am. My eyelashes have still not fully recovered, and the lashes were clumped onto my eyelids in a way that made me look half-asleep/stoned at work for the next month. So, don't make my mistake. Only go to a place that's been vetted (preferably by someone you know), do not pay under $80 for a full set, and if you feel something burning your eyes during the treatment, SPEAK UP.
Footage of me post-treatment: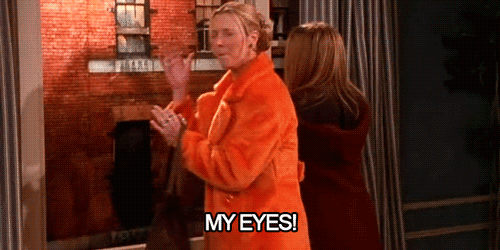 The Money
Like I said above, I really don't think you can get a good set of extensions for under $80. Be prepared to shell out $100-120 if you want it done well. The thing about cheap extensions is that they don't just look bad, they can seriously damage your lashes if you try to remove them yourself. (And you will definitely try to remove them yourself.) Then there's the question of how long they last. Most lash places will tell you up to 6 weeks with proper care, and recommend a touch-up after three weeks. They will also tell you that "proper care" is basically living in a dry windowless room for six weeks, so you definitely will fuck up some of those rules.
All in all, I've found that 3-4 weeks is a safe bet for the full effect. But by the end of week four, you'll be missing lashes in certain patches and in order not to look weird, you'll probably want to go in for that touch-up. Touch-ups are usually about half of whatever the original set cost you. So no, I can't really justify spending roughly $150 every six weeks to keep these year-round. (I wish I could, but that's $1,200 a year. So no.) But I'll go for it for summer vacations/when my paycheck hits special occasions.
Me, before and after payday: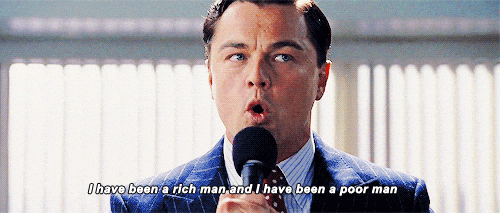 Choosing Your Style
When it comes to lash type, style, and length, you'll want to choose carefully. Do a little research beforehand and figure out your eye shape (some places will group styles by shape). Anything that calls itself "diva," "dramatic," etc. is going to be obvious AF, and look more like a party style. My favorite type of lash is faux mink—anything overly synthetic will look like one-night falsies. And the longest I've ever gotten is 13 mm, but make sure your technician measures your natural lash length and gives you a sense of how much longer you'll be going.  You obviously want it to be noticeable, but unless you regularly go full-glam, dramatic lashes will be way too intense for everyday.
(This is mostly an unrelated GIF but was anyone else traumatized by this as a kid??)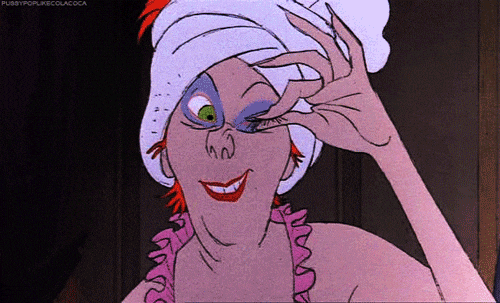 Overall, the idea of eyelash extensions appealed to me for the same reason laser hair removal did. It seemed like an at least semi-permanent solution to a daily (or at least bi-weekly) annoyance. While I've been pleased with the quality of my eyelashes more than my laser results so far, I can't say it offers comparable longevity. Then again, it's also a fraction of the cost. Go book your appointments and then Instagram yourself looking down while sipping iced coffee for the next four weeks. Thank me later.
Images: Giphy (4); Wesley Quinn / Unsplash