Everything You Should Know About Microblading & The Aftercare
I've written before about the wonders of microblading: the magic treatment behind so many celebs' perfect, make up-less brows. While microblading is slowly becoming more common, the treatment is expensive enough—and permanent enough—that I assumed my microblading days were years away, if they existed at all. Perfectly sculpted brows first thing in the morning were a luxury for the rich and famous—I, who struggles to go a single day without spilling food on my shirt, was not worthy. Cut to: in an exchange I thought maybe I had dreamed, EverTrue Microblading Salon offered me a treatment with their head stylist. I (obviously) couldn't accept fast enough, and two weeks later, I'm confident it's the best beauty treatment I've ever gotten. Read on for details on the procedure, aftercare, and some dramatic before and after shots.
WARNING: Side effects of this procedure may include taking a disgusting amount of selfies, a small obsession with what other semi-permanent treatments could also improve your face, and a general spike in vanity. WORTH IT.
The Microblading Procedure
I got my brows done at EverTrue's Flatiron salon, with their Master Therapist Michelle Wu. (Pictures of her work, and other brow specialists, are available on the salon's Instagram.) Wherever you go, make sure that you look at samples of your stylist's work beforehand, and even speak to past clients if possible. With semi-permanent makeup, there's no such thing as being too careful. While I'd been daydreaming about this procedure for years, I found myself getting nervous the night before. What if I hated it? What if it hurt? Was I crazy for going through with this?

Luckily, both the salon (pictured above) and Michelle herself were incredibly soothing—and it didn't hurt that everyone there, down to the receptionist, had flawless brows of their own. Before diving in to the procedure, Michelle did some tweezing, and we discussed brow shape and color. My brows, as you'll see in a moment, have always been lighter and patchier than I've liked, which meant about 20 minutes spent with my Anastasia brow pencil every morning. They're also lacking when it comes to having a defined shape, or noticeable arch, something that's harder to fake with my particular makeup skills.
After listening to my concerns, Michelle drew in my brows with pencil, showing me exactly where every stroke would go, and what the end product would look like. The first time through, she gave me a very natural look, following the existing shape of my brows and just filling in. On a second draft, I asked her if she could give me more of an arch, even if that meant tweezing my brows further to fake it (it did). She drew it in, I fell in love, and she went off to mix up a pigment that would match my natural hair. Twenty minutes of numbing cream later—and 30-45 minutes of Michelle individually drawing in each "hair" with a tiny, pigment-carrying blade—I was all done. In less than 90 minutes, and with no pain other than a slight soreness toward the end, my brows were complete.
My brows, before and after:


Microblading Aftercare
Honestly, most of my night-before fears about microblading weren't about the process itself; they were about the aftercare. Mostly, I blame this InStyle article, which led me to that my brows needed to be on full lockdown for a week following. No moisture (including sweat), no showering unless you wanted to tempt fate, and don't you dare roll over in your sleep—unless you want to ruin your brows like this author's unfortunate, side-sleeping co-worker did. Obviously, this writer had no malicious intent, but as someone who believes basically everything she reads on the internet, I was pretty f*cking stressed.
After carefully rattling off my concerns to Michelle, she gave me a few pieces of good news. Given improvements in the pigment they use, microbladed brows now only need to stay dry for 48 hours after the procedure—not a full week. And short of sleeping fully on my face, she was very skeptical that I would manage to mess up her work overnight. Phew! That being said, I had still just gotten eyebrows tattooed onto my face, and she was clear that certain aspects of aftercare were non-negotiable. For one week: apply a thin layer of healing balm (provided) twice daily, don't get any product on your brows, and don't apply direct pressure. This means when people see your brows and immediately try to touch them, you back the f*ck away. (Maybe no one in your life will do this. But all of my weirdo friends definitely did).
So yeah, my showering regimen definitely took a hit the following week (I could get them wet after 48 hours, but I was scared of stray body wash or shampoo getting in there). And I may or may not have yelled at my boyfriend every time he tried to kiss me, but every rose has its thorns and all that. It was a slightly annoying week with 3-5 heart attacks that I'd fatally messed up—but I never had, and my brows remained intact.
The Final Results
Finally, I didn't realize how much your brows change in the weeks following the microblading procedure. For the first few days, they were much darker—now, two weeks later, they're almost too light. This is all a normal part of the healing process, as your skin scabs, heals, and grows back, and as the pigment adjusts to your skin. Brows will reach their "final" color 4-6 weeks after the initial process, and just in time for a mandatory touch-up session, where your stylist can fill in any holes, go bigger if desired, and make adjustments to the shade.
I have to say, though, both at their darkest and their lightest in this healing process, my brows look the best they've ever looked. Even my sister, who is skeptical of all beauty treatments that take more than water to remove, was thoroughly impressed. And of all the slight modifications I've made to my appearance over the years—eyelash extensions, laser facials, coloring my hair—it's made the biggest and best difference. Having thicker, filled-in brows gives me the exact boost I sought out with my minimal makeup routine: I look more put-together, and frankly, more natural than I did before.
Me, one week in and feeling myself:

Something about having these permanent (technically, one year to 18 months) brows makes me want to wear less makeup on the rest of my face, too (obviously, the above selfie notwithstanding). While I know these brows aren't actually natural, I feel like they look like they could be—and appreciating a natural look goes a long way toward putting down the eyeliner and taking on the world with nothing more than my fancy new brows. It's boosted my confidence, cut down my morning routine, and flooded my DMs with questions about the procedure. If you're able to make a beauty investment right now, and you're wondering what to go with, run, don't walk, to EverTrue, or your nearest (reputable!) microblading salon.
Images: Alexandru Zdrobău / Unsplash; EverTrue Microblading Salon (2); @evertruesalon, @louisabhaus / Instagram
I Tried Non-Invasive Fat Reduction & Here's How Much I Lost
You guys should know by now that I've recently become all about weird beauty/aesthetic treatments. I went to a sweat lodge, I have a coupon for cryotherapy I have yet to cash in, I'm in the midst of a Brazilian laser hair removal regimen. (OK so maybe that last one was less weird but more straight-up painful. It still stands, IMO.) So when I was given the opportunity to try Vanquish ME, a body contouring procedure that is supposed to kill fat cells in a non-invasive way, my exact response may or may not have been "sign me the fuck up."
If you haven't heard of Vanquish ME, it's because it's a fairly new treatment—it came out two years ago. Vanquish uses radio frequency energy to heat up and kill fat cells, and it does it without even touching your skin. Basically, this machine burns your fat cells and then, over the course of a few days, your lymphatic system gets rid of the cells—in other words, you pee them all out.
Ever since I learned the non-culinary definition for "muffin top" I've been preoccupied with my love handles. As far as I can remember, they have always been there, and they have been prominent. I haven't bought real pants since probably about 2009, since it becomes a Sophie's Choice between pants that fit my legs but make my muffin top protrude and make me suffocate, or pants that accommodate the muffin top but are MC Hammer pants in the legs portion. I live in leggings and jeggings, but more often skirts because they just don't test the limits of conventional sizing and my self-esteem in the same way. It's important to know yourself, you know?
And before you even ask, nothing so far in the past 26 years has made my love handles go away. I've lost and gained weight, reaching and losing a Weight Watchers lifetime membership a few times over in the process. I've spent hours in the gym lifting weights. Nothing so far has seemed to work. So when I found out that Vanquish targets whatever problem area of your body you choose without requiring you to go under the knife, or experience any pain or serious discomfort, I was fucking in, and you already know which body part I was targeting.
While FDA approved, Vanquish ME is not a super common treatment, and there are only a few places in New York that do it. NKD NYC in Columbus Circle is one of them. It's a brand-new facility that offers all types of luxury wellness treatments, like cryotherapy, infrared light therapy, vitamin IV drips, and more. 
I stepped into NKD NYC and I was pretty nervous, because I hadn't researched the Vanquish treatment too much—if I had, I would have gone into an anxiety spiral and talked myself out of trying it. Better to go into these things blind. Luckily the staff were incredibly nice, and there was a NP on site, and also a technician who had performed the procedure numerous times before. The facility itself was immaculate, very clean and calming.
The most important things to know before getting the Vanquish ME treatment are that you need to be well hydrated, and you can't have any body jewelry on. It's also not recommended that you be on your period because it can cause it to become heavier (which nobody wants, least of all me). Other that that, it's pretty straightforward. Vanquish ME has been referred to as a "lunchtime" procedure, because you can pretty much just waltz in, get the procedure, and go straight back to work. There's no down time or recovery required.
The best way I can describe the actual process of getting Vanquish ME is that you literally just lie on a reclining chair. The technician maneuvers this machine around you that kind of looks like an open claw (but less scary). They adjust the machine to fit just over the area you want to treat, making sure it's not actually touching you, but rather, hovering right above you. Then they turn it on and you chill there for 45 minutes. You can watch TV, meditate, talk to the aesthetician—you just can't have your phone and you can't move.
At most I would describe the process as mildly warm—about a 3 on a 1 to 10 scale. It sort of felt like putting a heating pad on my lower abdomen—but honestly not even that hot. It was pretty much the easiest thing I've ever done, even easier than sleeping, since I low-key have insomnia. But whatever. I'm sorry this account isn't more interesting; but that's how simple the Vanquish treatment is.
Most people receive between 4 to 5  Vanquish ME treatments spaced 7 to 10 days apart for maximum results, but I received two. NKD NYC also usually combines the Vanquish ME with an IV Vitamin Drip to make the treatment even more effective, but I didn't do the drip. I went no more than two weeks in between appointments and didn't change my diet or exercise routine between that time—I subscribe to the health regimen of "doing the bare minimum to still look okay naked". I did not lose any weight from Vanquish ME. That being said, when I came back for my first treatment I was measured, and I lost a half an inch around my love handle area. That's not bad at all for something that required literally zero effort. Overall I would say that I can feel the results more than I can see them. Like, every time when I'm sitting down and I go to pinch my love handles just to see how bad the situation is (a compulsive habit I've developed over the years—thanks body image), there's less to pinch. My sides and back feel smoother and there's less spilling over the top where my waistband meets skin.
Unfortunately I spaced out and forgot to take before and after photos at NKD. Fortunately for you all, though, I went to a music festival days before I received my first treatment, and I took a picture that will haunt me forever because of how my love handles look. It's time like these that I'm so grateful to be a woman—I'd like to meet ONE guy who spends approximately 56% of his time thinking about his love handles. ANYWAY. I decided to recreate that same photo with the same outfit to give you an idea of how my muffin top situation has improved since Vanquish.


My pictures are not a perfect science, and the results are not like, life-changing (like I said, I didn't receive nearly the recommended amount of treatments), but it's enough to make me feel better.
The only catch? The price, as you probably guessed. Vanquish isn't cheap—a session costs $750—and like I previously mentioned, it takes 4 to 5 sessions to achieve the best results. But if you have a rich sugar daddy who's bankrolling your lifestyle, or you're considering getting lipo anyway, you might want to try Vanquish since there's no recovery required. NKD NYC is also currently offering summertime packages and discounts for Vanquish ME.
If you're not made of money, NKD NYC has a less permanent body sculpting option: localized cryotherapy. For $55  per session, a technician will perform localized cryotherapy on an area of your choosing. It's the opposite of Vanquish ME—it works by freezing your cells to give the appearance of firmer, smoother skin. Your results will only last for about a day, but if you're going to a pool party or something and want your skin to look a little firmer, you're probably going to get better results from cryotherapy the day before than you would from binge-eating spinach and doing extra crunches.
Images: Siora Photography / Unsplash 
What Is Facial Cupping? Explaining The Treatment Kim Kardashian Uses To Stay Young Forever
In today's world there's no shortage of batshit people doing batshit things in their quest to look younger and hotter than their younger sister that sells lip kits. Speaking of Kim Kardashian, in a moment of weakness, aka the three hours I spend at night checking emails scrolling through my Snapchat feed until I pass out, I noticed Kimmy added facial cupping to her beauty regimen. Because I Keep Up am shameless, I immediately had to know everything. Why was she resorting to a more natural method for skin rejuvenation? Was it the robbery? Is that why she's more "real"? Or did the family plastic surgeon finally draw a line in the Calabasas sand after working around the clock on them for 375 days of the year? So many questions.
But let's start with the name, shall we? Facial cupping. It sounds like some sort of weird foreplay my overly sensitive ex-boyfriend from college would have been into.
But you probably heard of it back in the early 2000s—it's what Jennifer Aniston was blaming all of her hickies on and we were all just like "Sure, Jan." Well apparently we should have been paying attention because while we were out buying body glitter and clip-on hair extensions from Claire's, Jen found the fountain of fucking youth.
What Is Facial Cupping:
Similar to body cupping, a phenomenon made popular (?) by famous amphibian Olympian Michael Phelps, facial cupping sucks sections of your face to "improve skin circulation, encourage lymph drainage, tone tissue that is flaccid, and relax tightness." Basically it gives your skin more glow than J Lo's and makes your face look tighter than Megan Fox's the moment she realized directors stopped casting her as "hot girl" in movies. So, like, sign me up.

How It Works:
Facial technicians drag a small suction cup up the side of your face, gliding the cup along your neck, cheekbone, and under-eye area. They then release the suction and repeat the process until you're pretty. Users say it's supposed to feel like either a massage or like someone's sucking on your face. So there's that to look forward to.
Will The Treatment Give You More Hickies Than A Fuckboy On Tinder?:
Nah, girl. Unlike body cupping, facial cupping doesn't leave those giant red and purple bruises on your body, just #flawless skin. Sorry, you're gonna have to start blaming those hickies on your "curling iron" again. 

Who's Doing It:
Turns out Jennifer Aniston and Kim Kardashian aren't the only ones to make a deal with the devil try out this beauty treatment. Gywneth Paltrow, Miranda Kerr, and Lindsey Ellingson (a model, apparently) are all hyping this product more than teenage girls with a new Justin Bieber album. I'm sure they're only about it because it comes from an "ancient eastern medicine practice" and it's, like, so natural because they're natural girls with natural bodies and a natural fuck ton of money. Got it.

The Cost:
If you want to look like Miranda Kerr, then a visit to her face specialist will cost you $300+ a session. But if you're on a budget poor and want to pay half the price to look one-eighth as good then there are at-home kits for $26 where you can do it yourself. Whatever, there's worse shit I've used my mother's Amazon Prime account to purchase.
Just please, for the love of God, do NOT try a DIY version with a vaccuum cleaner. We all remember how the Kylie Jenner Lip Challenge ended—let's not have a repeat.
Dirty Lemon Beauty Treatment Lets You Drink Yourself Pretty, Sign Us Up
Finally a beauty treatment that celebrates our strengths, like drinking flavored water and barely doing any work. Ladies, you can now drink yourself pretty (a motto I've always lived by) via Dirty Lemon, a new beauty treatment from a Brooklyn-based juice company that specializes in raw detox drinks. You're welcome.
Dirty Lemon has been on the rise for a while in super-secret millennial circles. The detox drink is meant to reset the body after too much pizza and rosé because there is a God and She is paying attention to my Instagram story.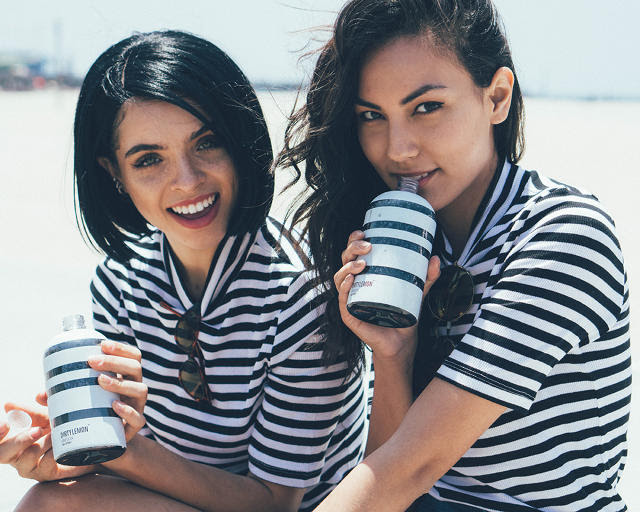 Made with cold-pressed lemon juice, dandelion extract, ginger root extract, activated charcoal, and filtered water, this shit tastes like a fucking dream—unlike that cayenne pepper and maple syrup mixture you've been forcing down your throat. Dirty Lemon Skin + Hair adds to the original recipe a fuck ton of Beyoncé's tears pharmaceutical-grade marine collagen, and other shit that's great for your hair and skin. In fact, it promises to give you better hair, skin, and nails in as little as two weeks. But so does Susi, my German hair stylist, every time she cons me into buying a $60 product on top of my haircut.

How Dirty Lemon Works
Drink one bottle a day on a full stomach, repeat. No lie, that's legit the only instructions. In fact—and this is verbatim—they suggest you ingest the drink "with a side of pancakes." Blessings.

Basically, instead of taking daily vitamins or supplements to stimulate the production of collagen you can now just take a bottle of it to the face. Not so different from what you'd be doing after work anyway but this is, like, good for you.
How To Buy It
You won't find this sleek as hell bottle of eternal youth Dirty Lemon in any stores. You can only order it in $65 quantities via text message because our world is going to shit. But feel blessed because all orders are shipped overnight and free of delivery charges (are you listening to this, Amazon??).

Final Verdict
So let me get this straight: This is a beauty treatment that lets me do nothing live my life, counteracts all the ways I fuck up my skin and body when I'm drunk, and encourages me to eat pancakes for, like, my health's sake? And it comes in a conveniently chic bottle that will look good AF on Instagram? So, like, does anyone know the founder of Dirty Lemon's number or? Asking for a friend…