A Professional Dominatrix Explains Everything You've Ever Wondered About BDSM
For me (and pretty much every other vanilla girl out there), it started with Fifty Shades. As soon as Ana tripped over the threshold of Christian's office, the world was captivated by Mr. Grey and the world of Bondage, Discipline, Sadism, and Masochism (BDSM). Of course, it quickly became clear that their arrangement wasn't a good representation of this lifestyle—in fact, it's totally problematic. Still, as the coronavirus pandemic stripped me of happy hours and overpriced dinners, I dug out the dusty trilogy to revisit its scandalous world. This time, however, I found myself more interested in what the series got wrong, as opposed to the shoddy dialogue and unrealistic fact that Ana has a mind-bending orgasm while losing her virginity.
So, after a lot of wine-induced Googling, I found Mistress Rogue, a professional dominatrix ("dom" for short) whose brain I could pick regarding the series, her work, and what it means to be a part of the lifestyle. When I asked her about Christian Grey, her response summed up the entire community's thoughts: "Oh, my God. Can you put that? That's my quote," she tells Betches. "It's absolutely not accurate."
While Fifty Shades might have completely missed the mark about what it means to be a dom (something most of us knew and ignorantly ignored), it turns out that the truth about the BDSM lifestyle is even more fascinating than the fiction. I asked Mistress Rogue all the questions you've had about BDSM so you don't have to go down a Google rabbit hole.
What Does A Professional Dom Do?
According to Merriam Webster, a dominatrix is "a woman who physically or psychologically dominates her partner in a sadomasochistic encounter," which is pretty much exactly what the job entails. While the profession isn't only limited to women (men can be doms too), the gist of it is these pros are paid or agree to control someone, whether it's for a short session or for a lifetime. Sometimes the control is mental, sometimes it's physical, and yeah, sometimes it's sexual. Sessions can involve anything from chains and whips to diapers and dog kennels, and sometimes, they don't take place in person but revolve around money or diet control (where the dom says what you can or can't buy, eat, or do).
Mistress Rogue, who has been been a professional, full-time dominatrix for three years, spent over 10 years learning about the lifestyle and immersing herself in the world of BDSM. She trained under Mistress Mercy, who is the Headmistress for the Miami-based Goddess Girls (a group with whom Rogue still collaborates), and she's the founder and Head Mistress of The Dom House, a company home to multiple male and female doms (as well as a few apprentices and submissives). Now, she has a fully loaded dungeon in St. Petersburg, Florida where she caters to a wide variety of male, female, and nonbinary clients.
Why Do People Practice BDSM?
There are lots of reasons people incorporate dominance and submission into their lives, the biggest of which is the endorphin rush. While it might seem like BDSM is all about physical acts, it's actually very psychological. The goal of a session is for the sub to reach "subspace", which is a euphoric, meditative state. On the flip side, doms (including Mistress Rogue) experience the converse and aim to reach "domspace".
While you might think, Well, I'll just get a whip and tell my boyfriend to go to town, that's actually not what it's about. Not only can it be hard to figure out what exactly you like, but it can be even trickier to learn your limits, especially in the space of your relationship. This is where the pros come in. Almost like a form of therapy, "submission is about letting go," Rogue says. "You don't have to be in control. It's a very healing act and some people just need it."
What Are The Most Common BDSM Fetishes?
"Spanking," she says. "Everyone wants to get spanked and everyone wants to get blindfolded and gagged and paddled." It makes sense. Long before Christian and Ana visited the Red Room of Pain, spanking and hair pulling were among the more common practices seen even in vanilla sex. Chances are, Mistress Rogue probably has more whip choices beyond the joke one you got for your birthday.
Another popular demand she gets revolves around foot fetishes. Though it's an arousal point she didn't quite understand when she started out, she's now a big fan. "Foot fetishes are very much about true submission. You walk all over things all day long, and then you get someone to worship at your feet beneath you. It's the true core of submission."
As for what she won't do? "Roman showers," she admits, after a pregnant pause. This act is a very extreme fetish where the dom vomits on the sub. "It's just because it's painful for me," Rogue says. "I don't like vomiting." Luckily, there are plenty of types of play she does like to partake in, like rigger, suspension, heavy impact, and strap worship. She also loves any situation that involves wearing her latex catsuit (pro tip: use lube when putting on latex. Her suggestion is ID Millennium).
What Happens At A Professional Dom Session?

Images: Austin Zeli
Prior to visiting a professional, you'll most likely fill out an intake form that outlines everything you do and don't want to do (and are and aren't okay with). When it comes time to actually have your session, you'll be told how to address the dom, what to do upon entering, and any notes involving your appearance (no matter what, please shower!). Normally, there will first be a meet-and-greet component where you'll once again go over what's going to happen and review the usage of safe words. "Sometimes, advanced sessions have no safe words, but that's something they consent to," Rogue says. First-timers will absolutely use stop and go words, the most common of which is the standard traffic light system (green is go, yellow is slow down, and red is stop immediately).
Then comes the "performance", as Rogue calls it. Part of the dom's duty is to create the experience, which she takes a lot of pride in planning. Basically, Rogue sets up different time blocks of what they'll do, and sometimes includes breaks depending on how intense each unique session is. "It's not like you finish in ten minutes and leave," she says. Once the performance is over, one of the most crucial components of BDSM takes place: the aftercare. "It's like when you watch a movie, and as you leave the theater you talk about it. What you liked, what you didn't like, what you want to experience next," she explains. This is hugely important for emotional wellbeing—not only in BDSM, but in all sexual acts. 
"Imagine in a vanilla world, you have sex with your partner and you want to cuddle after, but they just get up and leave without saying a word. If you don't know how to navigate it properly, you can feel used and broken," she says. This is why consent and communication are the backbones of BDSM play. In addition to cuddling, chatting, or hugging, Rogue will also give her subs water and clean them up, because sometimes there are fluids like tears, sweat, or blood (consensual bleeding, of course) and this cleansing afterward is crucial to the bond.  
Here's What Everyone Gets Wrong About Sex Work

Image: Austin Zeli
It's important to note that professional dominatrixes don't have intercourse with their paying subs. Rogue says that some guys go into the session assuming she's offering intercourse, an idea she quickly shuts down. "Yes, I am providing a service, but this is on my terms. It's not about what they want; it's about what I want. Professional dominatrixes do not have sex with clients. Ever. Period." That being said, it's still considered sex work. "I was surprised to learn that during the first year," she says. "I was like: 'No, I don't have sex with them.' But it's still sex work and there's nothing wrong with that." There's a lot of discussion surrounding sex workers' rights in the mainstream media right now, and a push to decriminalize sex work, which is exciting to see, especially for Rogue, since it's not just the legality of the work, but the stigma surrounding it that sex workers are grappling with. One of the biggest misconceptions Rogue personally takes offense to is the notion that it's easy to be a dominatrix or sex worker in general. 
"I work a lot on what I do. Preparing for sessions. Planning sessions. Buying equipment for specific sessions. Keeping my overall image. There's so much that goes into this. No one wakes up and the next morning can be like, 'Oh, I'm a dominatrix. Come to my dungeon.' That does not exist." As for what the general public gets wrong about dominatrixes, it's that they "hurt and abuse" people.
"Everybody in the BDSM lifestyle asks for consent for everything," she says. And when she says everything, she means it. Even before engaging in socially acceptable touching like hugging or shaking hands, she always gets verbal or written consent. "It's very easy to get a bad reputation in the community, so you have to be careful," Rogue admits. In general, however, "the public doesn't understand that there are so many ways to make other people feel incredible without the sex part."
How Is Dom Work Different During Coronavirus?
Because their work is all about interacting with people on an intimate level, it makes sense that the pandemic could cause some challenges for sex workers. "At the very beginning, when everything shut down and people were quarantined, everyone was staying home," she says. "We had this emergency situation where I wasn't seeing anybody because I was, you know, freaking out—and understandably so. And a lot of the time, I see people I've never seen before. They book online and it's just a stranger."
Once restrictions started to ease up a bit after a month or two, Rogue started seeing an influx of visitors again. "They had no jobs, were stuck at home, and completely desperate for some thrill." So when the demand started coming back, how was she able to take on subs amidst coronavirus? "Even without the pandemic, I utilize a lot of safety measures. Before and after I see someone, we sanitize everything. I use gloves, I use masks, and I even keep my distance. You don't actually need to touch someone personally with your hands to be able to deliver domination." Think canes and riding crops, people!
When the pandemic started hitting harder, however, Rogue had to shift to a new model as business severely slowed (and stayed) down. That's when she transitioned to virtual work. "While OnlyFans is really popular for vanilla and regular sex work, my OnlyFans is a little different. I have it set up for submissive or slave BDSM people who want to serve online. They have the opportunity to see what I'm doing or see me play with others. There are a lot of ways this can be done."
Since she started offering more online options, she's seen an overwhelming amount of demand from people who want to participate in BDSM sessions from the comfort of their homes—something she finds incredibly rewarding. She views her OnlyFans as a virtual dungeon, and she has subs complete tasks just like a regular session. "I can tell them what to do, they can get custom videos, request content, tip, or just talk to me," she says. "Since it's all online, anything goes."
Okay, I Want To Incorporate BDSM Into My Life

Images: Jason Perrone; Austin Zeli
Whether you've always been interested in it or were titillated by Fifty Shades, there's a good chance you'll find something rewarding in a BDSM experience. As for how to incorporate it into your lifestyle, Rogue highly suggests seeing a professional, whether or not you're in a relationship. "Some pros see couples and will coach and teach you," she says, which will help you navigate not only the physical components but the mental as well. "Some of it is dangerous and that's why people go to a professional," she continues. "We know what we're doing and can keep you safe."
If you're ready to dive in, it's important to do your research and find someone who knows what they're doing. "There are fake doms out there, usually men, who are looking to take advantage of women," she notes. But how, exactly, do you find someone who's not skeezy? "A dom with a good reputation will have at least some social media set up," Rogue says. "Avoid sketchy ads, look for a good website, and consider how they talk to you. If they don't want to negotiate in terms of the things you want to do, run." Before visiting—and especially if you're going alone—be sure to share your location with someone as an extra precaution. When going in, make sure they have a safe place, and if something feels off, don't move forward. BDSM is all about speaking your limits, and finding your pro is no exception. 
Ultimately, it doesn't matter what you look like or what you do for a living. "All I care about is your behavior, your manners, and your ability to follow instructions," Rogue says. "A lot of people are scared of seeing a dominatrix, but we can be nice. And for anyone who's very interested but is scared of committing, remember: I will not hurt you if you don't want me to." But chances are by the end of your session, you'll be begging for more…
Images: Jason Perrone; Austin Zeli
5 Sex Toys You Can Wear In Public
If you're anything like me, you probably think of sex toys as something to be used in the privacy of your own home, either alone or with your partner. But that's beginning to change as high-tech start-ups reconceptualize the way we think about sex toys, especially when these companies are run by women. One notable manifestation of this trend are sex toys that double as wearable accessories. With these, gone are the days where your only option for a vibrator was a veiny phallus molded from the dong of a washed-up porn star (though if that's your thing, do you). Read on for a list of sex toys you can take with you anywhere.

While it may look like your typical lace thong, this baby has a hidden pocket that fits a mini vibrator. What's more, it's also remote control operable up to a range of 10 meters, so you can cede control to someone else if that's your kink. According to the product description, "you won't have to choose between turning up to work or climaxing, popping to the post office or climaxing, or going to a wedding or climaxing." The wedding example is a bit of a weird flex, but these undies could come in handy for one of those work meetings that could have been an email.

These earrings are not necessarily for the faint of nip heart. Though they may look like your typical architectural jewelry, they're modeled after the alligator nipple clamp, a staple in the BDSM world. The great thing about clamps is that they can be adjusted to suit your tolerance, whether it's a simple desire to increase sensation or to heighten pleasure with some pain. Considering that the nipples are a major erogenous zone for many people, these earrings are a creative option that will both get you off and completely fool your more vanilla co-workers.

If you're toying (see what I did there?) with the idea of purchasing a wearable sex toy, this is the one I would start with. The Vesper necklace is perhaps the most well-known and popular wearable sex toy on this list, and it's easy to see why. Its sleek design and three power settings make it both a beautiful piece of jewelry and a powerful vibrator. And there's just something indulgent about wearing a literal vibrator out in the open: as one reviewer put it, "It's like wearing a secret around my neck and in public!"

If the nipple clamps weren't for you but you're game for some light BDSM, these bangles are a great option. They're dainty, yellow gold and engraved, making for a beautiful pair of bracelets on their own. But after a long day of enduring passive-aggressive emails from Karen in Accounting, you can meet up with your partner outside of the office (or in the office if you're having an affair with a coworker, I don't know your life) and use these "surprisingly strong" handcuffs for a little bit of fun.

Rounding out the list is a ring with 5-star reviews that doubles as a vibrator. What appears on the surface as a chic cocktail ring is actually a multispeed waterproof vibrator with customizable modes that let you control the vibrations with your own hand movements. Although it may seem small, reviewers agree that this sucker "packs a punch." I guess my ex was right and size doesn't really matter after all.

The growing prominence of wearable sex toys on the market is exciting. By allowing people, especially women, to literally wear their sexuality on their sleeve (or neck, or ear, or finger), wearable sex toys subverts the societal notion that sex is something shameful that needs to be kept hidden. That's a vibe (OK, I'll stop) that we can all get into.
Images: Marvin Meyer / Unsplash; Giphy (1)
5 Low-Key Ways To Introduce Kinks Into The Bedroom
Introducing kinks to your relationship can be intimidating AF. If you just found your perfect match on Ship, you won't want to scare them away by rattling off your list of fetishes on the first date. If you've been dating someone for four years, randomly unleashing your secret kinks might make them think you've hated your sex life the whole time. Sooo how are you supposed to discuss your love for bondage with a new or current partner without it being painfully awkward? Rather than dropping a casual "hey, wanna tie me up sometime?" over a romantic candlelit dinner, there are much better ways, even some that don't involve being in the same room. I attended a "Working The Kinks Out" session at a sex camp (yes, sex camp) where Fransisco Ramirez, MPH shared this list of tips and tricks for letting your freak flag fly without freaking out your partner.

1. Yes/No/Maybe Lists
Yes/no/maybe lists aren't sexual contracts. They're just a super fun bonding activity (without the handcuffs) that helps you come up with new sex stuff to try. You basically sit down for a dirty little brainstorm sesh with your partner to create a master list of all the kinks you've ever thought about trying and want to explore together. When you run out of ideas, separate, make a cup of tea, relax in the bath, and organize the list into your own "yes," "no," and "maybe" categories. 
Circle, star, and "F*CK YEAH!!!" your YESes, strike out the NOs, and put question marks around the maybes. You can also rank and categorize each act on the list by whether you want to be the giver or receiver, because maybe you're down to try pegging but you'd rather be the one getting pegged, or you love the idea of rope but there's no way in hell someone's tying you up. 
Done? Regroup and discuss. Cringing at the thought of reviewing your lists at the kitchen table like some sort of formal business deal with a client? Swap papers so the other person can read it and see what you're into in silence (aside from the occasional "hmm" or "WOW REALLY?!"). Not even comfortable doing this in person? Grow up. JK. These lists can be created via text or Google Docs too.
2. Shop For Sex Toys Together
good morning to this fan who met zac efron and vanessa hudgens in 2008 and had the nerve to ask for pictures while they were shopping for sex toys pic.twitter.com/YUy74oqchl

— donna summer archive (@mcriahcarey) April 10, 2019
The only thing more fun than actually using sex toys with your partner is the act of buying them together. Ramirez says that toys are the best way to introduce kinks into the bedroom. He literally calls them "friends," and I feel that. Sex toys make way better friends than humans sometimes TBH. 
Research all the different vibrators, cock rings, restraints, and wearables you might want to play with, then make a date out of going to your local adult store to get them. You can buy them online of course, but that's not as fun. Going to a sex shop is something I strongly believe all couples should experience at some point in their relationship. The process of physically going to buy new toys, then the anticipation of waiting to come home to use them magically makes using them soOo much better. 
3. Share Porn Browser Histories
First date activities:

Let's go through each other's porn history?

— An Aquarian (@Mohohlo) September 3, 2019
I know what you're thinking. "HELLLLL no." And that's fine. Although this tip IS super effective, it's not for the faint of heart. Our porn histories are highly classified information never to be shared with anyone until we die. BUT! If you're feeling daring and you DGAF, exchange those browser histories with your partner. Chances are they have some wild sh*t in their search history that blows the doors off of yours, and you'll come out of it with something to break up over laugh about and bond over for the rest of your relationship.
4. Make Porn Playlists

Okay, if you're too shy to share your personal porn browser history, then collab and create a new one. Making a porn playlist with someone is basically the X-rated version of a Spotify collaborative playlist. Keep things separate from your main accounts and make a new username by combining your names like Jailey, Kimye, and other stupid celeb couple names like that. Once you're done building up a list of videos, pop some popcorn, cozy up, get naked, or do whatever couples do before they watch ~movies~ and enjoy the show. 
5. Sexting

Ahhh, good old fashioned sexting. Where words fail, eggplant and peach emojis always do the trick. Sexting is the best thing to ever come out of the 21st century, aside from Taco Bell and sex toys. It's awesome for most people who really don't feel bold enough talking about "dirty" stuff face-to-face but want to put important business out there. 
I actually love sexting for that exact reason. It's the most comfortable way for me to say what I like in bed with someone I haven't hooked up with yet and vice versa. Because let's face it, talking about the weird sh*t that gets you going during sex isn't exactly the easiest topic to approach with someone new, or even our current partners if those kinks were never disclosed. But we do need to put on our adult pants and address it somehow, even via text, so we don't get stuck in sexually unfulfilling relationships with people who don't meet our needs. IDK about you, but that sounds like living hell to me. 
In the wise words of Ramirez, "Kink is okay. Kink is great. Kink is dope. Kink is fly. YOU are okay. YOU are great. YOU are dope. YOU are fly." Solid reminder to all of us kinky bitches out there. We're cool AF. We just need to find a way to express how chill we are to our partners without them freezing up and running away…but if they do run away from your kinks once you bring them up, then they're definitely not the right match for you anyway. 
Images: Shutterstock; @mcriahcarey, @mohohlo, / Twitter; GIPHY (3)
7 Most Common Misconceptions About BDSM
Thanks to porn, Fifty Shades Of Grey, and a lack of open discussion, BDSM has been thrown into the mainstream spotlight with a ton of negative stigmas and stereotypes attached to it. I'm here to tell you that there's SO much more to it than "rough sex" or a manipulative rich dude and his Red Room of Pain. Practicing BDSM is and should be empowering, healthy, consensual, and safe for all parties involved. NOW, let's smash the most common misconceptions about BDSM culture to destigmatize and promote a better perception of these totally awesome practices, shall we?
1. It's Mainly Just Whips And Chains
As Rihanna sang in her hit song "S&M" that you probably sang along to in the car with your parents back in 2010, "Sticks and stones may break my bones but chains and whips excite me." But just because Rihanna gets excited by sadomasochism, she might not be into voyeurism, infantilism, or other kinks. That's because "whips and chains" are just one part of BDSM. BDSM is a broad term which is short for Bondage/Discipline, Dominance/Submission, and Sadism/Masochism.

You've probably fantasized about something ~kinky~ at some point in your life. Follow your dreams. Turn that sh*t into reality. Research and play around with different types of toys, restraints, and tools, how to use them, and which ones are most appropriate for you and the type of scene you want to experience before you use them. Maybe start with lube and a blindfold or vibrator, then, if/when you're ready, incorporate rope or a flogger or an automatic machine. Whatever you're into.
2. You're Under Someone Else's Control

Andddd this is literally why communication around kink and consent is so important. Establish, agree upon, and sign set contracts before entering any scene or relationship. Pick safe words (like "pineapple" or "red" or "stop") to ensure everyone can quickly and easily communicate when something becomes too much to handle. This should be a mutually enjoyable experience for everyone, and once it borders along anything otherwise, it's 100% okay and ENCOURAGED to stop. You're BOTH (or ALL) in charge.
3. It's Abusive In Nature

Sure, some practitioners are masochistic and enjoy receiving pain or being humiliated, and others are sadistic and enjoy inflicting pain or humiliation onto their partners, but that's because they… wait for it… ENJOY it. It's for their PLEASURE.
BDSM is not slavery. It is not abuse. It is a consensual act between willing participants. All parties should disclose medical conditions, fears, wants, and needs in order to make sure all necessary precautions are met for the best and safest interaction possible. Some people enjoy kinkier relationships because they actually present a way to heal from past experiences or traumas outside of a traditional therapist's office.
4. Scenes Are Always Sexual
Hell yeah I'm into BDSM

Bringing
Da
Snacks
Motherfucker

— Kidnapped Serena (@kidnapped_jesus) June 13, 2019
Nope. Many people with high-stress, high-profile careers just want to let go of control for a change and have someone else take the reigns for a bit. Some people crave having their non-sexual fantasies finally fulfilled and have found someone who's down to lend a helping hand (or foot pic). Other people want an emotional or a mental connection instead of a physical one. Different strokes for different folks.
5. People Who Enjoy Kink And BDSM Are Sick Or Have "Daddy Issues."

If we could time travel and ask Sigmund Freud if BDSM practitioners are sick in the head, he'd probably said yes and they need treatment. WELL, a study conducted in 2006 found the following: "Compared to the normative samples, BDSM practitioners had lower levels of depression, anxiety, post-traumatic stress disorder (PTSD), psychological sadism, psychological masochism, borderline pathology, and paranoia."
So yeah, thanks for the compliment, Freud. People into BDSM are pretty f*cking sickkkkk… as in cool. They're normal. They have good jobs. Oh, and they also have healthy relationships with friends and family, including their dads.
6. Girls Who Wear Chokers Are Obviously Into Getting Choked Sexually

Chokers might not be "in" anymore but if you still see a girl wearing one at the bar, don't assume she likes getting choked in bed. If you're about to hook up with a new chick who's wearing a string around her neck, I HIGHLY recommend demand you ask her if she likes getting choked before you decide to put your hands around her throat, you psychopath. That's a great way to get punched or scare the sh*t out of someone.
Once again, communicate, communicate, communicate with your partners. Never assume somebody is into something because of what they wear or what they post on Instagram (like the random ignorant stranger who slid into my DMs the other day and asked if I wanted to touch his D in reply to my story of the cool dildo wall at the Museum of Sex). Basically just be a decent human, for f*cks sake.
7. BDSM Scenes Are Cold And Emotionless

W R O N G. BDSM scenes are very physically, emotionally, and mentally fulfilling when appropriately conducted. Some of my most intimate connections have been with people who have done things to me that I'm 100% not going to mention here for a lot of reasons, including the fact that my mom may or may not be reading this right now (hi and please don't ever let me know you read this, mom). Andddd once upon a time, I mentioned the word "aftercare" to a potential partner who literally replied with "aftercare??? Lol we're not in daycare."
I believe BDSM culture is the total opposite of cold and emotional. Caring for and about the person you're with before, during, and after any scene is a huge, important component of a pleasurable experience. Most of that boils down to understanding your limits, wants, and needs then communicating them openly with your partner(s) who you trust will take great care of you and honor your vulnerability, and vice versa.
At the end of the day, we're all here for a good time, not a long time. Whether you enjoy vanilla sex or mint chocolate chip sex with rainbow sprinkles, chocolate syrup, and a cherry on top, who the f*ck is anyone to judge? /endscene
Images: Pixabay, Giphy (7)
Easy BDSM Moves For Beginners
Whether you're single or attached, it's very likely that you're not having the hottest sex you could be. I totally get it—between  actual work and the very busy workout/eat out/blackout schedule of a successful young millennial, it's hard to put effort into yet another activity. But you need to be excited about sex to be having good sex. And IMO, if you're looking to upgrade your sex life, trying some BDSM-inspired moves is an awesome place to start. Here are the best BDSM-inspired moves for beginners.
Blindfolds
Blindfolds are a great choice for many reasons. First of all, you definitely already have something that could work as one. (If you don't, go buy 20 scarves and a sleep mask immediately. God.) Second: it's a small difference, but it changes how you feel—by a LOT. All sensations are heightened when you can't see, and the fact that you don't know what's coming gives you butterflies, like buying a pair of $400 boots, or non-jittery Adderall sending a risky text. The blindfolded party (preferably also restrained) will be forced to give up all control here. This makes playing with blindfolds a great time to experiment with teasing, light spanking, or anything else you would find too awkward with eye contact involved. But if the idea of butterflies sounds unpleasant to you, BDSM may not be for you. There's a difference between wanting to "switch things up" and being genuinely turned on by the power shifts/pain play involved in BDSM. There are plenty of other options if the latter isn't true for you.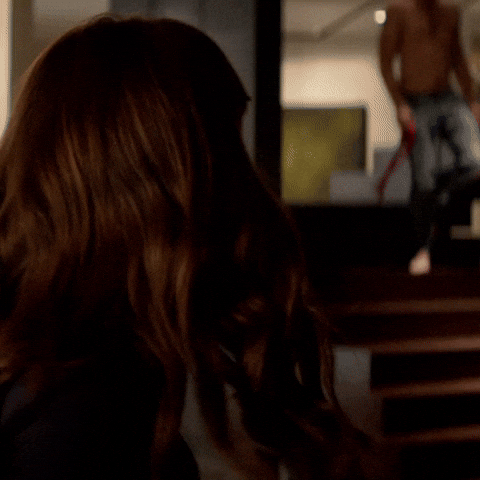 Bondage
As with blindfolds, you either have bondage materials in your home or you walk around all fall without accessories. Also, as with blindfolds, bondage is the kind of thing that heightens every sensation once it's in place. If you or your partner enjoys the idea of taking control but struggles to fully act on it in the moment, using either a blindfold or restraints are both great ways to get that final push to a dominant/submissive situation. And for shy beginners or those just starting out, it can be just the push you need to get over your awkwardness and go for it.
On a more practical level, you have some options when it comes to bondage. Usually, your first move will be making sure hands are restrained. You want it tight enough so they can't just wriggle loose, but not so tight it's cutting off their circulation. (Also, fashion a knot you know how to untie. *moment of silence for the articles of clothing I've had cut off me.*) You can also use lower body restraints, though that obviously requires a higher comfort level for both people.
Use Your Words
No, this is not another speech about how communication is key for a healthy sex life. (Though while we're on the subject…this is especially true with BDSM.) But in this case, I'm actually talking about incorporating some aspects of BDSM into how you talk to your partner. How you do this depends on which aspect of BDSM you're attracted to. If you're more submissive, you can experiment with calling your partner sir/madam/master (or incorporate a punishment if you slip up). This is especially hot if it's used while the submissive partner is blindfolded/restrained. You can also try incorporating begging, or adding some explicit descriptions of what you'd like to do—while holding back—to any teasing you're doing.
Another route you can try is using aggressive language (bitch/slut/whore/etc.) This can be exclusively in the bedroom, or how you turn your partner on when you're texting throughout the day. As with all things BDSM, it should take you out of your comfort zone, but in a way that makes you feel excited—not frightened or genuinely abused. (See all of 50 Shades for a thorough "what not to do.") And obvi, don't do anything you're uncomfortable with.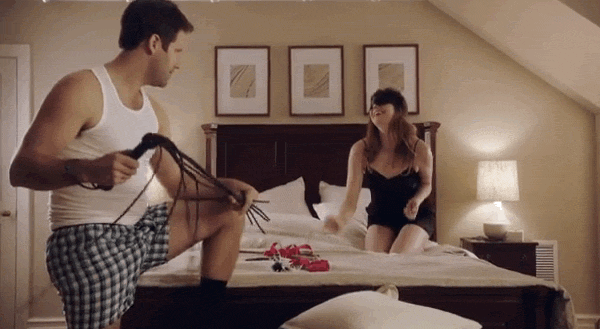 Largely in thanks to the aforementioned trilogy, BDSM has sadly been made synonymous with "hotter" sex in recent years. But BDSM doesn't feel hotter for everyone (for example, Anastasia Steele), and you should pay attention if it doesn't for you. If you want to push your boundaries or experiment with BDSM specifically, though, this list is a good start.
Giphy (4); lounisproduction / Pexels
We Saw And Reviewed 'Fifty Shades Freed' So You Don't Have To
When I received an email on Friday asking if I'd be willing to see and review Fifty Shades Freed in the interest of entertaining Betches' readers, I reluctantly said "k." On Sunday, February 11, I dragged my husband to see this absolute abortion of a movie with me. It's so bad that I don't even feel bad about using abortion as an adjective. Here we go.
A quick look at the other reviews of this movie circling the internet should let you know that you're in for a bumpy ride. Full disclosure: I brought a full pint of artisan cider (sry I'm so fancy) into the theater with me. I was done with it in 15 minutes. My husband assured the cashier that we were only going to see this so I could write a scathing review, our marriage needed no spark, and, yes, he required Twizzlers, a large popcorn, Raisinettes, and a large Coke to get through this. He looked upset as we entered.

The Background
I'm going to ASSUME everyone already knows the background of this movie, but if not:
Anastasia Steele was a virgin college student who, through some trick of mommy-porn writing the universe, ended up interviewing Christian Grey, a 30-something billionaire. They fall in love thanks to her SOMEHOW AMAZING BLOW JOB SKILLS, Ana signs a contract with Christian to be a submissive and play in his red sex dungeon (sans butt play, at least in the first movie). He goes too far, she gets mad, they get back together, they get engaged, and are now locked and loaded in the world's healthiest marriage. That's literally the plot—throw in some jilted ex-lovers and weird mommy issues and boom, 50 Shades trilogy. I want to note that I could literally shit a better storyline than what follows.
Act I: Ana And Christian Get Married And Go On A V Expensive Honeymoon
We open on Ana and Christian saying their "I do's" and enjoying what is clearly a daytime wedding. They leave literally in the middle of it because world's best and not-at-all-controlling husband, Mr. Grey, insists he's "tired of sharing" Ana with everyone else. It's just her wedding. No biggie. I'm sure her parents and great aunt who flew in for this v special occasion understand. Fuck em, amirite? Anyway.
Christian brings Ana to a jet and she's all "WOAH YOU OWN THIS?!" Bitch, he spent the last two movies getting you new cars, having his personal security follow you, taking you on helicopter rides, and literally jizzing money. OF COURSE HE HAS A FUCKING JET.
What follows is a honeymoon in Paris and Nice. How PEDESTRIAN, Christian. He's a billionaire and they're in Paris? Yawn. We get a glimpse of Christian's weird control issues when he freaks out about Ana showing her titties on A NUDE BEACH. To punish her, he handcuffs her hands to her feet in what looks like prime cramp territory and bangs her. I assume the other couples in the theater will use this as spank bank material to spice up their marriages later.
After their handcuff sex sesh, the honeymoon is cut short by a call from Christian's assistant saying that someone broke into Grey Enterprises (still unsure what Grey Enterprises DOES) and stole some personal files. After a super tech-savvy zoom-in with the security cam, Ana discovers the thief is Jack Hyde—her old pervy former boss from the last movie that no one saw. Could it be he's still mad about Ana spurning his love and Christian firing him?! THE PLOT THICKENS.
Act II: Back In Fucking Seattle
Christian and Ana come home from the honeymoon and Ana is totally aghast at the idea of "running the household" since she's, like, a quasi-billionaire, now, too, and has all kinds of slaves servants to boss around. In no mood to deal with the help, she cooks dinner, makes a comment about being preg one day, and Christian recoils as if someone stole his special sex jeans. "Don't you wanna have kids some day?" Ana asks. Apparently, this conversation was NOT had before they got married, which, I guess considering they once had a contract specifying what kind of things Christian was allowed to stick into her butt, is neither surprising nor a priority for this happy couple.

Ana gets back to her job and is SHOCKED that her office is totally different. Like, where's all her shit? Her weird assistant, Liz, informs her that it's been redecorated for the new boss? WHO TF IS THE NEW BOSS? SURPRISE! ANA, IT'S YOU! Apparently promotions are handed out like Molly at a club and Ana has been promoted through her SHEER business savvy and not at all because her controlling husband bought her company. So blessed, so moved. I hope someday my husband buys my company because, only then, can I aspire to get that juicy promotion. #glassceiling

It's at this point that Christian storms into Ana's office while she's meeting with the v important author of a book (which probably has a better plotline than this film) and begins berating her about the fact that she hasn't changed her last name on her email yet. From what I understand about the timeline of this movie, this is her first day back. I've been married since October 2016—ask me if I've changed my work email from my maiden name yet. But, again, butt sex contracts and the BDSM universe make for an interesting set of priorities, apparently.
After their spat over last names, Christian whisks Ana away to a dilapidated mansion that he bought without telling her. She's instantly smitten and doesn't at all question the amount of money he just spent on this piece of shit which will clearly need more than 10 Joanna Gaines' to up its rustic chic aesthetic. Enter the porn star of architects—Gia—who clearly became an architect based on her mastery of math and not on her phenomenal boobies. She gets a lil too close to Christian, Ana tells her to fuck off, and we literally never see her again, oh wait yes we do for a super important plot point. STAY TUNED.

As they pull away from the new BDSM palace, it appears someone is following the Greys' car. Ana takes the wheel, drives like me when I'm back on the Jersey turnpike, and loses them. The crazy driving was apparently so sexy, that Ana climbs on top of Christian and has an orgasm in five seconds. I don't even have a joke for that last line. It has gotten almost Michael Bay bad at this point, but with less explosions and more mommy issues.
It was at about this point in the movie that I looked over to see my husband covering his face with his hands, and I truly felt sorry for him.
Act III: The Plot Thickens But Not Really
After the mansion adventure and v exciting car chase, the newlyweds are back home. Christian announces that he has to go to New York for meetings and Ana is obv coming because she is a woman with a small brain will be in total danger from the car maniac and Jack. Ana is like, lol, I work hard for the money, bitch, and then segues into Christian needing a haircut. Cut to a sexy hair washing scene. Wondering where the scissors are, Ana looks in Christian's office drawer and finds GASP A GUN OMFG. She asks Christian why he has it, and he's all whatever about it. End scene. "Did he ever get his hair cut?" my husband asks, v concerned. I don't know. No one knows.
Apparently the sexy haircut or not-haircut convinced Christian to allow his wife to keep working and stay home while he goes to New York. During this time, Ana goes drinking with her friend Kate instead of going home, which is so diabolical of her. When she does finally get back to the apartment, Jack is waiting with a knife. How he got in, we don't know. How he got past a doorman, security system, I assume lasers, and bolted doors is incredible. Maybe Christian firing him was the best thing that's ever happened to Jack. Maybe he's meant to be a master criminal. He's quickly subdued by Ana's security team. This scene led to the best line(s) in this whole fucking movie:
Security person 1: "You better restrain him."
Security person 2: "I don't have anything."
Ana: "We do!"
No one laughs. Everyone in the theater is already dead.

Christian comes back and tortures Ana in the dungeon room with a vibrator because she "continues to defy him" and it makes Christian sad. Ana says her safe word because this is mean, then the two sit and wonder why Jack is such a bully. Remember that time you all got him fired? No? Just me? K.
At this point the couple takes a break in Aspen (ASSSSPPEEEEENNNNNN) with Kate, Elliot (Christian's brother who is conveniently dating Kate), Christian's sister (played by Rita Ora), and Rita Ora's bf. They get to an Aspen mega-mansion and Christian plays the piano and literally sings. It was at this point I was praying for more alcohol. None came.
Christian and Ana have sex on a kitchen table during the Aspen times. There's ice cream involved. I was concerned about infections. My husband was concerned about everyone else's breakfast. I think that's all I need to say.

The next day, Christian's security team tells Christian that Jack, the Rhodes Scholar of criminals (Princeton Summa Cum Laude '99), was in and out of foster homes in Detroit. "So was I," muses Christian. Get ready—this is what screenwriters call foreshadowing. Elliot proposes to Kate (with a ring picked out by none other than… dun dun dunnnn… that architect bitch, Gia, from before), then apparently everyone just goes back to Seattle. Christian and Ana use a butt plug in the red room and Ana later reminiscences about it at work. Same.
Act IV: Babies, Boobs, and Bullets
Because we didn't have enough story lines going on what with sexy car chases and genius criminals, Ana goes to see a gynecologist and finds out she's pregnant since she missed her contraceptive shots which were clearly outlined in her contract with Christian. How dare she. When she tells Christian, he freaks out, not ready to "share" Ana with anyone. This seems like a v healthy and normal conversation.

Furious, he goes out drinking with his old mistress, Elena, played by Kim Basinger in the last movie but who clearly wasn't budgeted for in the third installment. Ana finds out and angrily showers, ignores Christian, then argues with him while PUTTING HER STOCKINGS AND BOOTS ON BEFORE HER BRA LIKE A FUCKING MANIAC. I am an adult woman, and I can tell you that when I argue with my husband, boob privileges—including viewing them whatsoever—are out the window. Anyway, she storms out and goes to work.
While "working" and def not fantasizing about butt plugs, Ana gets a call from Jack, who has somehow gotten out on bail despite recently breaking, entering, and holding a knife to someone's throat. Again, criminal mastermind. He has Rita Ora and is totally going to kill her unless Ana gives him $5 MILLION NOW IMMEDIATELY. Oh, and she isn't allowed to tell anyone because of course this guy is a fucking genius.
Through some really Oscar-worthy screenwriting, Ana gets the money and is met outside the bank by NONE OTHER THAN LIZ THE WEIRD OFFICE ASSISTANT. She's working with Jack because he blackmailed her with a sex tape, which, sad.

Jack is all totally about to kill Ana, and tries punting her baby through her ass, but, SURPRISE MOTHERFUCKERS! She brought the gun from the desk that you'll remember from the sexy not-haircut scene! She shoots Jack, then passes out after sustaining some bruises. Christian gets her to the hospital and the baby is totally fine (head's possibly a lil dented like an old Cabbage Patch Kid, but fine). Everyone is happy.
Once home, it's revealed that Jack and Christian were actually together in the same Detroit foster home. Somehow Christian has blocked this out … kinda like how I hope to block out this two hour experience.

Christian was adopted by a rich family, Jack wasn't. Christian feels bad now. Ana reminds Christian he's a great and respectable man who "treats people well." Guess she kinda glazed over the whole "I have to beat people/handcuff people I love/wear the same pair of dirty jeans to get off" thing.
We end with a montage of all the romantic moments the couple has shared. Ana, naturally, goes into the dungeon and waits for Christian to do stuff which, I assume, involves ice cream, butt plugs, whips, vibrators, or some combination of all four. I breathe a sigh of relief. My husband, clearly emotionally distraught, returns home to watch the same curling play on repeat for four to six hours. We don't speak about what has transpired. We never will. We throw away all of our ice cream.
Images: Universal Pictures; Giphy (10)