10 Swimsuits That Are On Sale Right Now
I know it might seem crazy to be thinking about swimsuits when it's *checks weather* below 30 degrees outside, but if you're smart, you know that the best time to buy swimsuits is precisely during this time of year. Is it just me, or have swimsuits just casually out of nowhere become the same price as a month's worth of rent? Okay, that's an exaggeration but seriously, they're like $100—for just the bikini top! I miss the days when I could get a full bikini (top and bottom) for like, $30. Fortunately, you can still get a full swimsuit now during the off-season for the price of what just the top would cost during the summer. It pays to think ahead. Of course, it's a bit of a treasure hunt and sizes are limited, so I've done the hard work for you and found 10 different options that still have decent size runs available. However, I can't make any guarantees if you don't act fast!
1. L*Space 'Lay it on the Line' Bikini

L*Space 'Lay it on the Line' Gemma Bikini Top, $92 $49.97  & French Hi Waist Bottom, $99 $54.97
I personally own this bikini so I can vouch for it. And mind you, I did not purchase it on sale, so I paid almost double what you'll pay if you order it now. (It's fine, I'm fine.) The bikini is super cute, very flattering, and holds everything in. If you wanted to like, do water sports or something, you easily could jump around in this one without risking a wardrobe malfunction. But also, if you just want to lay on the beach and tan, it's great for that too.
2. LPA 'Annabel' Bikini

LPA 'Annabel' Top, $98 $38  & High Waist Bottom, $88 $22
Like most of you out there who enjoy a personal pie slice of pizza from time to time, I love a high-waisted bikini bottom. Unlike the first bikini which has a more sporty vibe, this one is more feminine, so you're welcome for the justification for ordering both.
3. ASOS DESIGN Gathered Bikini

ASOS DESIGN Gathered Bandeau Bikini Top, $26 $15.50 & Bikini Bottom, $19 $11
How cute is this lime bikini?! I mean, it'd be a lot cuter if the model wasn't wearing that scary chain necklace and giant neon hoops. But, if you can get those out of your head for a minute then you'll see it's a pretty damn cute bikini. Plus, the color will make you look tan.
4. Onia x WeWoreWhat One Piece

Onia x WeWoreWhat 'Capri' One Piece, $195 $97.50
This one piece is very Insta-blogger chic. Which makes sense considering it's from Danielle Bernstein of WeWoreWhat's line of swimsuits in collaboration with Onia (don't worry, this one has actually been released, so you're good). All you need now is a pair of white retro cat-eye sunglasses and maybe a an influencer trip to Tulum and you're all set!
5. Solid & Striped Gingham Bikini

Solid & Striped Eloise Top, $84 $51 & Eloise Bottom, $84, $51
This bikini is feminine and cute in a Hamptons-chic way, with its subtle baby pink gingham print and off-the-shoulder top. It's also on the more conservative side, so like, you could wear it on a family vacation without your dad side-eyeing you the whole time.
6. ACK Embellished Bikini

ACK Amore Eyelet-embellished Bikini, $186, $55.80
This bikini is very retro pin-up girl with some edge—it's very Taylor Swift circa the Reputation tour vibes. And you know, Taylor Swift feuding with the Wests is the exact kind of bad bitch energy I plan to bring to my relaxing beach day…doesn't everyone???
7. Zimmerman Floral Bikini

Zimmermann Honour Ruched Floral Bikini, $270, $108
One way to feel bougie on your trashy spring break trip is to wear a designer bikini. And this one is normally almost $300, but is on sale for $108! It's a feminine floral bikini but like, with cool-girl florals. There's a difference—if you've ever seen a tacky floral print, then you know what I'm talking about.
8. Cow Bikini Set

Howdy There Cow Bikini Set, $45 $22.50
Apparently cow print swimwear is a trend, and I don't hate it. If we're being honest here, I'm actually into it. But at the same time I'm not going to go spend $200+ on a cow hide bikini (does anyone know if it can even get wet?) Whatever, this one from Nasty Gal is super cute and for $22.50, I'm sold.
9. Floral Cut-Out Swimsuit

Just Wanna Have Sun Floral Cut-Out Swimsuit, $45, $22.50
This one piece looks way more expensive than it actually is, which is a quality I sure do love in my clothing. The cut-outs, florals, and subtle ruffle make it girly but cool. Plus, it's a great one piece for someone who wants to get in on the one piece trend but doesn't want to look like a grade schooler on her way to swim practice in her best Speedo.
10. Textured Buckle Strap Bikini

Textured Buckle Strap Bikini Top, $19.99 & Bikini Bottom, $14.99
So this isn't technically on sale, but it's so inexpensive it could be. This bikini actually looks like something you'd buy on Shopbop but nope, you can buy this one right along with your weekly milk and eggs at good ol' Target. Now excuse me while I block out four hours to shop there.
As you can see, you don't have to spend a ton of money on your swimsuits if you just shop smarter. Now all you need is a tropical vacation in the near future so you can put these to use.
Images: Jakob Owens / Unsplash; South Moon Under; Revolve; ASOS; Shopbop; Solid & Striped; Net-A-Porter (2); NastyGal (2); Target
Betches may receive a portion of revenue if you click a link and purchase a product or service. The links are independently placed and do not influence editorial content.
9 White Swimsuits For Your Bachelorette Weekend
When it's your bachelorette weekend, you obvi want to wear as much white as possible, whenever possible. So, of course you want your beach/pool party wardrobe to be white too. And, look, I am aware that in some less fortunate parts of the country, it's not currently pool or beach weather right now. But that's why you get on the trend of making all your friends fly to the warm destination of your choosing. (We already have fully planned-out bachelorette party guides to Palm Springs, Las Vegas, Tulum, and Scottsdale  among others, for this exact purpose, just saying.) You officially don't have an excuse! So stock up on one or all of these white swimsuits and get ready to tell everyone within earshot that it's your weekend because you're the f*cking bride.

This suit is cool, trendy, and, of course, bachelorette-worthy. The pale pink and silver metallic band gives it a sporty edge that's still super feminine and chic. Basically, this is the swimsuit you'll wear to the Encore pool party in Vegas so you can still fit in with all the young single college girls. No one will ever know which one of is over 30 while you all twerk to Diplo. That is, until they play a Lil Xan song and you have no clue who the f*ck Lil Xan is. Honestly, you don't even need to know, don't worry about it.

I've been obsessed with this swimsuit FOREVER. What better time to wear it (and allow yourself to splurge for it) then for your bachelorette party weekend? Although it's expensive, it's essential for your bachelorette weekend. In fact, please get it and wear it for me so I can just live vicariously through you, okay?

For Love & Lemons makes the most stunning unique feminine pieces, and their swim collection is no exception. Like, how cute is this two piece suit? It screams bride, which is the vibe you're obvi going for on your bachelorette weekend. Again, it's pricey but like, you only get to be the bride once! Well, fingers crossed.

Okay, this suit is straight genius, especially for the bride-to-be on her bachelorette weekend. The silhouette of the suit is hot af, and it has a trendy belt that's ideal for holding your cards and ID while you flail around drunk at the club pool. It looks like it's just a stylish swimsuit version of the fanny pack trend but, in reality, is your all around lifesaver. Save yourself the embarrassment of losing all your sh*t, and get this suit, because you're going to need it.

This bikini is so freaking cute, and the lace detail gives it the perf touch of bridal feel. It's girly, sexy, and so fitting for your bachelorette weekend. It's hot without being totally over-the-top, so go ahead and overcompensate with your tacky bride-to-be sash. No, I'm not condoning it, but I'm sure you're just itching for me to give you the okay. So, out of the kindness of my heart, I'll give you this one-day-only pass to wear it. I repeat, one day only.

This gorgeous one piece is guaranteed to be supes flattering with its pipeline details and ruffle accents. It can also be worn as a halter or a strapless, so when you're living your best life on the dance floor you don't have to worry about a potential nip slip. But, for when you're just lounging by the pool, you can convert it to a strapless suit in order to prevent any unnecessary tan lines. 

This retro eyelet bikini is to die for. The sleeves make the top unique and flattering and, since it's from Danielle Bernstein of We Wore What's collab with Onia, you know it's fashionable af. And what better time to be the most fashionable girl in the friend group than on your bachelorette weekend, right???

Okay, this one might be my favorite swimsuit option on the list. It's fun, flirty, and lacy, complete with ruffles and all, making it the epitome of the perfect bachelorette bikini. It like, legit looks like someone cut up an actual wedding dress but like, in a cute way.

This bandeau top has a detachable choker and off the shoulder silhouette, so it's v on-trend. I'm all about bathing suit tops you could get away with wearing to the bar, and with all these trendy details, this top from Gigi C Bikinis fits that bill.
All of these swimsuits are impeccable options for the bride-to-be on her bachelorette weekend, if I do say so myself. They all have the "yes, I'm the bride" vibe that you want and not the "I just picked up these suits at Target on my way here" vibe. Again, this is your last hurrah before you're a married woman! Go splurge, and more importantly, be extra. A bride's sole duty is to be extra, so embrace it!
Images: @oceanswide / Unsplash; Revolve (3); For Love & Lemons; Free People (2); Urban Outfitters; ASOS
Betches may receive a portion of revenue if you click a link and purchase a product or service. The links are independently placed and do not influence editorial content.
16 Trendy Swimsuits Under $100
Look, I work in retail we were sell some nice-ass swim brands. So, I know better than anyone how expensive swimsuits are these days. Like, just the top alone can cost you $100. Which is UNREAL, and I'll remind you again, I work in retail. Thus, my personal alotted swim budget is pretty minimal. But, finding on-trend swimsuits that are reasonably priced is easier than ever with all the online fast fashion brands we have access to nowadays. Look, it's unlikely that your bright green neon swimsuit is going to be trendy come next summer, so why spend your life's savings on something that's just a passing trend? Here are this season's swimsuit trends and affordable options for each.
1. High Cut
A high cut bottom is not only trendy, it's v flattering. It has an effortless retro sex appeal for the ultimate summer vibe. It's very vintage Baywatch-cool and allows for some variety with your summer tan lines. A flattering swimsuit that looks sexy, stylish, cool AND allows for a more even flawless tan? Could you ask for anything more???

Missguided Mix and Match Bikini Set, $24.50

Asymmetric Colorblock Swimsuit, $17.99
2. Animal Print
We already know animal print is super trendy in general for spring and summer. So it only makes sense that the trend would translate to swim as well. Whether you go leopard, snake, or any other print, pick one in a neutral color to ensure it looks expensive, not cheap. As Countess Luanne would say, "Money can't buy you class," so don't go wasting yours on a pricey swimsuit. Rather, use your best judgement to pick one that just looks expensive. And, if you don't trust your own judgement in doing so, I'm here for you, just take one of my suggestions below.


Snake Print Straight Swimsuit, $50
3. Underwire
This is another retro swim trend coming back this season. It's an awesome trend for both small-chested and busty girls alike. For those who are smaller chested, it creates an illusion of fullness and depth. For those bigger chested, it gives added lift and support. So, regardless of your body type, this is def a trend worth getting behind.

Billabong Sol Searcher Underwire Bikini Top, $49.95 and Sol Searcher Hawaii Bikini Bottoms, $39.95

Out From Under Tulip Underwire One-Piece Swimsuit, $79
4. Belted
Belts are back, and they're here to elevate your swim game now, too. The belted swimsuit trend gives your one piece more shape by accentuating your waist, and gives your high waisted bottoms an added element of fashion blogger-level style. Like, if your swimsuit doesn't have a belt this season, do you even know "fashion" at all???

River Island Plunge Bikini Top, $38 and High Waisted Briefs with Belt, $29

Warehouse High Leg Swimsuit With Belt, $45.50
5. Textured
A great way to spice up your swim wardrobe this summer is adding some texture. Whether it's through ribbed detailing or shirred smocking, an element of texture makes even the most simple bathing suit more feminine and cool. So bring on the texture, baby!


Shirred Ring Plunge One Piece, $52
6. Neon
This season, it's all about the bright neons, and this trend is the perfect complement to your summer tan. In regards to your swimsuit, it's important to glam up your neon suit as much as possible so as not to look tacky. You want to look like Erika Jayne in the Bahamas, not like you got your bikini at one of those souvenir shops on the boardwalk.

Aerie Ribbed Side Scoop Bikini Top, $29.95 and High Cut Cheeky Bikini Bottom, $29.95

New Look Color Block Shirred Swimsuit, $40
7. Metallics
Done correctly, metallics are chic and add an element of glam to your beach day style. Of course, key words here are "done correctly." If you go buy a slinky gold triangle bikini top from Wet Seal, I can't guarantee it's going to be the epitome of glam. Opt for a more subtle bronze or rose gold shade to ensure you look effortlessly beach chic.

Topshop Metallic Ribbed Triangle Bikini Top, $38 and Ribbed Bikini Bottoms, $28

Topshop Metallic Cami Swimsuit, $60
8. Knotted & Bows
Knots and bows add a feminine flair to any swimsuit. Additionally, they allow for another way to adjust your swimsuit to make it fit best to your individual body. Or, if you just want to tie your suit tighter to make your boobs look bigger, you do you, sis.

ASOS DESIGN Neoprene Bow Front Bandeau Bikini Top, $23 and Hipster Bikini, $18

Gidget One-Piece Swimsuit, $84
The official start of summer is right around the corner, so stock up on these trendy swimsuits now before all the good sizes are gone! This way, as you're getting blacked out on random men's boats, the one Sunday Scary you won't be having is whether you looked good or not. Sure you got kicked out of the bar and called your ex 42 times, but we're all about the small wins here, people.
Images: Roberto Nickson / Unsplash; ASOS (5); Urban Outfitters; Free People; Topshop (4); Aerie; Nordstrom (3); Zara
Betches may receive a portion of revenue if you click a link and purchase a product or service. The links are independently placed and do not influence editorial content.
8 Cute One Piece Bathing Suit Styles You Haven't Seen Everywhere
Whoever declared one pieces back in style should be awarded the Nobel Peace prize. This anonymous angel deserves to be recognized for helping women all across our great nation feel confident in a swimsuit again. Pretty much every girl I know is insecure about her stomach area (which totally makes sense since women hold weight in their lower mid-sections, and also that society imposes impossible beauty standards on us). What kind of cruel world is this? Luckily, for the time being, we've been liberated from society's unrealistic expectation because one piece bathing suits are vvv trendy right now. Here are the cutest one pieces in this summer's freshest silhouettes.
1. High-Cut Bottoms
LOVING this trend right now. Like, who doesn't? Without fail, high-cut bottoms make even the stumpiest legs appear longer and more lean. Not only that, they give your swimsuit just the right touch of sex appeal. Pick an otherwise simple swimsuit that features a high-cut bottom and you'll be the epitome of subtly hot. It'll look as if you couldn't possibly have any idea that all the lifeguards are actually checking you out.

Norma Kamali Marissa one piece


2. One Shoulder Strap
This style will make you look classy af and is def the chicest option right now. But, be warned, your high-fashion bathing suit does come at the expense of some awkward tan lines. So if you're okay with that, then this style is totally the way to go. A one-shoulder style is super glam and makes you look like a Hamptons regular. See you in Montauk, loser!


Kendall + Kylie x Revolve Cutout one piece

3. Belted/Tie-Waist
As if one pieces alone weren't saving the world, the belted or tie-waist detail will eliminate ANY tummy insecurity you may still have. The belt or tie feature will perfectly hide your burrito baby while simultaneously enhancing the appearance of a smaller waist. As the great Charlie Sheen once said, "#winning."

Solid & Striped The Victoria one piece


4. Sexy Straps & Cutouts
Reserved for those more daring types, a huuuuge trend right now for summer swim is borderline inappropriate cutouts and straps. Sidenote: I probs wouldn't wear these styles to the beach with your bf's fam…but idk, maybe that's just me.

Lovers + Friends Jetty one piece

5. Zipper Front
This trend is the perf combo of sexy and sporty. Somehow the zipper manages to give the swimsuit both an athletic vibe as well as a flirty vibe simultaneously. Look, I don't get how it works either, but you know, there's just some things in life that we can't explain. Like, how the hell Pete Davidson and Ariana are already fucking engaged. So like, let's move on and just know that the zipper one piece is always a good choice.

Solid & Striped The Anne Marie One Piece

Lovers + Friends Zippy one piece

6. Ruffled/Frilled Bottom
If you're going for a sweet and innocent look, this is the bathing suit for you. Like, this is the probs the one you should  be wearing to the beach with your boyfriend's fam. The ruffled bottoms give the suit a feminine and playful look without looking like you bought it in the little girl's section. The frilled bottom is very Bachelor-alum-turned-Insta-influencer, Amanda Stanton type vibes. (Although she probs did buy hers in the little girl's section so she could match with her now Insta-famous daughters.)



7. Knotted
Knotted suits are a great option if you're trying to show more skin without looking like you're trying to do so. The knotted look is very on trend, so you'll look like a girl with great style who "just so happens" to be showing off her gym progress. Fair warning, this is another style that's going to give you some tough tan lines.



Lisa Marie Fernandez Triple Poppy one piece
8. Smocked
The smocked look is a trend for both clothing and swimwear this summer. The smocked look is very summer-esque and trendy in the most non-aggressive way. So like, opposite of your blackout self demanding pizza on your way home from the bar, ya know?

Tory Burch Costa one piece swimsuit

Nicholas Rainbow Stripe one piece

Like I said, one pieces are very trendy and cool right now, so don't assume you're going to be the only one on the beach wearing one. If you want to separate yourself as the elite, stylish girl that you are, then be sure to choose one in one of the aforementioned stylish silhouettes. Let's not be basic—you're better than that.
Images: @zonde/unsplash; Revolve (22); Shopbop (2)
Betches may receive a portion of revenue if you click a link in this article and buy a product or service. The links are independently placed and do not influence editorial content.

Swimsuit Bottoms That Will Make Your Butt Look Bigger
Summer is coming up, and we all pretty much want to look like a Kardashian in our bikinis. Well… a Kardashian that isn't Rob. Sorry Rob, feel you though. Anyway, with "slim thick" being the latest and greatest body trend, it's no secret that ano skinny is out and #slimthick is in. The good news is that now you can feel slightly less guilty about having dessert because right now it's all about packing that "cake." (Yes, I do realize how I sound, THX.) The bad news is that if you're not someone who can magically channel that dessert directly to your ass, then it's time to go swimsuit shopping. But like, that's actually kind of good news too since now you have an excuse to shop. You don't have to get injections to make your ass look bigger in a bikini. Just look for these styles of swimsuits that will make your butt look bigger.
1. Cheeky/Brazilian/Thong

This one is pretty self-explanatory—the more skin you show, the bigger your butt appears. A cheeky or Brazilian cut will give an illusion of apple bottom roundness while also helping to lift the butt.
2. High Waist

Revolve MILLY Wave High Waist Bikini Bottom
Choose a high waist bottom with a cheeky cut to give an overall appearance of a toned and perky butt. This award-winning combo will really do wonders to lift your sad little ass.
3. Ruched

Free People Soleil Bikini Bottom
The ruching will make your butt appear larger and rounder by creating a flattering heart shape. The style of this bottom itself is naturally curvy, so it only makes sense that it brings the necessary help to your otherwise non-existent rump.
4. Ruffles

Free People Frilla Bikini Bottom
Adding ruffles to your bottoms means that you're adding more fabric, which then creates an appearance of fullness—the same goes for bikini tops when you're looking to make your boobs look bigger. At this point, if you haven't taken my advice and added a ruffle bikini set to your Revolve cart, then I'm sorry but we can no longer be friends.
5. White

Free People The Kate Bikini Bottom
You know how black is slimming? Well white isn't…which is perfect when shopping for a bikini bottom that will make your ass look fat. As an added bonus, a white bikini will make you look tanner, too. I see no reason not to buy like, six white bathing suits right now.
Congrats! You're now equipped to head to the beach looking, as famous one-eyed philosopher, Fetty Wap, would say, "slim thick wit' yo cute ass."
Images: Jernej Graj / Unsplash; Free People (4); Revolve
Betches may receive a portion of revenue if you click a link in this article and buy a product or service. The links are independently placed and do not influence editorial content.
8 High Leg Swimsuits That Will Make You Look Like An Instagram Model, In A Good Way
The high cut leg look is definitely the most popular swimwear trend this summer, which is probably due to the fact that everyone's obsessed with looking "slim thick" aka what Kylie Jenner's post-surgery puberty body type is. Since you probably can't afford butt implants, this style suit is the next best thing. If you have any confusion about what a "high cut leg" swimsuit is, just refer back to literally any thirst trap you've ever seen posted on Instagram with a peach emoji in the caption, and I'll bet that the chick is wearing one of these. It's inspired by the suits that the cast of Baywatch rocked. (Obviously, the cast with Pamela Anderson and not the new one with Zac Efron that you probably haven't seen.)
Swimwear with a high cut leg is basically a subtle brag. It's always super flattering, but it's not an aggressive push-up bikini top with underwire. I do, have one complaint about this style. I have absolutely no idea what it's actually called. Every store and designer has a tendency to give it a different name, or just not label it at all. Since they're as difficult to find as a seemingly normal bro on Bumble, here's a roundup of some of the best high cut suits on the internet.
This one piece is a throwback to Body Glove's classic suit from the 80's. Kris Jenner wore it then and Kylie Jenner wears it now, and you know that there's no one you can trust more than a member of the Kardashian dynasty when it comes to a swimwear recommendation.

It's kind of impossible to find a one piece with an open back that shows off side boob but doesn't totally expose the whole front of your chest, but I just did the legwork for you. Plus, I'm pretty sure that it's the exact same color as the pink polish on the nails emoji, so there are definitely lots of Instagram caption options for this one. You're like, so welcome.

These high waisted bottoms are flattering on everyone, and this metallic burgundy color looks perfect on literally every skin tone, so this bikini is a safer bet than assuming that Bella Thorne is googling herself right now.

This sweet little gingham one piece slightly resembles the tablecloth your grandmother yelled at you for spilling ketchup on at her fourth of July barbecue when you were a kid, so maybe your family won't care about the thirst trap you posted with your entire butt showing if you're wearing this.

This high leg set is the swimwear equivalent of ordering a pomegranate mimosa instead of a regular one at brunch. Like, you're kind of switching things up, but you're still being pretty basic. (And that's okay! Being basic is fun af if you do it well enough.) The eyelet detail in this suit is enough to make it look like you're not wearing the same exact thing as every other girl at the beach without straying too far from this specific swimsuit design that Kourtney Kardashian keeps wearing.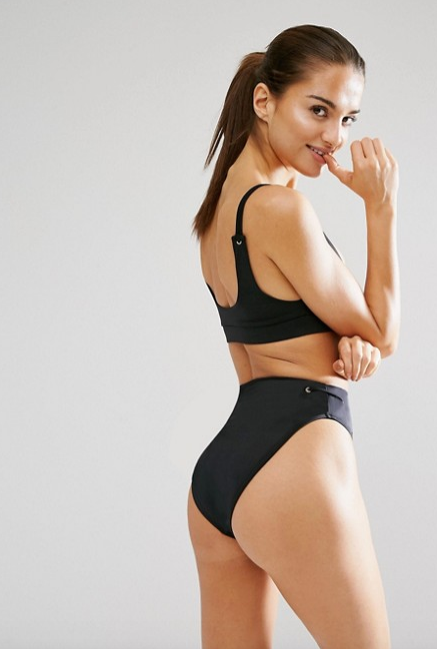 Tie side swimsuits are the number one game changer for girls who love to eat. I swear to you. Just loosen up the ties on the sides after you've got a good bloat going from ripping through your snack cooler at the beach. Nobody will ever know.

This one piece is reversible, so it's basically like having two. One side is silver metallic and the other is apricot. I feel like wearing the silver metallic one on the inside will probably make you sweat, but it's your life, so like, go for it.

Let everyone know why you left the comfort of your air conditioner came to the beach in our adorbs and sexy one piece. It comes in the only two colors that have ever mattered: white and black. Featuring a high leg and a low back, this swimsuit is perfect for taking shadily thirsty Instagram pics in. Or wear it under some high waisted shorts to the bar and watch the free drinks rain down on you.

7 Chic Beach Cover-Ups That Won't Make You Look Like A Mom
If shopping for bikinis is as unenjoyable as going to a spin class with that friend of yours that's totally obsessed with spinning, then shopping for cover-ups is going to the gym and pretending to work out with your friend who is equally as lazy as you. Both scenarios are like, definitely not how you'd ideally like to be spending your time, but the latter is definitely less sucky. Beach cover-ups are usually pretty ugly and for some reason, everytime I see one, I just picture Luann from Real Housewives of New York City. IDK, there's just something about a bad cover-up that makes me picture its wearer with a mom haircut and like, varicose veins. I don't care if you're wearing a really scandalous suit underneath it, that's just how you're going to look if you buy a frumpy cover-up. So like, obviously don't buy a frumpy cover-up. Here are a few acceptable ones.
This cover-up is perfect for when you feel hot AF in your bikini and don't actually really want to cover up. It's probably impossible to wear this without standing like Angelina Jolie in that dress with the crazy slit at the 2012 Oscars.

Matching sets are cool as shit, so obviously wearing a beach cover-up set will make you cool as shit, too. A two piece cover up is barely any more effort than wearing a regular single-article cover-up, but it will definitely make it look like you have your shit together and planned a full trendy beach outfit.


You're lucky I'm telling you to buy this so early in the season, because I'm sure that every Instagram "model" will be posting photos in this cover-up all summer. This way, even when you only get a third of the likes, you can still be excited that you had it first. You're welcome.

The best thing about this beach playsuit, besides the fact that it offers lots of cleavage options, is that it comes in a blue tie dye print—so when you inevitably spill on it while you're drinking a fishbowl at a boardwalk bar, it will probably just blend in.

This cover-up is one of the few cover-ups that actually covers up (say cover-up again), which can be your excuse for purchasing something from Anthropologie that's probably going to get thrown in the bottom of your beach bag or used to cover your face while you're laying in the sun. You can also totally get away with wearing this in a couple of different social settings, so when drinks at the pool turn into an all day event, you won't look like a Jersey Shore cast member wherever you go.

So you felt really good when you went to the beach, but then you caught a whiff of fried dough and obviously had to get some. Enter this chambray shift dress. It will literally solve all of your problems. (It might solve like, two or three of your problems. But that's still pretty good.) Any shift dress that gives you the chance to show off your bikini top is perfect for creating optical illusions, aka showing off your boobs and hiding your food baby.

If we're being honest here, (which, duh, we always are) the first thought that popped into my head when I saw this romper cover up was "that looks like a nightmare to pee in." The second thought was "that's gonna give me weird tan lines," but I promise that "I actually really like that" was definitely number three.

The Best Swimsuits For Your Summer Body, Or Lack Thereof
Swimwear shopping is the fucking worst. Even Kendall Jenner has tried on a one piece unflattering enough to make her question her entire existence. (Okay, maybe not. IDK, I'm just trying to make us all feel good.) That's why I hate that "how to get a bikini body" meme that's like, "step one: put a bikini on your body." That's just not how life works. Unless you're a celebrity that can somehow profit off of indecent exposure when suffering a wardrobe malfunction at the beach, getting the right swimwear for your body is important. Here are the best swimwear styles to outfit your next thirst trap flatter your body.
To Show Off Your Boobs Without Risking A Nip Slip
Rock a simple triangle bikini. Have you ever noticed that Kim Kardashian is almost always wearing a triangle bikini? It's because it's the most flattering style for anyone with huge boobs. Bandeaus and other strapless styles just won't stay up (you lucky bitch). Triangles are also awesome because the classic ties won't cut into your back the way a top with a clasp would. It kind of sucks to have to worry about potential back fat situations, but it's what you get for not having to stuff your bra in middle school.

Becca by Rebecca Virtue Triangle Top
Definitely stay away from: Any style with underwire or padding. It will just create extra bulk that you don't need. Even most triangle bikinis are loaded up with a bunch of padding that can make your boobs a super weird shape, so removing that is probs in your best interest.
To Get People To Comment The Peach Emoji On Your Instagram
Go for a suit with a high leg cut, duh. This silhouette basically does the same thing for your butt as a thong, but it's a one piece, so it's not as shameless… if you care about that kind of thing.

Definitely stay away from: Those bottoms that pretty much give you a permawedgie. You know, the scrunchy ones with ruffles and the elastic down the middle? They're fugly and not even the most flattering design for your butt.
To Celebrate Your Spot In The Itty Bitty Titty Committee
Pick a really cool high neck top. High neck bikini tops can be so tough to pull off, but betches with small boobs can make them look better than anyone else. The tan lines are going to be totally brutal and I really have no way to sugarcoat that, so you're just going to have to deal with it, I guess.

Rhythm Havana Floral Print High Neck Bikini Top
Definitely stay away from: Triangle tops. IDK, I barely passed geometry, but I'm going to guess that triangles are not the best shape for small boobs.
To Subtly Brag About Your Hourglass Shape
Wear a one piece. Literally almost every single one piece looks amazing on anyone who's curvy and thankfully there are currently tons of one pieces available at the moment because designers have realized that everyone's totally obsessed with them. If you have trouble fitting your boobs into one pieces, try one with lace up details or some kind of adjustable fastening down the middle, which will give you some control.

Aila Blue Spirit One Piece Swimsuit
Definitely stay away from: Suits with lots of cutouts. It's so rare to find one with cutouts that actually reveal the bits of skin you'd like to show off. Opt for a suit with an interesting back design or a plunging neckline to keep it ~scandalous~.