7 Instagram Live Workouts That Are Almost As Good As The Real Thing
There are two things that everyone has become obsessed with in quarantine: baking banana bread and at-home workouts. Let's face it. We have no control over what's going on in the world, so we're turning our focus to the things we can control, like canceling our gym memberships and tuning into Instagram Live workouts instead (whether or not we actually do the workouts is another story, but we'll still watch).
With the overwhelming amount of Instagram Live workouts that are available to us every single day, it can be hard to know which ones are actually worth it. Don't worry, that's what I'm here for. Below are the best Instagram Live workouts, so you don't have to risk accidentally tuning into a live that sucks, being the only person there, and having to frantically exit out before you get called out.
Hot Pilates
View this post on Instagram
The popular LA pilates studio full of A-list celebrities, models, and your favorite influencers tops this list. Offering classes every day, I promise you your abs, arms and butt will definitely feel the burn.
@HotPilates instructors go live for a 30-40 minute body-based workout. With the hottest music, amazing energy, and moves that will make you sweat in seconds, it almost feels like you're in the luxury studios, working out next to the hottest people in Hollywood. Instead, you're working out next to your dog in your living room, but it is what it is. 
Classes are offered every day of the week, usually beginning around 10am ET and through to the evening. The times, types of classes, and instructor information is posted daily on the Hot Pilates Instagram account. 
If you really want to feel like you're in a Hot Pilates class, crank up your heat to 85 degrees, dim your lights and light your sexiest candle. It might jack up your utility bill, though. 
Barry's At Home
Known as the best workout in the world, Barry's Bootcamp now offers Barry's at Home on IG live. 
Barry's At Home typically offers two workouts per day, at 12pm or 3pm ET, every day of the week. Depending on the class time you choose, it will most likely be a total body or band workout. Both can be done without any equipment, but if you want the exact bands they use in the workouts, you can buy them through the Barry's website.
Classes are around 25 minutes long, followed by a cool down, and are taught by Barry's instructors across the country. To no surprise, their energy is just as high and the music is just as good in their living room as it is in the Red Room. 
If you really want to feel like you're in the Red Room, buy red LED lights and turn them on during the workout. Is it just me, or does working out in red lighting make you so much more attractive?
The only con to this workout is that we can't go to the fuel bar and pick up our skinny b*tch smoothie. Really can't wait for that day.
Torch'd
Torch'd creator @isaacboots hosts Instagram live workouts everyday at 11am ET. Torch'd is a workout full of targeted repetition and body resistance. Celebrities like Kelly Ripa and Vanessa Hudgens swear by it, so that's when you know it's worth it. For this hour-long workout, no equipment is needed, but Isaac will usually wear ankle and wrist weights for that ~extra~ push.
If you love the workout, Isaac asks his followers to consider paying it forward and donate to the No Kid Hungry campaign. Together, over $140,000 has been raised so far. You can donate here.
@Karaliotta x Women's Health Magazine
View this post on Instagram
Ever heard of paper circuits? Me either, until I found Kara Liotta workouts on the @womenshealthmag Instagram. Every Monday and Friday at 12pm ET, the CO-Founder of KK Sweat and celebrity trainer (NBD) Kara Liotta hosts a 25-25 minute workout on Women's Health IG live, and all you need is an 8.5×11 piece of paper and a wall. The workouts are usually total body or booty inspired, and don't require a lot of space.
#COREntine
Every day at 9am ET, Co-Founder of Cyc Fitness and Barry's Chief Instructor Keoni Hudoba hosts #COREntine on his IG live. All you need is your body, so no excuses! You can expect a 20-30 minute core intensive workout. Keoni always ends the IG Live with an inspirational message which really helps you get out of a quarantine funk. 
Keoni is raising money from #COREntine and is directly distributing it to small businesses, organizations, and charities that need help due to COVID-19. You can send the donation to @keoni-hudoba on Venmo. His motto during this time is "socially distant, but emotionally connected".
Tyler Cameron x Phil Fit
I mean… duh. America's sweetheart, Tyler Cameron, has Instagram live workouts with his friends and trainer Phil Fit almost every day. Sometimes they're outside with palm trees swaying in the background (jealous), and sometimes they're in his living room working out with his dining room chairs. There isn't a set schedule throughout the week, but Tyler always goes live for the workout at 11am ET. 
Expect to see Phil Fit break out into a TikTok song or say "Turn Up", which I really appreciate. I miss turning up.
Most of the Instagram Live workouts are around 30 minutes long and you may need a chair or wall, but that's it. The cardio usually consists of jogging around Tyler's living room (okay, brag that you have a living room), and when they are tired they actually take a second to breathe. #Relatable
Obé Fitness
Although it's not IG Live, I just needed to mention Obé Fitness. It's an online workout experience with instructors who really know what they're doing. Some classes you can expect to see are sculpt, barre, dance, cardio, and yoga. Classes are around 28 minutes long, and you can either tune into a live class which are available every day, or pre-recorded sessions. Depending on the day, you'll be able to join live classes starting at 7am throughout 2:30pm ET on weekdays, and 9am to 4:30pm on the weekends. Obe Fitness even has wine bottle workouts. They're currently offering a 7-day free trial, so trust me on this one—you'll be obsessed. 
Images: Jonathan Borba / Unsplash; hotpilates, barrys, isaacboots, womenshealthmag, keonihudoba, tylerjcameron3, obe_fitness)
8 Paid Virtual Workouts That Are Worth The Money
I guess it took a global pandemic for me to finally realize that working out does indeed help your mood, energy level and overall mental well-being like those fitness influencers are always preaching. My stress and anxiety levels of late can only be compared to that of Harry Jowsey on Too Hot To Handle when he discovered he couldn't bone Francesca on his own timeline, and really the only thing that's helped me calm down (aside from vegging out to Netflix) has been working out. And no, I was not paid to say that. And yes, I'm aware of how insufferable I must seem now.
Fitness coaches and influencers can smell that we as a society have finally cracked and are ready to cash out on premium workouts from our own home. As a result, there's more fitness content out there than ever before—which is making it hard to sniff out the workouts that are actually worth my time when I could otherwise be drinking, or cooking, or drinking. So, we've rounded out the top paid virtual workouts that are actually worth your money so we can all come out of this perhaps not with a newer, tighter ass; but definitely having tried our damndest to boost our serotonin levels and not get depressed. 
$15/class
View this post on Instagram
Solidcore "at home" is a live 20-person group class taken with an instructor via Zoom. Using sliders and weights (or whatever at-home substitution you prefer), the workout is intense but low impact, like Pilates or Barre. They offer 50-minute full-body classes or shorter, 30-minute "muscle-specific" classes.
$13/class
HOUSEWORK was developed by Syd Miller as a full-body sculpting and conditioning class that combines Pilates and cardio circuits, and is set to upbeat music—so it's basically just, like, a healthier alternative to LIV Miami, right? She's teaching daily HOUSEWORK classes on Zoom.
$6 – $10/class
Per my Instagram feed, it's clear JABS by Gina has a cult following that has expanded far beyond NYC since quarantine began. With many different formats, JABS combines HIIT training, kickboxing, and muscle isolation workouts. She's teaching daily Zoom classes that run from 45-minutes to 1 hour each with some classes reaching a 250 and 1,000-person capacity.
$15/class
Is it even a millennial-focused workout article if I don't mention Rumble? Rumble is a boxing/cardio workout, though their live workouts are only "Rumble-inspired", so you won't be experiencing the same exact setup, naturally. They are offering a mix of virtual classes that range from strength-training to cardio and boxing, as well as offer you the option for a weighted workout or to use your "bodyweight." 
$27/month
Obé Fitness offers a wide range of online fitness videos under the four categories of Define (strength based classes), Sweat (cardio based classes), Flow (yoga and stretch classes), as well as pre- and postnatal classes, with each class being only 28 minutes. You can stream the workouts on your phone, computer, TV, or tablet. I also simply cannot help but be influenced by the extremely cute and bubbly-looking people on the Obé website, to whom I relate in no way at all. Maybe one day!
$20/class
Barry's Bootcamp is (normally) a guided workout spent partly on the treadmill running intervals, and partly on the center floor doing strength training workouts. Now, Barry's is offering virtual, 35-minute classes in the following four categories: Bodyweight, Bands, Weights, and a few traditional Barry's Treadmill & Weights classes. Knowing Barry's, if the classes are only 35 minutes, then the workout is likely very intense. Stay safe out there, folks! 
$1,495/Mirror (or $42/month)
Yes, $1,495 is a sharp increase from the $10 classes I've been listing, but rich people like to work out too. 'The Mirror', as they call it, is literally just that; but once you turn it on, up pops your own personal trainer! (I feel like that's the beginning scene of a twisted Disney movie?). There are tens of thousands of workouts to choose from, plus The Mirror is extremely chic looking and I've heard rich people like that, too. 
$2,245/bike (or $58/month)
The Peloton bike is another investment piece. It comes with a touchscreen tablet that offers guided workouts from an instructor, with workout options for on and off the bike. People who own Peloton bikes seem to post about them FREQUENTLY, so unless they're only trying to justify spending so much money on a bike that doesn't move, Peloton seems to be worth the hype. You can also virtually compete with other participants who own bikes (it's almost like this company knew something before we did???). 
Images: mr lee / Unsplash; solidcore, doyourumble, obe_fitness, getthemirror / Instagram
This Type Of Class Is The Hardest F*cking Workout You Will Ever Do
Let me first start off by saying I'm not one of those people who believes in a particular workout like a religion despite exercising religiously—for instance, I have no patience for yoga and certainly don't believe those small movements and soft sayings are going to yield the six pack I've been chasing since high school. I kid you not when I say I've tried every workout under the sun: yoga, HIIT, barre, pilates, boxing, spinning in every form they're offered in NYC. I've done Fhitting Room, Barry's Bootcamp, SoulCycle—I literally could go on and on. When it comes to working out, the only thing I believe in are results.
With that said, I was looking for a class that would complement my personal training sessions in anticipation of my upcoming wedding. And while it took me a good half of my adulthood to find what I was looking for, praise be that I actually found it in the shape of a reformer machine named . No, I'm not talking about that thing you see in introductory pilates classes, I'm talking the real thing that makes you curse under your breath and has your limbs shaking for almost an hour. My goal was to find a low impact full body workout that would get me toned, fast.

Enter , a torture chamber class that will challenge your body as much as your mind (if not more). What goes down in this room is some sh*t I have never experienced, and I truly don't know if there is anything that I hate and love more than this type of class. While this is hands down the hardest workout I've ever done, it is also one of the easiest on your joints since there is little to no impact. So, for all my other cardio haters, rejoice, because there's no jumping or running during any part and your knees won't hurt.
You spend the entire duration of the class on the machine, which is broken up into three different parts: a back platform and a front platform on either end, and a middle part, referred to as the carriage, which moves in either direction. How difficult it is to move the carriage depends on how many or how little springs you have on (see image above). There are various weights of spring load which can be adjusted throughout the entire class. There are specific moves that target different areas: think moving lunges for thighs, twisted v-ups for obliques, and kneeling shoulder presses for arms.
The core tenet for this workout is time under tension. During class, you do a series of exercises based off of planks, squats, and lunges with lots of variety to break down your muscle fibers all the way to second stage muscle failure, specifically, your slow twitch muscle fibers. This creates micro tears/trauma, which is why the workout hurts so f*cking much. But unlike most fitness classes, you will never once wonder to yourself, "is this sh*t actually working?" like I do every 30 seconds in a Pure Barre class. After class, your body will go into repair mode to heal the muscles, so they grow back stronger. During this time, your metabolism is heightened for the next 24-48 hours.
View this post on Instagram
The workout challenges you to stop focusing on calories, and to focus instead on the development of muscles you're creating. You are literally making yourself stronger, but I feel like the fact that you can endure this type of tension for 50 minutes straight will challenge your mind more than your body. Your brain will quit working out before your body actually will, so during these extreme moments of tension, you will need to mentally fight against yourself, something that you can take with you outside the classroom that will help you way past the 24-48 hours the workout will take you.
You don't need to take a million classes to see results either. "If you can only do 2 times per week, we guarantee you will see and feel changes in your body. In fact, I don't even take class every single day," explains Senior Master Coach Jacob Griffin who has been working for since their first studio opened in Washington, DC. "If you choose to show up and work hard for the 50 minutes you choose to be here, you're set." P.S. Jacob used to teach Michelle Obama, and we all know what her arms look like so…
Images: solidcore / Instagram
An Honest Review Of Barry's Bootcamp
High-intensity Interval Training, or HIIT, was a huge workout trend in 2018. It seems like boutique studios offering HIIT classes have popped up all over the city—or maybe I only recently started paying attention. Either way, Barry's Bootcamp is pretty famous for these types of workouts. Per their website, they offer "weight training with cardio and alternate bursts of intense anaerobic exercise with recovery periods to keep the heart-rate elevated throughout the workout," boasting you can burn 1,000 calories or more per workout. Barry's even calls itself "the best workout in the world", which is a pretty big flex. So what's it really like? Is it truly the best workout in the entire world? Will you die after a class? I tried Barry's Bootcamp, and I'm here to answer all your questions. Read on for my honest Barry's Bootcamp experience.
It is 11am and I'm hungover as hell in a dimly lit red room. It's what I imagine Christian Grey's sex dungeon looks like. I'm yawning and looking around at the people who are going to be sweating near me for the next 60 minutes. I see this lady who is built like Madonna during the VMAs kiss era, and a guy with gelled spikey hair and really short shorts who missed the memo that the early 2000s are over. Then again, we are in West Hollywood, the land of short shorts and peek-a-boo bulges. These two look well-rested, lucky f*cks.
The instructor walks in and immediately tells half the class to get on their assigned treadmills and the other half to take their assigned places on the floor next to an aerobic step bench (very Jane Fonda, how tbt). I go to my treadmill and press "on". Other people on the treadmills are stretching, some are walking. Fake Madonna is already voluntarily jogging. I come to learn, very quickly, that the instructor will shout three sets of numbers at us. These are mph speeds that range from beginner (hi), intermediate, and advanced. Sometimes they'll throw a curve ball and yell out percentages, which is the incline.
0:7:52 – I'm supposed to be running at a 7 speed on a 2%. I'm at a 6 on no incline, sweating out all my sins.
0:7:03 – F*ck this, I'm walking.
0:7:45 – I enjoy a leisurely stroll. People on the treadmills next to me are sprinting like they're running towards alcohol and drugs. I imagine this is what I look like walking to happy hour.
0:7:58 – I get yelled at for not sprinting.
0:7:59 – I'm sprinting at 9mph and briefly wonder if I'll be flying the f*ck off this machine.
0:8:15 – The sprint ends. I suspect I have gone into cardiac arrest.
0:10:00 – The treadmill and floor sections switch. 50 more minutes to go.
The floor sections aren't any easier, they're just a whole different kind of pain. Turns out it's nothing like Jane Fonda's workout videos. I went on Tuesday (a legs and butt day in Barry's Bootcamp world), and on my 390,294th squat I wonder if I will ever be able to walk again. The combinations of squats, lunges, step-ups, dead lifts and a bunch of other sh*t will have your arms hurting too, because you will no longer feel your legs. At this point, you're just doing what the instructor tells you to do. It's Nike's slogan manifested.
However, despite all the pain, I found myself enjoying it at some point. Maybe I do belong in Christian Grey's sex dungeon after all? IDK. I don't remember at what point the workout became addictive and empowering, but it did.
By the time the hour ends and I survive another two rounds EACH on the tread and the floor, I am exhausted and need a shower and a nap. I grab a "Skinny B*tch" smoothie (no, literally) from their smoothie bar and almost fall down the stairs walking to my car. The next day my legs and butt feel so satisfyingly sore. At one point I catch a reflection of myself in a store window. I'm limping down Hollywood Blvd with a really pert ass. Love it. Even though I legit died, my ghost went back to Barry's two days later, and even live to write about it. I am everything I hate in this world.
6 Moves To Tone Your Legs And Butt For Shorts Season
After a god-awful winter and no spring season whatsoever, summer has arrived, and it literally has no chill. We totally skipped over denim jacket weather and basically went straight to face-directly-in-the-AC-vent weather, so it's time to dress accordingly. If you're putting on your shorts for the first time in a year and notice your legs could use some much-needed toning and tightening, don't panic. Do these six leg exercises, and once you're done, repeat the whole circuit another three times to really tone and strengthen your legs. And also, like, try not to cry when you sit down tomorrow. Consider yourself warned.  
1. Curtsey Lunges
Regular squats and lunges can get boring and repetitive, so trying out different leg exercises and variations help target your muscles in a different way. Curtsey lunges are great because they hit various muscle groups in your quads and glutes, and they also challenge your body's overall balance and stability. They're v underrated. The idea here is to lunge backwards like you would regularly, but instead of bringing your knee directly behind you, bring it in a diagonal direction, crossing behind your other leg. Like a curtsey, get it?? Bend your knees and lower your hips until your thigh is parallel to the floor. Then, return to standing position and do the same on the other leg. Complete 10 reps per leg, and if you feel like it's too easy, hold a weight in each hand to add resistance.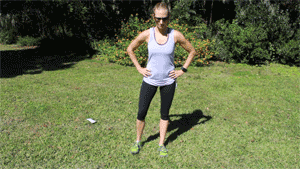 2. Swiss Ball Hamstring Curls
This exercise is based on using a swiss ball, but if your gym doesn't have one, this can also work using TRX bands or the rowing machine. Begin on the floor by lying on your back with your feet up on top of the ball. You want your ankles to be on top of the ball when your legs are fully extended. Raise your hips off the ground, keeping your weight in your shoulders and your feet. Then, flex your knees, pulling the ball inward toward your body while squeezing the backs of your legs. Once the ball is "curled" inward, straighten out your legs again, rolling it outwards. Aim for 15 reps.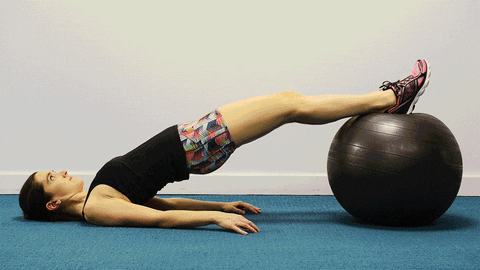 3. Single Leg Glute Bridges
Glute bridges are a classic butt exercise, but by focusing on one leg at a time, you also hit your hamstrings, which are the muscles that make up the backs of your legs. You're basically getting the best of both worlds because you're working your thighs and butt in one simple move. Lucky you. Lying on a mat, keep your hands at your sides and your knees bent out in front of you. Then, extend one leg as you lift your butt off the ground, squeezing your glutes and lifting your hips toward the ceiling. Think about pushing down with your left heel as you lift. Do 10 reps on one leg and then switch to the other.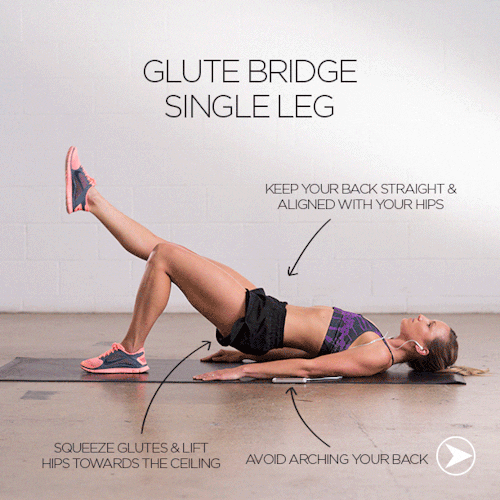 4. Jumping Sumo Squats
We tend to do a lot of squats and jump squats in our leg workouts, but the sumo squat is a different variation that a lot of people ignore. The idea here is to do a jump squat, but your stance is more like that of a ballerina, with your toes turned outward and your legs further apart than they'd usually be. This way, when you squat down, the resistance shifts from your quads to your glutes, and it becomes more of a butt-focused movement. You're also getting your heart rate up and burning calories because like, you're jumping. Duh. Try doing 15-20 jumps without stopping.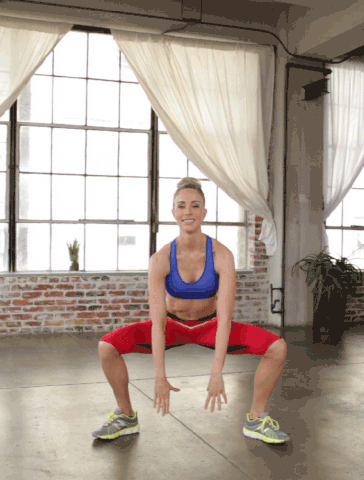 5. Elevated Reverse Lunges
Reverse lunges are a staple leg movement, and by elevating your front leg, you're adding pressure to that leg's quad muscle, and you REALLY feel the burn on these. The idea here is to find some sort of box or elevated step that you can put your front foot on, and then lunge backwards, bringing the back leg even further down than you would on a regular surface. This way, your quads get more resistance—kinda like when you turn up the torq on a spin bike. Remember to keep your chest up and head straight the whole time to avoid leaning forward. If these are too hard, lose the elevation and just do lunges on the ground. And if they're easy, hold a weight, like the badass chick in this gif.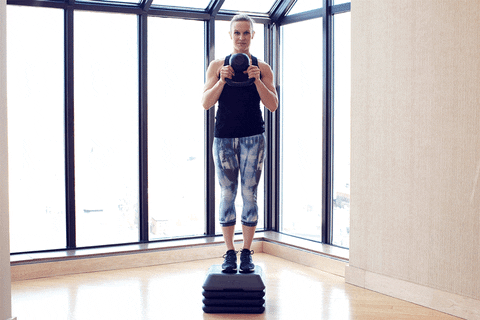 6. Wall Sit
Wall sits look relatively easy, but you might notice after a few seconds that your thighs are on fire and you want to die. This is normal. This move is also great because your body is basically in a squatting position, but your back is protected, so you can really engage all of the muscles in your legs to keep you stable. With your back flat against a wall, set your feet about shoulder-width apart, about two feet out from the wall. Slide your back down the wall, bending your knees as low as you can get. Hold the position for one minute, and remember to contract your abs while you're holding it. Your legs will probably start shaking, but that just means it's working. Just think about how good your legs will look in your new romper.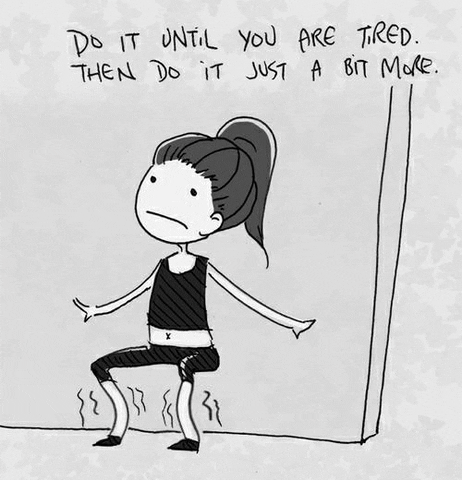 Images: Shutterstock; Giphy (6)
How Workout Classes Trick You Into Thinking You're Burning More Calories
In a bizarre turn of events, we're living in a time when Donald Trump is our president $34 workout classes are normal. Boutique fitness is taking over the workout world, and whether you're a cult follower or just someone who needs a 45-minute sweat before the workday, you've probably been drawn in by a class or two. With so many studios in the market, getting you to book a spot in class is getting competitive, and studios love exaggerating the effects of their workout classes to get you through the door. Here are some ways these workout classes might be tricking you into thinking you're burning more calories than you actually are.
1. The "Fat Burning Zone" Obsession
A lot of fitness studios use new technologies to track your heart rate and count how many calories you burn in each class, and honestly, these numbers aren't always indicative of a good workout, and just because your heart rate isn't in a certain zone, doesn't mean you're not burning calories.. If you're working hard in any class, you'll know when you're getting a sick workout, and you don't need to be told that you're in a specific "fat burning zone" to accomplish that. Trainers have literally come forward and admitted that although you could be burning a few extra calories while your body is in a specific fat-burning zone, it's a waste of mental energy to worry about it, and it doesn't make that big of a difference when it comes to burning fat. If you're particularly into the heart rate monitoring, go for it, but if it's not your thing, it really doesn't matter.


2. The AC Issue
The air conditioning of a studio depends on specific factors, like the building it's in and what the weather is outside, but if you feel a little warm as you're walking into the class, it's probably on purpose. A lot of spin studios and other bootcamp-style classes make the rooms hotter than normal to make sure you start sweating as soon as the class starts, and you end up drenched by the end of the workout. This doesn't mean you're not getting a good workout, but sometimes if you're dripping in sweat, you're tricked into thinking you burned more calories than you actually did. (Unless you signed up for a hot yoga class—obviously.)
3. The Class Right Before You
This goes hand in hand with the AC issue, but honestly it deserves some recognition because it's SO true. Ever notice that you're already kinda hot and sweaty if you walk into a fitness studio right after the previous class just ended? That's because the room is literally warmed up. And it also probably smells disgusting, but let's discuss that another time. While some studios leave 20-30 minutes in between classes for the staff to clean up and air out the room, a lot of busy studios have back-to-back classes without letting the room breathe in between. You end up sweating more and thinking you're burning more calories, but you're not getting a better workout just because you're drenched in sweat. Odds are, you're just doing the same shit in an already sweaty room. Sorry.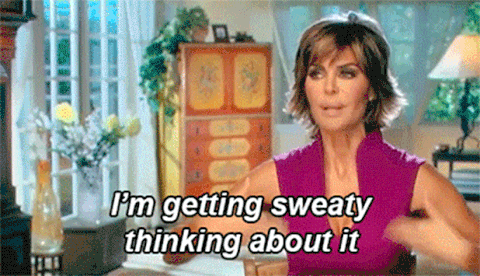 4. The Burnout Effect
In strength training, there is a legit and effective concept called "burnout sets," where you perform a certain exercise repetitively to exhaust the specific muscle. However, group workout classes have taken this idea and used it to make you think you're burning more calories than you might actually be burning. If you've ever spent like, 10 minutes in a barre class doing pulsing squats or felt the burn in your shoulders from the 2-pound weights in spin class, the fire in your muscles is from these burnout-style moves. However, this burning is not always indicative of how effective the workout actually is. You're fatiguing the muscle, but that can be done just as effectively with less reps and heavier weight, so you're just spending more time focusing on the burn. You're literally exhausting your muscles, but that doesn't always mean you're accomplishing more than you would with a regular-timed exercise set.
5. The "Full Body" Trend
This is another fad that workout classes use to draw you in and convince you you're getting some ultimate, total-body sculpting sweaty workout. The "full body" buzzword sounds like you'd be burning a ton of calories, but sometimes targeted workouts that don't work out your entire body can burn just as many calories. It's a marketing strategy, and it's working on you. Full body workouts are great for you, but don't think that if you're just doing an upper-body strength workout that you're not getting as effective of a workout. In fact, sometimes studios just add in moves that target extra body parts to make sure you're super sore the day after, which, once again, isn't always proof that it was a good workout.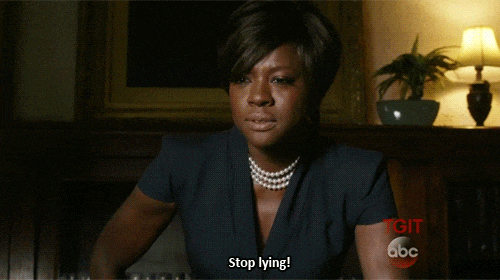 6. The Extra 15-Minute Class
After every Upper East Side mom tried the regular 45-minute classes and still had an extra 15 minutes before the 12pm rush hour at Whole Foods, studios decided to make their classes longer, adding in another 15 minutes to get an even better workout. While these longer classes obviously burn more calories because logically you're working out for a longer amount of time, don't think that these extra few minutes are necessary. HIIT style classes in particular are meant to push you to your limits in a short amount of time, so if you know you're sticking around longer, you might end up pacing yourself (aka not trying as hard the whole time) and burning the same amount of calories that you would have in the shorter class where you'd go all-out from the beginning. Class timing isn't everything, so if you don't want to do burpees to a Meghan Trainor song for another 15 minutes, don't feel guilty about it. We certainly don't.
Images: Martin Barak / Unsplash (1); Giphy (6)
I Tried Tone House, The "Hardest Workout In NYC," And Barely Survived
In a recent article about my experience at a Shock Therapy workout class, I referenced another traumatic fitness experience I willingly put myself through, and some people were curious to hear more. Well, actually only my boss, but whatever. If you clicked on this article, I'm guessing you want to hear about my suffering as well. Tone House had been on my list for a while, and when I finally tried it, I barely made it out alive, so excuse me if this recount of the experience is slightly distressing to talk about. Here's how it went down.

First of all, Tone House is marketed as an "extreme, athletic-based" group fitness class that is supposed to "unleash your inner athlete." Business Insider called it "the hardest workout in New York City." Unfortunately for me, I was picked last in kickball throughout middle school, and that's about the extent of my athletic past. I also think I played tennis on a date once. You get the point. Nonetheless, although I'm not an athlete,  I work out regularly and consider myself in pretty good shape, so I wasn't that worried. I live in New York City and I've tried everything from Barry's to CrossFit to boxing to legit barbell training, so I figured an athletic-style fitness class couldn't be too hard.

So…. I was wrong. As soon as I got to the studio, which basically looks like a dark torture chamber decked out with black grass turf, red lighting, and jacked trainers, I knew I had made a mistake. Within seconds of class starting, shit got real. We started out in a huddle—I shit you not, a *team huddle*—where we made a bunch of aggressive noises, chanted something about "leaving it all on the turf," and angrily high-fived each other. Then, the warm-up began and the hell ensued.
We literally ran around the room at full speed, galloping over hurdles and doing fast burpees in between cones. I thought about slowing down at one point, but considering there are people inches away from you, it wasn't an option. Plus, the instructors are clapping in your face and yelling HUSTLE so you kinda have no other choice. Between the scary red lighting and the 50 burpees within the first five minutes of class, the whole warm-up was a blur. 

Then, we got into the start of the real class, which thankfully included *taking turns* in our torture, so I actually had a minute to check my phone catch my breath in between rounds and try to forget about how nauseous I was. The workout included heavy sled pushes, bear crawls, gallops, more bear crawls, box jumps, more gallops, and this horrible sequence where we had to put our feet on gliders and do push-ups around the entire room while knee-tucking our way around the turf. For the record, I finally understand why bear crawls have that name. These regulars look like actual animals aggressively hunting their prey. I was both impressed and literally frightened. 

At the end of the class, (which was only an hour but felt like a whole day), everyone got back in that goddamn huddle and chanted some shit about teamwork and hustling. I felt like I was cast in a dark Nike commercial by accident. By the time everyone high-fived me like we were on a summer camp color war team together, my hands were literally bleeding from the turf and I couldn't fake a smile if my life depended on it. I must admit, looking back, it was slightly entertaining to see grown men clapping it out in an intimate sweaty circle. But then again, maybe that's just a sports thing. 

But wait, the story doesn't end there. The worst part of the whole thing is that as I walked out, promising myself I'd never go back, some hot blonde instructor in the locker room (who also happens to be Amy Schumer's personal trainer) told me it gets easier the second time. I decided to believe her and I showed up for my second class a couple weeks later. I guess my inner athlete still didn't feel like showing up that time around because it turns out it wasn't easier AT ALL. In fact, I actually feel like I'm gonna vom by just remembering those post-class feelings. Do they call those endorphins?
Images: Justyn Warner / Unsplash; Giphy (5)
6 Popular Workouts That Are A Waste Of Time And Money
It's 2018, which means there's a gluten-free section on every brunch menu and a boutique fitness studio on every other block. Then again, our two main talking points these days are Kylie Jenner's pregnancy and Oprah Winfrey's presidency. So like, what a time to be alive. But back to the workout thing, there are actually so many fitness classes you can take, and each one tells you they'll help you burn calories, get toned, look good, etc. Some of these classes need to be called out on their bullshit, and we're here to do just that. Here are some workouts that are wasting your time and money.
1. Aerial Yoga
Also known as Anti-Gravity yoga, aerial yoga is a popular choice among 22-year-old girls who want to do something active on a Saturday to get a cute Instagram and make themselves feel better about the liter of tequila they'll be drinking later. If you've never heard of this type of workout, picture Cirque Du Soleil meets Lululemon for $38 per session. The idea is to do traditional yoga poses on a cotton hammock hanging from the ceiling. It sounds pretty bizarre, and that's because it is. We're not saying this is a total scam, but unless you're an experienced yogi with a ton of balance and a legit certification, you're prob not getting anything out of this class. Like, by the time you finally get the hang of it, the class is over and you didn't get any of the poses right, so you're wasting your time. If you want a more legit workout, skip the anti-gravity bullshit and go do regular yoga.

2. Aqua Cycling
Aqua cycling is another one of those fads that draw in a group of girls who "don't looove spinning, but would def try it in a pool for the experience." Honestly, find yourself a different experience. Peddling your legs on a bike underwater will obviously give you a workout, but the burn you feel is more intense than the calories you're actually burning. Like, there's a reason people don't run marathons in swimming pools. Because of the laws of physics it's clearly harder for your body to move in water, but that doesn't mean your heart rate is any higher than it would be on land. In fact, you're moving a lot slower, so the calorie burn doesn't even compare. Plus, let's not even get started on the amount of germs in that pool. Do you know how many people already sweat in that water before your 7pm class? Pass.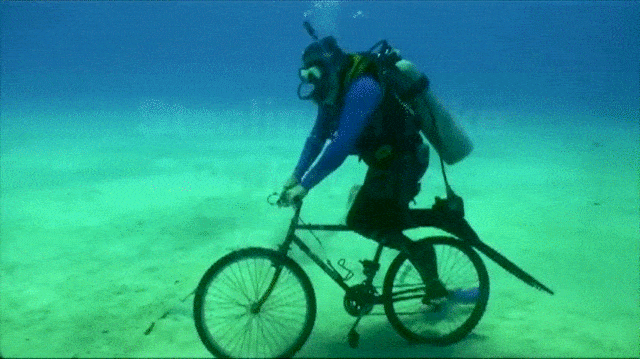 3. The Spin Class Arms Segment
This isn't a workout class itself, but it's a v controversial part of every spin class, so it's time to address it. If you've ever taken a cycling class, you may have noticed that about two thirds of the way through the class, the instructor tells you to peddle slower while you take out two one-pound weights and do a few shoulder raises and arm circles. During this time, you've probably thought to yourself, "This fucking hurts! I never knew 90 seconds of one-pound weights could actually tone my arms!" That's because it won't. Simply put, this arm segment is bullshit, and it's not doing anything for you. While your arms are burning from the pulsing exercises and you may be sore tomorrow, a short interval of light weights isn't actually doing much for your arms, and it only feels that hard because your body is already so exhausted from the intense spinning you've been doing. But it can fuck up your back pretty easily, so it has that going for it. You're better off skipping this part and doing a legit arm workout at the gym another day. Sorry.

4. Barre
People might kill us for this, but we're calling bullshit on most barre classes' claims. We're not saying that barre isn't a good workout at all, but it's definitely not doing what you think it's doing. Barre studios promise to create "long, lean muscles" and make your body "toned but not bulky." If you know anything about the mechanics of the human body, phrases like these are literally nails on a chalkboard. Whether you're using heavy weights or resistance bands with pulsing movements, your muscles can only do three things: get bigger, get smaller, or stay the same—you can't make them "longer" or "leaner." The low-weight, high-volume movements in a barre class can definitely help you get stronger over time, but all the marketing about getting small, pretty muscles is just scientifically impossible. Ballerinas may look that way because of their genetics and restrictive diets, but the barre isn't giving you that look if you weren't born with it. Sorry if you already spent $18 on the socks.

5. The Cardio Class At Your Local Gym
I know regular gyms offer classes and not all of them are horrible, but chances are, if you're attending a class called "Cardio Blast" taught by a 63-year-old woman named Gladys, it's probably not that intense. If you're attending cardio classes at your gym that make you dance around, squat in place, and do a few step ups, you could probably be spending your time more wisely and burning more calories. Any workout is better than no workout, but if you think this is really more effective than doing HIIT on the treadmill or the rower, or taking a bootcamp-style HIIT class, you should reconsider. I mean, a couple Equinox classes with celebrity trainers may be the exception, but the rest are probably not worth it. If you need to find a partner halfway through class to hold their feet down while they do a few crunches, look elsewhere.

6. Pole Dancing "Fitness"
I think somebody made a joke one time about pole dancing being a sport and someone took it too seriously. In case you've never heard of this sad phenomenon, people are literally signing up for pole dancing classes thinking they're getting a legit workout. There are so many problems with this, and I'm not even sure which to point out first. Let's ignore the moral, ethical, and political issues for now and stick with the actual workout. I've never taken this class myself, but I can only imagine the workout you're getting by soberly spinning around a pole and doing a few booty pops is sub-par, at best. Consider that strippers and burlesque dancers might be good at their jobs because they're strong, not the other way around. Unless you're Kate Upton, working out isn't supposed to be sexy, so please save yourself the time and skip this class. And don't follow the instructors on Instagram either.

Update: After some recent commenters pointed out my misinformation on pole fitness, I'd like to update my claims with a few facts. As I mentioned previously, I've never done a pole fitness class, and simply stated my thoughts based on some colleagues' experiences in the class. However, after doing some research of my own into the science behind the workout, it turns out pole can be a v efficient workout if you go to the right class. Personally, I don't think I would feel any effects of it until I've gone a few times and gotten a hang of the moves, so it may not be the best use of my time and money, but it turns out pole dancing can actually be a killer workout that not only tones and strengthens your body, but also improves your balance, flexibility, and coordination.
Considering you're only using the pole and your own bodyweight, the amount of core strength you need is insane. Like, all the planking in the world won't give you this type of ab strength. Plus, it's super intensive when it comes to both cardio and upper body strength. You're basically working your arms, shoulders, upper back, and legs in one workout, so it adds up to a legit calorie-burn, too.
Moral of the story: Pole fitness seems like a really intense workout and I feel bad for misjudging based on some misinformation. Anyone wanna take a class with me?