How Many Calories Your Favorite Workout Classes Actually Burn
Group workout classes are great. You're motivated by the overachieving people in the front row to work harder, but you also don't feel super sh*tty about yourself because there is usually someone who's just as lost as you. But even if you're not perfectly coordinated (me in dance cardio classes), you will likely still be dying at the end of a class, if you're doing it right. Obviously, not all workout classes are created equal, and some will burn more calories than others. So I did the research to find out if cycling is really kicking your butt, if CrossFit is really worth it, and more. Read on to find out how many calories workout classes burn. For reference purposes, I reported the number of calories burned for a woman who is 155 pounds. So your mileage may vary, but here's a good reference guide to the calories burned in your favorite group fitness classes.
HIIT

Also known as high-intensity interval training, HIIT classes involve lots of sweating, heavy breathing, and typically burpees. As the name implies, they are structured in intervals of high-intensity workouts. Typically, you push yourself to the maximum for 20 to 90 seconds before taking a short break and doing it all again. Due to the intensity of the workout (say "intensity" again), you can burn up to 900 calories in an hour. The harder you work, the more you'll burn. Either way, you'll for sure need a shower and nap after this workout.
Kickboxing

If you want a major confidence boost, take up kickboxing. This high-intensity workout will test your balance, endurance, strength, coordination, and flexibility. Not to mention, you'll feel like a total badass when you master a mean uppercut. A 155-pound woman could burn around 740 calories in an hour of kickboxing class. Speaking from experience, you'll work legit every muscle in your body, and I can guarantee you'll be so sore the next day. Have fun walking upstairs!
Cycling

Personally, cycling is my favorite workout. The high energy and fun music makes me forget about how much the instructor is kicking my ass. According to this calculator, you could burn 637 calories for a one-hour spin class working at mid-intensity (which means that you could still have a conversation). Personally, I can barely breathe midway through a spin class, let alone have a conversation, but sure.
CrossFit

Say what you want about the people who swear by it, but this workout is no joke, and you're able to burn almost 800 calories in an hour (so I guess those bros are doing something right). It's a high-intensity, constantly changing workout that involves exercises like push-ups, pull-ups, and squats. Honestly, I don't feel like I need to explain it further—if you want to know more just go up to the nearest person you know who does CrossFit and breathe in their direction and they'll tell you all about it.
Circuit Training

This workout may be hard, but it is never boring. It combines a variety of different exercises to work different muscle groups that you move through with a short or no break in between. Your heart will be racing basically as soon as you start. In a one-hour class (or workout you do yourself, which I'm v impressed you are motivated to do), you could burn up to 547 calories.
Hot Yoga

Well for starters, it's hot, which some people hate but I personally love. You sweat balls, which always makes me feel like I'm working 10 times harder that I probably am. The heat also helps you release toxins and loosens your muscles so you can have a deeper stretch. For an hour hot yoga session, you could burn up to 500 calories. You can also improve flexibility and reduce stress.
Barre

I don't think I've ever left a barre class when my legs don't feel like Jell-O. Even though I danced ridiculous hours as a child, these classes are very hard. In case you missed the trend, barre is a combination of ballet, yoga, and pilates poses and exercises to work muscles you never even knew you had (or at least, that's the case for myself).  You can burn more than 400 calories in an hour class and tone your muscles. These ballet-inspired classes will make you feel like a classy ballerina.
Images: Scott Webb/Unsplash; Giphy (7)
7 NYC Workout Studios That Give Free Classes To New Members
You know how you don't really like cupcakes that much, until they're in your office and free? (Okay, maybe that was a bad example because everybody loves cupcakes, but you know what I mean.) That's because it's basically a scientific fact that things are significantly better when they don't cost money. Another prime example of this phenomenon in action is workout classes, which, if you live in New York, usually cost the equivalent of a human soul, so finding any kind of deal that offers free workout classes is better than your f*ck buddy telling you he's finally ready to date you. Still waiting that one out, but you get what I mean.
Anyway, even though New York robs us every damn day, sometimes this godforsaken city gives back and offers us free workout classes when we're new to a studio. So if you want to get swole while you save (I hate myself) then check out these seven workout studios offering very generous new member specials. Yes, I've done every single one of these places because I live in the seventh most expensive city in the world on a writer's salary, so I take what I can get, especially when it comes to free workout classes. 
Okay, after I read GRIT's deal online, I called to make sure it wasn't a typo because it was that good. Rest assured, it's not a typo. If you buy the new customer intro offer, for the price of one class, you get a free class, a "bring a friend pass," a GRIT gym bag, and two free drinks at the GRIT bar. To put that in perspective, one class is $36, so you get all of this swag, a free class and a buddy pass for basically nothing. If you don't buy this special right the f*ck now, I am judging you. 
If you've never heard of GRIT, you're welcome. It's interval training with three stations: heavy bags, treadmills, and floor exercises. So basically, it's Barry's but with boxing. It also has serious night club vibes, so if that sounds like your cup of tea, drink up!
Swerve is your basic spin studio, but believe it or not, I don't mean that in a bad way! One class is $34, but if you buy the new member special, you can get two classes for $40. That's basically buy one get one free, which sounds like a pretty good deal to me. If I had to compare it to another spin studio, I would say that it's most similar to FlyWheel, except for the fact that you're assigned to a team and the teams are racing each other. If that isn't really your jam, you don't have to buy into the whole team/race thing and can just ride your bike instead, but if you are Tonya Harding-level competitive (hi neighbor), then you will love this place. 
Tbh, I've only done the barre classes here, but Exhale is not your average barre class. It's really f*cking hard and well worth the price. However, if you're not down to shell out the money you were going to spend on a new fall jacket, you'll love the new client two-for-one special for $37! As a writer, I was taught to write what I know, so I'm only going to talk about the barre classes, but this place also offers cardio and yoga classes. 
The actual workout at Exhale is really great. Thankfully, there are no little inflatable balls that you're somehow supposed to balance on your joints while tucking, micro-moving, or whatever else you do in other barre classes. The only equipment you use at Exhale includes a resistance band, weights, and sometimes a TRX band-like strap that's fastened to the barre. You will most definitely be shaking by the end of the class, but it's very much worth it. I bought a 10-pack of barre classes and noticed a serious difference in my arms and abs, which is something I never thought I'd say. 
I will never not LOL at this studio's name, but they have a fab new member deal that makes up for it. One class is $34, but they're offering two classes for $28! Either they're really bad at math or really generous. This place offers three types of classes, all of which take place in a 50-degree studio. I know what you're thinking, "Wait, that sounds les mis!" And it is for the first few minutes, but you actually get a way more effective workout in the cold than you do in the heat because science. (And because you're not sweating like a grease monkey—my less science-backed opinion.) Whether you choose a HIIT, Slide, or HIIT + Slide class, you'll definitely feel the brrrn (sorry, I had to). By the way, HIT uses battle ropes and weights for total body strength and conditioning, Slide is a low to mid-impact class focused on light resistance training and lateral training on the Brrrn Slide Board to improve balance and core strength. 
For the mother of all deals, CorePower offers a full week of yoga classes for free. In other words, seven free yoga classes. Back when I lived in Atlanta, my apartment was above a CorePower, so I did the free week, and after the free week, I ended up purchasing an unlimited membership and went nearly every day. CorePower's free week is definitely a gateway to spending a ton of money, but it's so worth it. This is a hot yoga studio, which offers a great workout that also feels very relaxing. Like most yoga studios, they offer a variety of types of yoga classes that range in difficulty, but my personal favorite is the Yoga Sculpt, which is just a regular flow, but with weights. Look, no one is neutral about hot yoga since you either love it or you'd rather die than be stuck in a hot room for an hour, but if you do enjoy Bikram, you will definitely like CorePower. 
Tbh I felt like I was training for the f*cking Marines when I took Orangetheory, but I did it for the free class they offer new clients. There's an OT on like, every block in every city, so if you haven't noticed this place exists, I don't really know what to say to you other than be just a little bit more observant? If you've walked by them a million times but don't understand what they are, allow me to explain. To me, OT is a less intense version of Barry's Bootcamp. It's high-intensity interval training, but you won't feel like you need to chop all of your limbs off because they ache so badly after a class. There's a treadmill section, a floor section, and a weights section, so if you're into that, definitely sign up because your first class is free, so why not? Plus, apparently you're still burning calories even after you leave because the exercises are designed that way. Something about the orange fat-burning zone…or something. Look, I was focused on not dying in class, not learning. 
If you like boxing, you will like Overthrow, especially because you get a class free when you buy your first one! More importantly, the workout is really good. Most of it takes place on a heavy bag, but there's also some light sparring and, of course, a miserable ab workout toward the end. Why must all boxing classes force us to do ab exercises after we've spent all of our energy beating the sh*t out of a 100-pound bag? Anyway, Overthrow's bag section is really intense and you will def need a nap afterwards. First, the instructor will go over the basic punches and then assign each one a number so that he can quickly make up combinations for you to use on the bag. Ever heard the phrase "1-2-punch?" That comes from boxing! 1 is a jab and a 2 is a right arm cross. These are things you'll learn at Overthrow. So the combinations are obviously a little more challenging than two punches at a time and they are absolutely a workout. During the last few minutes, it becomes very clear that everyone is dead, but not before sparring and abs! 
Images: GRIT BXNG; gritbxng, swerve fitness, exhalespa, brrrn, corepoweryoga, orangetheory, overthrownewyork / Instagram
10 Workout Classes To Try In New York Right Now
The one thing I hate almost as much as public displays of affection is people who never shut the f*ck up about how much they work out (you know who you are). Like, we have eyes so we get it it, you're fit! The thing is, I also work out a lot, but I keep that sh*t to myself and pretend that all I do is eat pizza and binge SVU marathons, and just happen to have toned arms. Like, Emily Ratajkowski does that and she seems to be doing just fine. Even though she famously and allegedly doesn't work out, her incredible body indicates otherwise, so like…what's the deal here? Anyway, for those of you who want to get swole for the Soho House pool or the Coney Island beach (see ya there, homies), these New York workout classes are a must. They are hard enough that you're actually doing #werk, but not so hard that you feel like you've just joined the Marines.
Full disclosure, I mostly spin because I need the most effective cardio to rid my body of evidence that I eat cheeseburgers more than once a week, so there may or may not be more than one spin studio on here. However, because I'll give anything a go, as my sex injuries can attest, I've tried almost every workout class New York has to offer. Here are my favorites.
The Monster Cycle
I love SoulCycle as much as every other Pumpkin Spice Latte-loving betch, but since my favorite instructor left me to open London's first Soul, I had to look elsewhere for my dose of spin. TBH, I refuse to go to FlyWheel because my Tanya Harding-level competitiveness cannot handle the scoreboard situation there, so I headed to The Monster Cycle in Soho, and let me just say, I f*cking love this place. It's adorned with hardcore S&M decor, which definitely made it feel really welcoming (lol, kidding).
In all seriousness, this place has a v specific vibe (S&M/goth), but it's so cool and everyone who works there is actually incredibly nice, which I wasn't expecting considering the mannequins f*cking upside down in a harness hanging from the ceiling is fully a thing in the reception area. Ok, so you go downstairs to the studio where there are no assigned seats, so get there early otherwise you will end up behind a pole in the back. No thx! Two things set this place apart and will keep me coming back forever. The first is the fact that there are two giant TV screens on either side of the instructor and the screens project the music video of the song that's playing, which is really helpful because they give me something to think about other than how much my legs hurt. The second is that this place literally always has flash sales. This feels really refreshing, considering every other New York studio just wants to make sure I won't be able to afford to send my future children to college. The amount of calories you burn depends on your intensity. So when Demetre tells you to turn the knob to the right and sprint, you should, because there is potential to burn 400-700 calories in the 45 minute class. 
305 Fitness
The only reason I tried this place is because it's three blocks away from my apartment. 305 is a f*cking dance party, y'all. If you follow their Instagram, you'll notice that every single instructor has an incredible wardrobe and can dance like they're about to be hand-selected for Coachella performances by Queen Bey herself. I was initially nervous to try 305 because I'm a good dancer, but I'm truly horrible at remembering choreography—which is probably why my dance career ended in 10th grade, but whatever. It's fine. I'm fine. Here's the thing: 305 requires zero memorizing! PRAISE F*CKING BE! Katie is my fave teacher and she is like a tiny blonde ball of energy who can make a really accurate siren sound with her mouth. I'm sure you're wondering why that tiny detail is important, and it's because she makes that sound when it's time to switch sides, turn around, get low, or what have you. 305 isn't dancing like, pirouette and leaps, it's like high-intensity Miami-style club dancing. Wow, cool, that's the whitest thing I have ever said in my life! No wonder Miami club dancers always have bikini ready bodies because you can burn up to 900 calories per class. My point is, it's fun dancing that requires you to give absolutely no f*cks if you want to enjoy it. Highly recommend, especially if your dance floor moves need a little face lift.
Exhale Barre
Not all barre classes are created equal, and that is a fact! When I used to live in Atlanta, I lived above a Pure Barre, so I got a membership because it was convenient, but I literally took a class five days a week for three months and looked the exact same on day one as I did on day 90. What's that about? It about the fact that barre classes generally focus on toning rather than calorie burning. The average barre class burns 250 calories (along with your ability to walk for the next week). Anyway, I was skeptical to try any other barre classes after Pure Barre, especially really expensive ones in New York. Then I tried Exhale and may never be able to lift my arms again because this class is werk. Exhale is no joke, people.
So if you're looking to half-ass a workout class during a fatal hangover to make yourself feel like you're at least kind of doing something, don't go to Exhale. It is so f*cking hard (in a good way) that I brought a male friend who, until that day, thought barre classes were too easy for men, and he is still sore. The moves are really hard. There's one where you lay on your side with your legs bent toward your chest and you lift and lower your top knee while keeping your feet together. Sounds easy? Try it right now and you'll see what I mean. So, yeah, that was really hard, but then they'll come around and tie a resistance band around your legs. Fun! Then they'll put a weight in one hand and ask you to side-crunch as you lift your top knee. All I gotta say is, Exhale barre classes hurt so, so good. I've been going for about two months now and I think I can see the beginnings of an ab crack! Goals met!
Hit House

If you don't want to switch from the bag to the floor or whatever else, Hit House is a straight Muay Thai kickboxing studio. So, what the f*ck is Muay Thai? Muay Thai directly translates to "Thai Boxing," and the class consists of jabs, crosses, hooks, uppercuts, kicks, knees and elbows. You'll get your own personal bag (or bishop) and you'll get to attack it to the rhythm of your favorite hit songs right now. This class takes the intensity of a kickboxing class to the next level, which inevitably means more calories are burned. Women usually burns 762 calories while men typically burn 888 calories during an hour of Muay Thai, so you don't need to feel guilty for finishing that pint of Ben Jerry's alone or an entire bottle of wine. And, as an added bonus, you'll probably feel like a badass after almost an hour of beating up a punching bag.
Y7
If you don't like hot yoga, just stop reading now because it feels like it's at least 400 degrees in any given Y7 class. As you can see, I like v basic types of workouts, but I like going to non-basic studios that do something to set themselves apart from the millions of other workout places in this godforsaken city. Y7 is three sets of flows that each include three sub-flows. The first is slow, the second is one breath per movement, and the third is flow on your own. So what sets Y7 apart? You're not flowing to the soothing sounds of birds in a forest. Instead, the instructors play hip-hop. YES! Lastly, there are no mirrors and it's pitch black save for a candle in each corner of the room. Yes, the darkness and lack of mirrors makes it a little harder to balance, but personally, I like the no mirror/darkness situation because I don't feel self-conscious. Also, not to be the most annoying yogi ever, but not being able to see yourself forces you to just focus on the poses instead of the ungodly shade of red your face is. Another thing I love about Y7 is that toward the end of class, there's a little strength push that usually involves some sort of ab workout. The pushes are literally never more than two minutes, so that motivates me to just do it instead of half-assing it until it's over. As the instructors say, "You can literally do anything for two minutes!" I mean, not true, but you can definitely hold boat pose for 120 seconds. And if you can push, it's worth it:  women can expect to burn around 350 calories and men 450.
Overthrow
My good friend Gigi Hadid got me into boxing. I KID, Gigi and I do not know each other, but if Gigi Hadid looks the way she does from boxing, then bury me in the ring. This could be the case because boxing burns around 400 calories per hour for women and 500 for men. Now, as far as boxing workout classes go, Overthrow is the opposite of Rumble in that it's not ~trending right now~ and never will be because the instructors don't give a sh*t if you Instagram your heart out at the Bleecker Street studio. Overthrow is legit boxing, though. After you get your wraps on, you head downstairs to a large rectangular ring that's almost littered with heavy bags tethered to the ceiling via chain locks. The first half of the class is you beating the sh*t out of the bag and the second half is sparring with either your friend or a stranger. Bring a friend if you feel awkward about hitting someone you've never met. Before the bag part begins, the instructor turns the music off and tells everyone what the different types of punches are, which are all referred to by numbers. That way, he can say a bunch of different numbers really fast and you can correspond with the right punches. Am I Rocky? Honestly, maybe. The music is so loud that you get so into it and start beating the actual f*ck out of the bag and it feels so good. Like, I may just quit my job and become a professional boxer now.
Brrrn

Want to work out, but don't want to break a sweat? Head to brrrn. But don't get it twisted: these classes will still kick your ass, even if you're not drenched afterwards. Why? Unlike most other fitness classes that crank up the heat to make you think you've gotten in a better workout, brrrn takes the opposite approach. It's the first fitness studio to operate at temperatures below 72 degrees, which gives you benefits like burning more calories and working out more efficiently. There are three different types of workout classes, all 50 minutes long and conducted at 50 degrees: hit, slide and hit + slide. The hit class is a high-intensity class that incorporates battle ropes and a dumbbell circuit series for a full body strength and conditioning workout. The slide class is a mid-impact class that consists of core exercises and a cardio slide board series which aims to increase balance and core strength along with a full body conditioning. The hit + slide class is most definitely a high-intensity class which includes the slide board, battle rope, and a dumbbell circuit series for a full body strength and conditioning workout. It's proof you don't have to sweat to get a great workout in.
Box + Flow

If you can't decide whether to take a high-intensity boxing class or low-intensity yoga class, head here. Box + Flow is the first class that allows you to do both, splitting your time between boxing and yoga. The 35 minute "box" portion of the class is first, then you move onto the 15 minute "flow" portion. It's great because many workout classes give you, like, three minutes to stretch, which as we all know from trying to walk after an interval running class, is not enough. The yoga portion of the class really gives you the ability to stretch and center yourself after punching for over half an hour. As for the calorie count, a person usually burns between 300-450 calories in a 30 minute boxing class and burn 80-120 calories in 20 minutes of yoga. Taking into consideration the 35 minutes of boxing and 15 minutes of  yoga, you could expect to burn 410-615 calories total. Not bad for a two-in-one workout!
Solidcore

The entire class is done on top of a megaformer machine they like to call "Sweatlana." Ever heard of her? The class itself consists of "50 minutes of high-intensity, low impact, slow and controlled movements." You can burn 500-700 calories per 50 minute megaformer class so don't let the slow, isolated movements fool you. Every workout sequence starts with a plank, squat or lunge to strengthen your whole body, and ensure you can't walk so when people ask why, you can say "it's from Solidcore." #Ad, and suddenly you're an influencer. They offer beginner, fully body and muscle-specific workout classes so you can go whether your body type is "works out, "works out but definitely eats dessert," or just "eats dessert." It's the holy grail of pilates classes being that they define themselves as "pilates-intensified."
Fhitting Room

We all know the struggle of going into a fitting room, trying on an outfit, and only seeing the burger, fries, and ice cream you devoured last night. The struggle is real. You convince yourself in that moment that you need to workout. Fhitting Room is a workout studio that ensures you'll get that killer mirror selfie next time you're in the fitting room. Is that why they call it that? I have no idea, but it works. Its classes consist of High Intensity Interval Training (HIIT) workouts, like every other workout class in America nowadays, but for good reason. Speaking from experience, this class will kill you—but like, in a good way. You will get a good workout, and you'll likely learn moves like snatches, cleans, and other kettlebell movements you can use at the gym on your own time, or in other fitness classes. They also offer small classes at certain locations (10ish people) so you can get all the personalized attention and none of the intimidation of a big class.
Images: overthrownewyork, y7studio, exhalespa, 305fitness, themonstercycle, brrrn, hithouse, boxandflow, solidcore, fhittingroom / Instagram
3 Signs You Need A New Workout Routine
When you're already going to the trouble of working out, it can feel like unfathomable betrayal to hear that you should, in fact, be doing a completely different workout. Or at least, that's the logic I once used to justify doing nothing but yoga for six months, while slowly ceasing to fit into my pants. As someone who really wants to be fit but is decidedly not an athlete, I've spent a of time and energy on different gyms, classes, and even trainers and physical therapists over the years, trying to find the perfect workout that would turn me into a *fit person* once and for all. As all those professionals have explained to me repeatedly, not all workouts are created equal. What's more, switching up your workout routine has consistently proven to show better results. So, while I reluctantly follow this advice myself, here are my past trainers', physical therapists, and preferred internet authority's tips for knowing when it's time for a new workout routine.
1. You're Not Getting Sore Anymore
Sorry! But also, not really because you should know this. If a workout stops making you sore, it's not a sign that you have ascended to a new level of athleticism in which your muscles are no longer capable of strain. It does probably mean that you have strengthened the specific muscles involved in this particular workout (congrats!). But if you don't up the difficulty of the workout, or switch out the muscles you're working on, you won't keep seeing results. At best, you'll maintain the very specific strength you've gained. But even that isn't a guarantee, since you're continuing to do a workout that was appropriate (and difficult!) for you in a less fit state. Trainer Faheem Mujahid explains it as your body realizing "it doesn't need to expend as much energy anymore:" meaning you burn fewer calories, get less tired, and are less likely to feel sore. Time to level up, b*tch!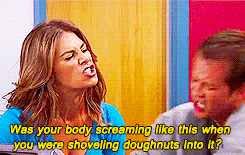 2. You're Getting *Too* Sore
The flip side of the whole soreness thing is that you have to be careful not to overdo it. There's a difference between it hurting when you laugh the day after an ab routine and needing to strap on a knee brace every time you leave the gym. Fitness instructor Trish DaCosta puts it plainly: "A reoccurring injury or too many injuries is often a sign we're doing too much of an exercise program." Pulled muscles, joint pain, or persistent aches are clear signs that your body needs a break. Injuries aside, extreme soreness—or persistent soreness in only a few, select places—also mean you should switch out your routine, or at least add some variety. Trainer Jessica Thiefels stresses the importance of making sure your body feels "balanced in strength," and adds that "working the same muscles, time and time again" is a bad idea. Muscles need rest periods in order to get stronger; so you're really just robbing yourself of #gainz if every day is focused on the same body part.
Obvs, if you're repeating the same workout over and over it's because you like it, and I get that it's tough to motivate yourself to make the switch. I once spent two weeks obsessed with barre and loving my life. Then I promptly re-pulled an old thigh injury, and my physical therapist at the time told me that barre was "the worst thing" I could do for my body.  The fact that I had just purchased both a "barre so hard" tank and a month-long barre studio membership apparently meant nothing to her. As much as I was dying to be a fancy barre girl, I had to accept that my body just wasn't built to benefit most from that particular workout.
Me to my useless barre studio membership: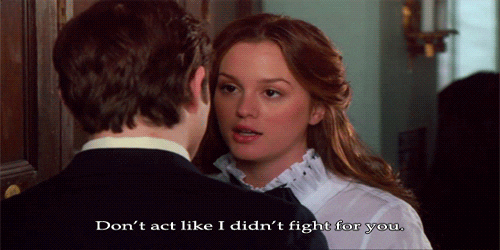 3. You're Not Getting The Results You Want
So, this goes back to my whole "only doing yoga" period in time—despite feeling like I was gaining weight, or at least sort of…spreading out. Before my yoga phase, I'd been getting most of my workouts in at the gym, where I lifted weights and ran intervals on the treadmill. Then, I moved to NYC and decided a gym was a luxury I could no longer afford. Even though I'd read countless times that yoga is not the most effective calorie-torching workout out there (particularly not when done for 15 minutes at a time in one's living room), I hated the idea that completing any workout wasn't enough for my stupid body. I felt more flexible and balanced for sure—but I felt like I was losing muscle, and my clothes weren't fitting as well.
The point here? Don't be like me! Yes, some exercise is better than no exercise at all. But that doesn't mean you can go on a jog and expect your triceps to be more defined after. DaCosta notes the importance of seeing "continued progress" from your workouts, which could come in any of the following forms: "more muscle definition, decreased body fat, more energy, stronger lifts, faster recovery times, weight loss, faster pace, etc." While yoga was pushing me on some of those fronts, it wasn't satisfying others. For a fully varied workout routine that pushes you on all these fronts, Mujahid recommends trying for a mix of "cardiovascular, strength, agility and flexibility sessions," making sure you're "hitting every muscle group" in a week's worth of workouts.
If that sounds totally unattainable to you (same girl), take some comfort in knowing a lot of these categories overlap. For example, a HIIT workout could be your lower body workout, and combines a cardiovascular and strength workout. Then you could work your upper body with yoga on alternate days, which would count as your agility and flexibility sessions. Throw in an ab day and you're done for the week. (And if that sounds like a month's worth of workouts to you, once again I say SAME GIRL. I'm just the messenger for what the pros are recommending.)
Me during my yoga phase:*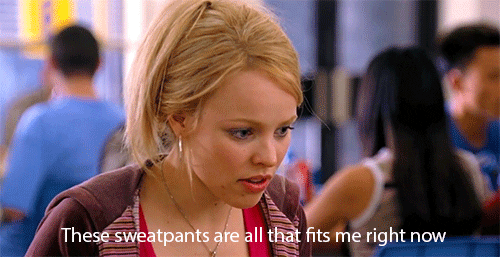 *To be clear, yoga absolutely can and does help people with all kinds of body goals. But my refusal to do any other workout meant I really hit a wall.
This article is not meant to shame anyone out of the workout routine that they're doing. Everyone who has broken a sweat (on purpose) in the past week: I am proud of you. But I also know firsthand how frustrating it can be to feel like you're making a huge effort and not getting anything for it. If anything, this article will hopefully inspire you to make a change and find the workout that leaves you sore, satisfied, and not feeling like you need a wheelchair. Everyone's body is different, and once you find the (healthily varied & not at all overwhelming) routine that works for you, working out will feel 1000% more worth it. I promise.
Images: Giphy (3); Pexels / bruce mars
The Full-Body Workout You Can Do In A Corner Of The Gym
If you go to the gym right before 9am or right after 6pm, you know how annoying it can be to get around the place during workout rush hour. As much as we'd all love to work out in an empty gym with the whole place to ourselves, it's v unrealistic unless you're like, a psychotic morning person or like, super rich. Luckily for you, we've put together a workout can literally be done with one mat in a tiny corner of the gym, so you don't have to bother waiting for a machine to become available or for people to step away from the dumbbell racks. Here's a quick workout that will tone your whole body and burn a ton of calories while staying in one space the whole time.  
1. Walkout Push-Ups
The walkout push-up is a great warm-up move because it gets your lower and upper body working without diving right into a cardio or strength move. The idea here is to first warm up your hamstrings by starting in a standing position and folding your arms and head forward, and then get your upper body warmed up by crawling your hands out to a plank position. Once you're in your plank, perform one push-up (drop to your knees if you have to) and then crawl your hands back to your ankles to stand back up, engaging your core at the top each time. Start off slow, and then try to speed up on your last few reps. Do 10 of these in total.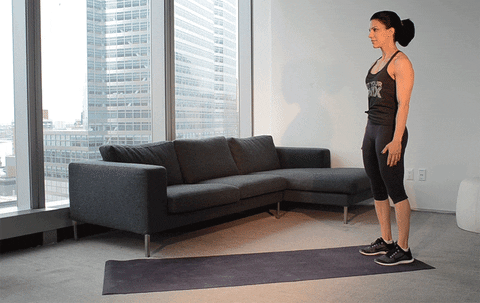 2. Glute Bridge To Oblique Reach
This is another lower and upper body movement, but this time you're working your butt and your obliques, aka your side abs and love handle region. Start by lying on your back with your knees bent and your feet on the ground. Then, extend one leg straight out and lift your hips into a bridge, squeezing your glutes and specifically feeling the burn on that same side. After the bridge, lower your hips back to the ground and reach your arms toward the straight leg while extending the leg upwards. Remember that you're crunching with your abs, so don't just use your arms to swing your body up. This combo is slightly complicated since it's technically two moves in one, so you can take your time on these until you get the hang of it. Do eight reps on each side.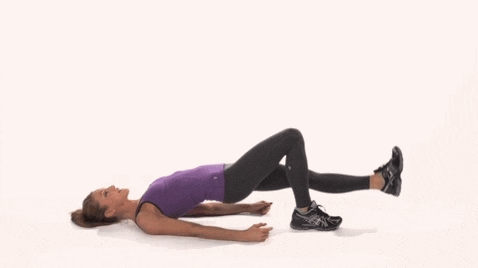 3. Tricep Extensions
You'll need a weight for tricep extensions, but it shouldn't be too hard to find because you can literally use whatever you want—a dumbbell, a weighted medicine ball, or a kettlebell. If you have a kettlebell available to you, you're gonna hold it by its horns (AKA the non-bell part) and lift it up over your head, keeping your elbows straight forward and your arms tight. Then, extend the bell toward the back of your neck, using your triceps to bring the weight up and down each time. If you feel like your elbows are widening out to the side, take a break and reposition yourself. The tricep muscles are really what give your arm that toned, sculpted look, so go heavy on these and take your time. Aim for 10-12 reps.

4. Deadlift To High Pull
The good news with this move is that you can use the same weight you were just using. Again, this is a combo move, so you're totally killing two birds with one stone by working your legs and your arms in one exercise. Place your kettlebell on the ground in front of you, and make sure it's between your legs, but like an inch or two forward. Then, bending your knees slightly, you're going to hinge your hips backward and lift the kettlebell keeping your arms straight, bringing it to your waist as you hinge the hips forward. That's the deadlift part. Then, you're gonna pull the kettlebell up to your chin, using your shoulders to row upright, with your elbows wide towards the sides. Once you complete one rep, bring the kettlebell down to the ground and do five more.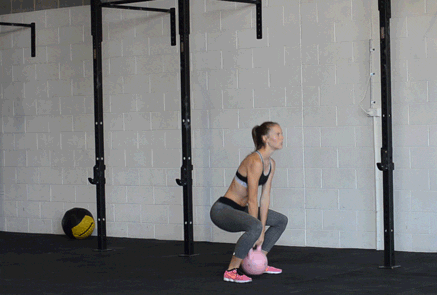 5. Squat Jumps
Now that we've done a bunch of strength work, it's time for some cardio. Your legs burn the most calories out of all the muscles in your body, so doing jumping exercises while combining squats or lunges is super effective. It's also really hard, so pace yourself. Start in a squat position, making sure your knees are behind your feet so you don't hurt yourself. Get super low, and then jump up explosively while straightening out your legs and arms. Aim for 20 reps here, but you might want to die by the time you get to 15. Try to fight through it.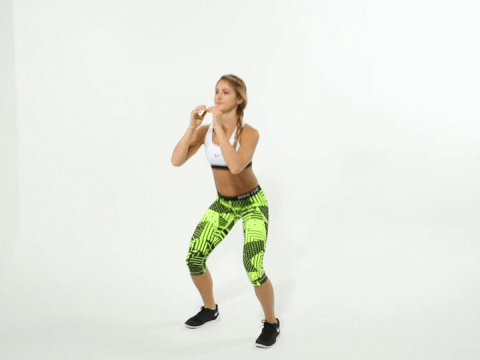 6. Burpees
Burpees are annoying and difficult, but there's a reason you see them in every fitness magazine and at every workout class—they WORK. Start by standing with your feet shoulder-width apart and your arms at your sides. Then, lower your body into a squat and place your hands on the floor in front of you, jumping your feet back so that you're in a plank position. Once your body is in a straight line, lower your chest to the floor and then bring it back up as quickly as you can. Then, jump your feet forward, outside of your hands, and jump up with your arms in the air. Do 8-10 of these, depending on your energy at this point in the workout. Also, keep in mind this is a full-body move, so make sure you follow the motions without just slamming your body down to the ground in the sloppiest way possible.

Images: Trust Tru Katsande; Unsplash, Giphy (5), Pinterest (1)
Upper Body Exercises To Target The Muscles You're Ignoring
When it comes to choosing workouts, some exercises just seem obvious, like doing squats for a perky butt or planks for rock-hard abs. And don't get me wrong, I'll do squats and planks until they're out of style. *BUT* I think it's also important to work on the muscles we don't often think about, especially as girls. We tend to think we just need a little toning and cardio here and there, but there are a lot of important muscles that we neglect at the gym, especially our upper body muscles. It's time to address WTF to do about them. Here are some underrated upper body exercises and why you should be working them.
1. Chest Presses
Aside from a few modified push-ups as a warmup, most girls never think about working their chest muscles. I mean, the chest press seems like a guy's exercise, and it can be super intimidating. What many women don't realize is that your chest muscles just create a stronger upper body in general, which literally makes it easier to do basic activities, like opening doors and holding heavy bags. People also find that chest presses can even give yourself a little chest lift, so you can stop buying push-up bras. So start your upper body exercises with chest presses. Grab two dumbbells and lie flat on a bench with the weights at chest height and your elbows out toward your sides. Then, press the weights upward, keeping them over your chest the entire time, and bringing them back down after every rep and avoiding pushing with your shoulders.
2. Lying Back Extensions
People tend to do a lot of rowing and lat pulldowns to target back muscles, and these exercises are great, but we tend to forget about our back extensor muscles, which are located at the lower back. They're super important for core engagement, stability, and avoiding injury. Doing lying back extensions will help you avoid hurting yourself at the gym, considering you basically use your back in any exercise, like even running or spinning. Lay out a mat and then lie on your stomach with your head facing the floor and your arms out over your head in a "Y" shape. Then, slowly lift your legs and arms off the floor, keeping only the area from your stomach to your thighs on the mat (if that's too hard, leave your legs alone and just lift your upper body). Lower back down and then lift back up, feeling the tension in your lower back.

3. Inner Core Leg Lifts
We do a lot of ab movements around here, but there's a major difference between your ab muscles and your core muscles. Most ab workouts, like bicycles and Russian twists, don't target the transversus abdominis, which is the muscle that connects to our pelvic floor and internal organs. In order to strengthen these inner muscles, do inner core leg lifts. Start by lying on your back with your knees bent, and slowly lift your right foot off the floor, keeping your core engaged as you lower it back down. Then, do the same on the left, and switch back and forth, exhaling with each rep. These are supposed to be slow and controlled movements, so don't worry if you're not getting your heart rate up or sweating, but DO worry if you're just kicking the ground without feeling it in your abs. Then you're probs doing it wrong.

4. Lateral Raises
Toning your shoulder muscles will make your whole arm look more defined and just so much better, and the most ideal way is to work the front of the muscle and the side of it in one workout to tone every angle. The lateral deltoid, aka the side of your shoulder, is really what gives your arms a toned look, and it's often neglected because people just don't realize what a difference it makes. Standing up with a dumbbell in each with your palms facing your thighs, keep your elbows slightly bent and raise your arms to the side until the weight reaches shoulder height. Then, slowly lower the dumbbell back down to your thigh. Keep raising them up and down, and try not to bounce your legs to use momentum to lift them. The goal is to keep tension in your shoulders the whole time and not get any help from your lower body.

5. Single-Arm Planks
Obviously your abs aren't a "forgotten about" muscle, but we often overlook the most basic functions of our core muscles, which include stability and balance. Upper body exercises like single-arm planks strengthen the core while testing your stability. By doing moves like these, you'll notice that yoga poses get easier to hold, being in third position on a spin bike feels more natural, and other ab movements are just less painful. So basically, the single-arm plank is essentially a regular plank, but you only use one hand at a time. Duh. It's easier to start with your hand centered in front of your chest, but try to work it back out to under your shoulder as you get stronger. The idea is to keep your body square to the ground without raising your hips on one side, and keep your core tight the entire time.

Images: Ayo Ogunseinde /Unsplash; Giphy (4), Pinterest (1), 
6 Moves To Tone Your Legs And Butt For Shorts Season
After a god-awful winter and no spring season whatsoever, summer has arrived, and it literally has no chill. We totally skipped over denim jacket weather and basically went straight to face-directly-in-the-AC-vent weather, so it's time to dress accordingly. If you're putting on your shorts for the first time in a year and notice your legs could use some much-needed toning and tightening, don't panic. Do these six leg exercises, and once you're done, repeat the whole circuit another three times to really tone and strengthen your legs. And also, like, try not to cry when you sit down tomorrow. Consider yourself warned.  
1. Curtsey Lunges
Regular squats and lunges can get boring and repetitive, so trying out different leg exercises and variations help target your muscles in a different way. Curtsey lunges are great because they hit various muscle groups in your quads and glutes, and they also challenge your body's overall balance and stability. They're v underrated. The idea here is to lunge backwards like you would regularly, but instead of bringing your knee directly behind you, bring it in a diagonal direction, crossing behind your other leg. Like a curtsey, get it?? Bend your knees and lower your hips until your thigh is parallel to the floor. Then, return to standing position and do the same on the other leg. Complete 10 reps per leg, and if you feel like it's too easy, hold a weight in each hand to add resistance.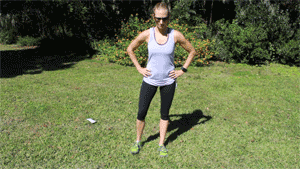 2. Swiss Ball Hamstring Curls
This exercise is based on using a swiss ball, but if your gym doesn't have one, this can also work using TRX bands or the rowing machine. Begin on the floor by lying on your back with your feet up on top of the ball. You want your ankles to be on top of the ball when your legs are fully extended. Raise your hips off the ground, keeping your weight in your shoulders and your feet. Then, flex your knees, pulling the ball inward toward your body while squeezing the backs of your legs. Once the ball is "curled" inward, straighten out your legs again, rolling it outwards. Aim for 15 reps.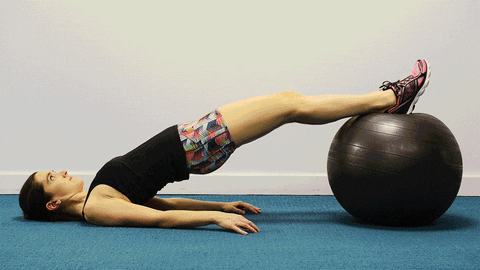 3. Single Leg Glute Bridges
Glute bridges are a classic butt exercise, but by focusing on one leg at a time, you also hit your hamstrings, which are the muscles that make up the backs of your legs. You're basically getting the best of both worlds because you're working your thighs and butt in one simple move. Lucky you. Lying on a mat, keep your hands at your sides and your knees bent out in front of you. Then, extend one leg as you lift your butt off the ground, squeezing your glutes and lifting your hips toward the ceiling. Think about pushing down with your left heel as you lift. Do 10 reps on one leg and then switch to the other.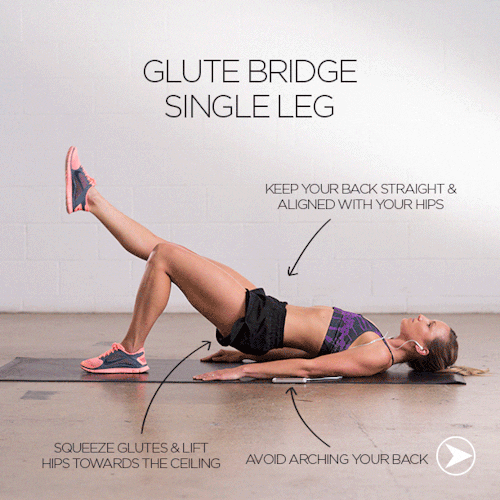 4. Jumping Sumo Squats
We tend to do a lot of squats and jump squats in our leg workouts, but the sumo squat is a different variation that a lot of people ignore. The idea here is to do a jump squat, but your stance is more like that of a ballerina, with your toes turned outward and your legs further apart than they'd usually be. This way, when you squat down, the resistance shifts from your quads to your glutes, and it becomes more of a butt-focused movement. You're also getting your heart rate up and burning calories because like, you're jumping. Duh. Try doing 15-20 jumps without stopping.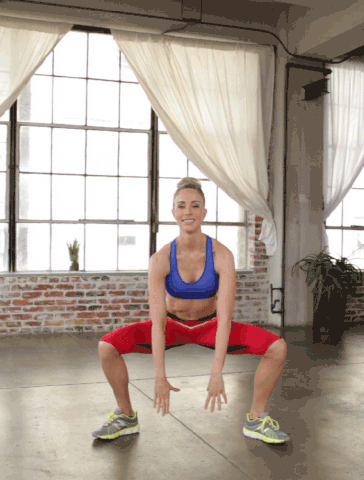 5. Elevated Reverse Lunges
Reverse lunges are a staple leg movement, and by elevating your front leg, you're adding pressure to that leg's quad muscle, and you REALLY feel the burn on these. The idea here is to find some sort of box or elevated step that you can put your front foot on, and then lunge backwards, bringing the back leg even further down than you would on a regular surface. This way, your quads get more resistance—kinda like when you turn up the torq on a spin bike. Remember to keep your chest up and head straight the whole time to avoid leaning forward. If these are too hard, lose the elevation and just do lunges on the ground. And if they're easy, hold a weight, like the badass chick in this gif.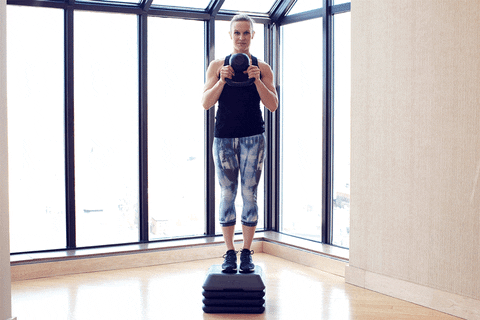 6. Wall Sit
Wall sits look relatively easy, but you might notice after a few seconds that your thighs are on fire and you want to die. This is normal. This move is also great because your body is basically in a squatting position, but your back is protected, so you can really engage all of the muscles in your legs to keep you stable. With your back flat against a wall, set your feet about shoulder-width apart, about two feet out from the wall. Slide your back down the wall, bending your knees as low as you can get. Hold the position for one minute, and remember to contract your abs while you're holding it. Your legs will probably start shaking, but that just means it's working. Just think about how good your legs will look in your new romper.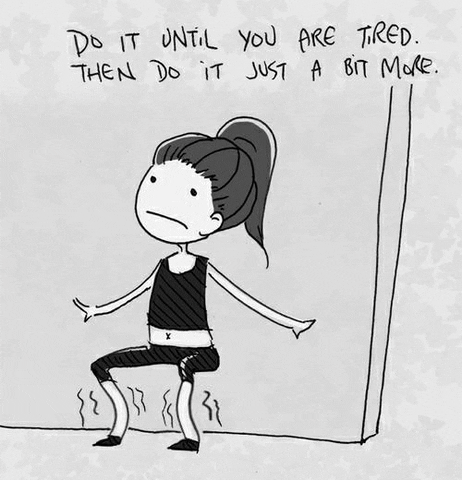 Images: Shutterstock; Giphy (6)
How Workout Classes Trick You Into Thinking You're Burning More Calories
In a bizarre turn of events, we're living in a time when Donald Trump is our president $34 workout classes are normal. Boutique fitness is taking over the workout world, and whether you're a cult follower or just someone who needs a 45-minute sweat before the workday, you've probably been drawn in by a class or two. With so many studios in the market, getting you to book a spot in class is getting competitive, and studios love exaggerating the effects of their workout classes to get you through the door. Here are some ways these workout classes might be tricking you into thinking you're burning more calories than you actually are.
1. The "Fat Burning Zone" Obsession
A lot of fitness studios use new technologies to track your heart rate and count how many calories you burn in each class, and honestly, these numbers aren't always indicative of a good workout, and just because your heart rate isn't in a certain zone, doesn't mean you're not burning calories.. If you're working hard in any class, you'll know when you're getting a sick workout, and you don't need to be told that you're in a specific "fat burning zone" to accomplish that. Trainers have literally come forward and admitted that although you could be burning a few extra calories while your body is in a specific fat-burning zone, it's a waste of mental energy to worry about it, and it doesn't make that big of a difference when it comes to burning fat. If you're particularly into the heart rate monitoring, go for it, but if it's not your thing, it really doesn't matter.


2. The AC Issue
The air conditioning of a studio depends on specific factors, like the building it's in and what the weather is outside, but if you feel a little warm as you're walking into the class, it's probably on purpose. A lot of spin studios and other bootcamp-style classes make the rooms hotter than normal to make sure you start sweating as soon as the class starts, and you end up drenched by the end of the workout. This doesn't mean you're not getting a good workout, but sometimes if you're dripping in sweat, you're tricked into thinking you burned more calories than you actually did. (Unless you signed up for a hot yoga class—obviously.)
3. The Class Right Before You
This goes hand in hand with the AC issue, but honestly it deserves some recognition because it's SO true. Ever notice that you're already kinda hot and sweaty if you walk into a fitness studio right after the previous class just ended? That's because the room is literally warmed up. And it also probably smells disgusting, but let's discuss that another time. While some studios leave 20-30 minutes in between classes for the staff to clean up and air out the room, a lot of busy studios have back-to-back classes without letting the room breathe in between. You end up sweating more and thinking you're burning more calories, but you're not getting a better workout just because you're drenched in sweat. Odds are, you're just doing the same shit in an already sweaty room. Sorry.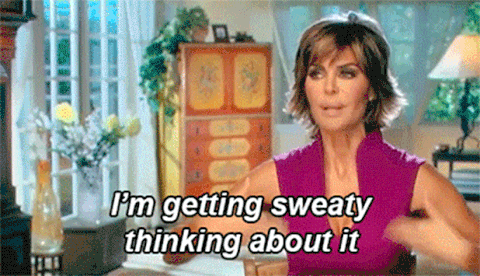 4. The Burnout Effect
In strength training, there is a legit and effective concept called "burnout sets," where you perform a certain exercise repetitively to exhaust the specific muscle. However, group workout classes have taken this idea and used it to make you think you're burning more calories than you might actually be burning. If you've ever spent like, 10 minutes in a barre class doing pulsing squats or felt the burn in your shoulders from the 2-pound weights in spin class, the fire in your muscles is from these burnout-style moves. However, this burning is not always indicative of how effective the workout actually is. You're fatiguing the muscle, but that can be done just as effectively with less reps and heavier weight, so you're just spending more time focusing on the burn. You're literally exhausting your muscles, but that doesn't always mean you're accomplishing more than you would with a regular-timed exercise set.
5. The "Full Body" Trend
This is another fad that workout classes use to draw you in and convince you you're getting some ultimate, total-body sculpting sweaty workout. The "full body" buzzword sounds like you'd be burning a ton of calories, but sometimes targeted workouts that don't work out your entire body can burn just as many calories. It's a marketing strategy, and it's working on you. Full body workouts are great for you, but don't think that if you're just doing an upper-body strength workout that you're not getting as effective of a workout. In fact, sometimes studios just add in moves that target extra body parts to make sure you're super sore the day after, which, once again, isn't always proof that it was a good workout.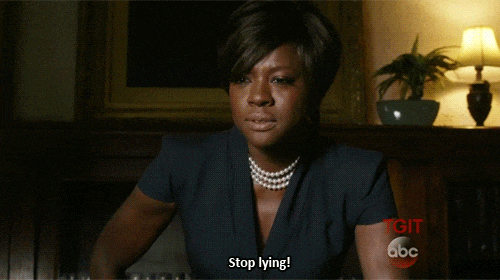 6. The Extra 15-Minute Class
After every Upper East Side mom tried the regular 45-minute classes and still had an extra 15 minutes before the 12pm rush hour at Whole Foods, studios decided to make their classes longer, adding in another 15 minutes to get an even better workout. While these longer classes obviously burn more calories because logically you're working out for a longer amount of time, don't think that these extra few minutes are necessary. HIIT style classes in particular are meant to push you to your limits in a short amount of time, so if you know you're sticking around longer, you might end up pacing yourself (aka not trying as hard the whole time) and burning the same amount of calories that you would have in the shorter class where you'd go all-out from the beginning. Class timing isn't everything, so if you don't want to do burpees to a Meghan Trainor song for another 15 minutes, don't feel guilty about it. We certainly don't.
Images: Martin Barak / Unsplash (1); Giphy (6)