The Best & Worst Foods To Eat At Any Fourth Of July BBQ
Ah, July 4th: a time in America where our differences are put aside (until we get belligerently drunk) so we can chug beer, wear really questionable American flag attire, listen to Kid Rock, and set things on fire/explode anything in sight as a show of respect for our founding fathers. Navigating a barbecue when it comes to your diet, of course, is nothing if not explosive and dangerous. I mean, how are you supposed to know what's actually good for you and what will probably make you gain five pounds immediately? We've rounded up the five best and five worst foods you'll see at the barbecue this weekend, so, you're welcome for ensuring you stay skinny in your American flag bikini.
BEST: 1. Watermelon
Wanna stay hydrated while destroying things in America's name? Best get you some watermelon. Not only does it have like, zero calories, but it'll keep you feeling and looking great (see: not bloated) while your brother tries to blow his fingers off with firecrackers.
2. Grilled Chicken Wings
Note all three words in that name—GRILLED being the main one. If your host is throwing wings on the grill, opt for salt and pepper over a dunk in some sauce. It'll be essentially the same as regular grilled chicken, but you can still feel cute eating it sans the shit on your face and hands.

3. Water
Our boring friend water saves the day again. Obviously you'll be wanting to hit up the bar, but chugging a few bottles of water between your snacks and drinks will keep you from diving into the macaroni salad or brownie tray. Plus, setting off fireworks and nearly losing fingers is exhausting, so like, be hydrated.
4. Fruit
Shit, there should be platters of those blueberry and strawberry kebabs celebrating the land of our ancestors all over and self-respecting July 4th barbecue. Fill up on all this shit before the real food even comes out since we're talking super limited calories but lots of fiber. Same rules apply for the crudités plate that's otherwise getting no love. Take advantage of the situation and load up on the earth's bounty, bitch.

5. On The Rocks
Skip the beer and the mixed shit and put everything on the rocks if you don't want to be bloaty and farty on July 5th. Instead of your typical 300-plus-calorie margarita, pour some tequila over ice with a splash of lime (or, if you're like me, a whole bunch of limes). If you're feeling rum or vodka, put it over ice with some fruit cubes you can steal from the fruit platter everyone is ignoring. Thomas Jefferson would have done the same shit.
WORST: 1. Fried Chicken
As we said during Memorial Day: Anything that's coated in buttermilk, flour, butter, and spices and or some combo of that shit and then deep fried isn't going to do you any favors when you step on the scale tomorrow. We understand that America was totally founded on life, liberty, and the right to be obese, but trust us when we say no one wants to grease dripping down your torso while you're standing there in a bikini.

2. Potato Salad
Benjamin Franklin wouldn't have eaten this shit, so you shouldn't either. If you see a mayo-coated potato salad, just say no. If for some reason you're dying to be a fatass craving carbs, eat ONE hamburger bun or like, be annonying and make your host nuke a potato for you in the microwave for 6-8 minutes (the poor man's baked potato). Potatoes have been on our shit list for a long time, so adding the word "salad" to the end does not make it any better.
3. Beer
The summer barbecue is not the place to show off your shot-gunning skills. Beer will bloat you, obviously. Although, if you need the beer to numb your feelings, opt for a light one. Grab a Coors Light or a Corona over the dark Guinness or Amber Ales. Who TF even brings Guinness to a July 4th party, though? You should call Immigration on them.

4. Ranch
I am convinced that ranch was conceived by enemies of AMERICA and given to us in an effort to make everyone so fat that they literally can't fight a war. Whoever did introduce is winning, too (the south will never rise again). A quarter cup—which you could easily consume if you're standing and dunking every piece of celery into this shit—weighs in at 220 calories and 22 grams of fat. Ditch this shit immediately.
5. Hot Dogs
I've said it before and I'll say it again: hot dogs are fucking disgusting and they should not go anywhere near your mouth. They are made up of "poultry trimmings" aka mystery meats and filler plus water and corn syrup. Why is there corn syrup in your dinner meat? These are questions you should never have to ask. On top of that, all those chemicals in hot dogs could give you cancer. Even if you can't think that long term, all that sodium—a Hebrew National will cost you 1,223 mg, AND THAT'S THE 97% FAT FREE KIND—will definitely make you bloat. I know hot dogs are like, the cornerstone of America, but I think they are also to blame for at least half of all the issues that currently plague our nation. Namely obesity. Just don't do it.

How To Eat Healthy At A BBQ Without Being Annoying
Ah, Memorial Day, the unofficial start of summer, awkward family summer gatherings, pool parties, and body shaming. When else can you finally unleash your totally awesome summer bod while indulging in hot dogs and potato salad while chugging a beer? Maybe Spring Break and the Fourth of July and every other vaguely American holiday in existence, but we digress. Of course, there are consequences to these actions (what? Why?). If you indulge in the salty, fatty, bubbly concoction of shit served at the barbecue, your hard-worked-for summer body will melt away like your sunscreen from weird spots on your bod. Let us help you. Here are the top 10 things to reach for at this weekend's Memorial Day barbecue that won't have your vintage denim shorts riding high in your ass later.
1. Beans
If you're scrounging around for a side, stick with the most musical of fruits even though it's a legume and not a goddamn fruit. Beans, although they can be soaked in sauces and shit, are full of folate and fiber, both of which will do more for you than the pile of mayonnaise with chunks of potato in it.
2. Watermelon
We've said it before, and we'll say it again: Watermelon is what Jesus would eat if he wanted to stay hydrated and skinny. It's full of water, tastes great, has literally no calories, and is filling if you eat enough of it. Plus, all the water is good for your skin—so, really, this is a win-win situation.

3. Corn On The Cob
Lest we forget that this staple of summertime is, in fact a vegetable. If it's grilled, it's a healthy and not-terrible-for-you-at-all side that you can actually enjoy. Spray on a little butter, salt, and pepper and you're good to go. Try not to go the Mexican street corn route and slather it in mayo, cheese, and spices… although that does sound pretty goddamn good…
4. Vinegar-Based Coleslaw
Coleslaw is honestly a weird side in general. Who thought of this? "HEY MA I'mma fix some shredded cabbage with mayo and spices and call it a veggie!" Anyway, if it ISN'T the mayonnaise-drenched variety, feel free to indulge. The vinegar (if it's the apple cider variety) can rev your metabolism and the cabbage is full of nutrients and vitamins.
5. Steak
If the host or hostess of this backyard barbecue are rich enough to be serving everyone steak OR are being misers and cubing it for kebabs, grab it while you can. Although red meat has its issues, it's honestly better for you than a giant burger or tube of mystery meat since it's full of protein and vitamins. Just remember 3 oz. is all you need—which would be about the size of your iPhone 7. I mean, Anna Wintour has a steak every day for lunch, and anyone who thinks Anna Wintour is wrong about anything is seriously disturbed.

6. Chicken
In line with steak, a lean grilled chicken breast is a great option for the center of your barbecue plate—as are chicken kebobs. So long as it isn't fried or smothered in cheese, chicken will get you your protein fix, keep you satisfied, and only clocks in at about 150 calories for a breast.
7. Water
Our boring friend water saves the day again. Obviously you'll be wanting to hit up the bar, but chugging a few bottles of water between your snacks and drinks will keep you from diving into the macaroni salad or brownie tray. Plus, you're outside, so like, be hydrated.

8. On The Rocks
If you're drinking liquor, and obviously you are, skip the beer and the mixed shit and put everything on the rocks with a hint of citrus. Want a margarita? No, you want tequila over ice with a splash of lime. How about vodka? Add some ice and some fresh crushed watermelon and you're good to go. Keep the calories away with fruit, liquor, and ice.
9. Fruit
Any decent barbecue has a shit ton of fresh fruit. I mean, it's the damn bounty of the season, right? There should be plenty of pineapple, berries, pears, you fucking name it. Fill up on all this shit before the real food even comes out. That way, your stomach will be begging you to stop before you even think about s'mores and cheeseburgers.
10. Crudités
Same rule applies to crudités—aka a veggie platter for the non-bougie among us. Aunt Delilah will surely bring a giant crudité tray to the barbecue for nibbling. Grab a ton of celery, tomatoes, and cucumbers and get to work. SKIP that nasty ranch dip because ranch is for fatties. I'm not even sorry—that shit is disgusting. If you MUST dip, find some guacamole or salsa. The veggies will help fill you up to prevent your sausage fingers from grabbing another beer or plate of macaroni.
How To Wear Red, White & Blue Without Looking Like A Basic B*tch
Memorial Day Weekend is one hell of an underrated holiday. It kicks off the start of summer, you can eat all the hot dogs you want (which should be zero), and you're daging until whenever it is you finally pass out, because day drinking is really fucking exhausting. Basically, it sets the standards for what this summer will bring. Will you throw up over the side of the boat? Or will you hook up with that guy you've had your eye on since college? It really can go either way and what you fucking wear is like, so important. Whether your plans involve partying on a motherfucking boat or reuniting with friends and family you haven't seen in forever, your outfit needs to make one hell of an impression. Don't show up to the BBQ wearing the same denim shorts and white crop top as the girl next you. You need to show everyone you are only getting hotter with each day and you are not a basic bitch (we both know you are but, just pretend, okay?). This is like, the pregame to Fourth of July but that doesn't mean you need to wear a sparkly headband or face paint the fucking flag on your face to fake it. What are you, like, 5?
Wear these trendy AF things this weekend (yes, MDW is this weekend—plan accordingly with your shipping choices) so you can look somewhat patriotic and hot when you're drunkenly chanting "U-S-A" and pretending to give a shit about 'Murica.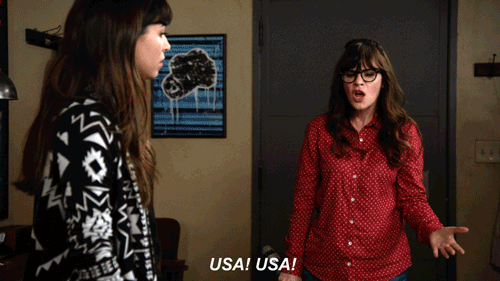 Instead of your typical short summer dress, go for one with a little length. The flowy dress is a lot of fun and makes for a perfect Boomerang on Insta. Pair with small wedges and an all white denim jacket if it gets chilly out. The back comes together with two small adjustable bows, and anything with bows is a winner in my book.

Bring boho vibes with a crochet top and a pop of yellow in between some red, white, and blue. Keep it low-key with distressed high waisted denim shorts, white flip flops, or your comfiest sneakers. Wear fun earrings to add some attitude, a chic choker, and you'll be shotgunning a beer with the guys in style—just please don't say you're "one of the guys" or that "girls are too much drama".

Make it sexual and flirty with a crisp, white off the shoulder romper. Bring in other colors by pairing with a red clutch, red earrings, and blue heels. Just keep in mind that rompers are all fun and games until you have to pee and next thing you know, you're naked on the toilet. If you drink enough, you won't care eventually.

Hide your shish kebab bloat with a plunging color-blocked one piece. Wear a patriotic swimsuit you can get away with wearing during anytime in the summer. Add a floppy hat, strappy sandals, and funky sunglasses for a complete 'Murica look.

Wear this frayed denim jacket over an American graphic tee for a casual, street style look. Pair them with white or red shorts, low-heel sandals and a striped crossbody. America, fuck yeah.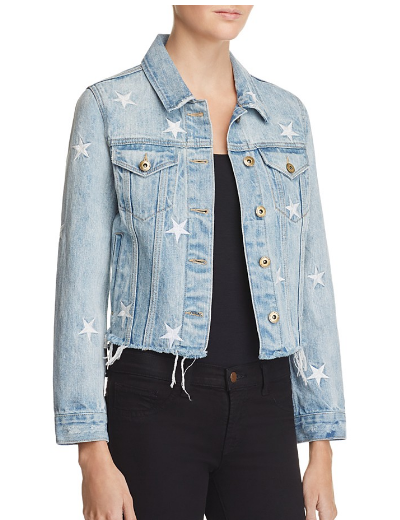 This is for the girls who think it's cute to wear an American flag like cape. Um, hello? This isn't Halloween. You're not Captain America—leave that to your drunk persona. Opt for a kimono or poncho that does the same thing but looks cuter and won't have your uncle accusing you of disrespecting the flag when you post a pic of your outfit on Facebook. Throw over a distressed denim mini skirt or your bathing suit. Before the night is over, grab a sparkler and take a picture for the 'gram. This is really Insta-worthy.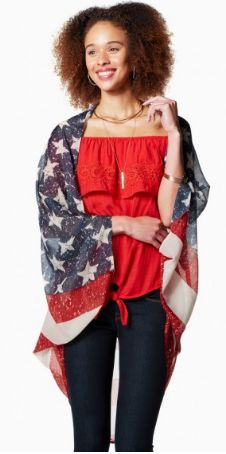 Instead of an obnoxious headband with like, fireworks falling out of it, find a red, white, and blue patterned wrap that has multiple uses. Wear it as a bracelet, scarf or a fucking bandeau if you want. This boho hair wrap is going to be the next scrunchie, just watch. I'm going to say I fucking told you so.

Lastly, after you figure out wtf you're wearing, dress your beer in a cute drink sleeve because even your drink has to look good too. Score major brownie points by bringing cute drink floaties to share. Now, everyone will be able to play swimming flip cup in the pool, thanks to me you. #MakeAmericaDrunkAgain.