Marie Roda's 'Challenge: Final Reckoning' Recap: Who Run The World? Girls
On last week's episode, Team Banony was eliminated by Sylvia and Joss and ShaNelly was eliminated by, well, ShaNelly. After taking the lead on the Lavender Lady mission to get John out, it was a blessing to see them sent to Redemption. I swear you can't write this sh*t.
For the first time this season, I'm excited to see ShaNelly walk into KamLeigh's room after their purge loss. Nelson was probs crying the entire ride there, why else would he wear sunglasses inside? Kay is reluctant to give Nelly a hug because of the tea John spilled to her about his relationship with Natalie.
Let's get real here for a sec, John's information wasn't completely off. Any decently smart viewer would suspect that after Natalie expressed how much she loves Nelson, sh*t would go down between them. Considering #PaNatalie spent the entire game in Redemption, I'm wondering when and where they became besties. Bottom line is, if Nelson was my BF (God strike me dead) and I saw him getting way too cozy with Natalie, he'd no longer be my boyfriend. And Natalie's chin wouldn't be the only f*cked up thing on her face. Just kidding. Sort of.
Next, John finds out about ShaNelly's elimination. It's like Christmas came early for him. Also, I'm not sure what it is about the guys wearing snowcaps in the house this season, but I'm not mad. Johnny is looking real good. Maybe it's him, or maybe it's the fact that I don't sleep anymore. Either way, if this were a "who wore it best" contest, John's got this in the bag and Nelson is still looking for his purse.

Then Shane claims his loss to Bananas was the worst loss in Challenge history. Alexa, play that episode from Vendettas where I got sent home stuck in a basket. Don't steal my thunder, SHANE.
The male-male teams are all bumping chests and laughing about the fact that Shane and Nelson are in Redemption with them. Outside, we see Shane chain-smoking cigarettes. That's when Johnny pops his head out from the upstairs window. I love this moment. Not only because it reminds me of a breakup I once had, but also because Shane shows he's as pathetically petty as I am. This moment is wrapped up with a beautiful quote from Shane stating, "I'm like a weed, I thrive on things that kill normal people." OKAY SAME.

After, Nelson and Kayleigh talk on the side of the house and decide to make up. Kayleigh says she's fallen for him. I think I literally choked on my own laughter. Kayleigh "falls" even quicker than I do, which is actually quite impressive considering my fall time is unbeatable. I still can't believe she's romantically attracted to Nelson. To each their own, I guess.
Shane and Nelson continue to take the heat from a newly revived John, and I LOVE IT. Tony asks Nelson, "you know how good I am now? What have you done?" This is giving me hope for my own Challenge glow-up. If Tony can have a comeback, anyone can.
At the main house, Natalie reads the clue to everyone except for Cara and me because we were in interviews. Team LL and PaNatalie really want Nelson and Shane to come back. You can bet Cara and I will definitely not be jumping on that bandwagon. As friends, and for the sake of our position in this game, we really need KamLeigh and Banony to come back. Sidenote: Cara looks cute in pigtails.
Now it's time to pull the double-cross. TJ has room for four riders today, that means everyone gets a chance. BTW, can we drop this weird horseman apocalypse lingo? Kyle's great at pulling the double-cross, but he's total sh*t at eliminations. Kyle cracks me up.
At Armageddon, TJ lets us know that REDEMPTION IS OFFICIALLY CLOSED! Tonight, everyone is playing and two teams are coming back. Kyle and Brad pull the first double-cross and decide to pick KamLeigh. Everyone wants to see ShaNelly versus Banony, so this was an obvious choice. I'm praying that Kam and Kayleigh can pull through and win. If they do, TWO male-male teams are going home. Production did not see this coming. Their chances at having new champions to add to their register is dwindling. I'm not mad.
First up is KamLeigh versus Kyle and Brad. This elimination is one that involves brainpower (the ability to solve simple grade-school math) and strength. The teams strategize who should be climbing versus who should be doing the math. Brad shares that he's taught several math classes, but decides to be the climber anyway. Wait. What? LOL.

TJ blows the horn and we immediately see the difference in teams strategies. Kam decides to do her math on the ground, while Kyle and Brad use the board as draft paper. I see Banony helping with Kyle and Brad's math equations and decide if he's doing it, so am I. Difference is, I'm out here for KamLeigh. I post up on the men's side and scream as loudly as possible to cause some distractions. I like to think I was a big part in KamLeigh's win, but they're just too good.
What you don't see in these scenes is that the boys rung the bell numerous times even though their math was wrong. Every time they'd ring, Kayleigh was taken down from her climb. Because they did this so many f*cking times, Kayleigh kept having to climb and was exhausted. Totally unfair.
Finally, after lots of arguing, they let Kayleigh remain on the board while they checked Brad and Kyle's math. And guess what? The girls took it home! Brad gives props to the ladies as he leaves the game. I'm low-key sort of sad. No more iconic lines from Brad the dad. We'll miss you buddy.
Next up, the battle everyone has been waiting for, Banony versus ShaNelly. For their task, they must use a cylinder shaped object to try and push each other out of a ring. I'm excited. Tony alone would be able to push both Shane and Nelson out. Which proves my point: you can be as fit as you want but sometimes it just comes down to pure size… and that's why I eat fries.

Banony wins and we've got the band back together. I'm skeptical of trusting PaNatalie but also fearful of seeing Tony and Bananas in the final. Things should get interesting. The closer we get to the end, the bigger the target on mine and Cara's back grows.
We welcome our old friends into the house and get the news that a challenge will be taking place tomorrow. At this point in the game, we've all basically figured out the schedule: purges always follow eliminations. It's no secret that this season has been completely unfair for the girl-girl teams, and having a purge is terrible news for us.
We get to the challenge and find out we'll be pushing a massive rock. TJ gives us two options: either push through the ditch, which is more difficult but a closer distance, or around the ditch, which is easier but further.
The rocks are heavy AF but each was weighted equally to match the competitors' size. Finally, something equal in this game. I'm really over them going back and forth on their decision to use equalizers. It totally screws your game up when you assume they'll be given, like say if Cara and I went against Shane and Nelson in a physical fight. Oh, wait.
Sadly, Kam and Kayleigh lose and somehow Cara and I are able to overcome another purge. We might be second to last, but alive nonetheless. Yet again, they make it look like Cara was the only one pushing this boulder. Listen, Cara, I'm all about the girl power, but you do know I exist, right? Cool.

Having Kam and Kayleigh leave is sad. Not only because they're my girls, but because they have put up one hell of a fight this season. These bad b*tches took their loss with grace. Kam says she's out to win the next one, and I believe her. Here's hoping my girl pulls through. DRINKS ON YOU!
Next week we're down to five teams. There are no more lifesavers. If you lose, you go home. Here's hoping I get the credit I deserve next week. If not, I'll be sure to write about it here. HAPPY WEDNESDAY!
Xo,
Marie
Images: MTV (5); Giphy (1)
What To Eat Before Going Out So You Don't Bloat Or Die
Does bloating ruin you day, your evening, and your life in general? Do you often try to be a responsible adult and attempt to eat before binge drinking, only to find that your meal has sabotaged you into looking like a beached whale? Lucky for you, we've rounded up the top 7 foods to eat before you head out drinking to AVOID the muffin top spillover and bubbly stomach that results from a bloated belly, so you can still rock that deep-V onesie. HOWEVER, these foods are still substantial enough so you won't end the night face-down in a stranger's toilet. Anyone who's ever tried to take shots after only eating salad for dinner can relate. We just saved your life. You're welcome.
1. Salmon
Blah blah blah drinking is bad and can deplete your body of vitamins. So have a piece of grilled or roasted salmon before heading out which will keep you fuller, help prevent a terrible hangover, and keep the bloat at bay.

2. Avocado
The avocado, the fruit we associate most with worship, is a great choice to prevent not being able to button your pants. Since it's full of healthy fats and digested more slowly than carbs, it'll keep you full without adding inches. So, whip up some fucking guacamole and have at it with like, not chips … which will bloat you.
3. Eggs
Full of protein like literally everything else on this list, whipping up an omelet is a legit choice for your night on the town. Eggs are also full of cysteine, which, according to the internet, is an amino acid that gives your liver a boost, which, obviously, you're gonna need.

4. Chicken
Kind of random, but munching on a piece of grilled chicken before seeing how many shots you can take will take longer to digest (keeping you full), is lean protein (keeping you skinny), and will help curb some of the hangover pain tomorrow. Just make sure we're not dealing with breaded or fried chicken … that'd be silly.
5. Hummus With Cucumbers
It doesn't get more basic bitch than this, but your skinny stomach will thank you. Hummus is chock full of vitamins and protein, which will keep you full i.e. when you're blackout you won't crave a burrito bowl quite as hard. The tahini in the hummus can also help prevent hangovers, so win. Why cucumbers? Because they're literally full of water and are one of the best things to help you stay hydrated AND non-bloaty.

6. Very Specific Fruit Salad
So we need to be fucking specific on this one. Make yourself a fruit salad with kiwi, honeydew melon, and bananas. The bananas have potassium and will help prevent a hangover. The melon is a diuretic and helps flush excess water from your system while working to replace electrolytes. Lastly, the kiwi will help you shit (honestly yah) which always makes us feel skinnier.
7. Kefir Yogurt
If you're in the mood for a parfait, use kefir yogurt as your base. It's tangy, thinner than your typical Greek variety, and helps break down lactose which can cause bloating and stomach pain. Throw some nuts and honey on top and you're ready to take shots.
10 Foods To Help You Debloat If Sweatpants Are All That Fits You Right Now
Bloating is LITERALLY the worst. It's like, you could be eating healthy and totally not shitty, but your jeans claim otherwise. Learning to avoid the shit that makes your stomach hang over your pants is a lesson that should be clutched and held close like a vintage Chanel purse.
Here are the top ten foods that make you NOT bloated, so eat this shit to avoid feeling (and probs looking) like that chick from My Big Fat Fabulous Life.
1. Cucumbers
This shit has been a mainstay in spas for year, and it turns out, for good reason. Cucumbers make you the opposite of bloaty and farty because of an antioxidant that helps reduce swelling in ALL of its forms. So put these shits on your eyes, in your belly, and anywhere else you feel could use a nip and tuck.

2. Bananas
Our fav dick-shaped fruit has ANOTHER use —this time, to help us fit into our jeggings. Since they're so rich in potassium, bananas prevent water retention by telling all the extra salt in your body to get its shit together. An even bigger plus—they'll help you poo, making you feel EVEN SKINNIER. Hooray, bananas.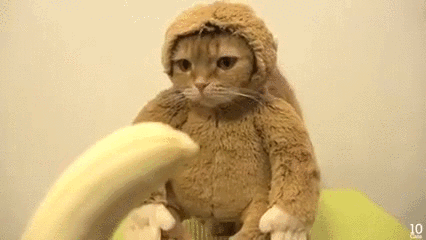 3. Asparagus
Battling water retention is apparently on asparagus' to-do list, and we're thankful for it. Eat it raw, roasted, steamed—what the fuck ever, and you'll feel light and airy despite having had a delicious meal.

4. Ginger
Battling hangovers? Check. Fixing nausea? Check. Making sure your stomach doesn't repulse those around you? Check. Because it's a natural anti-inflammatory, ginger relaxes the whole digestive tract, which makes you feel less like you have to suck it in. Add this shit to any smoothie or tea to help beat the bloat.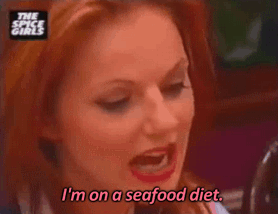 5. Watermelon
Oh yay! Our fav (sorta) calorie-free fruit makes the list. Because watermelon is so full of well, water, it makes you feel fuller without puffing you up. Add the fact that it has little to no sodium (a notorious bloater) and you better be adding this to your diet this week.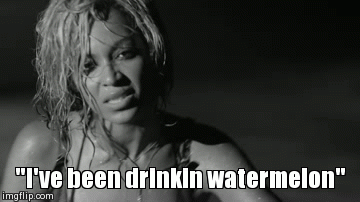 6. Greek Yogurt
A betch fav, Greek yogurt makes the list for showcasing its super good/yummy bacteria. Additionally, since it's high in protein, it'll keep the carbs at bay and keep your tummy flat. Just be sure to say "lol no" to those yogurts with the add-ins or added sugars. That'll do the opposite of giving you a flat stomach—just saying.

THERE IS A GOD. If you need a coffee, keep it iced to add water (duh, an anti-bloater) and skip the sugar. We know coffee will give you a nice little caffeine jolt and the water will like, hydrate you.

8. Avocado
Once again, there's literally no excuse for you to be bloated, having read this list. Avocados and iced coffee? Yah, we can hang. Avocados are super high in potassium like our friends, bananas, which keeps us from retaining water. Once you get rid of all the water, you drop three pounds just like that! We assume.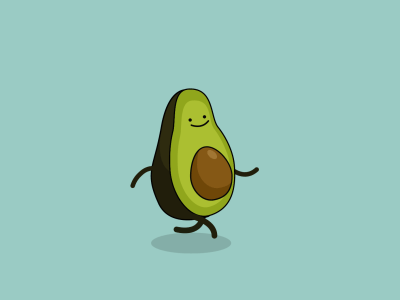 9. Zucchini
Since it's literally a denser, slightly less delicious cucumber, the presence of zucchini on our list shouldn't surprise you. The plus side is that, unlike cucumbers, you can grill, roast, or make chips out of these dick-like veggies. Additionally, they're super filling without the added calories like our good friend, sugar. Thanks, zucchini.

10. Egg whites
Start the day off the WHITE way (no racism intended). Unlike a regular omelette, or doughnut, or whatever, egg whites have basically no sugar, no carbs, and tons of protein. That'll result in a full but flat tummy AND relieve you of some of that extra water.