This Is What Goes Into Making Those Iconic Met Gala Looks
Heads up, ladies, it's Anna Wintour's favorite time of the year! Set to take place on Monday, May 6th, the highly-anticipated 2019 Met Gala is fast approaching. This year's theme is Camp: Notes on Fashion. We're predicting over-exaggerated styles and over-the-top accessories. Hopefully, Pharell leaves his hat at home.
The Met Gala was established over 50 years ago, so needless to say there have been countless incredible fashion moments since then. Let's take a walk down memory lane before we see the insane costumes from this year's event and promptly forget all about the old ones. Read on as we review some of the most iconic Met Gala outfits and explore the designers behind the ~lewks~.
Rihanna and Guo Pei in 2015

Before Rihanna stepped onto the Met Gala red carpet wearing that iconic yellow omelet cape, Chinese designer Guo Pei had been creating couture for more than 30 years. In fact, this exact masterpiece had been designed for a 2012 show in China and it had been at in Guo's studio until it was snapped up by Rihanna for the big event.
Weighing about 55lbs with a 16ft train, this look wasn't an easy one to pull off—literally. In fact, when it was first presented in China, the model made it only halfway down the catwalk before the show had to be paused so she could remove the garment and head backstage. At least it probably counted as her cardio for the week?
Fitting for the China: Through The Looking Glass theme, the fur-trimmed cape featured over 50,000 hours' worth of hand embroidery and took two whole years to make. Let me repeat. Two. Whole. Years. Describing her inspiration behind the design, Pei said, "When I had this design in mind, I a woman that can carry weight on her arms. It's a dress she has to lift, like she can lift the whole world. I always have a woman like that in mind." Sooooo… Rihanna? Rihanna.
Blake Lively and Atelier Versace in 2018

Blake Lively's dress was so long that she literally had to take a party bus to the 2018 ball. First stop senior prom, next stop Met Gala?  Inspired by royalty and the renaissance to match the Heavenly Bodies: Fashion and the Catholic Imagination theme, Lively and her gown captivated audiences. Her long train was carefully embroidered, and her jeweled corset reportedly took 600 hours to create. I did the math, and you could watch all seven seasons of Game of Thrones 12 times in the time it took to make this corset. The look was complete with sheer panels on either side of her legs and a custom halo that featured 100 carats of champagne diamonds.
In case you didn't know that Blake Lively is better than you, this piece was custom made for her by Atelier Versace. In case you didn't know that Blake Lively is better than you part two, she wore $2 million worth of Lorraine Schwartz jewelry to complement her look—this included the custom headpiece, bangles, earrings, and her Lorraine Schwartz engagement ring. Schwartz's pieces are often worn by celebrities on the red carpet, and her jewels have been spotted on people like Beyoncé, Kim Kardashian, and Angelina Jolie. Very casual, no big deal or anything.
Kim Kardashian and Balmain in 2016

Manus X Machina: Fashion in an Age of Technology was the theme for the 2016 Met Gala, and Kim Kardashian didn't disappoint. Kim and Kanye rolled up to the red carpet in coordinating Balmain—Kim in a futuristic silver dress and Kanye sporting a silver jacket, icy blue contact lenses, and ripped jeans. The Balmain pieces were beautiful, but tbh I feel like the boldest fashion move might have been wearing jeans to the Met Gala.
Kim's garment was created by Olivier Rousteing, a French designer who became the youngest Creative Director of Balmain in 2011 at age 25. Since his takeover, he's brought a fresh eye (and some insane cheekbones) to the luxury brand.
As anyone who's seen KUWTK might expect, this look wasn't the only outfit that was considered. Speaking about the evening before the Gala, Kim said, "When I landed in New York at midnight, I immediately went to see Olivier for a 1am fitting, and we literally cut skirts in half, created tops from dresses, and stayed up until 4am to get the perfect option that we felt fit the theme." Who knew Kim K was such a DIY queen? I would say that's relatable, but I can barely turn a regular T-shirt into a crop top without f*cking up. Other potential looks included a gown with jeweled shoulders and sleeves and another that was embellished with pearls and a giant gem in the center of the bodice. In total, Kim received four custom-made dresses from Rousteing before the event.
Rihanna and Comme des Garçons in 2017

Rihanna is the queen of the Met Gala. This is a fact, and anyone who disagrees can fight me. The theme of the 2017 ball was Rei Kawakubo/Comme des Garçons, and in true Rihanna fashion (ha), the singer stepped out onto the red carpet in an attention-grabbing piece. She wore a textured garment that was cut from jacquard florals which made her dress three-dimensional. The piece was designed with an asymmetric hemline and cut-outs, and was first featured in the Comme des Garçons Fall 2016 collection.
It reportedly took Rihanna an hour to get into the strappy Dsquared2 red heels she wore to the gala, and I can't even imagine how long it took to get them off.  Her hair was styled into a top bun, and her makeup complemented the pink shades of the dress with rosy eyeshadow and blush that blended together. On anyone else, that makeup would've looked like a 5-year-old discovered their mom's blush and went to town, but it worked on her.
The 2017 gala was quite the tribute to Rei Kawakubo, who rarely agrees to shows or interviews. Goals, pretty much. She established Commes des Garçons in Tokyo in 1973 and has developed the brand into what it is today—an inventive and stand-out establishment.
Stay tuned for a recap of all the iconic looks we'll see this year! Until then, feel free to look at pictures of old Met Galas and feel poor.
Images: Karwai Tang/Getty Images; Shutterstock (3)
5 Fashion Trends That Will Be Everywhere In 2018
Obviously, 2017 wasn't anyone's year. It wasn't mine, it probably wasn't yours, and it most definitely wasn't Taylor Swift's. We, as a dysfunctional society, took a hard, violent fall. We hit a lot of railings; we broke a lot of shit… I'm going to say we survived, but I'm not going to say we thrived. Trump is still our president, Kylie Jenner just beat teen pregnancy, and someone *tried* to make designer Crocs a thing, BUT we still have feminism and a decent fashion sense to hang onto—thanks to hangover clothes being labeled as "street style"—so to me, we're fucking thriving. While 2017 may have brought us the good, the bad, and the ugly in more ways than one, it was definitely an eventful year for fashion. From sun's out, nips out to rubber pool slides, we're only getting started. 2018 already has a shit ton of fashion trends prepped for us, so we better start looking ahead. Here are five major fashion trends you're about to start seeing everywhere.
1. Low-Key Chic Hats
I mean, this is news to me, but apparently the effortlessly chic French girl style is very much a thing. Straight from Paris' own streets, the classic beret has taken runways and Instagram by storm. The accessory immediately turns you into the next Coco Chanel who just needs an éclair in her hand, stat. In addition, the long-lost, but definitely not forgotten, basic baseball hat or "dad hat" will soon be worn with going-out skirts and cute shoes. On the bright side, you no longer need the "greasy hair" excuse to wear a hat.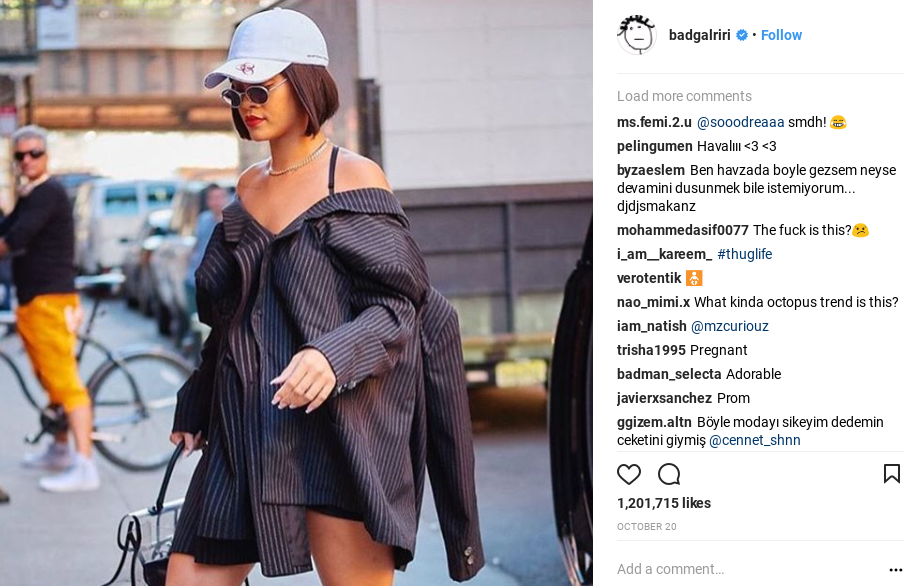 2. Palazzo Pants (Again)
This one is here to stay, but don't go crazy and dig out your summer pairs. What are you, an outfit repeater? Stick to longer, wide-legged styles in neutral prints or solid colors to take this trend in a subtle approach.

3. Plastic And Latex
Just when we thought we'd seen the worst of the worst with see-through Yeezys and half-denim, half-plastic jeans happened. Some freaks are really making this cracked-out trend last. First of all, why? Second of all, WHY? Whether it's a trendy raincoat or a cheap af-looking plastic dress, it looks like we'll be getting an assortment of clothing in tacky plastic. Guess that guy from The Graduate was right? Come spring, we'll probs start to see our fave chain stores carry latex dresses and leggings because honestly, we've run out of ideas at this point.


4. Logo Mania
I guess we're going back to 2001—a time when we felt obligated to wear Hollister or Bebe across our padded bras, just to let everyone know we were cool enough to shop the brands. This next year is apparently full of logo everything, so when you think you left that shit in high school with Abercrombie, American Eagle, or even PINK, think again, and like, this time, make it fashion.

5. All Purple Everything
If you listen to anything I say, ever, or just casually check the internet, you'd know purple is 2018's color. It's specifically Ultra Violet, but even a girly lavender or true purple will still count for something. Expect this trend to be the new millennial pink. From heels to bags to sweaters to the next fucking iPhone XYZ, you'll be wanting everything you see in the bold shade.