5 Fashion Trends That We Just Don't Understand
I don't really fancy myself a fashion guru—in fact, I'm currently wearing a less than flattering sweatshirt-and-cowboy-boots combo—but there are some pieces out there that even I can say, with absolute certainty, are stupid. Look, as a youth living in New York, I am generally unfazed by most things, but some of the outfits that walk by me every day are too awful to forget, and they deserve a shoutout on this sh*tlist. Before you call me judgmental, let me just tell you that I know I'm judgmental and I simply don't care, so joke's on you. I'd also like to say that I'm not out here judging people who have bad taste or don't know how to wear bootcut jeans because, let me remind you, I'm wearing a sweatshirt to work today. No, I'm judging the people who think they're being really stylish by wearing something that's objectively stupid—like sleeveless hoodies. Please.
So without further ado, read on for the dumbest moments in fashion. 
Sheer Sweaters

Rag & Bone Perry Crewneck Sheer Pullover Sweater
The whole point of a sweater is to be cozy, so why in the fat hell would you wear one that's both thin af and completely see through? As someone who pushes the company dress code like I'm getting paid to test limits, I totally understand the desire to be a little extra, but a sheer sweater just doesn't make sense and that is a damn fact. There are so many ways to do sexy the right way, but a sweater thinner than a pair of CVS tights isn't one of them. What about a cropped sweater and high-waisted jeans? Or even an off-the-shoulder sweater? There are so many solid options that don't involve literally freezing your tits off. 
Sleeveless Hoodies

lululemon X Barry's Stronger as One Sleeveless Hoodie
Like most horrible things in this world, Justin Bieber is to blame for sleeveless hoodies. First of all, hoodies are not flattering, like, ever, and removing the sleeves doesn't help. The only thing hoodies are good for is keeping you warm, so a sleeveless hoodie makes no sense whatsoever. It's like the fashion equivalent of a sandwich with no meat: unnecessary. After doing some research (a quick Google search), I've noticed that most sleeveless hoodies (gag) are part of a workout outfit, which is almost worse than wearing one out and about. No matter the season, you sweat a ton when you work out, so do you really want to tap it back in a f*cking sweatshirt? I think not. 
Furry Flip-Flop Slippers

Technically I'm 26, but my affinity for bathrobes and slippers indicate otherwise. Let me just point out what I thought was obvious so that I can bask in how stupid these things are: the whole point of slippers is to be cozy, so why would anyone buy and wear a flip-flops version?? Also, not to be a snob, but the only two places flip-flops are an acceptable choice of footwear are on the beach and in the nail salon. That is it. Like everything else on this list, the weird edits to the original style (a closed slipper) totally defeat the purpose. These wouldn't make sense even if they were cute, and uh, they ain't that cute either. Instead, go for one of these cute snow boot options that will actually keep your toes warm.
Jeans With Giant Holes

SHEIN Extreme Distressed Knees Jeans
Look, I stan a good ripped jean, but there is something about the Khloé Kardashian-esque ripped jeans that are an assault on the eyes. I'm talking about the ones whose hole starts in the upper thigh region and literally ends at the ankles. I mean, why? They serve zero purpose except giving the people around you something to laugh at, so unless you're just out here trying to make the world LOL, go for normal ripped jeans. I know it's ~fashion,~ but that doesn't mean it's a good look. And if you absolutely can't resist a pair of denim like this, please save your sanity and do NOT wear them to a family function. Your dad will have a f*cking field day making fun of you and asking if your knees are cold, which they probably are. Next!
Boot Pants

That's right: boot pants. Balenciaga is generally not my cup of tea because I don't like confusing, overpriced, neon-colored tea, and these weird boots (pants?) are a perfect example of why I can't get behind the brand. First of all, what are they? How do you put them on? How do you PEE? Secondly, they're so aggressive that if you must wear them, you can really only get away with them once, maybe twice if the second time is a full decade later. I'm all for bold choices, but these are just too much and I stand by that statement. And at nearly $3000, the price is DEFINITELY too much. This isn't like that time Her Royal Highness Michelle Obama wore those glittery Balenciaga boots and the world truly lost its mind, because those were insane in all the right ways. These boot pants are just insane the way Spencer Pratt is insane AKA there's nothing cute about it. 
Do you agree that these pieces need to be burned at the stake? What horrible trends did I leave out? Let me know in the comments! 
Images: Neiman Marcus; lululemon; Zappos.com; SHEIN; Balenciaga
Betches may receive a portion of revenue if you click a link and purchase a product or service. The links are independently placed and do not influence editorial content.
Balenciaga Managed To Make Crocs Even More Hideous Than They Already Are
The year 2017 is just full of nightmares surprises, and it looks like the year 2018 is going to carry on with that tradition thanks to Balenciaga, who tried to pawn off what anyone with eyes knows are Crocs as "foam shoes" during their 2018 spring fashion show for Paris Fashion Week. Umm…I'm sorry, but IDGAF what you want to call 10cm pink platform Crocs complete with flower widgets, but we the people know what these "foam shoes" really are: a monstrosity. There are some things that should have just been left in the early 2000s (chunky highlights, Donald Trump, etc.), and Crocs are definitely one of those things. I don't care if I see a pair of these on the cover of Vogue being worn by both Hadid sisters and a Kardashian, we're not going to make Croc-based fashion happen. It's not going to happen.
That's not to say that Crocs don't have their place in the world. They're perfectly fine for dads on vacation, the elderly, and days when you're too hungover to move and have no immediate plans to leave the house, but these platform Crocs don't even work in any of those circumstances. The point of Crocs is to show the world you've given up comfort, and these things are too tall to actually be comfortable in any way. Crocs are house shoes, and nobody is wearing platform sandals around the house for shits and gigs.

What's worse is that Balenciaga isn't even the first high fashion brand to attempt to bring Crocs back into our lives. Christopher Kane also tried his version of a "fashionable Croc" (again, not a thing) last September, telling Vogue, "Crocs are arguably the most comfortable shoe, I love that they are slightly awkward and might be perceived by some as 'ugly.'"

Umm..okay, so agreed about the comfort part, but "slightly awkward" and "might be perceived by some as ugly" are the understatements of the century. Crocs are more awkward than running into your ex on a date, and are perceived by all people as ugly. It's one of the only things Americans can agree on. Balenciaga designer Demna Gvasalia also explained his sick, twisted mind rationale to Vogue, telling them, "It's a very innovative shoe. It's light, it's a one-piece foam mould and to me these kind of techniques and working with these kind of materials is very Balenciaga. In the future you will be able to 3-D print them at home because they are all one piece."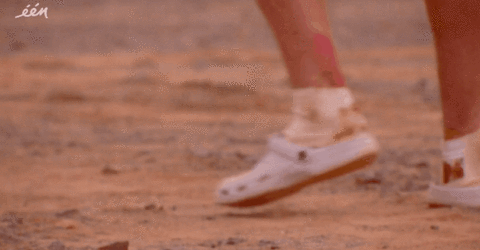 Oh, now I get it. It's just laziness. You want to be able to print a fuckload of shoes for 10 cents and sell them to me dumb fucking fools for $400. Okay, Balenciaga. I see you. And honestly, I respect the hustle, but you're gonna have to try it with a better shoe.