5 Things You Didn't Know About Hair Extensions
Hair extensions—much like microblading, eyelash extensions, and fillers—have been making people hotter for years without you knowing. Now, in the age of Instagram, celebs and influencers alike are finally opening up about how they achieve their high-glam looks (not to mention their flawless no-makeup looks). The rise in hair extensions is particularly near and dear to me: six months ago, I cut off eight inches of hair in a moment of sleep-deprived lob-fever delirium. Since then, I've been trying everything short of Sugar Bear gummies to get my length back, a routine my friends finally got sick of hearing about and cut off with a simple question: why don't you just get extensions?
Hah! I thought at first. Extensions were for photo shoots and reality stars—not me. But after doing some research on what extensions look like today, and how broadly they're used, I realized that extensions weren't simply a viable option: they could be exactly what I'm looking for. To learn more, I chatted with Lisa Richards, founder of RPZL. RPZL is the first blowout bar to also offer hair extensions, and they're a huge part of the reason why extensions have become more accessible. So, set aside your preconceived notions about hair extensions and listen up: here are the five most surprising things I learned.
1. There Are So Many Different Types
Like I said, I'm new to the idea of hair extensions, so bear with me if you've heard this before. But I assumed that hair extensions were always a full, glued-on experience—not so. At RPZL, they offer clip-in extensions and clip-in ponytail extensions, both of which can be removed nightly. According to Lisa Richards, those extensions can last for years "if you care for them." So knowing me, I'd ruin them within six months—but good to know!
The other offerings at RPZL are premium tape and keratin bond extensions, which last 8 weeks and 3 months, respectively. Traditional extensions, Richards explains, "rely on heat," using a "mini flatiron to melt the keratin glue on an extension and bond it to a small section of hair." For the keratin option (which is unique to RPZL), the extensions are bonded using "cold fusion:" using a glue that "reacts to ultrasound when used with an applicator." Basically, we all know about the damage heating tools do to our hair; the keratin option eliminates that step, and is actually faster, too. (Per Richards: "no waiting for an extension to cool" makes the process 3x faster.)
2. You Can Treat Your Extensions Like Regular Hair
Another ill-informed thought I had about extensions was that they consisted of a singular swath of synthetic material, to be kept as pristine as possible for preservation. Nope! While synthetic hair extensions do exist, there are also ones made of real hair (I'll give you a guess as to which look better). With the real hair extensions, you can style your extensions along with the rest of your hair—Richards specifically says you can "color it, use a curling iron, flat iron it." This explains a lot of questions I had about how celebs make their hair blend so seamlessly with extensions. It's also something I feel very dumb for not knowing, so please don't roast me (too hard) in the comments.
3. Hair Extensions Can Add More Than Length
When I asked Richards what the number one reason for getting extensions was, she summed it up nicely: "inchessss." And while inches are obviously my #1 concern right now too (*glares at shoulder-length hair in mirror*), the other reason she gave blew my mind. According to Richards, people will also get extensions to add more color to their hair—"without the commitment or damage." Fun fact: two years ago, I did a very aggressive balayage with a very unskilled stylist who left me with more gray streaks than blond. The idea that I could have just clipped in some blond extensions and gotten subtle highlights instead leaves me shaking with rage. But also, it's definitely what I'll do next time I have the urge to lighten up (so, three weeks from now).
4. Not Everyone Can Get Extensions
Of course, not everyone can get extensions for a bunch of reasons (money is the first one that comes to mind, but I bet there are others). What I mean specifically is that not every hair length and style lends itself to extensions. As Richards put it, "people who can't put their hair in a pony tail" (e.g. people rocking pixie cuts) shouldn't try to get extensions. "It just doesn't blend well."  So, sorry to anyone out there who made even more of a dramatic chop than I did, but you'll need to wait a few months to be extension-eligible.
5. Hair Extensions Are Used In The Royal Family
This is my favorite fact of all time! (Well, other than the fact that Anna Delvey wore a velvet choker to court. I digress.) When I demanded to know what celebs have been secretly using extensions for years, Richards offered up an extensive (hah) list, including none other than the Duchess of Cambridge, Kate Middleton. (I know you were hoping I'd say Queen Elizabeth II, and I'm sorry. Please continue picturing the monarch with a clip-in ponytail for however long you need to mourn this loss.) Richards estimates that 97% of "all female stars" wear extensions for work or their private lives, but other "surprise" extension-wearers included Tina Fey, Jennifer Aniston, Reese Witherspoon, Lauren Conrad, and Chrissy Teigen.
YASSS QUEEN!!!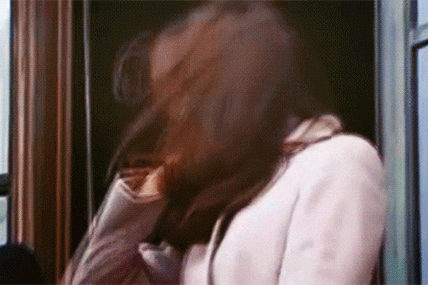 All in all, my conversation with Lisa Richards had me more ready than ever to book an appointment, and ride out these last few months of growing my hair back in style. After drooling with envy over everyone's waist-length curls at Coachella, I think I deserve this.
Images: @rpzlrpzl; @mercedes2429; Giphy
What Summer Ombré You Should Ask For Based On Your Hair Color
'Tis the season (about fucking time) for drinking outside on a hourly weekly basis, always looking exotic, and visiting your second home: the hair salon, obvi. Everyone knows summer means sun's out, buns blondes out. Since winter is looong gone possibly due to that little thing called climate change, you no longer have to literally wear black from head to toe. Even though you probs will anyway. Ditch your emo dark hair color for something lighter, playful, and more basic unique. Instead of going totally drastic and dying your whole head a single color (ain't nobody got time for that upkeep) or trying to keep up with the hipsters and looking like Rainbow Brite, ask your savior hairdresser for the idolized summer look: ombré, otherwise known as the calm before the balayage storm. Regardless of your natural hair color, here is some Insta-worthy ombré hair inspo to take with you for your next hair appointment.
If you have natural dark roots, ask for:
Caramel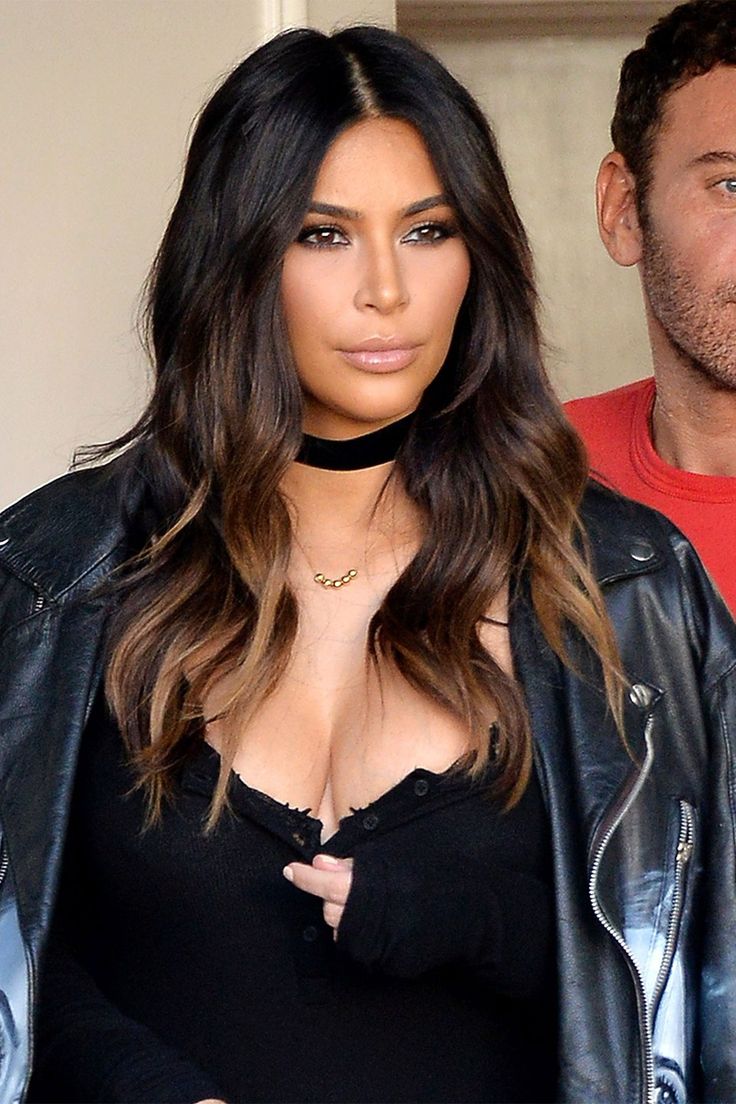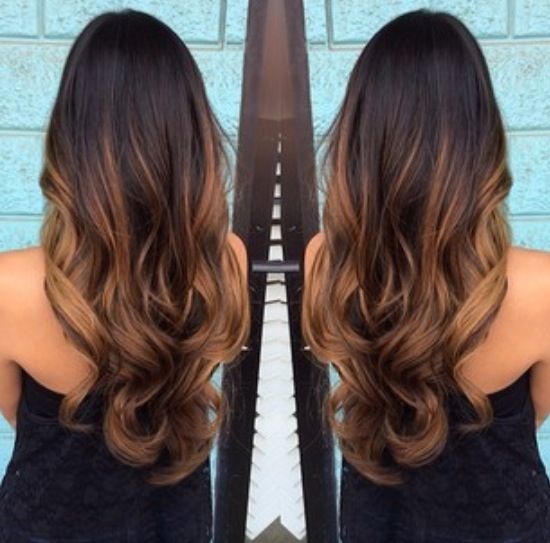 If you're naturally a brunette and don't want anything too crazy, go for a subtle caramel ombré. The light contrast will add dimension and fluidity to your hair, regardless of the style and cut you have. If you love it (which you will), ask to go lighter in color and start closer at the (literal) crown of your head, you queen.
Blonde


For something a bit more ~extreme~, jump right into a golden hue and gradually get lighter until you reach the shade of blonde you want. For extra enhancement, ask for scattered or face-framing highlights to complement your face shape. The light hair color will bring out your natural glow, so honestly, you may just say "fuck highlighter" for the rest of summer. Maybe.
Deep Auburn


If you want to add some mystery and a significant pop of color, opt for an auburn shade. This style will make you stand out against all the other basic bitches like me who are afraid to stray from blonde shades. The added color provides tons of dimension and probably an alter ego, too.
If you have natural blonde roots, ask for:
Blonder


You know what they say: Once you go blonde, you never go back. Like, so fucking true. If you have somewhat of a blonde hue, such as dirty blonde, gradually grow lighter. Since you'll be under the sun 24/7, your hair will grow lighter on its own. You'll probably look as innocent as sweet LC here, but I can only hope the blonde doesn't get to your head (literally) and make you dumber. Will that joke ever get old? LMK.
(Almost) Platinum


I promise I'm not trying to bring The Hills gang back together (even though I would give anything for a reunion, just saying), but Whitney Port has always had killer hair. Go bold or go home with an ombré style that goes right into borderline platinum blonde. The sharp contrast will basically make you look like a tan Australian model who beaches nonstop. It's probably not the whole truth but, close enough.

If you have natural red roots, ask for:
Blonde


Especially for the summer, ask for a blonde shade that will give you a warm, vibrant glow. The blonde will turn some strands orange, making you look like Alicia Keys' song was about you. You, girl, are on *insert fire emoji*.

Coral


Have some fun with your rare gem of a hair color and ask to bring in a lighter shade of red, such as coral. The pink hue will add texture with a multi-dimensional effect. It's 50 shades of hot to flaunt for the next few months. I'm just killing it with these puns—ugh, I love myself.