WTFunds: 5 Finance Myths That Are Totally False
Welcome to WTFunds, where we do what nobody else does and… actually talk about money. Ever scrolled through your Instagram feed, wondering how your friends are affording their lifestyles when they're making the same amount of money as you and you can barely rub two dimes together? Read on, because we'll be talking to real people to break down how much things cost, and how they're paying for it.
When it comes to money, people of all generations throw around catchphrases and adages like coupons at Macy's without ever actually knowing if they're true. People spend their whole lives soaking in all of these finance tips and philosophies, only to hit their twenties and have a total WTF moment because these tips are either completely untrue or are no longer suitable for the lives millennials lead. Mainstream media and older generations love to make jokes about avocado toast being the cause of our financial woes without actually acknowledging how different life is for young people today—riddled with student loan debt, an insane housing market, the list goes on. 
We're Lauren and Kelda, millennial sisters (and avocado toast lovers) living in Seattle, WA. After entering the real world ourselves and watching so many peers come to view money as a subject to be feared and overwhelmed by, we felt compelled to make finance an approachable and exciting topic, not only for our friends, but for all millennials. Instead of focusing on small actions like skipping your morning latte, we want our peers to understand the big deals—compound interest, credit scores, the power of investing—the needle-moving and life-changing concepts. While between the two of us, we do have a background in corporate finance, we truly believe that anyone can master their personal finances and that, no, you don't need to be "good at math" to do so. Together we run Hello HENRYs, a blog on all things personal finance. Kelly Kapoor may be the business bitch, but we're the finance bitches, betches.

Outside of bottomless brunches, Real Housewives marathons, and overpriced skincare, engaging in healthy debate (aka proving people wrong) just may be one of our favorite pastimes. There is no topic that makes this more true than money. Today, we're sharing five of the most common finance myths and why they are actually so false.
1. All Debt Is Equally Bad
(Mostly) FALSE.
Did anyone else grow up hearing about debt as terrible, scary, or dumb? But then you were accepted to college and immediately encouraged to take out thousands of dollars in loans as the first "adult" decision of your life? Ironic, huh? The thing is, though, this happens all the time, and the reality is that the majority of millennials do have some kind of student loan debt. In and of itself, debt is obviously money that you spent without actually having, so in theory, it is never amazing. However, it's super important to differentiate between kinds of debt. 
Debt that is used to better your life can actually be seen as an investment that will help improve your financial health; and while yes, a trip to Bali 100% would better our lives, that's not what we're talking about here. Debt such as a mortgage or a student loan will (hopefully) give you a return on that initial debt investment. Provided that you are only taking out the exact amount that you truly need, receive a low (5% or lower) interest rate, and can afford the monthly payment, these debts are typically worth it and better your financial health. 
Credit card debt, or a car loan for a new Range Rover (when your budget is more 2007 Toyota Camry), on the other hand, is not only hard to get out of, but is also not something that is usually an investment in your future and will cause your credit score to take a hit. 
When evaluating your debt, always prioritize getting out of the "bad" debt and paying off the debt with the highest interest rate first. 
2. Credit Cards Are For Emergencies Only
FALSE. 
Okay, talk about scary. This kind of thinking is exactly why so much of the country is in severe credit card debt. Saying credit cards are only for emergencies or big (aka expensive) purchases, implies that credit cards should be used only when you don't have the funds to cover the purchase yourself. Uh…what?
On the contrary, credit cards should only be used when you DO have the money to cover the purchase. Literally nobody should be judging you for using a credit card to buy your weekly groceries or morning Starbucks—which has happened to us, by the way. This judgment comes because people assume that if you're using a credit card, it means you can't afford it. Again, the exact opposite of when and why you should use a credit card. 

As long as you can pay your balance in full each month, credit cards can be an amazing tool to earn rewards on money you are already spending. They can also provide travel/purchase protection and protection against fraudulent charges, and help you build credit, earn points for free travel, and a myriad of other amazing benefits. We use our credit cards for literally every single purchase that can be made using them. Obviously, we aren't going to force anyone into using a credit card, but we are going to be extra bossy about ensuring that you use them only when you have the funds to immediately pay them off. And also a PSA: stop judging other people's financial lives when you, very likely, don't know anything about them.
3. Monthly Rent Payments Are A Good Indicator Of The Mortgage Payment That You Can Afford
FALSE.
When Lauren bought her first home last year, this was a huge learning moment. For so long, we had heard "If you can afford $X in rent, that same amount could easily be your mortgage payment!" Not true. Owning a home comes with SO many additional monthly payments that are not part of the equation when you're renting. Property taxes, home insurance, HOA dues, PMI (insurance charge if you put down less than 20%—which is extremely common for first-time home buyers). All of these additional fees can easily add up to hundreds of dollars a month in payments. In actuality, if you want your housing payment to stay the same from renting to buying, you'll need to look for a home with a mortgage payment significantly less than your current rent payment.
Also, part B to this equation: Whoever said buying is always smarter than renting was so false. Buying a home can be a smart investment in your financial future, but it isn't always. If you're renting and making other key investing decisions, you can be equally as set up for success in your future, while also not having to deal with the nightmare of needing a new roof or water heater. 
4. You Can't Afford to Invest Until You Have No Debt
FALSE.
Actually—you can't afford not to. Some financial advisors actually tell you not to invest until you have no debt…which, if you have student loans, would mean you aren't making any investments until you're probably in your early thirties, at least. Yikes! There is a super mathematical and logical way to look at this, and it's called the interest rate. You want to throw your extra funds at the highest interest rate. If your student loan has the average 3.5% interest rate, but you could be earning 8-10% in an investment or retirement account, you're effectively losing money by choosing to pay extra on your student loans. Obviously, you always want to make the minimum payments on all of your accounts each month, but after that, your priority for your extra funds should be to the option with the highest interest rate. If you have credit card debt, this will likely always win out.

While we're on the topic of interest rates, another PSA, your hard earned savings and emergency funds should not be sitting in a traditional, low interest savings account at a brick and mortar bank. If you aren't earning a minimum of 1.8% or higher on your savings account, you're doing it wrong and leaving money on the table. 
5. Closing Old Credit Cards Will Boost Your Credit Score
FALSE.
Credit scores are something people talk a lot about, but usually have no idea what actually goes into them. There is literally no mystery about them, though. Remember back in college when the professor laid out the syllabus and what percent each category was worth? I don't know about you, but, as soon as we saw "Attendance" listed at just 5%, we basically gave ourselves a free pass to have a little too much fun on Thursday nights and miss every Friday morning lecture. I mean, at just 5%, we could still come out with an A. Credit scores are pretty much the same. 
FICO literally lays out the five factors that go into earning a perfect credit score and how heavily each factor is weighted. Closing old credit cards hurts two of the five factors: credit utilization rate (30% of your score) and length of credit history (15% of your score). Closing old credit cards could impact almost half of what goes into your credit score. Not a decision to be made lightly.
Credit utilization rate refers to the amount of credit you are using as a percent of what you have available. Let's say you have two credit cards. Credit card A has a $5,000 balance with an $8,000 limit. Credit card B has a $1,000 balance with a $20,000 limit. Currently, you are using $6,000 of credit out of $28,000 available—just 21% and below the max target of 30%. Let's say you decide to close card B (after paying it off) because you barely use it. Your balance dropped to $5,000, but your available credit also dropped to $8,000! That puts your new utilization rate is 63%—not good! 
In addition, while credit history is a smaller factor of your score at just 15%, this is a challenging one for millennials to score highly on because we don't have time on our side. If you decide to close your old college credit card because you don't use it much anymore, you're literally closing one of your longest chapters of credit history—also not good.
Obviously, there are some exceptions to this rule—if closing one card would not drastically affect your utilization rate, you have accounts with longer/better history, a card has a steep annual fee that you aren't getting enough benefit out of, etc. The point is, though, closing a card can have serious consequences on your credit score and is not a decision that you want to make lightly.
There you have it: five of the most commonly thrown around financial myths proven wrong. Talking money is never that fun or glamorous, but the most important thing is to nail the big picture ideas. By doing so, we promise that you can achieve your financial goals, like saving for retirement or buying a home, while still going to Soulcycle, happy hour, or whatever it is that enriches your life and brings you joy! Even with student loans and a less than six figure salary. We are living proof. 
Images: Sharon McCutcheon / Unsplash; Giphy (3); whenshappyhr (2) / Instagram
An Expert's Tips On How To Actually Have Work-Life Balance
Work, life and balance? The memes say we can only pick two, and even that's hard to maintain at times. Like, going to work, having a social life, being caught up on every TV show, going to class at Barry's, and being mentally sane? As Cher Horowitz from Clueless once said, "As if!" Not so fast. Even though "having it all" might be something of a myth, because you can't have what you want all the time without some sacrifice, you can still find some semblance of it through proper work-life balance. Samantha Ettus, writer for Forbes and bestselling author of five books, has tips on how to actually do it.
So, WTF Is Work-Life Balance?
View this post on Instagram
Ettus describes work-life balance by explaining, "We talk about a scale, and for a scale to be in balance, you have to spend equal time at work and equal time at home. And if you have a thriving career, you're failing at that. So, you have no healthy framework for how to think about it." Most of us can't imagine spending equal time at home as we do at work—I mean, how would we make money, right? Wouldn't we get fired for like, not checking our work email constantly?? In short, no, you don't have to be in work mode all the time. You'll have to work at it, but you can work on improving your work-life balance.
How Can You Actually Find Work-Life Balance?
ate six slices of pizza for dinner. Feel like I finally accomplished something good in my life

— chey ♡ joong ? (@jngluvr) July 29, 2019
So now we're left wondering, how to achieve this elusive balance between work and life. Ettus says, "the most successful people are those who play in 7 slices of their lives. And that's what leads to fulfillment. It's not just doing two things really well, it's being part of 7 different areas." She explains, "Those areas are your health, your career, your family, your relationship (or your quest to find one), your friends, your hobbies, and your community." The only slices I've thought about making time for in my life are those in the form of pizza, so these seem quite daunting. But it doesn't have to be. Ettus advises, "it doesn't mean that you have to spend equal time in each of those slices, it just means that they should all exist in some way even if they're a sliver today. Just having them there helps you manage your life better." 
How To Slice It
View this post on Instagram
Ettus says, "I think if you look at the seven slices and you have a commitment to make a goal for each of those slices, it really helps. So if you look at the friend slice and you're like, 'wow I haven't actually seen my good friends in a month,' that's gonna change the way you look at what's important: to have dinner with a friend every single week or to call a good friend on the way to work or whatever it is." Making goals is necessary in order to achieve them, which seems kind of obvious but still needs to be said. You have to take a realistic look at your life to assess what needs to change, and then implement those changes. Ettus also says, "Similarly, if you look at that slice in your life, and say, 'I want to be in a relationship but I haven't gone on a date in six months,' that's not good." She jokes, "Like, he or she is not gonna fall on your windshield on your way to work—you have to go find them. So, a lot of it is just being intentional about those slices and being intentional about being a part of all of those." 
How Do You Actually Balance Work And Life?
I just wanna know what genius turned leftovers into "meal prep"

— IT'S KENNIE NOT THE DUMPLING BAO BABY (@KennieJD) July 26, 2019
Just like anything important in your life, Ettus says, "a lot of it is preparation. Things will happen unexpectedly every day. So, for example, I am a big believer in the night before. The night before you want to pick out your outfits so you're not having a wardrobe crisis the next day. The night before you want to pack your bags. So I always stick a Premier Protein Shake in my bag just so I'm gonna make a healthy choice when I'm having a really crazy morning the next day." Remember when we used to do this in middle school? You'd lay out your outfit the night before school and your lunch would be packed and ready to go in the fridge? Why did we stop? Ettus says, "no matter what, you're probably going to wake up and something unexpected is going to happen. A meeting canceled, or someone is sick or something happens, there's a work crisis, something you didn't anticipate. So the more prepared you are, the easier it is to deal with that kind of bump in the road." There are always emergencies (no matter how big or small) that can crop up, but you can't let that derail your entire day.
Why Are We Suddenly Struggling To Maintain Work-Life Balance?
View this post on Instagram
Ettus surmises, "I think that it used to be that we could rely on our companies to give us work-life balance because we had a 9 to 5 schedule and that was it. And today, if you left work at 5 o'clock and didn't check your email until the morning, your industry might've changed or you might've been fired." Yikes. Ettus suggests, "instead it's up to us to create our own boundaries, and if you're waiting for other people to create those boundaries for you, you're never gonna live a happy life." 
Can You Have It All?
Ever since the days of High School Musical 3, we've been taught to always "Want It All." But is that really doable? Ettus says, "The way it's always presented in the media is you can't have it all: you can't have a great career and a great home life. And I completely disagree with that. I think it's just about setting boundaries. I've worked with thousands of women at this point, and the happiest and most fulfilled are those who maintained a career in some way, throughout all the stages of their life." So, yes, she does think it's possible to have a career, have a family, and be able to juggle the two. Just refer to those slices and make sure you're divvying things up in a way that brings you fulfillment.
Be Present And Eliminate Guilt 
View this post on Instagram
So how do you actually get the balance part? It all comes down to guilt, Ettus says. Guilt can disrupt your sense of fulfillment at work and at home. She says, "At the end of the day, when you are focused and doing the best you can wherever you are, it eliminates a lot of the guilt. So if you know you're at work, you're totally present, you're giving it 100%, you're not gonna go home and then feel guilty that you didn't do a good job. If you're at home and you're totally engaged with your family or your friends or your boyfriend or whatever it is, you're not feeling guilty because you know you gave them the best of yourself. So part of it is just giving the best wherever you are and that eliminates a lot of the guilt." 
Taking a break from technology is another way to be more present. Ettus says, "One of the things that's really important is to have two to three hours that are tech free every day, whether you're reading a book, doing sudoku, whatever it is. Even just the presence of the phone on the table takes away the meaningful conversation. When there's a phone on the table, the conversation is less deep because people always fear an interruption. It just gives you that anxiety." So if one of your friends gets mad at you for not answering her, just explain to her that you and your phone were on a break!  
Good Vibes Only 
It's written on every gas station T-shirt, but for good reason. Ettus says, "You want to spend time around positive people, and the people that are really genuinely happy for you when things are going well in your life. And there's a lot of people that kind of gather around us when things aren't going well but then when things are going well, they're sort of envious." She adds, "I'm also a big believer in that the grass is not greener. If you envy someone else's relationship, or their body, or their money, or something like that, there's always some other story that you don't know. Every single person struggles with something, so you're much better off just trying to figure out how to live your best life given what you have, not envying other people's lives." Lastly, she insists, "It's just better not to think about other people, and think about how you can live the best life you can." 
Ettus believes that a lot of times when people are unhappy at work, they blame their job first and foremost and look for a new job right away, instead of evaluating what other areas of their lives they are neglecting. So, if you think you need a new gig, maybe try taking a look at your seven slices first and examining if your work-life balance is to blame for your unhappiness.
Samantha Ettus is a national bestselling author of five books, and the founder and CEO of Park Place Payments, a payment processing company focused on women's financial independence.  Since earning her undergraduate and MBA degrees from Harvard, Sam has devoted her career to advancing and supporting women in the pursuit of their dreams. Sam's most recent book is The Pie Life: A Guilt-Free Recipe for Success and Satisfaction. She lives in Los Angeles with her husband and three children.
Images: Instagram/whenshappyhr (3), girlwithnojob (3), Twitter/jngluvr, KennieJD
4 Exercises To Improve Your Balance And Flexibility
Do you struggle with balance and flexibility? If you do, first off, you should seek care from a medical professional, since there are many potential causes of balance and flexibility issues other than just "I can't touch my toes and I'm clumsy". There could be an actual medical issue, so you want to speak to your doctor to make sure you identify the cause of your balance issues in order to receive proper treatment. That said, you can also improve your balance and flexibility by performing certain exercises. Your doctor may even recommend you look to direct access physical therapy. Working with an expert will ensure you're working safely and within your abilities.
If you're struggling to improve your balance and flexibility, give the following moves a try.
Alternating Arm Plank

A plank simply involves modifying a typical push-up position so your elbows rest on the floor. When looked at from the side, your arms should appear to form as close to a 90-degree angle as possible.
For this exercise, you may need to rest on your palms (like a typical push-up) when you first attempt it, as it can be difficult to maintain balance otherwise. That's because this version of a plank requires you to balance on just one arm for a few seconds, before switching to the other arm. As you get more comfortable with the exercise, you can try balancing on your forearms or extending your opposite leg.
BOSU Ball Split Squats

A BOSU ball is a piece of equipment you may have seen people using at your gym. It essentially looks like half of a stability ball. Instead of being a complete sphere, it has a flat base running through what would otherwise be the middle of the sphere.
Using a BOSU ball when performing split squats can be a very effective way to improve your balance and flexibility. For this exercise, step forward with one leg far enough so you have to raise the heel of your back foot. The toes of your back foot should rest against the BOSU ball. With your torso straight, bend your front knee so your back leg almost rests against the ball, before returning to a standing position. Alternate sides for the best results.
Pistol Squats

Pistol squats are useful when BOSU ball squats start to feel too easy. For this exercise, stand on one leg and bend the knee of that leg until its thigh is almost parallel with the floor. Try to extend your other leg in front of you as you do so. The straighter you can keep it, the better.
Return to a standing position and repeat to your comfort before switching to the next leg. This is a difficult move to perform, but it can be very helpful if you struggle with balance issues.
Standing Crunch With Clap

This is another exercise you may need to work up to. However, it is a very effective way to improve your balance and flexibility.
To perform it, stand up straight on one leg, with your other knee bent to form a 90-degree angle. Keep your hands raised above your head. Your raised leg's thigh should be parallel with the floor.
Next, bring your stomach forward to your raised leg as if performing a crunch from a standing position. While doing so, bring your arms below the leg and clap your hands together, then raise your arms back up as you return to your original position. Repeat to your comfort, then switch to the next leg.
Again, it's important to see your physician if you have balance and/or flexibility problems. An underlying medical condition may be the culprit. However, it's also helpful to perform these exercises. They'll provide you with the strength you need to stay balanced and comfortable throughout life.
Rae is a graduate of Tufts University with a combined International Relations and Chinese degree. After spending time living and working abroad in China, she returned to NYC to pursue her career and continue curating quality content. Rae is passionate about travel, food, and writing, of course.
Images: Shutterstock (3); Giphy; Unsplash
Why Being An 'Overnight Success' Is A Myth
For more amazing career advice, buy our third book, When's Happy Hour?
2018 is the time where it's f*cking cool to be a woman who's killing it in her field of expertise and living her life. There is no better example of that than Dr. Lara Devgan, a board certified plastic surgeon, the Chief Medical Officer for Real Self, CEO of Scientific Beauty and oh, a mom of six. Casual. Dr. Devgan shared her best tips for work-life balance with us on our When's Happy Hour podcast. Here are some of her top tricks for getting ahead in your career and living your best life.
Work Hard And Be Patient
Being an "overnight success" is not a real thing. Even Kim K had to work for years to get from sex tape status to cover of Vogue. Dr. Devgan loves the saying that "every overnight sensation is a decade in the making." You need to be dedicated and patient, because success does not come all at once, especially for us ladies. "As a woman in a male-dominated field, you're working twice as hard to prove yourself and maybe getting half the credit," Dr. Devgan explains. She also says that 90% of plastic surgery clients are female, and 90% of plastic surgeons are male. So obviously that's daunting and not fair. But that's life. And no one can change it but you. "If you work really hard you'll be able to change the paradigms that are holding you back," says Dr. Devgan. If you don't like the game, change the rules yourself. Besides, Nice Girls never make history.
It's Okay To Not Have It All
Even someone as successful as Dr. Devgan doesn't see herself as someone who has it all. In fact, she thinks it's a totally false concept. "You don't have it all every minute of your life." She explains. "You have the things you need overall, but some more at certain times and others more at other times." Too often, the media makes us think "having it all" comes in this cute little Tiffany box your husband leaves on your bedside table after a hard work week. Like, no. The real world is not black and white. Most women are living between in the grey area of being a supermom and a killer career woman. "The way I reconcile it is that my kids are getting something out of seeing me working. They're learning things by observing me," says Dr. Devgan. So, you don't just get to have everything. As Britney says, you better work, betch. 
But Know That You Can Be Beautiful And Intelligent
There's a lot of stigma around Dr. Devgan's field, but she wants every woman to know, "You can be a person of substance and also care about your appearance. Beauty is not a zero-sum game." Just because you want to be a CEO doesn't mean you aren't allowed to care about how you look. Society likes to demand us to look a certain way, but then shame those who try to achieve that. Like, what's wrong with Bella Hadid getting a nose job? There's legit no winning, so you need to do what makes you feel best. If getting a breast reduction makes you feel beautiful, go for it. Just make sure you do it for you, not the guy in your office who suggested you get some Botox. If you want to be a boss, you have to have confidence. And it's great to have confidence in the way you look. If you have the ability to change something you don't like about yourself, go for it.
For more career advice, order our book, When's Happy Hour?, and check out our When's Happy Hour podcast. To follow up on Dr. Devgan's astonishing life, follow her on Instagram.
Images: Giphy (3)
The Best Workout To Do Based On Your Fitness Goals
We all have our reasons for going to the gym, whether it's because we want to drop some pounds, get toned for our Mexico vacay, or just need to clear our overly cluttered minds (how could Tristan do that to Khloé?! What's baby True going to think??). Whatever the reason, there's a specific workout that will help you best achieve your fitness goals. Like, I'm totally a fan of yoga and all, but it's probs not your best workout option if you're trying to lose weight, and if you want to tone up, doing straight cardio for an hour isn't the best use of your time. So, to help you maximize your allotted 45 minutes at the gym as efficiently as possible, I've broken down the best workout for your fitness goals.
1. Weight Loss
If you're trying to lose weight, the best workout for you is a high-intensity interval training workout, more commonly known as a HIIT workout. A HIIT workout is a training method in which you alternate bursts of high- and low-intensity intervals throughout a set cycle. This method of working out is proven to burn more calories than most other workouts, while also simultaneously boosting your metabolism. There are tons of free online programs for HIIT workouts that you can do on your own, and most are only a max of 30 minutes. If you're looking for a HIIT workout class, try Switch Playground, Fhitting Room, 305 Fitness, or a group Tabata workout.

2. Tone Up
Everyone knows someone who's skinny-fat. The skinny-fat person wears an XS, but their body isn't exactly "tight" because they've clearly never stepped foot at a gym. Toning workouts are for anyone who is content with their current weight but is looking for a more overall definition (skinny-fat or not). The best workouts for those looking to tone up are programs that consist of body weight exercises such as squats, push-ups, and planks. If you're looking for a group fitness class, your best options are pilates, kickboxing, or barre.
3. Strength & Muscle Building
Take a cue from the d-bags grunting at the gym and grab yourself a pair of free weights to work on building strength and muscles. There are dozens of free online programs specifically designed for women that will help guide you through one of these workouts. You'll want to set different days to focus on different body parts and should either hire a trainer or watch a shit ton of YouTube videos to make sure your form is correct. There are also some apps that can teach you basic weights exercises, like squats and bicep curls (I use an app called Jefit, but I'm sure there are like, a million similar ones in the app store). For those looking for a strength building workout class, try boxing! Another option: grab some friends and do a P90x workout.
4. Flexibility
I'm not totally sure why this is your reason for working out… unless you're like, trying to do some weird shit in the bedroom??? But hey, to each their own!

Improving your flexibility will help decrease your risk of injury, and it will also help your muscles work more efficiently overall. The best workouts for increasing your flexibility are stretching exercises and a workout class such as, you guessed it, yoga.
5. Endurance
Nope, not referring to your drinking endurance! (If that's where your mind immediately went, then I'm going to guess you probs don't need any help there anyway.) I'm actually referring to physical endurance, as in not being the girl who's out of breath after climbing one flight of stairs. Building endurance is essential to multiple facets of your overall health. The best workouts for doing so are ones that combine both strength and cardio training, such as classes like Orange Theory. Any type of HIIT workout in general, though, works great for building your overall endurance.
6. Balance & Coordination
Working out for improved balance and coordination is another goal that I don't totally get the motive for. I guess it's useful if you're auditioning for American Ninja Warrior or something?? Regardless, improving your balance and coordination can't hurt, and almost any balance or coordination based workout will do more than just improve that. If you're working out on your own, yoga poses are a great workout for improving balance and coordination. If you prefer a workout class, barre classes or any boot camp style class are great options because you'll be doing multiple different moves that utilize multiple different muscles throughout the class.

7. Mental Health
At the end of the day, basically any workout that you're willing to do is great for your mental health. There are, however, certain workout classes that integrate spiritual and mental well-being into the actual workout, such as SoulCycle and yoga. Sue me, but I'm personally a big fan of SoulCycle for that reason exactly. I love getting an intense workout in while simultaneously being flooded with messages of positivity. Of course, I know not everyone feels this way, so whatever workout best gets your own feel-good endorphins flowing is going to be beneficial.

Pretty much any workout you do will help you to achieve more than just one of the body goals listed. The most important step is just getting your ass to work out, whether your reasons for doing so are superficial or health-related (or are superficial but you're pretending are health-related for your Insta story). Whatever your reasoning, I'm totally not judging.
Images: @shotsbywolf / unsplash; Giphy (4)
6 Exercises To Improve Your Balance And Flexibility
I follow a lot of #fitspo type of social media accounts, and every now and then I'll watch a workout clip on Instagram and literally bug out seeing what some of these girls can do with their bodies. I mean, no, I'm not talking about how cute their sponsored shaker cups look next to their butt-facing-forward mirror selfies. I'm talking about these crazy moves that require more balance and coordination than 99% of America can handle. Like, I work out regularly,  but honestly my flexibility and balance are pretty shitty, and it's something I'm trying to work on. Here are six exercises to improve balance and flexibility that I'm incorporating into my own routine . Please join me so I'm not the only one struggling through pistol squats at the gym.
1. Bosu Ball Split Squats
The bosu ball is meant to make any exercise harder, and that's because it screws with your balance, making you use your own body to stay aligned throughout the movement. If you do split squats regularly, try adding the bosu and it'll really help any imbalances you have in either leg. The idea is to prop one leg in a lunge on the bosu behind you, and then use your front leg to move up and down, pushing with your glutes throughout the movement. If you're a newbie, you'll probably start tipping over when you start, so just take your time and focus on grounding yourself with your front leg. If you feel like one side is easier than the other, that's completely normal and it's because we're usually stronger on one side. That's why we're doing this. Once you master this, try putting the front leg on the bosu, because variety is the spice of pulled muscles life.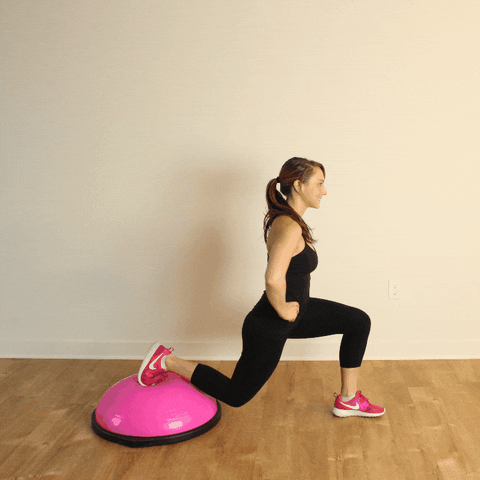 2. Lunge Hip Flexor Stretch
This move looks like more of a stretch than a real exercise, but honestly it's a must and it'll help with other exercises. It helps with mobility, flexibility, and coordination, so you'd be missing out just by skipping it. Especially if you sit at a desk all day, this move is amazing for opening up your hips and relieving any tightness from sitting for so many hours. Start by placing your hands on the ground and stepping back with your right leg, like you're stepping into a reverse lunge. Then, straighten out the back leg and feel the stretch in your hip flexors as your front leg bends in front of you. Hold for a few seconds before switching to the other leg.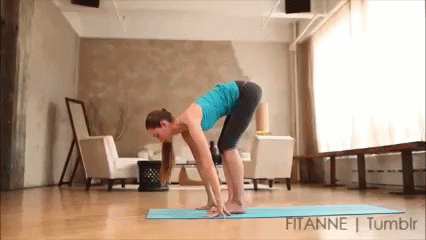 3. Alternating Arm Plank
This one is harder than it looks, so again, TAKE YOUR TIME. No one has ever rushed you through a plank, and the stability aspect here is key. The idea is to hold a regular high plank, but alternate arms so that you only have one hand on the ground at a time. This move hits your shoulders, abs, and arms all at once, and it also ensures you're not relying on one side of your body during other ab exercises. Remember to keep your hips as square as possible without swaying or lifting to one side. If this starts to feel like a side plank, take a break and start again.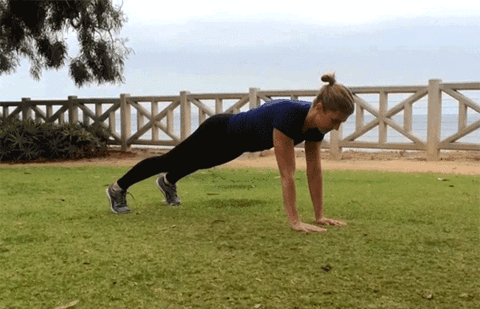 4. Pistol Squat
Ugh, pistol squats. Ask any trainer and they'll tell you this exercise is QUEEN of one-legged training. You're basically putting all your bodyweight on one leg at a time and squatting with only that leg, so yeah, it's hard. If you need to hold onto a bench or TRX straps at first, do it. In a standing position, raise one foot off the floor and descend into a squat. As you squat, try to extend your front leg forward without losing your balance. Then, get as low as you can before slowly rising up, straightening out your knee and driving through your heel. You should feel this in your glutes on the working side. Again, take your time and just focus on the balance part. The rep count doesn't really matter here, so just try to do a few without falling over. You'll go deeper, do more, and need less assistance as you get stronger.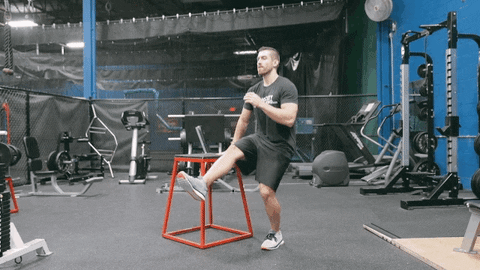 5. Opposite Arm & Leg Raises
Contrary to its name, the opposite arm and leg raise is actually more about your core and torso region. You're basically raising your right arm and your left leg at the same time while on all fours, so the goal is to keep the rest of your body as still as possible. You'll need to keep your back flat and engage your core. Squeeze your abs while you slowly extend your arm and leg, and then take a second to look forward at your reaching arm before lowering down and switching sides. This should also help strengthen your back, so make sure not to arch your spine and ruin your form. Think about pulling your abs in before lifting, and then when you reach out, keep your arms and legs parallel to the floor. For extra credit, get off your knees and do this from a full plank. Good luck in advance, is all I have to say.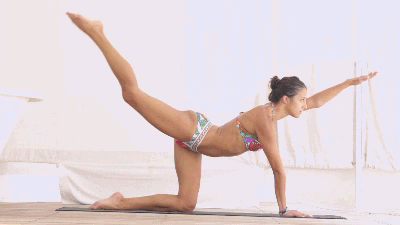 6. Standing Crunch With Clap
Balancing on one leg is already difficult AF, so adding in a crunch and an under-the-leg clap may take some patience. This move has two parts, so let's discuss both. It's kind of like tapping your stomach while rubbing your head. Takes a shit ton of coordination, is what I mean. Balance on one leg, keeping your other knee 90 degrees with your hands over your head. Then, crunch forward, bringing your hands under the raised leg for a little clap underneath. Bring your hands up and then back down for a few reps, and then switch to the other side. Also, try looking as happy as the girl in this GIF.

Images: Squarespace / Pexels; Giphy (5); Pinterest