Shopbop's Annual Spring Sale Is Here, And These Are The Pieces We Want
Since I am an underpaid peasant, most of my clothes are from Zara. Tbh I have nothing against Zara because I like looking fancy as f*ck in my crisp, cropped blazer over my tea-length flowy skirt, and knowing that I spent less than $100 on the lewk. However, as I enter my 27th year, I want to wean myself off of fast-fashion and invest in higher-quality pieces, AKA shirts that won't unravel on the gentle cycle of my washing machine. That said, I'm not about to walk into Saks and buy myself a new wardrobe because, like I said, I'm poor. The solution? Shopbop's bi-annual sale! 
Now, if you're not familiar with Shopbop, climb out of the hole you're living in and join society. Shopbop, which finally has its own storefront on Amazon, carries literally thousands of designers that are perfect for people who want to graduate from Zara but not quite reach Saks. Shopbop is affordable and that is why I love it on any given day; obviously, I love it a little more when everything is up to 25% off (with the code SPRING). If you get overwhelmed easily, allow me to share our favorite things on sale, and make sure to buy before the sale ends on March 8th!
Shoes

Rag & Bone Razor Booties, $495
I am that annoying girl who wears boots in the peak of summer and guess what, idgaf. I have no shame in my game because boots—booties, to be more specific—are stylish all damn year. Rag & Bone sells all sorts of stuff, but the brand is most-loved for its amazing leather boots. My bank account weeps every time I admit that I own three pairs, but there's a very logical reason for that! The leather is thick af, which makes me feel a little fearless when I wear them because they're basically indestructible. I will say, though, the white definitely gets dirty, so make sure you get yourself a good leather balm to keep them clean. 

Soludos Lauren Espadrille Sandals, $85
I never would have bought these because they are obviously a tad loud, but I got them in one of my Trunk Club boxes and they are literally my favorite shoes. They are so f*cking cute and they surprisingly go with everything. I've worn them with a pale blue fit-and-flare dress, I've worn them with denim cut-offs and an oversized white tee, and I've worn them with skinny jeans and a cropped denim jacket. Seriously, they're more versatile than they seem. The only tiny issue is that they are definitely not made for long strolls. They do have a rubber sole, but it's very thin, so be careful where you wear them. Other than that, they're perfect.

Schutz is the underdog of shoe brands because I always forget about it when I'm on the hunt for a specific style, but they always end up having the exact pair I'm looking for. I have a pair of kitten-heeled boots, silver ballet flats, and sky-high, strappy stilettos from Schutz (can you tell I have a shoe addiction?) and the one thing they all have in common is that they are f*cking comfortable. Like the Soludos, they aren't meant for a walk along the beach, but if you are going to a dressy event and know you'll be on your feet for most of the night, these babies are the move. 
Tops

Tbh, I can't really say why this top is speaking to me so much because I haven't worn a crop top since 2012, but there's something about this hot pink number that I absolutely love. I would probably wear it with an aggressively high-waisted skirt, but I am also loving the way the model is wearing it. Even though it's obviously a very specific look, you can pack it for a trip and wear it a few different ways. I would, however, make sure it's the highlight of the outfit because anything that would compete with a top like this wouldn't be a good look. 

Stateside Poplin Twist Front Shirt, $162
I have a weakness for white button downs. Whether they're boyfriend style or super crisp, I don't even care. I want them all—especially this one. I am absolutely loving the menswear vibe and think it would look chic af French tucked into a pair of tailored bootcut jeans. A classic white shirt is timelessly elegant, but I love that this one has a little bit of a style moment with the subtle twist on the front. Obsessed. 

Birds of Paradis Carla Blouse, $218
For the record, I would not classify my style as preppy, but I appreciate very preppy pieces when they're paired with something a little grungy. For instance, this top, which screams Blair Waldorf circa season one, would look amazing with a pair of distressed boyfriend jeans and a pair of beat up high-tops. Or, of course, you could go the more neutral route and wear it over a pair of skinny jeans and metallic flats. Either way, this top wins.
Accessories

I am a big earrings gal and I am proud to admit that I have about a million pairs. It's a rough estimate. Anyway, as you can guess, I have multiple piercings and I would probably wear these with a few studs or smaller hoops in my other holes. **Cringes** These are a nice, contemporary shift from the classic gold hoop and I'm definitely into it. They aren't the kind of earrings someone will stop you on the street to ask about, but they can be the finishing touch on any look. Next!

Botkier Cobble Hill Mini Crossbody Bag, $198
If color scares you, fear not because this very chic bag also comes in white with a tortoise shell handle.  Tbh I love the yellow because it's attention-grabbing, but not too in-your-face because it's pretty pale. Another thing I love about this bag, aside from the sharp, structured shape, is the fact that the leather is textured, as opposed to smooth. If you're wondering what the f*ck difference that makes, let me just say, it makes a huge difference because all you have to do for smooth leather to scuff and scratch is, like, breathe near it. Textured leather, however, is tough af and, in my experience, is incapable of scuffs/scratches. 

Krewe Prytania Sunglasses, $275
I lose every pair of sunglasses I come into contact with, so I never spend too much on them. These are definitely a little bit of a splurge, but they're so stylish and timeless that I will put extra effort into not losing them. Of course, these will look good or horrible depending on your face, but this oversized rounded square shape is generally pretty flattering. The tri-color detailing on the upper rims make them a serious fashion find.
Dresses

FARM Rio Mini Cashew Mini Dress, $155
Yes, this is a dress with a cashew pattern, but it's so cute that it's nuts! I hate me, too. Personally, I think all dresses with a snatched waist like this are flattering regardless of your body type. You obviously have to be pro-color if you're going to buy this dress, but one thing I love about the palette is that it's pretty muted. This is something I'd wear to dinner on a beach trip with a pair of straw wedges and a big-ass pair of sunglasses.

LOVESHACKFANCY Edie Dress, $295
I don't know how they do it, but the designers at LSF make extremely flattering and sexy peasant dresses. This is the kind of dress, though, that would only look good in white. If it were in any other color, it would look like a nightgown my grandma would love, but in white, it looks like something a Grecian goddess would show up to brunch wearing. The eyelet details and the high slit in the front make it young-person friendly, and I am excited to wear it since I fully just purchased it as I am writing this article. I'd wear this with a pair of lace-up flat leather sandals or a pair of cork wedges. I seriously cannot get enough of this dress; it better fit me.

Z Supply The Reverie Dress, $60
As you can tell, I like a good oversized piece of clothing, and this dress is no exception. I love that it's cotton because that means I can get away with wearing it as a cover-up to the beach and to dinner later that same day! It is my personal opinion that everything looks good with heels, but I actually think this dress would look pretty stupid with anything other than a sensible flat. The dress is so casual that trying to dress it up with any type of heel just wouldn't work.
Images: Jakob Owens / Unsplash; Shopbop
Betches may receive a portion of revenue if you click a link and purchase a product or service. The links are independently placed and do not influence editorial content.
The 8 Millennial Pink Pieces You Need To Buy For Summer
If you pay any attention to fashion (or just to the internet), you've probably heard of a new shade of pink floating around. What is this "millennial pink" you may ask, and how are we still coming up with new shades when there are 67 million Crayola colors? Well, I don't fucking know how to explain it, tbh. Millennial pink is a variety of blush pink shades, apparently—because we live in a country where no one likes to agree on anything. Not even a goddamn color. It's probably the shade of your fave nail polish color or most used Kylie lip kit. You probably know it best as the color of Amy Poehler's Regina George's mom Juicy Couture tracksuit, though.
See:

Now that you went "ohhhh" and understand exactly what I'm talking about, you'd agree that there probably hasn't been anything you haven't seen in this color yet. From modern home décor to your new crossbody bag, this is your go-to color for anything, ever. It goes with the depressing beloved black, white, and gray in your closet since it shows everyone you might be ~*feminine*~, slutty flirty, and cute. Orange is the new black? More like pink is the new black this summer. To contribute to your obsession, here are clothing and accessory pieces you just need to buy in the iconic millennial pink.


Um, what's not to love about this dress? With flowy off-the-shoulder sleeves and a scandalous lace-up front, this perfect summer dress will literally get you so many likes compliments. Your friends will probs be begging to borrow it for your next night on the town or weekly brunch date.

I mean, anyone who is anyone obviously has this shoe in black already. In a gorg rose quartz (like, how boujee does that sound), you'll have shoes for all your summer weddings to comfortably dance all night long in. Even if you go solo (which is 90% of the time), you might find someone who appreciates your shoe game at the very least.

I think the real question for this is, when don't you need a new crossbody? Because if you're like me, you definitely always leave it anywhere your drunk mind sees fit. For your 100th bag, opt for one in this season's hottest color. This bag's sturdy leather won't rip so easily when you try to stuff in your biggest flask. But since this one is too expensive cute, you can't throw up in it during your morning commute from a night of too many vodka sodas.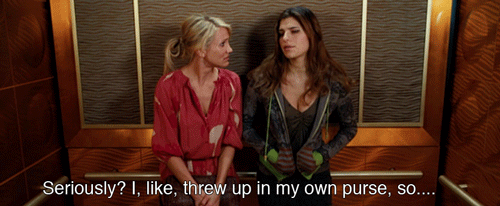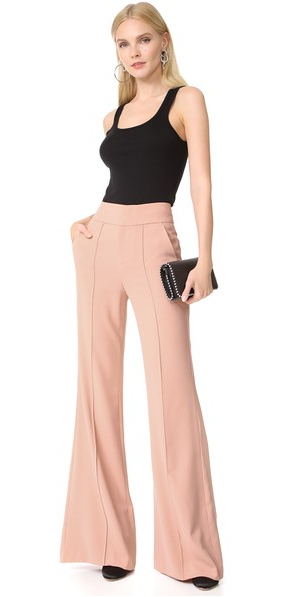 IDK about you, but, my business casual wardrobe is pretty limited in the sense that it's all black. When I hear business casual, I think black = boss lady. Also, who the fuck actually likes working (unless you're Steph Shep aka assistant to the regional manager Kim K)? So, why wouldn't you wear the color that fits your current always mood? Instead, switch things up and get these suited pants for a (fake) cheerful office look. Pair with an ivory blouse or blazer for high-key summer vibes.


I know, like, you have so many pairs of rose gold sunglasses already. These pink mirrored lenses are just must-haves because they have the bitchiest cat-eye frames I've ever seen.

If you haven't jumped on the one piece train yet, better late than never. Especially since summer has already officially begun. Bare it all in this pale pink, risqué one piece that shows off all the right places, leaving little to nothing to the imagination—an essential factor before buying anything, duh.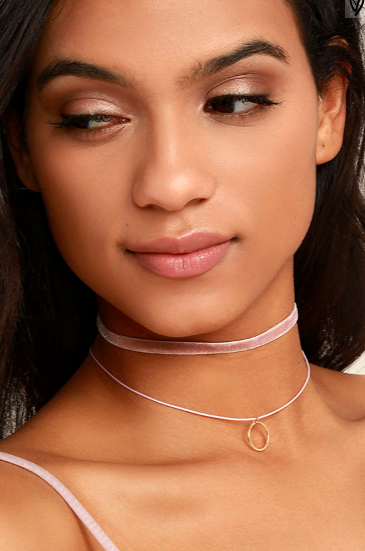 I said no more black velvet chokers for the summer, but I'll allow a pink version. Layer your look with a delicate gold pendant because you're like, such a minimalist.

In addition to your blue denim jacket, buy one in this chic color for an effortlessly casual and sassy touch. Pair with trendy pants or over a bodycon dress when you're trying to fool all the guys into thinking that you are like, totally chill and not at all psychotic. LOL
These Totes Are Perfect For The Girl With A Lot Of Baggage
Whoever decided that describing betches who carry a lot of baggage with a negative connotation had it all wrong. I'm guessing that person was probably Carrie Bradshaw, because she sucks at literally everything and I've definitely seen some bullshit Sex and the City quote on Pinterest about likening one's issues to Louis Vuitton baggage.
Anyway, carrying a lot of baggage can pretty much only be a good thing. Where's a betch supposed to carry her wine, phone charger, multiple outfit options, or any possible illegal paraphernalia if she's without lots of baggage? Because we think that it's just like, way easier to proudly display all of your baggage (it's what made you so funny and it might land you a reality show someday), we thought we'd round up a few of our favorite betchy totes.

The "There's Wine in Here" tote is perfect for both situations in which you're trying to conceal the fact that you're smuggling wine into a public event and for those in which you couldn't really give a shit if anyone knew. Nobody's going to suspect that there's actually a little (or big) bottle of Barefoot Moscato in there if it's so clearly labeled. At the same time, if you just straight up DGAF, everyone will think you're hilarious because duh, you are.

The Totes McDrunk tote is ideal for anyone who hates being asked stupid questions, which should be everyone. If you're a commuter, you don't have to worry about some moron interrupting your life to ask you if they're on the right train, because they'll just assume you're drunk and won't know the answer. Okay, I can't actually promise that carrying this tote will totally prevent people from asking you questions, because your fellow betches will probably want to know where you got it from.

You probably already say this to your friends every time you're going shopping or even just getting in a car in general, so it's probably time to take your Mean Girls obsession a step further (if that's even possible, but then again, the limit does not exist). Even if you're an actual loser and don't have any friends, I guess you could like, pretend that your phone, wallet and the rest of your shit could be your friends? IDK, a tote bag probably isn't your solution here, but whatever.