3 Ways To Have The DTR Talk Without Saying 'What Are We?'
Some events in life are just inherently awkward, like when you say goodbye to someone and end up walking in the same direction, or when your ex is on the bike next to you in spin class. Some events, however, get a bad rap for being awkward when they really don't need to be. For instance, having the "what are we?" talk shouldn't be awkward at all. In fact, it should really just confirm what you both already know: that the situation you're in is either working or it isn't. Tbh, I didn't come up with this brilliant theory; I stole it from my friend's therapist when she was struggling with a potential boyfriend who ended up being a f*ckboy in disguise. My friend was seeing this guy for like six weeks and genuinely had no idea if their relationship would evolve or if it would stay in this weird limbo for another six weeks. So, to get her answer, my stupid dear friend wanted to just straight-up ask him if he wanted to be her boyfriend.
While I applaud the bravery and directness, the problem with this approach is you're setting yourself up to be really disappointed in someone you really liked while also giving him all the power. Not to mention, you're putting him in a potentially uncomfortable situation. So the therapist said, "If you're asking him if he wants to be your boyfriend because you are so unsure where his head is at, then you already have your answer." Like, damn.
If you're in a similar position and feeling unsure about where things stand and need answers, by all means, don't force yourself to just wait until his desires and intentions become more clear. However, simply ambushing someone with a DTR talk is equally not the move. So, what the actual f*ck do you do? Luckily, I have been through enough versions of this to have exhausted every option, so here's how to handle it.
End It

Look, if you really want to date the guy who isn't giving you any indication that he wants anything more than what you've been doing for the last few weeks, you may have to face the music and just end it. Now, I'm not saying to end things with a great guy who really likes you because he won't introduce you to his parents within three weeks of meeting you. I am saying that if you've been seeing a guy for at least, like, a month, and find that you haven't moved forward at all (only seeing each other about once a week, haven't met any of his friends, he never comes to your place, etc.) then it seems like he may want to keep things where they are in terms of seriousness. Even without explicitly saying it, you should be able to pick up on some cues based on his actions.
We've all heard the phrase "trust your instincts," so if you are feeling like you two aren't on the same page about what you want from each other, you probably aren't. It's unlikely that a person who isn't giving you much will totally surprise you and end up wanting something more serious—especially when he's consistently given you nothing but "let's keep this casual" vibes. Ending a hookup should not be awkward; in fact, it should be kind of a relief—at least for you, since you don't feel like hanging out with this clown anymore. Because you definitely don't owe him sh*t, don't feel compelled to make the talk a long, drawn-out conversation. Just remember your key points and get on with it.
Do Nothing

Chances are, after only a few weeks, you don't really have a good sense of who this person is, so there is a possibility that he will come around and end up on the same page as you. If you are a patient person, this could be a good route for you. Like I said, there's no specific amount of time that has to go by before doing something, but if your thoughts on the matter are between unsure and "this isn't happening," that's probably when you should make some sort of move. Like the underdog of The Hunger Games Plutarch Heavensbee once said, "It's all about moves and countermoves." Even though he was referring to the government subtly and slowly staging a murder of Jennifer Lawrence, the same can be said of dating. 
I wouldn't suggest waiting around and hoping he changes his mind one day because that could obviously end really badly, but if you feel hopeful that at some point in the near future, things will change, by all means, don't ruin a good thing. When enough time has gone by that you do feel confident that you both think of each other with the same title, the conversation will happen naturally and will be whatever the opposite of awkward is. For instance, after dating my college boyfriend for two months, he texted me one night and said "I just called you my girlfriend to one of my friends. We're dating, right?" *slow clap*
Ask What's Going On

Tbh, I prefer a more assertive approach to getting sh*t done, but if you don't want to scare this person off, starting the discussion with a question is a good call. When I say "scare this person off," I don't mean of you, the hot queen who's taking matters into her own hands, I mean of commitment. In my opinion, if the person is worth dating, he is probably worth waiting for if all he really needs is a little bit of time. On the other hand, if he says something like, "I really like hanging out with you and I'd like to keep doing that, but I know I don't want to be in a committed relationship any time soon," feel free to drop his ass. Both types of responses warrant the "What do you want out of this" question, because neither type of guy (the one who needs more time and the one who wants to keep hooking up) will initiate the conversation. Let's face it, no guy who doesn't currently, at this moment want to be in a relationship with you will DTR first, because there's no point. If you force his hand, so to say, then you'll at least get some clarity and the next move is yours. If you get the response that suits you, you can keep doing what you're doing and let some time go by, and if you get the f*ck boy response, you can walk away.
At the end of the day, there's no perfect way to have The Talk, so trust how you're feeling about it and do whatever you feel makes the most sense. The takeaway lesson is that this doesn't have to be an earth-shattering conversation that is really awkward and/or upsetting. Of course, if the outcome of said conversation makes you feel some sort of way that isn't queen-like, that's completely okay because we all know that men are disappointing in their nature, but the conversation itself should be easy as long as you know what you want from it. 
Images: Giphy (3); Unsplash
4 Signs It's Time To Walk Away From A Relationship
At some point during every relationship that I've been in—whether it was a serious, long-term thing or a casual hookup—I've wondered when it's time to throw in the towel. Even though nearly every guy I've dated hasn't really followed the "treat others how you want to be treated" rule, I've always stayed because I was hopeful things would change. Instead, I get a hefty serving of B.S., and it always makes me wish I had ended whatever the hell this was much sooner. 
As you may be able to guess from my very depressing yet relatable intro, I'm currently in a situation (can't even call it a relationship) with someone who is giving me whiplash like never before. Long story short, he likes me a lot and wants to keep seeing me, but due to some lie he told me, he can't commit. In hindsight, he obviously said all that crap so that he could keep hooking up with me without ever having to take me on a date or get anywhere below surface level. After realizing this, all I have to say is *Amy Dunne voice* no f*ckin' way. So to all of the people in similarly absurd situations, here are four signs that it's time to walk away so that you can stop letting these clowns mess with your head and heart. 
1. They Aren't Consistent
One day he's Noah Calhoun and the next he's Cal from Titanic. Look, I don't expect anyone to treat me like a queen every second of every day, but I do expect general decency at the very least. (You would think that would not be a lot to ask for…) If the person you're dating is being really great sometimes and really horrible sometimes, f*ck them (not literally). There's also this taboo that says we can't call people/guys out for being complete asshats because it makes us look needy. Ummmmm no. If someone is treating you in such a way that makes you feel sad, angry, etc., say something. If you already have and nothing's changed, send them a thank you for finally letting you know they're trash so that you can find someone better.  
I know it's hard to just walk away, especially when you really like the person, but if someone is completely cool with treating you as if you don't matter, that should be enough to convince you they ain't worth sh*t. 
2. They Are Shady

Have you ever agreed that you're exclusive, but then they're still very much on dating apps? Omg, same! Contrary to how I may be making myself seem, I have actually never been the type to go through someone's phone.  However, if he's on his phone and I'm in the vicinity, I will 100% steal a glance when he thinks I'm not paying attention. If you do this too, you may have noticed they always have like, eight notifications on each app, right? If you're a bad bitch, you've called them out and then they probably said something like, "Oh, it always says that I have a ton of notifications because I never check it." Yeah, that's probably a lie. He/she is definitely still checking and talking to other people. Sorry if I just burst your rose-colored bubble, but someone had to tell you, so just be glad it wasn't his side piece.
3. They Won't Commit
I mean, this should be obvious, but I've fallen victim to this crap so many times that I feel like I need a therapist to tell me why I keep doing this to myself. Actually, I know why and I'm sure you do too, because you do the same thing. I'll keep this example to men because that's what I'm going through right now, but obviously the scenario isn't gender-specific. Ok: A guy will tell you he can't be in a relationship right now because but he likes you a lot and wants to keep hanging out. The problem is you don't want to stop hanging out with this person, because you like it. So you begrudgingly say you'll keep hanging out because you secretly hope that after a few months of getting to know you, they'll change their mind and want to date you. 
Yeah, that's not going to happen. If someone straight-up says they doesn't want to date you, believe them. If the statement goes something like this: "I like you, but" ignore everything after "but" because it doesn't matter. There are also tons of people who do want to date you, so why try to convince someone who clearly has no taste?
4. They Act Like Everything Is Fine When It Isn't

I absolutely, passionately hate when something is clearly wrong/different/up and he acts like everything is fine. Am I really expected to believe that everything is fine after a literal week of silence when we normally talk all day everyday? Sorry (not really) to all of the people who assume we are too stupid to notice this stuff, but you are stupid for thinking this is totally acceptable behavior. If they're telling you that nothing is up as they completely change the way they treat you, they aren't worth your time.
The important thing to remember is that you can't control how someone will treat you, but you can control how you react to their nonsense. If you are getting bad vibes from a romantic interest, your best move is to talk to them about it, and if the talk goes nowhere, walk the f*ck away. Because the more time you waste with people who don't want the same thing as you, the longer you delay finding someone who does.
Images: Everton Vila / Unsplash; Giphy (2)
Why Do People Cheat? A Former Cheater Gives 4 Unexpected Reasons
Sex and the City is nothing if not completely accurate (jokes), and Samantha's unforgettable "all men cheat" proclamation is no exception. As a tried and true betch, I have no shame in admitting Samantha is my favorite, but I beg to differ on her bold statement circa season 2. According to a study conducted by the Institute for Family Studies, lots of people cheat. Specifically, it found, "Among men who have cheated on their spouse before, 61% are currently married, while 34% are divorced or separated. However, only 44% of women who have cheated before are currently married, while 47% are divorced or separated." Am I dyslexic or do those numbers say 61% and 44%? ZOINKS! If so, that means that about half of the people who cheat are currently married! This is why I have trust issues. And they say millennials are killing relationships. I'm gonna go ahead and say we're all killing relationships by cheating. And as I let these numbers marinate, *Carrie Bradshaw voice* I couldn't help but wonder, why do people cheat?
It would be great if everyone in monogamous relationships who wants to stray from their significant others would just break up with them instead of lie to them, but what do I know? As it happens, nothing! Author, counselor, life coach and former cheater, David Essel, let me know that cheating is slightly more complicated than just wanting to bang someone you think is hot or revenge-f*cking that dude in your building who always hits on you. He says, "After understanding the reasons why I used to stray, I made a decision 20 years ago to never walk that path again, and I haven't. I realized the downside of my actions were so much larger than the upside." Honestly, he has a point. Telling yourself not to do something bad is useless, but understanding why you do something bad could help curtail the habit. Or something like that, IDK, I'll leave it to the professionals here. If you've ever cheated, have been cheated on, or are considering cheating and want to understand why (so you can, like, not hurt someone you supposedly love!) keep reading to find out why people cheat.
1. Codependency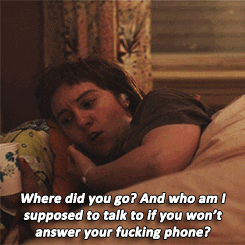 Ok, I know what you're thinking: wouldn't having an affair, whether physical or emotional, inherently make someone more independent than codependent? I thought the same thing. Essel's working theory? "The independent person would go to his/her partner, even if it took 10 or 20 attempts to get to the bottom of why the relationship was starting to fail. However, the codependent person hates to rock the boat, so he/she may attempt talking to his/her partner one or two times, but if he/she don't get the desired feedback, he/she will submerge the frustrations in the relationship." As anyone who's ever swept anything under the rug knows, if you do that enough, someone's going to trip. In this case, the codependent person just kind of quietly gives up on the relationship and pretends everything is fine, but seeks validation and false senses of love from someone else, which, for a codependent person, makes total sense. 
2. Resentment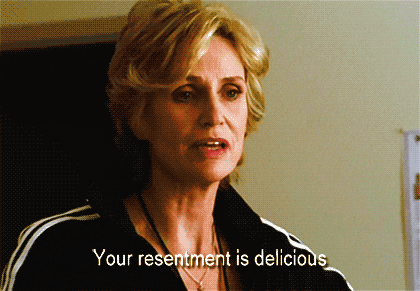 I mean, duh. It's a classic case of boy gets mad at girl, so boy f*cks another girl to even the score. This gross and juvenile pattern isn't exclusively for men, but TBH, I've never known a woman who cheated on her boyfriend out of resentment. Just saying. Put more eloquently, Essel says, "when we have unresolved resentments with our partner, we may stray into another person's bed as a way to 'get back' at our current partner." What a great way to resolve a problem! Kidding. Contrary to popular opinion, I think there are a lot of better ways to address resentment that don't involve another person or sexual intercourse—unless that other person is a couple's counselor or the sexual intercourse is between the peeps in the relationship.
Like jealousy, resentment is a scary beast that needs to be addressed in a mature and reasonable way. To people who cheat to get back at their significant others for, like, not wanting to go to the Super Bowl if the f*cking Pats are playing, do you really think having sex with someone else is going to solve the problem? I asked a few people guilty of this to answer and they all kind of said some version of "No. It definitely made things worse. But in the moment, it seems like the only thing that could make me feel better in that specific moment." As someone who has to either eat the whole pizza or none of it, I get it. 
3. Justification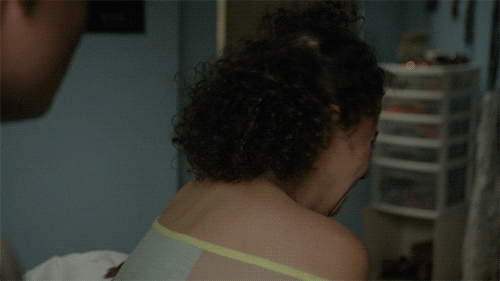 Essel defines this one in terms of "justifying, and defending, the right to have sex outside of the relationship." Tbh, if you're in a monogamous relationship, banging other people doesn't really seem like a right you have, but sure. So, people who use external sex to justify their assumed right to bang whomever they please do so because they want to prove this ~right~ exists. Who are they proving it to? Themselves? Their significant other? The SO will def not agree that you are entitled to f*ck around while dating her/him unless you've specifically discussed non-monogamous terms. 
These selfish f*cks are the type of people who don't move when the subway doors open to let people on the platform board the train. In other words, they're entitled. "But once again we can justify, rationalize, and defend any decision we make in life when we come from this place of entitlement." What I'd like to know is what gives people this sense of entitlement? Who do they think they are, Cersei Lannister? Are boys who assume they can f*ck whoever they want regardless of whether or not they're in an exclusive relationship running around town claiming "a *insert last name here* always pays his debt?" Look, if you are justifying cheating on your significant other out of a sense of entitlement, you do not deserve love you're in for a rude awakening. 
4. Boredom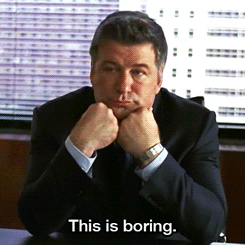 Ah, yes, the most complex of reasons to destroy a relationship. Essel says, "Instead of dealing with our boredom by way of working with our partners and/or getting professional help to figure out ways in which we can be more creative in love, some people just put their heads in the sand and get their thrills outside of the relationship." I mean, like, if you're bored, figure out a way to entertain yourself that doesn't involve potentially contracting STDs and betraying someone who loves you! I get bored all the time! In fact, I'm bored at work right now, but you don't see me applying to other jobs at my current job! The worst part of cheating out of sheer boredom is the fact that the other person in the relationship didn't even do anything wrong. Again, I'm not a professional, but if you are bored in your relationship, maybe don't be in a relationship? Seems obvious, but sometimes the right answer is the simplest one.
At the end of the day, "everyone cheats" obviously isn't true, but everyone f*cks up and that is a fact. If you do cheat, it's my personal belief that if you are honest with your partner, and genuinely apologetic, you can figure out how to move forward and maybe end up in a better, stronger relationship. Laugh all you want, but once a cheater, not always a cheater, Rachel Green's mom.
Images: Giphy (4)
5 Signs Your Relationship Won't Last
Apparently, it's a thing to make bets on how long your friends' relationships will last. Like, why not profit off your friends' unhappiness? Some guys I know are weirdly good at making these bets. It made me start to wonder, what exactly are the signs your relationship won't last?
You'd think they'd be obvious, but since girls keep missing them, it's time for a little refresher. As much as you might wish otherwise, your relationship probably isn't the exception to the rule. Sorry. So before you start picking out engagement rings, clue into these signs your relationship won't last, and your "bae" might not be around for much longer.

1. You Started Dating Within Two Minutes Of Meeting
So you may argue that some relationships that start quickly don't fail. You know, all that love at first sight, Romeo & Juliet stuff. That always works out oh so well, right? Wrong. So instead, let's consider some possible scenarios.
1. Did you start dating because he was, like, really into you (as a whole entire person) or because you guys hadn't slept together yet? You would think by 2018 that these medieval motivations would no longer be a thing, but boys are just as gross now as they were 1,000 years ago. Thank u, next.
2. Did you start dating because he was scared you'd start dating someone else? There's nothing like a healthy dose of jealousy to make boys do irrational things. Maybe he wants to date you because he really likes you. But maybe he just wants to date you because five other guys like you too, and he wants to win and be the alpha male. (Again, boys are gross.)
3. Are you moving through relationship milestones too fast? A general rule of thumb: don't tell someone you love them after you have known each other for a week. Don't get engaged after dating for a month. Just because you think you've met your soulmate after a dance floor make-out doesn't mean you'll feel that way a month from now.
2. Your Life Goals Are Totally Different
In theory, opposites attract. But if you want to have a high-powered career and he's still content getting stoned with the boys every night, you're in very different stages of life. Just because someone is really f*cking attractive doesn't make them your perfect match. That hot lax player in your Econ class may be fun to hook up with, but if you can't hold a conversation now imagine, how freaking boring it would be to date him.

3. His Friends Suck
The Spice Girls weren't wrong about dating someone's friends when you date them (though their reunion tour is a different story). In the early stages, your boyfriend will spend a lot of time with your friends, so he better like them. And ditto for you.
If his friends suck, that's kind of problematic. First of all, it will get annoying to hang out with a bunch of people you f*cking hate. Also, it gives you a clue to what he's like when you're not around. Are his friends all douchebags with the same sense of humor as a 12-year-old? Do they make crude comments about your friends or other women? Maybe not the most ideal guys, and hey, shocker, your boyfriend might not be either. "You are the company you keep" and all that sh*t.
On the flip side, if his friends don't like you, that's also bad news. Guys claim they don't gossip as much as girls but TBH that does not seem true. If his friends are sh*t-talking you to him then a) bye, assholes and b) that's a bad sign for your relationship.
4. The Relationship Is Unequal
Is one person super needy? Maybe it was flattering at first but it will get annoying when you can't even hang out with your own friends. Either he needs to chill TF out or your relationship will fizzle once you eventually clue into the fact that losing all your friends for a rando boy is not worth it. Ever.

5. You're Dating Out Of Convenience
Are both of you, like, really busy all the time? Maybe you have high-stress careers or you're in training season for your sport and can't go out anyway. So why not find yourself a stand-in soulmate? That's really great…until one person decides they aren't too busy to download Hinge and find someone they actually really like. Or until the other person realizes they were only a convenient option. Andddd now it's messy.
If none of these signs fit you, then you'll still probably break up eventually because most relationships end. Yeah, life sucks, and I'm cynical. Go buy yourself some hot chocolate and re-watch To All the Boys I've Loved Before for the twelfth time. Way more fun than dealing with some lame-ass boyfriend.
Images: Giphy (3)