5 Reasons You're Not Losing Weight Even Though You're Dieting
The ever-present desire to lose three pounds is like the quest for El Dorado—fleeting and seemingly always just out of reach. If you're one of the literally millions of betches trying to get in shape, lose a few pounds, and get healthier, we're here to help. But many of us have experienced the frustration of ramping up our exercise routines, cutting carbs and calories, and still not losing any significant weight.
There are lots of sneaky reasons why you're not losing weight and sweatpants are all that fits you right now, and being familiar with what may be sabotaging your health goals can help you overcome them and become the hottest betch at the gym.
1. You Are, But In A Weird Way
If you've upped the intensity of your workouts, are eating healthy, and sticking to your goals but either not losing weight or gaining, it could be that you're actually gaining muscle at the same time you're losing fat. "It is a good idea to use something other than the scale to gauge your progress," says Healthline. "For example, measure your waist circumference and get your body fat percentage measured once per month." So, yes, check the scale here and there, but keep in mind that weight can fluctuate by as much as five pounds and may be all over the place once you really start your new healthy lifestyle. Plus, if you're looking FLY in the mirror, use that as a push to keep going. Stop obsessing about the number on the scale.

2. You're Lying
Keeping a calorie diary seems extreme, but it may actually help you realize what you are and are not putting in your mouth. A lot of the trouble for those looking to lose weight is that they aren't fully aware of what they're eating. You may have forgotten about that chocolate bar you had at 2pm or the extra serving of salad with Caesar dressing you ate at dinner. "Total calories consumed matters when it comes to weight loss," says CNN. "People frequently forget about the little things during or between meals that add up calorically and can interfere significantly with weight loss." So, yes, track your calories for a week or two to get your spidey senses tingling, then see if you're still having the same issues.
3. Sunday Funday Is Your Undoing 
Yeaaaaaaah. So dieting during the week, when you're sticking to a strict 9 to 5 schedule, is pretty easy thanks to the same routine day in and day out. However, on weekends, you're likely drinking more and eating A LOT more. "Three days (Friday, Saturday, and Sunday) of more relaxed eating (and in many cases drinking) can easily erase four days of more perfect effort," says CNN. So, having a cheat day or days can really f*ck up all those days of logging calories and going for a run before work. Grab a glass of wine or two on Friday night, but don't follow it up with a calzone because you "earned it".

4. You're Skipping Meals
DING DING DING. Do you skip breakfast and only sip on coffee first thing in the morning? I know we've all heard it millions of times, but eating breakfast actually wakes up your metabolism. According to WebMD, "Research shows that breakfast skippers weigh more than breakfast eaters. There is a misconception that skipping breakfast—or any meal—saves calories. The truth is that most people who eat fewer than three meals usually end up eating more calories during the course of the day." So, skipping those meals is sabotaging you into reaching for those jelly beans without realizing it. Or polishing off that extra bag of popcorn because "I barely even ate today." Grab an egg, piece of whole wheat toast, and piece of fruit for breakfast, eat a filling salad for lunch, then try not to eat a million calories for dinner.
5. You Messed Up Your Metabolism, Fam
This one has always pissed me off more than anything else. Lemme break it down for you. When I went on a crash wedding diet (I KNOW, SO BAD), I was eating maybe 1,000 calories per day and I lost a LOT of weight. Obviously. However, once I tried to get back to healthy, normal levels of eating (like, 1,300-1,500 calories per day), I gained weight. So, naturally, I cut back again and … nope. Scale doesn't budge. According to NBC News, "when you really cut back on calories, your body thinks you're in trouble, urging it into starvation mode, and it slows down a lot of the necessary functions that are necessary to burn calories—including your thyroid, metabolism and blood pressure. What's more, as a woman, it can make your period irregular, which can affect your hormones and lead to weight gain." COOL, GUYS. So, congratulations, you played yourself. Skipping meals and starving yourself may cause you to lose 10 pounds, but once you break and go back to normal eating, you'll gain. Then if you try to crash diet again, it isn't going to work. Take it from me and do it the right way.

Images: Brooke Lark / Unsplash; Giphy (3)
This Diet Followed By Jennifer Aniston & Kate Hudson Is A Total Scam
I have the benefit of sitting next door to a real, live dietitian—the kind that went to school for a million years and will probs pay off her student loans for the next several decades. Recently, she informed me that a diet followed by the likes of Gwyneth Paltrow, Jennifer Aniston, Kate Hudson, and other celebrities, is too good to be true. The diet in question is called the alkaline diet, and it is apparently 100% a scam for a multitude of reasons. I nearly spit out my iced coffee when I heard this. The internet has led me astray?! Say it isn't so.
So, before you set off on a journey to reset your body's pH levels, here's everything you need to know about the alkaline diet and why it's a waste of time and money.
What The Alkaline Diet Is
According to WebMD, my source for anxiety, the alkaline diet is a diet based on the theory that "some foods, like meat, wheat, refined sugar, and processed foods, cause your body to produce acid, which is bad for you." It also claims, "eating specific foods that make your body more alkaline can protect against those conditions as well as shed pounds." So that's the science behind this plan—eat healthier foods, avoid processed garbage, fix your pH levels, and SHED THOSE POUNDS.
As for why people ever subscribed to this in the first place? "The theory goes that consuming acid-inducing foods and drinks creates an unhealthy cellular environment and sends distress signals throughout the body, leading to colds, outbreaks and inflammation. It's suggested that continual acid-dumping via food can create chronic disease such as arthritis, osteoporosis, and cancer," says Greatist. Sounds like a conspiracy theory, but ok. So, again, the idea is that if I eat basic (IT'S A PH JOKE, EVERYONE) food and avoid acid, I'll live forever and be skinny. Yah, totally!


Why It Doesn't Work
So basically, and for those of us who didn't go to dietitian school, here's the bottom line: the only way you can change the pH in your body is by hypo or hyperventilating, which means adding more oxygen to or taking oxygen away from your blood. No amount or type of food is going to have an effect on that. PERIOD. END OF STORY.
According to WebMD, our bodies are slightly alkaline to begin with, with a pH of 7.35-7.45. Our stomachs are obviously acidic, with a pH of 3.5 or less. WebMD says, "nothing you eat is going to substantially change the pH of your blood. Your body works to keep that level constant." Thanks, WebMD, for the science lesson (NERDS!). But, yes, at the end of the day, a diet that claims to fix your body's acid levels—which are perfect as they are—is utter crap. That's what you get for following a diet peddled by self-proclaimed doctors like Gwyneth Paltrow and her Goop followers.


And, as a note, the guy who literally invented the alkaline diet, Robert Young, PhD, MAY BE GOING TO PRISON FOR PRACTICING MEDICINE WITHOUT A LICENSE. Yeah. He helped to write the book on this whole alkaline diet and the theory that all diseases are caused by too much or too little acid. According to Health.com, he was convicted of practicing medicine without a license. As an added bonus, "A jury was deadlocked on several other charges against him, including defrauding patients out of money." He allegedly convinced terminally ill cancer patients that they could be cured by dping some weird expensive baking-soda treatments "to flush dangerous acid out of the body." Yeah… This guy DEFINITELY sounds like someone who could make up a diet based around acid in your blood. What a jackass.
"But I Lost Weight, So You're Wrong"
Here's the thing: the alkaline diet may "work" in that you lose weight, but you're not losing weight because of any kind of radical pH changes or sorcery in your blood. You're losing weight on the alkaline diet because the cornerstones of said diet are to EAT HEALTHY. WHAT AN IMPRESSIVE CONCEPT.  By cutting out things like meat, refined sugar, and processed foods, you're most likely going to lose weight. Granted, this diet says you don't have to exercise—which, no, yes you do—but starting with eating better and cutting the crap is definitely going to give you a leg up. So fight me in the comments, and I'll teach you about why the diet industry is a billion-dollar system and you're a dope for getting duped by these shenanigans. Oh, and why you shouldn't follow a diet invented by a quack doctor so he can swim in his dollar bills.

I hope I ruined everyone's day. Bottom line: Diets in general don't work because you're applying a temporary fix to what should be a lifestyle change. Eat better, exercise more, and don't inhale pizza every meal, and you'll be healthier.
Images: Shutterstock; Giphy (3)
5 BS Diet Pills You Shouldn't Waste Your Money On
It can be super tempting to head to your local Walgreens/CVS/witch doctor and grab a bottle of pills promising SUPER XXTREME WEIGHT LOSS or CRAZY ENERGY or YOU'LL LOOK LIKE KATE MOSS IN 1997. No one LIKES to get sweaty and gross at the gym, say no to that double chocolate chip cookie, or skip on the extra parmesan grated oh so nicely over your lasagna, so making a pill do the work seems like the most American way to lose those extra three pounds.
However, because of lots of loopholes in our system, almost any asshole can produce a bottle of pills, claim it does magical things, and use very little (if any) data to back it up. Yes, there are some supplements that "show in studies" that participants experienced some very modest weight loss, but the many of these pills have studies that a) are sponsored and, therefore, not v legit or b) gave rats and animals such high fucking doses of said pills that the caffeine and other shit naturally made them sweat off five pounds or whatever the rat equivalent is.
Here are some of the most bullsh*t diet pills that don't work. Grab an iced green tea and take a walk instead, because that will do more for you than these pills.
1. Raspberry Ketones
According to LiveScience, "Reliable research on the use of raspberry ketone for any health condition in humans is currently lacking. Further high-quality research is needed." This is not just my opinion, BTW—so says Catherine Ulbricht, senior pharmacist at Massachusetts General Hospital in Boston and co-founder of Natural Standard Research Collaboration, which reviews evidence on herbs and supplements. More importantly, literally none of the studies done to show weight loss from raspberry ketones WERE DONE IN HUMANS. So, yeah, maybe if you have the same fat problems and diabetes as a pale white lab rat (guilty), you could benefit from raspberry ketones the same way. But it's probably better to just go with diet and exercise.
2. Hydroxycut
I'm sorry to break it to you, but Kim K and Anna Nicole (RIP) lied to us. Hydroxycut has been around for-freaking-ever and is super popular, but that doesn't mean it isn't full of sh*t. Basically, this stuff claims to work the same as caffeine, making you all cracked out and jittery in exchange for losing a pound or two. Unfortunately, there's only one study on the supplement and no long-term data on how effective it is after, like, a week. So yeah, if you crush and snort Hydroxycut and chain smoke for a week, you're probably gonna lose the same amount of weight you would from drinking 10 cups of coffee and chain-smoking. Amazing!


3. Green Coffee Bean Extract
Ding ding ding! Industry sponsored studies do not an honest supplement make. According to Health Line, green coffee bean extract did help some people lose weight (like, five pounds more than a placebo over the course of a few weeks), but the studies were all pushed and paid for by the company. And, again, the weight loss in these "studies" is so modest that can it even really be counted? I can lose five pounds from eating nothing, too, but I'm not going to market that sh*t. Or maybe I should?
4. CLA
CLA stands for Conjugated Linoleic Acid, and has been popular for like, a while. Again, don't waste your money / I'm about to ruin your day. Basically, CLA claims to reduce your appetite and give your metabolism a needed push, but in a review of 18 studies, the weight loss was about 0.2 pounds per week with the potential for lots of side-effects. AGAIN, that's practically water weight I can pee out each morning. Why take the risk for like, oily diarrhea poos and the loss of one singular pound when you can trade a piece of pizza for a salad and feel better?


5. Forskolin
Forskolin is a compound found in the roots of a plant that's sort of like mint and has been used in herbal medicines for like, ever. Once Dr. Oz started singing songs of its glory, Americans were all about this stuff. The claim is that forskolin effects fat metabolism; however, a lot of the studies showed it had very little, if any, effect on body weight. Even more sketchy, there is INCREDIBLY limited data on side-effects. Probs best to avoid this stuff that I keep reading as "foreskin".
Images: Giphy (2)
8 Ingredients That Are Sabotaging Your Salad
Omg it's like, almost summer. Time for salads and smoothies until you can't see straight but you're like, super fit and skinny. But heading to the salad bar or opting for the fast food power salad isn't necessarily the best choice. We all have a tendency to overindulge, add too much shit, or not add enough good stuff. If you're going the salad route because your beach bod is more reminiscent of a Pillsbury mascot's than a fitness Instagrammer's, it may be time to take a hard, investigatory look at what you're putting in your salad and how you're sabotaging your bod.
1. Croutons, Wontons, And Tortilla Strips
I know a little handful of toasty, crunchy bread snacks doesn't seem that bad, but anytime you're adding on croutons, wontons, tortilla strips, or another deep fried (or even baked) bread snack, you're adding empty calories. They're literally just unhealthy carbs in every case, and they greatly up your caloric intake. Just say no to bread (unless it's pizza).
2. Dried Fruit
Sugar central. Dried fruit can be great when pooping isn't happening (much love, apricots and prunes), but topping your salad with shit like dried cranberries or raisins is raising the sugar levels. Just a ¼ cup of Craisins has 29 grams of sugar. Way harsh, Tai.
3. Creamy Dressing
No surprise here, but if you're layering on the ranch, creamy Italian, or really anything that isn't oil and vinegar, your salad just became hundreds of calories heavier. A lot of creamy dressings use mayo or cream as a base, which, isn't as healthy as say, lemon juice or balsamic vinegar. Try making your own with Greek yogurt or just sucking it up and not layering lettuce with blue cheese dressing, you unhealthy fuck.

4. Nuts And Seeds
Yes, adding a handful of walnuts or almonds boosts the healthy fats in your salad, but adding more than ¼ cup of nuts or seeds can sabotage your diet big time. Keep in mind that healthy fat is still fat, and a ½ cup of walnuts is like, 190 goddamn calories. Sunflower seeds? Just ¼ cup has 186 calories. Stay woke, fam.
5. Avocado
Like we said, healthy fats are still fats. Adding four to six slices of avocado to a salad may not seem like a lot, but it's almost half of an avocado, weighing in at about 115 calories. On the flip side, this is one of the healthiest toppings you can get for nachos, so it really just depends on your situation.
6. Iceberg Lettuce
If you eat Iceberg lettuce, you're trash. I'm not even sorry. Who goes out of their way to get this shit when you have the option of non-contaminated Romaine, beautiful artisan spring mix, kale, spinach, and our bestie, arugula? Garbage people do. This has no flavor, is mostly water, and, yeah, has like no calories, but it sucks in every way. Fuck you, iceberg lettuce. Stop ruining America's salads.
7. Cheese
Yo, I'm sorry. I shouldn't have had to add this, but I did. Yah, you'll get some extra calcium (strong bones AMIRITE), but half a cup of cheese is like, 250 calories and 20 grams of fat. That's gonna go right to your thighs, which are already causing some chub rub, aren't they?

8. Bacon
C'mon.
9. Getting The Biggest Bowl
Not a food item, but heading to the salad bar and grabbing the biggest bowl or plate you see and LOADING it with shit isn't going to help your arteries. Opt for a medium size or even a small bowl or plate, then go for seconds if you're really THAT hungry.
10. Eating Only Lettuce
If your goal is to be hungry in two and a half hours, grab a bowl and load it with only lettuce and cucumbers, then top it with straight vinegar. That isn't going to keep you full for very long (and probably tastes very sad). You can add some of the things on this list—like nuts and seeds and avocado—just in moderation. It'll keep you fuller longer, i.e. you'll borderline forget about the trash bag of popcorn in your desk or the gummy worms you found on the floor that still look okay.
Images: Giphy (7)
5 Diet Myths You Need To Stop Believing
Holy shit, it's June. We ignored all the signs and warnings. We threw caution to the wind as we ate that third (all right, fifth) slice of pizza. We didn't switch out our Diet Coke for LaCroix (LET ME LIVE). We promised ourselves that tomorrow would be the start of our diet. Bitches, tomorrow is here. But before you freak out and go on a 72-hour fat flush and laxative tea diet, we did some investigatory journalism about those diet myths you def have believed since age 12, when you saw your first issue of Vogue and wondered why your tummy had fat rolls. Stop believing these diet myths now that you are a grown-ass adult.
1. All Calories Are Created Equal
If a piece of pizza is 300 calories and a giant salad is also 300 calories, then, like logically, I should "cheat" and have the pizza cause I deserve it and also it's the same amount of calories and will sit upon my thighs the same way. Right? Fuckin' wrong. According to Eat This Not That, your body will store calories differently depending what they are.
If you eat something that's more difficult to digest, like corn, your body can't absorb as many of the calories and, therefore, you aren't as likely to gain weight from it. Protein is also great because a) it keeps you fuller longer and b) your body is more easily able to burn off the calories while it's digesting your salmon or steak. Cookies, on the other hand, get their calories from our friend sugar, which isn't as easily burned off. So veggies and protein good. Cookies and pizza, not so good.
2. All Sugar Is The Devil
Errrrrr, wrong. You can't equate the sugar found in a banana with the sugar found in a box of Jelly Belly (like my mom's now-defunct diet program tried to do in the early 2000s). It just isn't the same. According to Prevention, the sugar in fruits and veggies comes with fiber that helps slow down the absorption of said sugar. Jelly beans come with nothing but short-lived happiness, then a slow decline into cellulite, so there's that trade-off to consider. Don't be afraid of the naturally occurring sugars in your fruit. Be afraid of the naturally occurring sugars in cookies and pie.

3. Cut Out Every Single Carb
Carbs are evil: a mantra we've known since the dawn of about age 14. According to Prevention, you CAN have carbs, live your life, and not end up on an episode of My 600-lb Life anytime soon.
Just follow the USDA recommendation: half your plate should be veggies, one-quarter whole grains, and one-quarter protein. Plus, you can ditch shitty carbs like white bread and white potatoes and replace them with bougie carbs like farro, quinoa, and sweet potatoes. If you cut carbs altogether, you're more likely to crave them, order from Domino's at 11pm, inhale that three topping cheese-stuffed goodness, then cry yourself to sleep.
4. You Need To Do Juice Cleanses And Detoxes
Ok, first of all—you don't need to detox. That's what your liver and kidneys are for. It's fine to eat lighter or more healthfully the day after drinking a handle of vodka and eating a Little Cesar's Hot & Sweaty, but there's no need to starve yourself into a meditative plane and subsist on lemon juice and cayenne pepper because Beyoncé did it and I just do everything Beyoncé fuckin' does now. Plus, if you slash your calories to like, 800 per day for a week, you'll end up losing and then GAINING weight thanks to your body being too smart to fuck up your metabolism like that. Get it together and have a sandwich.

5. Don't Eat After 7pm
Sounds great and is based on nothing. According to Real Simple, "calories can't tell time," which is news to me and probably most of our great American nation. The idea is that if you stop eating after 7pm, your body has more time to digest before it goes into nappy sleep mode. That isn't true, since if you eat a bowl of oatmeal for whatever reason 15 minutes before bed then pass out, your body will just use those calories the next day. Now, this doesn't mean you should def continue your routine of eating a bowl of Breyer's before bed every night, but it also means you can have that piece of fruit or bit of cereal before hitting the sack without worrying about gaining 50 pounds.
Images: Jamie Street / Unsplash; Giphy (2)
I Tried A Juice Cleanse To Lose Weight & Here's What You Need To Know
The week between Christmas and New Years is literally the dead time: no one knows what day it is, restaurants can't figure out if they should be open, and rich white people go skiing. So what's a girl with no plans and a desire to look hot on New Years to do? Go on a cleanse, obviously.
I am definitely not a proponent of fad diets or even diets in general. In fact, I'm perfectly happy with my healthy-ish eating habits that mostly focus around the question, "Did I work out enough to eat this bagel?" and usually end with me eating a bagel. But my boyfriend is into intermittent fasting (I think Yom Kippur was his favorite holiday as a kid), I needed an activity, and if we did it together I could turn it into a competition.
The Cleanse
We went for a three day smoothie/juice combo package where we were given a six-drink variety pack made fresh each day. All together our daily intake came out to around 800-1,000 calories of vegetables, fruits, and some nut protein—so we weren't completely starving ourselves. And we drank coffee in the morning, because we still had to live with each other. P.S. This shit was expensive and anything with kale in it, no matter what other ingredients you add, tastes like fucking kale.

So what happened? I hope you're interested in a play-by-play, because not eating leaves you with a lot of fucking free time. And I took notes.
Day One
1:00pm: This isn't so bad. Or maybe I'm just still full from Jewish-Christmas Chinese food?
4:00pm: I don't think I actually believe in the philosophy of a cleanse. I'm just in it for the competition, and fuck it's seriously hard to justify the self-torture when I don't believe in the purpose. It's like I'm a mercenary—and I could never be a mercenary.
7:00pm: Throwing up in the bathroom while a guy from Taskrabbit builds our new couch. A new low, I think.
9:00pm: Boyfriend and I argue over whose reaction is more like that of a heroin addict going through withdrawal. His, definitely his.

Day Two
9:30am: Slept 10 hours last night—glad this is "no one gives a shit if you work" week. Extra glad the office was empty yesterday so I could have the bathroom to myself for "cleansing" purposes.
3:00pm: Shopping was a good distraction and I really think everything is fitting better than usual. Great, I'm already skinny—I can stop cleansing.
5:00pm:
Boyfriend: What should we do tonight?

Me: Go to a movie?

Boyfriend: But what will we DO in the movie if we can't eat Sour Patch Kids?

Me: Fine, let's just sit on the couch and talk about how our tummies hurt.
7:00pm: Ohhh, this one is a nice pink color! Maybe it will taste like a Jamba Juice Razzmatazz smoothie. Nope, fucking beets.
8:15pm: Is it too early to go to sleep?

Day Three
11:00am: This is my life now; I think I have forgotten how to chew. Also, my teeth are very angry with me. It's like they're screaming for something to do.
4:00pm: Oh, looks like we do have enough energy for sex.
6:30pm: I think I'll pour #5 and #6 down the drain and end on a fast. Really excited for my bagel tomorrow morning.
9:00pm: My face hurts. I don't want to be touched. I just kicked my boyfriend out of the living room so I could watch Peaky Blinders alone. Has hanger taken on a new form or am I just a bitch now?
11:00pm – 12:00am: An in-depth discussion around where we should eat dinner the following night. Suggestions included: tapas, sushi, and an all-you-can-eat steakhouse. We landed on steakhouse.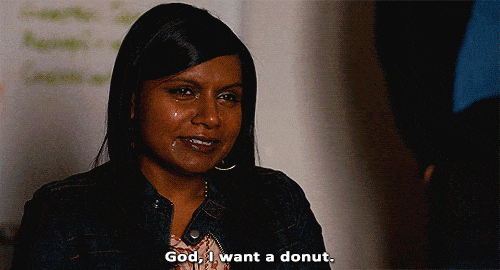 Conclusion
At the end of three days, I lost four pounds, proved to myself (and my boyfriend) that I am stronger than my hunger, and digested a month's worth of vegetables. I also wanted a salad as my first real meal, so that probably means something. But overall it felt like I was punishing my body for a crime it didn't commit, and I did not appreciate the hermit-like lifestyle it imposed upon me. Like actually, what to do you do with friends if you aren't eating food or drinking alcohol?
Anyway, I don't feel particularly "cleansed." Next time I want to pull a Regina George and lose three pounds, I'll just eat less and SoulCycle more. Now, excuse me while I feed myself.

Images: The Office / Netflix; Giphy (5)
This Just In: The Whole30 Diet Is Bad For You
STOP THE PRESSES, because we literally found out that another fad diet has, essentially, eaten shit for false claims and making you subscribe to unhealthy eating habits. As we've told you before, most fad diets, or, really any diets that tell you to cut out whole food groups are bullshit. So, this shouldn't be a big surprise to our LOYAL readers, but it's true: Whole30 is bullshit.
WTF is Whole30?
Whole30 is a diet regimen that is based on cutting out food groups like grains, beans, all sugar, and dairy. Also alcohol—so I'm assuming literally no one reading this has tried it. So far, it sounds fucking awful. The idea is to "reset" your body and help you figure out which foods are making you tired/fat/bloated/poor. What can you eat? Mostly meat, fruit, veggies, eggs, etc. Think of it as the trendier Paleo diet, which, uh, it is. And since the Paleo diet has been proven ineffective by our good old buddies, the scientists, you can kinda already see what we're in for.

The Burn Book Diet Rankings
That brings us to the annual ranking of diets in U.S. News & World Report, the magazine/journal you may know of because you stalked their college rankings to decide where to apply senior year. But back to the diets list, though: Where did Whole30 land in a list of diets examined by important medical people? Fucking LAST.
Awesomely-named scientist Dr. Katz, an expert on this diet expert panel, said that he considered Whole30 generally shitty because it overly promotes chomping into beef, pork, chicken, and other animal meats. These things aren't BAD in moderation, but eating all meat while ignoring, say, whole grain bread or black beans isn't that awesome. We assume he also spoke at length about the absolute preposterousness that is associated with not having a bottle of wine every night, but we're still trying to track that quote down.
Of course (yawn) the creator of the diet claims it's super awesome and healthy and has changed fat people for the better, but, honestly, so does the Master Cleanse, and I still fail to see the merit in hallucinating for a few days so I can lose 3 lbs. I can go to Burning Man or Coachella and do the same shit without realizing I'm dieting.

Do yourself a favor and stick with eating healthy ALL the time and not DIETING. Oh, and work alcohol into your diet, because, like, health benefits.
One Cheat Meal Could Ruin Your Metabolism, Study Finds, So Put Down The Pizza
Everyone knows that just because you're juicing on the reg and going to SoulCycle religiously doesn't mean you can't have a cheat meal here and there, right? Actually, according to a new study, cheat meals can ruin your metabolism. Yes, even one.
Some researchers in Germany got together to ruin all our fun yet again look at how even one dose of saturated fat can fuck up your life. They took a bunch of "healthy, slim men" and gave them one drink of palm oil (compared to the control group, who got a glass of water—boring). "Yeah ok but like, my drunk slice of pizza is healthier than a straight-up glass of oil, right?" you're probably thinking to yourself. To which I say, HA! Those "palm oil drinks" had roughly the same amount of saturated fat as two fucking bacon cheeseburgers and a large order of fries. Or one salami pizza, though the experiment did not analyse what psychos are ordering salami on their pizza. But yeah, so basically even that ONE "cheat meal" (/drink) started fucking up these guys' metabolisms by reducing insulin action and increasing the fat content in their livers. And that, presumably, will happen to you too.

So the takeaway of this study is just because you've been good all week doesn't mean you should drunkenly order the chili fries Saturday night. Yes, even one drunk slice of pizza is going to make your metabolism take an L—and you're not Big Sean so you're not gonna bounce back. Sorry. I'll allow a moment of silence to mourn all that delicious fatty food you won't be eating guilt-free this weekend. Or like, ever again. 
But like, go ahead and get that burger if you want. I'm not here to tell you how to live your life. Just don't be surprised when sweatpants are all that fits you right now. Or just avoid palm oil, I guess. IDK, we're all screwed. Good luck out there.