NYU Is Giving Students Quarantine Meals That Are Worse Than Fyre Festival
It's officially back to school season, and with the COVID pandemic nowhere close to over, it's a complicated time for colleges and universities. While some have pulled the plug on the fall semester and will be fully online, many schools are still moving forward with in-person plans, and the logistics for these plans goes far beyond just spacing out desks in classrooms. With New York regulations currently requiring a 14-day quarantine for travelers from 35 states and territories, NYU currently has hundreds of students isolated in their dorm rooms, and according to some accounts, it's not going great.
With regular dining halls and food service options out of the question during the quarantine period, NYU decided it would provide quarantined students with three meals a day, delivered to their rooms, at no extra charge (a year at NYU costs nearly $80,000). The plan sounded nice in theory, but once students arrived on campus last week, things quickly devolved into a nightmare—and God bless Gen-Z, because the whole thing was documented, where else, on TikTok.
The meals have MANY issues, but fundamentally there seems to be a strange definition of what constitutes an adequate meal. In one of the first videos that went viral, a student named Ricardo shares a meal that's labeled "chicken Caesar salad." The box actually contains an apple, a small bag of tortilla chips, and a packet of balsamic vinaigrette. Not only is this not what's on the label, it's not any kind of actual logical meal.
A few hours after Ricardo's TikTok blew up, he posted an update that his dorm manager brought him extra food, along with a voucher for two free orders from GrubHub. That's nice for Ricardo, but obviously he wasn't the only one experiencing some subpar (and truly puzzling) NYU quarantine meals.
Other random meal items that have been documented on TikTok include whole lemons, cups of peanut butter with nothing to spread it on, bagels covered in mold, and a now-infamous watermelon chicken salad. That sounds like it could be good, but it's literally just a little container of soggy chicken and watermelon. This was a popular item, and now there's even a parody version of Harry Styles' "Watermelon Sugar" to go along with it. Iconic, honestly.
Along with these questionable non-meals, some students have had issues receiving any deliveries at all. Multiple students reported only receiving a single "meal" on certain days, even when others on their dorm floors were getting more frequent deliveries. Annette Yang, who said she had already been contacted by The New York Times about her lack of meals, even made a sign for her door that said "PLEASE DON'T SKIP MY ROOM FOR FOOD." On Sunday, she posted that she received an apology email from NYU along with more food… but then she never received her dinner that night. Reminder that a year of school at NYU costs $78,000.
All of this is troubling, but another issue is that NYU has been repeatedly giving students meals that violates their dietary restrictions. One student with a gluten allergy repeatedly received bread in her meals, and received no response when she tried to contact NYU dining services. Vegan students have been struggling as well, receiving items such as steak salads, string cheese, plain chicken, and cartons of milk. Even a meal that was labeled "vegan" contained pudding that clearly said "made with real milk" on the label.
This student, Sara, is a vegetarian, and after complaining about receiving meat in her meals, she received an apology, and an assurance that she was now properly marked as a vegetarian in the system. Here's what she received for her next meal:
Chicken! For dinner that night, she also received a "Moroccan-spiced chicken bowl", so clearly that email really worked. The videos themselves are funny, but it's pretty f*cked up to repeatedly disregard dietary restrictions, especially when these students have limited other food options. Most of the dorms don't have available kitchens, and constantly ordering food through outside delivery services is cost-prohibitive for many students. I doubt anyone expected the NYU quarantine food to be gourmet, but it's turned out worse than anyone could have predicted.
But not everyone is going hungry. In a TikTok, Kevin Sun shared that he had received seven meals the previous day, and three breakfasts that morning. Make it make sense!
Judging from more recent TikToks, it seems like NYU is trying to get its act together, but there are still major issues (remember Annette, who never got her Sunday night dinner, even after an official apology). The students still have over a week to go in their quarantine period, and it seems like the school was woefully unprepared for the massive undertaking of feeding all these kids. Hmm, it's almost like reopening right now isn't a good idea??
Images: EQRoy / Shutterstock.com; rico_da_fool, onetoomanytwizzlers, lilbabyaidyy, kevnsun / TikTok
This Georgia School District's Reopening Was A Complete Clusterf*ck
The coronavirus pandemic has thrown a wrench into almost everything about 2020, and as we round the bend into late summer, yes, the times are still uncertain. While many of us are increasingly resigned to the fact that this year is basically canceled (WFH til 2021 ayyyy), others are still desperately trying to figure out how things can get back to normal ASAP. Lots of schools, sporting events, and businesses have moved forward with plans to reopen as COVID-19 cases continue to skyrocket in many states, and those plans involve a unique blend of denial, misplaced confidence, and lack of belief in scientific evidence.
For those of us who prefer not to think about school these days, it might seem like we're still in the middle of the summer, but some school districts in the U.S. have already returned to the classroom. Earlier this week, a photo went viral from the first day of school in Paulding County, Georgia, showing a hallway packed with students. Many of the students in the photo are not wearing masks, and there's no kind of distancing happening here.
This is the first day of school in Paulding County, Georgia. pic.twitter.com/fzdidaAABM

— 🇯🇲Black🇭🇹Aziz🇳🇬aNANsi🇹🇹 (@Freeyourmindkid) August 4, 2020
More photos from the same school showed similarly crowded hallways, as well as a full classroom where students were not wearing masks. People were taken aback at the blatant lack of safety measures exposed in the photos, and they immediately confirmed many people's fears about the rush to resume in-person learning.
For the fall semester, the Paulding County district, which is in a suburban area just outside of Atlanta, offered two options: regular in-person instruction, and the Paulding Virtual Academy. The PVA—an entirely remote learning option—had an enrollment deadline in early July, and there were just 9,000 slots available for a school district that has an enrollment of nearly 30,000 students. Students who didn't get slots were able to join a waitlist, but had no remote learning option, regardless of their situation.
The Paulding Virtual Academy sounds like a great solution for the students who were able to get a spot, but for those returning to in-person instruction, the district didn't promise much in terms of safety guidelines. In an FAQ document on their website, the district said that "Schools will employ social distancing as it is feasible and practical," and that they will "encourage" students and teachers to wear masks. Encourage, not require—Georgia Governor Brian Kemp is notorious for banning mask mandates in public places, a decision that has drawn widespread criticism and even legal challenges. But the district's statement was candid that "in most cases it will not be possible to enforce social distancing in classrooms or on school buses." The FAQs also clarified that students will NOT be able to switch to virtual learning if the in-person route "doesn't work out." So basically, if you're one of the lucky few who nabbed a spot in the virtual academy, congrats! Otherwise, you're pretty much SOL.
The district wasn't happy about going viral this week, though. Yesterday, we learned that 15-year-old Hannah Watters, who took some of the infamous photos, was suspended for five days as a result of her actions.
So what did Hannah actually do wrong? She spoke to Buzzfeed, and told them that "The policies I broke stated that I used my phone in the hallway without permission, used my phone for social media, and posting pictures of minors without consent." Right, okay, sounds legit. I'm sure the average punishment for using your phone in the hallway is a week-long suspension. This sh*t got even darker when the Twitter account that posted the original photos shared audio from an intercom announcement at the school. In the audio, a man tells the students that "there will be consequences" for anyone posting photos or videos that show the school in a negative light. Censorship—you love to see it!
I was just sent audio of the Principal of North Paulding High School announcing that there will be "consequences" for anyone who posts video or audio of the school which depicts the school in a negative light. #NorthPauldingHighSchool pic.twitter.com/lKbuXJhCQd

— 🇯🇲Black🇭🇹Aziz🇳🇬aNANsi🇹🇹 (@Freeyourmindkid) August 6, 2020
On Friday, TMZ reported that the school called Watters and "deleted" her suspension, which surely had nothing at all to do with the blowback.
So basically, thousands of students in Georgia are being forced to put themselves in danger every day in order to get an education, and they're being threatened with suspension (or worse) if they try to speak out about the unsafe conditions. What dystopian hell is this? This all sounds like a lawsuit waiting to happen, and tbh, I hope this school district gets their ass dragged in court.
Obviously remote learning and being stuck at home 24/7 sucks, but you know what also sucks? The fact that 160,000 people in this country have died from COVID, and that number is getting bigger every day. Georgia in particular is still a coronavirus hotspot, and this week the state surpassed 200,000 confirmed cases. With thousands of new cases being reported each day, it's concerning that Georgia schools are reopening at all, and these photos from Paulding County aren't exactly making anyone feel better about the situation.
Images: Monkey Business Images / Shutterstock; freeyourmindkid / Twitter
The Betches Back To School 2018 Reading List
The summer is almost over, and to distract myself from this deeply depressing fact, I will be losing myself in a good book and living vicariously through its characters. I already hit you guys with my summer reading list, so now it's time for a back to school reading list. These are the best books you need to read before Labor Day. Okay, I know that's kind of a tall order unless you're a speed reader, so stock up on these for fall.
I loved Kara Thomas' adult thriller, The Darkest Corners, so I was expecting a lot from her YA thriller, Cheerleaders. It did not disappoint. Cheerleaders is about a small-ish town in which five cheerleaders and friends all end up dead within the span of a few months. Two die in a car crash. Two are murdered. One commits suicide. Or did she? One of the cheerleaders' younger sisters works to unravel the mystery surrounding these deaths that have plagued her town and her family.

'Mr. Nice Guy' by Jennifer Miller and Jason Feifer
If you read my summer reading list, you'd know I'm not really a big romance novel person but I loved Mr. Nice Guy. The book is about Lucas Callahan, a nice Southern gentleman from North Carolina, who moves to New York to pursue his dream of working at Empire magazine. There he meets Carmen Kelly, Empire's notorious sex columnist… and has sex with her. Only, he doesn't realize it's her until she writes a not-so-favorable column about his performance, prompting Lucas to start a column of his own. It's fun, it's cute, and holy sh*t it is so refreshing to read a book about the publishing industry that ACTUALLY gets it totally right for once. (*Glares at The Bold Type which I know is not a book, but still*).

'Sadie' by Courtney Summers
Sadie is one of the most anticipated YA thrillers of the year, and for damn good reason. Sadie follows a young girl who goes missing following her sister's murder. But here's the good part: it alternates between Sadie's first-person narrative and the transcripts of a podcast that's working to find Sadie. If you've ever wished Serial was a book, this is the next best thing—maybe even better.

F*cking duhhhh we're putting our book on here. When's Happy Hour? is the third Betches book, and as you may have guessed, it's going to be about career advice. From crafting a resume to deliberating hooking up with the office hottie, we're covering it all. Of course, with heavy doses of our signature snark. It doesn't come out until October 23, so before you @ me in the comments, you should know this thing called preorder exists.

You know that quintessential icebreaker: if you could have dinner with five people, living or dead, who would you pick? That's the central conceit to The Dinner List. Protagonist Sabrina invites her ex-boyfriend, estranged father, beloved professor, best friend, and oh yeah, Audrey Hepburn, to dinner. The result is a fun meandering through time that also touches profoundly on the many different types of love we feel for others.

I know this list is kind of heavy on the Young Adult thrillers, but you're just going to have to deal. Young adults are the only ones actually going back to school right now, anyway. And in any case, this one is so good that you're just going to have to read it. In this novel that combines mystery with the paranormal, five friends end up stuck in the "neverworld wake," the place in between life and death, where they keep reliving the same day over and over until they can reach a unanimous vote on which one of them should live. Dun dun dunnnnn.

We're moving out of the Young Adult genre into a book that is decidedly adult. I loved this book. Full stop. The writing was gorgeous—almost like prose poetry. I still think about some of the imagery Delia Owens used. The plot was equally interesting. Set in a North Carolina town, it follows Kya, the town's "marsh girl" who's raised herself in poverty in the swamps. Then, a prominent young man in the town is murdered, and there are many twists as the cops try to nail down a suspect. That's all I'm gonna say.

Getting a little meta with the titles over here, but I promise it's not on purpose. The Bucket List is about 25-year-old New York transplant Lacey Whitman, who learns that she has the BRCA-1 mutation. For those of you uninformed, it's what Angelina Jolie had that led her to get a preventative double mastectomy. Lacey decides to do the same thing, but before she gets rid of her boobs, she makes a boob bucket list and tries to cross off everything. It's sexy, it's fun, it's flirty—The Bucket List is overall a breezy read with a little bit more heart than your typical beach read.

What To Wear For The Perfect Labor Day Insta
Well, the time has come and we've (somehow) made it through another summer of blacking out more times than we can count from too much frosé and vodka sodas. The nights are getting colder, as are your hearts, since you know you'll probs never hear from your summer fling again. Well, maybe just one more random "U up?" text. Although summer has its perks, I'm like, so over feeling repulsive every goddamn day from being in a jam-packed subway with millions of sweating New Yorkers. IDC what you say, winter has arrived in Westeros I'm rejoicing in fall's arrival. So with Labor Day weekend approaching, aka the last unofficial weekend of summer, it's only natural to celebrate with too much alcohol and calorie-loaded drunchies in one hell of an outfit that leaves a lasting impression. Whether you're *trying* to stay away from hot dogs at a family BBQ, bar-hopping (if you don't die at the pregame), or chugging sipping on some wine in the Hamptons, here are all the essentials you need to really honor the fact that you're a hardly hard-working contributing member of society.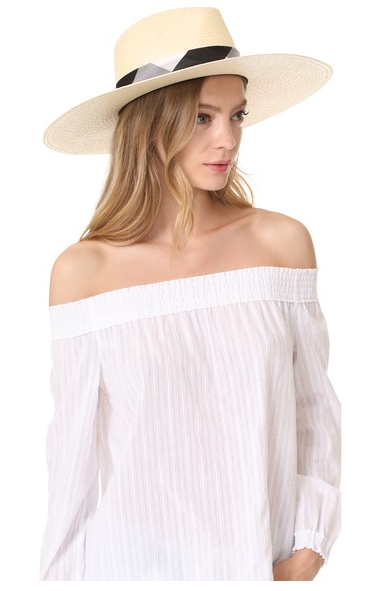 Just one last time, wear an obnoxious sun hat to feel like a classy judgmental betch. This may be the last time you step foot on a beach until next summer so this crisp neutral hat is pretty close to being the next best thing. It even has a gingham band which is like, so fall so you'll look really trendy and can def get away with wearing it again next year.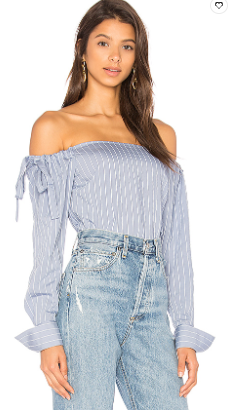 Every person literally has this shirt or some version of it, but even if you don't, you were def planning on buying it anyway. Kinda basic, I know, but it's so versatile and playful that you can really dress up the work vibes it has with your hottest stilettos and fave jeans that hide your muffin top. The off the shoulder look is v flattering on everyone, especially because it'll show off your summer tan (fake or real, you decide). Plus it has blue and white, which is fitting for a 'Merica look so you can look a little patriotic for your judgy fam who posts too much shit on Facebook.

Wearing white alone is pretty risky. Wearing white pants and getting away with it is reserved for the true queens. It's LDW though, so YOLO. Even though no one, except maybe your grandma, follows the "no white after Labor Day" rule, be bold and wear white this weekend if it's gonna be your last time for a while. (Whatever, those rules aren't even real.) Opt for a pair of white pants that make you look like a Insta model, aka tall and skinny. These are cropped just above the ankle with frayed hems so your legs will look five miles long.

Long live the block heel. These are the perf transition from work to weekend festivities, with the 3-inch heel making it easier to stumble walk around in. The neutral brown goes with any of the 20 outfits you'll try on before deciding, and it's the best color to ring in the new season. Like you needed an excuse to buy more shoes, though. Since they're open-toed, you'll have another chance to show off the last of your summer pedi.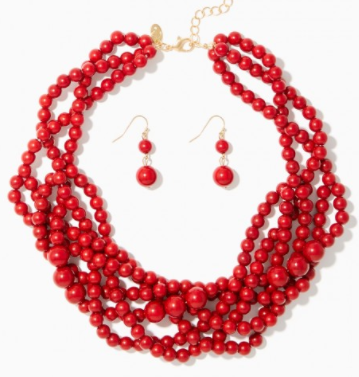 I'm honestly so over chokers rn, so I'm gonna advise you to wear a statement necklace because those are just timeless—at least the ones that don't look like your mother's. If you plan on wearing an off the shoulder top (which you should because I said so) or even a high neck style, opt for a chunky necklace to really elevate your look with a bright pop of color. In this case, red is probs best because again, 'Merica. You can adjust the length of the piece for your liking, but it'll sit right on your collar so if anything, it kinda feels like the choker you're used to but without it being a choker. Same thing.
8 Roommate Red Flags That You're Living With A Monster
If you're starting college this fall, you're probably v stressed about a lot of things right now, but of all the things you have to worry about (Will I gain the freshman 15? What if I hate my major? Are all these guys fuckboys?) the most legit concern are your fears about having to live with a roommate. Here's the truth: You're going to have, like, zero personal space, and you might fucking hate each other not always be best friends. So whether you got randomly assigned or shacked up with met someone you met at orientation, here are some red flags you should watch out for.
1. Extreme Homesickness
It's normal to be a little homesick at the beginning of college. You used to have a mom to do all your shit for you and tell you you look pretty every day. Now you have to do shit for yourself and write things like "You're beautiful!" in lipstick on your mirror as a confidence booster. It's bleak. But most people adjust (aka start drinking heavily) pretty quickly. If your roommate is choosing to talk to her mom all the time instead of going out, drop that bitch like she's an 8am calculus class. Or just like, wait it out. She'll be transferring to her local community college by spring semester, and then you'll have the room to yourself.

2. Gone Girl
If she goes home random weekends that aren't even breaks and has yet to unpack a single one of her suitcases, there's definitely going to be a problem. Like, if there's a wedding or something we get it, but why is she literally always leaving? Who is she meeting? Is she a Russian spy? These are all valid questions. But she's probably just going home to do laundry.
3. The Boyfriend Girl
We also need to talk about boyfriends. Plenty of girls go to college and stay with their boyfriends from high school, but that doesn't mean they shouldn't have a social life of their own. If she regularly turns down social invitations because she "has plans to Skype with Anthony," that means she's more invested in that dumb guy who could only get into a state school than her actual college experience. Unacceptable. Also, be ready for the day you come home to her in a pile on the floor screaming about how he cheated on her with some slut on his hall. Then prepare yourself for the day he shows up at your dorm room door with flowers demanding entry like you don't also fucking live there. These things will happen, and they will be annoying AF.

4. Best Friend Roulette
It's important to pick up social cues about your roommate, because you're going to be spending a lot of time together. Is she the kind of girl who has a new best friend every two weeks? Like, she's obsessed with this girl Yasmin but then there's some drama with a guy or something and then you literally never hear about Yasmin again and you suspect she might have been drowned in a water tank somewhere slightly off-campus? If this happens repeatedly, your roommate is absolutely the problem. You can still be, like, casual friends with her, but she is not bridesmaid material.
5. Psycho Flirting
Pay attention to how she is around guys too. Does she seem like she's trying to impress every single guy she meets? Is she on a diet but then starts screaming about how much she loves hotdogs whenever a penis is present? Does she act like she never thinks about boys but then kicks you out to have sex like, five times a week? All red flags. But the worst thing is if she acts overly attached to a guy who you slowly but surely realize has no fucking clue she exists. She will not make a good wing woman, and will almost certainly get jealous and petty every time you make eye contact with a man.

6. Shitty Decor
As we've discussed before, you can tell a lot about a person by their choice of dorm decor. While there's no one right way to decorate a room, you should definitely use your best judgment. Like, why did you bring three stuffed animals to college? Do you really need four framed photos of your boyfriend? Marilyn Monroe did not fucking say that. It's all in the details. Oh, and if she dares put up anything with the words "Live," "Laugh," or "Love" on it, fucking run. She's seriously disturbed, and you should probably alert the FBI.
7. General Hygiene
Dorm living is close quarters, and you're quickly going to learn a lot about your roommate's hygiene and habits. Like, sweetie, why does your laundry hamper always smell like a family of squirrels is living in it? Can you please throw away that food you stole from the dining hall a week ago? Who do you think is going to clean out the coffeemaker if you don't do it yourself? People are awful.

8. Bathroom Deal Breakers
Showers should happen daily. Deodorant is not optional. If she doesn't wear shower shoes in the communal bathrooms, she's a psycho who's not to be trusted.
So stay vigilant ladies, and remember, if something seems questionable, it probably is.
Fall Trends You Cannot, Under Any Circumstances, Wear Back To School This Year
It's officially August, which means you've finally given up on your summer body and Target is filled with 18-year-old girls fighting over twin XL sheets with their moms. In other words, it's back to school time. Back to school means many things, such as the end of joy return to some minimal responsibilities (look, if you're in college, don't even whine to me about how "hard" your classes are. Talk to me when you have to decide between a 401K and an IRA). To others, the back to school season is the reveal of a carefully orchestrated glow-up that took months of secret planning. But nothing can ruin your meticulously crafted New (School) Year, New Me persona than a fashion fuck-up. Here are a few things you definitely shouldn't wear this year, because they're just socially unacceptable at this point.
1. Puffy Vests
Vests have been having a moment for way too long and it is time for that moment to be over. Besides the fact that they're hideous bulky and unflattering, everyone wears the same like, four ugly vests. Shoutout to J.Crew and Vineyard Vines for convincing college girls to basically wear floatation devices on a daily basis.

2. Jeggings That Don't Actually Resemble Jeans
I get it. The invention of the jegging was revolutionary because now you can look semi-presentable while wearing pants that don't feel like pants. But like, let's not get ahead of ourselves and do something regrettable, like wear jeans without a zipper or pockets. Those are fine for stay-at-home moms who are involved in some kind of MLM to feel useful and independent, but probably not the look you're going for.
3. Printed (Non-Workout) Leggings
Now that people sell ugly cotton printed leggings out of their homes (see: MLM), printed leggings are cancelled. I mean, they've been on their way out for a while, but once they started being sold like Tupperware at a house party, their fate was sealed. Obvi, you can still wear printed leggings to the gym (or to Chipotle, as long as it's a solid athleisure outfit and not leggings and a sweater or some shit).

4. Riding Boots
You do not need to be wearing anything that is inspired by equestrian equipment to the library. There's just no way around it. I don't even like the fact that there's probably an outfit that incorporates these on my "style" Pinboard from 2011, so I really can't imagine actually wearing them.
5. Weird Scarves
Despite what the tacky name may suggest, you can't wear infinity scarves forever and the time to stop wearing them is like, yesterday. These are outdated and blanket scarves are better. You're welcome.

6. Fur Vests (Maybe)
Like everything else good in this world, Forever 21 tried to kill off the fur vest last season. These are pretty much dead, so definitely don't buy a new one. However, if you have one sitting in your closet that you can't part with because you're a stage five clinger, I guess we can make an exception just this once.
Back-To-School Backpacks That Won't Make You Look Like A Freshman
It's always easy to spot the freshmen because of their wide-eyed innocence, the giant yellow lanyards hanging around their necks, and their oversized backpacks filled with real textbooks (lol, who reads those?). Look, what you choose to wear on your back is important. Nobody wants to give a bid to the girl who ironically totes around a Buzz Lightyear backpack from Wal-Mart (not speaking from experience or anything…), so it's time to add backpacks to your back-to-school shopping list. Remember that kid in your high school who brought a rolling bag to school? That's how much of a home-schooled jungle freak you risk looking like if you choose the wrong vessel in which to carry your shit. Luckily these backpacks we've hand-picked are cute, lightweight (meaning no back sweat, you're welcome), and will (probably) fit all your stuff. You're so lucky you have us.

This isn't like, a regular backpack. It's a cool backpack. The absolute angels at Rebecca Minkoff took the Julian leather backpack and made it lightweight for the times in fall when it's still hot as balls outside. Dreams do come true.

This cotton canvas backpack looks like it belongs on the floor of a minimalist Tumblr bedroom, but you're probably going to just fill it with shit like chopsticks you'll forget about and crumpled up receipts. It also has a laptop sleeve, which you'll probably leave something important in and find two weeks later.

If it didn't sound like a bad line from an Old Navy commercial, I'd tell you that this Marc Jacobs backpack is fashionable and functional. Backpacks are typically kind of nerdy, but this one is Marc Jacobs so it's actually sorta edgy (which isn't easily achieved by nylon bags, but whatever).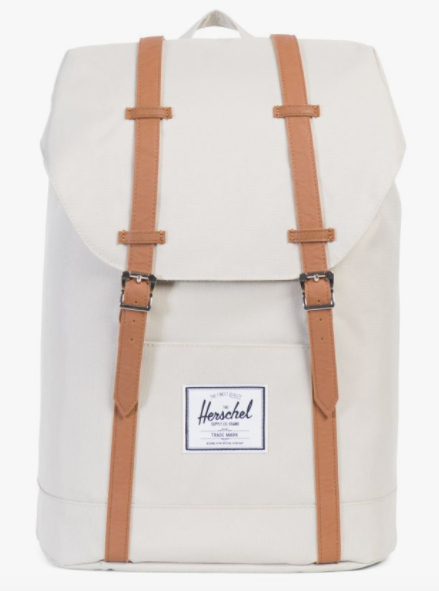 Herschel is kind of like, the Vans of the backpack world. Pretty much everyone has one now, and they're kind of making us all look like hipster dudes from Brooklyn. But they're functional, not ugly and can probably fit a bottle of wine water, so why not?


I know we like, just said that Kate Spade isn't cool anymore because of the whole Coach thing, but I've pretty much already talked shit about every other designer that you preppy betches probably love, so I'll let you have this one thing, as long as you don't get carried away. This nylon backpack is actually so cute and black and white stripes go with everything (just ask Kris Jenner).
The Must-Have Dorm Room Decor Items That Will Save You From Looking Basic
I look forward to Back to School season for one reason, and one reason only: the shopping, obvi. IDC if it's because I'm buying markers, pens, colored pencils, and other boring shit that just collects dust. It still means I have to spend money and buy things for myself that I (debatably) need. It's the time of year where I buy another overpriced planner, simply because the design is cute and I like feeling as though I have my shit together. Oh, how a planner makes for a perfect disguise. *writes in it for syllabus week only* I then go out and buy an entire new bed set because my side of the room has to look the fucking best. You know, just in case MTV Cribs decides to come back and have a dorm special or something. Although I'm now ancient af a college alum, if there's one thing I learned, it's where to buy the hottest shit for your dorm room to make everyone 1) jealous and 2) come to you for all the pregames. Listen up, betches. Class is session.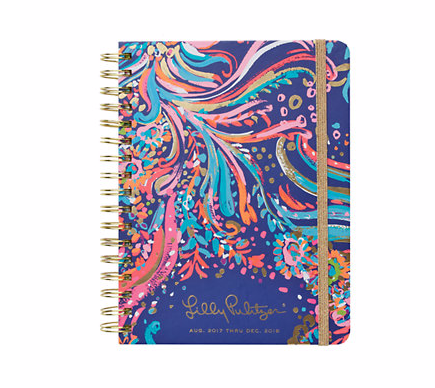 Nothing screams basic bitch or sorority girl more than owning a Lilly Pulitzer planner. The large size comes with more than enough pages and space to write down all of your parties important dates. Plus, it comes with stickers that resemble Lisa Frank but like, for adults in a festive print that's on your fave Lilly dress for this year's track season.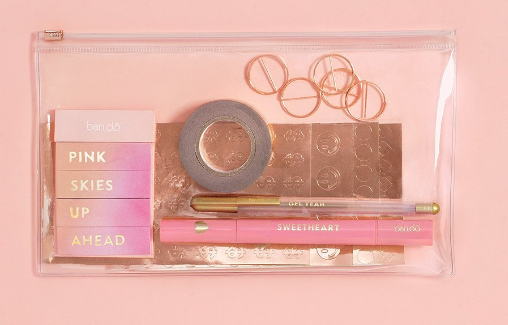 If you didn't already, you're probs getting a new big af bag to carry all your shit in to and from class. Although you'd like to look like you know wtf you're doing, all of your things def get thrown in like pocket change after the first day of school. Well, this little pouch kind of makes your life easier. According to its description, it comes with things you just "neeeed," like a marker stamp and gel pen—sounds about right. Since you lose pens like you lose bobby pins, you'll need this rose gold pouch to keep at least one aspect of your life organized.

Too much of a colorful floral comforter makes me think you're still a 5-year-old. You want one that's simple, yet classy (whatever that means) in a neutral color so your one night stands don't feel like they're sleeping in their little sister's room. For whatever reason, a white comforter says you're a sophisticated betch with a fuck ton of power because you are taking a huge risk to keep a white comforter clean. This white one has a gray floral design you can mix and match with other bed décor and still feel like a queen.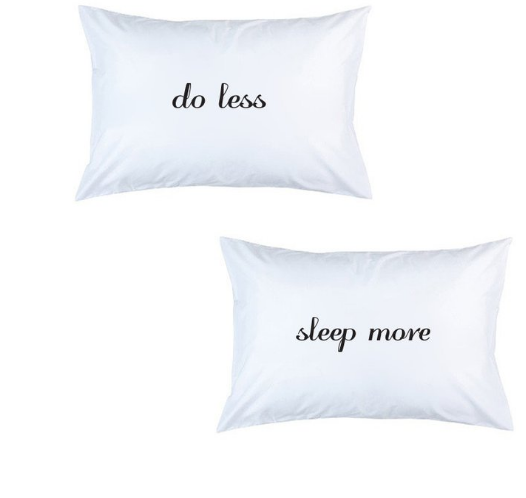 While we're on the topic of bed sets that mix and match, you'll also need pillow cases that inspire you to have sweet dreams, help you go to sleep faster, blah blah blah. It's not like these are like, therapeutic or anything, but at the end of the day you'll feel really good about rewarding yourself with a nap you don't need after barely lifting a finger. Same thing.

If you don't have a $50 UO tapestry hanging in your dorm room, do you even smoke weed dorm? This one comes in either navy or white with rose gold detailing so it'll easily go with any bedroom theme you have going on. Its artsy design will make for the perfect Insta background so all of your followers will think you're somewhere way cooler than your dorm room. Pro tip for those who aren't ready to give up the tapestry life after college: You can actually get your tapestries framed, and it will instantly take your décor from "college stoner" to "cultured intellectual who probably studied abroad in India or some shit." You're welcome.

You've seen this all over Pinterest and even though it's probs easy af to make yourself, ain't nobody got the time, patience, or attention span for that shit. So naturally we're going to buy it instead. This cute photo holder can showcase all the photos you look good in cherish in a v crafty way—one you can totally get away with telling people you made yourself.

Naturally, you're going to get white Christmas lights like every other student and their mother. But these are different and like, literally the best thing I've ever seen. These come with Bluetooth enabled speakers you can pair with your iPhone so you can host the best pregames on campus, make all of your friends jealous, and have your room still looking lit. How fucking cool.