The Best 'Bachelorette' Recap You'll Ever Read: The Titanic Had More Structure Than This Season
Welcome back to the best Bachelorette recap you'll ever read! Coincidentally that is the exact endorsement my mother gave with the qualifier that it is the only Bachelorette recap she reads… Fine, I'll take it. I don't know about y'all, but it's been a loooong three months living in a Bachelor-free world. God, it's nice to have a reason to live again. And what a time to be alive it is. This season we've got not one, but two Bachelorettes: Gabby Windey and Rachel Recchia. Don't you love when the entertainment industry treats strong female leads like a coupon deal at a Food Lion? Lol, the end of the world is fun.
If you're wondering how I've prepped myself for this madness, let's just say that my pre-Bachelorette viewing routine has only changed in the amount of wine I'll be consuming: whatever quantity is enough to tranquilize a horse and/or allow the feminism to actively leave my body. Let's get into it!
The Format: How The Hell Is This Supposed To Work?
Normally at the beginning of each season we have a basic idea of how the rest of the season will play out. Girl meets 30+ guys. Girl is somehow not disgusted by childish limo gimmicks even when gimmicks involve body oil and weird kid choirs. Girl is just happy not to be on Hinge. Girl dates guys. Girl loves guys. Girl contractually requires at least one guy to propose to her. Bada bing bada boom, we've got a season! But this season, not even Jesse Palmer has any idea how filming will work on a weekly basis. Will the women be competing for one spot, as was the case in season 11 with Kaitlyn Bristowe and Britt Nilsson? Or will it be more of a Hunger Games-type competition, where instead of fighting for food and resources they duke it out for male attention? 
Whatever the case, the women are ready. They both seem cautiously optimistic about being co-leads and are just happy to not be doing this alone. They also seem to both hate men. I love that energy for them. At one point Gabby says that she has her guard up, and that after everything with Clayton, men have earned the right not to be trusted. I have never liked her more. She sounds like a soothsayer in that moment, and I briefly wonder what "men have earned the right not to be trusted" would look like in sanskrit as a tattoo…

I do think that Gabby and Rachel should lower their expectations for the evening. Right now it's all champagne and body glitter and "let's meet these idiots who aren't good enough for us!" but, like, eventually they have to date one of those idiots… so.
They meet up with new Bachelorette host Jesse Palmer, who again emphasizes that he has no idea how this will work. It's not in his pay grade, okay. He's like "how can the guys date two of you at once??" and, you know, I think they'll be just fine, buddy. In fact, I think that's sort of their whole area of expertise prior to this show. 
If Gabby and Rachel seem uncomfortable with the format, it's nothing compared to the men's reactions. Don't get me wrong. They're used to a two-on-one dynamic. They just aren't used to the two knowing they're dating the same one.
Their discomfort is apparent during the limo entrances portion of the evening. One guy pulls out noise canceling headphones so he can speak to each Bachelorette privately while in front of each other. Another guy calls Gabby by Rachel's name and then looks as if he wishes the ground would open up and swallow him whole. The 25-year-old life coach (that descriptor is an oxymoron… what life have you lived enough to be able to coach it??) panics so badly he blurts out that he hasn't had sex in over a year and the girls look at him pityingly.
If this is an indicator of what's to come this season, then I worry for the fate of our Bachelorettes…
The First Impressions
As the men descend on the premises like locusts, I remain unimpressed by them. Where is the—and I say this in my best Abby Lee Miller voice—star power this season?? And MY GOD the gimmicks. How many gimmicks can we fit into one evening? The limit does not exist. There's Roby the magician, whose sleight of hand tricks begin with pulling a rabbit out of a hat and end with knowing where to locate the clitoris. Then we've got Jacob, who shows up glistening and shirtless and riding a horse. He would definitely fuck your aunt at Thanksgiving. He cannot be trusted. There are a set of twins and a guy named Erich, whose spelling of his name is, in itself, a gimmick. 
THE MEN: *breathe*
ME: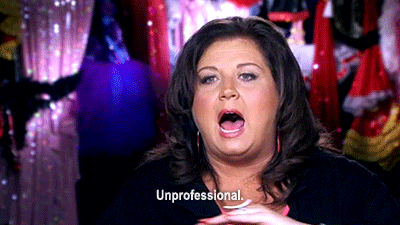 It's not until an hour into the episode that the men stop arriving and Jesse Palmer finally deigns to tell us the rules of this circus. Yes, both women will give out roses during the rose ceremony. Yes, there will be two first impression roses. No, he will not be taking any followup questions. 
At first, I was grateful for the limo shenanigans to be over. I can only mumble "Jesus fucking Christ" so many times under my breath before my dog will leave the room. But then, when Gabby and Rachel decided to Mary-Kate and Ashley the cocktail party, I knew this night was taking a turn for the worse. They start selecting guys to chat with privately together, and this can't possibly be how the producers envisioned the show going. There is nothing flirty or romantic about this set-up. In fact, it's giving me PTSD flashbacks to the one time Victoria's Secret made me do a group interview in the mall food court for their register girl position. 
The madness doesn't end even when they bring in the twins. Now it's a weird double date in which two of the hottest girls in Bachelor Nation are being courted by The Suite Life of Zach and Cody. But it's apparent this format is really not going to work when Rachel asks the guys what their hobbies are, and Gabby asks them if they can read each other's minds. 

They just don't date the same—and that's fine! They don't have to. They aren't twins whose only difference is an errant freckle! They're allowed to have different communication styles, different turn ons, different things that give them the ick.
Because of this, they decide that if they're ever going to make out with one of these idiots then they need to divide and conquer. Though ABC does their best to follow their two journeys, something gets lost in translation for me. I don't see any true connections in the making. There's just not enough time to develop those conversations with ABC constantly panning between the two of them. That said, the women seem excited about a few guys:
Gabby's Guys
Ryan –

Ryan is a real estate agent from Boston whose entire personality is a Boston bit. I can't decide if his saying "Gabbers, shut it" is cute

or if it makes me want to get out my Urban Outfitters book of basic bitchcraft and place an ill-wish curse on his beloved Red Sox.

Only time will tell with this guy…

Jacob –

That boy has the most erect nipples I've ever seen in my life. Him and Gabby end up spread out over a bear-skin rug as he pretends to be self-conscious and Gabby pretends to be making a strong connection with anything other than his abs. 

Erich –

I hate Erich already for bastardizing the spelling of a perfectly normal name. Gabby shares none of my pain points. She makes out with him instead. 

Mario –

Mario was the first guy to ask Gabby about Clayton in a way that didn't feel overly hostile or gimmicky. He genuinely seemed interested in Gabby's experience dating on the show and the ways he could connect with her despite that experience. Take notes, boys: asking questions about another human being actually works! Not only does he snag the first kiss of the evening, but he also gets Gabby's first impression rose.
Rachel's Guys
Hayden –

Hayden gives Rachel a belated birthday card and she acts as if he reconstructed one of the seven wonders of the world. Let's open the card and get a look at that message. I worry it says something like "in dog years you'd be dead… happy birthday!" and she's trying to save face for the cameras. 

Aven –

MY GOD THIS MAN. When he walked out of the limo I felt a surge of white-hot jealousy, the likes of which have not been seen since Grocery Store Joe debuted on my television screen. Aven is by far the hottest guy this season. Can't wait to watch him ruin that for me by displaying a personality!

Tino –

Tino wants to christen the stairs with Rachel. He says he wants to make "new memories" in a traumatic space, but they end up dry humping horizontally instead. New memories, indeed. But it works! Rachel gives him her first impression rose. She says that she really enjoyed their conversation—and I agree with her. She got an excellent demonstration of his oral skills… 
RACHEL: I loved our conversation
THE CONVERSATION: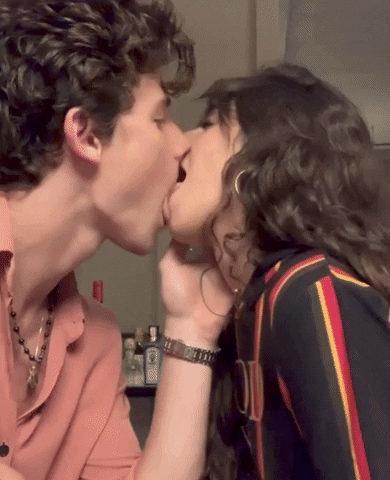 It's interesting watching Rachel and Gabby talk through their connections with each other. They aren't friends, exactly—more like two strangers who have trauma-bonded in a long-term hostage situation, and yet they seem eerily giddy about dating the same pool of men. Neither of them comment on the same guys, and I wonder if that's intentional. For example, Erich had good conversations with both of them and neither of them mentioned that to each other. Of course, this is just the first night of many. If this were a horror movie they would still be innocently preening in front of a mirror as the serial killer lurked outside their window. I'll save my judgment for the second act…
The Rose Ceremony
As I've mentioned before, there are no rules this season! ABC spent three months listening to the fandom question how such a format could possibly work, and their answer was essentially to let go and let God. Bible, that is the worst idea I've ever heard.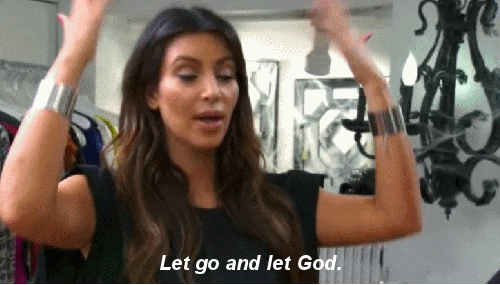 Gabby and Rachel want to talk privately with Roby the Magician and the twins. They very casually tell them to gtfo and that their journey is over. I love that they're dumping people in little groups instead of during the traditional rose ceremony. It's bringing me back to that time in Miami where I got booted from a private table for crying too much and "killing the vibe." We've all been there, boys!
They tell everyone else that they're canceling the rest of the rose ceremony and that everyone gets to stay. This is absolute anarchy. I'm telling you, the Titanic had more structure than this rose ceremony does right now. And we know how well that worked out…
Until next week, betches! Xoxo.
Images: ABC/Craig Sjodin; Giphy (5)
The Best 'Bachelorette' Recap You'll Ever Read: Class Is In Session
Well, well, Bachelor Nation pals, here we are again. We're back for another season of The Bachelorette. What did you do with your time off between the Bachelor in Paradise finale and the premiere of Michelle's season? Let your takeout barely go bad in the fridge? Accidentally leave one lone wet sock to mildew in your washing machine? I mean, this is too much. I've had Taco Bell run through my digestive system at a slower pace than this break between seasons! I haven't even gotten sick of scrolling through all of the successful BiP couples on Instagram yet. *sighs so deep it creates a new fault line* But I digress. 
Let's go ahead and get into the premiere: the good, the bad, the cringe, and the things that will haunt my spirit until my dying day.
The Good: The Kids
We start things off with an introduction to Michelle Young, the hottest fifth grade teacher in all of Minnesota, and I'm already a fan. By "already a fan" I mean of the kids in this classroom. I love that ABC got enough signed parental consents to film her while she works. But I wonder, is ABC  also going to be liable for the inevitable therapy they'll all be needing post-filming?
MICHELLE: Okay class, what happens when we take one woman over 30 and add 30 single men in various stages of steroid dependency? Hmm? Can anyone tell me what that equals?
THE KIDS:

The one kid is like, "isn't it weird that she'll be kissing 30 guys?" Yes, sweet child, it is weird. But if this weirds you out, just wait until Miss Young explains the Fantasy Suite dates to you… 
I will say, Michelle looks great this season. Like, she is so fit it makes me want to die. ABC must agree, because they took one look at those Pilates arms and wasted no time in branding her as "Hot Teacher." They are leaning all the way in, y'all. Expect no less than 60 teacher puns in the next 120 minutes of the episode. Mark my words, people. 
The Bad: First Impressions Of The Guys
The kids are a nice introduction for when we get to see the real show and tell: the limo entrances. I worry the guys heard "teacher" and thought the way to Michelle's heart would be to act like variations of Dennis The Menace. It's the only explanation for these childish entrances. Here are some highlights of the lowlifes:
Chris S, self proclaimed "Southern Gentleman," procured his own bus for the occasion and walked out looking like Prince George in his first day of school pics. Never mind that Chris looks less like a gentleman and more like a guy who would argue about mask mandates on an aircraft. Good luck with him, Michelle!
Clayton (our next Bachelor btw) walks in with a yardstick and coyly asks Michelle to beat him with it. He tells her that he'll be on his best behavior, and then bends over the nearest potted plant like he's Anastasia fucking Steele. Look, guy, we don't need to hear about how you sprouted an erection during your first spanking by an authority figure. Save that for your therapy sessions like a normal person!
Jamie, 32, tells us he is a "biotech CEO" and I have questions. Namely, what is that and for what company are you a "CEO"? The vagueness of the wording is making me think "biotech CEO" is actually code for "makes a living selling own sperm." Be honest with us, Jamie!
Brandon K literally hands Michelle some Mardi Gras beads and asks her to show him her tits. Again, only in porn do the nice teachers acquiesce to those kinds of requests. Christ. 
Rick, a medical sales rep from LA, makes his grand entrance as an appetizer. James from Katie's season walked so Rick could roll out on that entrée cart. 
Peter, a 26-year-old "Pizzapreneur", is the sole reason New Jersey's tourist rates just plummeted. The man shows up in a bedazzled suit, flinging around cannolis with reckless abandon and screaming about pizza principessas. His personality feels like the equivalent of a Forever21 floor. 
I will note that there were a couple of shining stars among the men: Brandon J and Nayte. Instead of leaning into whatever adolescent teacher fantasies the rest of the guys rubbed one out to before the cocktail party, they choose to woo Michelle with their honesty and easygoing vibes. A novel idea, truly. Michelle is especially taken with Nayte, whom she ends up giving her first impression rose to later in the evening. 
View this post on Instagram
View this post on Instagram
The Cringe: Joe's Ghosting Act
Nothing is cringier than witnessing Joe's entrance. When he walks out of the limo, Michelle immediately says that she recognizes him from somewhere. He's like "it's because we're both from Minnesota, lol!" and she's like "nooo that's not it, I think you've maybe wronged me before." MICHELLE. You can't just say that to their face! At least let your suspicions boil inside you to apocalyptic levels before bursting like a dam in one cataclysmic torrent!
She says that she DMed him years ago and they messaged for a bit before he ghosted her. "Ghosting" feels like a strong term to use in this instance. Isn't that just what dating is these days? Messaging until one of you fades into the ether? Also, Michelle deserves a purple heart for verbally acknowledging that she slid into someone's DMs. Michelle!! That is a sacred act between you and your 12th glass of wine. No need for all of America to know that. 
Later, Michelle confronts Joe about his ghosting her. My god, and now with the ghosting! Michelle, take that shit to your grave! Joe says that the reason he stopped messaging her was because at the time he was feeling overwhelmed about George Floyd, and Michelle is not having it. Honestly, bring out the receipts. I think I need to see the extent of the messaging before I pass judgment. Her reaction does seem a little harsh considering they probably met after she liked a shirtless picture of him by a pool. You can't be mad at a stock image, Michelle!
The Things That Will Haunt My Spirit Until My Dying Days: Tayshia & Kaitlyn's Search & Seizure
Look, I'll admit. I've had my issues with Tayshia and Kaitlyn as hosts. What can I say? I don't miss Chris Harrison, but I miss his barely contained disdain for "the process." There's too much pep in the Bachelor franchise these days, but these two were absolute gold this evening. Before the rose ceremony even begins, they're going through the guys' hotel rooms looking for incriminating evidence. I'm sorry, but don't you need a warrant for that search and seizure? I didn't realize Benson and Stabler were assigned to Palm Springs. 
TAYSHIA AND KAITLYN RN:

And BOY do they get the goods on Ryan. Ryan, the shirtless farmer from San Jose, was actually one of the bright spots from Michelle's first night. He came off hot and charming despite wearing his shirt unbuttoned to his navel. Talk about a Cinderella story. Michelle was clearly feeling him after he surprised her with ice cream from his ice cream truck at the cocktail party—and that's not even a euphemism for something dirty! He actually fed her during that 18-hour first date marathon!  
So, what exactly did the Special Victims Unit find in their search? Well, in addition to riding tractors and flashing cleavage, Ryan is also a criminal mastermind with files upon files of notes on how to win more screen time. You're telling me that someone would actually come on this show for the wrong reasons? Color me shocked. Honestly, the bigger crime is how he did Jason Tartick dirty in his show notes.
View this post on Instagram
Okay, Kaitlyn and Tayshia have no chill. They're acting like they broke the Watergate story, when in reality they just discovered a man with a pulse is actually a piece of shit. Their delivery of Ryan's betrayal to Michelle is just as ridiculous. Tayshia's like, "He doesn't actually care about teachers!" Lol, yes, that's the biggest issue with his cheat sheets, not that he literally labeled it "project rose" and had line graphs on personality types that get the most screen time. I hope Michelle sends him home or, better yet, throws his body over a burning pyre. It's what he deserves!  
Once Michelle hears the news, she wastes no time in going full-on teacher on his ass. She forces him to show her his cheat sheets and then marches him to his room like he she's about to break out Clayton's yardstick once they're in private. Ooooh, you're in trouuuuble. 
RYAN: My friend's wife wrote those notes!!
THE WIFE: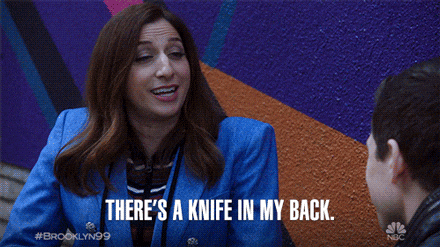 HAHAHA. I love that Ryan is blaming this on his friend's wife. Honestly, let's get her on the show. I want to hear about her part in this!
Sadly, Michelle lacks my lust for blood, and instead of requesting a medieval stocks be placed in the hotel lobby to allow her and the contestants a chance to throw fruit at Ryan's prone body for the remainder of the cocktail party, she sends him home with a cold goodbye and moves on. Booooo. 
View this post on Instagram
After Ryan leaves, ABC positively zips through the rest of the episode, and we're at the rose ceremony before we know it. The ceremony moves quickly and leaves little room for dramatics. After one long, drawn-out pause, Michelle ends up giving Casper The Friendly Ghost Joe her last rose of the evening. We say goodbye to JoMarri, Jack, Garrett, Edward, Bryan, and Brandon K (of the "show me your tits" pickup line). I can't say any of you will be missed. Until next week!
Images: ABC / Craig Sjodin; Giphy (3); tvgoldtweets, @bitchelorette_ , @bachelornation.scoop / Instagram
Is Katie The Most Relatable Bachelorette Ever?
I've been a reluctant member of Bachelor Nation for close to seven years now. And while I have almost always wanted to be friends with the franchise's female leads, Katie is the first Bachelorette that I could actually see myself getting a drink with. For the first time in recent Bachelorette history, I am not intimidated by its leading lady. And since I am an average-looking, single female in her 30s who sees almost all other single women as a threat to my chances of ever landing a boyfriend, that's f*cking saying something. 
It's not that Katie isn't absolutely gorgeous, because she is. And it's not just that she's, as they keep saying over and over again, "sex positive"—or because she uses a vibrator, because literally every woman does (if you think we are having better orgasms with men than with our toys,  you are delusional). It's that she—and I absolutely mean this in the best way possible—just doesn't seem like one of those cool girls. Katie Thurston is not the Regina George of the Bachelor franchise (she would probably find the whole concept of The Plastics to be sexist and limiting), and I am absolutely here for it. And while some viewers may have jumped off the Katie train when she got into it with some of her castmates on ATFR last season, her not being friends with the Kits, Chelseas, and Abigails of Matt's season (who all star in each other's Instagram stories in NYC now) only made me love her more. Because, same girl, the cool girls wouldn't like me that much either. 
For years, I've watched this "reality" show in the same way I watch Grey's Anatomy or, more recently, Bridgerton: to see gorgeous, unattainable, unrealistic characters and storylines play out on my TV. The line between celebrity and Bachelor contestant is so blurred that I'd have the same reaction to running into Rachel Lindsay on the street as I would Regé-Jean Page. Okay, well maybe not the exact same…but you get it. And as that line blurred, the pressure on franchise contestants, especially leads, grew. They felt the need to be polished, to give off an "aspirational" vibe that women would see and think, "damn I want to be like her." But we don't see that as much with Katie; instead, we see her and think, "damn, I am like her." And wasn't that the point of reality TV to begin with?
So, clearly I was primed to love Katie as the Bachelorette from the moment her first season promo came out with her looking truly uncomfortable in a bright purple zip-up skirt. Like, yes please, I would also try to wear that piece of "fashion" and not know how to hold a rose. And the fact that Chris Harrison was going to be nowhere near our television screens had me all the more excited. Katie, quite simply, did not disappoint. She swooned over every attractive man like she was watching a Marvel movie in the comfort of her own home, prepping her vibrator for a post-viewing masturbation sesh starring Chris Evans, Tom Hiddleston, and Mark Ruffalo as The Hulk (yes, I said what I said). She struggled to walk in her heels, couldn't pretend to not be creeped out by the skin salesman, and had multiple uncomfortably open-mouthed makeout sessions in true awkward "what do I do with my tongue?" fashion. She also fangirled over Kaitlyn and Tayshia because let's admit it—they are the cool girls, and what not-cool girl doesn't still secretly (or not so secretly) want the cool girls to like her? 
We also learned a bit more about Katie's background during the premiere: that her parents got divorced when she was young, she grew up poor, and isn't sure if she wants children. What a trifecta of relatability, amiright? The show still only represents the top 1% of attractive people, but hats off to ABC for opening up the leading role to someone from a lower tax bracket! And finally, some representation for the women of the world that don't see their bodies solely as vehicles for the creation of other bodies! Finally, some normalization that first can come love, then comes marriage (if you want, also cool if you don't), then comes a long happy life of travel, leisure, and never having to worry about passing on generational trauma! 
I know we are talking about a franchise that is rooted in patriarchal norms, has a large conservative fan base, and is still SUPER problematic, but boy does this awkward girl finally see a bit of herself in the Bachelorette. And not only is that refreshing, but it's also going to be a hell of a lot of fun to watch an outspoken, kinda weird, not conventionally Instagram model-y woman fumble her way around a cocktail party and into the fantasy suites. 
Image: ABC/Craig Sjodin
The Best 'Bachelorette' Recap You'll Ever Read: There Are Some Things You Can't Unsee
Welcome back to the best Bachelorette recap you'll ever read! Keep in mind that the title of this recap has not at all been endorsed by any governing body or organization and is mostly just a manifestation I'm shouting into the abyss after my third glass of wine. I just want to be upfront about that. 
Moving on! For those of you who went into this season blind (you're not better than me), you'll want to meet your new Bachelorette: Katie Thurston. If you're thinking to yourself "who?" and "no, seriously who??" Katie was the girl from Matt James' season of The Bachelor whom I benevolently dubbed "Dildo Girl" in every single one of my recaps. On night one, Katie came out of the limo wide-eyed and fresh-faced, looking less like a girl fit for reality TV and more like a girl who would work the register at a Panera Bread. And I say that with love! I'm thrilled to be watching a girl who looks like she buys her makeup at CVS and has never once in her life heard of a lip filler dare to find love on national television. In fact, if not for the sparkly, average-sized dildo she waved in Matt's face like a baton from her senior year marching band routine, we probably never would have heard from her again. But alas, Dildo Girl was born! 
Unlike previous contestants we've seen on this franchise, Katie did more than just cry and bring general shame to her family name. During her time on The Bachelor, she took on girl-on-girl crime in the house by banishing the words "whore" and "slut" even though that was the majority of the script the producers provided to the girls. (And they would have gotten away with it too if it weren't for that meddling kid!) She tried to normalize sex toys by mentioning it one time as a gimmick and ABC never letting it f*cking die. She wore an ankle length parka to her one-on-one date. The woman was breaking boundaries everywhere she went! So, you could say that I have high hopes for her season.
With that in mind, let's get into last night's episode: the good, the bad, the cringe, and the things that will haunt my spirit until my last dying day.

The Good: First Impressions & The First Impression Rose
Let's start off with the positives from last night (however slim they may be). The theme of this season is clearly "average," if the beginning montage of Katie f*cking up normal day-to-day activities is to be any kind of indicator. Our preview of the men is in much the same vein. Sure, we get some former pro athletes, some CrossFitters, a 40-year-old virgin whose massive bedazzled cross barely hides his repressed sexuality, but there are also just as many teachers, dudes who probably ride New Jersey transit, guys who talk to their grandmas and play with kids. ABC is trying very hard to show us that they've selected average guys who do average things and are totally not at all looking to add thousands of followers so they can become full-time Instagram influencers. 
Even the limo entrance gimmicks were tamer this season, which just goes to show that the ABC intern reading Instagram DMs has finally passed along my demands. Out of the first impressions, there were a few standout guys to me. There was Brendan the Toronto firefighter who looks like he would cheat on you with a Ruby Tuesday waitress if given the chance, but who is so attractive I don't think any of us would care. There was Justin the investment sales consultant who scored the first kiss of the evening. While this is in no way an endorsement for Justin, I would feel remiss if I didn't at least mention him. I mean, who among us hasn't made out with a "sales consultant" early in the night and then promptly forgotten about him for the next guy to buy us a vodka cran?
Andrew S was also memorable as the man who decided that he wanted Katie's first impression of him to be that he lied straight to her face. Bold move, cotton. In fact, one of my favorite moments of the evening was when, after absolutely butchering an English accent in a way that would send chills down the spines of the Windsor family, he asks Katie if the accent is no good and in response she tries to disintegrate into the nearest wall. Let's just say I've witnessed better accents in Winning London. Know your strengths, buddy.
But the real winner of the evening is the first impression rose recipient: New Jersey's Greg Grippo. He came out of the limo looking like a brunette Devon Sawa, handing out macaroni necklaces from his niece, and blushing every time Katie made direct eye contact with him. Honestly, the state of New Jersey hasn't had a win like this since Vinny rebranded himself as the Keto Guido. Look, am I rooting for Greg? Yes. Do I think it's rude that in all the time I spent trolling bars in Red Bank I never once met a Greg, only a man named Lorenzo who flirted with me only long enough to see if I'd pay for his Rolling Rock? I mean, it's something I'll be bringing up with my therapist. It does feel a little kismet the moment Greg and Katie first meet. Greg says Katie looks like a girl from a bar and Katie tries to hide her arousal from the cameras when she says he looks like her ex. If that's not love at first sight, then I don't know what is!! 
View this post on Instagram
The Bad: The Hosts
Look, I know Chris Harrison is bad, bad, bad and we love women supporting women, but the new hosts just didn't work for me. For those of you who weren't aware, while Chris Harrison is off googling racism for the first time in his life, former Bachelorettes Tayshia and Kaitlyn took over as hosts this season. Here's the thing, Tayshia and Kaitlyn's presence makes for a lot of feminine energy that Katie then has to compete with. Tayshia is STUNNING and even though Kaitlyn looked like her lips were struggling to let her speak through all of those fillers, she has the sex appeal of an off-brand Megan Fox. It's a lot of chaotic energy to bring into the mix. 
View this post on Instagram
Then there's the fact that a hero always needs a wise old spirit guide to help them navigate their journey. Where would Buffy be without her watcher? Where would Frodo be without his Gandolf? Kim without her momager? I have makeup brushes older than Tayshia's engagement. What seasoned advice could she possibly give to Katie? At one point in the evening, Katie says her relationship with the hosts feels more like a sisterhood, but I'm not sure that works here. As a person with a biological sister and who spent her entire undergraduate career knee-deep in sorority chants politics, a "sisterhood" only ever encouraged me to hook up with a guy who publicly went by Ugly Paul. But, you know, I'm sure it will all work out for you, Katie!
The Cringe: ABC's Take On Sex Positivity
If there's one thing I hate about Katie being the new Bachelorette, it's that ABC will not stop referring to her as "sex positive." Sex positive makes it sound like she's blazing some sort of trail, holding seminars on the clitoris, and doing Instagram ads for the Kama Sutra. Is she normalizing talking about sex on national television? I guess. But she's not the Wife of Bath, for Christ's sake! She's a twentysomething who owns a vibrator. Welcome to 2021. Maybe she shattered every man in America's ego by insinuating that sex toys facilitate orgasms, not the dude asking "you good?" after ramming a finger into your cervix for five minutes of "foreplay," but the women back home are not surprised! 
As if to highlight Katie's sex queen status, they've dressed her in whore red for her Bachelorette debut. Subtle, ABC. Very subtle. Then there were the limo entrances. Dear god, those limo entrances. I would say the moment it all went downhill was when a grown-ass man decided to bring a blowup doll to the Bachelor mansion. A BLOWUP DOLL. IS NOTHING SACRED ON THIS SHOW ANYMORE?? I think he was trying to do what Katie did with the dildo, as if a tool for female pleasure is similar to a man sticking his penis into a faceless woman made of plastic. Do go on though, pal. 
And the night only goes downhill from there. The remaining men test out every sexual pun they learned in middle school because apparently that's the only mature way to respond to female pleasure. 
MAN WHO THINKS BECAUSE A WOMAN IS A LITTLE WET SHE SQUIRTED: I can't wait to stroke it out with you… with my paintbrush!! Because I'm an artist but you masturbate, get it?!
KATIE: Lol, yeah I love the sexual puns!
ALSO KATIE:

Honestly, Katie, I would quit while you're ahead. 
The Things That Will Haunt My Dreams: The Catastrophe 
There are some things on this franchise that you can't unsee. The string of saliva the cameras zoomed in on after Carly and Evan's first kiss. Kendall Long introducing Arie to her taxidermy collection. Chad waking up on a Mexican beach with a suspicious brown smudge on his shorts.  But the thing that will haunt me until my last dying breath, and perhaps even beyond the grave itself, is Connor B licking his paws on national television and then smearing his cat makeup all over Katie's face. Connor B, a Nashville-based teacher and person who never should have been let out of the cave he grew up in, walked out of the limo in a full-blown cat suit, complete with drawn-on whiskers and an underlying cry for help. Though he looked like a walking, talking fetish, Katie seemed to be into it—proving there is a lid for every pot, even if that pot is probably on a no fly list somewhere. 

And that's all she wrote, friends! Katie called it quits with Austin, Brandon, Gabriel, the man who sells skins out of his van, Landon, Marcus, and Marty. Here's hoping the man who coughed up a fur ball is next!
Images: ABC/Craig Sjodin; Giphy (2); ABC (1); @tvgoldtweets / Instagram (1); @bachelorettewindmill /Instagram (1)
The Best 'Bachelorette' Recap You'll Ever Read: Week 1
The season premiere of The Bachelorette finally arrived and it was…underwhelming, to say the least. Seriously, the most exciting part of that entire episode was seeing how far Jordan would go to extort himself for more Instagram followers. But we'll get to that in this Bachelorette recap. First, let's start at the beginning. And by "beginning" I mean the designated 10-15 minutes ABC will need to replay Becca's utter humiliation and devastation for the sake of last season's ratings. Obviously.  
The episode opens to the tune of Becca sniffling, so it's off to a strong start already.
MY ROOMMATE AFTER 2.5 SECONDS OF WATCHING BECCA IN HYSTERICS OVER THE POLAROIDS: I'm out, I can't do this.
Take me with you?
The camera keeps panning to different shots of the frozen tundra scenic landscape of Minnesota. I literally can't tell if I'm watching Becca's season or some hybrid version of Bachelorette/Winter Games.
BECCA: This is my time, my moment, my choice
Lol I especially love that she keeps emphasizing the word "choice" here. As if she would ever choose Arie had she not been held captive by ABC for six weeks. Thanks for the clarification, Becs!
Becca meets up with a few of the former Bachelorettes, otherwise known as their Victor's Tour. They're supposed to drink wine and give advice as to what Becca can expect from the men this season but, like, she's dated a living, breathing human man before so I'm sure this won't be much different.
JOJO: We're standing on sacred ground here
ME: Isn't this where you dry-humped Jordan in the middle of a cocktail party?
Tbh the only advice I'm coming away with from here is that I never want to sit next to Jojo on a couch, heinous jumpsuit or no. That bitch is beautiful.
We now cut to Becca picking out her dress for night one. I've already discussed AT LENGTH my feelings about Becca's stylist (she's a life ruiner, Becca!), and while I don't love this dress, she does look great this season. She's looking like she might actually find that former athlete of her dreams.
The men are starting to arrive, but first, we get to see what a few of these garbage people are like in the comforts of their own homes production's pre-approved location where they can play out the desired storyline. Here's what we've got:
Garrett is from Reno. BYE. Hard pass. Becca, send him home for that alone.
Jordan, the self-proclaimed "model," proudly states that he can see himself on the couch with Becca. What an amazing future you've laid out for her!! How's a girl supposed to turn down an amazing offer like that?!
JORDAN: I can see us on the couch, in sweats, with the chocolates.
ME: 

As if I am to believe that a single glass of Champagne at the cocktail party won't be Jordan's cheat day for the month. K. Jordan is like that skinny girl who thinks tweeting about how much pizza she eats makes her sound cool.
Moving on to the limo introductions. Okay, so I know Colton is trash because of his v sketchy past prior to filming, but he's so beautiful I might forgive him. Like, what a cute intro he had! Good work, Colton. Next.
Grant's next out of the limo and he starts off his relationship with Becca by bringing up her ex. Thanks for never letting the girl forget she's a pity Bachelorette!
Jean Blanc makes Becca say "let's do the damn thing" in french. My Do The Damn Thing official count is at 6 and we're only two minutes into the limo intros. Someone fucking kill me please. 
GOOD GOD. That hair. If Leo walked out of the limo for me I would call Chris Harrison over, slap him, and say "fuck you."
Jordan comes out of the limo and visibly has to turn his personality on before he can tell Becca hello. Didn't anyone else see that stumble??
BECCA: Hi there
JORDAN: *computer whirring sound*
ALSO JORDAN: 

Oh! I stand corrected. Apparently Jordan is the creative genius behind his very own personal brand: the pensive gentlemen. Lolololol. Please tell me he has that printed on a business card. Like, did he steal that brand name from one of Derek Zoolander's looks? Or from a shitty whiskey subscription box service? 
Okay, but why are these guys fucking bewildered that there are more than five people competing for Becca's attention? They have watched the show, yes?
JEAN BLANC: There's a lot more guys than I anticipated.
THIS ISN'T HINGE, JEAN. You're gonna have to do a little more than mumble some French and rely on your bio line to get you laid.
Kamil is the reason I question if men should be allowed to walk freely in this world. Right off the bat he's like, "relationships work 60/40 so you better come to me, Becca." Did he just BECKON her like she's a dog or something? Did he??

If you'll recall, Kamil was the guy who wrote "social media participant" as his job description, which felt honest at the time but now feels a little too spot-on. Why do I get the feeling that he's about to comment on Becca's Instagram from last night and say something like "whatever, you're fat and I didn't want you anyway"?
Okay, I retract my previous statements about Jordan. He needs to stay on this show forever. While the rest of the guys are feeling a single moment of insecurity for the first time in their entire damn lives, he's acting like he's Tyra Banks when one of the models from middle America shows up in a Juicy Couture tracksuit to judging.
JORDAN: First off, put some goddamn socks on. At least wear a pocket square.
ALSO JORDAN: 

Goddd fucking damnit. There's a grown-ass man dressed in a chicken suit. I thought this was The Bachelorette, not my suggested matches on Hinge.
Wait. Was that it? That's all the men? I genuinely do not remember one single guy. How am I supposed to guess which guy will get the First Impression Rose if there was no lasting first impression to speak of??
BECCA: As you guys know, I went through a very public breakup, so please stop fucking bringing it up.
Little does she know that two minutes prior to this cheers-ing a group of them were in the kitchen commenting on how courageous Becca is for even finding the will to get out of bed each morning. So sweet.
So far none of these guys are really impressing me. There's more personality in the cardboard cutout of Arie than in this entire mansion full of men.
Speaking of which, Jean Blanc decides that his second impression will be to gift Becca with an engraved candle in which he's inscribed a poem. Just when I thought the "colonoisseur" couldn't out-douche himself, there he goes exceeding my expectations. Congrats.

God, how many of these men are going to incorporate the phrase "let's do the damn thing" into their conversations with her?
BECCA AFTER HEARING "LET'S DO THE DAMN THING" FOR THE 20TH TIME THIS EVENING: Omg I said that one time!
Becca is actually giving the chicken man the time of day and it's making me question her already shitty taste in men. This is going to be like the Tickle Monster all over again, isn't it? Ladies, we have to set the bar higher than men that are hiding their fetishes behind weird costumes!
Becca's like "Garrett likes to fish and hunt and reminds me of my ex home so I'm into him." What a strong foundation on which to build a lasting relationship. *sips wine*

Is it just me or is this cocktail party especially boring? Like why hasn't anyone gotten wasted and tried to jump into the pool? Or at least accidentally spilled red wine on Jordan's pocket square for funsies?
SIGN UP: Our Bachelor emails are the only thing more scandalous than the Fantasy Suite.
Chris, whom I actually liked for three seconds, tries to start some shit with Chase because that strategy worked so well for Blake and Whaboom last season. He's like "some girl texted me and said you're a douche and I'm telling everyone!!"
CHASE: What?
Okay, this conversation is just painful to watch. Like, what did Chase even do? Did he ghost this girl or something? Cause that's kind of what it sounds like, but also so has every other pocket square-wearing asshole in that room. Whatever. I'm bored now.
Aaand the truth comes out about Jake From Minnesota! If you'll recall, Becca casually whispered "what did I do to deserve this" under her breath when he exited the limo, so it's clear she's known him for longer than this cocktail party. Why do I feel like he's the guy she friend zoned back home who's now followed her onto The Bachelorette?
JAKE: I've had a very transformative year. Now that all of America wants you, I want you too.
First of all, I'm really curious what Jake means by "a very transformative year." My two immediate thoughts: he either like, went to rehab or studied abroad in Europe. There is no in-between.
Oh shit, she just sent him home! In the middle of the cocktail party! I mean, I wasn't expecting this guy to last but I certainly wasn't expecting Becca to be so cold when she let him go. I knew you had it in you, girl!
Wills tries to explain his Harry Potter tattoo and it's eerily similar to the way my sorority sister tried to explained the hidden meaning behind her "live, laugh, love" tattoo. Just quit while you're ahead, kid. Also, people who think liking Harry Potter makes them quirky and interesting are among my least favorite people. Like, let me guess, do you also enjoy wine nights?
Becca's about to hand out the First Impression Rose and I genuinely have no idea who she'll pick. The only connection I've witnessed this entire fucking episode is between the chicken guy and his chicken puns. At least he's consistent.

Anddd Garrett gets the rose. I'd say I'm shocked, but he does seem like her type. After Arie, I doubt this girl will ever date outside her comfort zone again.
We're finally at the rose ceremony, and there's so much fake tension in the room I can't. Though by far the most interesting part of this entire episode is watching the guys slowly start to unravel when Becca picks the chicken guy. It's fun to watch guys question their self-worth for once in their goddamn lives.
LEO: I'm a different kind of guy, the best kind of guy. There's no way she won't pick me.
BECCA: *chooses a grown man in a chicken suit over him*
LEO:

Final rose cut: Jake, Kamil, Joe the Grocer, Darius (*weeps*), Chase, Grant, and Christian all get sent home. All I have to say about this is, Joe, you deserved better. #JusticeForJoe
KAMIL: I've never been dumped this hard on national television a first date.
Kamil, please learn from this experience. That's all.
Well, that was thoroughly disappointing. I think filing my taxes may have been more entertaining than those two hours of my life that I will never get back again. The most shocking revelation of this entire episode, I think, was that Christon's name is pronounced "Christ-ahn" and not "Kristen". ABC, you better step the fuck up with the drama! I came here to drink wine and talk shit, not drink wine and pass out on my couch before 10pm. BYE. 
Images: Giphy (6); ABC (2)
The Best & Worst Moments From An Otherwise Boring 'Bachelorette' Premiere
Welcome to the unofficial start of summer, friends! It's time to wear those white jeans again, tan ourselves into a lovely shade of lobster red (just me?), and watch poor, sad, lonely Becca struggle to find words other than "Let's do the damn thing." Oh sorry, I mean watch her find love. Yes, that's what this is. You can catch our whole hilarious recap of The Bachelorette premiere shortly, but since I have a much smaller attention span and am mostly playing games on my phone during the unnecessarily long episodes, I've decided to put together a best/worst list for you all. For example, a best moment for me during last night's episode was when my garlic knots got delivered. The worst moment was when my handsome neighbor mistakenly received my Fresh Direct groceries and brought them to me while I was holding said garlic knot and wearing a dirty T-shirt. It was just like a meet-cute in the movies, only the girl looked like trash and the boy never called her and everything went horribly wrong. I'll save the rest for my journal since I know you all are here for Becca. Shall we dive into the Bachelorette premiere?
Best Moments
The Appearance Of Jojo, Rachel, And Kaitlyn
I'm actually impressed that there have been so many successful Bachelorettes lately. Jojo is looking flawless and like she just walked out with the Miss Congeniality glam squad, Rachel brings the real talk and good advice, and Kaitlyn sits there silently. What, out of dirty knock-knock jokes, Kaitlyn? The ladies decide to sage the house to get rid of Arie's aura, but I think they might need some bleach, lighter fluid, and a match, amiright? Not that I have experience burning things to the ground or anything!

Anytime Jordan Was On Camera
I get that the producers want to make Jordan into a villain, but how can someone who says things like "I wanted her to notice my shoes," and "keep me around for the eye candy" be a villain? His pettiness is something we should all aspire to. I already have my favorite Etsy seller making his quotes into inspirational posters for me and my friends. And then when this Ken Doll who sometimes eats chocolates and watches a rom-com inevitably gets kicked off, I would like him to come to New York and mock my enemies beside me. A formidable team indeed.
The Chicken Guy's F
ace
As a general rule, on The Bachelor/Bachelorette, I hate anyone in costume or anyone that recites poems. Unless you have your MFA, get the fuck out of here with your acrostic. But I was pleasantly surprised when I saw how handsome the chicken guy was once he got off his shift at Chick-fil-A. I assumed the costume was there to mask some sort of major deformity. Snaps for proving me wrong, chickadee.
The Awkward Dismissal of Becca's Acquaintance 
What is with the producers surprising the Bachelor/ette with people they hate from their past? I mean, I think it's funny, but when you've been ghosting a dude for a year and they show up on your national TV show, that's got to REALLY suck. Jake, you may be a 10 in Minneapolis but in the Bachelor Mansion you're a 2, so see ya never.

Worst Moments
Becca's Dress
I read on InStyle.com that this atrocity cost $22,000. How can something that costs so much money look so trashy? Is that also what the Kardashians ask themselves when they look in the mirror, or are they not that self-aware?

Clay's Play-Doh
Hi Clay, is your name Play-Doh? No? Then kindly fuck off. I get that you want Becca to remember your name but she said she did, and yet you persisted with this Play-Doh nonsense. If this was me, I'd be referring to you as Doh Boy the rest of the season. And that's why no one let's me on TV. Count your blessings, Doh Boy.
Right Reasons Feud
TBH I don't really understand what was happening here. There was a mysterious text message to Chris from an ex-girlfriend of Chase who said he was shady. Apparently they are both from Orlando, which I thinks tells us everything we need to know. I was unsure who to believe in the most boring fight of all time, but Becca picked the one who looks like he's hiding something very nefarious behind those deep-set eyes. Cool, glad that's over. If they dragged this out another week I really would have been teetering on the edge of sanity.  
First Impression Rose
I hated Garrett's fake Reno accent, I hated Garrett's entrance, and I hated that he showed Becca how to fly fish in the pool. There are no fish in there, Garrett! But if you're lucky, you might be able to catch some chlamydia. Anyway, none of this turned Becca off so she gave him the first impression rose. TBH I don't think any woman should ever have to say, "you've been so wonderful ever since you stepped out of the van" to anyone but their kidnapper, but maybe that's just me.
And there you have it—the best and worst moments of what turned out to be a very boring premiere. It's like when people black out on one of your shows and allegations are thrown around and then you take away their alcohol as punishment they start acting appropriately or something. Not cool. Here's hoping next week someone gets injured!
Images: Giphy (3)
Becca's Worst 'Bachelorette' Fashion Choices So Far
The Bachelorette season premiere is nearly upon us, and there's a lot we can already expect from Monday night's episode. For one, Becca will say the words "let's do the damn thing" no less than 12 times in the span of 120 minutes. It's my personal recommendation that you turn that entire phrase into a drinking game to make it bearable. Just be careful not to die! We should also expect Arie and Lauren to drop another irrelevant wedding-related announcement before the opening credits clear the screen, lest they give Becca one goddamn minute to shine. But mostly we can expect that Becca will be testing my fucking sanity with her outfit choice. I think we can all confidently say that Becca was not our first choice for the Bachelorette (SEINNE, YOU WERE ROBBED), but I've personally been questioning ABC's decision-making skills after watching Becca dress herself these past few months. I don't know if it's something in the Minnesota air or if she's just high off of Arie hate-tweets, but she's definitely feeling some sort of confidence about her Bachelorette style that is 100 percent unwarranted. And who would I be if I didn't shed some light on her v flawed style choices? So, follow me, as we journey through Becca's most heinous fashion choices to date.
1. The 'Bachelorette' Premier Dress
Let's start with the least offensive garment she's worn as of late: her Bachelorette premiere dress. Now, usually the Bachelorette wears red on night one, but Becca is making it clear here that OVER HER DEAD BODY WILL SHE BE LEAVING WITHOUT A GODDAMN FIANCE. At least, that's what I'm assuming she was trying to say with this bedazzled wannabe bridal gown. I mean, is it smart to start off a first date with desperate marry-me vibes? Then again, Ashley I did teach us that acting like a psycho from the get-go might actually land you a man after he goes through literally every other woman first, so maybe it'll work out for Becca? IDK. Though I don't hate this dress with every fiber of my being, I'm definitely underwhelmed by it. It just doesn't say "I'm ready to play with the hearts and emotions of 20 men" like I was hoping it would. That's strike one, Becca!
2. The After The Final Rose Dress
So I know I'll probably catch shit for this one in the comments section, well FINE. I'm still going to talk shit about this dress because principles. Becca wore this number during "After The Final Rose". Not only was this the night she got to confront her ex, but also she met a few of her new suitors, and she chose to wear… this. The dress itself is fine. I mean, I make it a rule not to borrow outfits from my grandmother's swing parties, but to each their own.
3. The 'Bachelor' Finale Dress
You have to think that the moment she walked down that hill wearing grandma's gala dress, Arie took one look at her and knew he'd be sliding into Lauren's DMs later. Tbh I don't really blame him. First of all, wearing black lace over a cream overlay is a fucking crime against humanity and my eyeballs, and should be punished as such. Did she not know that the finale would be a live televised event in which I, and all of America, would be judging her from the comforts of our couch and sweatpants? Did she?? And if she thought I would take it easy on her just because I have queso stains on my PJ bottoms, am wearing a Buffy The Vampire Slayer shirt, and have literally no room to talk about style, she should have thought a-fucking-gain. Also, the goal here is to make the Bachelor want to marry you, to be so enraptured by your presence that he forgets he's been banging another chick all week. Somehow I don't think this prom dress she found in Deb's clearance section makes the cut.
4. This Promo Outfit
I know, it's like you want to look away but you just… can't. When this abomination first graced my screen, I thought it was a practical joke. No way would ABC, a company that invests millions of dollars into the production of The Bachelorette, would allow the star of this season to promote the show dressed like she shops exclusively in Macy's teen section. There's just no fucking way. AND YET here she is wearing that disgusting lace jacket that's making me question what the hell is going on in Minnesota for her to think making this her fashion statement was okay.
So hopefully in these next 10 or so weeks, Becca gets a new stylist who does not have a personal vendetta against her. I can only assume that's what's been going on. I'll see all you betches every Tuesday, where I'll be recapping The Bachelorette and hopefully not shading Becca's every wardrobe choice. I just want the best for Becca, and that includes a wardrobe that does not solely consist of 2004's greatest fashion hits.
Images: Getty Images; @bacheloretteabc, @bkoof ,@bachelorette_becca, @bachelorabc  / Instagram
How To Steal Rachel Lindsay's 'Bachelorette' Look
Another season of The Bachelorette premiered last night, and I think we can all breathe a sigh of relief that Rachel left those fugly-ass mustard colored shorts at home. Though I would bet my brunch reservations that we have not seen the last of those monstrosities. My guess is she brings those out right before hometown dates as a test to see which of the men will break their ABC contracts to avoid being seen with a grown woman wearing yellow cut-offs. Smart, Rachel. V smart.
I will say that Rachel looked flawless last night. Like, if my life were as put together as those barrel curls then I would not be anonymously roasting people on the internet rn. Sighs. I guess we all have our crosses to bear. But back to Rachel looking fine AF. She chose to go the traditional Bachelorette route with classic barrel curls, glossy lips, and a dress that shines brighter than Nick's dancing career. Which is really a relief because Nick's season of The Bachelor was ratchet AF and I was low-key nervous that Christen might have DM'd Rachel on Instagram trying to make cheetah patterned headbands happen.

Stop trying to make animal print happen, CHRISTEN. It's never going to happen. Now please go back to the suburban mall you crawled out of.
Thank GOD Rachel wasn't led astray by Nick's rejects trolling for more Instagram followers any members of her squad. And because I'm literally obsessed with her look from last night I've detailed all the ways to steal her look so you too can be courted by tickle monsters and psychos who only speak to people through a doll. Blessings.
The Hair
Rachel's hair was on point last night and it was all because she brought out the classic barrel curls, a staple among the Bachelor Nation community. Barrel curls is a look that screams "I'm ready for love" or, more accurately, "I'm ready to spend the next 3-5 years swapping STD's with failed cast members of a network reality show." *cough* NICK *cough* If that's what you want your hair to say about you too, then you should definitely invest in Hot Tools 1″ Flipperless Gold Curling Wand. It's great for faking salon style hair (though no one tell my stylist Susi this, I'm worried she might tell the powers that be to make me wait another 3 months to book an appointment at that godforsaken place) and it's got a ton of temperature settings so you won't sabotage your hair.

The Eyes
If there's one thing Bachelor Nation has taught me, it's that you will never get any screen time with your own eyelashes. Nope, not gonna happen. If you want to make 31 men embarrass themselves on national television fall in love with you after 3.5 seconds of meeting you, then you're gonna need eyelash extensions. It's the only way. Getting eyelash extensions is a process and there's tons of shit that goes into choosing the best ones for you personally, but if you're feeling the need to treat yourself waste your paycheck then you should def waste it on One Two Cosmetics magnetic lash extensions. They're relatively cheap as far as eyelash extensions go and SUPER easy to use. Like, easy enough that even The Twins could figure it out, so there's really no excuse not to buy this shit.

The Lips
Night one every Bachelorette tries to play it safe with their makeup lest they scare any potential suitors off with a bold lip. It's boring and safe but Chad would have murdered Jordan Rodgers and his whole family night one had he seen Jordan walking around with red lipstick all over his face. Your go-to is going to be L'ORÉAL Paris Infallible Never Fail Lipgloss. It's not super pricey and its staying power is longer than that grotesque kiss Bryan, 37, Chiropractor gave Rachel.

The Dress
THANK GOD someone gave this girl a stylist, because I was super nervous Rachel would fuck up her dress choice if left to her own devices. For a smart girl with a law degree she sure knows how to pick the cheapest dress in a department store clearance section. Case in point:

Is it a romper? A dress? A tribal printed garbage bag to match her suitors' personalities? It's really hard to tell. That being said, she chose a gorgeous—albeit basic—sparkly floor length gown that did not, shockingly, show off her cleavage but did show off the fact that she is classy AF. And because we don't all have giant-ass mansions to test 31 men's affection in, I've chosen a more casual version for you to use for your own purposes. This ASOS '90s inspired cami dress is perfect for a fancier date night or a Saturday DTF night, depending on what you're into. Either way you're going to look and feel like you're better than everyone else and that's really all you should strive for in an outfit.

And there you have it. You're now ready for your own season of The Bachelorette, unless you don't have enough of an Instagram following or you have more of a personality than a lightly salted cracker, in which case you're just ready for Bumble. Similar to The Bachelorette, but with less dates that end in contractually obligated engagements and more dates ending in "would you like to split the bill?" May the odds be ever in your favor, ladies.