We May Have Some Insight Into Why Kaitlyn & Shawn Broke Up
We're pretty used to Bachelor couples breaking up, but the last few Bachelorettes had done a good job of picking their guys and making the relationship work IRL. Or so it seemed. One of the longest lasting Bachelorette couples was Kaitlyn Bristowe and Shawn Booth, who got together in her summer 2015 season but have recently called it quits. V sad since they were a fitness match made in spin instructor and personal trainer heaven.
Kaitlyn and Shawn haven't given us any clue as to why they broke up beyond the "we have mutually decided to call it quits, we still love and support each other" crock of sh*t all celebrity couples give when announcing their split, but some conspiracy theorists fans point to Shawn being responsible. The main reason according to this theory is that Kaitlyn made it known that she wanted to get married (hello, she signed up to be the Bachelorette), Shawn proposed at the end of the season, and still, three years after that proposal there was no wedding in sight. And now, a podcast interview Kaitlyn did that has recently resurfaced seems to back up this theory—or at least confirm that Shawn kind of sucks.
In an episode of Kaitlyn's Off the Vine podcast, Kaitlyn revealed that Shawn had missed their anniversary last year. His defense? He said it was a little hard to know when their anniversary was because she'd been dating a few guys on the show when they made their relationship official. Like, maybe that excuse would fly on their first anniversary when they hadn't talked about it, but last year would have been their third. He can't really claim he didn't know the date at that point. Also, this is extra insulting considering Shawn could easily have Googled it because we all watched their engagement happen on national television.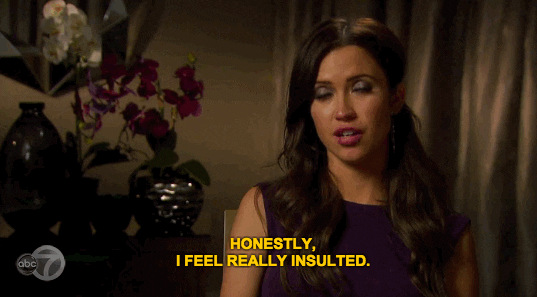 Adding to the theory that Shawn sucks is the fact that he forgot how old Kaitlyn is. On her 31st birthday, Shawn got big gold "32" balloons, because he thought Kaitlyn was turning 32. F*cking ouch. Not only do you not know your fiancée's birth date, but you also aged her? Thank u, next.
Considering Kaitlyn literally had guys lining up on national television to date her, I have no doubt that she will find a nice attentive guy who actually remembers significant life events. It's the least she deserves.
One Of The 'Bachelor' Couples May Have Secretly Gotten Married
You were probably too obsessed with Wells Adams posting pics with his famous gf, Sarah Hyland, to have missed this gem of info: Kaitlyn and Shawn B. could already be married.
The couple has been engaged since the end of Kaitlyn's run as The Bachelorette, which, I'm pretty sure was an eternity ago, or at least two years. Tomayto tomahto.
On Kaitlyn's Off The Vine podcast, she hung out with "fiancé" Shawn, Claudia Oshry aka Girl with No Job, Jackie Oshry, and a live studio audience. We can get into my opinion on how your podcast doesn't need a studio audience at some other time, but for now, all you need to know is that an audience member asked when Kaitlyn and Shawn were getting married.
Kaitlyn said something along the lines of: We might already be married because I needed a green card to work on Broadway.
That's a thing she's doing btw, singing Christmas songs in a show or some shit.
Sure, Kaitlyn laughed after she said it, so, maybe, just maybe, it was a joke. But I Googled it and you actually do need to be, like, able to legally work in America to take a job on Broadway, and Kaitlyn is very much Canadian.
I guess you don't need to be legal to be on The Bachelorette or to sell sunglasses on Instagram, but the fine folks on Broadway hold themselves to stricter immigration standards than ABC and Instagram. Good to know.
Kaitlyn also revealed on the pod that she has a dress already—it's Hayley Paige, btw. So I guess if Shawn and Kaityln tie the knot in a more public capacity we'll get to see that dress on the cover of a People magazine as we wait to check out at CVS.
Anyway, If they are already married, I'm totes happy for them because Kaitlyn and Shawn are probably one of the best couples to escape Bachelor Nation, and I die every time she face-swaps with him on Snapchat (Riiiick).
Congrats on your love, guys. May your future together be happy and free of recurring nightmares about all the times Kaitlyn had to kiss Nick Viall. *shivers*
A Definitive Ranking of All The Bachelor(ette) Couples That Are Still Together
Besides this season being the fucking worst, The Bachelor(ette) is the tits. The only problem is that it has a success rate similar to my final organic chemistry grade freshman year. Weird, right? A bunch of drunk hot people dating the same person and living in a house together so they can fight to the death go on group dates and watch their S.O. make out with other people doesn't typically result in lifelong relationships? Groundbreaking. But lately, shit's actually been working. I don't know if ABC is paying couples to stay together or if, with the rise of Bumble and Tinder, going on a reality show is now considered a traditional way to meet someone. Either way, we're paying homage to the couples who were there for the right reasons (vom) by ranking them by betchiness.
**Please note: We're not ranking Bachelor In Paradise couples. They're automatically last because they went on a desperate, has-been version of spring break and fucking DTR'd with their vacay fuck buddy.
8. Ashley & J.P.
We all tried to erase this season from our memories because it was literal garbage. All the guys were fucking pissed because they thought Emily Maynard was going to be the Bachelorette and it ended up being Ashley, who's like, way less hot. She cried the whole fucking time about being a back burner betch, but lucky for her, the guy she gave the final rose to had lower standards than the rest of the cast and was like "meh, you'll do." Now they're married with two kids.
7. Desiree & Chris
Ahhh the season where "being there for the wrong reasons" became a thing. If I remember correctly, there was even a date that involved a fucking music video where the contestants rapped a tragic song called "Right Reasons." Like Ashley, Des cried the whole time because she thought everyone was there for fame instead of winning her heart and she was right. Brooks, who she was 100% gonna pick dumped her. Ouch. As always, there was a nice guy and a maybe gay bro still around to pick up the pieces. Instead of just drunkenly making out with Chris, they got married and had a kid.

6. Sean & Catherine
I might get some heat for this one because people love these two for some reason, but idgaf. They suck. You read it here first. Sean was deemed the virgin Bachelor, but he wasn't a virgin at all. He'd had sex in college and then decided to become a renewed virgin, which is not a thing unless you're Jessica Simpson. I'm pretty sure he just had a dry spell and the producers ran with that shit. They also won't fucking go away. Most Bachelor couples hang around for a year or two and then just fade into oblivion, but not these two. They're everywhere.
5. Jason & Molly
Tbh, I fucking hate Jason. He seems really little and not hot at all, and I will never get over what he did to Melissa. Sorry, but what a prick. That said, Molly totally saves them on the betch points. A guy dumping you so he can propose to another girl on national TV and then realizing he fucked up and begging you to forgive and marry him instead also on national TV is the shit you dream about when a fuckboy screws you over.
4. Jojo & Jordan
Another couple I sorta hate, but I can admit they're pretty betchy. Jojo is hot af and knows how to dress slutty without taking it too far (which is a true art, btw). Also, she and Becca Tilley are squad goals. Jordan, while he might be a shitty human being, is v attractive in a well-groomed douchebag kind of way, and he's on TV now announcing sports things, which is kinda lame but it's better than just doing Instagram ads for laxative tea and other shit like that (though don't worry, we're pretty sure he still does that too).
 
3. Ben & Lauren
There's something to be said about a betch who has a guy wrapped around her finger from the first time they meet when he's surrounded by 30 other really hot sexually deprived women. Ben pretty much ignored all of the other girls on his season to hang with Lauren because he was so obsessed with her. And we say obsessed, we mean, still-told-Jojo-he-loved-her-too obsessed, not like obsessed obsessed. To the point the other girls pitched a fit about it while swimming with pigs. Not to mention, they're cute af. America loved them so much they got their own show, even if it was an incredibly boring show.
2. Kaitlyn & Shawn
Kaitlyn had one of the shittiest seasons, but that shit paid off. She had to fight for the lead spot with nicegirl Britt because producers were worried she was too edgy, then everyone called her a slut the entire season because she openly slept with more than one person, something the Bachelors do all the fucking time. Sorry. Rant over. She and her final pick Shawn are toward the top of the list for a bunch of reasons. 1) They're really hot. Like for real, Shawn is bae. 2) They actually seem normal and funny and not annoying like every other Bachelor couple so they can def sit with us. 3) They didn't get married right after the show because they get that it's stupid af. 4) They faded into normal life and refuse to do a ton of stupid Bachelor related shit. 
1. Trista & Ryan
Of course, the OG Bachelorette success story is No. 1 on the list. They're both hella attractive and have a beautiful family and are total soulmates. They stayed together when literally every other couple broke up and are living proof that as stupid as this fucking show is, it can actually work. Sometimes…