Evan Bass' Legal Troubles Are Low-Key Hilarious
Remember when Evan Bass and Carly Waddell were the height of Bachelor fame? Yes? No? Only because you're still talking through the hot tamale abomination that was their first kiss with your therapist? Same. Well, buckle up friends, because it appears not only is Evan Bass a horrifying kisser, but he's also in a crazy amount of legal trouble. 

Still the stuff of my nightmares.
For those of you who don't remember, Evan Bass was on JoJo's season of The Bachelorette, where producers tried to spin him as a catch because he ran a medical clinic. What made it really hard for them to accomplish this was the fact that he runs an erectile dysfunction clinic, but also has the personality of someone who makes genitals shrivel up and die. After The Bachelorette, he went on to Bachelor in Paradise where he attempted to woo Carly Waddell by pretending to be physically ill in the hopes that she would pity date him. And they say all the good ones are gone! What's crazy is that the two of them actually ended up engaged by the end of the season, and have since then gotten married and somehow managed to spawn two children together. Just thinking about Evan Bass and nudity sends a swift chill down my spine, but whatever works for you, Carly!
But recently, Evan has done more than just manipulate women into dating him—he's also manipulating the men of Nashville into believing he can solve their impotence problems! According to TMZ, new legal docs show that the BiP star just paid a chill $150K to the Tennessee Attorney General for allegedly making "misleading claims in advertisements" for an erectile dysfunction clinic he owns. The documents claim that Evan and his clinic allegedly sold erectile dysfunction and other men's sexual function treatments through "multiple widely-disseminated, deceptive marketing campaigns" as well as had advertising that "misrepresented the efficacy, suitability, cost, and administration by doctors of its sexual function treatments." Tbh I'm more upset that the article refers to Evan as a "hunk" than the fact that he conned men into thinking their penises would work again, but fine. 
The lawsuit lists all of the alleged "deceptive" claims made by the clinic in their ads. Apparently the clinic "repeatedly claimed" in TV, radio, and print advertisements that it "would be able to solve or fix erectile dysfunction even after just one visit" even though this "was not the case." Lmaoooooo. This is hilarious to me. Evan is a man whose OWN WIFE has gone on national television and said that he gives her erectile dysfunction, and the men of Nashville somehow believe he can give them long-lasting erections and a newfound sense of virility? What else do the men of Nashville believe? That Jeffrey Epstein actually killed himself?!

Let's be clear: Evan has admitted to no wrongdoing, however, he has agreed to pay the $150k and promised not to repeat the claims in order to make this whole thing disappear. Now, I'm not an attorney, but I've watched many episodes of Judge Judy, and this feels like a clear admission of guilt to me. I, mean, it's not like he's paying that massive sum out of the goodness of his heart. Now, if you'll excuse me, I'll just be here waiting for his Notes App apology to drop on Instagram. Until then!
Images: Giphy (2)
Which 'Bachelor' Couples Are Actually Getting Married?
It's been a week since we watched Cassie take Colton back on the finale of The Bachelor, and they're definitely still in the honeymoon phase. Or, more accurately, they're in the let's post on Instagram nonstop so everyone thinks we're super happy phase, but it's just as annoying. But how long will it last? Will Colton and Cassie even get engaged, or will they just fade into the background of failed Bachelor couples? Only time will tell, but this got me thinking about some of the other recent-ish Bachelor couples that we don't hear much about.
Some of the answers are obvious, like Arie and Lauren (married with a baby on the way), or Nick and Vanessa (probably haven't spoken in a year), but other couples are a lot harder to read. Who's still together? Who's getting married soon? Who acts like their supposed fiancé doesn't even exist? Come along as I embark on this deep dive into the murky waters of what happens after Mike Fleiss stops telling you what to post on Instagram.
Becca & Garrett
Aside from Colton, Becca Kufrin was the most recent Bachelor Nation star, and her engagement with Garrett looks like it's still going strong. In fact, just a few days ago, Becca and Garrett posted to celebrate the anniversary of when their relationship technically started. Of course, Becca was technically dating two dozen other guys for the first couple months, but I guess we can count it because he got the first impression rose.
Becca and Garrett post about each other pretty regularly, but like, a normal amount for a couple that's engaged. Their don't sound like they were ghost-written by Mike Fleiss, which is definitely a good sign. We don't know any details about when their wedding will be, but in December they did a weird pre-wedding photoshoot, in which Becca is definitely wearing a wedding dress. Unclear why that was a thing, but Becca also said in December that they're house-hunting together in San Diego, so it seems like things are going well for them and they're committed.
Rachel & Bryan
I always had my doubts about Rachel and Bryan's relationship, mainly because it was clear from watching the season that she had the strongest feelings for Peter. (It will never make sense to me why someone who isn't ready to get engaged goes on a show where a proposal is literally the only goal. What are you doing??) Despite Bryan being a questionable winner, he and Rachel are still together nearly two years later. They keep things pretty low-key, and sometimes go months without posting photos together on Instagram.
But now, there's no question about whether Bryan and Rachel are legit, because they're getting married this summer. In January, Rachel told Entertainment Tonight that she has a date and a dress. As for the location, she said "It will be a destination wedding in a warmer location, closer to Colombia, where Bryan's from, but it's not in Colombia." Lol because "closer to Colombia" could literally mean anything, but I get that she doesn't want to tell the whole world exactly where they'll be getting married (damn it). Rachel later told the Bachelor Party podcast that the wedding is in August, so stay tuned for that in the midst of Bachelor in Paradise. It's going to be a busy summer.
JoJo & Jordan
Let's be real—JoJo and Jordan are the main reason I wanted to do this article. It's been almost three years since they got engaged, and I understand that The Bachelorette is not a typical relationship scenario, but three years is a long time to be engaged for anyone. JoJo and Jordan still post together all the time, so it's never really been in doubt that they're together, but when are they getting married??
Last month, they shared some minimal details about their wedding plans on their web series (lol). They said that they had decided 2019 would be the year they shared their wedding date…which means nothing. You could set a date in 2019 for four years from now; this information is useless. Jojo and Jordan are waiting until after Jordan's brother's wedding (not Aaron, the other one) to announce the date, but JoJo said she wants a spring wedding. I'm assuming she doesn't mean this spring, so we're most likely looking at a Spring 2020 wedding date. There's nothing wrong with a long engagement, except for the fact that I'm impatient. I mean, we all watched their entire relationship unfold on camera; I feel like it's only right that I get semi-regular updates on their relationship status. Is that so much to ask??
Chris & Krystal
So the past three Bachelorettes are all still engaged and in varying stages of wedding planning, but what about some Paradise couples? First of all, let's talk about Chris and Krystal. After getting engaged on Paradise last season, they've fared a bit better than Jordan and Jenna, and they're still together. In December, they moved in together in San Diego, so they can hang out with Becca and Garrett all the time! I'm obsessed with Chris posting a literal apartment tour on Instagram:
There hasn't been much news about their eventual wedding, other than Krystal telling People that she sees "a beach and bare feet, and lots of crystals." Do I smell a Paradise wedding on the horizon?? Chris Harrison can only hope. In the mean time, they've started a YouTube channel called Glitter Goose together, so that's how you know it's really love.
Raven & Adam
Now that we've addressed the four couples that are already engaged, let's finish off with one couple who is headed in that direction: Raven and Adam. Since meeting on the show in 2017, they've been together for almost two years, and they seem to be doing great. In fact, Adam went on a podcast recently and said that he's going to propose to her sometime in 2019. My by calculations, that means Colton should be proposing to Cassie by 2021…oh wait, that's never going to happen.
Adam also said that they've gotten many offers for a televised wedding, but they're not interested. That's a shame, because I'm sure Chris Harrison was already setting up the folding chairs for another Paradise wedding. But really, Raven and Adam seem pretty normal and happy, and I hope they stay that way. Maybe not all of these couples will make it in the end, but they seem to be doing fine for now.
Images: Shutterstock; @gy_yrigoyen, @therachlindsay, @joelle_fletcher, @chrisrandone, @ravennicolegates / Instagram
Is JoJo Fletcher's Clothing Line Worth It? Our Favorite Pieces
Bachelor Nation, brace yourselves. JoJo Fletcher came out with a clothing line, and it's actually really cute. I mean, this shouldn't really come as a shock considering she's easily one of the more stylish Bachelorettes (which, given our current Bachelorette, isn't saying much). And, with over 2 million followers on Instagram, this ex-Bachelorette clearly has some serious influence on her blindly devoted fans. The fan-favorite Bachelorette officially released her clothing line, Fletch, on June 14. Of course, all the really good shit is already sold out. In fact, half of the pieces on the site are either "coming soon" or only available for pre-order, which is annoying af. How can I fill my emotional voids with online shopping if I can't even get the instant gratification of doing so??? Smh.
JoJo's collection is feminine, flirty, and basically embodies everything about her. With nothing costing more than $150, the collection is very Reformation-meets-Forever 21 with florals, ruffles, and figure-flattering cuts. However, unlike Forever 21 where your clothes fall apart before you even get them home, JoJo says that her line has quality and is affordable. Classic JoJo, she's so grounded and relatable!
Clearly, JoJo is a smart business woman because she really knows her audience and exactly how to sell to them. JoJo is the girl next door that you just can't help but love (and would legit buy anything from). At the end of the day, Fletch is no trendsetting or groundbreaking collection, but it IS everything you need for summer.
Here are my must-have pieces from the collection so far:
This dress is sexy without trying too hard, and it's perfect for a date night. The non-clubby length, sophisticated button detailing, and girly ruffle hem keep an otherwise slutty style classy. Not to mention the nude color is gorg—like, I could totally see Kim K wearing it to her next KKW beauty launch. (Well, maybe if the dress was like, 10 times more expensive, but you get my point.) Anyway, at $98, this dress is clearly a no-brainer.

These shorts are a summer staple and apparently a fave of Jordan Rodgers. Like, if that didn't sell you enough, these shorts are high waisted, which pretty much guarantees they'll be flattering. Not to mention the wash is super cute, and probs unlike the 500 other pairs of high waisted denim shorts you already own. Admittedly, $74 is kind of steep for denim shorts, but I'm not here to tell anybody how to live their lives.

This dress is basically the epitome of everything I imagine when I think of JoJo's style. Trendy, floral, and sweet, this dress is a great option for a first date so that you look flirty and innocent. And, with all those Hinge matches, I know you're in need of a go-to first date outfit this summer. 

This is my FAVORITE piece in the collection, and of course it's not available until mid-July. UGH! This shirt looks super high-end and, with the one-shoulder-on-one-shoulder-off style, it looks different from every other floral off-the-shoulder top out there right now.

I love me a cropped tee for summer, and I love this one even more with its subtly sassy graphics. The front of the tee says "hey darlin'" and the back says "give 'em hell." GASP! Did sweet sweet JoJo just curse? Damn, love her even more now. And at $34, this is one of the most realistic price points in the collection.

This is my other fave piece from the collection and again it's listed with a vague "coming mid-July." This dress is legit soooo beautiful and I could totally see myself wearing it everywhere and anywhere this summer. Ugh, realllllly making me practice some patience here, JoJo. I feel like I need to go meditate now or something, fuck.

This dress is super feminine and legit looks so expensive. I'm vvv into the color and print, and for sure will be ordering this dress. Well, I can only "pre-order" it currently, so big thumbs down to that.

You know that whole "day-to-night look" philosophy we all buy into? Well, this jumpsuit is perfect for that. Throw on a jacket and you could totally pull off this look for the office. Then, once 5pm hits, just whip that jacket off and start pounding tequila shots because you're nighttime ready!

Tbh, I really wasn't expecting to love Fletch as much as I do. It's not the cheapest clothing you can find, but if the quality really is as good as JoJo says, it could be a good investment. It's obvious that JoJo has some real talent, or at least a really good team helping her make it look like she does. Either way, hats off to you, JoJo. You're one of the elite few who made it out of the Bachelor franchise unscathed and with a flourishing career because of it. No more Tiny Tummy Tea or DiffEyewear posts for you!

Images: Giphy; Fletch (9)
JoJo And Jordan Stopped Following Each Other On Instagram
Scandal alert! The people who have too much time on their hands i.e. those who notice when celebrities follow and unfollow each other recently discovered that JoJo (of Bachelorette fame) and Jordan Rodgers (of being not Aaron Rodgers fame) probs had some weird lovers spat that caused them to stop following each other on Instagram.
This was weirdly and somewhat creepily discovered because they both appeared on the top of each other's following lists—indicating they were both recently added/re-added to the other's follows. I could continue explaining that, but you either get it or you don't. Ain't nobody got time for that.
Anyway, can we assume JoJo and J. Rod are on the rocks? Well, they did meet on The Bachelorette, a show that doesn't exactly have a winning record when it comes to long-lasting relationships. Then again, Jordan doesn't have any sort of record when it comes to a lot of things *cough* NFL football *cough*.

The couple (or non-couple) has been battling rumors that they're in a relationship for the Instas pretty much since the day Jojo chose Jordan over Robby. A "branding expert" told Life & Style magazine that the pair would be set to make up to $10 million by staying together this year. If that's not motivation to make like Tim Gunn and "make it work" then I don't know what is. I'm just saying, people have been able to grin and bear it to stay with someone they openly hated for a whole lot less.
All that aside, I'm calling bullshit on the rumors that they're breaking up. Let he who has never pettily unfollowed her boyfriend after a fight cast the first stone. The fact that Jojo and Jordan quickly followed each other right after proved they patched things up, swallowed their pride, and hit that follow button again. This is 2017; that's how you show someone you care.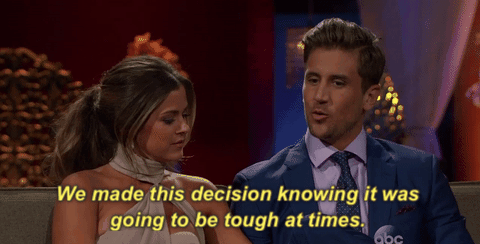 Call me naive, but I really want to pretend that meeting your soul mate on TV is possible. Ben and Lauren broke my heart when their contract ended they split up, and I really don't want that to happen with JoJo and Jordan. Also because I fully plan on auditioning if and when Peter is chosen as the next Bachelor.
Worst case scenario, the two actually do hate each other and someone at ABC reminded them that they have to keep following each other to keep up appearances. Whatever, it's not like we care. Oh wait, we totally do.
One Of The Rodgers Brothers Is Single Now
At the end of last week, the mess that is 2017 so far continued when it was announced that hot actress Olivia Munn and hot football player Aaron Rodgers had broken up after more than three years together. Just recently it was rumored that they were engaged, but apparently that wasn't in the cards. They remain "close friends and wish nothing but the best for each other moving forward," which in non-publicist language probably means Aaron is glad to be rid of that bitch Olivia, and Olivia feels bad for the next girl who has to deal with Aaron's weirdly shaped dick. Just speculating here as a completely objective third party with absolutely no personal interest in the matter…
In case you're not sure exactly who we're talking about right now, Aaron is Jordan Rodgers's brother, as in the one who's engaged to JoJo from The Bachelorette. The plot thickens. Actually, JoJo told Us Weekly about how supportive the Rodgers family was just a few hours before news of the split got out. So it's unclear who she was talking about, but it seems obvious from that statement that despite how hard JoJo tried, she never got to be friends with Aaron and Olivia. Anyway, against all odds, JoJo and Jordan's relationship has outlated Aaron and Olivia's. I think I speak for all of us when I say:

Apparently, most of Aaron's family was not a fan of Olivia, so he's basically been totally estranged from them recently. And look how well that went! Tbh we kind of understand his family's concern, because Olivia is super hot but she always looks like she's keeping a secret that would fuck up your whole life. Or maybe that's just her face, idk. Their reasons were—get this—they "didn't think she was dating him for the right reasons." Honestly, the irony is so beautiful I could cry.

Either way, Aaron is back on the market now, and he can presumably start talking to his family again. Honestly, if Aaron's up for it he should go on the next season of The Bachelorette. It obviously worked out super well for his brother, and sweet Rachel would probably a welcome change from probably-psycho Olivia. It might conflict with his football training schedule (we have no clue when that shit starts), but he could probably get a note excusing him or something. Chris Harrison, please make this happen, okay?
The Last 7 Seasons Of 'The Bachelor' & 'The Bachelorette' Ranked
I'm going to go out on a limb here and say the last 7 seasons of The Bachelor/Bachelorette are all tied for the most dramatic season ever. Right, Chris Harrison? But some of these seasons were shittier than others. I'm looking right at you, Nick Viall. In case you forgot which season rocked and which ones sucked in recent history, we've conveniently ranked them for you. You're welcome. Let's reminisce on all the mediocre times, shall we?
7. Nick Viall

No one is fucking surprised Nick's season sucked. You know it. I know it. We all know it. The big mistake show runners made in creating this season was casting the clogged drain of humans, Nick Viall. Did they have a check list of shitty qualities they wanted in a person? Like, who is the most dumpable, lispy, awkward guy we can think of and let's just cast him. For fuck's sake. The only thing good about the season, really, was Corinne and even she couldn't turn this sinking ship around.
6. Juan Pablo

Juan Pablo was the wooooorrst. Well, in this case, the second worst. I feel like he gets points for mostly sticking to the show's format and not making his dates go to the fucking North Pole to impress him. Juan Pablo was a dick, but at least he was bangable. If you're saying you wouldn't hit it, you're lying. Just put a bag over his head so you don't have to listen to him talk. He also loses points for being homophobic. Didn't he mouth off about how gay people weren't real people or some shit? Yikes. Hard pass.
5. Andi Dorfman

I dropped Andi on this list because girl has some questionable judgement. First of all, she let Nick into her final two and had sex with him. Andi basically got us all into this whole mess in the first place. She also picked Josh who was definitely a douche/potential sociopath. I mean, look at him. I feel like The Bachelorette is generally less dramatic than The Bachelor (i.e. less fun to watch) because dudes don't know how to fully whip out their crazy like a group of ladies can (did I just set feminism back 50 years?), but Nick and Josh had some good arguments. Nick also called Andi out for sleeping with him and then dumping him. I mean, that was slut shaming at its finest, but it made for good TV.
4. Kaitlin Bristowe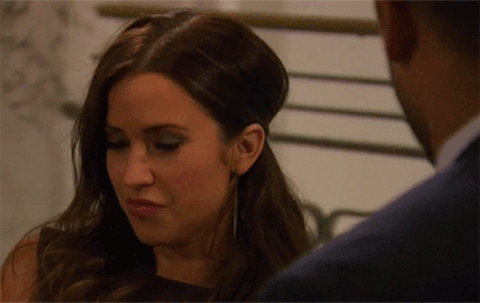 On Kaitlin's season of The Bachelorette they did that weird thing where they made the dudes pick between her and another chick for the right to be the Bachelorette on the first night of the show. Awkward, yet, still interesting. Kaitlin also banged Nick. Is he charming or something when he isn't on TV? I feel like I'm taking crazy pills! Anyway, Kaitlin's season was pretty dramatic, but she kind of ruined the whole thing when she snapchatted herself and Shawn in bed together before the finale. Bonus points for having the best Snapchat presence out of all the Bach alums, though.
3. Chris Soules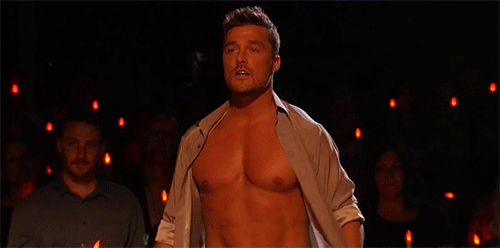 Chris is probably one of the dumbest people that has been on the show, but, dat ass doe. He was cute, charming and had an insanely beautiful smile. I give Chris extra points for helicoptering away from two crying bitches in the desert after dumping them both on a two-on-one date. Like byeeeeee. His season was also pretty enjoyable to watch. Remember when that one girl who was like, so weird about her dead boyfriend? She was all like, "Isn't my story amazing?" Nah lady, you're a creep. This season also gave us Ashley I., who I think is a total blessing to The Bachelor franchise. 
2. JoJo Fletcher

I still don't really believe JoJo is a real person. Who just looks like that and also has perfect boobs? We'll call it witchcraft. Even though you could kind of tell that JoJo was going to choose Aaron Rodgers' little brother from the beginning, her season was still pretty captivating. This is the season that gave us THE CHAD, for chrissakes. Also, her final four was pretty decent, and by decent I mean hot. Good for JoJo.
1. Ben Higgins

Do I maybe have a huge crush on Ben Higgins? Of course I do. Everyone does. He's like the boy next door. He somehow got dumped by Kaitlin yet wasn't pathetic about it. He was also super nice to all of the women, letting them just fester in drama of their own making. The season gave us Olivia, who was the season's villain and basically Corinne Lite. Ben also broke all the damn rules by telling both JoJo and Lauren B. that he loved them. I mean, that wasn't the best move but it was definitely great television, and Jojo still hasn't gotten over it, which is personally amusing for me. 
EXCLUSIVE: Robby Hayes Throws Shade At Nick Viall For Copying His Ring
Between the upcoming Dancing With The Stars gig, his heinous fashion choices, and his general existence, Nick Viall really didn't need another opportunity to prove he ain't shit. But he did it anyway, when it came to light that Nick likes his wedding rings like he likes his relationships: second place. WTF do I mean? Well, Girl With No Job noticed Nick's ring for Vanessa is actually the same ring Robby Hayes picked out for JoJo Fletcher in her season of The Bachelorette. If you'll recall, that was only one season ago—which, even though it was the one Bachelor spinoff Nick Viall didn't appear on in the last three years, still wasn't that long ago. How's it feel, Vanessa, knowing your engagement ring was first intended for another brunette with long barrel curls? 
Neil Lane, the designer of the engagement rings who at this point Nick may or may not keep on retainer, defended Nick's choice, explaining to People , "I bring six rings and over the years, over the 9 years, some are the same, some have changed settings or are re-designed, and some are totally new." He added, "The most important thing is for a ring to speak to the particular man and to the woman he is in love with. If a ring doesn't speak to one person, then it wasn't meant to be. If that particular ring wasn't meant to find a home with JoJo, but rather spoke to Nick and Vanessa, then that's the way it should be. It's found its home."

Honestly, all this is pretty fitting, considering nothing Nick does is new. But what about Robby—how does he feel that Nick basically copied his ring? Well, wonder no more because WE ASKED HIM. Don't believe us? Check the receipts in the form of handy pic (because it did happen):

(P.S. Buy the shirt Robby's wearing HERE)
In an exclusive statement to Betches, Robby said:
"Nick, Nick, Nick… Just when you think Monday's final episode has ended and Nick has finally found his happiness, you wake up Tuesday morning to find this. Drama follows this guy around huh?" 
Robby adds:
"You know, I watched Nick constantly wear Chubbies shorts this season, similar to myself last season, so I guess seeing that he chose the same ring doesn't surprise me. He seems to like my style, right? Who knows, maybe the no-socks look is in his future. We just need to make sure he burns that turtleneck!"

"With that being said, I wished that I had the opportunity to showcase that ring first and on Jo's hand, but things didn't work out to where she got the chance to see my selection. Vanessa looks thrilled with Nick's choice and as long as she's happy and is ready to spend the rest of her life with that beautiful Neil Lane cut on her ring finger, then I'm happy that it found a good home. She deserves it!"
Sooo there we have it. Everybody wins in the Bachelor-verse. Except for Vanessa, who has to spend the rest of her life—or until her endorsements run out, whichever comes first—with Nick.
Follow Robby on Instagram and Twitter.
A Definitive Ranking of All The Bachelor(ette) Couples That Are Still Together
Besides this season being the fucking worst, The Bachelor(ette) is the tits. The only problem is that it has a success rate similar to my final organic chemistry grade freshman year. Weird, right? A bunch of drunk hot people dating the same person and living in a house together so they can fight to the death go on group dates and watch their S.O. make out with other people doesn't typically result in lifelong relationships? Groundbreaking. But lately, shit's actually been working. I don't know if ABC is paying couples to stay together or if, with the rise of Bumble and Tinder, going on a reality show is now considered a traditional way to meet someone. Either way, we're paying homage to the couples who were there for the right reasons (vom) by ranking them by betchiness.
**Please note: We're not ranking Bachelor In Paradise couples. They're automatically last because they went on a desperate, has-been version of spring break and fucking DTR'd with their vacay fuck buddy.
8. Ashley & J.P.
We all tried to erase this season from our memories because it was literal garbage. All the guys were fucking pissed because they thought Emily Maynard was going to be the Bachelorette and it ended up being Ashley, who's like, way less hot. She cried the whole fucking time about being a back burner betch, but lucky for her, the guy she gave the final rose to had lower standards than the rest of the cast and was like "meh, you'll do." Now they're married with two kids.
7. Desiree & Chris
Ahhh the season where "being there for the wrong reasons" became a thing. If I remember correctly, there was even a date that involved a fucking music video where the contestants rapped a tragic song called "Right Reasons." Like Ashley, Des cried the whole time because she thought everyone was there for fame instead of winning her heart and she was right. Brooks, who she was 100% gonna pick dumped her. Ouch. As always, there was a nice guy and a maybe gay bro still around to pick up the pieces. Instead of just drunkenly making out with Chris, they got married and had a kid.

6. Sean & Catherine
I might get some heat for this one because people love these two for some reason, but idgaf. They suck. You read it here first. Sean was deemed the virgin Bachelor, but he wasn't a virgin at all. He'd had sex in college and then decided to become a renewed virgin, which is not a thing unless you're Jessica Simpson. I'm pretty sure he just had a dry spell and the producers ran with that shit. They also won't fucking go away. Most Bachelor couples hang around for a year or two and then just fade into oblivion, but not these two. They're everywhere.
5. Jason & Molly
Tbh, I fucking hate Jason. He seems really little and not hot at all, and I will never get over what he did to Melissa. Sorry, but what a prick. That said, Molly totally saves them on the betch points. A guy dumping you so he can propose to another girl on national TV and then realizing he fucked up and begging you to forgive and marry him instead also on national TV is the shit you dream about when a fuckboy screws you over.
4. Jojo & Jordan
Another couple I sorta hate, but I can admit they're pretty betchy. Jojo is hot af and knows how to dress slutty without taking it too far (which is a true art, btw). Also, she and Becca Tilley are squad goals. Jordan, while he might be a shitty human being, is v attractive in a well-groomed douchebag kind of way, and he's on TV now announcing sports things, which is kinda lame but it's better than just doing Instagram ads for laxative tea and other shit like that (though don't worry, we're pretty sure he still does that too).
 
3. Ben & Lauren
There's something to be said about a betch who has a guy wrapped around her finger from the first time they meet when he's surrounded by 30 other really hot sexually deprived women. Ben pretty much ignored all of the other girls on his season to hang with Lauren because he was so obsessed with her. And we say obsessed, we mean, still-told-Jojo-he-loved-her-too obsessed, not like obsessed obsessed. To the point the other girls pitched a fit about it while swimming with pigs. Not to mention, they're cute af. America loved them so much they got their own show, even if it was an incredibly boring show.
2. Kaitlyn & Shawn
Kaitlyn had one of the shittiest seasons, but that shit paid off. She had to fight for the lead spot with nicegirl Britt because producers were worried she was too edgy, then everyone called her a slut the entire season because she openly slept with more than one person, something the Bachelors do all the fucking time. Sorry. Rant over. She and her final pick Shawn are toward the top of the list for a bunch of reasons. 1) They're really hot. Like for real, Shawn is bae. 2) They actually seem normal and funny and not annoying like every other Bachelor couple so they can def sit with us. 3) They didn't get married right after the show because they get that it's stupid af. 4) They faded into normal life and refuse to do a ton of stupid Bachelor related shit. 
1. Trista & Ryan
Of course, the OG Bachelorette success story is No. 1 on the list. They're both hella attractive and have a beautiful family and are total soulmates. They stayed together when literally every other couple broke up and are living proof that as stupid as this fucking show is, it can actually work. Sometimes…