Hannah Brown Said The N-Word On Instagram Live And Barely Apologized
Considering we're in-between real seasons of The Bachelor and Bachelorette, I thought we'd get a break from the eye-roll-worthy news and other bullsh*t that tends to follow the franchise's contestants. But over the weekend, Hannah Brown faced backlash because she said the n-word during an Instagram live. Smfh. Just when we were all finally rooting for her.
Hannah dropped the slur during her IG live on Saturday when she was trying to sing the lyrics to DaBaby's "Rockstar." Shortly after, she noticed people calling her out for it in the comments and gave a weak-ass apology, saying, "I did? I'm so sorry…I was singing the—I'm so sorry" and at one point even placed the blame on her brother Patrick. She tried to continue her live as normal, but people continued interrogating her in the comments. Hannah said, "I really don't think I said that word…I don't think I said that word, but now I'm like, oh god. I'd never use that word. I've never called anybody that. We don't say that word….So, you know what, I'm going to stay here, and y'all can think I said whatever I did or think I'm something I'm not, but I'm not that."
View this post on Instagram
I don't know about you, but anytime I say a word without even realizing it, or have to actively try to remember if I said something, it's because it's a word I'm so comfortable using that I don't even need to give it a second thought. And let's not forget the fact that Hannah and her friend were smiling and awkwardly giggling during her entire apology and she immediately brushed the whole thing off, with her main justification being that she was singing a song. I don't know who (besides Hannah Brown) needs to hear this, but just because the n-word is used in a song does not make it ok for you to sing or say it if you're not black.
After getting asked by Bachelor Nation fans to respond, former Bachelorette Rachel Lindsay went on Instagram Live yesterday to address the situation. She made it clear that she didn't want to drag Hannah (which she didn't), but felt like even though she confronted Hannah directly, she wanted to use her platform to encourage everyone to be better, do better, and hold others accountable for the hurt that they've caused. Rachel talked about the history of the n-word and called out the fact that people try to justify the use of it because it's "part of a song." (As a black person who's only ever been addressed with the n-word in a negative way, I can't even begin to describe how much hearing non-black people sing or say it makes my skin crawl.)
View this post on Instagram
Rachel then went on to compare the use of the n-word to the use of the word b*tch. (Before you fire off in the comments—she was in no way saying the severity of the use of the two are equal.) She said, "the word b*tch used to be a word that nobody could use. It was so vile to use that against a woman. Then women started to take power back over the word and they call each other 'hey b*tch,' 'what's up b*tch?' they say it all the time. If a man went would calling a woman a b*tch, we would be all up in arms because it's not ok for him to do that. You see women doing that because they're taking power back in the word. That is what the argument is for rappers that use in a song."
She continued, "Non-black people should not feel ok about saying that word. It's wrong, you wouldn't say it on TV, you wouldn't say it on the radio, you wouldn't say it in front of your black friend."
A few other celebrities and members of Bachelor Nation took to Instagram to their thoughts, disappointment, and/or anger about the matter. Hannah has since posted an apology on her Instagram story, saying, "I owe you all a major apology. There is no excuse and I will not justify what I said. I have read your messages and seen the hurt I have caused. I own it all. I am terribly sorry and know that whether in public or private, this language is unacceptable. I promise to do better." Did this apology come from a place of sincerity or was it an attempt to save face? Considering it took over half a day for her to really apologize, we'll never know for sure. But I'm going to take it at face value.

Hopefully the general public and celebrities alike learn from this experience. Because as stated above, whether you're in public or in private, the use of this language by a non-black person is unacceptable. Just because you have a black friend who "doesn't care if you say it" doesn't mean all black people are automatically ok with it. Just because you aren't personally offended by the use of the n-word doesn't mean others won't be. And one more time for the people in the back: just because it's written in a song does not mean you have a free pass. If you did, it wouldn't be censored on the radio. Saying "it shouldn't be in the song if they didn't want me to sing it" is not a legitimate justification.
Image: ABC; bachelorteaspill, hannahbrown / Instagram
ABC Is Choosing To Be Boring With The New Bachelor
After weeks of speculation, ABC revealed last night on the season finale of Bachelor in Paradise that Peter Weber, the lovable pilot from Hannah B.'s season of The Bachelorette, will be the new Bachelor. My reaction resembled that of my parents when I failed my driver's test by backing into a pole while parallel parking in my instructor's car: not mad, just bewildered disappointed. After shocking many loyal viewers by choosing Hannah as the Bachelorette, I was hoping the bigwigs at ABC would pull something similar with this year's Bachelor. Unfortunately, they can't seem to quit their addiction to mediocre men and went with the safe choice, once again shying away from a lead that might spike controversy or (heaven forbid) a cultural conversation.
He's Slightly Sketchy

Peter caught some flak this summer when it was revealed by his ex-girlfriend that he dumped her shortly before Christmas, presumably because he found out that he'd been cast as a contestant on The Bachelorette. Opinions differ as to whether the show had anything to do with the breakup, but Peter himself has insisted that his casting occurred months after he parted ways with his ex. Even if we suspend all disbelief and take him at his word, his characterization of the breakup in the People interview is not consistent with the one he gave us on The Bachelorette, particularly during his hometown date, where his parents and brother recounted his most recent heartbreak in a way that gave me Blake-crying-on-his-mommy's-shoulder vibes. While breakups are usually sad for both parties, the dumper does not usually come away disillusioned at the prospect of finding someone to love again, hence the dumping. We can all agree that Peter's transgressions pale in comparison to those of dog food jingle lyricist Jed, but he's not quite the wounded bird he'd like us to think he is either.
He's Safe

One important detail Chris Harrison forgot to announce last night when naming Peter as the Bachelor is that he's already been The Bachelor. It was four years ago, his hair was darker, and his name was Ben Higgins. In all seriousness, it's pretty clear that ABC is trying to recreate the ratings magic they had with nice guy Ben by bringing in a shiny new version. To be fair, there is nothing objectively wrong with either Ben or Peter. They're both mild-mannered, sensitive and steadfast guys. The problem is that their best qualities are the same ones that come to mind when looking to purchase a family minivan. While comfort, reliability and safety are wonderful, I'm not really attracted to a Chrysler Pacifica. In light of recent events I knew we wouldn't get my first choice Tyler, but I still can't help but feel that ABC isn't sending their best. We need a man with an edge and/or some undeniable sex appeal, and someone that still lives at home with his parents isn't it, no matter how many condoms he has in his center console.
He's (Yet Another) White Guy
It's no secret that the Bachelor franchise has a race problem, but it's a fact that bears repeating. In the more than 17 (!) years that this sh*tshow has been in the cultural zeitgeist, we have had one black female lead and no black male lead. It's. Time. One could argue that we've had several great candidates in years past, especially when we see what passes muster to lead this dumpster fire year after year, but it's pretty hard to deny that Mike Johnson from this year's season of The Bachelorette would have been an excellent choice. Kind, charming, successful, smart and handsome, Mike was and is the full package (and Demi Lovato agrees, so don't @ me). For all those who say he was "boring" on Bachelor in Paradise, kindly refer to my previous paragraph.
Even if Mike was boring on Paradise, I'm not totally convinced that his brief stint on the spin-off was the right litmus test. Mike doesn't really exude f*ckboy like the Deans and Blakes of the franchise, so it's possible he simply was not in his element arriving late into a situation where no one but the most boring and phony people were left (you know who you are). It's true that ABC seriously botched the season with its first black Bachelorette, Rachel Lindsay, but refusing to engage in the issue at all kills any hope for future progress in dealing with race competently and compassionately. If they can handle a same-sex couple with grace, can't they work towards doing the same with its contestants of color?

By choosing Peter, the franchise is making a conscious choice to remain stale. It's not the wisest move for a show that's been airing for so long that nearly every contestant has learned the rules and is out for fame. If ABC can't find a dynamic and compelling lead from its usual crop of last year's rejects, why not flush the format and let art imitate life by casting an actual celebrity? Not only do we reclaim the premise of an aspirational lead that the show was founded on, the contestants' famewhoring can be repurposed and encouraged as a key element of the entertainment instead of an undesirable byproduct that must not be acknowledged. Until ABC hires me to consult on strategy (call me!), all I can do is hope to be pleasantly surprised with Peter, like I was with Hannah. I'm going to give him the benefit of the doubt and watch, but if I see even the shadow of a windmill, I'm out.
Images: ABC; Giphy (3)
The Best 'Bachelorette' Recap You'll Ever Read: Just Choose Tyler, I Beg Of You
Sponsored By SkinnyPop
Well, people, we've made it. After watching what felt like an extremely long season sponsored by Jesus and steroids, Hannah is down to her final three men: Tyler, Jed, and the pilot she's 1,000% about to send home with some pity tears and a nice HAGS comment. How we're at the finale and she still has yet to JUST CHOOSE TYLER MY GOD whittle it down to her final two suitors, I'm not sure, but it's starting to feel like a real punishment, let me just tell you.
The Rose Ceremony Continued
Speaking of punishments, what did America do to deserve this dress two weeks in a row? I'm sorry, but Hannah is the freaking lead this season and she's dressed like she's about to lose her virginity in a Holiday Inn after her junior prom. I'm starting to feel like this is a personal attack against me from stylist to the stars ABC's social experiments, Cary Fetman, for all the times I dragged him last season over Becca's outfits. Well you know what, Cary? I'M CRYING UNCLE. I give. Now will you please just stop? My eyes are starting to bleed.
Me screaming at my TV drunk in my living room:

But I'm a good f*cking person!
Back at the rose ceremony, Hannah has just sent Luke back to the shower from whence he crawled out of but still needs to dump another guy whilst dressed like a 2007 Pinterest mood board. Rough.
Hannah starts things off by saying her heart is about to be broken by this decision, and I don't love the way she keeps looking at Tyler. Her eyes look like they are full of regret, like she's sad she'll never get a chance to sample that dick or something, and it's like YES YOU CAN, HANNAH. JUST KEEP HIM.
Oh thank god. Tyler is safe which means it's sayonara to our favorite Delta pilot.
Peter: But the windmill!!
Wow Hannah is struggling with this goodbye rn. She's like, "my Barbie played with your Barbie and that's what love is!" I don't know what they're teaching in Alabama, but I'm scared. Thanks to my friend Aubrey who grew up in Alabama—and, until two years ago, didn't realize dinosaurs were not mythical creatures lumped in with the Loch Ness monster and the tooth fairy, but rather, actually existed—I know all about the "science" they're teaching in those public schools. But now I'm starting to think their sex ed classes involve dolls with strategic parts of their anatomy missing and a lot of prayer. Aubrey, please confirm!
After The Final Rose AKA Peter's Mom Is A Hype Girl
After Peter gets dumped, ABC cuts to live coverage from After The Final Rose with Chris Harrison. It appears we will be flashing back and forth from the finale to ATFR because ABC is a sadist loves nothing better than to hold us hostage for as long as possible in the name of "good television." ABC, you're on my list.

He brings Peter out to the hot seat, and I love that Chris Harrison gets genuine joy out of rubbing salt in other people's wounds. He's like "I see you're having trouble watching this. I see you crying. Do you want to kill yourself?" CHRIS. You can't just ask these things on live television!
Meanwhile, Peter's mom is in the audience and is acting like a national tragedy just happened. I'm sorry but, ma'am, your son has definitely f*cked his way through every Delta flight attendant. I think he'll survive.
Once Chris gets done doing a pulse check on Peter's emotional instability, he brings out Hannah to finish off skewering Peter's love life. Weirdly, this reunion has the opposite effect. Is it just me or is Hannah, like, flirting with Peter? This is not the interaction I was expecting AN ENGAGED WOMAN to have with her ex-boyfriend in front of all of America and Peter's mom. That is way too much thigh touching for an engaged woman!!
Jesus Christ. Hannah, stop saying hi to his parents! They hate your guts. They offered you their home and their Cuban prayers and you sh*t on it! Plus his mother was just sobbing so have a little tact, Hannah.
Hannah: In the Fantasy Suite I thought it was real.
Peter: I know, I really believed those orgasms were real too.
Okay, Peter's mom is the ultimate hype girl. Every time they bring up Peter's sexual prowess, she claps. Like, a lot. Like, more than is socially acceptable to clap for your grown son's penis.
Peter's mom rn: 

Chris is like "well on a lighter note, you'll always have the windmill!" Yes, Chris, as if the poor people of Crete could ever forget how they desecrated one of their fanciest tourist attractions. But thank you for bringing it up once more!!
WHY ARE THEY WHISPERING TO EACH OTHER. They're giggling over that "four times" comment in a way that makes me think maybe there's been a fifth or sixth time post-filming?
I mean, TELL me this doesn't look like they've snuck away to the Delta Sky Lounge recently? There is more tea to be spilled here…
Tyler's Last One-On-One
I'm going to break the rest of this recap up into two parts with Tyler and Jed's dates, respectively. I mean, if I were ABC that's how I would have done it in the first place, but I've heard this is also a tactic they use to torture prisoners of war to disorient them and make them lose track of all sense of time, and I know that's the vibe they go for with these finales.
Tyler gets to meet Hannah's family first, and my immediate thought upon seeing them is "wow that's a lot of crosses happening there." The whole family is giving me Christian rock band vibes HARD, and the dad in particular looks like a youth pastor who wants to tell me all about how bitchin' Jesus was.
Wow, okay, it looks like Hannah's mom might be more into Tyler than Hannah is. He walks into the house and her eyes light the f*ck up. She's breathing heavy and giggling and BLUSHING.
Hannah: I didn't know if I liked you, Tyler, or if you were just tall.
Ah, yes. Isn't that all our cross to bear?
After impressing her dad and bringing her mother to orgasm by merely breathing, Tyler gets one more chance  to prove to Hannah that he's more than just an extremely good-looking man with lots of money and respect for women. What more she could want in a guy, I'm not sure. I believe my list goes something like "hot, tall, rich, and has seen every Veronica Mars episode ever made" but to each their own, I guess.
Tyler's like "I'm a pusher, Cady Hannah. I push people." Does he think if he says the word "push" enough she'll get the subliminal message that he wants to bang in that field?
WAIT. ARE THEY GOING TO DO IT TONIGHT?? I think it might happen! Damn, that subliminal messaging really works. Hannah shows up to Tyler's hotel room post-date with the sole intent of solidifying their relationship screwing his brains out, it seems. Though you wouldn't be able to tell based off that hoodie sweater thing she's wearing. It's giving me some serious middle school field day vibes rather than the "come hither" ones I'm sure she intended.
The camera pans out just as Hannah screams "we would have the sweetest family" and then straddles Tyler on the bed. Just when we were getting to the good stuff!
Jed's Last One-On-One
Moving on to Jed's date. Tyler is a tough act to follow and I'm not just saying that because the pheromones he puts into the world brought Hannah's mom out of menopause. That said, Hannah does look amazing today. I'm digging this Grecian goddess look, but I don't like that she's wasted it on a man who most definitely makes fake YouTube accounts to comment glowing praise on his own music videos.

Predictably, Jed's burgeoning music career does not go over well with her family. Hannah's dad asks how he intends to support a family and Jed is just like "um with this?" JED. You can't just say these things! I'm pretty sure her father wants you to have a more solid (albeit untruthful) plan for his daughter's security other than just open mic nights and Flat Tummy Tea deals.
Hannah's dad: And how is your music career going?
Jed: It's really taking off, sir. I just signed a deal with a dog food company for a jingle.
I SIGNED A DEAL WITH A DOG FOOD COMPANY. Where has this gem been all season?? And how did that jingle go, Jed? Hmm? I'm imagining something like: "Haley, you know where my heart will be. But if I don't come back, feed the dog for me."
I love how her mom is just like, "so you've been failing as a songwriter for a while now, huh, honey?" Shadeeeeee, Barbara. I can't wait to get her take on the Magic Mike act that actually pays his bills.
Hannah: Well what do you think of him?
Hannah's mom: Well he has… qualities.
HE HAS QUALITIES!! HAHA. She can't even force herself to say good qualities. Even serial killers have "qualities", Barbara!
I don't know why Hannah is acting shocked by all of this. Jed literally said his five year plan involved making it big off of kibble. I think that's how it worked out for The Beatles too, Jed!
Jed describing his five year plan:

Moving on. They spend their last one-on-one date on a boat in Greece. For all intents and purposes this should be the perfect date, but it quickly turns into the stuff of my nightmares when Hannah starts projectile vomiting for no apparent reason.
She's like "I think it's the boat and maybe the uncertainty that goes along with wanting a future with a guy who thinks dog food jingles are okay to lead with on his LinkedIn." In between blowing chunks over the side of the boat, Jed complains about how her dad just doesn't understand his music. I feel like my friend from high school who now sells Mary Kay products on Facebook has a more lucrative career than you, but please tell me more, Jed.
Jed: I would love you no matter what, even if I met you off the show.
His girlfriend back at home:

And that concludes night one of the Bachelorette finale! We'll have to wait until tomorrow night to see if Hannah will get her happily ever after or just a future pulling singles out of Jed's G-string.
Images: Giphy (6); @bachelorinsider /Instagram (2)
The Best 'Bachelorette' Recap You'll Ever Read: It's Still All About Luke P
Sponsored by SkinnyPop
Welcome back, folks, to your regularly scheduled Bachelorette recap! I fully expect this week's episode to include a total of 30 minutes of actual usable footage and the remaining 1.5 hours will be a metaphorical drawing and quartering of Luke P's character. I'm giddy with anticipation. When we last left off, Hannah and the men were in Crete, Greece, where she had to decide which of the men she would need to bang in a windmill connect with on a deeper level and which of them she would just dry hump for nine hours. Tbh I'm still not well with her choices. But one choice I can get behind from last week's episode is that Hannah finally sent Luke P back to the communal shower from whence he crawled out of—and all it took was him slut shaming her on national television and then condescendingly asking her to pray with him! I would have dumped him the first time I saw him line up with the other guys and realized he was entire heads and shoulders smaller than the rest of them, but to each her own, I guess.
The Rose Ceremony
Moving on. Back in Crete, we're picking things up where we left off with the rose ceremony. Hannah, finally free of the 5'6″ overly coiffed Big Jesus Energy that was Luke P, shows up to deliver the roses looking like she just walked off my mood board from junior year of high school. Jesus Christ. I'm sorry, Hannah, but Deb called and they want their prom dress back, honey!
Hannah:
Me:

Meanwhile, Luke P is back AND HE BROUGHT A RING. What?!?!? He's like, "I'm on my way and I'm coming" and that's a line I'll hear in my nightmares. Honestly, any producer who can talk a grown man into humiliating himself on national TV twice within the span of 18 hours AND to do it with an engagement ring he was definitely told was a Neil Lane diamond when it's really from the Denny's gumball machine down the street, deserves a raise. Bravo, sir.
Chris Harrison: Hannah, do you know who you're going to send home?
Me to my dog alone in my living room: It should be whoever suggested this outfit.
I love that Luke goes to stand in line with the other three men WHO HAVEN'T BEEN ELIMINATED ALREADY as if he will be getting a rose this evening also. It's this mix of confidence and delusional thinking that I'll be bringing with me into my next job performance review.
God, Luke has no shame. He keeps saying how he loves Hannah and the relationship isn't over for him yet and it's like, GO HOME LUKE. YOUR MOTHERBOARD IS MALFUNCTIONING. Seriously, which intern pulled him off the charger and let him walk right into that rose ceremony? Chris, was that your least favorite nephew again?
Luke continues to beg and plead for Hannah's attention and, honestly, it's getting hard to watch. Normally, reducing a grown man to groveling on national TV is how I get off my preferred method of winding down after a long day, but honestly, I don't know how much more I can take of this, especially as it becomes clear that he's not leaving.
Hannah tries to take control of the situation by physically moving the table with the roses on it so he's not standing in front of it anymore, and he STILL crowds her space. It's unsettling to watch and maybe even a little triggering. Why do I feel like half the men back home watching this are thinking to themselves "I would never treat a woman like this" but have also sent a text/DM/subtweet to a woman that said "whatever ur a fat bitch and i wuz never into you anyway" when rejected?
Luke: Can you seriously look me in the eyes and tell me it's over?
Hannah:

I love how Jed is acting like he is the sole reason Luke was finally dismissed from the rose ceremony. You literally just stood there in your poop brown suit and raised your eyebrows from a safe distance. That's all you did!!
"The Men Tell All" Also Known As "The Luke P Show"
In a jarring transition from rose ceremony to The Men Tell All, Chris Harrison starts things off by calling in Jesus's favorite f*ckboy: Luke. I'm sorry, but I thought this was The Bachelorette? Why are we giving this Fox & Friends acolyte one more minute of screen time? He practically hijacked this entire season, does he really need a spotlight during The Men Tell All? We know he's a piece of sh*t, we don't need to devote the remaining hour and fifteen minutes of this episode to investigating this claim at length!
Luke tries to explain his extremely sexist and misogynistic remarks to Hannah during the fantasy suite, and it's not going well for him. He's like, "I'm not okay with her straddling or mounting or kissing other guys." STRADDLING OR MOUNTING. These are words being said on primetime television rn!!! He sounds like he's describing my dog's archnemesis at the dog park who is always trying to dominate her, instead of the woman he seriously considered marrying.
Also, why did Luke even go on this show? He had to know about the fantasy suites prior to being on this season. Clearly this is not the dating forum for him, so why even go on the show? Did he need to raise money for his church's mission trip? What was the motive here? I'm suspicious.
Chris Harrison once again tries to pull some sort of emotion out of Luke P by asking him about that half-baked proposal, and the result is a full minute's worth of silence. You can practically hear his programming malfunctioning in the background. If you look closely enough, you can see the smoke from his wires frying.
View this post on Instagram
"I'm getting choked up over here," Luke says with absolutely no emotion as he describes in monotone his thought process behind slut shaming a woman on national television. No, you're getting choked up because for the first time in your life people are holding you accountable for your words and actions and it's upsetting to you.
Luke: If I could go back I wouldn't change a thing.
IF I COULD GO BACK I WOULDN'T CHANGE A THING!! Is this the part where the angry mob swarms him? Because if so I've been sharpening my pitch fork for the last 45 minutes and can be ready to go in 10!
It's just crazy that he literally has no idea what a piece of sh*t he is. There is no self-awareness there at all. At one point he even mentions wanting to "save" Hannah and refers to his time on the show as a "rescue mission" as if a woman WHO IS THE GODDAMN LEAD OF THE SHOW can't save herself. Disgusting.
Okay, who tf is Devon and did he go bullfighting before this?
Devon: Can I just be real with you for a second, Luke?
Also Devon:

The resemblance is uncanny!!
I'm sorry, but did Luke truly just say that he believes a man should guide and control the relationship? IN THE YEAR 2019 ON MY TELEVISION SCREEN. You know what? I do hope he gets invited to Paradise this year, if only so I can watch Demi roast him over a spit and serve his entrails to the her enemies. It's the very least you can do for me, ABC.
Chris invites the other men from Hannah's season out onto the stage to read the rest of Luke's crimes before the public hanging commences. I can think of no better punishment for his transgressions than putting him in the public stocks for at least 30 minutes while members of the audience throw spoiled fruit at him and Luke S goes into a detailed account of his tequila brand.
Chris Harrison: Do you guys have anything to say to Luke?
Connor: Yeah, f*ck you man.
Connor! Such language! He better hope his mother isn't watching. He might have to put a quarter in the swear jar.
Luke continues to dig his own grave with the men. It's like they all heard it's 2019 and realized if they want to get laid by their following they're going to have to do a little more than just post about their new Bachelor recap podcast on IG—they might actually have to show they care for and respect women. Crazy!!
As the crowd starts to turn on Luke and the men finish fashioning their cuff links into makeshift shivs, he tries one last attempt at explaining himself. He talks about the hypocritical moment when he slut shamed Hannah for having sex, when in fact he was not a virgin either. He's like "some people call it secondary virgin, others call it just the tip, but you know what the deal is!" Do we, Luke??
Luke continues to show zero remorse and then hops on a flight out of there to go find a new woman to emotionally abuse.

A Moment Of Appreciation For The Gift That Keeps On Giving: John Paul Jones
Chris Harrison calls JPJ up to the hot seat next and I would call bullsh*t on that "fan favorite" comment except I just saw a girl in the audience start hysterically crying at the mere mention of his name. It's like every time he flips his hair a teenage girl has her sexual awakening.
Also, I'm starting to realize that JPJ is actually very attractive? How am I just now noticing this? I mean, does he have the face of someone whose daddy threatened to sue Sigma Alpha Epsilon for not giving him a bid freshman year? Sure, but that's sort of my type neither here nor there.
You guys, The Men Tell All is taking a very weird turn with this girl who wants to keep a lock of JPJ's hair to wear around her neck in a locket. I literally want to throw myself into oncoming traffic if I so much as wave to the wrong person and this girl just cut off a piece of a strange man's hair on national television!! One of us will be bringing this up AT LENGTH with their therapist, and I have a feeling it won't be her.

Hannah Is Really Sorry, You Guys
Last but not least, we end things with an appearance from the bachelorette herself: Alabama Hannah. She wants us all to know that she's really, really sorry for keeping a man who most certainly lies about his height on his Christian Mingle bio around for so long. Ah, so we're making this about Luke again. Got it.
Here's the thing: I'm glad Hannah can look back on her relationship with Luke and realize that she learned something from all of this. I'm glad that his toxic behavior and misogynistic words are being called out and publicly shamed. Really, I am so glad. BUT, like, I don't want to hear his name for one more goddamn second. The worst thing we can do to this guy is completely forget about him, to not acknowledge his presence at all. AND YET, we've spent the last 2.75 hours discussing him at length. I'm over it.
Tbh I feel like this entire Tell All can be explained in a single gif:

Hannah: I'm truly sorry for dating that douchebag. World peace and roll tide!
Minus that part about "roll tide" that was the exact apology I had to give my sorority when my date at junior year formal got caught doing coke in the bathroom by the hotel manager. It happens to the best of us, girlfriend!
And on that note, that's it from me this week! See you betches next Monday AND Tuesday where the only thing thrilling about this two-part conclusion will be my rising blood pressure levels. TTYL!
Images: Disney ABC Press; Giphy (6); @thebetchelor /Instagram (1); @starstylecom /Instagram (1)
Hannah And Luke Are Feuding About Sin On Twitter
This season of The Bachelorette might really be the most dramatic ever, and it's only getting messier as we get down to the end. Two of the three remaining contestants have had their shady past relationships exposed at this point, so Hannah's chances of finding her Prince Charming aren't looking great. But at least this week, we finally got rid of Luke P, who has been like a cancer on this show since approximately week two. I don't usually have a lot to say about Jesus, but it's impossible to ignore at this point. Hannah and Luke's final argument on last night's episode was instantly iconic, and now they've taken things over to Twitter.
Luke just joined Twitter for the first time yesterday, and now it's pretty clear that he wanted to wait until he could properly sh*t talk Hannah for the whole world to see. Classy move, really. Hannah obviously knew that we were all eagerly waiting for the moment when Luke would be sent packing, so her tweet after his elimination was everything we could have wanted:
and that's how it's (finally) done. you're welcome. #TheBachelorette pic.twitter.com/oqNs8yvMgh

— Hannah Brown (@AlabamaHannah) July 16, 2019
Of course, that meant that Luke could finally say what he wanted about Hannah, and he immediately chastised her for not feeling guilty about having sex.
@AlabamaHannah The difference in how we view sin is seen in the response, I'm weeping at mine and you're laughing at yours. All sin stings. My heart hurts for both of us.

— Luke Parker (@luke_parker777) July 16, 2019
Aside from the fact that Hannah can do whatever she wants, and is free to feel however she wants about it, it's super patronizing for Luke to tell her that his "heart hurts" for both of them. Like, cool story bro, pretty sure Hannah doesn't give a sh*t about your heart.
Thankfully, Hannah didn't have any problem responding to Luke's belittling tweet about sin, and good for her for keeping the Biblical theme going.
@luke_parker777 time and time again jesus loved and ate with "sinners" who laughed. and time and time again he rebuked "saints" that judged. where do you fall Luke? #TheBachelorette https://t.co/FlhZ5JbOCA

— Hannah Brown (@AlabamaHannah) July 16, 2019
Is this the kind of thing I missed out on by not going to Catholic school? Do you just sit around and throw insults about sinners and saints? I'm kind of obsessed.
Hannah and Luke then went back and forth about whether or not sin is funny, a discussion which Hannah promptly shut down by bringing up the infamous deli meat situation. Props to her for going there, excellent use of shade, 10/10.
i have never said that i find my sin funny. i'm not going to lectured on appropriate emotional responses by a guy who threw deli meat in a guys lap. https://t.co/hc8lsPUUA8

— Hannah Brown (@AlabamaHannah) July 16, 2019
Luke went on to shame Hannah one more time for her tweets about the windmill and the wood, and I really just have one burning question I need to ask: WHO GIVES A SH*T? If you think having sex with multiple people is wrong, good for you, don't have sex with multiple people. Luke willingly went on a show where one person is dating many people at the same time, and for him to be so offended that Hannah had sex with someone else says way more about him than Hannah. He can have whatever personal beliefs he wants, but to shame Hannah for not sharing those same beliefs is seriously not okay.
Your tweets about the windmill and the wood were enough, it's not about the action it's about the response. If you want to talk about it, you know how to get ahold of me. https://t.co/BQpIn0TqEh

— Luke Parker (@luke_parker777) July 16, 2019
Based on the preview for next week's episode of The Bachelorette, we have at least one more Hannah and Luke interaction coming, but based on this toxic dynamic on Twitter, I feel pretty confident that their relationship is over for good. Sadly, it's not like her other choices are much better (Team Tyler at this point, I guess), but at least she's not going to settle for a man who treats her like a child in the name of religion. If you love Jesus, good for you, but your relationship with the Lord doesn't make you better than anyone else.
I hope Luke eventually gets to a place where he can see how problematic his treatment of Hannah is, and I hope Hannah is somewhere having mind-blowing sex. It's what she deserves.
Images: ABC; alabamahannah (3), Luke_parker777 (2) / Twitter
Another 'Bachelorette' Finalist Lied About His Past Relationship
Welcome back to another entry in the All Men Are Trash Encyclopedia. Who's our featured piece of trash today? I'm sad to report that we've gotten some unfortunate information about Pilot Peter from this season of The Bachelorette. We all love him, but according to his ex-girlfriend, he's a lying sack of sh*t just like literally every other man in the world. Andddd another one bites the dust. Let's go through the accusations, and talk about how literally half of Hannah's remaining men (not even counting Luke P) are total garbage.
Peter's ex is a woman named Calee Lutes, who lives in Atlanta. In an exclusive interview with Entertainment Tonight, she said that she and Peter met in June 2018, when he was in Atlanta for a month of training after getting hired with Delta. (I have a friend who is a flight attendant at Delta and can confirm, this checks out.) They met on a dating app, and decided to continue their relationship long distance after his time in Atlanta was finished. Despite the distance, Calee told ET that she and Peter were "crazy about each other," and that they saw each other every few weeks. They even went to Switzerland together in November.
ET also has photos of them together, in addition to screenshots of texts and DMs, so you should definitely look at those. According to Calee, their relationship progressed quickly, and they frequently talked about her potentially moving to LA to be with him. Then, two days before Christmas, Peter broke up with Calee over FaceTime, even though she had just bought a ticket to LA for New Years. Ugh, hopefully she flew Southwest so she could get that sweet sweet credit. She says he didn't give any reason for the breakup other than that they shouldn't let their relationship get any more serious.
Right after breaking up with her, Calee says that Peter deleted every trace of her from his Instagram, even erasing his comments and likes on her photos. At the time, Calee noticed that a Bachelorette producer had recently followed him, but she had no idea he was actually going on the show until the cast was announced in March.
Obviously, Calee was surprised and upset to find out that her boyfriend had applied and interviewed to be on a dating show while still in a serious relationship with her, but the initial shock just got worse after the show started airing. As you'll probably recall, Peter opened up to Hannah in Latvia about how difficult his recent breakup was for him. To hear Peter tell it, he had his heart completely broken, and is still struggling to pick up the pieces.
Calee says she's sure she is the ex he's talking about, and that she feels betrayed about the way he's portrayed their breakup on the show. If all of this is true, then Peter obviously sounds like a nightmare. It's bad enough that he chose the show over his relationship, but the fact that he basically ghosted his girlfriend and is now making her sound like the bad guy on national television is completely f*cked up.
Overall, Jed's deception of both Hannah AND his girlfriend before going on the show is probably worse, but Peter's situation ain't good either. I won't spoil the ending of the show here (click here if you want to know who wins), but at this point, none of Hannah's choices are looking promising. I mean… at least Luke P is upfront about how terrible he is? No, you're right, that's crazy talk.

Hannah, get out while you still can. I want the best for you, and I don't think any of these lying clowns can provide that for you. Tyler C, you better not f*cking let us down.
Images: ABC; caleelutes / Instagram; Giphy
Why Hannah Taking Four Men To Fantasy Suites Is A Victory
When this season of The Bachelorette began, I stated my one wish: that Hannah would, to quote myself, " "f*ck it" when the format of the show no longer her." This week, Hannah did say f*ck it, and decided she's taking four men to fantasy suites. And I. was. ELATED. (If sad for every other Bachelorette that came before.) Ultimately, I question the idea that you can meet someone on a reality show far less than the idea that you fall in and out of love on cue, perfectly timed to a series of rose ceremonies. So, Hannah refusing to eliminate someone—and putting her own timetable on these relationships—convinced me that she's a) not faking it, and b) learning from past Bachelorette mistakes.
All too often on The Bachelorette (Bachelor too, but less emotional), we see the lead send home someone promising, and be absolutely shattered by it after. When it came down to it, they tell the camera between sobs, there was that little tiny bit less with the person who left than the ones who stayed. But imagine this: if these leads weren't being rigorously told that they needed to send someone home on a schedule every week, how many of those relationships might have gone on longer? Is there a chance that previous leads would have made different choices, if their third or fourth runner-up had been given a little more time? How many people sent home contestants because they could genuinely say there was less promise there—and how many because they felt they had no choice?
RIP, my sweet Peter.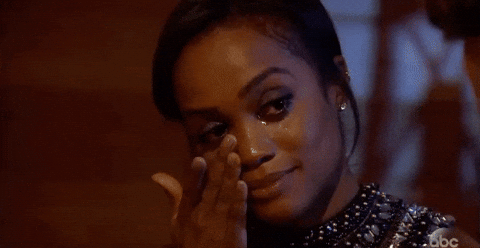 I know, I know: it's a reality dating show, and frankly, one that would be dull as hell without mandated, recurring eliminations. But the show works so hard to convince viewers their contestants have found real, lasting love (hello, TV spots of still-together couples at every feasible opportunity). And the fact is, these relationships are most convincing when they don't follow an ABC-scripted timetable. I believed Hannah's interest in Luke P. and Jed, only because she was ignoring such glaring red flags from both—but it wasn't until she refused to send anyone home that I thought she might be seriously interested in Tyler and Peter too.
What Hannah did wasn't particularly polite. If I were Jed or Luke, I would be steaming; Tyler or Peter, lightly annoyed. But more people should be insanely, ragingly rude in their turn as the Bachelorette. These women have (supposedly) put their lives on hold to accomplish one goal: so why the f*ck would now be a time to worry about manners, or hurting someone's feelings? Arie and Colton certainly didn't share those concerns, and if you're curious how that worked out, I'd be happy to direct you to baby Luyendyk's Instagram. Yes, Colton and Arie made a complete hash of things, and Hannah's handled herself far better, but the concept is the same.
Remember when Colton tried to make Tayshia and Hannah G. make him feel better for dumping them? Yeah, Hannah's not doing that.

If you're here for one of the most important missions of your life—if you're really, truly taking this seriously—why would you accept for a single second that you "have to" send someone home before you're ready? Or keep anyone around a second longer than you're interested in seeing them? I fail to believe that Hannah is the first Bachelorette who wanted to keep someone longer. But she's the first Bachelorette to do it, and that's a win if I've ever seen one.
I hope Hannah finds the love of her life on this show, I really do (not Jed). But more than that, I hope she comes out with zero regrets about how she handled the process—a claim I worry too few previous Bachelorettes can make. The way Hannah handled herself this past week convinced me that, pending secret ex-girlfriends she had no way of knowing about, she made the best possible choices she could this season. And if I see another Bachelorette go through a season pretending her emotions are perfectly in line with ABC's plan every week, I'll f*cking riot.
Images: Giphy(2)
The Best 'Bachelorette' Recap You'll Ever Read: Entangled In Sin
Sponsored by SkinnyPop
Hometown dates are finally here, and I for one could not be more pleased. This is always one of my favorite episodes of every season, because we really get to know the men on a more intimate level by meeting the psychopaths who raised them. This week, Hannah will be traveling to Peter, Tyler, Luke, and Jed's hometowns, where she'll get to see where each of them gets their deep-seated emotional issues from, or if it's just steroids. Fun! So, let's dive right in, shall we?
Peter The Pilot's Hometown Date
First up, we have Peter in California. Tbh I don't think this date placement bodes well for him. I feel as if the person who goes first is usually not high on the lead's list of priorities. Plus, he's the only one to come from a state where you can't buy a gun at the same place you can buy toilet paper, so that's definitely some points against him.
LOL. ABC, you can't HONESTLY possibly expect us to believe that that's Peter's real car and not something production pulled out of their asses to give him some more sex appeal. There's no way in hell a commercial airline pilot makes that much money. Please.
Peter starts off his date by giving Hannah an airplane tour around Southern California, and this is 100% not the first girl he has given a romantic airplane ride around the city. This is a move right out of his pilot handbook, as it should be. I mean, if the condom Hannah found in his glove compartment on the way over there wasn't indication enough, then the MAKING OUT IN THE SKIES WHILE OPERATING A FLYING MACHINE sure shows us that he has this routine down pat. Kudos to you, Pete!
Whether he is flying you to hometowns and taking you to Bonetown, Pete is going to get you there safely. #TheBachelorette pic.twitter.com/s2es4PBmyt

— Nick Viall (@viallnicholas28) July 9, 2019
Moving on. Peter brings Hannah to meet his parents and his mom is LIVING for her 15 minutes of fame.
PETER'S MOM: Do you love her?
PETER: Well normally my relationships last about as long as the walk from the Delta lounge to the terminal, so I guess so?
At least he's honest!
Meanwhile, Hannah sits down with Peter's brother who tells her that Peter is a "hopeless romantic." Lol, sure, Peter's brother. If by "hopeless romantic" you mean "has definitely banged a girl in every country," then yes, I'm sure Peter that's exactly what Peter is!
Also, is it just me, or does Peter's dad basically look like Captain Lee from Below Deck?

I. Can't. Unsee. It.
Peter starts talking about how deep he's falling for Hannah, but offscreen admits that he can't say "I love you" just yet because he's scared. Meanwhile, Hannah looks like she'd rather endure three hours of Barbara talking about her jewelry making hobby than five minutes of Peter talking about his feelings for her. Uh oh, Petey. It's not looking good for you, buddy!
Tyler's Hometown Date:
Hannah heads to Florida next for Tyler's hometown date, and honestly I'm shocked by what I'm viewing on my screen rn. I was expecting to see, like, cars on fire or people walking around without pants on or at least one white guy rapping. Those scenarios track with my understanding of Florida, not this f*cking paradise. Dare I say Florida…looks…nice? *waits to spontaneously combust*
Okay, Tyler was not f*cking around when he planned this date. Mimosas, boating, and bikinis? HE IS SPEAKING MY LOVE LANGUAGE. If Hannah doesn't choose him in the end then I'm sorry but she can't be helped.
On stop one of Tyler's boat tour, he shows Hannah the house he grew up in before he lost his fortune and only became medium rich, like Kardashians in 2007 rich. He's like "Yeah, now we can only drive by the house in this boat my family owns. It's sad." SO SAD. Shall I get out the world's smallest violin for you, Ty?
Post-boat ride, Tyler and Hannah head to off to meet his parents in the hovel starter mansion they were forced to downsize into. Have any of us known pain like this? (Because I sure would like to).
This is our first glimpse of Tyler's home life and already I like what I'm seeing. And by "what I'm seeing" I mean his brothers because MY GOD this family is beautiful. Do we think they might also be single and desperate? Because HI.
Oh, I forgot Tyler's dad was sick. Now his poor father has to battle for his life and be on this godforsaken show? Was the disease not punishment enough?? Also, he keeps calling Hannah "Miss Hannah" and it's so cute I can't.
Tyler's dad pulls Hannah aside for a heart-to-heart and this sweet angel of a man is giving me such Buddy Garrity vibes it's insane. Hannah's like "Do you think Tyler is ready for an engagement," and his dad replies with "Well he's 26 so…" As if legally being forced off his parent's insurance plan means he's now ready for marriage. WHAT'S YOUR POINT TYLER'S DAD? You can be older than 26 and live a super fulfilling life all alone with nothing but your dog and 12 seasons of Criminal Minds to keep you company! At least that's what I whisper to myself in my darkened living room every time Netflix asks "Are you still watching?"
Tyler must have thought the date went pretty well, because when he walks Hannah out to the car he slides into the backseat with her and immediately starts rubbing one out on her thigh. Or she could be rubbing one out on him. I really can't distinguish whose legs are whose because both of them are wearing matching skin tight white jeans.

Luke's Hometown Date:
Luke's hometown date is up next, and it's the one we've all been waiting for. Why we're in Georgia and not in the basement of ABC studios where the producers grew him in a pod with protein shakes and clean eating for six weeks before casting him on the show this season, I don't know. But I'm willing to play along if you are, Mike Fleiss. Carry on.
Luke tells Hannah he wants to take her to the one place he visits every week: the shower Sunday School! So, let me get this straight. Peter takes Hannah on a plane, Tyler takes Hannah on a boat, and Luke *checks notes* takes Hannah to pray in a stranger's basement? HANNAH HOW ARE YOU SERIOUSLY STILL TORN ABOUT WHICH GUY TO CUT.
Also, Hannah is looking like she wishes she'd worn anything other than that lace silk cami today. I wonder if she'll burst into flames the second she enters the church like the philanderer she is.
LUKE: I was chasing sex. I was entangled in sin.
ENTANGLED IN SIN!! Okay, Luke is acting like he spent his freshman year of college at a bunny farm in New Mexico drowning in booze, pills, and the female flesh. Like, did he steal this speech from Lamar Odom's memoir?
Side note: I'm starting to think Luke channeled all that sexual energy into his eyebrow maintenance because DAMN those are some manicured brows. How have I never noticed those bad boys before??

Okay, how much do we think Luke paid these guys to say those nice things about him? Especially that one comment about him being "giant"? Nice try, Lukie, but this isn't making me think you're a good guy so much as you might be involved in a cult.
Hannah meets his family next, and before grandma can even scoot over on the couch to make room for her, Hannah starts reading through her and Luke's couples therapy transcript RIGHT IN FRONT OF THEM. Like, why is she talking about the house drama in front of his entire family? She's like "it started out great with your son, but then he turned into a total piece of sh*t. Lol! When's dinner??"
Watching Luke's family unequivocally defend him is making me understand why Luke thinks he's infallible. They're saying that the show made him act the way he has for the past eight weeks and while, yes, that might be a little true, it can't explain away all of his toxic behavior. After Hannah tells his family about his aggression and blatant disregard for her wants they laugh it off in a "boys will be boys" kind of way, and it's sickening.
LUKE'S DAD: Luke's a great guy!
LUKE'S BROTHER: Luke's a great guy!
RANDOM CHURCH GUY: Luke's a great guy!
JESUS FROM THE SHOWER: Luke's a great guy!
HANNAH: You're right, I think I'm in love with him.
Go home, Hannah, you're brainwashed!
Jed's Hometown Date:
Last but not least, Hannah heads to Nashville for Jed's hometown date, where I'm sure they'll spend the majority of their date actively avoiding all the places he took his other girlfriend in Nashville. So what does that leave? The back alley behind the Starbucks? That said, I do feel like these two have the best chemistry out of everyone this season. Then again, Jed was a Chippendales dancer so he has been known to manufacture chemistry with a pole.
Speaking of manufactured bullsh*t, I can't listen to one more Jed Wyatt original. You guys, I just can't. He's like "and lookie what we have here? We just happen to be by my recording studio!!" Yes, what fortuitous timing, indeed. And look! They're going to write a song together. How spontaneous and crazy and I'm sure this won't at all be available on iTunes tomorrow, but you can use code "JED WYATT" at checkout just in case.
After Jed's done with his weird Johnny Cash foreplay, he takes Hannah to meet his family and—more importantly—the family dog. Okay, Jed's family seems very confused about why Hannah is meeting them. It's like they knew they were being filmed that day, but they just thought it was for his audition for The Voice and not The Bachelorette.

The face you make when you were expecting to meet Blake Shelton at the end of the day not a former 4th place beauty queen.
JED'S DAD: It's hard for me to wrap my head around all of this because he told me it was just for publicity
YOU AND ME BOTH MR. WYATT. Also, does anyone get the sense that in Mr. Wyatt's wildest dreams he's Billy Ray Cyrus? Just me?

Meanwhile, the conversation isn't going any better between Hannah and Jed's mom. Hannah asks her if she thinks Jed is ready for engagement and she all but says her son ain't sh*t.
HANNAH: Your son seems really great.
JED'S MOM: He is great.
HANNAH: Will he treat me right?
JED'S MOM: Lol not a chance.
Well if that's not a ringing endorsement for legally binding yourself to someone until the end of time then I don't know what is!
The Rose Ceremony:
Moving on to the rose ceremony. Hannah laments having to choose between three guys she's into who are ready for marriage, and one guy she's into who is ready for a record deal. It's a real Sophie's Choice.
HANNAH: How to you compare apples to oranges to kiwis to tomatoes?
CHRIS HARRISON: Yeah, I don't care.
Oh, Chris. We've missed you buddy!
Hannah starts handing out roses and I'm SHOCKED that it's down to Jed and Luke. We know from the promos ABC keeps shoving down our throats that Luke makes it to the fantasy suites thanks to that clip of him telling Hannah it's only okay when *men* sleep with multiple people at once,  and I honestly didn't think Jed would be going home after he said the L word. Parental sabotage or no. Rather than make a decision, Hannah does what I do when I'm under a modicum of stress: flee the scene.

I love that it took Chris Harrison a solid 15 minutes before walking over there to comfort her. I know it's confusing because after the fence jumping incident of 2019 you bartered your way to less screen time for more pay, but it's actually your job to comfort the lead, Chris!
Hannah keeps saying that she hasn't had time to "dive in" with these relationships, but she really wants to "dive in" with each of the men and she's definitely talking about banging them, right? Like, "dive" has to be a euphemism for their penises, yes?
Hannah returns to the rose ceremony and declares that she absolutely cannot make a decision and then metaphorically stamps her foot in protest. Luke looks completely unfazed by this change of events while Jed looks weirdly upset for someone who was only planning to make it to the top five to begin with.
LMAO CHRIS. He's like "here are the roses you asked for, you ungrateful bitch" and hands Hannah a second rose. So she's just allowed to keep all four of them now? Do the rules just not apply anymore? ARE WE JUST GOING TO LIVE IN ANARCHY LIKE THIS?!
Sighs. I guess we will—at least until next week when Hannah finally gets to see their penises more from them and can make a decision. Until next week!
Images: Giphy (3); ABC (3); @shesallbach /Instagram (1); @viallnicholas28 /Twitter (1)