The Best 'Bachelorette' Recap You'll Ever Read: The Titanic Had More Structure Than This Season
Welcome back to the best Bachelorette recap you'll ever read! Coincidentally that is the exact endorsement my mother gave with the qualifier that it is the only Bachelorette recap she reads… Fine, I'll take it. I don't know about y'all, but it's been a loooong three months living in a Bachelor-free world. God, it's nice to have a reason to live again. And what a time to be alive it is. This season we've got not one, but two Bachelorettes: Gabby Windey and Rachel Recchia. Don't you love when the entertainment industry treats strong female leads like a coupon deal at a Food Lion? Lol, the end of the world is fun.
If you're wondering how I've prepped myself for this madness, let's just say that my pre-Bachelorette viewing routine has only changed in the amount of wine I'll be consuming: whatever quantity is enough to tranquilize a horse and/or allow the feminism to actively leave my body. Let's get into it!
The Format: How The Hell Is This Supposed To Work?
Normally at the beginning of each season we have a basic idea of how the rest of the season will play out. Girl meets 30+ guys. Girl is somehow not disgusted by childish limo gimmicks even when gimmicks involve body oil and weird kid choirs. Girl is just happy not to be on Hinge. Girl dates guys. Girl loves guys. Girl contractually requires at least one guy to propose to her. Bada bing bada boom, we've got a season! But this season, not even Jesse Palmer has any idea how filming will work on a weekly basis. Will the women be competing for one spot, as was the case in season 11 with Kaitlyn Bristowe and Britt Nilsson? Or will it be more of a Hunger Games-type competition, where instead of fighting for food and resources they duke it out for male attention? 
Whatever the case, the women are ready. They both seem cautiously optimistic about being co-leads and are just happy to not be doing this alone. They also seem to both hate men. I love that energy for them. At one point Gabby says that she has her guard up, and that after everything with Clayton, men have earned the right not to be trusted. I have never liked her more. She sounds like a soothsayer in that moment, and I briefly wonder what "men have earned the right not to be trusted" would look like in sanskrit as a tattoo…

I do think that Gabby and Rachel should lower their expectations for the evening. Right now it's all champagne and body glitter and "let's meet these idiots who aren't good enough for us!" but, like, eventually they have to date one of those idiots… so.
They meet up with new Bachelorette host Jesse Palmer, who again emphasizes that he has no idea how this will work. It's not in his pay grade, okay. He's like "how can the guys date two of you at once??" and, you know, I think they'll be just fine, buddy. In fact, I think that's sort of their whole area of expertise prior to this show. 
If Gabby and Rachel seem uncomfortable with the format, it's nothing compared to the men's reactions. Don't get me wrong. They're used to a two-on-one dynamic. They just aren't used to the two knowing they're dating the same one.
Their discomfort is apparent during the limo entrances portion of the evening. One guy pulls out noise canceling headphones so he can speak to each Bachelorette privately while in front of each other. Another guy calls Gabby by Rachel's name and then looks as if he wishes the ground would open up and swallow him whole. The 25-year-old life coach (that descriptor is an oxymoron… what life have you lived enough to be able to coach it??) panics so badly he blurts out that he hasn't had sex in over a year and the girls look at him pityingly.
If this is an indicator of what's to come this season, then I worry for the fate of our Bachelorettes…
The First Impressions
As the men descend on the premises like locusts, I remain unimpressed by them. Where is the—and I say this in my best Abby Lee Miller voice—star power this season?? And MY GOD the gimmicks. How many gimmicks can we fit into one evening? The limit does not exist. There's Roby the magician, whose sleight of hand tricks begin with pulling a rabbit out of a hat and end with knowing where to locate the clitoris. Then we've got Jacob, who shows up glistening and shirtless and riding a horse. He would definitely fuck your aunt at Thanksgiving. He cannot be trusted. There are a set of twins and a guy named Erich, whose spelling of his name is, in itself, a gimmick. 
THE MEN: *breathe*
ME: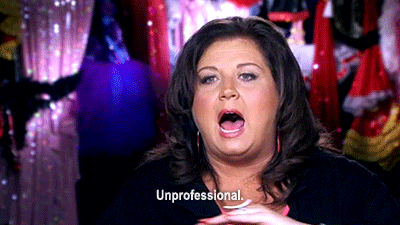 It's not until an hour into the episode that the men stop arriving and Jesse Palmer finally deigns to tell us the rules of this circus. Yes, both women will give out roses during the rose ceremony. Yes, there will be two first impression roses. No, he will not be taking any followup questions. 
At first, I was grateful for the limo shenanigans to be over. I can only mumble "Jesus fucking Christ" so many times under my breath before my dog will leave the room. But then, when Gabby and Rachel decided to Mary-Kate and Ashley the cocktail party, I knew this night was taking a turn for the worse. They start selecting guys to chat with privately together, and this can't possibly be how the producers envisioned the show going. There is nothing flirty or romantic about this set-up. In fact, it's giving me PTSD flashbacks to the one time Victoria's Secret made me do a group interview in the mall food court for their register girl position. 
The madness doesn't end even when they bring in the twins. Now it's a weird double date in which two of the hottest girls in Bachelor Nation are being courted by The Suite Life of Zach and Cody. But it's apparent this format is really not going to work when Rachel asks the guys what their hobbies are, and Gabby asks them if they can read each other's minds. 

They just don't date the same—and that's fine! They don't have to. They aren't twins whose only difference is an errant freckle! They're allowed to have different communication styles, different turn ons, different things that give them the ick.
Because of this, they decide that if they're ever going to make out with one of these idiots then they need to divide and conquer. Though ABC does their best to follow their two journeys, something gets lost in translation for me. I don't see any true connections in the making. There's just not enough time to develop those conversations with ABC constantly panning between the two of them. That said, the women seem excited about a few guys:
Gabby's Guys
Ryan –

Ryan is a real estate agent from Boston whose entire personality is a Boston bit. I can't decide if his saying "Gabbers, shut it" is cute

or if it makes me want to get out my Urban Outfitters book of basic bitchcraft and place an ill-wish curse on his beloved Red Sox.

Only time will tell with this guy…

Jacob –

That boy has the most erect nipples I've ever seen in my life. Him and Gabby end up spread out over a bear-skin rug as he pretends to be self-conscious and Gabby pretends to be making a strong connection with anything other than his abs. 

Erich –

I hate Erich already for bastardizing the spelling of a perfectly normal name. Gabby shares none of my pain points. She makes out with him instead. 

Mario –

Mario was the first guy to ask Gabby about Clayton in a way that didn't feel overly hostile or gimmicky. He genuinely seemed interested in Gabby's experience dating on the show and the ways he could connect with her despite that experience. Take notes, boys: asking questions about another human being actually works! Not only does he snag the first kiss of the evening, but he also gets Gabby's first impression rose.
Rachel's Guys
Hayden –

Hayden gives Rachel a belated birthday card and she acts as if he reconstructed one of the seven wonders of the world. Let's open the card and get a look at that message. I worry it says something like "in dog years you'd be dead… happy birthday!" and she's trying to save face for the cameras. 

Aven –

MY GOD THIS MAN. When he walked out of the limo I felt a surge of white-hot jealousy, the likes of which have not been seen since Grocery Store Joe debuted on my television screen. Aven is by far the hottest guy this season. Can't wait to watch him ruin that for me by displaying a personality!

Tino –

Tino wants to christen the stairs with Rachel. He says he wants to make "new memories" in a traumatic space, but they end up dry humping horizontally instead. New memories, indeed. But it works! Rachel gives him her first impression rose. She says that she really enjoyed their conversation—and I agree with her. She got an excellent demonstration of his oral skills… 
RACHEL: I loved our conversation
THE CONVERSATION: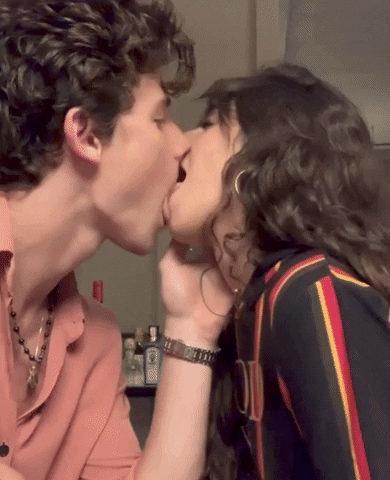 It's interesting watching Rachel and Gabby talk through their connections with each other. They aren't friends, exactly—more like two strangers who have trauma-bonded in a long-term hostage situation, and yet they seem eerily giddy about dating the same pool of men. Neither of them comment on the same guys, and I wonder if that's intentional. For example, Erich had good conversations with both of them and neither of them mentioned that to each other. Of course, this is just the first night of many. If this were a horror movie they would still be innocently preening in front of a mirror as the serial killer lurked outside their window. I'll save my judgment for the second act…
The Rose Ceremony
As I've mentioned before, there are no rules this season! ABC spent three months listening to the fandom question how such a format could possibly work, and their answer was essentially to let go and let God. Bible, that is the worst idea I've ever heard.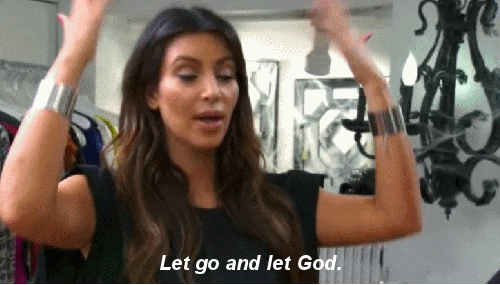 Gabby and Rachel want to talk privately with Roby the Magician and the twins. They very casually tell them to gtfo and that their journey is over. I love that they're dumping people in little groups instead of during the traditional rose ceremony. It's bringing me back to that time in Miami where I got booted from a private table for crying too much and "killing the vibe." We've all been there, boys!
They tell everyone else that they're canceling the rest of the rose ceremony and that everyone gets to stay. This is absolute anarchy. I'm telling you, the Titanic had more structure than this rose ceremony does right now. And we know how well that worked out…
Until next week, betches! Xoxo.
Images: ABC/Craig Sjodin; Giphy (5)
The Best 'Bachelorette' Recap You'll Ever Read: Blink Twice If You Need Help, Brendan
Well, everybody, we've made it to the final week of The Bachelorette. In keeping with the "unprecedented times", ABC is breaking protocol and giving us fantasy suites and the finale in the same week. I'd like to think this is a gift to us for having to put up with Clare's therapy sessions masquerading as dates, but we know better: they have to keep things moving in time for the premiere of Matt's season. I'll be filling in for my esteemed colleague Ryanne this week, so please be gentle in the comments. Let's get to it!
We begin with Tayshia discussing the importance of the fantasy suite dates and her confidence in the final three. We then cut to Ivan, Brendan, and Zac being forced to sit together and allude to their potential future as eskimo brothers. It's awkward AF and will be a running theme throughout the episode. Meanwhile, Tayshia has a forced Bachelorette synergy "girl chat" with JoJo. They're really trying to make JoJo happen, huh? Despite Ed's notes, Chris Harrison continues his practice of barging in on the men without even a courtesy knock. This time he tells them that they better be prepared to get down on one knee and propose.
Chris: If you're not ready for an engagement, GTFO!
Brendan: 

And so begins Brendan's mental spiral.
To my surprise, Ivan gets the first fantasy suite date. I personally love Ivan. He's far and away my favorite of the three men, but he's too pure for Tayshia and, arguably, this world. However, he tells us he did The Secret and manifested the first date. You go, Glen Coco Ivan! Zac is visibly pissed and Brendan looks like someone told him that it's now a federal offense to wear turtlenecks. Zac reminds us that regardless of the men's feelings about the other men, this is about Tayshia. Finally, a man who understands the concept of The Bachelorette!
Ivan's Date

Just watching the way that Tayshia interacts with Ivan, it's clear that he's not the frontrunner in her mind. As if the lukewarm peck she gave him weren't proof enough, we find out that their date is a f*cking ice bath. Now if that's not a metaphor for her feelings for Ivan, I don't know what is. "Are you excited?" she asks, with that pseudo British inflection she adopts when asking questions. Ivan smiles through the pain. This is the most unromantic concept for a date that I can possibly think of, especially one that's designed to precede sex. The shrinkage alone! Rude, Tayshia. Rude. Even Big Paulie, who according to Chris Harrison is a "Bachelor Nation favorite" (sure, Jan), deems the effects of this date on Ivan's prospects later on "devastating". Slapping a potential "world record" on this turd of a date isn't fooling anyone, Tayshia! You may as well have had an intern spray paint a football field on some cardboard with "Friend Zone" at either end.
Meanwhile, back at the house:
Brendan:

Zac seems to be handling things a little better. He gets the second date card and gives us his best Matthew McConaughey.
During the evening portion of Ivan's date, he tells Tayshia he's falling in love with her. She says she's been falling for him too, but I'm just not feeling the sparks between these two. Their conversation doesn't have much substance and basically consists of them parroting things back to each other. "I cried in front of you!" "I cried in front of you!" Apparently this is enough to take things to the fantasy suite, which in this case is an Airstream trailer that inside looks like it was designed by 2009 me after winning an Urban Outfitters shopping spree. I love a boho-chic moment, but this is not the mood for fantasy suites. This looks like it would be better for a Real Housewives girls' trip (OC, obv). Apparently it had the desired effect, though, because they stayed up all night talking, according to Ivan. I don't get the feeling they had sex. Maybe a little over-the-pants action, but nothing more.
Ivan returns to the house and recaps the date. Unsurprisingly, Zac and Brendan look pissed. Brendan, clearly a masochist, asks if they got any sleep. Don't ask questions you don't want the answer to, Brendan! Ivan is apparently an emotional cutter as well because a producer told him to ask he asks what Zac's date card said. Yikes.
Zac's Date

The vibe on this date is completely different than the date with Ivan. Tayshia is straight-up giddy. The feeling is mutual for Zac and he tells us no less than 14 times that he can't wait to EXPLORE Tayshia. Vom. That's exactly what the guy you go on one Hinge date with tells you right before he never calls you again. Their date is body painting, which may as well be the polar (see what I did there) opposite of Ivan's date. This date is essentially foreplay with colors. They slap on some paint and proceed to aggressively make out in front of the camera crew. Do they have no shame??
During the evening portion, they get into deeper topics, specifically, Zac's stance on having kids. Zac says he realizes now that he does want to be a dad and he then proceeds to tell Tayshia that he loves her. The moment was really genuine, so much so that it moves Tayshia to tears and she says she loves him back. I can't even be snarky, it was a lovely moment. This is what happens when you put age-appropriate men on this show!
They move on to the fantasy suite, and the set-up alone is another personal affront to Ivan. Zac and Tayshia get a whole-ass suite that looks much nicer than the "El Presidente" suite Tayshia's been living in all season. The unmitigated gall of these producers to do Ivan so dirty!
Ivan watching this back:

The next morning, Tayshia and Zac are jumping on the bed like two toddlers hopped up on pixie sticks. Interestingly, Tayshia says in a confessional that Brendan has had her heart since day one. This should be interesting given Brendan's sheer terror all episode. Zac returns to the house with a sh*t-eating grin on his face. Ivan remains mostly calm. Brendan looks…constipated.
Brendan's Date

Brendan tells us that he's worried about the prospect of getting engaged again so quickly after getting divorced. Brendan clearly didn't get the memo on not telling producers about your biggest fears, lest they be exploited to the high heavens, and so his fate is sealed. The date is hosted by F*CKING NEIL LANE! Neil, apparently pissed he had to cobble together a ring for Clare with barely 24 hours' notice, negotiated some more airtime for his tacky wares and so we need to endure this product placement we're calling a "date". A date like this would be torture for just about any straight male who's been dating a woman for a matter of weeks, but for Brendan, it is hell on earth, and it shows.
Neil keeps telling Brendan not to get nervous, then proceeds to talk endlessly about engagements and weddings. As if this wasn't anxiety-producing enough, they then FORCE BRENDAN TO TRY ON WEDDING BANDS! I swear his hands were shaking. These producers are laying it on thick. They've even got Neil Lane waxing poetic about how rings are circular (no sh*t) and that marriage is FOREVER, as if Brendan, who has been married before, doesn't already know this. Is Robert De Niro going to pop out and tell Brendan he's been admitted into Tayshia's circle of trust, too?
This date is messy AF. I guess this is one way to test his appetite for a proposal at the end.
Brendan:

The night portion of the date doesn't get any better. Unfortunately, Tayshia saved her best dress for this date. Brendan is…wearing a black T-shirt. Not a good sign. Tayshia brings up Brendan's distance and he admits he's been struggling with the idea of an engagement. He confesses that he's still broken. It was raw and honestly heartbreaking. Tayshia doesn't put up a fight and sends him home. She says he's the one she pictured herself with at the end. I'm sure whoever she chooses will be thrilled to watch that back.
Tayshia and Rachel

We get a surprise appearance from Rachel, who looks stunning. As happy as I was to see Rachel again, I didn't really understand why she was there. The conversation was pretty superficial at the beginning, until Rachel asks Tayshia about any regrets she might have. Then it became very clear why she was invited: to create an opening to talk about Ben, who is obviously going to pull a Bennett and come back to ask for another chance. To which I say:

The Rose Ceremony Ben's Mea Culpa
The men are getting ready for the rose ceremony and Ivan's look here was giving me major Drake vibes. I'm not mad about it. We then see a shot from the waist down of some bulging thighs in capri pants making their way up the path of the La Quinta, and it's immediately clear that Ben has returned. He tells Chris Harrison that he shuts down when things are tough and he wants to resolve things with Tayshia.
Tayshia, meanwhile, has two roses left, and to symbolize this she has brought the girls out for the night. She looks gorgeous and is feeling good about her final two, so of course Ben has to swoop in and f*ck it all up! He knocks on Tayshia's door and she looks THRILLED to see him. He confesses his love for her, admits that he blew it in the moment, and tells her he sees a life with her. Tayshia's immediate response is to freak the f*ck out and run to her producer. Not a great sign, buddy! All I know is if she cuts Ivan for this clown I will have ABC's head continue to loyally watch this train wreck. See you tomorrow!
Images: ABC/Craig Sjodin; Giphy (3)
The Betches' Bachelorette Guide To Savannah
Planning sucks, and bachelorette parties are a ton of work. So we're taking all the guesswork out of planning a bachelorette party by breaking down top bachelorette destinations. Our guides will tell you where to stay, eat, party, how to get around, and give you a sample itinerary that you can follow. You're welcome.
Cool kids will know Savannah from the oh-so-famous Midnight In The Garden Of Good And Evil book and film. This southern port city is a little #dirtier than Charleston and a little fancier than New Orleans. It's the perfect mix of genteel and honky-tonk. If you don't know what those words mean, it's probably for the best.
This magical spot in Georgia has hospitality, heat, hipsters, and h…amazing food. There are quite a few bachelorette parties passing through here, but it's for a reason, obviously. Savannah is the spot to consider for your bride tribe trip.
How To Get There
Savannah is an easy drive from southern cities like Charlotte, Raleigh, Atlanta, Knoxville, and Charleston, so if you're close to any of those areas, hop in the car, make a Spotify playlist, and set your Google Maps to Savannah (and pray it doesn't get you lost).
The rest of us losers can grab a flight to Savannah Hilton Head International Airport, which has direct flights to Dallas, Houston, DC, NYC, Miami, Charlotte, Chicago, Philly, and a handful of other cities.
Roundtrip nonstop flights from major airports in NYC and most of the east coast start at around $200, and flights from Chicago or elsewhere in the Midwest are priced about double. Dallas and deep South travelers are looking at around $350, and West coast people can snag a flight for about $500.
Once you get to the airport in Savannah, you can grab an Uber or Lyft to bring you to the center of Savannah, where I assume you're ready to throw your sh*t down in your weekend abode. Speaking of…
Where To Stay
Savannah is kind of a sprawling southern city, as in there are a ton of different kinds of places to stay. There are quite a few bed and breakfast options, but since the houses are small and kind of fancy, they may not be the best option for a loud group of blackout bitches. If you're more of the mind that a hotel is where it's at, the Perry Lane Hotel is super trendy, boutique, and has an amazing rooftop bar so you can get an obnoxious Insta to kick off the weekend. Andaz Savannah is another great option in the historic district, and there's also Moon River Brewing Company, which is allegedly haunted, if you're into spooky sh*t.
Bohemian Hotel Savannah Riverfront and The Cotton Sail Hotel Savannah are great options too, since they're right on the river, which is where you can walk around, and great food is literally everywhere. Plus, Savannah, like New Orleans, does not have open container laws, so you can walk around with your drinks worry-free. It's a stellar area to stumble on cobblestones like old-timey drunks. This is the epitome of culture, guys.
There are also, of course, lots of Airbnbs, so pick whichever better suits your party's needs. Pro tip: stay in or around the River Street and historic area, as it makes for the easiest walking and the easiest drinking.
How To Get Around
It kind of goes without saying, but Uber is going to be your bestie if you aren't walking in Savannah. If you stay mostly around the riverfront and historic areas, walking to restaurants and bars is totally doable without the help of a ride service. If you want to venture over to SCAD for #art or walk around Forsyth Park, though, you may want to split a car.
The ferry also runs pretty constantly across the river if you want to see what that's all about, but if you need a legit beach day at Tybee Island, you'll need to drive about 30 minutes. Honestly, you can probs do without it; there's plenty to do in and around the city without having to go a half hour out of your way (though if you find yourself back in the Savannah area, you should def make the trip to Tybee Island).
Where To Eat
Well, it's Savannah, so there better be fried chicken, mac and cheese, and a whole lotta sweet tea. You'll also need biscuits and gravy to soak up all the alcohol.
Speaking of binge drinking, though, before you get to eating, you'll need to make a very important stop at Wet Willie's. This place boasts slushies that contain a lot A LOT of alcohol and, yes, it's a chain, but this is a chain we can respect for its commitment to getting you f*cked up. When I went to Savannah for my own bachelorette party, I remember one and a half slushies, and then a whole lot of nothing. Apparently, I was so hopped up on booze and sugar that I went to the historic square, made friends with a horse, crashed a mead tasting, booted, rallied, then did a FaceTime striptease for my then fiancé (with two of his three sisters in the room). Pro tip: If you get to Wet Willie's and order the infamous "Call A Cab", don't drink anything else for AT LEAST 20 minutes.
After you destroy your body with booze, there are a few amazing restaurants perfect for a fancy night. Stop by Sorry Charlie's Oyster Bar for champagne and fresh oysters before dinner, but get there on the early side unless you want to wait. Once you're ready to really eat, there are tons of amazing food options around the city. The Grey has been lauded by numerous mags for its imaginative take on southern soul food. Helmed by Chef Mashama Bailey and housed in an old Greyhound bus station, it's amazing. Pro tip: don't miss anything starting with the words "fried" or "smothered".
View this post on Instagram
The Olde Pink House is another southern food staple, and I had some of the best fried chicken of my life there. That's saying something because at the time, I was recovering from vomiting for two hours and having to be hosed off by my bridesmaids #noregrets. Not in the mood for chicken? Get anything that has the locally-caught shrimp.
View this post on Instagram
Mrs. Wilkes Dining Room is another southern spot (worth the lines) where you can dine more family style. And if you're just f*cking over southern food by the end of the weekend, get some tacos at Bull Street Taco or pizza at Vinnie Van GoGo's.
When brunch calls (which it inevitably will), my fav options included Clary's Cafe, where you NEED to get the pecan sticky bun on the side of your Hoppel Poppel—a terrible name for a scramble of eggs, salami, potatoes, onions, and peppers, served with a bagel and cream cheese. Don't make that face—it's EXACTLY what you need before a day of drinking. Honorable brunch mentions also go to The Public Kitchen & Bar (get their breakfast sandwich and/or the shrimp and grits) and Back In The Day Bakery, which is a little far for brunch, but is a great option for car ride biscuits on your way out of town.
What To Do
During the day, walking and exploring the city are kind of the name of the game in Savannah. There are tons of public parks and green spaces, so the city is a great choice if your favorite thing to do is drinking and wandering aimlessly. Aside from that, there are a few cute spots to stop by. Walk to the house of Juliette Gordon Low, who founded The Girl Scouts and is responsible for their many delicious cookies. Pour one out for that homie. You can also walk through Forsyth Park, which hosts a gorgeous fountain and many, many Insta opportunities. Oh, and don't forget that Savannah allows open containers throughout the city, so sitting in a park with bottles of wine is totally allowed. It's just like Europe, guys!
View this post on Instagram
You can also stroll over to City Market, where you'll find everything from food to souvenirs to booze. There are also quite a few bars in the area so you can stop and drink if you aren't already. This is where the aforementioned Wet Willie's sits… just saying. The market is spread out over four blocks and is close to River Street, so it's also a good option if you're looking for a way to kill time or bar hop before dinner.
Another stroll-friendly area is River Street, which has tons of shops, bars, and restaurants on one side and the Savannah River on the other. You can waste a ton of time here, so if drunk shopping is a sport to you, consider this your Olympic field.
If you're interested in a beach stop, head to Tybee Island, as I mentioned, about 20-30 minutes away. There's not a ton to do aside from the beach and a few little bars and shops, though, so pack a picnic (i.e. a lot of booze and snacks), then plan on how you'll get back to Savannah.
Where To Drink
My first choice hands down, is the Savannah Smiles Dueling Pianos. I don't have a legitimate answer as to why, except that we went here during my bachelorette and had an absolutely amazing and hilarious time. Rocks on the Roof is another great option, especially if you want food while you drink. Their small plates are delightful. Both the piano bar and Rocks are on River Street, too, so you can just pop from one to the other.
View this post on Instagram
During the day, stop somewhere like Churchill's or Six Pence Pub. Both are British-owned with tons of beer, fun decor, and an opportunity for you to try out your British accent. I'm sure everyone will love it and they've neeeever heard anyone on a bachelorette do that before.
If you're looking for a club-type atmosphere, you need to (sigh) go to Saddle Bags. The food is fried and pretty terrible, but there's a dance floor where you can embarrass yourself, cheap drinks, and a mechanical bull. Tree House Savannah is also really loud, has questionable decor, and live music.
Friday, Day 1
Land at Savannah International Airport, question your decision to eat that Cinn-a-Bon this morning
Arrive at the hotel/Airbnb and unpack before heading to River Street for drinks at Rocks on the Roof and Bernie's Oyster House.
Dinner at The Shrimp Factory where you can take a lot of really obnoxious photos, since you're riverside, and order literally all of the appetizers.
Walk to any of the bars lining River Street and drink your weight in shots (but don't actually, cause you'll die).
Sleep in preparation for tomorrow and try not to puke up all the seafood you ate.
Saturday, Day 2
Hey Y'ALL.
Brunch at The Collins Quarter where you'll pretend to share Drunken Berry Mimosas, avocado toast, and a lot of their Swine Time Bennes.
Stumble to City Market, where you can shop around, act fancy, and hit up some adorable shopping. Bonus points if you stop at Wet Willie's during this time.
Time for lunch and afternoon drinks at The Lady & Sons, where you can put on your best Paula Deen impression and eat a f*ckton of butter.
Head back to the hotel/Airbnb to get ready for a your fancy dinner at The Grey, where you'll all wear black dresses and the bride wears a white dress and sash and everyone will think you're extra.
It's booze-thirty! Take an Uber to River Street and make sure to hit Saddle Bags and Savannah Smiles Dueling Pianos.
Stumble back to the hotel/Airbnb and get ready for tomorrow's hangover. This is 30.
Sunday, Day 3
Brunch at Clary's Cafe where you pray that the sticky pecan roll will soak up the evil in your body while you dry heave into a paper bag.
Head back to the hotel/Airbnb to pack and trek to the airport while being very quiet and wearing very big sunglasses.
Call out sick from work tomorrow. You're gonna need a day (or three) to recover. And be sure y'all come back now, y'hear?
Images: Ashley Knedler / Unsplash; atnelly, bohemiansavannah, kc_i.heart.nc, thegreysavannah, theoldepinkhouse, lifesickles, hermannelizabeth / Instagram
For more, subscribe to our NEW Betches Brides newsletter
ABC Is Choosing To Be Boring With The New Bachelor
After weeks of speculation, ABC revealed last night on the season finale of Bachelor in Paradise that Peter Weber, the lovable pilot from Hannah B.'s season of The Bachelorette, will be the new Bachelor. My reaction resembled that of my parents when I failed my driver's test by backing into a pole while parallel parking in my instructor's car: not mad, just bewildered disappointed. After shocking many loyal viewers by choosing Hannah as the Bachelorette, I was hoping the bigwigs at ABC would pull something similar with this year's Bachelor. Unfortunately, they can't seem to quit their addiction to mediocre men and went with the safe choice, once again shying away from a lead that might spike controversy or (heaven forbid) a cultural conversation.
He's Slightly Sketchy

Peter caught some flak this summer when it was revealed by his ex-girlfriend that he dumped her shortly before Christmas, presumably because he found out that he'd been cast as a contestant on The Bachelorette. Opinions differ as to whether the show had anything to do with the breakup, but Peter himself has insisted that his casting occurred months after he parted ways with his ex. Even if we suspend all disbelief and take him at his word, his characterization of the breakup in the People interview is not consistent with the one he gave us on The Bachelorette, particularly during his hometown date, where his parents and brother recounted his most recent heartbreak in a way that gave me Blake-crying-on-his-mommy's-shoulder vibes. While breakups are usually sad for both parties, the dumper does not usually come away disillusioned at the prospect of finding someone to love again, hence the dumping. We can all agree that Peter's transgressions pale in comparison to those of dog food jingle lyricist Jed, but he's not quite the wounded bird he'd like us to think he is either.
He's Safe

One important detail Chris Harrison forgot to announce last night when naming Peter as the Bachelor is that he's already been The Bachelor. It was four years ago, his hair was darker, and his name was Ben Higgins. In all seriousness, it's pretty clear that ABC is trying to recreate the ratings magic they had with nice guy Ben by bringing in a shiny new version. To be fair, there is nothing objectively wrong with either Ben or Peter. They're both mild-mannered, sensitive and steadfast guys. The problem is that their best qualities are the same ones that come to mind when looking to purchase a family minivan. While comfort, reliability and safety are wonderful, I'm not really attracted to a Chrysler Pacifica. In light of recent events I knew we wouldn't get my first choice Tyler, but I still can't help but feel that ABC isn't sending their best. We need a man with an edge and/or some undeniable sex appeal, and someone that still lives at home with his parents isn't it, no matter how many condoms he has in his center console.
He's (Yet Another) White Guy
It's no secret that the Bachelor franchise has a race problem, but it's a fact that bears repeating. In the more than 17 (!) years that this sh*tshow has been in the cultural zeitgeist, we have had one black female lead and no black male lead. It's. Time. One could argue that we've had several great candidates in years past, especially when we see what passes muster to lead this dumpster fire year after year, but it's pretty hard to deny that Mike Johnson from this year's season of The Bachelorette would have been an excellent choice. Kind, charming, successful, smart and handsome, Mike was and is the full package (and Demi Lovato agrees, so don't @ me). For all those who say he was "boring" on Bachelor in Paradise, kindly refer to my previous paragraph.
Even if Mike was boring on Paradise, I'm not totally convinced that his brief stint on the spin-off was the right litmus test. Mike doesn't really exude f*ckboy like the Deans and Blakes of the franchise, so it's possible he simply was not in his element arriving late into a situation where no one but the most boring and phony people were left (you know who you are). It's true that ABC seriously botched the season with its first black Bachelorette, Rachel Lindsay, but refusing to engage in the issue at all kills any hope for future progress in dealing with race competently and compassionately. If they can handle a same-sex couple with grace, can't they work towards doing the same with its contestants of color?

By choosing Peter, the franchise is making a conscious choice to remain stale. It's not the wisest move for a show that's been airing for so long that nearly every contestant has learned the rules and is out for fame. If ABC can't find a dynamic and compelling lead from its usual crop of last year's rejects, why not flush the format and let art imitate life by casting an actual celebrity? Not only do we reclaim the premise of an aspirational lead that the show was founded on, the contestants' famewhoring can be repurposed and encouraged as a key element of the entertainment instead of an undesirable byproduct that must not be acknowledged. Until ABC hires me to consult on strategy (call me!), all I can do is hope to be pleasantly surprised with Peter, like I was with Hannah. I'm going to give him the benefit of the doubt and watch, but if I see even the shadow of a windmill, I'm out.
Images: ABC; Giphy (3)