Mike Johnson Speaks Out About Demi Lovato & Not Being The Bachelor
While a lot of us (Sweetest Betch You'll Ever Meet and It's Britney, Betch) are saying a prayer of thanks that Mike Fleiss has finally granted us reprieve from six hours of reality television every week, others (me, Brett Vergara) are still reeling from the revelation that Peter will be the next Bachelor. Now, don't get me wrong, on any other season, Peter would have been a great choice. I'm glad they didn't pull some bullsh*t and revive some random dude from the dead (or, in Bachelor terms, five years ago). And, to be clear, Peter is a fine choice for Bachelor. He made it to the top three on Hannah's season, and he seems like a perfectly nice guy. But notice the lack of enthusiasm here? That's because I, like many people, were hoping against all hope that this would be the year that ABC would finally do something different. That they'd choose a Bachelor who wasn't the human incarnation of mayonnaise on Wonder Bread. And this time, it actually seemed likely! I was fighting a losing battle last year, hoping they'd choose Wills for Bachelor. But this year, we had Mike Johnson. We had Mike's smile. We had Mike calling women queens. It seemed that our dreams of having a diverse Bachelor may finally become reality. And then they didn't. Now, Mike Johnson is finally speaking out about getting passed over for the Bachelor gig, on Bachelor Happy Hour with Rachel & Ali, Rachel Lindsay and Ali Fedotowsky's podcast.
Rachel first asks Mike if he was, in fact, in talks to be the next Bachelor, or if we all just wildly projected. He answered, "I was 100% in talks to be the next Bachelor." So that settles that—ABC was considering switching it up, and ultimately decided not to. I think I speak for all of us when I say: Y tho???
He added, "people probably didn't think I was considered to be the Bachelor because I was trying to be so respectful of the crew at Bachelor world and I didn't want to speak about it." He then explained that Peter didn't do interviews after The Bachelorette, so he didn't have to answer questions about being the next Bachelor all the time. Mike then goes on to say that he definitely wanted the gig. "I 100% wanted to be the Bachelor," he said. "Reasons being: One, I do want to find a wife. Two, it was bigger than me and I wanted to represent for all people of color. And then, also, talking about people of color, they need to have an Asian Bachelor, they need to have an Indian Bachelor. They need to have other people outside of just black and white. And so I want to speak on that as well." Ugh, I stan a woke king. Remind me why they didn't choose this guy again?! This is a crime against humanity.
So Mike affirms that he definitely did audition to be the Bachelor, and he wanted it, but he ultimately wasn't chosen. And he kind of found out in the crappiest way possible: on TV, like the rest of us. "I found out in the trailers, before you do on the Bachelor in Paradise reunion," he said. Damn, they couldn't have given him a phone call? He admitted, "When I first found out, I'm not gonna lie, I was sad. I was annoyed when I very first found out. But then by the end of the night, I wasn't annoyed no more because I was appreciative and thankful that they told me no right then and there because now I could focus on myself and I'm just blessed because I know I'm gonna find my wife and find my claim." Well, that's a lot more graceful than I would be. Personally I would have probably followed through on my many threats to burn down ABC. One of these days, I'm going to do it for real!!
Obviously, Mike had some opinions on why they chose Peter instead—but they are annoyingly vague. He said, "ultimately, it just came down to, they chose the right person for what they want." WHAT DOES THAT MEAN?? Is "what they want" to placate middle America types who can't handle seeing a non-white person on their television? Please, I need more information.
But we all know now that you can't always get what you want (if what you want is diversity in Bachelor Nation). And now it doesn't really matter, because Mike is seeing Demi Lovato. And of course Rachel asked about it (doing the Lord's work). He admitted he and Demi have met in person "more than one time". What does that mean!! Stop being coy! The people demand it.
He gushed over Demi, saying, "I think she's amazing. She's incredibly humble." He added, "When Demi and I are together, it's laughter and we talk about real sh*t. Like, she's a down-to-earth woman and I respect it so much. And she's just a really humble, really cool, really fun, down-to-earth person."
Cool, cool, cool. I don't know why I'm crying in the club at my desk right now. Next, Rachel asked what we've all been thinking ever since Mike posted that thirsty comment on Demi's Insta: "What is the status of your relationship with Demi Lovato?" Here's what Mike said:
"My status of the relationship with Demi and I are that we are two people exploring each other."
Oooookayyyy, seriously? "Two people exploring each other" sounds like what you'd say about the person who taught you how to give a blow job as a teenager at summer camp. But, okay fine, it makes sense that Mike wouldn't say he and Demi dating or anything, considering it's been, like, two weeks since they have been in contact (that we know of).
SO this interview basically reaffirmed to me that Mike would have been a great Bachelor, but that we do not deserve him. And Peter will be cool I guess. It could have been worse—they could have chosen Blake. Listen to the full interview with Mike Johnson here.
ABC Is Trolling Colton So Hard With This 'Bachelor' Poster
It's only one month until ABC starts holding us all hostage with the flaming garbage that is the Bachelor franchise, and their newest Bachelor is already getting trolled. That's right. The trolling of Colton Underwood has begun, and it's not even from me. It's by his goddamn producer. So does that make me qualified for a job at ABC? Because I have over 3-5 years' worth of experience trolling their leads.
Last night, one of the producers on The Bachelor took it upon himself to copy and paste a crude rendering from my personal burn book blast TF out of Colton with this amazing Instagram post comparing Colton to The 40-Year-Old Virgin. An hour later, Judd Apatow posted it on his own account. Later, ABC then posted it on the official Bachelor Instagram at @bachelorabc. Behold the shade:
First of all, it shocks me that someone from ABC had enough personality to come up with this hilarious post. But I also find it offensive that they'd compare the ICONIC Steve Carrell to The Chargers' glorified water boy. Please.
Now, if you'll recall, this is funny because Colton is, as we all know because ABC won't stop beating it into our heads, still a virgin. Colton even went so far as to ask Chris Harrison which hole to put it in on live f*cking television. (I paraphrase.)

The moment Chris Harrison realized he would have to add, "sex-ed teacher" to his job title
So, like, way to be subtle, ABC. The best part? They kept the movie's tagline: "what does he have to lose?" Cause like, what does Colton have to lose? Certainly not his dignity! I think he lost that right around the time ABC started holding his family hostage in exchange for him letting Tia feel him up in Mexico.
A number of former contestants commented on the post because where there is a minor publicity stunt on IG, there is a Deanie Babies and Wells Adams ready to test my sanity with their thirsty comments. Normally my stance concerning Dean is to ignore anything he says. Unless it's "Kristina, I'm sorry I gave you a reason to think that a Russian orphanage was better than breathing the same air as my trifling ass" but I saw that he responded to Wells' comment. And it was actually pretty interesting. The exchange goes as such:
@wellsadams: At first I thought this was photoshopped. I'm proud of you for making it happen.

@deanie_babies: @wellsadams I thought the same thing
I'm sorry. It's NOT photoshopped? I have so many questions. Colton willingly did this photoshoot? This is real??  Are we human? Or are we dancer?
Colton does realize the end goal is to get some unsuspecting future SugarBearHair model to actually want to bang him, right? Because right now I have a feeling all of his contestants are picturing a fantasy suite that involves sweaty hands and a producer stepping in to show him how the bra clasp works. Good luck, girls!
Well, kids, guess we'll have to wait until January to see if ABC makes the first 10 minutes of Colton's season a remake of the best scenes from The 40-Year-Old Virgin. Should make me want to start the new year by jumping off a bridge be lit!
Images: @billdixonish/Instagram (1); ABC (1)
Bekah M. From 'The Bachelor' Is Pregnant
If you thought we'd finally stop writing about Bachelor gossip until at least January when Colton loses his virginity the new season of The Bachelor airs, think again, people, because this just in: Bekah M. is pregnant. It's been a wild week in Bachelor news. First we discovered that Jenna and Jordan's relationship might be fake, then Amanda Stanton was arrested in Las Vegas, and now our favorite baby prostitute is having a baby. They say the devil works hard, but, damnit, Mike Fleiss works harder.
Bekah confirmed the pregnancy (and also that I'm a goddamn psychic) on her Instagram story earlier this morning. If you'll recall, I had predicted way back in July that Bekah might be pregnant when she dropped out of Bachelor in Paradise at the last minute because she suddenly found "love." Lol as if that's a viable reason not to ruin your life on national television for our personal enjoyment. Please. And, look, I'm not saying I can see into the future or anything but I'm not not saying that you should let me read your palms for 20 bucks a pop. DM me for inquiries!

In an interview with PureWow, Bekah confirmed that she's expecting her first child with a man who looks suspiciously like Arie's double her boyfriend Grayson Leonard. Casual reminder that Bekah has only been dating said boyfriend for seven months. SEVEN MONTHS. I've literally had unanswered messages in my Hinge inbox for a longer period of time, but okay.
Apparently the couple found out they were going to be parents after only three months of dating, but Bekah knew it was right because it was "legitimately a dream come true." It's funny because my dreams at 23 were more about extending a blackout from 11am brunch to 1am at the club, but to each her own.
In the interview she also admits that the pregnancy played a part in her turning down Paradise (surprise, surprise!) because apparently motherhood is only sexy when the kid is only mentioned off-offhandedly on-screen. Got it. 
Bekah is due in January of 2019, which I'm sure is purely coincidental and not at all planned according to a Bachelor schedule. Seriously, don't expect her to schedule a c-section for the day after Colton's season airs, because that's just crazy and she would never do something like that!!
In all seriousness, we're v v happy for Bekah. I mean, it was only one year ago that this same girl was reported missing because she got too high and forgot to text her mom back. But, I mean, Mazel Tov! Ever happiness to you both!
IMAGES: Giphy (1); @purewow /Instagram (1)
Ben Higgins And Lauren Bushnell Broke Up
In a move nobody saw coming except all of us, Ben Higgins and Lauren Bushnell have broken up. It's time to hit up the group chat and collect your wagers, Bachelor Nation. The couple got engaged on March 14, 2016 and has broken up a year and two months later—almost to the day—on May 15, 2017 (a day that will live on in infamy). It's such an oddly specific date to break up, it's almost like Ben and Lauren were waiting for something? Like, the stipulations put forth on a signed piece of paper to expire, perhaps? Hmmm…
The couple announced their split to People this afternoon, saying, "It is with heavy hearts that we announce our decision to go our separate ways," adding, "We feel fortunate for the time we had together, and will remain friends with much love and respect for one another. We wish nothing but the best for each other, and ask for your support and understanding at this time."
Translation: We're just glad we can stop pretending to keep up this charade of a relationship. You will never know the real reason we broke up, so please don't @ us.
However, I don't think it's too hard to jump to conclusions make an educated guess about their breakup. If we learned anything from Ben And Lauren: Happily Ever After? it's that Lauren was pushing way too hard for that MRS (I'm a pusher, Ben. I'm a pusher). Meanwhile, Ben was growing more and more uncomfortable at the thought of marriage by the day—an odd choice considering he willingly entered a reality show where the ultimate goal is to get engaged. Also if Ben and Lauren's spin-off was accurate to real life, they spent more time hanging out with Grant, Lace, and the twins than they actually spent together. When you're voluntarily spending most of your time with two people who think being a twin is a full-time job and cannot boil water on their own, that kind of says a lot about your relationship.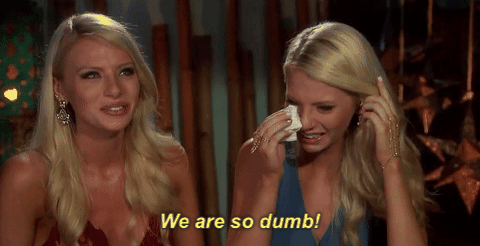 I'd also take a step further and add that Lauren was definitely still not over Ben telling Jojo he loved her on the Fantasy Suites date. I say this because she told People in October, "For a long time, I was really angry for being blindsided. And that resentment and anger affected our relationship much longer than it should have." Like, girl, get over it. You went on a show where the whole premise is that you're dating a guy who's also dating 29 other women. Earth to Matilda! I can imagine every fight Ben and Lauren had ending like:
Lauren: Well at least I didn't tell some other guy I loved him the night before proposing to you!
Ben: Oh my god, that was one time!

Now that a second season of a shitty reality show spin-off that nobody watched is no longer in the cards for them, it's tough to say what's next for Ben and Lauren. Ben could resume his failed political career. Lauren will probably launch an online wedding magazine so she can vicariously live out her dreams of being a bride. But who really knows. I never thought I'd say this, but are Jojo and Jordan the best/most legit Bachelor couple left? Man, 2017 is weird.
Chris Soules Is Trying To Get His Felony Charges Dropped
Chris Soules fans (do those exist?) can breathe a sigh of relief today, because he might not be quite as big of a dumbass as we previously thought. OK he still loses so, so many points for driving drunk and ultimately killing someone in an April accident, but the part about him fleeing the scene of the crime is now up for debate. Soules is trying to get his felony charge for leaving the scene of the accident dropped, because he says he actually stuck around and didn't bounce like a chicken-shit right after the accident. So, I guess, like, good for him on that matter? I mean, a literal human being is dead because of his actions but at least he (allegedly) tried to take some responsibility for that.
According to documents obtained by ABC News, Soules actually was the one to call 911 and stayed on the scene of the accident. Previous reports said he just hit a dude's tractor with a truck and then peaced, probably to seek emergency advice from Chris Harrison before making a final decision about whether or not to stick around. Soules' attorneys now allege that Chris stayed on the scene until emergency responders arrived, and then he went home. I assume to guzzle some water and try to seem less drunk.

There's even a 911 call to prove Soules tried to help this guy after the accident, which as far as evidence goes, seems pretty solid based off the countless hours I've spent watching crime documentaries on Netflix. No wonder Chris is so upset (beyond the fact that someone lost their life). I mean, I'd be pissed if I was actually sort of trying to do the right thing—after doing a really, really bad thing—and then a responding cop didn't happen to mention I at least made some sort of effort.
Soules has been super roasted by the media (#guilty) for fleeing the scene that he apparently didn't flee. How's that for fake news, huh? Does it change what happened? No. A man still died and that's very tragic. But at least I can go back to liking him more than I like Nick, which is still not very much at all.

Soules is currently out and about in Iowa (just picture that for a sec) on a $10,000 bond, but he's due back in court on Tuesday in what will certainly be, as Chris Harrison would say, a historic day for Bachelor Nation.
Corinne And Her Platinum Vagine Are "Most Likely" Going On 'Bachelor In Paradise'
As we have all known since she took her first sip of Champagne on The Bachelor, Corinne Olympios was literally made for Paradise. Like, I get that she was "in love" with Nick and all that, but I think it's safe to say that the world needs Corinne blacking out on an island in Mexico with 25 other hot singles more than it needs her in L.A. carrying Nick Viall's groceries. Well, we are all one step closer to making that happen. Corinne told E! News that she is "most likely" going to Paradise, adding she's "still not sure yet." Now, I think we all know that Corinne is absolutely a yes for BIP, she's just playing this whole thing out for as long as she can. Why? To get attention aka Corinne's oxygen. Without it, she would suffocate and die, and that would be a horrible day, not only for Bachelor Nation, but for the world.
"Most likely, yes. So not 100 percent locked in yet," were her exact words, which incidentally is what I say every Saturday night to my friends/myself/my dignity when asked if I'm going to go over to fuck see that guy I've been bitching about all week. So yeah, you can bet we'll be seeing her this season.
Meanwhile, Raven is out here like:
That's what we in the biz call a "Mexican Thirst Trap."
Just to catch you up on what Corinne (and, by extension, Raquel) have been up to ever since she straddled Nick in a bounce house and changed all of our lives, girl has been hustling. First, she's launching her own clothing line called Team Corn which features tanks and tees with sayings like "Okay, but first cheese pasta" and "Dude I need sushi" and, of course, "Platinum Vagine." I'd make fun of it if I wasn't low-key already on her website buying two of every color.
In addition to the Team Corn T-shirt line, Corinne is looking to expand her empire into swim and activewear, as well as starting her own podcast, where she'll presumably talk mad shit on other Bachelor contestants (Taylor) and give advice on how to treat your adult nanny. Corinne is also in a kind-of relationship, though she won't say with who (is it Chad?). All she's told us is that he lives in L.A. (seriously, Chad?), they've been "vibing really nicely," (please, let it be Chad) and she's known him for "a really long time." Honestly, as long as he's not also dating 25 other women, it's a step up from her last relationship. And seriously, if this "special someone" is what keeps Corinne from going to Mexico, then not only is he selfish, but he is keeping her from America in a time where we need her most.
Make America Corinne Again, fam!