A Bro's Breakdown Of Michelle's 'Bachelorette' Contestants
Hi, I'm Jared Freid. I'm a 36-year-old comedian who loves The Bachelor and The Bachelorette. I love them so much, I yell at every episode on my Instagram stories. As you can imagine, my parents are very proud. V.
This is my preview for the season. I've been doing this preview for both shows since before your favorite TikToker got their first dangly earring. I make massive assumptions about every contestant based on very little information. It's like sitting with me while wearing sweats and screaming "Yuck" at what people wore on the red carpet. Please enjoy and follow me on Instagram, where I'll be making fun of these crazies every Monday night (Matt James' season is in my highlights). And if that's not enough, I host a Bachelor Post-Game Show called "The Rose Rehash" on my YouTube channel. Let's have a fun season.
Michelle

Michelle Young is a 28-year-old kindergarten teacher from Minneapolis who is BELOVED by the audience. This is a bit of a change from the last few Bachelorettes. Clare had the "elder Bachelorette" branding that kind of forced the audience to say they loved her, Tayshia didn't have the run-up to the season because she just appeared after Clare left, and Katie divided the audience into "I like her because she's bold," "I don't buy it," and "SHE HAD A DILDO AND THE DEVIL WILL OWN HER SOUL FOREVER!!"
But Michelle is loved. Her lack of social media presence, the fact that they taped the show in her hometown to accommodate her teaching duties, and the laid back way she handled being on Matt's drama-filled season really speaks to them. Bachelor Nation loves a Hallmark movie character playing out in real life. Michelle is that. A former Division 1 basketball player becomes a kindergarten teacher in her hometown that isn't New York or LA?! That's basically Hallmark movie porn for Bachelor Nation. It hits all the senses for them. They might collectively slip off their chairs when they introduce her Tuesday night. They don't even need Katie's vibrator. I'm excited for Michelle. Let's see the crazies they're fixing her up with.
Alec

Alec is a 29-year-old from North Charleston who looks like if "I work in finance" were a face. He says that he learned about commitment after his first marriage ended, which is code word for "someone cheated". The women reading this will assume it was Alec, the men reading this will assume "Hey, everyone's got problems" and stay completely out of having an opinion. He says he's "not here to waste anyone's time" which is hilarious since he's going onto a reality show to compete with 29 other men for one woman. The literal meaning of waste of time. That's like saying "I'm here to lose weight" while eating chicken fingers because, "protein."
Brandon J

Brandon J is a 26-year-old traveling nurse recruiter from Portland, Oregon who says that he "once hopped on stage during a Lil Wayne and Drake concert." That's a cue for my exit. Imagine going to a concert with someone who thinks "hopping on stage" is a normal thing? You're like, "Where are you going?!" And they're like "I'm just feeling this song!! Drake and Lil Wayne will totally get it!" I'm not sure what would make me angrier, the fact that they were my ride home or that they did mushrooms without me.
Brandon K

Brandon K is a 29-year-old brand manager from Austin who looks like someone you'd avoid because he's going to tell you about a great craft beer. Brandon says that he "wants to make a real social impact within his community." Which is Austin/Tech-town-speak for "I've never worked at a charity but I like the idea of charity." People who work at a soup kitchen are like "WE NEED MORE SOUP AND NAPKINS!! I'M THERE TUESDAYS BY THE BACK DOOR!!" People who work in Silicon Valley or Austin know that they can make money off of sounding good and say stuff like "The social awareness of a millennial is at the heart of our impact of consciousness." And then you realize you have no idea what they're saying and you're tweeting a link that finds them new investors.
Bryan

Bryan is a 31-year-old NFL player from Chicago whose haircut was created by Pixar animation. This show should be all former professional athletes. They have the time. Their life is a constant struggle of figuring out if a woman is there "for the right reasons." The fact that non-athletes go on the show should tell you everything about the confidence of a man. A guy comes on this show and he meets Bryan with a seven year NFL career and about a million in the bank and he's staying thinking he's got a shot. He's like, "But she hasn't met me, the personal trainer whose mom says he's handsome!"
Casey

Casey is a 36-year-old advertising creative director from Miami whose bio says he has "outgrown the local dating scene where women care more about their Instagram stories than making meaningful connections." What garbage. No easier opinion than blaming the people who are obsessed with social media for you being single. You know what's NOT the answer to the social media driven dating problems of Miami?! A TV show about dating that happens to get you more of a social media following!!! Casey's bio also says that he is a closeted hippie but hates living in tents. Casey is a pretty good liar. He knows how to speak and sound a certain way. Everyone wants to say they're a hippie until they're sleeping under a hemp blanket. There's no such thing as a hippie who hates tents. Everyone has a hippie friend who they'd never live with because they'll be cool with a fridge that's somehow also the shower and a bed that you two would share.
Chris G

Chris G is a 28-year-old motivational speaker from Nova Scotia who wore a sweatshirt under a sport-coat to show that he's fun but serious. There isn't a worse look. What's his speech?! "How to look like a tech billionaire from the sale rack at Old Navy!" Just because Mark Zuckerberg exists doesn't make him a fashion icon. This outfit should be called, "My mom likes part of it and doesn't understand the rest even though she purchased every piece".
Chris S

Chris S says he "prides himself in falling in love with someone on the inside rather than the outside." Thats something that sounds good on a bio and not so good when you say it to your girlfriend while tipsy on a double date: "How'd we fall in love?? It was never her looks! No, no, no! It was her mind that I loved! I could've had way hotter women!! Trust me. I was on The Bachelorette! But look at her. It was never that face. It was her mind that I fell for!! Right honey?!" Then Chris spends the weekend masturbating on the couch.
Clayton

Clayton has already been cast as the next Bachelor, and is described in his bio as "a Missouri thoroughbred." This is one of those moments that shows how differently the audience consume the contestants on the show based on their gender. Like, I think it would sound very "icky" if the woman who was already cast as the next Bachelorette were to be described as a "San Diego breed-worthy, purebred with birthing hips."
Daniel

Daniel is a 26-year-old firefighter from Austin. That's got to be a weird town to be a firefighter. Like, you thought you'd be in Texas taking care of "Texas problems!" Instead, you show up to a burning house and someone wearing a Carmen San Diego khaki hat is crying and screaming on the front lawn. They tell you that they were burning sage and they tripped over their crystals and the sage flew right into their tapestry and now their pet squirrel named Sunset is trapped inside the house. Now Daniel is risking his life for a squirrel while an influencer is telling him that "this never happened when they lived in LA!"
Edward

Edward looks like the next door neighbor on CW high school drama who made you feel badly about your body because you were 16 and he was a 27-year-old playing a 16-year-old. He's also described as a "wellness coach", which continues the Bachelor tradition of taking job titles like "front desk guy at Barry's Bootcamp" and turning them into something more important.
Garrett

Garrett is a 33-year-old tech CEO from Salt Lake City. This is who I want to see on The Bachelorette! I want tech CEOs and athletes and retirees. The men we need to see on TV are the ones who have had so much financial success that they've lost all touch with reality. The ones like Garrett, who looks like he got a blowout for his photo shoot because he met a woman at a hotel bar who worked at Drybar.
Jack

Jack is a 30-year-old former Army officer who looks like a French operative who snuck into the Army. Like, couldn't you see Jack in a beret with a white and black striped shirt on while holding a bag of groceries that has a baguette popping out of it?! Couldn't you see Jack passive aggressively judging you for everything you've ever said and done? Jack's bio also says he loves playing kickball, which makes me think he's an undercover French agent even more. Like, he chose the laziest American thing as his favorite. He's like "Ya I'm totally American! I like kickball and ummm McDonald's and ahhh BIG BANG THEORY!! Yes! Totally American!"
Jamie

Jamie is a 32-year-old biotech CEO who once showed up at the airport and let the ticketing agent choose his destination. That's something that women will say they like until you're in a relationship with them. They're all about "adventures" and "exploring" until you're like, "I got a place! Let's go!" And an hour later they're a crying mess on the floor surrounded by every shoe they've ever owned.
Joe

Joe is a former Division 1 basketball player from Minnesota who is going on a season of The Bachelorette being led by a former Division 1 basketball player from Minnesota. He's going to go far. His bio also says that he "loves snacks." Honestly, that would be enough to last a long time on MY season. If a woman got out of the limo and said "Hi! I love snacks." I'd be like, "That's about half my life right there. You can head this way toward my hometowns. Wait, you Jewish? Ya? Do you open a bag of SkinnyPop, say you'll have a couple handfuls, and then an hour later you're next to an empty bag and some Reese's because you gotta have something sweet to finish it off?! Ya?! Ok, head to the fantasy suite because I'm already half hard."
JoMarri

JoMarri is a personal trainer. His bio says that he eats an entire watermelon every morning. This is how you know JoMarri isn't a great personal trainer. This is how people eat when they consider food to be "fuel" and they have no understanding that food is emotional for people. They're like, "You can eat a whole watermelon and it's less calories than a bag of Doritos." And you're like, "Ya, well Doritos make me happy in a way no human has ever achieved and I can't give that up." And they're like, "What about chewing 17 times before your next bite?!" And you're already eating Doritos somehow.
Leroy

Leroy is a biomedical PhD student. The smart guys like this never last on the show. I think it's too difficult to live in the mansion with 20 other men who think watching Squid Game is the equivalent to reading a book. Like, I'm sure at some point one of the other guys will be like, "Does anyone know how to spell 'restaurant?!'" and Leroy will start packing his bags and calling his parents who emigrated from Ghana AND Italy to apologize.
LT

LT looks like someone you'd avoid at a party. He's a 38-year-old yoga guru from Bellevue, Washington, which means you'd probably be warned about him before a party. Like, I can't imagine a more insufferable description of a person. Bellevue is the part of Washington with the Lululemon/Sweetgreen/women of a certain age who are always busy but have no job and have never been seen without workout attire on. And LT is their guru! If LT were going to be at a party, I'd be like, "Ok, so LT is a white guy who calls himself a guru. You're going to want to talk to him for a bit so we can make fun of him after the party but not too long where he's trying to show you poses and starts talking about chakras. If he mentions a retreat, you're fucked."
Martin

Martin is a 29-year-old personal trainer who looks like he dressed up as a villain on The Bachelorette for Halloween. At what point do you shave the line in your eyebrow? Is it before or after you start using the phrase, "issa vibe?" Martin's bio says he is looking for a mature, health-conscious woman, which is how you know he's a dick. Who isn't health conscious?! I've never heard a more coded way of saying "No emotional fat chicks."
Mollique

Mollique is a 36-year-old academic administrator who only wears shirts that match his hair dye. His bio says that he was "raised by women around him" and his favorite author is Nicholas Sparks. Sometimes a guy comes on The Bachelorette and reveals himself to be a liar by going too hard on the "perfect man from a Hallmark movie" verbiage. Raised by women all around him? I don't even know what that means. Me too. As if I was raised with no women. A whole childhood of professional wrestling, spitting, and farting while eating Slim Jims. The only thing that would've made this profile any more of a lie is if it said, "And Mollique believes in paying a woman to go down on her to make up for the gender pay gap!"
Nayte

Nayte spells his name with a Y. I'm not reading his bio. I don't care. Imagine someone saying, "It's Nayte with a Y" and the headache you'd get from trying to figure out where the Y goes in the name. It literally just autocorrected to "Maybe" while I was typing this out. That's his name now. His name is "Maybe." As in, "maybe Nayte's threading artist did a little too much on his eyebrows and now I cant stop staring at them."
Olumide

Olumide is a 27-year-old IT analyst from Newark, New Jersey who played basketball at Rutgers. He seems nice. His bio says his favorite flower is a cherry blossom, which I can't believe comes up during these interviews. "Hey! Just a few questions! Is there anything we should know about that could become a national headline and destroy the reputation of the show?! And what's a flower that reminds you life is a cycle of life and death and that we're all just a speck on this big ole marble called Earth whenever it blooms in the spring?! And lastly, any fetishes?"
Pardeep

Pardeep is a 30-year-old neuroscientist from Brooklyn. This is the first Indian man I've seen on the show. I texted my friend and fellow comedian, Nimesh Patel, to congratulate him and his family. Here's the exchange:
Me: Congratulations!
Nimesh: Huh?
Me: Indian guy on The Bachelorette! Tell your family it was all worth it!
Nimesh: He's going to get out of the limo, say "Have a nice season!" Then he'll get back into the limo and drive directly to his parents house where they'll be waiting with his future wife named Krupti.
Peter

Peter looks like he's auditioning to play Roger Klotz in the live-action adaptation of the animated series, Doug. Peter is described as a "Pizzapreneur" which is another way of saying he owns a pizza shop. Everyone watched a couple episodes of Shark Tank and now they're all CEOs. Peter probably talks about synergy and his idea for a pizza app that's strangely similar to the one Dominos already created. I'm sorry, Peter. You don't have a "portfolio of pizza-related endeavors." You stand behind a counter and loudly say "WHAT'LL YOU BE HAVING BUDDY?" to a drunk college kid who just audibly burped.
PJ

PJ looks like he's about to sing a 90s R&B song that'll make you remember not getting asked to dance in middle school. No? Just me? Ok. PJ is actually a firefighter. Imagine this guy saving you from a fire. I'd be like, "Did you just come from the hard bodies firefighter calendar photo shoot?! Hold me closer to your dangly earring!"
Rick

Rick looks like he goes from town to town explaining cryptocurrency to unsuspecting women. Rick's bio says he's the "type of guy who will send you flowers at work for no reason but to say, 'I love you.'" Can we at least get an ex to corroborate such a claim? This is one of those things he's done once in his life and he's been riding it as a personality point ever since. It's like when someone tells you they "lived in Florence." You went on study abroad. It was more than a decade ago. You didn't even take an Italian class. It's time for a new memory. Take a week off of work and go on a hike so we can stop hearing about how you "never liked red wine until living in Italy."
Rodney

Rodney is a 29-year-old sales rep from Rancho Cucamonga, California who says he's "terrified of being catfished." This picture literally looks like he could be 5 or 7 feet tall with no in-between. It's always the people who shouldn't be judgmental who are the most worried about catfishing. They'll be like, "Ugh all these ugly people on the apps with their fake heights and pictures from ten years ago! Ok, gotta go! I have my monthly appointment to get the lumps on my shoulders, face, and balls drained!!"
Romeo

Romeo is a Harvard graduate and a mathematician from New York City. So he's a catch and someone I'd have so many questions for: What does a mathematician do?! Is the Pythagorean theorem a big part of your life?! Should I mute the TV every time you come on the screen because of all the horrible math puns?! Will you combine Romeo and Juliet with math to make some sort of awful super pun that will make me immediately throw up?!
But more importantly, Romeo's 32 and his bio says that he "wants to go to Burning Man one day." One day?! Your 32. It's over man. My dreams include good chairs at bars and finding the right pillow position to get to sleep the fastest. If my 32-year-old significant other said to me, "I'd like to go to Burning Man one day," I'd say "Cool! Have fun with your future husband!"
Ryan

Ryan is a 30-year-old environmental consultant who weirdly looks like a hamster that made a wish to be human. Ryan's bio says that his family has a raisin ranch. Sometimes I'll read something like that and realize how little I know. Raisins come from a ranch?! I thought they were the doodies of grapes. That means there's a leathery-looking cowboy who talks about long days on THE RAISIN RANCH as if he's tough. I want to go to the ranch. I want to wrangle a heard of Raisinets. I want to use a rope to hog-tie a raisin that got a little bit too wild. And if Ryan doesn't say "Welcome to the raisin ranch" when a girl holds his balls, he's a complete waste.
Spencer

Spencer is a 25-year-old financial crimes analyst from Cleveland who seems nice enough, but the real story here is the commitment the men on The Bachelorette have made to the turtleneck over the last few seasons. I literally only see it on The Bachelorette. Never at a bar. Never out in the daylight. Just this show. All of these men decided one day they were all going to jointly look like the head of a penis. Good for them. I just don't have the body type. I'm a short torso, wide-shouldered man. I'd look a penis that just went into a cold ocean.
Will

Will is a 28-year-old academic interventionist from Grand Rapids who who looks like a child doodled on his head with markers to make his hair. Will went with multiple chains over his turtleneck as if he's going to a Halloween party dressed as Mr. T's penis. Will's bio says that he describes himself as classy, swaggy, and sharp. I've never related to someone less. I refer to myself as gassy, judgy, and hungry.
Images: ABC / Craig Sjodin (32)
A Bro's Breakdown Of Katie's Bachelorette Contestants
Hi, I'm Jared Freid. I'm a 36-year-old comedian who loves The Bachelor and The Bachelorette. I love them so much, I yell at every episode on my Instagram stories. As you can imagine, my parents are very proud. V. 
This is my preview for the season. I've been doing this preview for both shows since before your favorite TikToker got their first dangly earring. I make massive assumptions about every contestant based on very little information. It's like sitting with me while wearing sweats and screaming "Yuck" at what people wore on the red carpet. Please enjoy and follow me on Instagram where I'll be making fun of these crazies every Monday night (Matt James' season is in my highlights) and then recapping the episodes the next day on The Betchelor podcast. And if that's not enough, I host a Bachelor Post Game Show called "The Rose Rehash" on my YouTube channel. Let's have a fun season.
Katie

Katie showed up to last season waving a vibrator, and I kept thinking she was going to make this her whole personality and start selling "Buzz Buzz Bitch" T-shirts on Instagram. And you know what? That didn't really happen. She carried the vibrator around the first night and made some jokes, but they weren't cringey or too awful and she kind of rolled with it. It's funny, with a joke like that there are some people who will never let it go. They're the least developed people in the universe. Katie could become a congresswoman and they'll be like, "AREN'T YOU THAT DIDLO WOMAN?!!?" But that's why I've always liked Katie. Unlike those people, she changed her opinion when presented with new information. Last season, the house got addicted to sh*t talking and drama. Katie was a part of that. She then recognized that it was all becoming too much before even a producer could see it, and then she reported the whole thing to Matt and got this show back to being the wholesome Christian programming that we all know and love. There are some that accuse Katie of seeing an opportunity in being this anti-bullying peer mediator, but I would argue that it would take a woke mastermind to see an audience that feeds on the blood of contestants all of a sudden getting tired of drama and making the peacemaker their queen. So, yes, I'm a Katie fan and I think she will be a fun captain for this ship and I'm willing to be pointed in the right direction by her seven-inch vibrator set to that weird, vroom vroom vrooooooooooom setting that so many of you love.
Aaron

Aaron is a 26-year-old insurance agent from San Diego, California who looks like his whole personality is "I learned about cryptocurrency yesterday." Aaron has one tattoo: his family's initials on his neck. Like how a prince would wear his family's crest, except he probably doesn't own land. How is that his only tattoo?! I feel like a neck tattoo should be number twelve. Like, it starts with the one on the foot and then you get the one under your wrist and then you seek out therapy and you say, "Hey, I'm going to get a neck tattoo" and the therapist is like, "You know this takes you out of the suit-wearing jobs and you're like "I'm ok with that." And then nine tattoos later you honor your family with a tattoo that frightens senior citizens. 
Andrew S

Andrew S is a 26-year-old football player from Vienna, Austria who spends half the year playing professional football in Vienna and the other half as a teacher's assistant in Chicago. Let me translate that for you: Andrew S is a substitute teacher from Chicago who vacations in Vienna to play football with some friends. His bio says he "has a great sense of humor, and one of his favorite party tricks is imitating accents from around the globe." Andrew is about to be canceled in the most viral video way. It'll start with, "Here's how they sound in Vienna" and everyone will laugh. Then he'll be like, "Ever been to China!?" and a police officer will show up to escort him to a TV studio where Emmanuel Acho will be waiting to interview him.
Andrew M

Andrew M is a 31-year-old deputy district attorney from Newport Beach, California whose bio says he "loves his job." I'm sorry. I don't believe anyone who goes on The Bachelorette is all jazzed up about their job. I can't live in this rom-com dream world where Andrew screams, "Objection!!" And the judge is like, "sustained counselor! Court is adjourned!!" And then Andrew high fives his assistant and they're like, "Got another one! I don't know how you do it!" And Andrew's like, "I've got it all, Gretchen. Just need that perfect gal! If only there was a way to compete against 29 aspiring actors for the right one!"
Austin

Austin is a 25-year-old real estate investor from Mission Viejo, California whose bio says he flipped 20 houses in 2020. Now, I guess someone who flips houses could be considered a "real estate investor" but it feels like false advertising to me. Like, let's say Austin wins. Katie is like, "When are you going to the office?!" And Austin is like, "I'm already there!" and shows her his Zillow search for houses under $200K. I don't think that memory accompanies Katie and her famous vibrator the next time they're in the tub.
Brandon

Brandon is a 26-year-old auto parts manager from Queens, New York who looks like he's still trying to make his college band happen. Brandon's hair doesn't match his suit. With that hair he should only be allowed to wear tight, white, ribbed tank tops. It actually looks like his head was Photoshopped onto that neck. If Brandon doesn't put his hand through his hair while looking at the ground and talking about a dead brother, then nobody has a dead brother.
Brendan

Brendan is a 26-year-old firefighter trainee from Toronto who looks like he makes TikToks about his hair transplant journey. Brendan should tell you everything you need to know about male confidence. He's not even a full firefighter and he's going on a competition for a woman. What does he think Katie's going to say?! "Well, the lawyer seemed nice and I sure do like guys with a mortgage, but that firefighting intern really knows some great quotes from The Office."
Christian

Christian is a 26-year-old real estate agent from Boston who's still wearing the shoal sweater his ex bought him for her company's holiday party. Here's what I LOVE about Christian: His bio says that he's sold over $25 million worth of residential real estate. I don't know how you tell someone how much you make without telling them how much you make, so I can only imagine Christian is a total monster and I can't wait for that. I'm imagining he's talking to Katie and someone comes over and is like, "Can I steal her for a second?!" And Christian doesn't even turn around while calmly saying, "Do you know how much my time is worth?" and the other guy is like, "Ha ha man, come on." And Christian just explodes with, "I've sold over $25 million dollars worth of property and I WILL NOT BE CHALLENGED BY A FITNESS INSTRUCTOR!!"
Cody

Cody is a 27-year-old zipper sales manager from San Diego who looks like a boy who made a wish to be a grown man. His bio says he's "a proud Eagle Scout." That's one of those things that someone says and you immediately make fun of it. Like, I'd blurt out, "Eagle Scout!? Ya, and I'm going to space camp this summer!" And then you realize they're serious and you have to be like, "Oh that's awesome!" And then they make you realize you're garbage. They explain that the scouts get them outdoors and working with kids and how they "learn more from the kids than you could ever imagine." And then they're like, "What are your hobbies?!" And you're like, "I eat and talk sh*t with my friends about the other friends who aren't there."
Connor B

Connor B is a 29-year-old math teacher from Nashville. Nobody has ever looked like the fun math teacher more than Connor B. That's "Mr B." and I can't see it any other way. Get a Disney exec on the phone and book this guy to say, "Ok kids. Pop quiz! Mr B ain't cheugy sheeeeshh." It's got to be weird being a teacher in Nashville. It's just such a small party town. You could literally be teaching the Pythagorean Theorem an hour before a woman in a pink cowboy hat is grinding on you while puking a little bit in her mouth. What a magical place.
Conor C

Conor C is a 28-year-old former baseball player from Costa Mesa, California who looks like he told the barber, "I'll take the husband who kills his wife and becomes an episode of Dateline!" Conor says finding someone who has the similar religious beliefs is "very important" to him because "raising his future family in the church is a huge priority." It's so wild to me that the same group that's like, "being gay is a sin" is also the one to say, "The Bachelor franchise is a reasonable way to find your spouse." If Conor wins, I want to be at the church when he shows up with Katie. I'll be like, "Congratulations!!! God gave you the gift of love!! Now pull out her vibrator and feed me the sacrament off the head!!"
David

David is a 27-year-old technical product specialist from Nashville whose bio says, "Synchronicity in life is of the utmost importance." I've googled the word synchronicity for you:
the simultaneous occurrence of events which appear significantly related but have no discernible causal connection.
I've read that definition 15 times and I still can't understand what's important to David. I don't think David knows what he's saying, but I think that he thinks that he's fooled us into thinking he's an intellectual. It's like a fake verbal orgasm. I'd love to hear David fake an actual orgasm. He'd be like, "UH UH UH I HAVE COME TO FRUITION WITH THE GIFT OF EJACULATE!! THIS IS IN NO WAY SYNCHRONICITY!! THIS EJACULATE HAS AN ACTUAL CONNECTION TO YOUR VAGINA!!!"
Gabriel

Gabriel is a 35-year-old entrepreneur from Charlotte who looks like he's going to help you pick out some clothes at Bloomingdale's. Anytime someone comes on the show with the job of "entrepreneur" it means that their parents are rich or they started a food-related Instagram account within the last month. I'm going with rich parents here. Gabriel is using his full name, he's 35, and his bio says he loves to play tennis and he "prides himself on having a lot of passions and interests." Only a person who comes from money could be dressed as Franck from Father of The Bride and publicly say they have a lot of pride in their passions while most of the Earth is going through a pandemic. I'm excited to hear Gabriel complain about his rusty backhand because of "the crazy year we had."
Garrett

Garrett is a 29-year-old software marketing manager from Salinas, California who may be the best looking male redhead to ever walk this planet. If I'm head of marketing for male redheads, then I'm hiring Garrett as our mascot. That's a group that needs a rebrand. Who is their guy? Carrot Top? Someone from the Weasley family?! Chuckie Finster?! You may be attracted to one of those people, but the male redhead community has never really had sexy representation. I just googled "Hottest Redheaded Men" and Conan O'Brien was on the list! People. They need someone. Garrett needs to get to the finals so that the redheaded community can have its day and so my Google search history stops looking like I have some weird fetish!
Greg

Greg is a 27-year-old marketing sales representative from Edison, New Jersey who looks like the hot lead of a Disney Channel Original Movie who never fully went through puberty. Listen, Greg has a great head of hair and it seems like he took the center part critique from Gen Z a little too seriously. And he's not alone. Millennials are the most self-conscious generation and within a month of hearing the center part and mom jeans are in, many of my friends look like they're dressed as Jonathan Taylor Thomas for Halloween. Good luck, Greg. I hope you find your look!
Hunter

Hunter is a 34-year-old software strategist from Houston whose face screams "I have a pet bird." And you know what?! His face screamed correctly, because Hunter has a pet parakeet named Zazu. Hunter's bio says "as a child, he was known for writing incredible love letters and always being the guy to surprise his crushes with mix tapes or flowers." Listen, a love letter and some flowers is a totally nice gesture, but can you imagine being "known" for love letters, mix tapes, and flowers?!! That's the most bizarre reputation that I've ever heard. And he didn't say it was for his girlfriends, it's for his crushes. So you could be warned about him. Like, "Ya, that's Hunter. Don't make eye contact with him for too long unless you want to walk around school with a bouquet and a new CD where "Hey There Delilah" is all 14 tracks."
Jeff

Jeff is a 31-year-old surgical skin salesman from Jersey City who looks like the worst possible outcome for when Belle turns the Beast into a man. I like Jeff and I want the best for him. His bio talks about a big Italian family and his mom doing his laundry (you know, normal Italian man in his 30s stuff). But the reason I'm cheering for him is that his job HAS to be tough on a dating app. You're on an app where you're constantly trying to forget all of the dangers of meeting a stranger on the internet and he's like, "My passion is human skin!" And I'm sure he's helping a lot of people, but it's just not getting Jeff to some casual drinks, where a woman's finger isn't ready to send an emergency text under the table.
John

John is a 27-year-old bartender from Pacific Beach, California who looks like his catchphrase is, "I TOTALLY agree! We should DEFINITELY be friends!" John is described as a "thrill-seeker" who goes to EDM shows. I can't imagine a less attractive description. If a friend was like, "I have a single friend who wants to take you to a David Guetta concert! Oh and they're a bartender and they love skydiving!" I'd be like, "How about a friend who has a job with a retirement savings plan and enjoys sitting quietly on the couch in-between talking sh*t about people we see on Instagram?!"
Josh

Josh is a 25-year-old IT Consultant from Miami who looks like he saw a picture of Steve Jobs and thought, "THAT, but with a blazer!" Josh's bio says that he's a hopeless romantic. And he's not alone. At least half of these bios have said the same thing. I think they all say it because they believe that's what women want to hear. But, to me, "hopeless romantic" means you do dumb stuff for love. So, yes, going on a TV show to compete against 29 other men for one woman is dumb and it makes you a hopeless romantic. I'm more of a "Hopeless Eater" which means I do dumb stuff for food. Like I'll go to a McDonald's, wait until they make a new batch of fries, get two larges, eat one in the parking lot, eat one while I drive, throw away the garbage at the local high school, and get home and ask, "What's for dinner!?" as if nothing happened.
Justin

Justin is a 26-year-old investment sales consultant from Baltimore who will do well on this show. His bio says everything right, but in an authentic way. It talks about looking for a partner and his family and how he's into fitness but loves to BBQ with some Sauvignon Blanc. I'm sure even my description might make you slip off of your chair. Hell, when it said he was an "extremely talented painter" I screamed, "PAINT ME!!" as I played with my nipple while sitting at this Starbucks. Justin's one thing is that he hates dancing, which doesn't matter at all. But it's definitely something your annoying friend who complains about being single would complain about. Like, "Well, he loves his family and he's a painter and his body is a 10 and when he goes down on me, I cum so hard that a butterfly flies out of my mouth, but he doesn't dance! Like what will we do at our wedding? Ugh life is hard!!!"
Karl

Karl is a 34-year-old motivational speaker from Miami who says that his favorite holiday is New Year's Day because he loves the feeling of a fresh start. That would be enough information for me to send Karl home. In fact that would be my first question. I'd be like, "Hi Everyone! Please grab a pen and paper and write down the answer to the following question: if New Year's Day lands on a Thursday then what day does the year officially start? Now, if you're a psychopath who wrote Thursday, then there's a car waiting for you outside. If you wrote, 'I drink through the weekend and I avoid any type of renewal until that next Monday,' then you're invited to stay for the rest of the cocktail party."
Kyle

Kyle is a 26-year-old technical recruiter from Fort Lauderdale who looks like he's been on The Bachelorette the last 10 years in a row but we never remember his name. His bio says that Steve Irwin is his idol, which feels like he picked a celebrity name out of a bucket that was labeled "Personality Help." He also says that he wants someone who can make him laugh like he's some sort of king beckoning a jester. How about you bring a little personality, Kyle?! We get it. You said "Steve Irwin is my idol" once and it got a laugh at the office so now you're peddling that around as your fun fact until you can find a woman who was brave enough to wave a vibrator on TV so that you can stop trying to nail an Australian accent. Kyle is looking for a crutch, not a girlfriend.
Landon

Landon is a 25-year-old basketball coach who looks like the edible just kicked in. Landon's hair needs to be discussed. What's the thought process here? Based on this picture, it looks like he takes the brush and starts at his forehead and just goes straight back. Then he apparently lets the sides do their own thing? It's a strange way to go. Like, you're either a brush guy or you're not a brush guy, and he seems to be stuck between two worlds. He cares but he doesn't care. It's wild. He's like a graduate of a Big Ten School, you care enough to get an education but you don't care when nobody believes your claim that the business school "is actually really good." Wild.
Marcus

Marcus is a 30-year-old real estate agent from Portland, Oregon who looks like your mom already loves him. Marcus was asked to describe himself as a lover, and he says he is "amazing." This is actually the best answer to the question. Let's say you believe that Marcus is an amazing lover, well you'd probably want to have sex with him. Now let's say you don't believe Marcus, well you'd probably want to have sex with him just to see what he thinks is amazing. Amazing or not amazing, Marcus is climaxing every damn time. Wow. This really beats my answer of, "Well, it depends on what I ate and the time of day and the type of condom and can I go down on the woman first?! And what really constitutes amazing? Would we cuddle? And can you rate me the second time we have sex because I tend to last longer when I'm more comfortable with the person."
Marty

Marty is a 25-year-old dancer from Reno who says his self-declared tagline is "Marty brings the party." His bio also says he loves to express himself through physical touch and says that he "loves to love on and be loved on." As someone who has dealt with body issues his whole life, these are things that could only be said by an incredibly fit guy like Marty or the most overweight guy in a fraternity. Anyone in between those two bodies would sound ridiculous. Just imagine a 5'8'' guy who works in finance saying, "I like to love on and be loved on." You're calling the cops. Now imagine that same guy saying, "Marty brings the party!" You're leaving that party. Now imagine THIS Marty screaming, "Marty brings the party" as he high fives Jack Black who then turns to you and whispers, "Come with us to be loved on but you know we need a little love too!" You're running behind them while giggling and ripping your shirt off to see what these two knuckleheads say next and you're buying a ticket to whatever movie they star in.
Michael

Michael is a 36-year-old business owner from Akron, Ohio whose tired eyes and sweater should tell you he is a single dad with a 4-year-old son. That has to be the saddest goodbye on the planet. Imagine Michael explaining this trip to his 4-year-old son like, "Daddy is going away. He's going to a big house with lots of men with big muscles and abs to find a new mommy. And daddy hopes that this new mommy can appreciate daddy's personality and not ask about your real mommy and how she got the house. Okay I have to go! I'll probably be home in a week but at the slight chance that this new mommy is turned on by one-bedroom apartments in Akron then it might be longer. Bye!!!"
Mike

Mike is a 31-year-old gym owner from San Diego who looks like he's about to corner you at a party after he's done a bunch of coke to tell you about his app idea. Mike's bio says that he's "always been a one-woman type of guy, but due to his successful run in the MLB, dating was never really a priority in his life." I love the subtext of that sentence. Like, "Oh shucks, with all that baseball and money they pay you in the Majors, I could never even look at a woman!!" But let me translate how he says the same sentence to other men who aren't Bachelorette producers. It goes, "Who would have a serious girlfriend when they're making millions playing baseball?!?!" and it's followed by so many high fives that he uses his non-throwing hand.
Quartney

Quartney (yes, with a Q) is a 26-year-old Nutrition Entrepreneur from Dallas who looks like he posts all day on social media about a MultiLevel Marketing company that convinced him to say he's a "Nutrition Entrepreneur." Quartney's bio goes on to say nothing about his use of the letter Q or nutrition. It makes no sense. You're creating some business about nutrition with no mention as to the type of nutrition you're passionate about?! Even someone who is into Keto talks about how much they love bell peppers and fried cheese! I can only assume that Nutrition Entrepreneur means naturally skinny people convincing people (like me) that they don't need diet or exercise to achieve a naturally skinny body. And if that's the case, I'd like Quartney to take all of my money.
Thomas

Thomas is a 28-year-old real estate broker from Poway, California who looks more like a cool dad who's going to take you to McDonald's than a Bachelorette contestant. His bio says that he "often wonders if The Rock really can eat everything he posts on Instagram for his cheat meal days." Yes, an interview about what Thomas is looking for in a woman is a weird time to bring up The Rock's eating habits. But I am also someone who thinks about the Rock's cheat meal posts. And it's funny how one post can produce so many questions. Thomas is sitting there wondering about how he can possibly consume all that food and I'm wondering why The Rock's "cheat meal" is the same as my "sensible Sunday night dinner." It's honestly insulting and bullying and shaming and I will not stand for it. #NORMALIZE50PIECESUSHIORDERSFORONE #CancelTheRock
Tre

Tre is a 26-year-old software engineer from Covington, Georgia whose favorite activity is to meet his friends for their brunch and book club. Good for Tre, but if I saw a group of people sit down to brunch with the same book to discuss, I'd stare as if it were a UFO landing. If my friends and I turned our brunch into a club, it would be called a "Brunch and smells like alcohol mixed with farts" club.
The Box/Blake Moynes


This season, someone shows up in a box, and it was kind of teased and then revealed during a promo that it's former contestant Blake Moynes. And I know what you're thinking: "WHO?!"
Blake Moynes is a 29-year-old wildlife manager from Ontario who looks like the lovechild of Kirk Cameron and Sulley from Monsters Inc. Blake is from Clare/Tayshia's season. Before their season I wrote:
Blake's bio is a lot like The Bachelorette in that it's a fairytale that women want to hear. It says, "Blake spent his Saturday nights hanging with his best friends, but now all of those friends are married and he's the last single man remaining." This is written as if it's a tragedy in Blake's life. As if his friends were like, "What? No wife? I guess we'll see you when you're married… hopefully, our kids aren't too far apart in age to hang at that point."
I wasn't wrong about Blake. He kind of played up the puppy dog "poor me" attitude throughout the show. If we ranked the things to pop out of the box on a scale of "famous single guy" to "pretty good vibrator" then Blake would rank as a vibrator that doesn't get fully hard and will probably cry in Katie's arms before buzzing slightly due to a low battery.
Images: ABC/Andrew Eccles; ABC/Craig Sjodin (31)
The Best Bachelor Recap You'll Ever Read: The Women Tell Nothing
My my my, Bachelor Nation is crumbling right before our eyes, no? Between Rachael Kirkconnell's racism scandal, Chris Harrison's racism scandal, Taylor Nolan's racism scandal, and Rachel Lindsay being bullied off Instagram because psychos are blaming her for other people's racism scandals, I just can't keep track anymore. Thankfully, I'm not here to talk about that today. I'm here to tackle what really matters: sex. Because tonight is fantasy suites, aka the episode where the microphone operators have to creep outside a bedroom until they hear a woman half-heartedly fake an orgasm. Make it quick for their sake, ladies!
Wait, what is that you tell me? They've switched up the order and tonight is The Women Tell All? I should have known that your regularly scheduled recapper Ryanne would only give up this week for one reason. Thanks pal! I'll kill you later! Looks like I will be writing about 30 (almost) adult women screaming at each other about nothing for two hours. Shall we walk the plank together?
We jump right in, and the show makes a point of letting us know that this episode was pre-recorded before Chris's disastrous interview with Rachel Lindsay. We get it, producers! Aside from the fact that you hired Chris, never once did a deep dive on any contestants' social media before casting them, and barely included people of color until 2017, this is totally not your fault!!
Right off the bat, I feel like the women are sitting way too close to each other. It's almost like ABC wants to wipe out this entire group of tattletales and bullies with a deadly virus. Hey, I hated this season too but you don't have to kill them! Though I guess that might make ratings go up…
Early Confrontations
Chris starts out by reminding the women that he blindsided them with new arrivals weeks after the season had already begun: "One of the interesting things that happened this season: five new people arrived." I love how he's acting like these women just wandered out of the forest in tacky ball gowns, walked up to the Nemacolin, and knocked on the door because they just HAD to meet a man who's addicted to turtlenecks and embarrassing TikTok dances. 
Ryan tells Chris that she was offended when she arrived because she was called a hoe. Victoria was, of course, offended that Ryan was offended. 
VICTORIA: "People made fun of my bra straps and I just laughed it off"
ALSO VICTORIA:
View this post on Instagram
So this whole interaction was to get us to look at your bra, wasn't it? I'll admit I fell for it. And I don't hate it. 
Katie vs. The Girls
As it turns out, people hate a rat more than they hate a bully. Duh. Snitches get stitches. Ever heard of Fredo Corleone? Some of you didn't grow up in an Italian-American family in New Jersey, and it shows. Pretty much all the women blamed Katie for creating the toxic situation in the house, because it got worse once she told Matt. 
MARI: Katie started the fire
KATIE:


If you know, you know. 
They also came at her for being the hardest on Sarah, and only saying that everyone should be nice to Sarah after finding out about her dad. Katie says to them, "It's called learning, it's called growing." Wow, she's already honed that standard Bachelor Nation non-apology. I dare them to find any old damning tweets of yours, girl! Did you go to any distasteful events recently? No worries! You know what you'll say! 
This is not the way I was expecting this to go. The internet loves Katie! But, the internet is not 25 women that Katie called a bully, circling her and baring their brand-new veneers at her menacingly. The better to eat you with, my dear! 
Don't worry Katie, the internet still loves you!
View this post on Instagram
Brittany In The Hot Seat
Chris Harrison calls up Brittany to the hot seat. He reminds us that she was called a "high-end escort". TBH I think it's nice of everyone to add high-end in there. Look, rumors aren't cool, but at least Anna made her sound fancy in the process of being terrible. Brittany talks about her trauma from the rumor and Chris nods along solemnly as if he didn't throw a suggestive wink every time he previewed the "most salacious accusation we've ever heard on this show." 
Anna apologizes, but does still claim she had heard that Brittany was entertaining men for money. This is a classic Real Housewives move, and I'm low-key impressed. Like, "I'm sorry I said your husband was cheating, but it's not my fault that I heard your husband is cheating." Anna also continues to claim that she got so many messages about Brittany because "Chicago's a small town." Anna! Chicago has nearly three million people in it! Just because you and your best friend once spotted someone you're pretty sure was Michelle Obama getting out of a limo at The Bean does not make it a small town! And I can tell you it wasn't her! 
Even with all those caveats, Brittany accepts Anna's apology. You're a better woman than me, Brittany. Apologies are nice and all, but if I were her I'd make Anna pay to scrub those damaging Google results. Just an idea for you, Brit! 
"Outrageous Footage"
We are 35 minutes into this episode and they are already airing unseen footage. This does not bode well for the content of the rest of the episode. It seems that all the group dates that went straight to cocktail hour on the show were actually Fear Factor-esque. Touching bugs, stuffing their faces with food, wandering around the great outdoors—idk what the editors were doing this season, but I promise those episodes were not so jam-packed that we couldn't have kept 30 seconds of Kit getting lost in the wilderness.
kit lost in the woods #thebachelor pic.twitter.com/JHDJmBY8Np

— saint sagittarius (@HoleScandal) March 2, 2021
I swear the theme of all these dates was, "watch these girls vomit and then feel them up!!" Like, I get that you have limited options this year, but I feel like attempting to cause grievous bodily harm to the women every episode wasn't totally necessary. 
Katie In The Hot Seat
Chris brings up Katie and legit says "YOU SHOWED UP WITH A MAGIC WAND." That is a vibrator, sir. And I would really not like to find out that the reason he called it a "magic wand" is because that's the name of the brand-new line of vibrators he's created to go along with his romance novels. God, I beg of you, please spare us. 
We, of course, get a 10-minute clip of Katie's story with Matt, and as they pan back to her she's crying. Do we think it's because she's sad about Matt or because she's sad she wore that parka on national TV? You're trying to get someone to want to bang you Katie, you're not going out to walk your dog at 6am when no one can see you. 
Katie wonders, "is there anyone out there for me?" I'm sure we'll see that pasted all over her Bachelorette ads soon. At least it's better than "Let's do the damn thing!"
Abigail In The Hot Seat
The second this sweet creature sits down in the hot seat I'm reminded how Matt did her dirty. 
CHRIS: What happened? You guys were so into each other, had so much chemistry, and then he dumped you. Why couldn't he love you?
ME:

Chris says that Abigail being on the show has had a massive impact on the deaf community. Oh good! Another community he can offend in an interview! You know behind the scenes the producers are just wetting themselves saying "our ratings with the deaf community have skyrocketed! Which underrepresented group can we target next!" Actually though, Abigail is an angel, and this broken franchise doesn't deserve her.
Pieper In The Hot Seat
Okay, is everyone going to get a one-on-one sit down with Chris tonight? Will our misery never end? They're really scraping the bottom of the barrel at this point. Maybe next we can get the masseuse who worked on Tyler's back up there. Or the skydiver responsible for Rachael's head contusion. Or Katie's vibrator! Just dress it up in an LBD from Revolve and prop it up on the couch. It will fit right in and I'm sure the conversation will be very stimulating.
There's really no point to this interview. Every single person that comes up to the hot seat is forced to rewatch their "love story", and then Chris says "tell daddy how much it hurts," and then he dismisses them because daddy doesn't actually care. It. Is. Boring. 
Serena P In The Hot Seat
The word "hot seat" is already giving me PTSD. If this recap ends abruptly, please look for me shaking in a corner somewhere on the west coast of Florida. 
Chris is disappointed in Serena. He thought she was the one. 
CHRIS:


ME, SNORTING INTO MY WINE: Didn't he see that awkward sex yoga date?
And now Serena is crying. Come on Serena!! You don't have to do what the other girls did! We know you didn't like him! Put that Visine back in your sleeve.  
Chris tells Serena he thinks she might regret her decision and that she might still love him. 
SERENA:


Wow. I'm starting to think Chris really never could read a room and it took Rachel Lindsay to point it all out to us. 
Matt In The Hot Seat
Matt finally shows up to his party, and it is a disappointment to say the least. WHAT IS ON HIS FACE?
View this post on Instagram
Chris and the women say they like it and sweetie, they are lying to you. That thing is like making out with a shag rug. 
Victoria immediately turns on the waterworks and tells Matt she was offended by the fact he told her she needed to "self-reflect" when she left. Who's sensitive now, Queen V? Matt tells her, "when people ask me about you I only have good things to say." I guess laughing when his friends mock her body is technically a loophole to that statement. But with all the apologizing going on tonight, he couldn't muster one up? I guess he was a wimp this whole season, why stop now?
I really don't understand the purpose of the women airing their grievances. Who cares? It's over, and it was fake. If Chris asked me if I had any last words for Matt I'd shout "wear less turtlenecks!" And then GTFO. 
Can we get real for a sec? Does anyone seriously think we need these tell all episodes anymore? They reveal nothing new—contestants have already explained their terrible actions to the point of exhaustion on social media, and half the people there barely even appeared on the season. They should be more like Bravo reunions or not exist at all. Let's accuse each other of f*cking a married ex-MLB player! Who has a drug problem?! Make it exciting! These moments may be messy, but at least they are real(ish). I feel like The Women Tell All was basically everyone reading a press release their publicist wrote for them. In the words of anyone who's ever had a job, this could have been an email. 
Chris ends the episode by saying, "trust me, you have no idea what's coming." No, Chris of February 4th, 2021, YOU have no idea what's coming. And we're out! 
Images: ABC/Craig Sjodin; Giphy (4); bachelorettewindmill, tvgoldtweets, victorialarson_/Instagram; holescandal/Twitter
The Real Reason Why Everyone Hates Clare As The Bachelorette
This year has been a year for polarity, but perhaps nothing has been more polarized in pop culture than Bachelor Nation's views on the latest Bachelorette, Clare Crawley. I've spent the last three years of my life as a dedicated member of ABC's cult. I watch every Bachelor/ette season, every godforsaken spin-off, read the think pieces, write the think pieces, deep dive into every contestant's social presence, buy into every Ponzi Scheme past contestants are pushing on their IGs, and just generally find myself enmeshed—almost against my will—in Bachelor culture. (Keith Reinere could have taken some notes from Mike Fliess on How To Build A Cult Following 101). Which is why I feel qualified in answering the question that seems to be on everyone's minds since last Tuesday's episode: why does everybody hate Clare?
When it was announced last spring that Clare was going to be the newest Bachelorette I felt… fine about it. I didn't watch Juan Pablo's season because it was a blight upon humanity which should never have seen the light of day, and I didn't watch Clare's stints on BiP either, as I'm pretty sure that was when I was still young and hopeful and had some semblance of a social life. I did watch her on Winter Games, but had no real lasting impressions of her. I liked that she was older but I didn't like that the franchise had given her so many chances already. Now that we're three episodes into The Bachelorette, I still just feel very fine about her. I'm not actively rooting for her like I was with Hannah B, or enviously jealous of her like I was with JoJo, or overly impressed with her like I was with Rachel, but I'm not ready to filet her character on the internet like I'm a chef at Benihana either. 
The internet seems to have three major points of contention with Clare: one, they're outraged over the nude dodgeball game; two, they think she's leading the men on; and three, they consider her "super immature" for having an immediate connection with Dale. I don't really get the hate over the naked dodgeball game, because humiliating contestants on national television is sort of ABC's thing. If anything, I found it refreshing that a female lead had the audacity to ask men to put aside their own pride for her pleasure. As for the second point, it's completely normal, especially for the Bachelorettes, to form early attachments with front-runners. And in terms of "leading the men on" I'm not convinced that ABC isn't giving Clare a bad edit on purpose. There are rumors that production forced her out, so who's to say that the footage we're seeing isn't heavily edited to build up resentment towards Clare and excitement towards Tayshia's takeover? 
I think the real reason people hate Clare so much has to do with the way she plays the game. Normally, Bachelorettes pick a front-runner early on (no really, it's a trend that the recipient of the first impression rose goes on to win the whole thing) and then spend the rest of the season testing their connection with that person by pursuing other people in the house. That makes the process sound mature and elegant and like there's not a lot of puffy-eyed confessionals that will eventually be embalmed for all eternity in the form of a viral GIF. But here's the thing: Clare's not playing the game like a Bachelorette would, she's playing it like a Bachelor would.
Let's look at the evidence. Clare is decidedly a rule breaker. She skips half a group date when she doesn't feel like going, she spends hours of other group dates exchanging hickies with Dale, she sent a guy home for not knowing enough about her on the first date, and it's rumored that she leaves the show after only three weeks with one of the men from her season (in case you don't have working eyes or ears and have been living in an underground bunker, SPOILER, it's Dale). So, yeah, Clare breaks the rules and we hate her for it. But why do we hate her for it exactly? 
When Colton decided to leave his season after the fantasy suites for a woman who seemed decidedly less interested in him than he was in her, the internet, while poking fun at him a bit, ultimately declared his gesture romantic. He was a go-getter. He went after what he wanted. When Arie ditched Becca after his proposal to her to pursue Lauren B instead, he was vilified at first, yes, but now that they're married and have a baby and an Instagram for that baby that doesn't at all feel like a cry for help or a certain descent into madness (seriously, someone check on Lauren, those captions worry me), Bachelor Nation has forgiven him. Here again, his gesture was ultimately written off as romantic. Ben Higgins broke one of the cardinal rules of The Bachelor by saying "I love you" before the final rose to not one, but TWO women.  He remains a beloved member of the franchise. So, why are we vilifying Clare for breaking the rules of her own damn season when Bachelors have been doing it for years?
The bottom line is this: Clare isn't twentysomething years old. At her age, she's been dating for roughly 15 years, so she knows what she's looking for and what she isn't looking for. To put things into perspective, the average age of ABC's Bachelorettes is 27, and before Clare there had only ever been two Bachelorettes over the age of 30. I'm not saying age determines everything, but I do feel like women in their 20s are more likely to play games and put up with bullsh*t than women in their 30s (especially their late 30s). I know at 28 I'm exhausted from swiping and casual dating, and yet, when I'm drunk I still call an ex-boyfriend who has ghosted me on no less than six different occasions. If I'm tired, I can't imagine how I'd feel in 10 years at Clare's age.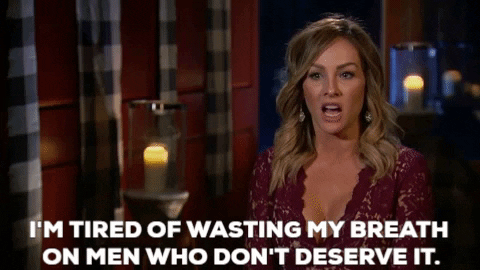 I think because of her age we expected her to be desperate for love, a doormat for ABC producers to walk all over, and Clare's proving to be anything but. She's challenging the men to take stock of their emotions and negative relationship habits through therapy. She's asking them to step outside their comfort zones (and clothes) simply for her pleasure. Selfish, unhinged, demanding—we vilify her for acts that we'd tolerate from male leads.
When it comes to the Bachelorette, we want a strong woman, but we still want her to play by gendered rules. Be strong, but not pushy. Be in love, but not head over heels. Show attention, but don't play favorites. Clare might be breaking ABC's rules, but she's also breaking ours. I'm not declaring Clare my personal favorite Bachelorette, and I'm not saying she's a feminist icon or above critique, but I am saying that we should question where this hatred for her is coming from and why we're not ready for her kind of Bachelorette. 
Don't miss out on anything happening in Bachelor Nation. Subscribe to our weekly newsletter here. 
Images: Giphy; @tvgoldtweets/Instagram (1)
Spot The Difference Between Garrett Yrigoyen's Black Lives Matter & Pro-Police Posts
The Bachelor franchise has always had problems with race, and recently, those problems have been more clearly visible than ever. Just a few weeks ago, we watched as Hannah Brown said the N-word on Instagram Live, and while some of her peers in Bachelor Nation held her accountable, others made excuses for her, and many more stayed silent altogether.
Over the past week, as conversations about systemic racism and police brutality against Black people have become the norm, the response from the Bachelor community as a whole has been disappointing. The official Bachelor and Bachelorette Instagram pages have stayed 100% silent. ABC posted a statement that included "Black Lives Matter," but has made no public donations or pledges for action moving forward. And Chris Harrison, the face of the entire franchise, has been silent except for a black square on Tuesday.
Speaking of the black squares, a ton of Bachelor alums posted for Blackout Tuesday, which is great. While the black square posts drew a fair amount of criticism for taking up space and being a "social media trend", showing solidarity is still a form of protest, and the black squares had the potential to be an important starting point for a lot of great ally work.
But for all the people who have backed up their black squares with some really meaningful work this week, there are, of course, those who just posted the square because they felt like they were supposed to. For example, Garrett Yrigoyen, the winner of Becca's season (they're still engaged, which I totally forgot about). Here's Garrett's post from Tuesday:
View this post on Instagram
Cool, it's a black square, he did the assignment. Notice the length of the caption.
After not saying anything else related to the subject on Tuesday or Wednesday, he reappeared on Thursday, with a post that seems like a complete 180 from whole point of Blackout Tuesday. Ladies and gentlemen, here is Garrett's love letter to the police:
This caption clocks in at 289 words, which is long for a caption about anything, honestly. But about this? Now?? Garrett ends his ode to cops by saying, "They will always be out there protecting us, no matter what!" But in that one sentence, he shows his privilege, and makes it clear that he doesn't understand the issues at the root of the protests. As Bekah Martinez succinctly pointed out in a comment, police will be protecting white people "no matter what"—which is the reason people are protesting, signing petitions, calling their representatives.

For Garrett to post the black square with literally no deeper thoughts attached to it aside from a few emojis and then immediately pivot to a half-page's worth of praise for police is insanely disappointing, but it's really not that surprising. This is, after all, the same guy who was outed for liking transphobic and racist memes when his season of The Bachelorette first aired. To refresh your memory, this is the kind of sh*t Garrett finds funny:

For what it's worth, Garrett's fiancée Becca seems to be a little more on-board with what's happening in the world right now. While she hasn't been the most outspoken this week, she shared a beautiful story about her late grandfather's friendship with a Black gay man, and encouraged her followers to "do better." Becca did announce that she and Rachel Lindsay will be dedicating an episode of their Bachelor Happy Hour podcast to the current situation, so hopefully she'll take a stronger stance in the coming days.
One worry with the blackout on Tuesday was that people would just post a square to signal solidarity, and not put any action or deep thought behind it, and that seems to be what happened with Garrett. Every ally is still in the process of learning about systemic racism and how to dismantle it, and that learning process is never finished. Nobody is saying we all need to wake up tomorrow and be perfect allies, because such a thing does not exist. But it's not enough to just make a post and drop a couple of emojis and call it a day—for all his talk in the caption about how he's "listened, learned, helped, supported, and grown", it would be nice to see some of that.
Images: Craig Sjodin / ABC; gy_yrigoyen, imwatchingyuuo / Instagram
Hannah Brown Said The N-Word On Instagram Live And Barely Apologized
Considering we're in-between real seasons of The Bachelor and Bachelorette, I thought we'd get a break from the eye-roll-worthy news and other bullsh*t that tends to follow the franchise's contestants. But over the weekend, Hannah Brown faced backlash because she said the n-word during an Instagram live. Smfh. Just when we were all finally rooting for her.
Hannah dropped the slur during her IG live on Saturday when she was trying to sing the lyrics to DaBaby's "Rockstar." Shortly after, she noticed people calling her out for it in the comments and gave a weak-ass apology, saying, "I did? I'm so sorry…I was singing the—I'm so sorry" and at one point even placed the blame on her brother Patrick. She tried to continue her live as normal, but people continued interrogating her in the comments. Hannah said, "I really don't think I said that word…I don't think I said that word, but now I'm like, oh god. I'd never use that word. I've never called anybody that. We don't say that word….So, you know what, I'm going to stay here, and y'all can think I said whatever I did or think I'm something I'm not, but I'm not that."
View this post on Instagram
I don't know about you, but anytime I say a word without even realizing it, or have to actively try to remember if I said something, it's because it's a word I'm so comfortable using that I don't even need to give it a second thought. And let's not forget the fact that Hannah and her friend were smiling and awkwardly giggling during her entire apology and she immediately brushed the whole thing off, with her main justification being that she was singing a song. I don't know who (besides Hannah Brown) needs to hear this, but just because the n-word is used in a song does not make it ok for you to sing or say it if you're not black.
After getting asked by Bachelor Nation fans to respond, former Bachelorette Rachel Lindsay went on Instagram Live yesterday to address the situation. She made it clear that she didn't want to drag Hannah (which she didn't), but felt like even though she confronted Hannah directly, she wanted to use her platform to encourage everyone to be better, do better, and hold others accountable for the hurt that they've caused. Rachel talked about the history of the n-word and called out the fact that people try to justify the use of it because it's "part of a song." (As a black person who's only ever been addressed with the n-word in a negative way, I can't even begin to describe how much hearing non-black people sing or say it makes my skin crawl.)
View this post on Instagram
Rachel then went on to compare the use of the n-word to the use of the word b*tch. (Before you fire off in the comments—she was in no way saying the severity of the use of the two are equal.) She said, "the word b*tch used to be a word that nobody could use. It was so vile to use that against a woman. Then women started to take power back over the word and they call each other 'hey b*tch,' 'what's up b*tch?' they say it all the time. If a man went would calling a woman a b*tch, we would be all up in arms because it's not ok for him to do that. You see women doing that because they're taking power back in the word. That is what the argument is for rappers that use in a song."
She continued, "Non-black people should not feel ok about saying that word. It's wrong, you wouldn't say it on TV, you wouldn't say it on the radio, you wouldn't say it in front of your black friend."
A few other celebrities and members of Bachelor Nation took to Instagram to their thoughts, disappointment, and/or anger about the matter. Hannah has since posted an apology on her Instagram story, saying, "I owe you all a major apology. There is no excuse and I will not justify what I said. I have read your messages and seen the hurt I have caused. I own it all. I am terribly sorry and know that whether in public or private, this language is unacceptable. I promise to do better." Did this apology come from a place of sincerity or was it an attempt to save face? Considering it took over half a day for her to really apologize, we'll never know for sure. But I'm going to take it at face value.

Hopefully the general public and celebrities alike learn from this experience. Because as stated above, whether you're in public or in private, the use of this language by a non-black person is unacceptable. Just because you have a black friend who "doesn't care if you say it" doesn't mean all black people are automatically ok with it. Just because you aren't personally offended by the use of the n-word doesn't mean others won't be. And one more time for the people in the back: just because it's written in a song does not mean you have a free pass. If you did, it wouldn't be censored on the radio. Saying "it shouldn't be in the song if they didn't want me to sing it" is not a legitimate justification.
Image: ABC; bachelorteaspill, hannahbrown / Instagram
Peter Weber Finally Told Us What's Going On With Him and Kelley
This pandemic has been an interesting time for the people of Bachelor Nation, and each day Chris Harrison's crew of misfit toys find new and exciting ways to make us roll our eyes. Of course, there are the TikToks, which are pretty uniformly not great, and we've even seen Clare Crawley break out her dusty old dress from Juan Pablo's season—the situation in Bachelor Nation is low-key dire.
But the Bachelebrity (just coined a word, you're welcome) who's bothered me in the past couple weeks has to be Peter Weber. Ah, Pilot Pete, so cute but so obnoxious. As you probably know by now, Pete is currently in Chicago, where he's doing a questionable job of quarantining with Kelley Flanagan. When we first saw photos of them together in the Windy City, it was already a little late to be flying across the country, not to mention that they weren't really social distancing at all. But it's been a couple weeks since then, and this week, Pete finally commented on his situation with Kelley.
In an interview for Nick Viall's podcast, Pete said that his relationship with Kelley has always been "serendipitous." He points to the time he and Kelley f*cked met at a hotel before the show, but explained that their relationship just didn't work during filming (probably because Kelley's practicality didn't make for good TV). But then, he ran into her in Miami during Super Bowl weekend. He said he was hanging out with some other Bachelor friends, and Kristian, Demi's ex, showed up with Kelley. That's when they exchanged numbers, and fully reconnected.
Of his decision to go to Chicago, Peter said that "I wasn't working so I thought I'd go out there and spend some time with her, take her mind off some things." Ah, nothing takes your mind off of family sh*t like getting laid, right? He says that this was "right when everything was starting to hit with the quarantine stuff," and I'm gonna call bullsh*t. Pete was first seen in Chicago on March 25th, a full five days after the Governor of California issued a statewide shelter-in-place order. Pretty sure Peter flew to Chicago after everything started "to hit with the quarantine", lol.
But anyway, quarantine-shaming aside, here's what Peter had to say when asked about his relationship with Kelley: "Are we dating? No. Do I love spending time with her? Absolutely. We're not dating. Could I see that in the future? Yeah, of course." Well, glad to see that his f*ckboy tendencies are alive and well during this time of strife. Peter literally claims that he and Kelley are "taking it really, really slow," meanwhile he has fully been living with her for the past two weeks. Sure, maybe they're not defining the relationship at this point, but deciding to make someone your quarantine bae is pretty much the opposite of taking things slow.
Peter acknowledged that he's been through a lot in the last months, saying that he "just had an engagement that didn't work out," and also "just was trying to pursue things with another woman that didn't work out." But he acts like he's staying super single because of all that, while Kelley was probably sitting next to him on the couch during the interview. I'm no relationship expert, but Peter's current situation is not what taking time alone looks like.
So it's too soon to say whether something long-lasting is going on between Peter and Kelley, but I'd love if he would stop lying to us (and himself) that they're taking things slow. And also, I'd love if he would stop making TikToks, too. Thanks, Pete!
Images: ABC/Maarten de Boer
The Most Ridiculous Job Titles In 'Bachelor' History
We're just a few short days away from the premiere of Pilot Pete's season of The Bachelor. Thank god, I was starting to get a little too productive on Monday nights. Get your wine and yoga pants ready, because the contestants have been announced (are three flight attendants really necessary?), the bar has been set high, and we're ready for our annual Bachelor hiatus to end. I, for one, always love to see what new and inventive terms the contestants will come up with to mean "aspiring influencer". ("Content creator", anyone?) So, in anticipation of the new season, we've rounded up the craziest job titles from the past few seasons.
Tiara, Chicken Enthusiast
Season: Ben Higgins

When it comes to Tiara, I just need more details. What kind of chicken? Does she prefer nuggets or tenders? Is she a breast or a leg girl? Has she tried the Popeye's spicy chicken sandwich? And if not, can she even call herself an enthusiast? Does she, too, want a man to get her Chick-fil-A on Sunday like that contestant on Pilot Pete's season? This job title leaves me wanting more, and I feel like it's my journalistic duty to interview her and get all the facts about how enthusiastic she is about her love of chicken.
Daniel, Canadian
Season: JoJo Fletcher

Okay, I'm curious what exactly a professional Canadian does. I imagine they say "eh" a lot, play hockey, eat Canadian bacon, and love Justin Bieber, Drake, and Ryan Gosling. But if you have any other hypotheses about what it means to represent the entire country of Canada as your profession, without being the Prime Minister, please let me know your thoughts. 
Heather, Never Been Kissed
Season: Colton Underwood

This is a lie, I'm sorry. Heather, there is no way you HAVEN'T ever been kissed. She just wanted to top the virgin on the show and this was the next best thing. Or maybe she thought she was supposed to write down her favorite movie instead of her job? Either way, I'm not f*cking buying it.
James, Bachelor Superfan
Season: JoJo Fletcher

This was genius and I want to shake James S.'s hand and thank him. I can almost hear the gleeful screeches from groups of women at watch parties declaring him their dream man. An attractive single male who loves The Bachelor and can help me with my fantasy bracket? WHERE CAN I SIGN UP? Whatever happened to this guy anyway? Can we get eyes on James S. ASAP?
Alexis, Aspiring Dolphin Trainer
Season: Nick Viall

I, too, love dolphins and definitely wrote down "dolphin trainer" in elementary school as what I wanted to be when I grow up. But that was elementary school, and not on national television. And I can't help but feel like I need an update on the status of Alexis's aspirations. Going on The Bachelor brought her nowhere closer to achieving that dream—probably further from it, to be honest, since we realized she can't even tell a dolphin from a shark. But she does have her line of hoop earrings, so she has something, even if that something is not dolphins.
Tony, Healer
Season: Kaitlyn Bristowe

WTF does this even mean? Is Tony a "doctor" that focuses on natural remedies? Is he a therapist? Is he just like my manipulative ex-boyfriend who claimed he was a "spiritual healer" which actually just meant he would bully people until they broke down so he could build them back up? Whatever the case may be, Tony definitely sounds like he did a lot of drugs at Burning Man and just declared himself a professional healer in the middle of the Nevada desert. He kinda looks like he just escaped a fire, so maybe he should use some of that magical energy on himself. Has he ever actually healed anyone? Also, what insurance does he take? Inquiring minds need to know.
Rachel, Unemployed
Season: Ben Higgins

Honestly, props to this girl for being honest. She's not trying to make us believe she's anything other than what she is. Look, the girl is 23, of course she's unemployed. These people who come on here at age 22 and say they own a business are just liars. I guess this was before we could all just call ourselves influencers, so good for her. Respect, Rachel!
Jonathan, Tickle Monster
Season: Rachel Lindsay

Yeahhh, "tickle monster" sounds like a bootleg Sesame Street character, not a profession for a 31-year-old man. Jonathan is like that lingering guy at the bar who does not get the hint when you tell him you "have a boyfriend" that it means you're not interested, forcing you and your friends to move to the other side of the bar. If an adult man ever tried to tickle me, I would call the cops, and that's not an exaggeration.
Lucy, Free Spirit
Season: Juan Pablo Galavis

Correct me if I'm wrong, but I feel like people who are actually free spirits don't declare themselves as such. It's kind of like calling yourself a hipster. Lucy probably just did acid at Coachella one time while wearing a flower crown, and here we are. I'd love to see her these days, because I have a feeling she realized that she needs money to live, and has a boring job like the rest of us. Being a free spirit isn't so cute when you can't move out of your mom's house.
Evan, Erectile Dysfunction Specialist
Season: JoJo Fletcher

Please always remember that before Evan married Carly and had two kids with her that he was an erectile dysfunction specialist. I mean, this is just incredible. He's basically advertising his sexual abilities via his job title. Like, he literally specializes in guys not being able to perform, implying that he's an expert in it, and I admire that. Even if it's not true, which it probably isn't, you've only got one shot on this thing (unless you're Chris Bukowski) so why not lay it all out on the table? Of course, he still has his ED clinic, and has recently been in some legal hot water over making misleading claims.
Hayley & Emily, Twins
Season: Ben Higgins

I will say that even though "twins" is not a real job, Haley and Emily might just be the closest thing to professional twins this world has ever seen. I mean, they were a package duo even on Paradise, and even tried to have a spin-off show that just focused on them being completely incompetent at life. Most twins I know didn't even want to attend the same college, so I guess I respect Haley and Emily leaning into their one strength.
Lucas, Whaboom
Season: Rachel Lindsay

Lucas, your dumb little catchphrase was an embarrassingly overt attempt to make sure you got your 15 minutes. Now, I get that all of these people must want their 15 minutes, or else they would go on a dating app and not a reality TV show, but Lucas didn't do it very deftly. Frankly, I'm annoyed that the producers even humored him by casting him at all. The fun of watching The Bachelor is pretending that all these people are there for the right reasons and not to become Instagram influencers, even when we know they're all going to become influencers anyway.
Kelly, Dog Lover
Season: Juan Pablo Galavis

Honestly, I'm a huge dog lover, so this is my dream job. Although it's not exactly clear how one could make a living off of loving dogs, because if you could, every single person on Instagram in 2019 would be a millionaire. Kelly, tell us your secret! We could solve world hunger! If I had to guess, I'd say Kelly walks dogs sometimes and maybe even started an Instagram for her parents' dog, and it has 700 followers to date. Chase those dreams, girl!
Kamil, Social Media Participant
Season: Becca Kufrin

Kamil, I hate to break it to you, but we're ALL social media participants. You might as well have put "human man" as your job title. He is definitely the guy who has a passion for starting Twitter wars with strangers on the internet. Or maybe he was just getting a head start on his post-Bachelorette career, which doesn't appear to have worked out too well for him. 
I honestly don't even understand the point of giving the contestants job titles at all, considering half of them are fake and all of them just want to shill weight loss tea. But at least it gives us entertainment and extra fuel for our roasts.
Images: ABC (15)