The Best 'Bachelor In Paradise' Recap You'll Ever Read: The Finale, Night 2
Oh my God, it's over. We made it, fam. We don't have to be subjected to any more Bachelor-related programming until at least January. Now comes the sacred time when the demigod of ABC, Chris Harrison, will feed off the tears of middle-aged soccer moms everywhere before returning to Valhalla to slumber.
We start with a recap of this bullsh*t show led by Chris in a v festive dark purple tie before being subjected to a film reel of all the happy couples waking up after a full night of boning.
Kamil And Annaliese, Part 1
Here are Kamil and Annaliese, snuggling. "Alright, babe I gotta go—lots of activities." WTF activities you got planned today, Kamil? Are you going paragliding (and hoping for a terrible accident) before potentially getting engaged to this Stage 5 Clinger?

WHOA and we're already at the Do-They-Don't-They pavilion on Singles Beach. This b*tch really thinks she's getting proposed to, what with her speech about charm and this Polish man's ability to make her believe in love again after four failed romances in the previous six days, sunburn, drunken make outs, and about two weeks of face time, total. It's a recipe for success.
Annaliese's face totally sinks when Kamil doesn't propose. He's all, "yeaaaaaah let's slow this down. I totally want our love to blossom and to keep boning you, but I don't really want to sign a contract with ABC saying I have to pretend to be interested in you for the next 1.5 years."
Annaliese is all "OMG same. Whatever you want. Do you wanna try a threesome? I love you forever." Turns out being a psycho totally works, guys! Look at them, all happy and whatnot.
Jordan And Jenna, Part 1
Next up we have Jordan and alleged manipulative skank, Jenna. I only say that after doing a deep dive into the shady sh*t that Jenna is up to and, like, HOW COULD YOU. WE WERE ROOTING FOR YOU. WE WERE ALL ROOTING FOR YOU.

Jenna: You make me want to open my heart again and you're all I and my Instagram followers ever wanted.
Jordan: I believe in love at first sight and you made me feel lucky and (is he reading cue cards? cause it def seems like he's reading cue cards) ah sh*t here's a ring.
They hug and stuff and this all feels v anticlimactic. I figured they'd start making out with a bit more enthusiasm? I think Jordan is terrified of this woman—for good reason. Thank God he probs is dumping her as we speak.
Chris-Tal, Part 1
Sexy off-putting baby-voice haver, Krystal, and former fat kid, Chris, are snuggled in bed bonding over their auras and green juice. After Chris leaves to hunt down Neil Lane, Krystal is all "omg I'm so in love but I'm unsure. Will I still get as many Fit Tea deals if I say no or like how can I milk this for 15 more minutes?"

She shows up to the pavilion in a v odd romper combo and, IDK, maybe you'd dress up more for a potential engagement? Is she crying? There's a lot of sounds but not a lot of tears.
Chris: You've totes changed me and I'm a better goose now than the goose I was before and this isn't weird. I don't want to leave here holding your hand though (GASP) I want to leave holding your heart (vomits).
Do you think this is the same ring that Jordan got, too? Like did Neil offer a two-for-one deal? Asking for a friend. Also, how long are we giving this relationship? I got May 2019.
The Reunion Spectacular
Time for the reunion spectacular and LOL NO ONE CLAPPED FOR LEO F*CK YOU LEO YOU, ANCIENT DISCO-HAIRED B*TCH.
Alright, so we're gonna recap this again, apparently? Didn't we just …? Alright.

We kick things off with Jordan making a terrible Venmo joke about John, who has APPARENTLY been playin' games with Olivia. She's all "yeaaaah I thought things were great and then John pulled the plug cause of long distance and started HOOKING UP WITH CHELSEA."
I'M SORRY WHAT?! Chris quickly moves on and I'm like, v not done with this Chelsea and John narrative. No one explains further. Send help.
Chris focuses his sights on the human garbage pile, Eric. He's still hanging on to this "we were just friends" thing and Angela's all, "I totally played just the tip, like did that mean nothing?" Eric is confused. We're all confused.
Next up is a 30-second fight between Benoit and Jordan. They discuss the merits of comfort vs. discomfort and Benoit is all "well I don't compare women to foods" and Jordan is all "you're a fly in my face" and Benoit is all "DON'T TALK ABOUT CLARE I STILL LOVE HER" and that pretty much sums up the convo.
Sigh, we also check in with Dr. Lisp, Colton, and Queen of Weiner, Tia. "We're finally on the same page and totally just friends!" they both state and, like, I'm betting on at least one appearance from her on Colton's Bachelor season.
And a quick note, David the Chicken and Jordan hug it out. That's just so nice, you guys.
Astrid And Kevin
Alright, time to cover the most Canadian breakup of all time. Astrid is still v confused about WTF happened. Same girl, we're all rattled. She also states that she and Kevin have spoken but are not dating and are in limbo which, wait, what?
Kevin comes onstage in a blindingly white shirt and still has no idea what to say or how to explain what happened. Basically, it comes down to the fact that Ashley I totally ruined his life and he wants another chance with Astrid.
Astrid is all "mehhhh I don't trust you now," but Kevin is like, "well my therapist told me I'm an idiot so I'm here to tell you I'm a moron please take me back." Quote of the evening: "She's one of the coolest people I've ever met." Kevin, are we in fifth grade? I'm sure Astrid is like, so glad to hear how cool she is. OH, they're totally still in love and I give this two more weeks at least!
Kendall And Grocery Store Joe
Now, we're treated to a montage of how incredibly PURE Grocery Store Joe really is. Chris goes in for the kill and grills Kendall like, "when did you realize you made a HUGE mistake?" Kendall is v upset and she's like "how'd I let him get away?" Turns out, she pulled a lesson out of Annaliese's "How to be a Psycho" manual and flew to threaten see Joe. I and all of America are very suspicious of this meeting. Why did she bring cameras? Joe is all, "I DID love you when we left the beach and I came to my senses." Basically.

Joe comes out and the audience collectively loses their sh*t. A saint is in our midst. Joe's like, "I didn't think we'd ever be a thing and she totes f*cked up because, like look at me." They keep trying to play this whole thing and AHHHHHHHHH THEY'RE ACTUALLY TOTALLY TOGETHER YOU GUYS LOVE IS REAL. To crush his soul a bit further, ABC has demanded of Joe a sacrifice. He's going to be on Dancing with the Stars.
Annaliese And Kamil, Part 2
Here comes Annaliese, who clearly saw how flat and sad her hair was in Paradise and picked up a good volumizing shampoo. She's like, "yeaaaah long distance blows but like I'm willing to put in 80 % so he can do like 20% and let love conquer all." Kamil skips onstage and oh God, this is going badly. He's like, "yeah, she met my family and friends and buys me dinner and gives me 80% of her paychecks from Fit Tea but I need like, more." He says they lost the spark after Paradise and Annaliese looks like she's about to go full Carrie on everyone in the immediate vicinity.

Everyone is shook, the soccer moms in the audience are booing—Chris has lost control. Annaliese storms offstage and Kamil continues to sit there like a douche. Chris is like, "soooooo you couldn't dump her two days ago, like, not on live TV?" Kamil is like, "I mean I COULD have but then I couldn't have destroyed her in front of a live studio audience." Annaliese comes back out and, in a VERY Jerry Springer-esque moment, starts yelling at Kamil about the airline tickets she bought, the flowers she sent his mom, and the countless hours she's spent scrapbooking their life together thus far.
Annaliese:

Chris, shooketh, is like, "GTFO KAMIL" and everyone is jeering at this European man. The BIP crew comes and hugs Annaliese while Kamil is backstage like "great now I look like a douchebag on TV again" hahahahhahaha.
Oh my God, they're STILL arguing backstage and Annaliese is like, "I'll totally move to NYC" and Kamil looks v afraid that she'll actually do it. So she's like, "whatever k bye". And thus ends the saga of Annaliese and Kamil. May they rest in peace.
Jenna And Jordan, Part 2
Time for Jenna and Jordan to pretend they're still in love. Jordan's like, "mehhh she lives so far away". Jenna is all "I was hoping someone would like me teeehee!"
Wtf they're having a couples' weekend making vision boards and talking about aliens and Golden Retrievers. I asked my husband why we've never made a vision board and he's all "I can't believe you're making me watch this show." Jenna and Jordan continue drinking mimosas and talking about how weird they are.  That was a lot to process. They ask Chris to officiate the wedding on June 9, 2019, which, again, is hilar considering the whole Jenna text-gate situation.
Krystal And Chris, Part 2
Finally, it's time for *yawn* Chris and Krystal, who are decked out in wedding attire. Real subtle, guys. Chris is crying because he's nervous, and all of us are very uncomfortable. Krystal affirms that "this is my goosey" and I curl into the fetal position, counting the seconds left in this program.

Chris meets Krystal's pupperinos and it's borderline cute. They're also moving in together which, okay fine. The moms are also now besties, which I accept. And then we have a lot of goose jokes and a crystal joke and can we be done with this?
IT'S OVER. WE SURVIVED.
Images: Courtesy of ABC; Giphy (7)
The Best 'Bachelor In Paradise' Recap You'll Ever Read: Week 5, Night 2
Well, fam, once again I find myself shackled to a couch for two hours watching scantily clad twentysomethings butcher the meaning of "witchcraft." Ah, Bachelor in Paradise, it's good to be home! I didn't watch last night's episode because I was busy living my life, but I did see that Colton and Tia are no longer. I guess Colton wasn't emotionally ready for a relationship, which is why he just signed up to be in 20 relationships at the same time. Cool, cool. 
ABC: Colton is the next Bachelor!
ME: I'd like to be excluded from this narrative, one that I never asked to be part of since summer 2018.
Moving on. Tonight's episode starts off with a montage of all the happy couples and Venmo John. Seriously, HOW is this guy still here?
Astrid keeps saying that Kevin makes her feel like the most special girl in the whole world as the camera pans to a shot of them talking about salads. I've had a more meaningful conversation with my stapler, but okay.  
Chris Harrison shows up as everyone is knee-deep in tequila shots and announces that instead of getting sh*tfaced all day they'll have to be interviewed by former successful BiP couples: Tanner and Jade and Carly and Evan. Good going, Chris! Nothing kills a good buzz like Evan's disgusting facial hair. Meanwhile, Kamil looks like he'd rather peel his flesh off with a blunt spoon than listen to relationship advice. Same, Kamil. Same.
CHRIS HARRISON: Love can be found here if you really really really want to settle look for it.
They bring out the married couples who immediately start grilling everyone about their intentions. I'm sorry but, Carly, I'm pretty sure your intentions with Evan were to run as fast and as far as possible in the opposite direction. Please.
Jesus god. Every time Evan starts speaking and it reminds me why I'm glad I'm single.
EVAN: Don't you want what me and Carly have?
WHAT CARLY AND EVAN HAVE:

KAMIL: Yeah, I don't want that.
Kendall and Joe win the date because apparently they're the most "stable." What we don't see is while they're making this announcement Mike Fleiss is pointing a gun at Carly and Evan's heads from behind the cabana.
HAHA. Kendall and Joe aren't actually even going on a date, they're just babysitting for the married couples. Laaame. Astrid doesn't think Kendall should be trusted with a baby because she likes dead things in her hands, and it's an excellent point. I'll have child services ready and waiting on speed dial.

Joe is breathing the same air as a screaming baby and every woman in America's ovaries just exploded at the cuteness. I can't.
Cut to the rest of the house, who are discussing the prospect of marriage and kids as they pound enough tequila to tranquilize a miniature horse (RIP Lil' Sebastian). Jordan announces that he's ready for kids but only if he "finds the right breeder." Well Jordan, my dog Snowball is AKC registered and available, and after that comment I think she's about the only one willing to "breed" with you.
Okay, Cassandra is great. She's being super direct and calling Eric out on all his bullsh*t. He keeps telling her that he really wants a relationship but can't give her what she wants… which is a relationship. Tbh it kind of sounds like he just wants to bang in Paradise and then never speak to her again and have her be okay with that. Sounds like, oh I don't know, every guy in New York City.
Eric starts freaking out because Cassie isn't having it. She dared call him out on his bullsh*t and he starts having a mental breakdown. See, this is what's wrong with men in 2018. Cassie points out that he's essentially blowing smoke up her ass, and rather than apologize for assuming a grown-ass woman would like to be treated as his own personal summer toy, he feigns a mental breakdown and leaves Mexico. And everyone praises him for being in tune with his emotions! Meanwhile, if one of these girls *cough* Tia *cough, cough* pulled something similar then they're "crazy" and "batsh*t."
ERIC: Angela leaving was really hard on me. She was my girl.
ME: YOU KICKED HER OFF, THOUGH
See, this is a little confusing to me because I didn't see a gun to Eric's head forcing him to pick Cassandra over Angie?? I think Eric has multiple personalities or something, because sh*t isn't lining up.
Wow wow wow wow. He's waking Cassie up from a nap so he can break up with her. Soooo many levels of f*cked up right here.
ERIC: You awake?
CASSIE: No?
ERIC: Good cause I just wanted to say that I'm leaving. Have a great summer!
CASSIE:

Honestly, good riddance.
So I guess there are no new men coming tonight? Is that why production throws Chris a bone gives him and Krystal a date card? Chris keeps saying how he can't imagine his life without Krystal, and I love that he conveniently forgets comparing her to an order of calamari in a four-course meal of women. Krystal, does it make you feel better knowing that at least you weren't the hotel pillow mint he described Tia to be?

Yes, but at what cost sweetie?
Back at the beach, everyone is playing truth or dare like it's my seventh grade sleepover. Here's hoping Annaliese falls asleep early and Shushanna sticks her hand in a cup of warm water so she'll wet the bed. Fingers crossed!
Kamil says that Shushanna freaks him out because she's always staring at him, and yet he finds Annaliese, a woman who probably peed all over his belongings to mark her territory, normal. Interesting.
Kiwi Jordan also gets a date card and asks Shu on the date since he gave her his rose last week. Logical. She turns him down, though, because she says she's still into Kamil. She's like "Carly and Evan didn't like each other at first either and now they're married with babies." Tbh she's not wrong. Carly literally compared Evan's personality to a flaccid penis. #NeverForget
Shushanna pulls Kamil aside so she can tell him once again that she will never give up on them. Kamil following her rn is like his mom told him he has to clean his room and she's not leaving until he's done. I'm dying. This girl is bonkers. He's been pretty clear from the get-go that he's not into her.
KAMIL: I'm not into you AT ALL. Do you understand?
SHUSHANNA: 

Annaliese is no better, though. Kamil is really stuck between a rock and a crazy place.
Shushanna says she likes a challenge in a man, but why do I feel like her challenges always end in a restraining order?
Kamil starts exercising his 40 percent of the relationship and makes Annaliese confront the Russian for him. I don't like that Annaliese calls Shush a witch, though. Like, what, just because she stares at someone too much and may or may not wish bad things upon their significant other, that makes her a witch? 'Cause if so, then I'm a witch.
KAMIL: Shush has no beautiful inside, just a very beautiful outside which doesn't match my insides.
Diggy shows up in Paradise and tries to ask Shush on a date but she turns him down because she prefers her men emotionally and legally unavailable. It's a fair point. Diggy asks Olivia on the date instead, which I think is a wayyy better match anyway.
I love this pep talk Olivia is giving Shush rn. She's like "I can really see you with Jordan, NOT DIGGY, and you should go on more dates with Jordan, NOT DIGGY." Subtle, Olivia. V v subtle.
Okay, I'm starting to think Shushanna's strategy in Paradise might be similar to my strategy for dating in general: complain about being alone but never go on any dates when people ask you.
Fast forward to later that night, and Shu decides that she might actually be into Kiwi Jordan! I'm sure it had nothing to do with that hyper suggestive pep talk Olivia gave her and everything to do with their "connection."
Everyone keeps calling Shushanna a witch, but do they know what witchcraft actually involves? They're like "she's all over the map she must be a witch" but she's not acting any less insane then I do after five mimosas and a minute alone with my Snapchat followers.
SHUSHANNA: *is honest about her feelings and isn't afraid to pursue a man*
PARADISE:

Shushanna pulls Kiwi Jordan aside for a date she plans around the fire and he seems genuinely terrified to be anywhere near her and an open flame. Kiwi Jordan tells her "it's not me, it's you, because you literally told me to date other people" and she f*cking loses it. She's like "if you want dessert it's over there, bye" and then throws herself on the nearest daybed and starts sobbing.
Side note: Shu crying in this day bed is literally me when I can't find my headphones and want to go to the gym. True story.
SHUSHANNA: I'll never find love and I'm a f*cking witch!
KIWI JORDAN: That's just a stumble!
That's just a stumble! Ah, that's good. I'm going to use that the next time I vomit in my bathtub instead of the toilet.
IMAGES: Giphy (6); @bach3lornation /Instagram (1); @shushanna_mk /Instagram (1)
The Best 'Bachelor in Paradise' Recap You'll Ever Read: Week 4, Night 2
It's barely been 24 hours since America cancelled Leo for being a manipulative piece of sh*t, and already I have to watch a repeat of him gaslighting Kendall. This should be good for my blood pressure. Shall we see what tonight's episode of Bachelor in Paradise has in store for us?
JOEEEE. BE STILL MY HEART. Joe rescues Kendall from being verbally attacked by a grown-ass man, and all of America just started believing in love again. Seriously, he is too cute. Just watching him be all protective and adorable with Kendall is giving me urges to mount her head on my wall. I mean, she does have working eyes and ears, yes? How could she ever pick Leo over Joe??
I still don't think he should take her back, though. She made out with another man! He should save himself for someone better. Like me. Obviously.
Okay, is that really the outfit Jenna chose for a rose ceremony? A rose ceremony! She's wearing soffe shorts and a bra top. It looks like what I wear to the gym take selfies on the bike. Come on.
JK we STILL aren't at the rose ceremony. Apparently ABC hasn't been taking my tweets to heart about wrapping this season tf up, because they're going to drag this rose ceremony out for another entire day.
ME:

Damn. Benoit moves on quick, doesn't he? He's got Chelsea cornered in the hammock and, honestly, she could do better. I truly don't understand why she's been so overlooked this season. She's super pretty and not insane. What more do you people want?
Eric gets a date card for reasons that are unclear. If anyone deserves a date card at this point it should be Chelsea! He asks Angela on a date and I'm hoping that now I'll finally be able to see a personality trait out of this girl. I won't hold my breath, though.
So wait. For their date they get to hang out in a hotel room? Seriously, what is happening here? There's a crazy amount of alcohol littered throughout their suite and the staff is being weirdly discreet about the entire thing. What do they think is about to happen here? Angela keeps talking about how this date could end in love, but I think it's more likely that this date will end in explosive diarrhea. HOW much dairy are they trying to feed these people??
WAIT. They're getting in a pool now?? After they consumed enough cheese to feed a small country? That's cruel and unusual punishment. TOO FAR, ABC. Too far.
Back at the beach, Venmo John is trying to steal Kendall from Joe and SHE LETS HIM. Kendall, are you brain damaged?  Because I really don't see another plausible explanation for WHY YOUR TONGUE IS DOWN VENMO JOHN'S THROAT.
KENDALL: I made out with someone else.
JOE: I'm falling for you.
ME:

Joe's like "I really hope we can focus on each other and my girlfriend stops making out with other guys." That would be nice, wouldn't it, Joe?
I love that Leo has completely given up on Paradise and wants to set fire to the whole damn thing. I'd say we're the same person, except I'm not a manipulative asshole who has done porn.
LEO: Paradise needs to burn to the ground and start fresh.
ME: I can Venmo you money for the matches if you want!
Moving on to the rose ceremony. I've only aged 20 years since the last one, but it's chill. I guess Chris Harrison was busy doing nothing and getting paid for it, so he has Annaliese step in this week to give the inspirational speech at the start of the cocktail party speech. She keeps talking about how great it is that everyone is finding love and she's acting like she didn't just meet Kamil yesterday. 
LOL. Leo takes a route I usually only reserve for ex-boyfriends, and not only burns his bridge with these people but throws a goddamn grenade on it. He's like "that was a cute speech, Annaliese, but if you could all just refer to my latest burn book entry, "Paradise", that would be great!"
LEO: Good luck with Grocery Store B*tch
JOE:

OH SH*T. Joe runs after Leo and is like "say that to my face." Joe is from South Chicago and probably knows how to make a body disappear can definitely hold his own in a fight. Leo would still be looking for his ponytail holder to get his hair out of his eyes while Joe kicked his ass.
Meanwhile, Kendall is all starry eyed now because Joe is the only man on that island who would actually risk getting his shirt wet to defend a woman's honor.

OH THERE YOU ARE, CHRIS HARRISON. Nice of you to join us. And he even deigned to give us a little speech! How special. I guess he needed to pop by to pick up his paycheck so he decided to throw a few lines out for the camera while he was there. How kind of him.
Chelsea is the only single girl left and four guys are up on the chopping block this week: Connor, Venmo John, Benoit, and the chicken. It's like she's at Baskin Robbins and has the choice of any ice cream she wants, but unfortunately every flavor is poop.
Lol Chelsea looks genuinely terrified at the thought of being wooed by any of these dipsh*ts. Meanwhile, all the men are acting more desperate AF. Benoit keeps trying to make out with her, and Connor has his shirt unbuttoned to his goddamn navel. This isn't a harem, Connor! Cover up!
So apparently Connor drinks tequila out of a champagne flute and people hate him for it. Honestly, I feel like his drinking habits are the least offensive thing about him. 
Ah. It's all starting to make sense.
Chris Harrison decides to grace us with his presence again so they can start the rose ceremony. The rose ceremony goes as such:
Krystal picks Chris.

Kendall picks Joe.

Tia picks Colton.

Jenna picks Jordan.

Astrid picks Kevin.

Annaliese picks Kamil.

Angela picks Eric.

Chelsea picks… John.
WHAT. I felt like her and Benoit actually had some sort of connection, albeit a creepy one. I, mean, how has John managed to stick around for this long?? I'm genuinely perplexed.
Cut to the next morning, and new women are already coming in. Olivia, who was apparently on Arie's season though I've never seen this woman before in my entire damn life, walks in first. Like, could ABC find no relevant contestants this year to bring to Mexico? I would not at all be surprised if Olivia turned out to be some rando they pulled off the streets and are now trying to claim was on Arie's season. Nice try, ABC.
Olivia chooses John for her date because everyone else said no. I hope he takes that to heart. Okay, why are they crashing this quinceañera, though? Is it not enough that they make a mockery of their beaches every day but now they have to spit on Mexican tradition by making out by the punch bowl? Really?
JOHN: No one gets down like a programmer does
ALSO JOHN:

Back at the beach, another rando shows up at Paradise. Cassandra was apparently on Juan Pablo's season, which was FIVE YEARS AGO. ABC literally dug this b*tch out of the catacombs. I was still buying Four Lokos with my fake ID when this girl was still relevant, but okay.
ERIC: Damn, baby got BACK
ME: That woman is a mother, Eric!
Eric finds out that the theme of her date is "go big or go home" and he's like "my last name is Bigger so that's crazy." Yeah, it's crazy how production plans every moment of your life, huh?
OMG. Cassandra asks Eric on the date and HE SAYS YES. Angela is about to be piiiissed. He's like "I just want to test the waters and the back of Cassandra's mouth, you feel me?" Ohhhh I feel you, Eric.
I love that Angela just keeps repeating "but we said we were on a break not going on any other dates!" Oh, Angie. Just because you ate six pounds of cheese with a man and said the phrase "all in" does not mean he's not going to dump you the second someone with bigger boobs comes along. Come on. 
And that concludes another riveting episode of Bachelor in Paradise! My mind only melted a little. I guess we'll have to wait until next week to see if Eric goes with bigger boobs big or goes home. Can't wait!
IMAGES: Paul Hebert / ABC (2) Giphy (4); @chelsea_roy_ /Instagram (1)
The Best 'Bachelor In Paradise' Recap You'll Ever Read: Week 3, Night 2
Tonight on Bachelor in Paradise, Jenna wakes up the morning after the rose ceremony with the realization that Jordan will do anything for an infinitesimal amount of fame, including murdering a stuffed animal on national television. I was assuming she had working eyes and ears like the rest of us and would have figured that out the second Jordan breathed in her direction but, alas, I assumed too much. She's like "I still like Jordan but if anyone with a penis walks through that door I will be trying to go on a date with them." Fair.
Omgggg Kendall and Joe are so freaking cute. I can't. All I have to say is if she breaks his heart I will lead the angry mob that wants to mount her head on a wall like she did her family cat.
Leo is the first new guy to walk into Paradise and his hair is doing far better in this humidity than I thought it would. Meanwhile, every single girl on that island immediately orgasms at the sight of his man bun.

Jenna is like "my first impression of Leo is that he's got confidence." I'm sure that's exactly what the director of his first porno said about him too.
Okay, I do NOT  like the way Kendall is looking at him from across the room rn. He starts interviewing all of the blondes first because apparently that's his type. I'm sure Becca feels real good watching this at home.
Leo asks Kendall on the date and SHE SAYS YES. KENDALL. WHAT THE F*CK ARE YOU THINKING. Whatever. Honestly Kendall, if you're gonna look elsewhere besides Joe then YOU DON'T DESERVE HIM. Also, Joe, you can call me.
KENDALL: So are you okay with this?
JOE: Sure. But I hope it rains and you have a terrible time.
Considering those are literally the exact words I used when my roommate told me she couldn't come to brunch with me because she had a "family thing", I think he handled that pretty well.
Y'ALL JORGES TORGES IS BACK. F*ck Arie and Amanda Stanton making a cameo, Jorge is the real star of this show. Also, does this mean his Mexican tour guides business didn't work out for him then? Shame.
Wait. Jorge writes romance novels now? You're telling me that while I've been over here pitching think pieces on if Tia got a boob job or not this guy became a published author? That's what you're telling me rn?

They bring out some old Bachelor rejects to reenact the plot from Jorge's book and it's more painful to watch then the YouTube videos I made with my best friend in 7th grade where we pretended to be members of the band B*Witched.
I will begrudgingly say that this date at least had some thought put into it. Bravo, ABC. Leo and Kendall have to shoot a romance cover for Jorge's book. Jorge has them in all these compromising positions and it's like, Jorge, I thought you were on my side? JOE DESERVES BETTER THAN THIS, JORGE. They start making out and there's limbs and hair everywhere. I want to stop watching but it's like I can't look away from this gyrating mass of hair.

Kendall and Leo finally take a break from dry humping against the nearest palm tree to come back to the beach and flaunt their sexual chemistry in front of Joe.  
JOE: Why are you in a robe?
ISN'T THAT THE QUESTION, JOE.
God, I can't believe Kendall is trying to back burner GROCERY STORE JOE after spending three hours with a man who bases his entire aesthetic on an 80s teenage girl's calendar. I guess it's true what they say: you can lead a horse to water but you can't force the horse to realize she's making a big f*cking mistake with Fabio.
Kendall starts crying in the confessional booth. She's like "I didn't realize it would be sooo hard to choose between two attractive men who are into me. Why me??"
ME LISTENING TO KENDALL RN:

Cut to Leo, who's reduced Chelsea, A SINGLE MOTHER, to suggestively licking her lips over a warm glass of Titos. Seriously, ladies, what is going on here? I feel like I'm taking crazy pills!
LEO: Do you like piña coladas? And getting lost in the rain?
CHELSEA: God, take me now.
They start making out in the hot tub and I am PRAYING Kendall walks in on this. Though something tells me walking in on her man making out with someone else might actually turn that crazy b*tch on.
Cut to the next morning and Joe is already heavily drinking. Respect. He has to watch Kendall and Leo nuzzle noses from across the room, and I don't blame him for not wanting to be sober for that. I'm not even sober for that. *sips wine*
Leo is like "I know we're gonna have a story together." Yeah and I bet that story will be "How I Got An STD in Paradise." Good luck with that, Kendall!
Because the producers want me fly to LA and set fire to ABC studios, they give the next date card to Colton instead of Joe. Unless the two of them get murdered while out pretending to buy authentic Mexican souvenirs, then I don't want to see this date.
Colton asks Tia on the date, because I can only assume production is holding his family hostage somewhere until he breaks down and says Tia is his girlfriend. I'm also using the term "date" loosely here because really they're just wandering aimlessly in a Mexican tourist trap.
Raven and Adam from last season's Bachelor in Paradise suddenly show up during this weird game of musical chairs taking place in the town square. Tia is practically foaming at the mouth to brag to Raven about  some guy who told her "I guess I want to see where things go with you." Naturally, Raven looks piiisseddd.
Yoooo Raven is being so real with Tia right now and it's long overdue. She's like "I just don't think he likes you though?" THANK YOU, RAVEN. Where were you last week when she was crying by a sand dune in the fetal position?
RAVEN: If he hurts you I will cut his penis off and then he'll never be able to lose his virginity.
Ah, Raven. You've been missed.
Here we go again. It's the Tia and Colton show. After Tia talks with Raven she immediately pulls Colton aside to lock sh*t down. Lest he have five minutes alone with his thoughts to remember he isn't that into her and doesn't actually want to be there.
TIA: Raven thinks you don't really like me?
COLTON: And…?
OMG Tia you are not getting engaged at the end of this! Just because you managed to blackmail Colton into asking you to be his girlfriend does not mean you'll get a ring. If that were true then I would be engaged rn and certainly not entertaining the idea of going on a second date with a guy who tries to start a text conversation with me by saying "'sup".
I guess Jenna's box dye job finally washed out because suddenly she's a blonde? And did it happen before or after Leo said he was into blondes?
Benoit shows up to Paradise next and immediately captures Jenna's attention. Which is saying something, because that girl has the attention span of a cat with a laser wand.
BENOIT: Jenna, I like your vibe. I like your energy.
That would be the cocaine, Benny.
Benoit asks Jenna on the date and I'm scared to see what Jordan throws into the ocean next. Perhaps that tropical three-piece suit. A girl can dream.
Okay, Jenna looks amazing so you know she didn't come to play. For their date they go to the Mexican equivalent of a Denny's. I guess the spent their entire budget on that photo shoot, huh? How romantic.
Okay, WHAT are these two talking about rn? Jenna's like "can you go deep though?" and Benoit is like, "Oh I can go deep."
ALSO BENOIT: 

Meanwhile, back at the beach, Jordan is slowly losing his sh*t. He starts drawing something in the sand and 10 bucks says it's a crude rendering of his penis.
Jenna gets back from the date and she. is. smitten. She's like "Benoit is saying all the right things, everything I want to hear." It's crazy how the producers make that happen, isn't it?
Lol, okay so Jordan wasn't drawing nudes, just a giant "I'm sorry" written in the sand. I put more effort into my grocery lists then he has with this apology, so she better not fall for it.
JENNA: Jordan is being super vulnerable and I'm confused.
SAME GIRL. I am confused as to why you think this is a genuine display of human emotion?
And on that note, I'm outtie, betches. We'll have to wait until next week to see which loser Jenna chooses to "trust with her heart." Should be riveting.
IMAGES: Giphy (4); @thebacheloretteabc, @bachelorinparadise /Instagram (1); ABC (1)
The Best 'Bachelor In Paradise' Recap You'll Ever Read: Week 3, Night 1
Welcome back to Bachelor in Paradise! The show that keeps on giving leaves us shackled to our couches for 4-6 hours a week. When last we left off, Chris was interrupted in the middle of comparing living, breathing women to courses in a meal by Tia who, hopefully, came armed to this conversation with a shoe so she can beat him to death with it. I'm rooting for you, Tia!
TIA: You told me that I deserve the best.
CHRIS: You do.
TIA: But you made out with Krystal.
CHRIS: I did. But I'll fight for you.
TIA: 

Okay, see this is what's wrong with modern dating right here. They keep talking in circles around each other and Chris might as well be speaking in Pig Latin for all the sense he's making rn. Tia is pissed because Chris told her he would commit to her, meanwhile Chris is saying that he did mention commitment to her but will actually do the opposite. But, hey, at least he said the word commitment! That's got to count for something, Tia!
Jesus. This talk is making me want to call my internet company and abandon the sh*tty internet plan that makes it possible for me stream this abomination on clear, cloudless days only. Tia keeps saying Chris's argument doesn't make sense—and it doesn't—but what really doesn't make sense is how either of these women can fight over him while he's wearing that fugly bandanna.

HOW.
Moving on. Oh, that poor parrot needs to stay far away from Kendall. Next time we see it it will be on her wall.
Tia thinks that because Colton warned her about Chris, Colton is in love with her. It's flimsy evidence at best, but her crazy ass will take anything she can get.
HAHA. Tia yelping "help" after realizing she's insane is me in the mirror every morning.
Jacqueline and her monotone voice emerge from behind a palm tree. Idk why, but there's something v unnerving about Jacqueline to me. I think it has something to do with the full set of baby teeth hiding in that tiny mouth of hers.
Bibi's like "she doesn't smell like Paradise yet. I'm screwed." Bibi, this girl has the personality of a mechanical pencil. I think you'll be fine, girl.
Jacqueline pulls Colton aside as Tia is literally in the middle of professing her love to him again. Lol this should be good.
JACQUELINE: Can I steal you for a second, Colton?
TIA: 

WHAT. Colton turns Jackie down?? First of all, you can do that? Second of all, he can't say no to a date! What does he think he's here for?  To sip on his Mike's Hard and work on his tan? Absolutely not. You're never going to lose your virginity with an attitude like that, Colton!
Colton tells Tia that he's still into her but he doesn't want to, like, do anything about it. Now, if you'll excuse me, I'm just going to stick my head in an oven. Are you effing kidding me with this, ABC? Honestly, this Colton/Tia thing has gone on far too long. I've had enough. Someone murder them both already. For f*ck's sake.
Jackie picks Kenny for the date because one of the producers lost a bet and had to make this happen. That's the only way these two on a date makes sense. I'll be shocked if they find anything to talk about. Fingers crossed the producers don't have to resort to poking them with sticks to generate any sort of human emotion!
KENNY: You're pretentious, aren't you?
JACKIE: 

Clearly this love story was written in the stars. Good luck, kids!
Back at the beach, Annaliese is patiently waiting for Kenny to get back from his date. She's like "I have to find love get a rose tonight. I. have. to." Damn, this girl did not come to play. She immediately pulls Kenny aside to show him the pink goo she picked out for dessert.
OH MY GOD DID ANNALIESE JUST SAY SHE WANTS TO OPEN HER SEXUAL DOOR TO HIM? Does she mean, like, her back door? Is that what she's trying to say? I'm confused.
Okay, Venmo John is killing it this season. Who would have thought a man with a decent job and a 401K would be more of a hot commodity than a former pro athlete? No, seriously. Who.
Meanwhile, Chris and Krystal are heating up. It's disgusting. He's like "I really appreciated you having my back when I was trying to dump my side chick. That was hot." Krystal, is this what you've been dreaming about your whole life? Because if so, then I'm so glad you found your knight in shining armor!
Okay, Bibiana is a goddamn therapist at this point. She should honestly be charging by the hour for the amount of time and effort she's putting into getting these losers to express basic human emotion.
COLTON: So my only choices are to date Tia or go home? Guess I'm going hom—
BIBIANA: B*tch, what did we just talk about?
Damn. Tia really wore Colton down. Colton decides he wants to give their relationship a chance and Tia actually screams in ecstasy. It's v disturbing.
Also, Tia all you ever wanted was for him to "give it an honest chance." No, that's not true. You wanted to bully him into dating you. And it worked. Congratulations, you sociopath. (And can I DM you for tips?)
Moving on to the rose ceremony. I never thought we'd get here. I'm genuinely worried Bibi is going home, though. And what will her patients cast mates do without her saving their boyfriends in rose ceremonies when they're mad at them? Hmm?
MY GOD. What is Jordan wearing on his body rn? It's like a vest/pant combo made out of the vacation section at a Goodwill.
Elsewhere, Caroline has Venmo John cornered on a couch listing off her demands for the rose ceremony. 
CAROLINE: I just hate this campaigning for roses. I'm not that kind of girl.
NARRATOR: She absolutely was that kind of girl.
Then there's Jubilee, A WAR VETERAN, who's reduced herself to handing out back rubs for a rose. Is this really a back rub or  is she actually using a tactic they teach in the army to get the enemy to submit? She could have some real tricks hidden under that crop top.
Lol David is over here trying to give Bibi a pep talk. He's like "Kenny said he's into you. He said you have a good booty." What a strong foundation to build a relationship on! It's worked out so well for the Kardashians.
WHAT. Kenny and Bibi start making out and I AM HERE FOR IT. Never mind that Kenny all of the sudden has half of Paradise vying for his attention. SAVE OUR GIRL, KENNY. I beg of you.
Jackie grabs Kenny next and is like "I hope you'll still give me a chance now that I just turned 27. I read an article in the New York Times that says I'm past my prime now."
ME:

Um, this man is the father of a 12-year-old college graduate, I'm pretty sure he doesn't give a sh*t if you're old enough to pay for your own health insurance now.
Meanwhile, David pulls Jenna aside and gives her a giant-ass stuffed animal for her birthday. Omg. It's literally a washed-up street dog. What was that, like, the only available thing in the prop room?
Jordan is piiissseddd. He starts dragging the dog down the beach AND THROWS IT INTO THE OCEAN. That is actually so f*cked up. I mean have I done the same thing to my ex-boyfriend's beloved Kurt Cobain T-shirt after he dumped me in the middle of a beer pong game freshman year? Yes. That's neither here nor there.
Jordan is losing it and starts going OFF on Chelsea and Jubilee. And it's, like, Jordan, you can't start yelling insults at women to their faces. This isn't MTV.
ANNALIESE: I would not be with a man who speaks to me that way. Nope.
JORDAN: Will you accept this rose?
ANNALIESE: Omg I would be honored.
JORDAN: Sike!
Eric confronts Jordan and tells him he needs to apologize to all the ladies or else. Damn. I forgot how attractive Eric is. There's just something about a man treating women like actual human beings instead of just props for their next Instagram post that's so… sexy. I guess I'm just a hopeless romantic like that!
Eric is the perfect man. I rest my case.
Chris Harrison hauls ass and shows up at the rose ceremony before any other drunken fights can break out. F*cking finally, Chris! The rose ceremony goes as such:
Jordan picks Jenna, who can barely open her eyes with all of that glue holding her eyelashes on. It's possible she doesn't even know Jordan is the one who picked her. Who can say.

David picks Chelsea.

Kevin picks Astrid.

Chris picks Krystal. God help her.

John picks Jubilee.

Joe picks Kendall.

Colton picks Tia. Vomit.

Eric picks Angela.

Kenny picks Annaliese. WAIT WHAT. HOW. OVER BIBIANA. How f*cking dare you.
And on that note, I'm out y'all. I have to go try and not have nightmares about Jordan chasing people in the rain. BYE.
Images: Giphy (5) @bachelorinsider /Instagram (1); @bachelorinparadise /Instagram (1)
The 'Bachelor In Paradise' Season 5 Trailer Is Out & It Looks Wild
After a *Chris Harrison voice* dramatic fourth season of Bachelor in Paradise, it's pretty hard to get hot and bothered for Bachelor in Paradise season 5. The cast is full of randoms, and it's pretty east to predict who's going to be dramatic and generally awful—I'm looking at you, Jordan and Krystal. Still, I'm a Bachelor addict and will watch anything these producers fart out for ratings (except The Proposal, that show is dumb af). Now that the first trailer for Bachelor in Paradise season 5 has been released, though, I have some thoughts and renewed hope that this season won't be total dumpster fire or a snooze fest like The Bachelor: Winter Games.
The Bachelor in Paradise season 5 trailer opens on a denim cut-off clad Tia fawning over the beauty of what is surely a herpes-laden Mexican resort. Tia could definitely fall in love there. I mean, her Southern twin, Raven, found her prince charming on this same beach, so why can't Tia? They're basically the same person. Of course, we don't see Colton in this promo because he literally just got kicked off The Bachelorette for being a virgin who can't drive. Never fear. I have a feeling he'll show up late in the season.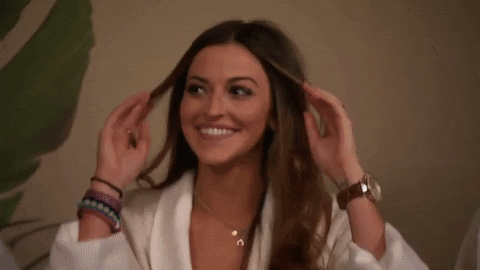 I'm betting the whole first half of the season will be dudes trying to dry hump Tia on that weird beach canopy bed thing while she pines over Colton. She'll totally go on a date with the first guy to get a rose, but he'll walk away from that beach picnic with the bluest of balls when Tia tells him her heart belongs to someone who maybe isn't even coming.
The teaser gives us a glimpse into who gets the most camera time this season. We get Bibiana crying like a second-rate Ashley I. We also see guys from Becca's season who were gone too soon like Wills, Joe the Grocer, John the Asian guy who's probably secretly really rich, and then other Becca rejects like David aka the chicken.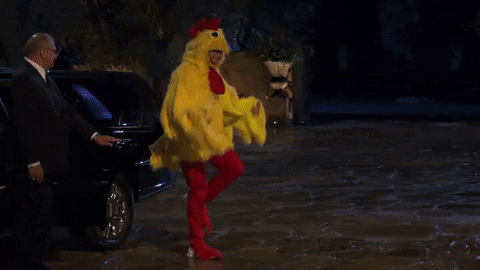 Do David and Jordan have unfinished business? Of course they do. Prepare to see them go after the same girl at least once. The video shows Jordan at a table overlooking the ocean with Annaliese from Arie's season. I'm pretty sure she's either on the date because either no one else wanted to listen to Jordan talk about himself for four hours or because David hinted at liking her. Whichever reason, I already feel super bad for her. I'm cringing at the thought of her enduring the sight of Jordan's in his gold Speedo. I'm sure we will add gold Speedos to the list of experiences that have traumatized Annaliese.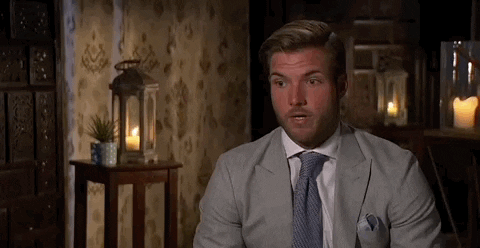 There are some hints in the preview that make me genuinely excited to watch the show. Most of the women they picked, sans Krystal, are actually likable and probably deserve love. Eric and Kenny from Rachel's season are back, which is the closest Eric is going to ever get to being the Bachelor, so I'm stoked for him. Plus, I've been wanting Kenny to find a decent step-mom for his daughter. And Wells is back. Yes, he's just the bartender again and probably won't make out with one of the contestants like last season, but the Wells puppet comedy is pure gold and we need more of it.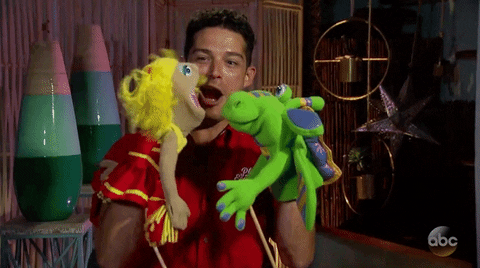 No matter what happens this season, there's bound to be drama, at least one person's eyelash extensions slowly falling out episode by episode, and a tangled mess of hair extensions. Bachelor in Paradise season 5 premieres Tuesday, August 7, and with the Tickle Monster on the loose, let's just say people are bound to find some sand in unfortunate places.
Watch the entire Bachelor in Paradise season 5 trailer below.
Images: Giphy (3); Bachelor Nation on ABC / Youtube