Healthy Post-Workout Snacks That Won't Undo All Your Progress
I don't know about you, but I literally always feel the need to reward myself with at least 36 burritos and 75 margaritas after a good, hard workout. Unfortunately, I have to force myself not to be the fat f*ck I truly am at heart, because I don't want to reverse all of the time and energy I just put in at the gym. Instead, I save my money and keep my waistline at bay by fixing up some healthy post-workout snacks at home.
Here are four healthy post-workout snacks for when you're super hungry after exercising but don't want to eat anything that makes you feel heavy like you didn't just bust your ass at the gym.
1. Avocado Toast
Avocados are the f*cking best, especially when they're slapped on top of some carbs. My favorite avocado toast recipe is super simple to make. All you need to do is mash up half of an organic avocado, spread it on a slice of toasted 10-grain bread, then top it with red pepper flakes, sesame seeds, hemp seeds, turmeric powder, Himalayan pink sea salt, and fresh lime juice. Top it however you want to, but this is my number one go-to snack to eat after a killer class.
2. Protein Shake
Yeah, I know what you're thinking… protein shakes are trash. Sure, some of them are gross, but they can actually be pretty damn good and nutritional if you use the right ingredients and protein powder. Mix an all-natural plant-based protein powder in vanilla or chocolate with fruits and veggies that complement the powder flavor you choose. I personally use less water in mine because I think thicker shakes are way more filling than loose, watered-down shakes, but you do you, boo.
3. Bananas With Peanut Or Almond Butter
Bananas are high in electrolytes, low in calories, and extremely delicious, making them a kick-ass post-workout snack. Just cut a banana in half and dress each side with 1-2 tablespoons of peanut or almond butter, which serves as the missing protein and healthy fat components that will replenish your body after sweating to death. If you're feeling fancy, throw some granola on that b*tch.
Pro tip: Coat the banana with the nut butter of your choice and a dark chocolate drizzle, then throw it in the freezer before you head out to exercise. You'll come home to a cold, ready-to-eat treat that feels like a magical dessert in your mouth.
4. Açai Bowl With Nut Butter
I didn't realize how nasty the phrase "nut butter" sounded until I just wrote it. Anyway, açai bowls are said to be the perfect thing to eat after working out for many reasons. Although they're high in natural sugar, because they're full of fruit (duh), açai bowls are literally super-food bowls packed with antioxidants that boost your energy level. Depending on which type of nut you like best, top your bowl with some butter, and enjoy.
After eating any of these post-workout snacks, you should feel full enough to push back your taco and margarita cravings until cheat day. If you're still hungry, make another serving of your healthy snack option or just say "f*ck it" and go reward yourself at your local Mexican restaurant. At least you worked out today. You can always try again tomorrow.
Foods That Will Make Your Nails And Hair Grow
We already know that you can add collagen supplements to your fave shakes and smoothies to get your hair and nails to grow (in addition to giving you supple skin, of course). But what you may not know is that there are plenty of other foods for healthy hair and nails that will give you nail beds like baby Stormi Webster's and locks as long as her mom's (weaves). Because honestly, if you're consuming calories you may as well make them worth your while and eat your way to enhancing your beauty.
So if you're in the market for naturally long hair that doesn't look like Shawana's cheap K-Mart polyester hair extensions, include these foods in your diet for longer hair and nails.

1. Avocado
Lucky for all the basic betches, avocado toast has another purpose beyond providing weekend brunch content for Instagram. Avocados are high in Vitamins B and E which work at the cellular level to protect, strengthen, repair and stimulate hair growth. So go ahead, pay extra for guac at Chipotle and feel no remorse. What you're spending on mashed up avocados, you're saving on hair extensions.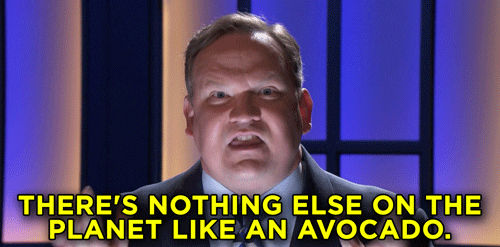 2. Almonds
A major reason to justify paying like, a million dollars for a bag of almonds? The healthy nuts are a great source of biotin, which is a water-soluble B vitamin that stimulates hair growth and turns weak, brittle nails into strong talons like Cardi B's.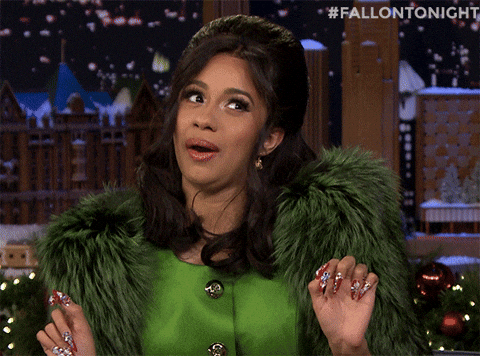 3. Carrots
Am I the only one whose grandmother used to tell her that eating carrots made your eyes pretty as a way to convince her to eat them? I passed on the carrots, because I knew at a young age that carrots weren't going to turn my shit brown eyes into baby blues. But had I known that the veggies would make my hair grow long like Rapunzel's (I exaggerate, slightly), I probably would have chowed down. Missed opportunity, grandma. Carrots are filled with almost every vitamin in the alphabet (A, K, C, B6, B1, B3, B2) in addition to fiber and potassium. When combined, these nutrients provide a shit ton of benefits for your hair—including strengthening, stimulating growth, and providing a lustrous, silky-smooth texture.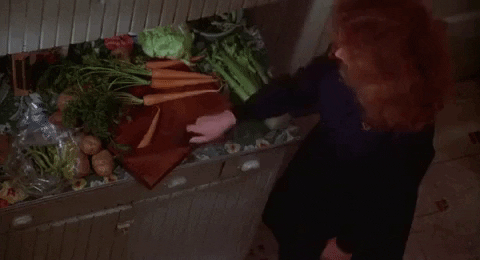 4. Pineapple
Thanks to that one episode of Kourtney & Kim Take Miami, you're probably well aware of the benefits that pineapple can have on oral sex. But what you may not know is that the sweet tasting fruit can also benefit your nails. Eating chunks of pineapple helps your body to use protein more effectively and supports collagen production, which help your nails grow longer and stronger.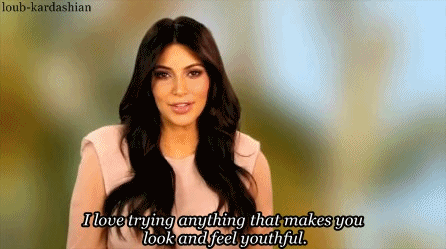 5. Chickpeas
Your questionable obsession with eating an entire container of Sabra hummus is now deemed completely healthy. Chickpeas are loaded with protein, zinc, and B vitamins, which are critical for strong hair, nails, and even clear skin.

6. Pumpkin Seeds
Another reason for basic white girls to love pumpkins: eating pumpkin seeds can make your nails grow. The seeds are a major source of zinc, which is a mineral that supports connective tissue in the body, and ultimately stronger hair and nails. Now we wait for Starbucks to start garnishing PSLs with PSs (pumpkin seeds, duh).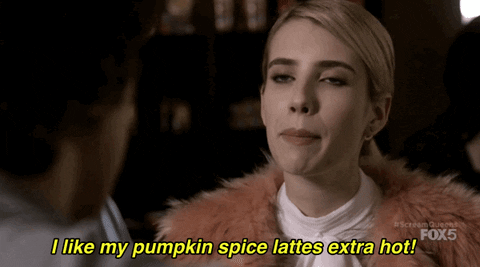 7. Spinach
You've probably heard the term "superfood" before, which basically means a food has like a million different benefits. Exhibit A: spinach. The leafy vegetable contains vitamins B, C, and E and a shit ton of iron. Those all help your red blood cells carry oxygen to hair follicles, which is essential for healthy hair growth and stronger strands. So alas, those green juices do more for your looks then just making you look healthier by holding them.

Images: Valerie Elash / Unsplash; Giphy (7)
Your Beloved Avocado Toast Is Keeping You From Buying A House
If you saw avocados were trending today and wondered why, you can thank Tim Gurner, the 35-year-old Australian real estate mogul who went on Australian 60 Minutes and implied that the reason millennials don't have houses is because we're spending too much money on avocado toast. I mean, just by reading that sentence and letting it roll around in your brain for a few seconds I think anyone can poke holes in Gurner's theory, but just as with any stupid shit someone says on television, were here at Betches feel compelled to respond.
Tim Gurner, welcome to your tape.
First off, I reject literally everything you have to say in this interview. I reject the premise. I reject the idea that all that stands between me and my very own above ground pool is a creamy serving of healthy fats. I reject your knock-off Wolf Of Wall Street look. I reject all of it. Go home. Take an L. You're drunk.
Construction mogul Tim Gurner is upfront about Australia's housing problem -he says his generation needs to stop whinging & start saving. pic.twitter.com/bysx3Jler5

— 60 Minutes Australia (@60Mins) May 14, 2017
Gurner starts out his interview by saying, "When I was buying my first home, I wasn't buying smashed avocado for $19 and four coffees at $4 each," which like, okay, that's cool, but guess what… maybe the people who are spending their money on avocado toast aren't like, looking to buy a house? Have you considered that perhaps this new generation of people also comes with a new set of priorities? Like, you know how your generation's priorities were doing coke and using the stock market to wreck the economy and destroy the prospects of the middle class for generations to come? Well ours are doing molly and dealing with the fact that our undergrad degree cost three times what we make annually. That's just how it goes.
And speaking of the wrecked economy, have you considered that (and we'll say this loud for the people in the back) millennials inherited the worst financial crisis since The Great Depression? We're bogged down by incredible student loan debt, and are unable to advance in our careers at the same rate Gen Y and Baby Boomers did because those aforementioned Gen Y and Baby Boomers are unable to retire and still in the jobs market. So yeah, we don't exactly have the money to be buying a fucking house right now. We have to like, pay our phone bills and shit.

Were cell phones around when Tim Gurner was a young entrepreneur? Literally no. Beepers seem way more affordable. Kim Possible had one in high school.
While putting away thousands of dollars from each paycheck in hopes of acquiring a coveted mortgage seems pretty impossible for a millennial in an entry level job who makes $35k a year, it's a lot more affordable for us to splurge on a damn avocado toast for $15 or a $4 iced coffee when the direct deposit hits. (Sidebar: You can totally get an avocado toast for less than $15. DM me for deets)
Gurner went on to say, "When I had my first business when I was 19, I was in the gym at 6am in the morning, and I finished at 10.30 at night, and I did it seven days a week, and I did it until I could afford my first home. There was no discussions around, could I go out for breakfast, could I go out for dinner. I just worked."
Yes Tim. Please enlighten a generation of people who have had to settle for making ends meat by juggling unpaid internships, side hustles, the gig economy, freelance, and the occasional misguided sugar daddy meet-up on the value of hard work. Do you have any idea how many times I've considered going to foot fetish parties so that I could make rent, Timmy? Do you? The fact that you can look at a generation of people who have all spent at least one night of their lives obsessively googling how much their sperm and eggs are worth and tell us we don't make enough sacrifices for financial gain is truly disturbed. Literally all this sentiment taught me was that when you were 19 you could afford a gym membership. Unheard of.

Gurner also said "We're at a point now where the expectations of younger people are very, very high. They want to eat out every day, they want to travel to Europe every year. The people that own homes today worked very, very hard for it, saved every dollar, did everything they could to get up the property investment ladder."
Yes Tim, the generation that literally invented the concept of Netflix and Chill's expectations are "too high." Wow. I didn't realize how spoiled we millennials were for wanting to go on vacation and eat out. It's not like spending your money on experiences (i.e., eating out and going on vacation) is scientifically proven to bring you more happiness than spending it on material items like a wrap-around porch.
But more importantly—if millennials want to spend their money on food and trips rather than buying homes, who the fuck cares? Truly. Who? As time progresses, wealth is measured in different ways. Sure, buying a home was the ultimate in financial stability for Gurner and his giant forehead, but go back a hundred years or so and wealth was measured in the amount of chickens or pigs and shit you could get for marrying off your daughter. Does Tim Gurner have any chickens or pigs? Probably not. For our generation, having a kickass Instagram full of great looking food and amazing vacays is worth a lot more socially than a white picket fence in the suburbs. You might think that's stupid, but guess what, it's not really up to you. Also, maybe part of the reason we don't want houses is because when we were in high school the housing bubble burst and literally millions of people lost their homes? Just a thought.
This entire idea of millennials spending all their money eating out is, quite literally, fake news. Studies show that millennials spend 44% of their "food dollars" on eating out, meaning that 56% of the time, we're bringing hard boiled eggs to work and microwaving a Top Ramen for dinner. Also, just because someone is "eating out" doesn't mean they're buying some insanely trendy Instagram food. They could literally be going to Subway, which is a huge sacrifice in and of itself.
And really, who is eating this much avocado toast? Seriously. I want names. Like, I'll occasionally get one when I'm at boozy brunch and trying to feel fancy, but I think most millennials fully recognize that it is not a daily meal. Anyone who is buying avocado toast on the daily is probably doing so less because they are a millennial, and more because they're fucking psycho. In the past six months, I imagine that (and this is a generous estimate), I have maybe spent $50 on avocado toast. Maybe. Do any of y'all know a house that I can get for $50 that doesn't come with a live-in crackhead? Probably not.

Also, four $4 coffees?? Who is doing this?? A tall coffee at Starbucks literally costs $1.85, and I highly doubt anyone is getting four of them in one day (if you are, please see a doctor). Like, yeah, fraps and stuff are expensive, but if anyone is drinking 4 frappuccinos a day they should be way more concerned with the fact that they're going to lose a foot to diabetes than their future home buying prospects.
Finally, and I truly cannot stress this enough, I think I speak for all millennials when I say we're kind of over taking the advice of real estate moguls with questionable hair. It honestly has not been working out so well for us lately.
Tim, I get that like, giving unsolicited financial advice to millennials is the only thing that gets Gen Y hard these days, but you fucking played yourself. Millennials aren't buying houses because they don't want houses, and avocados are fucking delicious treats that make us feel better about the fact that all the generations before us are going to the polls and destroying the world because they don't like how things have been going since the internet was invented. Maybe instead of complaining about people who are younger/hotter than you, you should use your incredible business sense to help create a world where someone can have both avocado toast and a house. It would be a much more useful way for you to spend your time, and people would probably hate you a lot less. Just a thought.
The 8 Best Places For A Fire Avocado Toast Instagram In LA
Whether you live in LA or are just on vacay there, you can't leave without gramming an avocado toast at brunch—that's just like, the rules of feminism. Lucky for you we have done the hard work of "researching" the best avocado toasts, and by researching we mean getting drunk at brunch and eating avocado toast, obvs. Here's the best places to go if you want to enjoy California's other favorite green plant.
1. Sqirl
The avocado toast here is hands down the most photogenic in LA. It's definitely hyped up, but for a good reason. The wait is going to be annoying, but the line moves fairly fast. Still, be prepared to wait at least an hour before ordering. But trust us, it's worth it. You'll probably spot Marisa Tomei or Kristen Stewart here, which will def help you get those eyes on your Instagram story.
2. Jon & Vinny's
This is like the LA version of a typical Italian diner, which is to say it is nothing like an Italian diner at all. It does, however, have a delicious avocado toast option on Ciabatta bread. The place is small and laid back, so don't expect to bring a big group here. They also have pizza options, but come here for brunch and get the avocado toast—it's a light option with olive oil and lemon and it's what we imagine the Godfather would have eaten if he was a hipster teenager in a punk band.
3. Zinc
Zinc has one of the best ambiences in DTLA. It's also very spacious, which means you don't have to wait very long for a table. The avocado toast here hits all the right checkmarks. It's a classic and hearty choice with radish, chives, lemon, and avocado. You def want to get the egg on it, unless you're trying to lose three pounds. It's also right by the climbing gym, so you could also just do that afterwards and then the calories don't count. Right?
4. LA Chapter
This is great because it's in the Ace Hotel and you can 'gram yourself drinking a cocktail at the Upstairs pool bar after brunch. This is a great place to take your parents when they come and visit. They make their avocado toast with Aleppo pepper, which doesn't mean anything to us or to Gary Johnson but probably means something to people who care about that stuff. Definitely get a poached egg on this one, at least for the picture.
5. Stir Market
This is a large Italian market much like Eataly in New York. The avocado toast is simple here, but still totally grammable. This is right in the heart of Weho, which means don't wear your flip flops and leggings unless you're trying to hide from the paparazzi. You'll probably want to grab a coffee afterwards and day drink along Santa Monica Blvd afterwards.
6. The Hart & The Hunter
No, this isn't a new band playing at Bonnaroo this year, it's the name of a Southern themed restaurant.  Obvs if we're going southern you know this isn't for the betch on a diet. Their avocado toast comes with pickled onions and capers on sourdough (obvs) bread. It's one of those cute places that make you feel like you should be wearing a sundress, so plan accordingly. Also plenty of light in here for good pics.
7. Tar & Roses
This is another popular place that will have a wait, but their avocado toast is always with a twist so it's worth coming here. Like yes, there's a wait at the Louvre in Paris too, but are you just going to not see the Mona Lisa? Exactly. Their avocado toast options have included crab and Atlantic sardine, so they're not fucking around.
8. Commissary
The LINE hotel is a gem of a place in K-town for many reasons, but Commissary is the best reason when you're hungover on a Sunday morning, probably from dancing in the lobby the night before. The avocado toast comes with goat cheese and is surprisingly spicy, so watch out if you're not into hot stuff. It is a little pricy, but it's a hotel, get used to it.