5 Ways That Pumpkin Has Gone Too Far
Sponsored by Dunkin'
It's finally fall, which means that the leaves are turning brown, you can finally wear your favorite sweater, and it's the time of year for all-pumpkin-everything. But when some people get into the pumpkin spirit, they don't know where to stop. Going to Dunkin' for a Cinnamon Sugar Pumpkin Signature Latte and Pumpkin Donut? Excellent. Showering with pumpkin spice shampoo? You need to calm down. Here are five times that people went way too far with the pumpkin craze.
Pumpkin Gum

Sometimes there's nothing better than a good stick of gum. If you have a bad taste in your mouth, or just need to freshen up your breath, minty gum always comes to the rescue. I said MINTY gum. I really can't imagine cleansing my palette with pumpkin spice, but someone thought it was a good idea. I'm all for brands trying new things, but this just ain't it.
Pumpkin Ramen

Ramen is delicious, and there are so many different variations on the classic noodles and broth. Maruchan, the brand that makes the classic ramen packets, has a recipe on their site for Pumpkin Ramen Soup, and I'm upset. Along with all the ingredients you would expect to go into a delicious soup, they just plop in a bunch of pumpkin puree. I don't know, I just have some questions. This could be delicious, but I probably won't be trying it any time soon.
Pumpkin Shampoo

Okay, so I'll clarify that I'm not sure if this smells like pumpkin, or if it's just a sneaky ingredient, but I'm skeptical either way. Argan oil is a tried and true ingredient in hair products, but I don't love the idea of rubbing pumpkin goo all over my head. Maybe it's just me, but I'll stick with my normal shampoo.
Pumpkin Deodorant

Natural deodorants made without harmful ingredients have been gaining popularity, which is great. But some of the scents that these companies are coming out with are really wild. Native Deodorant has some creative scents like Candy Cane and Lemon Cake, but Pumpkin Spice Latte is a hard no for me. Their site says it has notes of "pumpkin, cinnamon, nutmeg, and clove," which is great, if you want your armpits to smell like a warm pumpkin pie. I'll pass.
Pumpkin Pringles

I love Pringles. Pringles are delicious. They're salty and amazing, and there are several flavors that I'm deeply into. Regular. Sour cream and onion. Throw a BBQ my way. I'll even take Pizza! But never have I ever thought that Pumpkin Pie Spice would make a good flavor of chips. It just shouldn't be a thing. These don't appear to be in production anymore, and I can see why.
Obviously, feel free to express your inner fall betch however you see fit, but not all pumpkin products are created equal. Dunkin' can make basically any coffee drink pumpkin-flavored, whether you like a hot latte or choose iced coffee 24/7/365. And if you want something a little different to go with your pumpkin drink, Dunkin' also has Pumpkin donuts, muffins, and MUNCHKINS ® Donut Hole Treats. Um, sign me up. Turns out, there's totally a right way to celebrate the fall, and it's all about Dunkin'.
Images: Unsplash; Amazon (2); Maruchan; Target; Native
I Asked Guys Which Is The Best Season To Start Dating
With all these dating apps gaining a sh*t ton of popularity, I can't help but wonder when is the best season to start dating? On the one hand, cuffing season is here, so you may be thinking of whether to turn that summer fling into the real thing. But on the other hand, do you really want to deal with a SO around the holiday season (assuming you last that long)? I polled my friends and asked when they think is the best season to start dating and why. To say the least, I got some pretty helpful responses.
To cuff or not to cuff, that when is the question. I took the liberty of investigating, so adjust your Hinge preferences accordingly.
I Surveyed My Friends
Family Feud style, I asked around to see when they think the best season is to date. I posted to my Instagram story, so 600 of my closest friends and a few random people from high school could tell me. TBH I probably haven't spoken to most of these people in a v long time, but I got some really helpful and hilarious answers. One of my friends said to set him up for a date in each season and he'd let me know which season is the best to date after. So if anyone is interested in dating a nice Jewish boy, DM me.
And The Winner Is…
The majority of people claimed fall is the best season to start dating, with winter coming in a close second. The experts (aka Urban Dictionary) define these months as cuffing season. They explain, "people who would normally rather be single or promiscuous find themselves along with the rest of the world desiring to be 'Cuffed' or tied down by a serious relationship. The cold weather and prolonged indoor activity causes singles to become lonely and desperate to be cuffed." My friends tend to agree. A few people responded to my IG story saying that fall was the best because it's cozy and cuddly, with one of my friends responding, "Fall because my nips are just the right amount of hard." Touché.
Other Than Being Cozy, Why Does Fall Take The Cake?
First and foremost, the best part of having a boyfriend in the fall is that you have matching Halloween costumes. Another major plus is that annoying aunt who always asks you if you have a boyfriend during Thanksgiving dinner can finally STFU. Also, new shows come out during this time of the year, so there are so many for you two to choose from to binge watch (and secretly watch ahead on your own). The cherry on top of fall being the best season to start dating? Pumpkins are thought to be an aphrodisiac.
TBH fall seems like a good-ass time to start dating someone. The weather isn't so hot that the thought of touching each other to have sex makes you gag. But, it also isn't so cold that taking off your clothes would result in your nipples being so hard they'd cut your boyfriend's chest. Fall seems like the perfect time to fall for a new guy (Ew. I hate myself too for that). So maybe put on a pair of sweatpants and download your favorite dating app, because once winter rolls around, nobody is going to want to leave their apartments, much less go on dates.
Images: Pablo Heimplatz / Unsplash
Let's Get This Bread: Your Autumn 2018 Career Horoscope
Calling all boss babes: Tis the season to stop playing the victim and get to work. Thank you for coming to my Ted Talk. No, but really, how else do you expect to high-level splurge on Black Friday this year? Cuffing season or no cuffing season, no f*ckboy is about to buy you that lambskin tote bag you fell head over heels for at Barneys last week, okay? Oh, and call me a negative Nancy, but are you really looking to get cuffed? Or are you shamelessly on the prowl, trying to find your very own Daddy Warbucks? Get it together, betch. It's time to get that bread. These are your autumn 2018 career horoscopes.
Aries
We know, Aries. Anything we can do, you can do better. Granted, you've really stepped up your game this season. Plus, with the help of gold-digging Venus, sliding backwards through your eighth house of other people's money, and matchmaking seventh of connections later in November, you may or may not suddenly run into an ex-colleague—or let's be real, a future business partner—just moments after spilling your iced latte all over your blouse. Alright, I'm kidding, although, with ruthless Saturn and power-hungry Pluto hard at work in your tenth house of career and CEO dreams, you're due for a new career move.

Taurus
Guess what! Your queen-of-the-plastics ruling planet goes direct on Nov. 16, so if you haven't been feeling like yourself these days, things should start falling into place. In the meantime, don't hesitate to schmooze your little heart out while Venus hangs out in your seventh house of connections and make small talk. Even better: on Halloween, gold-digging Venus will slide into Libra and your sixth house of work and daily grind. Granted, everyone knows you're not about the "grind," per se. On the contrary, you much rather chill in your bathtub with a sparkling glass of rosé, and call it a night; however, life's not fair. Pending work project? Now is the time to pick up where you left off.

Gemini
Look at you! Channeling the boss betch twin, are we? Well, at least one of us is doing the work! Venus is retrograde in your detail-oriented sixth house of work work work, and you've got your CEO boots on, Gemini. Sadly, your sh*t-talking ruling planet Mercury goes retrograde the same day Venus gets her ass up and goes direct, so don't make any important business deals—and for the love of God, don't you dare gossip with your coworkers, because big brother will be watching. Don't say I didn't warn you. On a brighter note, party animal Jupiter slides in your match-making seventh house on Nov. 8 for the next 13 months. Are you ready to mingle?
Cancer
Working hard or barely getting by? Almighty Jupiter, the planet of luck, expansion, and all things over-the-top, stomps his way into your practical sixth house of day-to-day grind on Nov. 8, bringing you some much-needed luck in the work department. Stop crying, Cancer. Have you figured out WTF you want to do with your life yet? Baking Halloween cookies for your work besties isn't going to cut it this time. Oh, and Venus is currently doing the moonwalk through your fifth house of creativity, so don't be afraid to showcase whatever you've got up your sleeve. The show must go on, betch.
Leo
Having second thoughts about your job, Leo? Who cares if everyone at work worships the ground you walk on; what if it's time to move on? Besides, Jupiter will soon make its grand entrance in your center-of-attention fifth house on Nov. 8, and well, long story short, the spotlight will be on you for the next 13 months. Dreams really do come true, don't they? However, don't get too excited just yet. You've got some unfinished business to deal with, all thanks to Mercury retrograde. Hate to break it to you, but the messenger planet will be moving backward through this area of your chart until Dec. 6. Tread lightly.

Virgo
Take a chill pill, Virgo. We all know you're at 100 mph, but for once, it actually isn't your fault. Shocker, right? Truth is, rambunctious Mars is running amuck in your practical sixth house of day-to-day routine, so at least now you have something to blame for your stress, right? In the meantime, don't be afraid to look in the mirror and remember who the f*ck you are. Venus will retrograde through the area of your chart related to finances and self-worth, starting on Halloween through Nov. 16. In other words, stop putting everyone's needs before yours. Your ruling planet Mercury will station retrograde that same day through Dec. 6, so make sure you don't make any last-minute commitments during this time.

Libra
Stop lying to yourself, Libra. You're a hot mess express, all thanks to your shopaholic ruling planet Venus. That betch is hella retrograde in the Michael Myers realm of bad sh*t Scorpio, and will soon back it up into your sign on Halloween. You're at the office, but you're O-O-O AF. So, tell your boss you're taking a personal day, and for the record, don't head to the salon for a makeover. The planet of beauty is not her typical self, and neither are you. Your must-have makeover will not end well. In the meantime, go ahead and turn up your zen flow work tunes, and hope for the best.
Scorpio
Hello darkness, my old friend. Don't stop hustling, Scorpio. Know-it-all Jupiter will enter Sagittarius, and your second house of money on Nov. 8, and you will be golden. Granted, you're bored AF with your current work situation, but you need to stop being a negative Nancy and give it time. You do realize you are your own worst enemy, right? Maybe if you would stop looking at WebMD articles and alien invasion videos on YouTube while you work, then perhaps you might see a shift in your professional life, don't you think?
Sagittarius
Your life is about to change, Sagittarius. Your lucky AF ruling planet slides into your sign on Nov. 8, and the next 13 months will be as lucky as ever. However, make sure you take your almighty language down a couple of notches, as Mercury will soon retrograde through your sign. Oh, and I know you're a champion at procrastinating, but I wouldn't be putting off those work deadlines if I were you. There's a time and a place for everything, and your shmoozing charms aren't going to cut it with your boss this time. No funny business, at least until Dec. 6. Capeesh?
Capricorn
Can't catch a break, Capricorn? Well, you can start by mingling with the right crew, as Venus is currently retrograde in your eleventh house of networking. Shocking truths coming to light in the workplace? Perhaps. But your big reputation will be just fine. In fact, that betch Venus slides into your ambitious tenth house of CEO dreams on Halloween, so take it easy with the sexy costume selfies. Your boss is watching. 

Aquarius
WTF do you think you're doing? Everyone knows you've got the hots for your boss. This is exactly what happens when you play on the job. Oh, and it really doesn't help that you've got Venus retro all up in your work biz. The planet of "look at me, look at me," is traveling backward through your ambitious tenth house of career, and for the record, Venus in Scorpio loves drama. How about you focus on your pending projects instead? Enough is enough, Aquarius. Oh, and warrior Mars leaves your sign on Nov. 15, so good luck fighting your own battles!
Pisces
Are you ready for your dreamy debut, Pisces? Your lost-in-translation Peter Pan days are over as of Nov. 8, considering Jupiter will now enter your ambitious tenth house of career and destiny in the world. WTF does this mean? Well, for starters, no more second-guessing, and please for God's sake, no more endless nights of partying and sloppy hookups. It's time to be an adult. Oh, and aggressive Mars, the planet of war and energy, enters your sign on Nov. 16, so now you really don't have an excuse. Quit feeling sorry for yourself. You've got this.
Images: Annie Spratt / Unsplash; Giphy (6)
The 5 Types Of Shoes You Need For Fall
This season, instead of mindlessly buying another pair of $200 out-of-style riding boots, let's try something new. I mean, you don't slave over Excel at your miserable 9-5 just to spend your precious paycheck on some fugly fall boots, right? Look, I get it, shopping is hard (for some). And sure, you could easily just hit up Payless with Meemaw and get another pair of tacky-ass tall brown boots, but WHY?! You're better than that, which is why I'm here writing this article. I'm here to help you. I'm here to be a friend to you, and to take the frustration out of all your fall shoe shopping woes. So I give you the only five shoes you need for fall and exactly where to get them. 
1. Staple Black Boot
Just like every girl needs a staple LBD, every girl needs a staple black boot. It's a fall closet essential because it pairs well with legit everything. Plus, when you get home from day drinking, wasted from all those delish spiked ciders, attempting to get ready for the night to keep that weekend bender going, do you really want to use what few brain cells you have left for the day trying to figure out what shoe to wear with your dress? Didn't think so. Just make it easier on your poor blacked-out self and get yourself staple black fall boots.
2. Statement Sneaker
Whether you're into a chunky sneaker or not, statement sneakers are like, totally in this fall. They're a stylish shoe option that is also super comfortable. So like, if you're not on board, get on board. It's not every day we get a trend that's actually comfortable. You can get anything from a chunky white dad sneaker to this chic feminine version of Air Force Ones. Either way, you'll be happy you have them in your closet this fall.
3. Animal Print Boots
Stop being afraid of animal print and think of it as a new neutral. Sounds counterintuitive, I know, but trust me it is. An animal print can pretty much go with any outfit. It instantly takes your basic look to a much cooler level. Snake print in particular usually comes in neutral colors. So wear this animal print to totally elevate your otherwise boring AF turtleneck and jeans this season.
4. Thigh Highs
Hoes, rejoice! Thigh highs are yet again a fall essential, allowing you to wear your inappropriate leather skirt or way-too-short dress, even when it's cold outside. They're like, basically a godsend while waiting in line for those sh*tty bars you didn't even want to go to in the first place. Trust me, embrace this trend.


Chinese Laundry King Over The Knee Boot
5. Slouchy Boots
Pair with a skirt and tights, and you'll instantly look chic as hell. As the name would suggest, slouchy boots give that effortlessly stylish look we all crave. Warning, though: women 20 years your senior will feel the constant need to tell you about how they wore these boots "back in the day." But I guess that's a relatively small price to pay for looking sooo damn good.
So there you have it, no need to stress or make your fall shopping any harder than necessary. I'm going to give each and every one of you the benefit of the doubt, and assume that if you're intelligent enough to be reading this article, then you're smart enough to stop wasting your money on hideous things…like fugly boots. 
Images: Danny G / Unsplash; Net-A-Porter; Nike; Revolve; Steve Madden (2); Chinese Laundry; Free People
Betches may receive a portion of revenue if you click a link and purchase a product or service. The links are independently placed and do not influence editorial content.
Here Are Your Weekly Horoscopes For November 6-12th
Guys, just so you know, we're about three weeks away from Mercury going into fucking retrograde again. Not saying you have anything to worry about right now, but you should be prepared and get any important shit in your life out of the way before December 1 rolls around. I mean, but for real, does anything actually get accomplished in the month of December anyway? Of course not. Basically, you do you this week and don't worry about how the stars and planet will fuck you over three weeks from now.
Aries
Aries betches are muy caliente in the bedroom this week. Your romantic relationships are taking a turn into more intense territory. Venus is in your sex and money house, so just keep that in mind as to why you got so weirdly turned on watching Wolf of Wall Street with your boyfriend. Still, Mars is opposite your sign, so that can create some tension in relationships. Um, yeah, that's why they invented makeup sex.

Taurus
The Sun, Venus, and Jupiter opposite your sign have you focused on relationships this week. This can be both good and bad, as you will feel more free to bring up issues you have with someone face-to-face. That's good, because shit can finally get resolved. But it could be bad if you, like, forget that having tact is a thing. Thank God Venus is on your side—that betch makes sure most encounters run smoothly.
Gemini
It might sound like we're just copy-pasting last week's horoscope into this week, but like, we kind of are only because a similar situation is at play. You're still in that battle between wanting to work hard and wanting to play hard. The good news this week is that even though you partied an extra hour on Saturday (thanks Daylight Saving Time!), you still have a lot of energy to do extra shit all week long.

Cancer
November is actually the best month for you to distract yourself from all the shit going on in the world. Parties, activities, and entertainment are your focus, and that's actually going to work out for you. No need to worry that you aren't being focused enough or some shit. As for this week,  Mars is traveling across the bottom of your chart, meaning you can expect some arguments to arise practically out of thin air.
Leo
Your focus on the home and creating a cozy place to spend the winter continues this week. Notice yourself, like, spending a fuckton of money on candles? Yeah, that's why. You're nesting in preparation for colder weather. Meanwhile, Mars is giving you the urge to clap back more than usual. Take this advice: Hear someone out before you jump to conclusions and cut them out of your life forever.

Shop Betches Set The F*cking Mood Candle
Virgo
Mars is traveling through one of your money houses this week, which means you'll be thinking about your wallet a little more than usual. Since Mars is also in charge of your ego, you'll probably feel your self-esteem becoming a little more tied to your/your boyfriend's net worth. I mean, not that that's always a bad thing, but you should take a step back and ask: Is money the most important thing? If the answer is yes, you should work on getting more of it. K?
Libra
You're pondering a big purchase this week… or if you have the money to make a big purchase later on. Remember, the holidays are right around the corner, so you might not want to blow your load (I meant to phrase it that way, btw) on a new iPhone X if you're going to be hurting for cash to pay everyday expenses. Like, don't be fucking stupid with your money this month and you'll set yourself up for more happiness when Mercury goes into retrograde next month.

Scorpio
You're still sitting pretty with the Sun high in your chart. I mean, you're probs still basking in that birthday glow. Mercury is chilling out in your House of Earnings this week, meaning your thoughts will drift to shit that you value most. If you find yourself thinking about one particular thing a lot, pay attention to that, because you may not realize how big of a role that thing plays in your life. If it's important to you, treat it like it's important to you this week. Oh, that goes for people too.
Sagittarius
You're prepping for your birthday in the next few weeks, so you're down to play things a little more low-key this week. You might have a secret relationship or a crush on someone that, like, you shouldn't be into. There's a lot going on behind the scenes with you. That's totally fine, as long as you don't open that big Sagittarius mouth of yours and spill the beans before the time is right or before you're totally ready to go public with your relationship status.

Capricorn
Mars is traveling across the top of your chart, so watch out for arguments with others on the rise. It's not all bitchy comments and side-eye for you this week, though. Fiery Mars is in charge of making you more ambitious—you little go-getter, you. Right now, you prefer to be your own boss, so don't be surprised if someone giving you any type of direction rubs you the wrong way.
Aquarius
There are like, a shitton of planets working in your favor right now. They're all teaming up like Republicans who aren't seeking reelection against Drumpf. But instead of trying to get the president impeached, they're going to make others see you in a favorable way. Use that lucky combo of planets to your advantage. It's a great time to strike up a new romance, friendship, or job opportunity. People just really seem to fucking love you this week.

Pisces
You've put up with enough bullshit recently that it has actually given you a new sense of clarity. You're ready to take on new adventures and expand your appreciation for life. I mean, it's the little things, right? Anyway, it's a pretty decent time for you to travel or at least make big travel plans. Mars heightens your sex drive, but it also makes you a little feisty and argumentative. Ya win some, ya lose some.
Images: Alisa Anton / Unsplash; Giphy (6)
5 Fall Beauty Products You Need To Get Through The Season
Fall is literally the best excuse to do anything. Drinking a 600 calorie pumpkin flavored coffee? Uh, it's fall. Who cares? Eating Halloween candy even though you're twentysomething years old and have no business slamming down mini Twix bars? 'Tis the season. Blacking out at an apple cider tasting during a Sunday afternoon? It's autumn. That's practically a basic human right. Fall is seriously the best thing to blame all of your terrible decision making on. Here are a bunch of beauty products you can blow your rent money on in the sake of the betchiest season.
Not to be dramatic, but I have personally witnessed this lip product perform like, three different miracles. First of all, I received this as a sample and actually liked it enough to use it and then buy the full size. Anyone who has ever received a sample knows that this is rare AF. The second miracle is that this is a tube of lip treatment that I've actually reached the bottom of. Normally, Chapsticks and glosses get lost in the train wreck that is my daily life, but this thing somehow always makes it home with me at the end of a night, even if my debit card, ID, and dignity weren't as lucky. And lastly, this is a tinted lip product that doesn't make your lips look super crusty and creepy. It comes in some v fall-ish colors and even has SPF protection, so it's totally perf for those autumn days when you're sweating your ass off trying to get an Instagram in an apple orchard even though chilly weather isn't even here yet.

Perhaps the biggest difference between summer and fall is that it's more difficult to discretely disguise a hangover in the chillier months. You can't necessarily fly under the radar with sunglasses on at brunch when it's cloudy and cold in November. It's probably time to start using a night eye cream so you look less like you're on the verge of death next time you go too hard at happy hour.

If Cinderella was written in 2017, turning into a pumpkin at midnight would never be considered a bad thing, because that's clearly what we're all trying to achieve these days. If anything, she would have turned into like, gluten or something. Anyway, this bubble bar is a glittery-ass pumpkin, which is probably enough reason for half of you to want to buy 100 of them. It will make your skin sparkle and smell like cinnamon, and you'll probably get a pretty decent, albeit basic, Boomerang out of it. Win, win, win.

Would a list of basic fall beauty products be complete without one of Kylie's seasonal lip kits? Is the Pope Jewish? Is tequila on an empty stomach going to lead to a night filled with fond memories you'll someday share with your future grandchildren? The answer to all of these questions, of course, is abso-fucking-lutely not. If you've ever tried Kylie's matte lip kits, there's a pretty solid chance you've ended up looking like you have dried food on your face, but that's not the point. At most, they're good for one selfie before the lipstick starts cracking and exposing the true shape of your lips. But like, this one comes in a cool new box, soo…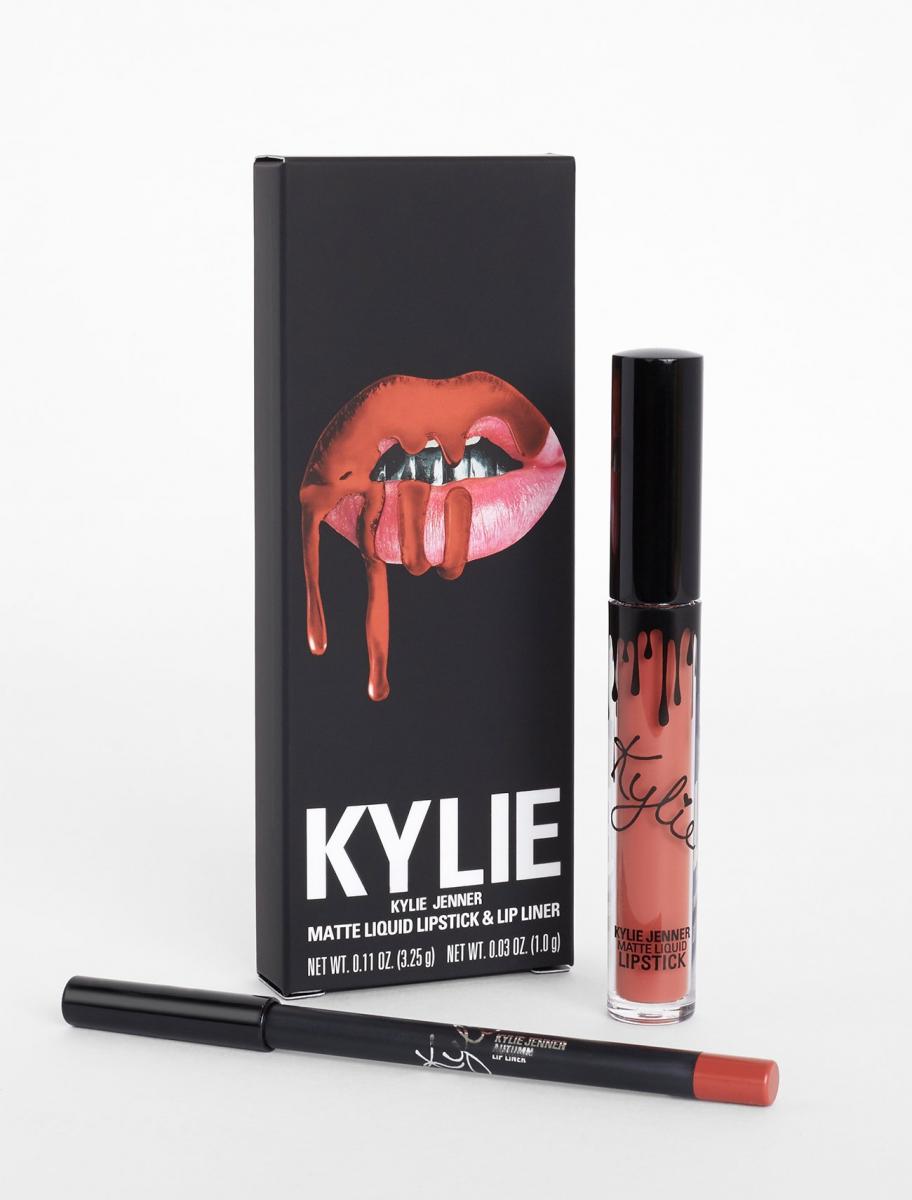 Remember when you spent the entire summer drunk at the beach, not giving a shit that your hair was dripping salt water because you're one of those people who thinks you're "secretly a mermaid"? Well, sorry to ruin your life, but plot spoiler: you're a human and all that sand, sun, and saltwater made your hair dry as shit. Fall is the season to apologize to your hair for the crap you put it through all summer long. This spray uses apple cider vinegar (which is fall AF) to restore your hair's strength. Now, whoever you're forcing to play with your hair through cuffing season won't have to deal with your gross, tangled ends. You're welcome.

5 Styles Of Boots That Are Unacceptable To Wear This Fall
Judging by the five consecutive Instagram posts I just scrolled through of people's feet surrounded by leaves, it's fucking fall. While I'm just as excited as the rest of you PSL-toting, apple orchard-visiting, autumn-loving betches, we've got to discuss boots. I know that the second the weather dips below 75 degrees we all go effing ham and start wearing sweaters, leggings, and boots like it's our jobs. However, there are some boots that are unacceptable to wear this year, and you need to know about them before you do anything drastic.
1. Booties With A Creepy Peep-Toe
Sure, there are definitely tons of peep-toe boots that aren't creepy, but for the most part, you run a serious risk of having creepy looking toes when you wear them. The risk is twice as bad when they're poorly cut ankle booties. Why would you ever want to cut your leg off in an unflattering place and then have your toes sprawling out, clinging on for dear life? Like, just stop.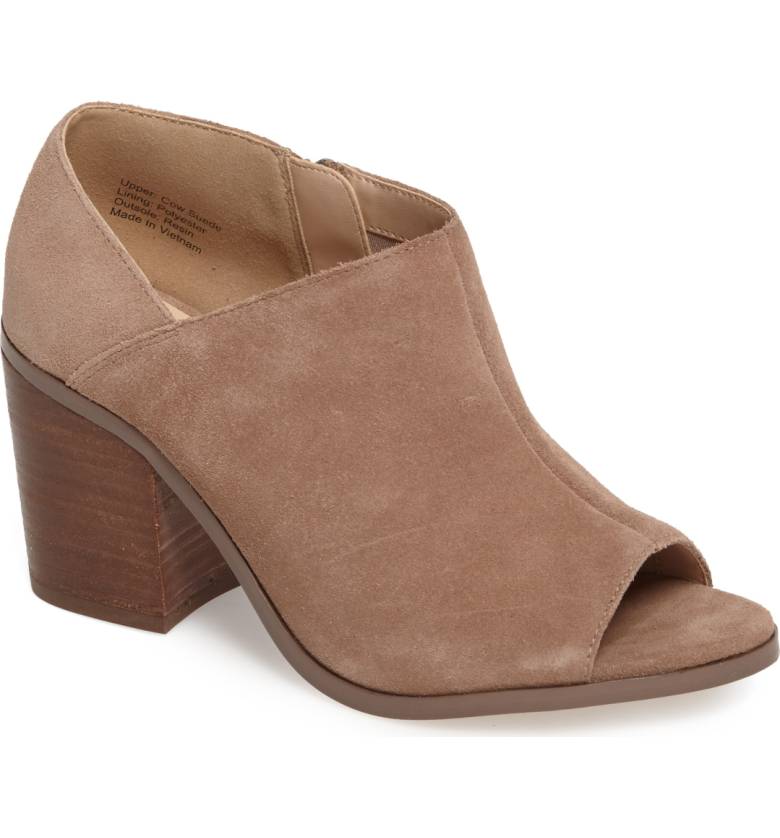 Sole Society Arroyo Peep Toe Bootie
2. Childish Rain Boots
No, those floral printed rain boots aren't ironically cute with everything, because they don't match anything. That's not how that works. Unless you're headed to a music festival and tripping out for three days straight, it's time to get some grown-up rain gear.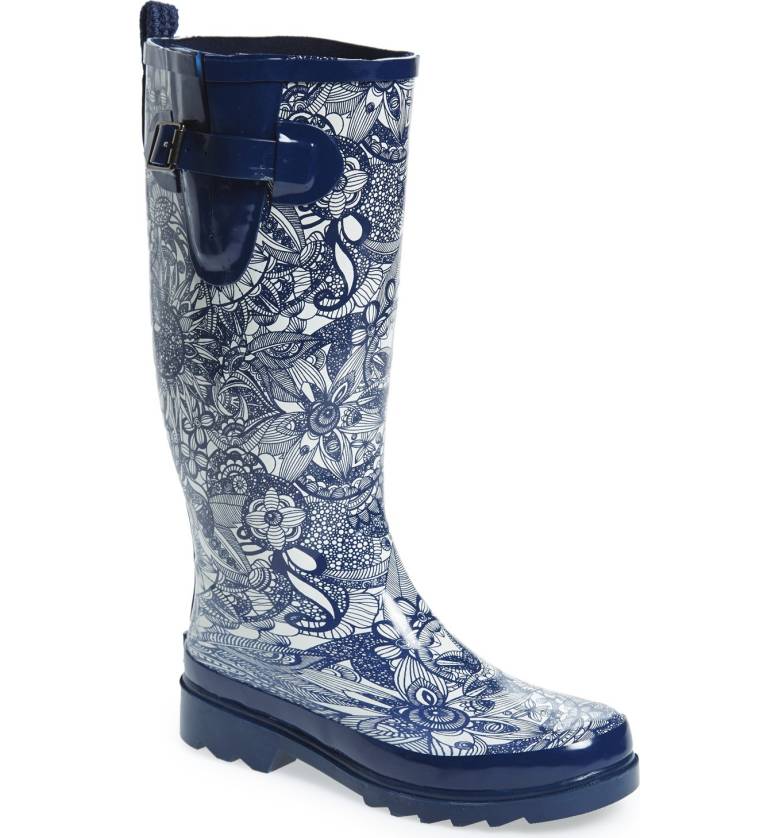 SAKROOTS Rhythm Waterproof Rain Boot
3. Studded Combat Boots
How great was it when Steve Madden combat boots were the answer to all of life's issues? Need something to wear with your jeans? Combat boots. Can't find footwear for a dress? Combat boots. I'm not saying you should stop wearing combat boots altogether, but they've been popular for a while, so it's probably time to refresh the outdated styles that have somehow survived the past few years of your shitshow lifestyle.

4. Anything With Salt-Stained Suede
I get it. We've all purchased a random pair of faux suede boots because we didn't want to buckle up and throw down $800 for a pair of Stuart Weitzmans. Faux suede boots never last as long as you think they will, so it's probably time to throw them out if they're covered in salt stains, or like, vodka cran gunk.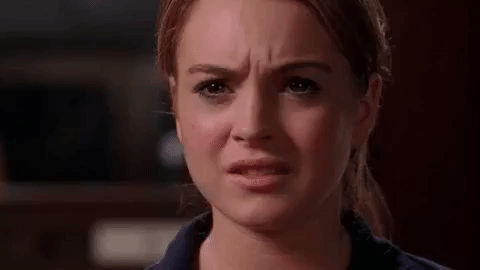 5. Poorly Structured Over-The-Knee Boots
Last year everyone was like, obsessed with over-the-knee boots. This year, it's time to lay down some ground rules. If they're flopping all over the place or slouching or not staying up properly, it's time get rid of them and find a pair that actually fits.

Charlotte Russe Faux Suede Combo Over-The-Knee Boots
Here Are Your Weekly Horoscopes For September 18-24th
Aries
This is a week for standing up for yourself, Aries. It can be hard to hold friends accountable when they fuck up, but at some point you need to draw a line in the sand. Spoiler alert: That point is now. If you continue to let people get away with treating you like shit, treating you like shit is going to become the new norm. Don't let that happen. Use that voice we all know you have to make your thoughts known, and don't back down if anyone tries to question you. You deserve the best from your friends, and now is the time to make sure they know that.
Taurus
Have you ever looked at your friends and thought, "Jesus Christ, grow the fuck up"? You probably have, because your level-headed nature means you're a little ahead of the curve in terms of maturing into an adult who understand things like responsibility and remorse. This week, things are going to come to a head in that department and sadly you're going to be the one left to deal with it. It can be hard to reconcile years of friendship and fond memories with the adult-sized toddler standing in front of you, which means it's time to make a very difficult decision: ride out the terrible twenties or drop your friend in favor of people who are capable of caring about other people. It's not an easy choice to make, but try putting yourself first for once and see where it gets you.

Gemini
There are times for composure and there are times for letting loose every emotion that you've locked inside deep inside your chest for the past 20 or so years. This week, Gemini, is the time for the latter. Expressing emotion is the worst and only made easier by things like vodka and family holidays, but not doing it can lead to things like high blood pressure, increased stress, and accidentally massacring all your roommates in your sleep. Unless you want an episode of Law & Order based off of you sometime in the near future, try letting people know how you feel about things.
Cancer
This is a week for new perspectives, Cancer. You will have the unique opportunity to experience things in a completely different way than you are accustomed to. Don't shy away from that. Opening your world up will not only make you a more interesting person, but will probably give you some insight that you didn't have previously. Look at you, just SO cultured. So spend the next seven days saying yes rather than no, and be ready for just about anything that follows.

Leo
There comes a time in your life, Leo, when you can no longer use alcohol as an excuse for your shitty behavior and questionable decisions. College was a free-for-all and even a couple years after got you a free pass, but now that get-out-of-jail-free card has expired. No one wants to hear things like "sorry I bailed, I was so hungover," when you're 25. Every once in a while? Sure. Every weekend like clockwork? Get your shit together. This week will be chock-full of time for introspection, so maybe take your extracurricular behavior into consideration while you're at it.
Virgo
There's a lot of really cool shit on your horizon, Virgo. You have big plans that you intend to follow through on, which means that right now you should be doing nothing but prepping for them. As hard as it may be, this is a time for saving, cutting back, and generally calming the fuck down. Yeah, fall is here and fashion is enjoyable again, but think about how much it would suck to be broke when you're jet-setting around the world two months from now before you drop half a pay check on a series of nearly identical camel sweaters.  When in doubt, remember the mantra: suffer now to splurge later.

Libra
Your friends are in need this week Libra, which means you're about to become the official shoulder to cry on. While your natural ability to empathize makes you a pro at this, you also know it can be emotionally draining to try and take on everyone else's problems. Try to balance being there for other people with some genuine self-care. Splurge on a new candle. Get that fancy tea you like. Go wild with the bath bombs. Whatever it takes to make you feel whole while you're busy putting other people back, do it.
Scorpio
Fall is in the air, Scorpio, which means a lot of things: chunky sweaters, cool weather, the return of Pumpkin Spice, the immediate internet backlash to Pumpkin Spice because we can't let people have nice, ultimately harmless things, and most importantly—fresh starts. Summer is gone and so are any questionable choices or lingering hookups. Today is the day you start over with a clean slate, so don't waste it. Spend this week shaping your fall to be exactly what you want it to be. Lay the groundwork now so that you can enjoy these few wonderful, brisk months before the dread of winter sets in.

Sagittarius
We all make mistakes, Sagittarius. Granted, some are drastically worse than others, but that doesn't mean we can't try to recover from them. The first and most important step in that process is owning up to what you did—no excuses, no attempts at justification. If you can't do this, you have no right expecting other people to forgive whatever it is that you did. From there, it's all about making sure everyone knows how sorry you are and actively working to repair any relationships that may have been broken in the aftermath. This is not a short or easy process, but there's no better time than now to start. You'll feel better knowing that you're working towards a resolution, and your friends will respect the efforts.
Capricorn
Starting to feel like your life is lacking direction, Capricorn? Welcome to the club. Once you leave school and realize that the first 22 or so years of your life were spent working towards a single goal that you have now accomplished, it can be hard to reset your path. These ruts are completely normal and bound to happen a couple times throughout your life, but that doesn't mean you should just sit and flounder until someone hands you some purpose. Use this week to try and figure out where you want to go next, and what the steps could take to get there. This level of life planning will make you want to die, so be sure wine is nearby at all times. You don't need to come out of it with a detailed 10-year plan or anything, but at least try to figure out what your next step is, however short-term it may be.

Aquarius
This is going to be hard for you to take in, Aquarius, but I'm going to need you to try anyway. For the next seven days you have one job, and that is to put yourself first for once in your goddamned life. Your tendency to always come to the rescue of friends (even ones who don't deserve it) is admirable, but it is also slowly killing you. There is never going to be a good time for this, so you might as well start now. People who care about you will be glad to see that you're actually taking care of yourself, and those who aren't probably aren't the kind of friends you want to surround yourself with.
Pisces
Your focus and determination are going to be off the charts this week, Pisces, which means it's a great time to dive into work or any of those projects that you keep putting off. Remember all those canvases in your room that you were totally going to turn into art in, like, June? Well, better late than never. Find yourself waking up early and not feeling the immediate need to dive back into bed? Get up and greet the day! Being productive and excited will likely feel strange and unnatural at first, but don't fight it. Natural energy is so hard to come by these days—don't waste this opportunity.