Here's How You Can Help Australia During Devastating Bushfires
I know there's a lot going on (a potential war with Iran, the impeachment, J Lo's giant bow dress from the Golden Globes), but it's important to remember that through all of this, the world is also currently on fire, metaphorically speaking, but also literally speaking.
There are 136 fires burning across New South Wales, Australia, taking lives, destroying homes and infrastructure, and devastating wildlife. At least 24 people have been killed, with dozen more missing. As of January 6, over 15 million acres have burned, more than 1,300 homes have been destroyed, 100,000 people are displaced, and 500 million animals have died. That's half a billion animals.
And fire season isn't over. But tell me again how climate change isn't real.
The news is so insane rn that an entire continent is on fire & it's a B story.

— Lindsay Theisen (@lindsaytheis) January 5, 2020
How to fix climate change is still a question our current leaders are refusing to answer. On a list of 57 countries ranked by action on climate change, Australia ranked… 57th.
But there is a way you can help the situation in Australia: donating money. Money is crucial in these situations and helping fund organizations that help communities in need during these kinds of tragedies is the best way to give a helping hand. If you are able, please consider donating to one/some/all of these organizations. Australia and the koalas will thank you.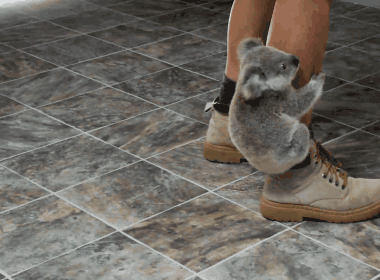 Here you can support the local firefighting efforts in New South Wales.
Here you can donate to protect the pets and keep livestock safe during the fires.
Here you can donate directly to Victoria's rural firefighting service.
Here you can help support staff that is standing by at evacuation centers to help provide support needed in communities and to first responders who are on the front lines.
Here you can donate money to victims of the fires who have been evacuated and/or lost their homes and/or family members as a result.
The Naked Philanthropist
Here's a fun one. A sex worker has set up an amazing system online, where people can donate to a list of charities and organizations that will help people and wildlife affected by the fires, and in exchange, she will send them a nude. You have to donate directly to the organization of your choosing, and then send proof of a receipt to her. In the end, ass will save the world. I've been saying this for years.
I'm sending nudes to every person who donates atleast $10 to any one of these fundraisers for the wildfires in Australia. Every $10 you donate = one nude picture from me to your DM. You must send me confirmation that you donated.
Please RT #AustraliaOnFire #AustraliaFires pic.twitter.com/VIgzCUy6Wf

— THE NAKED PHILANTHROPIST (@lilearthangelk) January 4, 2020
Want to keep up with the news without crying into your sad desk salad? Subscribe to the Betches Sup newsletter for a lunchtime briefing to make you laugh, instead of cry, about the news. 
The 7 Places To Travel After You Graduate, Before The Real World Kills Your Soul
In spite of showing up to class hungover after dollar beer nights almost every week, you still made it to graduation. Congratulations betch, you're about to leave the best time of your life and just be in… the rest of your life. Before you join the real world and have to make small talk with Annie from sales every Monday morning in the office kitchen, you need to enjoy your summer after graduation by some much needed traveling. So after you throw that cap up and attend approximately sixty graduation parties, go explore (aka get drunk in) these cities and celebrate never having to write another paper again.
1. Thailand
If only you could get free miles for every time you order pad thai, you could get a free trip to Thailand. Chances are this isn't a place you studied abroad in, so it's the perfect candidate for a post-grad trip. The Full Moon Party is an all-night party on an island that every visiting foreigner is going to be at. It's like the Coachella of Thailand, but with more neon and less cultural appropriation. Well, actually we can't promise the last part, because there will be Aussies there and they're unpredictable.
2. Road Trip Across The U.S.
This is perfect if you're already moving to a new city, because you're going to have to move your shit somewhere anyway. Road tripping across the U.S. is something you thought about since you saw Britney in Crossroads and honestly it's worth doing. Just make sure you get a good enough group together so you have someone to switch off driving with you. Plus the more rural you get the cheaper alcohol is. Bring a polaroid camera to get some IRL Instagram photos. Wait, are those just called photos? *stares off into space for 20 minutes* Also, you'll be surprised how fun thrifting is in small towns, and you'll be able to pick up some dope clothes and finally get rid of your Forever 21 shit from college.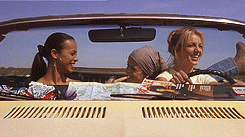 3. Berlin
Berlin is like the nice guy we friendzoned in freshman year and then got super hot when he started working out. Like, we imagine it's a chill city but now it's one of the best places to be as a young adult. Everyone speaks English so you can get by without doing much work, and people are friendly to Americans. People love getting naked in clubs, but not in the creepy way. Plus people judge you for having your phone out at bars, which means you can actually have a good time off-line and be present in the moment or whatever my mom is constantly yelling at me to do.
4. Australia
Before you have to think about the answer to the "what's next" question, get on a plane and get as far away from your anxiety about the future as you possibly can. Australia has hot people, beaches, and adorable koalas. Everyone in Australia is constantly traveling outside of Australia, so you might as well return the favor. Plus even if you don't land the jobs you want, getting bad news while learning to surf from an instructor named Monty isn't such a bad thing.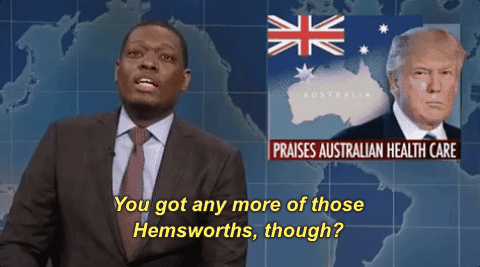 5. Iceland
If you don't want to spend money before you actually start working full-time, we got you. Iceland is between Europe and the U.S. and it's always cheap to fly there. You probably know it from every Instagram model's page ever, but you can swim in the Blue Lagoon and who knows, maybe you'll get a new Linkedin headshot out of it. Sure, you'll be dressed completely inappropriately but at least everyone will know you're adventurous. Iceland is a beautiful place and cheap to visit, which is perfect for your uncertainty about your future.
6. New Orleans
Take a graduation trip to New Orleans, trust us. If we had to describe New Orleans we'd say it's the back tattoo of the South, but like in a good way. NOLA knows how to party. It's a great place if you want to celebrate but still feel like an adult. Like, you've graduated from making out with randos in Mexico on Spring Break, and now you're meeting strangers while surrounded by a ton of culture and great music. Plus the next time you come back it will probably be for your bachelorette party and that's not going to be the same. Also Beyoncé filmed all of Lemonade there so you can hit up all the spots and pretend to be Bey even more than you normally do.

7. Amsterdam
Amsterdam is like the Vegas of Europe with less wedding chapels. Everything looks like it's taken straight out of a Snow White storybook, so when you get high on the (legal) brownies, you can actually feel like you're a princess from a fairytale. Unfortunately if you've got drug tests for your jobs you might want to skip the coffee shops here, but also you could just pass your drug test and then take a quick vacation before starting work. Plus you can bike everywhere here, which means you can work off whatever remaining Freshman 15 you still have on you.
Hidden Rainbow Roots Are The Trendiest New Way To Tell Your Employer You Drop Acid
I have had it up to here *gestures to practically empty wine bottle* with high schoolers and beauty bloggers on Instagram trying to trend-set the weirdest shit they can Google. I mean, tattooing fake freckles on your face? Lisa Frank makeup? Super long hair extensions? Fine, I get that one. Celebs are doing it and celebs are really just 14-year-olds with massive bank accounts. But this latest one, rainbow hair roots? I'm all about switching up your look but I draw a firm line at hair that rivals a preschooler's artwork.
Rainbow roots are apparently the latest in spring hair trends and I would bet my unnecessarily complicated Starbucks drink order that mermaid- and unicorn-obsessed hipsters are at the forefront of this trend. This is what it looks like (brace yourselves):

And the worst part is the internet actually seems to be into this look. DON'T FALL FOR THE HIPSTER PROPAGANDA, PEOPLE.  I mean, can you imagine if someone you know and love showed up to brunch with hair like this? Shudders.

For once America isn't the one fucking up starting an asinine hair trend. Instead we have the Aussies to blame for this, specifically the blondies of Melbourne Salon. It seems impossible that the same country that brought us the Hemsworth brothers could also be responsible for starting this hair monstrosity, but since they've literally started nothing else it kind of makes sense (stop trying to make Vegemite happen).
In what I can only assume was some sort of Regina George Plastics hazing ritual gone awry, the Blondies of Melbourne managed to convince some poor lower-level client (I assume) to play guinea pig for them while they presented to the world the modern day Ronald McDonald look (FYI that's the only name I'll refer to this hair trend by from here on out). In an Instagram hair tutorial that went viral, the Aussie's took their victim client from pixie cut to hair that says "my employer definitely thinks I'm on acid."
Hidden Rainbow Roots: The Latest Hair Color Trend to Lose Your Mind Over https://t.co/4T6P2oQzPf pic.twitter.com/kwf9xXTk4d

— Cosmopolitan (@Cosmopolitan) March 28, 2017
If you're attempting this look because A) you're having a quarter life crisis and want to fit in with the youths or B) you want to start shit with me on Instagram, then for the love of god do not attempt this look at home. You will fuck it up and I will not hesitate to anonymously blast you for it online from the safety of my home.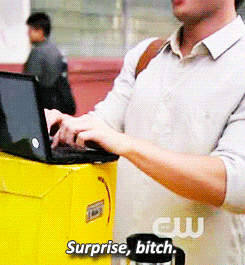 You should consult your stylist—and also maybe your therapist—immediately before considering this look. The look itself is a pretty easy process. Stylists bleach just the roots of your hair and then apply a variety of colors in a fuck me up fam "rainbow-like" manner, leaving the top layers untouched. The result being subtle on the outside, batshit on the inside. A description taken directly from my Bumble profile. Something to keep in mind before taking on this look is that growing out the dye will be a bitch. But something tells me that the type of person who takes on this hair trend is also the type of person who takes on other time-consuming projects like clean eating and turning fuckboys into boyfriend material. LOL.
Beauty experts are calling this the "perfect look" for Bonnaroo or Coachella this summer, but I'm calling it perfect fodder for your future children to mercilessly mock you with. Better get on this trend quick because I have a feeling it's going to fade faster than your vacation Instagram story. 
Beer Yoga Is A Thing Now, Sign Us Up
Honestly, super jealous of betches studying abroad in Australia right now, because Beer Yoga is becoming a thing in the land down under and it sounds fucking fantastic.
Beer Yoga is literally exactly what the name implies: Yogis flock to practice the downward-facing dog together with a cold brew in hand. The magical concept started when two beer-loving hipsters in Berlin founded the company BierYoga—also known as BeerYoga—after seeing festivalgoers partake at Burning Man (lol classic). And the founders have since taken "the marriage of two great loves—beer and yoga" to Oz, where you can find the fun in bars, parks, festivals and wherever your alcoholic heart can imagine.

And while the Beer Yoga website boasts that the "joy of drinking beer and the mindfulness of yoga compliment each other, and make for an energizing experience," the real beauty of this idea is the ability to get slightly lit while pretending to be spiritual and shit. The classes teach the participants "beer salutations" and how to balance beer on one's head, which is literally the most perfect form of exercise ever.

Beer Yoga is a self-proclaimed art for anyone who likes beer, anyone who likes yoga, and basically anyone who's old enough to drink legally. But don't be fooled—Beer Yoga is no joke, as it takes "the philosophies of yoga and pair it with the pleasure of beer-drinking to reach your highest level of consciousness." Right.
No word yet if this idyllic exercise will make its way to the United States, but I'm gonna go ahead and start my beer salutations now just in case.