A Complete List Of NYC Restaurants With Amazing Outdoor Seating
Thanks to the spontaneous but confusing betch known as Global Warming, the weather in NYC hasn't totally switched over to fall yet, and our fave leather jackets are still patiently waiting in the closet. Most days, the weather is still in the 70s, and that constitutes outdoor seating weather in our book. I mean, if we can't use the Bryant Park skating rink as a profile pic backdrop yet, we might as well make the most of this weird, barely-sweater-weather time of the year. If you're looking to get your last dose of outdoor dining and bomb Instagram lighting, here are the trendiest places to eat outdoors in New York right now:
1. Aurora
It takes a lot for us to make the trek to Brooklyn these days, but if you're sick of your regular Manhattan spots, Aurora is worth the trip. It's in Williamsburg, so you can expect to see a ton of man buns and recyclable totes, but don't let that distract you from the restaurant's amazing food and chill vibe. The outdoor patio is filled with walls of green ivy, and the food itself is almost too pretty to eat. The menu is basically filled with trendy Italian food, so don't expect avocado toast. Bring friends and share the pasta. Nothing like complex carbs and a good backdrop.

2. Narcissa
Narcissa is one of those places that is perfect for people with a real appetite, or for models that just need a side of Brussels sprouts post-show. And we're not just saying that because Karlie Kloss has been spotted here multiple times. Narcissa is trendy and delish, but make sure you sit outside, because the seating is half the experience. People complain that you're "paying for the atmosphere," but IDK when that became such a bad thing. The restaurant is kinda hidden inside The Standard East Village, but once you find it, make a reservation and sit outside.
3. Cookshop
We usually don't venture to 10th avenue unless it's 2am and we have a table at Marquee, but Cookshop is one of the better restaurants in Chelsea right now, and the outdoor seating area is everything. Cookshop is perfect for big groups and boozy brunch, so you can enjoy your fourth Bloody Mary while sitting under the restaurant's photogenic green awnings. They also offer specialty baked goods everyday, so you'll basically HAVE to order the croissant of the day, or you're majorly missing out. That would just be a shame.

4. The Pavilion
The Pavilion is one of those restaurants that makes you briefly forget how tragic Union Square really is. It's set in the middle of the park, and it's only open in the summer months, so now is basically the last time to get a reservation until next May. The Pavilion's orange table umbrellas are hard to miss, so if you want to sit outside in Union Square, this is the place to do it. The ambiance is super cute, and it'll make you disregard the fact that people are doing outdoor public Zumba like, 10 feet away.
5. Untitled at The Whitney
Whether you're actually down for modern art or just want the trendy geotag of Untitled, you've gotta sit outdoors at The Whitney at some point in your brunch career. The restaurant itself is amazing, and it's basically the go-to outdoor seating in the Meatpacking District if you want to avoid the basic bitches at Catch on a Sunday. Plus, your Instagram of that Milk & Cookies dessert is literally the artsiest thing in the museum to date. You're so cultured.

6. Santina
Santina is one of those places where you literally forget you're in NYC, because it's so damn pretty. First of all, it's owned by the same team as Carbone, so the food is OBV amazing, and the actual restaurant is this chic, glassed-in space right under the High Line. Plus, they have outdoor seating with pretty lights and umbrellas that are more colorful than your entire wardrobe. Go before it's too cold to appreciate it.
These Disney Princess Bikinis Are Perfect For Grown Women Who Act Like Children
I would just like to go one day where I don't want to throat punch someone for sporting the latest dumbass "fashion" trend. But sadly, today is not that day because I just found out that someone is trying to ruin my life just came out with a Disney princess bikini line.
We've already established which bathing suits are best for your summer bod, and trust us, these will not be making the list. Whoever came up with this idea to personally victimize me capitalize on the Disney Princess trend is going in my personal burn book. Because now this heinous trend is invading a v important aspect of my life: the beach. The beach is a sanctuary, people. Someplace where I can do two very important things: nap and day drink. I need this place so I can forget the fact that we live in a world where people wear flower crowns and drop crotch pants of their own volition. But now, because we can't have nice things, the beach isn't even a safe place anymore.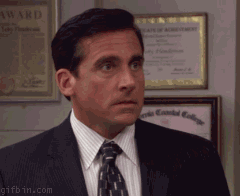 But back to the bikini line. Enchanted Bikinis has taken it upon themselves to create their own line of Disney-themed swimsuits even though no one fucking asked them to. There will be a bikini for each of the major Disney Princesses including Snow White, Belle, Cinderella, Rapunzel, Jasmine, Ariel, and Pocahontas. As if I didn't have enough of a complex with my summer body, now you want me to squeeze into a bikini that channels my childhood heroes? That's asking a lot of someone who just spent the last four months binge eating cheese and drinking red wine.
Also, grown women wearing princess costumes at the beach IS NOT OKAY. I mean, I get that we've all had that fantasy of being a princess and having Prince Charming come and sweep us off our feet, but like, I left that dream behind after my first jungle-themed frat party. Something about watching a guy shotgun a beer in a leopard print skirt really kills that dream for a girl. Sighs.

My favorite part about this bikini line—if you were to like put a gun to my head, threaten my life, and force me to choose—is probs the mission statement: "…To let the princess in you glow and enchant everyone and everything around, when you wear your Enchanted bikini. We believe that every woman can feel this way without putting on a costume." Lol k. Let's just see about this, shall we?

Okay, every girl in this picture is legit wearing a wig to the beach. And that one girl on the end is carrying a braid larger than my body rn. How is this not a costume again? HOW? Seriously. I'll wait…

Jesus. This girl needs to hi-ho her ass back to the castle because if I see this shit on the beach I'm not sure I can be held responsible for my actions.

It's like the people at Enchanted Bikinis thought, "have we humiliated the Native American people enough with this false narrative?" and they said, "no, let's put her in a bikini!"

Tbh I'm surprised they didn't just use her hair as a substitute for a top. This seems like a brand that would cut corners. Also like a brand that fosters my rage issues.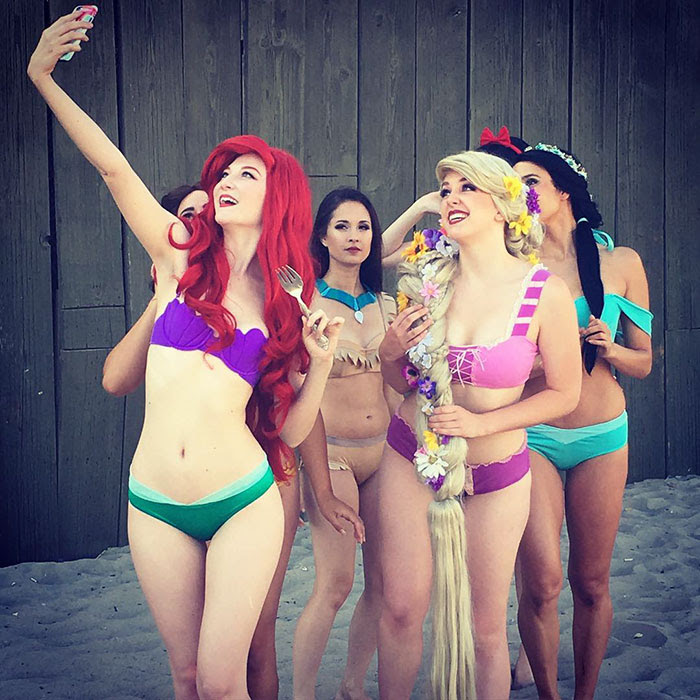 I think Pocahontas' face in the saddest group picture ever just about sums up all of my thoughts regarding this bikini line.

The look of someone who's contemplating how many drinks it will take her to forget that she's a twentysomething woman wearing a child's costume in public.
It's unclear as to how many actual female women will wear such a thing in a public, but then again people sell laxative tea for Instagram followers, so there's no limit to the amount of desperate shit people will pull. The one thing I know for sure is that Halloween costumes are about to be a whole lot sluttier. People were already wearing bras as tops, so I can only image what my sorority sisters people will be wearing this year now that bikini costumes are a thing. So should I start drinking now to prepare myself or…?