The Cutest Workout Clothes You Need This Summer
They say summer bods are made in the winter. K, I don't know who "they" are, but they clearly don't live on the East Coast.  Because if they did, they would understand the depressing treachery that winters here are, and they certainly wouldn't spew such BS. I mean like, in the winter, my boss is lucky if I make it into work, let alone get my lazy ass to the gym after work. But anyways, I digress.
Summer is here, and now is the time that most of us are finally actually motivated to kick our workout regimens into high gear. Everyone wants to look and feel their best on the beach, and what's more motivating than some cute new workout clothes that will make you actually want to go to the gym??? When I get new workout clothes, I can't wait to show them off. And like, maybe that's silly, but I have to take advantage of whatever will motivate me to get there. That being said, here are the cutest workout clothes that you need this summer, to help you look and feel your best! 

These leggings are a major upgrade from your standard black Lulu leggings and will totally make you want to actually go work out. Not only are they chic and cute, but according to the reviews, are also super comfy! Not to mention, the neon star graphics at the bottom are very on trend, so people may even mistake you for like, a cool fitness Instagram influencer, or something. Hey, maybe you'll get a free Gatorade out of it!!!

This plain cropped tee may seem basic, but that's because it is a basic. But that doesn't make it any less cute or essential to your summer workout wardrobe. Everyone needs a basic white cropped tee, just like, in their wardrobe in general. So you might as well go ahead and get yourself one that's designed for the gym, as well! A basic crop tee will make you look like a casual off-duty model at the gym. Which consequently gives off the vibe that you came there to get sh*t done. And just giving off the perception that you're getting sh*t done will make you actually want to get sh*t done. I realize this may seem like a stretch, but again, when it comes to getting myself to go hard at the gym, I need all the motivation I can get, logical or not.

Snakeskin was all the rage for spring, and continues to stay a big trend for summer. So why not bring this fashion trend to your workout outfits too? Not only will this Kardashian-worthy set elevate your workout style game, but these pieces could even work with your everyday summer wardrobe as well. There's legit no occasion that they wouldn't be perfect for…except like, maybe a corporate job interview or a funeral…but like, everything else besides that!!!

Windbreakers are cool right now, especially this retro cropped Nike one that's perfect for summer. You'll look so legit wearing it to warm up on a breezy summer morning or when they're blasting the AC at the gym. It's also great for if it's raining and you don't want to look like a wet dog by the time you actually  get to the gym. Nothing's less motivating than looking like a soggy mess and starting off your workout in already wet clothes. Like, I'm just gonna go home now.

With these neon leggings, you simply can't get away with even attempting to try to slack off at the gym. Like, if you're wearing bright-ass leggings such as these, you have to expect some attention from your fellow gym attendees. And, if you're being so bold as to demand everyone's attention, you're going to need to actually perform when you get on that treadmill. Unless of course, you're at like a Planet Fitness where your pink neon leggings are the least shocking thing anyone is wearing in there (no shade to PF, I go there because I'm poor). I have legit seen a guy at Planet Fitness wearing a polo and jeans before, so these neon leggings wouldn't make anyone bat an eye. Smh, don't be that polo guy, get yourself some cute summer workout clothes.

Lavender has been the color of the season, and these lavender running shorts are the perfect addition to your summer workout wardrobe. They're Adidas by Stella McCartney so they're like, fashionable af. Like, probs the most fashionable you could ever possibly get when it comes to workout shorts. Pair it with a cute sports bra or a flowy tank, and you're totally ready to go on that five mile run! Okay, maybe three mile…eh 1.5???

This cut out crop top will have you ready to slayyyy. No, not like slay at the bar drunk on vodka sodas kind of slay, but "slay" like actually get through your entire workout today. But like, the top really is that cute, that you could easily wear it out to the bar and slay there too! Okay, I'm single-handedly making "slay" uncool by saying it so many times right now, so I'll stop. But hopefully you get my point here.

I'm obsessed with this fashionable workout top. It's chic with the center ruching, yet functional with its silhouette and thumbholes. If you think thumbholes are an irrelevant feature, uh, think again. It would be impossible to wipe off every dumbbell or machine that the jacked up frat guy high on C4 used before you. And like, you don't know where his hands have been….and tbh, that's probs for the best. The thumbholes help cover your hands, and keep you extra safe from all the gym germs. It's kind of like when you use a paper towel to grab the bathroom door handle, but like, in this instance, that paper towel is just part of your shirt.
People like to say fashion is materialistic. But what you wear to the gym and how it makes you feel when you're there impacts your self-confidence, drive, and ultimately, success. I realize that sounds v dramatic, but like, it's true. So set yourself up for success in the gym with some cute new summer workout clothes ASAP.
Images: @lauren_alexandra / Unsplash; Free People (3); Revolve (4); Bandier
Betches may receive a portion of revenue if you click a link and purchase a product or service. The links are independently placed and do not influence editorial content.
Fashionable Workout Tops & Bras You'll Want To Wear Everywhere
The only thing worse than getting back in the gym after the winter is showing up in the same GapBody tank you bought on sale four years ago. Workout clothes have become trendier than the $38 classes you're wearing them to, so it's imperative you know what to buy. This season seems to be all about the pastels, baby pinks, and cutout details. We already found the best leggings for you to add to your closet (you're welcome), so now it's time to focus on the upper half of your outfit and discuss workout tops. After doing extensive research and ordering one too many sports bras and tanks, we've rounded up the cutest workout tops on the market right now.

This workout crop is prettier than any real top I own. Honestly I'd feel bad sweating in this, but like, I'll wear it anyway. It comes in every color, but the powder pink is everything.

I'm not usually one to wear a sports bra without a top over it, but honestly I'd do it for this one. It has a cross back, which makes it a little unexpected compared to all the basic workout tops in your closet. Pair it with black leggings and black Nikes and you're basically a Bandier model.

Can you tell cutouts are in? This one's amazing. It also comes in black if you're still pale AF and can't pull off the white (which I will be until approximately late August).

Can't get over the color-block, high neck, cutout trifecta. And the pop of forest green totally says "I obviously only work out in gyms with AC but I'm not completely opposed to the outdoors."  This top is as versatile as you are.

Lulu always pulls through on the softest tees and workout tops. This one matches your Lilacism Essie manicure, and it might actually make you feel comfy while you work out. We're here for it.

Because velour is back in style, and it helps to feel like a Kardashian every now and then. Even if you just throw this on when you're hungover and run to the super market to buy pizza bites, you'll look like you just got out of a boutique workout class.

A great post-workout jacket. It's also water-resistant, which happens to make it very useful for rainy spring days. But most importantly, it just looks cool.
Image: Taylor Harding / Unsplash
Betches may receive a portion of revenue if you click a link in this article and buy a product or service. The links are independently placed and do not influence editorial content.

Chic Workout Attire That Will Motivate You To Stick To Your New Year's Resolution
Since we're only three days into 2018, you're probs still on a "new year, new me" high. Let's see how long this year's resolutions last, shall we? From swearing off drinking to promising yourself you'll lose three pounds by next spring, I give it like, a week—but in the meantime, let's actually put in some effort, k? I feel like we could all benefit from cutting shit out of our lives for as long as we can resist the urge. We'd be rewarded with better skin, a better metabolism, and a smaller pants size. Again, it's only January 3rd, so I could be spewing bullshit, but there's really no better motivation to get started on this health kick like shopping for new workout clothes. First of all, they're comfortable and make me look thinner as it is. Second of all, whether I go to a gym or not, everyone will just assume I'm sporty af when they see me hanging out at like, the closest Jamba Juice.
Made with high intensity workouts in mind, this mesh sports bra is fast-drying, def breathable, and v stylish for lounging around in.

What better excuse to buy new Lululemon leggings than convincing yourself they'll actually see a gym one day? Mesh leggings are so in rn, so they not only cool you down quickly, but they're comfy and trendy enough to take straight to dinner afterwards.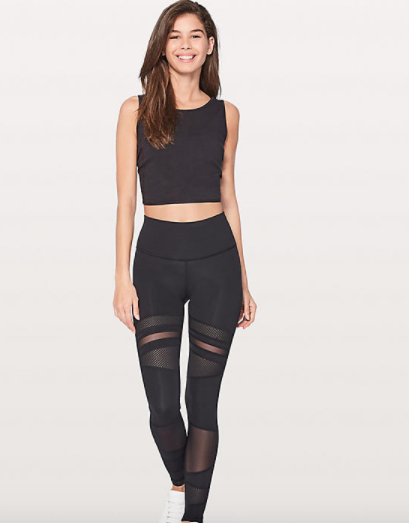 I'm sure you have tons of dresses and bodysuits with this exact front, so this lightweight tank just makes both you and your too-expensive sports bra look good enough to be seen after a sweaty SoulCycle class.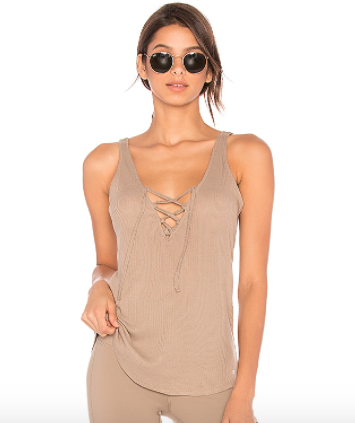 Primarily designed for the occasional cardio workout you'll *maybe* attempt, this lightweight hoodie is made from dry fabric that keeps you warm in the winter, and also keeps the sweat bullets the fuck away. In case you plan on taking your workout into late nights, it comes with a reflective trim so people can see you walking when it's dark af outside. Safety first, obviously.

Motivate yourself into walking your daily commute with a chic gym bag that basically holds your entire bathroom. This style has enough pockets for every little thing possible, including a removable shoe bag.

For when you need to hide your face if you're not trying to be seen or just give off the vibes that you're like, really into working out or something, this hat is for you. It comes in two fab colors, and yes, black is one of them. Duh.

Images: Noah Buscher / Unsplash; Shopbop; Lululemon; Revolve; Nordstrom; Fabletics; Shop Betches
5 Workout Headbands That Will Convince People You Actually Exercise
There are plenty of things that OG Betch Blair Waldorf would love to complain about in the year 2017. For example, she'd never use Snapchat filters and would probably yell at Dorota for playing around with them. Another thing she'd totally hate is the athleisure trend. Queen B (the other Queen B…) would never be caught dead in a sports bra. However, she'd probably just have to learn to deal with it because athleisure is literally the only way it's socially acceptable to wear headbands anymore. Unless you're like, a super bohemian chick, headbands just don't hold up your wardrobe like they did in 2008. Here are a few workout headbands to keep your hair out of your face during spin class, or just while you're elbow deep in a Chipotle burrito, wearing clothes designed for exercise for their stretching capabilities.

Can you already see yourself wearing this with a messy bun to get an Iced Green Tea Latte at Starbucks next time you're too hungover to know your own name? I can. You look good. (All things considered.)

You probably already have 100 of these anyway, but Lulu is the real MVP and releases new colors and prints all of the time. This new black-and-white daisy print is so cute. You should probably get two because your roommate will definitely take one.

This probably does like, literally nothing for you while you're exercising, but you never do that anyway, so what's the point? I kind of hate this, but I feel like I vaguely remember Bella Hadid, Hailey Baldwin, or some other random famous chick who can convince me to wear ugly shit rocking one. If you're the kind of girl who actually looks good in Brandy Melville's one size fits all shit, you can probably pull something weird like this off.

Athleta made this headband out of a super lightweight fabric that holds down flyaway hairs without like, literally flying away itself. This is awesome, because lightweight headbands help prevent the headband/ponytail headaches that totally ruin lives. Now you only need to pop Advil for your hangover.

This headband is kind of like the one friend you have who never blacks out, because it might just be the most functional one on this list. It's made out of fabric with wicking capabilities to help deal with sweat. If you're the kind of betch who doesn't want to let a workout get in the way of your blowout lasting a few days, this should def help do the trick.
Summer Athleisure Pieces You Can Wear To The Gym And The Bar
What better way to motivate yourself to work off those sugar-infused Long Island Iced Teas you'll be drinking all summer than spending more money on overpriced leggings and sports bras? I'm talking about athleisure that absorbs your sweat, keeps you cool, but still makes you look as hot as Gigi Hadid. If you don't know what athleisure is, ask Siri or think of those leggings you shamelessly wear weekly and don't wash, because this is the 21st fucking century. Like, get with the times, because I don't feel like explaining. This has been officially a thing since last year aka when it was actually added to the dictionary, so chances are if you have any fashion sense, you already own Lululemon leggings and a sports push-up bra from like, Victoria's Secret. Whether it's to get Starbucks, leave your fuck buddy's house, or (god forbid) go to the gym for once, no one has ever questioned your whereabouts because your athleisure outfit can get away with any occasion.
If you're planning on fooling everyone that you give a shit enough about your body to get off the couch and stop binge-watching Riverdale, you're going to have to expand your hot athleisure wardrobe for summer-proof pieces you might—key word: "might"—also be able to pull off at the bar. Usually being comfortable and looking DTF don't go together, but if you're smart about your choices, you can get away with it. Dreams do come true if you just drink enough believe.
1. Sheer Bralette
When you have yoga at 11am and brunch at 12:30pm, the Nina Bralette is your go-to. The super lightweight and stretchy fabric will ease you into all your downward facing dog poses, while also cooling you off with its sheer straps. You'll feel refreshed and look cute enough to simply change into a skirt before drinking as many bellinis as it takes to defeat the purpose of working out. Or, you can totally just say "fuck it" and buy this regardless because it's cute as hell. Namast'ay at the bar, bitches.

2. Strappy Tank
What happens at the gym, stays at the gym. If you're going to actually exercise and break a sweat (ugh), no one outside of that facility should have to see all that back sweat. It's bad enough you won't be rocking a full contour when you leave. You'll need something with an open back and as many air holes as possible. Wear a lightweight tank you can adjust and layer over a sports bra, such as the Gypset Goddess x Alo Clarity Tank. If you're feeling extra scandalous and haven't done laundry (again) for a night out, wear this with a backless bra, high waisted jeans, and your fave pumps. You'll be comfortable and look hot.

3. Mesh Leggings
Unless you live under a fucking rock, you've probably seen every person you follow on Instagram sporting this mesh trend in one form of clothing or another. Full-length leggings with mesh panels on both the back and the front, like the Varley Windsor Black Legging, allow you to take those long runs on the beach without worries of looking like you peed yourself. They're composed of permeable and quick dry fabric so you look just as good after the run as you did before. Even if it's only because you gave up after 10 30 seconds. I won't tell if you don't.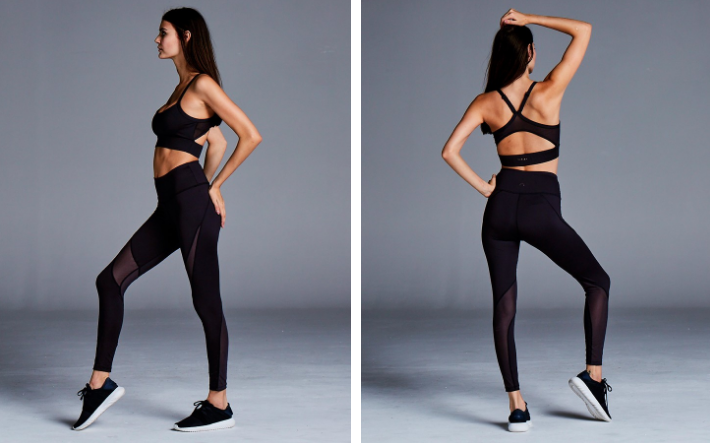 4. Sleek Jacket
Whether you're leaving a torture cycling class or running errands, the CHICHI Serena Bomber is essential for adding street flair to any look. Throw over a strappy bra after an intense workout or a v chic bodycon if you want to look as relaxed as your outfit does. Little do they know you stressed out about it for an hour and changed 15 times before leaving the house.

5. Baseball Cap
I don't usually advocate for hat hair, but this is only for emergency cases such as like, being too hungover to wash your hair or trying to impress that hot guy who always has his arm days on Thursdays. You can totally convince him you're into like, sports and stuff (whatever that entails) and yes, you've had this lucky hat forever, and no, you didn't just buy it online from Shop Betches.

The Most Flattering Leggings Pattern For Your Body Type & The Flaws You're Trying To Hide
Wearing leggings is pretty much the greatest experience in life, other than napping or being told that you're pretty. They're like, one of the very few things that betches don't really complain about because they're comfortable AF. You probably never thought that it would be possible to love leggings anymore than you already do, but if you start buying ones that are super flattering, you'll reach a level of obsession that will probably piss everyone around you off. Here are the perfect patterned leggings to get for your body type.
Horizontal Stripes: Scam People Into Thinking Your Butt Is Huge
I personally know that horizontal stripes will make a flat ass look dope because every time I say "my butt actually looks like a butt today," my friends tell me to shut up because it's just my horizontally striped leggings. Honestly, if I had a dollar for every time that happened, I could finally afford butt implants. Please spare me the judgement and stop acting like you'd be above that. It's a pretty well known fact that horizontal stripes make you look wider, so if you have an area of your body that you would like to have appear larger, they actually come in clutch.

Athleta Stripes Chaturanga Capri
Vertical Stripes: Make Your Legs Look Longer
In the same way that the insanely stupid nail contouring trend makes your short sucky nails look long (but still sucky), leggings with vertical stripes will make your legs look longer. However, unless you're hoping to channel your inner Beetlejuice, I'd probs advise against leggings that have vertical stripes the whole way around. Instead, go for something that just has them down the side.

Adidas Originals 3 Stripes Legging
Large, Bold Patterns: Avoid Looking Lanky
If you have long, skinny legs and are worried about looking lanky (cry me a fucking river), the most flattering legging print for you is any large, bold pattern. It'll basically break up the two mile stretch that is your legs.

Nike Legend 2.0 Mega Liquid Tight
Diagonal Panels: Play Up Curves
Anything with a diagonal vibe is ideal for flattering curves, because it will elongate but also enhance what ya mama gave ya. Because diagonal stripes aren't really a popular pattern for leggings (unless you somehow grabbed a pair out of like, an elf costume or something), opt for leggings with diagonal panels.

Tiny Prints: Spark Rumors That You Have A Fake Butt
If your butt already looks like one of those rap guy's girlfriends (oh my god, Becky), then you should go with something with a small print that will make people assume you're wearing butt pads or something. Like seriously, you might end up having to get a butt x-ray to prove that it's real, like Kim K did.

Lululemon Wunder Under Hi-Rise Tight
The 9 Best Leggings For Spring
We're not sure why, but brands always seem to come out with their coolest leggings toward the end of winter. It's like, we just spent the past four months cuddled up with in bed watching This is Us while eating enough sushi for a large family. Is this really the time to come out with the hottest, most form-fitting leggings you can think of? Sweatpants are all that fits me right now.
Either way, we rounded up our favorite leggings out right now, so you can avoid putting on skinny jeans and stock up on the pants that Kendall Jenner made acceptable to wear in public. Here are the ones you need:

All betches know that Lululemon was our OG $100 pair of leggings, so we can't make a leggings roundup without the pant that started it all. Lululemon leggings are basically as timeless as an engagement ring, and their new styles somehow keep getting better. We'll always love their classic Wunder Under leggings, but these Body Con Tights are so cute and just edgy enough with the mesh cutouts on the sides. We're obsessed.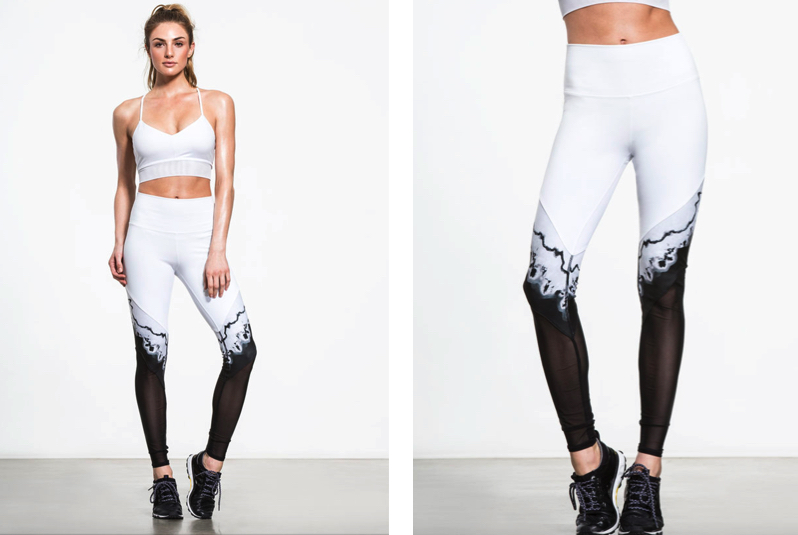 White leggings are pretty much reserved for betches who are so skinny that they're not even expecting to get their periods in the next six to eight months. These ones are high waisted and have a sick print at the bottom, so they're pretty much the best things ever. Plus, they're actually made of breathable material that keeps you cool and dry during a workout, so you can actually put these things to use when you feel like moving. In other words, no crotch sweat marks. Hallelujah.

Basic girls tend to stay away from grey leggings, but not many people know how amazing they make your ass look. The cutouts on these leggings are amazing, and we're obsessed with the color. The pastel grey is subtle enough to match with more than one colored top, but is light enough to accentuate your ass, even when you've neglected your squats since last summer.

These leggings look like they're too dope to actually sweat in, but they're surprisingly made with a ton of support to move with you while you work out. Don't let the trendy cutouts fool you. These leggings are elastic-free so they're super comfortable on your waist, and they're made with four way stretch to expand with your muscles while you move. Plus, they're slutty looking enough for you to wear on a night out when you're feeling fat or lazy or both.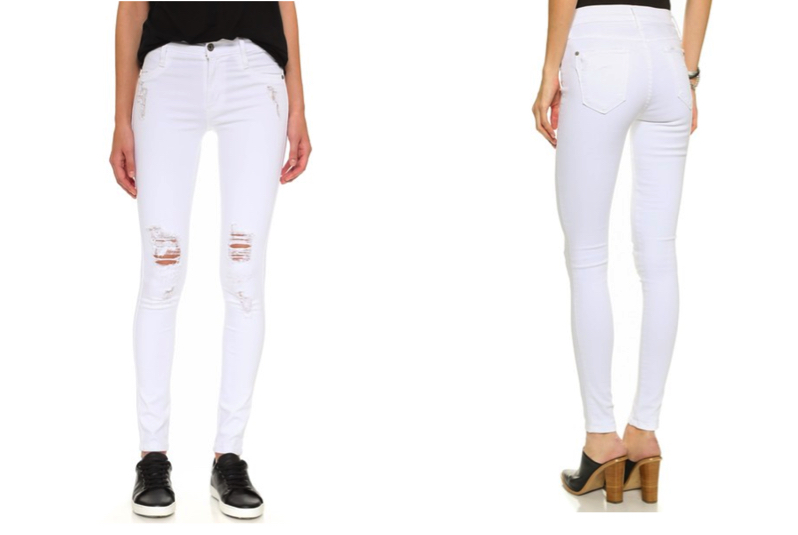 These jeggings look like your best white jeans, and they're super comfortable too. I mean, any pants that say the words "ultra flex" in their name have to be pretty sick. Every LA betch is freaking out over James Jeans right now, and we get the hype. It's prob too soon to wear white right now, but drop a few pounds by July Fourth and you'll kill it in these.

Terez is the brand that SoulCycle instructors and their overexcited 6am riders wear while jamming out to Sia in a dark room while channeling all their good vibes. That sounds like the last type of person you'd aspire to look like, but hear us out. The pants are usually too colorful for us, but we happen to love these ones. They're awesome for working out and if you pair them with a black sports bra and black Nikes, you'll look like the super intimidating betch at the gym who takes her workout extremely seriously. AKA no fuckboys trying to pick you up at the gym. AKA success.

These leggings are called "power leggings" for a reason, and they're ready to be put to work. Not only is the colorblock pattern so hot right now, but they're also insanely versatile. The sweat-wicking fabric is stretchy and supportive, and the high waist is super flattering. They've also got a little zip pocket in the back, so you can work out and go meet your dealer right after without changing pants.
Karen Millen Faux-Leather Leggings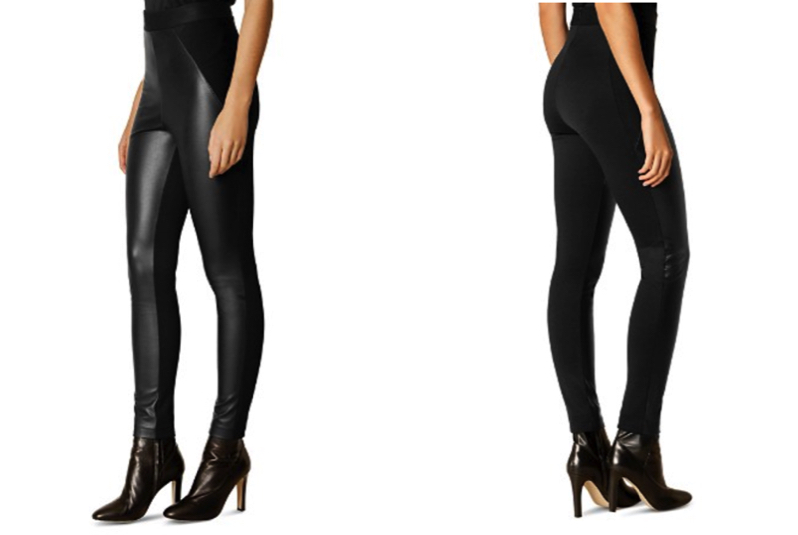 Faux-leather can be a risky move if they look too over-the-top and trashy, but these leggings are chic AF. These pants are perfect for when you're not feeling jeans but still need to get dressed up. Plus, the concept of a pair of leggings that you can also wear on a night out is basically the best invention since sliced bread—whatever that is.

We've always been fans of the Rivington jegging from Asos, and this new seasonal edition of the jegging is so on trend for spring. The combo of the ripped knees and light wash color is perfect when you're sick of black jeggings and aren't ready to pull out the white jeans yet. Your mom will give you shit for buying pants that are already ripped, but it's worth it. These are 45% cotton, so you can be somewhat comfy in jeans that look like they're tighter than saran wrap.