We Asked, You Answered: These Are The 8 Best Leggings To Shop Right Now
Betches may receive a portion of revenue if you click a link and purchase a product or service. The links are independently placed and do not influence editorial content.
Our readers trust us on all fronts when it comes to shopping, but the Betches team values your opinion just as much. Our followers chimed in and shared their absolute favorite leggings of all time with us, and these picks are good. From Lululemon bestsellers (obvi!) to affordable picks from Amazon, and even some maternity styles sprinkled into the mix, these are the eight best leggings to shop right now according to YOU.
Lululemon Align V-Waist Pant 25″

Two words: buttery soft. That's the only way to describe how these Lululemon leggings feel. The Align range is one of the brands most popular collections and it's because—you guessed it—they're just so damn comfortable. Plus, they're moisture-wicking and squat-proof so you don't have to worry about sweat spots or sheerness when hitting the gym.
Shop It: Lululemon Align V-Waist Pant 25″, $118, Lululemon
Athleta Ultra High-Rise Elation Tight

Another top contender, specifically amongst the yogi crowd, are the Athleta Elation tights. Again, these are super soft and comfortable enough for all-day wearing, but they were made with indoor and outdoor yoga workouts in mind. So, the next time you hit up a vinyasa class, bring these along for the stretches and woooooosahs.
Shop It: Athleta Ultra High-Rise Elation Tight, $89, Athleta
Aerie Real Me Double Crossover Legging

Unless you were living under a rock last year, you saw these go viral on TikTok. These super flattering leggings cinch at the waist, so if you're hoping to look snatched, these are the ones you need in your closet ASAP. You can throw these on for crawling to your hungover weekend workout or for brunch with your squad—your pick.
Shop It: Aerie Real Me Double Crossover Legging, $32.97, Aerie
Everlane The Perform Legging

On the hunt for elevated basics? You can count on Everlane to never let you down. While the retailer is known for its crisp shirts and work-appropriate trousers, its athleisure section deserves just as much attention and praise. These leggings have an extra high-waist and internal pocket to keep your keys or phone. Plus, they're made of 58% recycled nylon if you wanted a greener pick.
Shop It: Everlane The Perform Legging, $68, Everlane
Beyond Yoga Maternity Spacedye Midi Leggings

Mamas-to-be, rejoice! These maternity leggings are part of Beyond Yoga's cult-fave Spacedye range and they're super cozy for growing bumps. Simply slip these on over your belly for weekend errands or a pregnancy-safe workout class.
Shop It: Beyond Yoga Maternity Spacedye Midi Leggings, $108, Amazon
CRZ YOGA Naked Feeling Workout Leggings

Our readers love these leggings and so do over 28,000 Amazon shoppers. For an affordable price, you'll get seamless, stretchy, and moisture-wicking leggings that'll last you through every wash and dry cycle. There's also a pocket at the waistband for your AirPods or whatever other workout essentials you might need.
Shop It: CRZ YOGA Naked Feeling Workout Leggings, $26-$30, Amazon
The Gym People

High Waist Yoga Pants with Pockets

More pockets, please. These compression leggings are another favorite among our audience and religious Amazon shoppers. They're thick enough to get some squats in and stretchy enough to support you through a reformer pilates class. Or, you can wear them literally anywhere else.
Shop It: The Gym People High Waist Yoga Pants with Pockets, $24.99, Amazon
Colorfulkoala High Waisted 7/8 Length Leggings

Here we have another TikTok and Betches favorite. These leggings come in over 20 different colors, if black leggings aren't your vibe. But, that's not all. They're considered a perfect dupe for the Lululemon Align leggings listed above if you're not willing to flesh out over $100 on your next pair of leggings.
Shop It: Colorfulkoala High Waisted 7/8 Length Leggings, $25, Amazon
Chic Workout Attire That Will Motivate You To Stick To Your New Year's Resolution
Since we're only three days into 2018, you're probs still on a "new year, new me" high. Let's see how long this year's resolutions last, shall we? From swearing off drinking to promising yourself you'll lose three pounds by next spring, I give it like, a week—but in the meantime, let's actually put in some effort, k? I feel like we could all benefit from cutting shit out of our lives for as long as we can resist the urge. We'd be rewarded with better skin, a better metabolism, and a smaller pants size. Again, it's only January 3rd, so I could be spewing bullshit, but there's really no better motivation to get started on this health kick like shopping for new workout clothes. First of all, they're comfortable and make me look thinner as it is. Second of all, whether I go to a gym or not, everyone will just assume I'm sporty af when they see me hanging out at like, the closest Jamba Juice.
Made with high intensity workouts in mind, this mesh sports bra is fast-drying, def breathable, and v stylish for lounging around in.

What better excuse to buy new Lululemon leggings than convincing yourself they'll actually see a gym one day? Mesh leggings are so in rn, so they not only cool you down quickly, but they're comfy and trendy enough to take straight to dinner afterwards.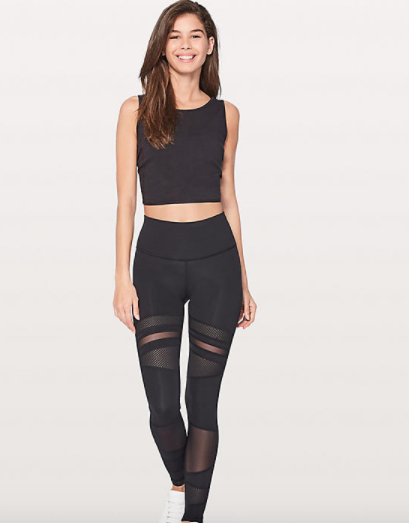 I'm sure you have tons of dresses and bodysuits with this exact front, so this lightweight tank just makes both you and your too-expensive sports bra look good enough to be seen after a sweaty SoulCycle class.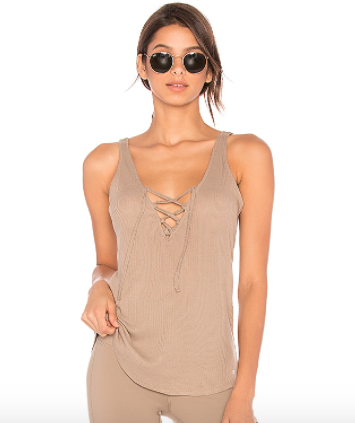 Primarily designed for the occasional cardio workout you'll *maybe* attempt, this lightweight hoodie is made from dry fabric that keeps you warm in the winter, and also keeps the sweat bullets the fuck away. In case you plan on taking your workout into late nights, it comes with a reflective trim so people can see you walking when it's dark af outside. Safety first, obviously.

Motivate yourself into walking your daily commute with a chic gym bag that basically holds your entire bathroom. This style has enough pockets for every little thing possible, including a removable shoe bag.

For when you need to hide your face if you're not trying to be seen or just give off the vibes that you're like, really into working out or something, this hat is for you. It comes in two fab colors, and yes, black is one of them. Duh.

Images: Noah Buscher / Unsplash; Shopbop; Lululemon; Revolve; Nordstrom; Fabletics; Shop Betches
The 5 Best Celebrity Athleisure Lines For Your Workout AKA Gym Instagrams
Karl Lagerfeld once said that "sweatpants are a sign of defeat," but that was probably way before Gigi Hadid and the rest of the fashion betches created the athleisure movement to make it socially acceptable to wear comfortable clothes in public. Even Chanel is experimenting with tracksuits and sports bras now.

Of course, with every trend comes a wave of celebrities trying to make bank and stay relevant off of it. In 2017, you're only relevant if you have a lip kit, fragrance, and/or athleisure line. While I totally support wearing leggings and a tank top every single day (keeping people guessing whether I've just come off a stationary bike or an alcohol bender is kind of my thing), celebrity workout clothes can be a slippery slope. Like nose jobs and reality shows, not all athletic gear was created equal, so here's a definitive ranking of the betchiest celeb lines.
5. Kate Hudson's Fabletics
Kate Hudson is a betch icon, which means that because her dad is the inventor of Toaster Strudel a rock star, she has the power to convince people to sign up for a subscription service to get floral capri leggings every month. Fabletics really puts an emphasis on the "leisure" side of athleisure, because you don't even have to enter your dad's credit card information more than once—let alone leave the house—to get it. Just beware that your dad may have to sell his soul in order to cancel your subscription. But that's why we love our dads: they'd do anything for us and our quest for cheap leggings. #Blessed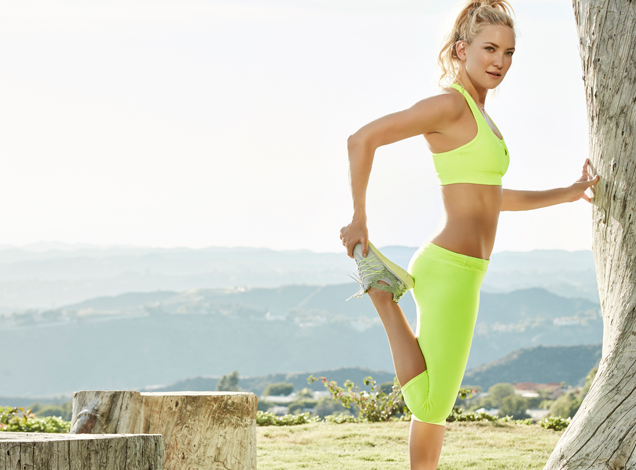 ​
4. Carrie Underwood's Calia
Carrie Underwood has the most amazing legs on the planet, so obviously, taking fitness advice from her is like getting an electrolysis referral from Kim Kardashian. Her line, Calia, is kind of like the mom version of Lululemon, but I'll let it slide because it also has more mesh than the entire cast of Jersey Shore's wardrobes combined.

Calia is sold at Dick's Sporting Goods, which is actually totally convenient because you can purchase a Louisville Slugger with your slutty caged sports bra to get all of your revenge supplies in one stop.

3. Kylie Jenner Merchandise
Kylie Jenner probably owns enough sweatpants and leggings to outfit every hungover betch for the next decade. Obvs, she threw some "sports sets" into her online merchandise shop. Everything is designed in Calabasas, which most likely means that the spandex shorts are engineered to reduce the appearance of butt pads.
​

The shop is also home to Champion sweatsuits that say "THICK!" on them. 70 bucks for a pair of Kylie's sweatpants may seem pricey, but it's probably one of the most cost effective ways to tell the world that you have a huge ass, or that you *think* you have a huge ass.
2. Beyoncé's Ivy Park
Beyoncé could release a collaboration with Crocs and the world would still lose its shit, so it's no surprise that her Ivy Park line has been so successful. It's almost like we don't even get to choose whether or not we like Beyoncé, we just have to. I honestly find it hilarious that people think the NSA is reading our group chats—if anyone's secretly watching over everything we do, it's Beyoncé's team. Anyway, Ivy Park's website is filled with like, tons of information about the "innovation" of their designs, so if you happen to break a sweat during the light jog you do when someone far away holds a door open for you, Bey's got you covered.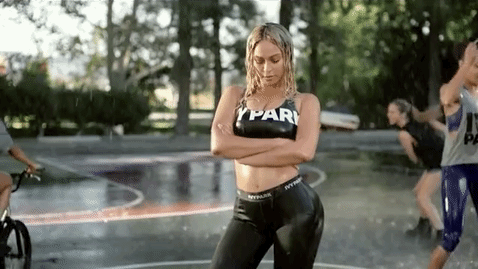 1. Rihanna's Fenty Puma
Fenty Puma by Rihanna is hands down the betchiest celebrity athleisure line out there (*braces for my inevitable hit by the Beyoncé mafia*). It's always sold out, which means it's exclusive. Plus, it inspires laziness because you can't actually work out in platform sneakers or stilettos. Unless you're Mariah Carey. (In which case, you're not even really working out. You're just spending your personal training session forcing your trainer to take pics of you. Such a power move.)