What Excuse You Should Use To Cancel Plans Based On Your Zodiac Sign
Once upon a time (re: all 2020), the idea of having plans—any plans—seemed like a dream. After spending every second inside, simple errands like going to the grocery store or picking up a prescription became an event. Now that you're vaxxed and the CDC says leaving your house is like, kinda okay, you're faced with a dilemma you never thought you'd be in again: canceling plans you have no intention of showing up to. Maybe you wanted to go out but now you're in your comfy clothes and can't fathom putting on heels, or perhaps the thought of listening to your friends talk about work sounds like, well, work. Whatever it is, you're in the market for a "get out of plans" excuse, and luckily, your answer has been written in the stars.
Whether you're a perpetual bailer (shame) or this is your first time (awww!), your astrological sign already knows how this is going to go down. Whether you tell the truth about wanting to stay home, lie through your teeth, or destroy your friendships to avoid having to say "I don't want to go to brunch," your zodiac sign is very telling of how you'll get out of your commitments. Does that make you less of a piece of sh*t? No. But hey, at least this way it's not your fault you suck! You can blame it on the universe!
Aries

Doesn't it blow that you were the one who made these plans? You were the one who literally begged everyone to keep their Friday night open so you could all chug margs and talk sh*t about the Aquarius in your group, and now you're just kinda not feeling it? Even though you're basically the leader of your group (duh), it's kinda exhausting having to be the fun one all the time, right? Luckily for you, you have the easiest excuse to get out of plans in the entire zodiac: You're the ringleader, and you're usually the one pulling the strings, so yeah, you deserve to bail. Be honest, upfront, and tell everyone you're exhausted/sick/not feeling like hanging tonight. They'll give you sh*t, but you kinda DGAF. Plus, it's nice to leave the peasants wanting more, right?
Taurus

Whether or not you actually wanted to be a part of these plans when they were made (uh, spoiler: you didn't), you're now absolutely not on board. I'm sorry, a club/brunch/shopping? In this humidity? Granted, the fact that you've been stressing about canceling for two days is making everything worse, but it doesn't matter. You absolutely cannot and will not go. Unless, of course, you think everyone will be mad at you. Do you think they'll be mad at you? They won't… right? F*ck. Now's the perfect time to play the "I'm not drinking/on a diet/on a budget" card and avoid any attempts by your friends to create new plans that will fit into your new strict, sober, vegan, spending-zero-cash lifestyle. It's not your fault, they just don't understand. *Sigh*
Gemini

Gemini! I truly wasn't expecting to see you here. Welcome! Have you ever canceled a plan? I mean, I know you think about it. Like, all the time. You literally fantasize about bailing on pretty much everything. But actually doing it? That's a different story. While you tend to dread events you don't want to go to, by the time you're there (and okay, two shots in), you're the life of the GD party. It's kind of cute that you think this time will be different, TBH. As much as you want to, you know you're not doing to ditch—the FOMO is far too real for you. Might as well start heating up your curler, baby. Because you're going out tonight, whether you like it or not.
Cancer

You honestly can't decide if you want to go out, and that's why canceling plans is so tricky for Cancers. On one hand, the thought of getting dressed and getting drunk with your frenemies sounds kind of dreadful. But on the other hand, not doing that also sounds kind of dreadful. So no matter what you do, you're going to have a mediocre time at best. Yay for overthinking! You're no stranger to bailing on plans, so why don't you just do what you always do: blame your cancelation on something petty, like feeling bloated, or the fact that Jessica (who is definitely going to be there because she already posted that she was in the Uber) didn't like your recent picture, and honestly? Rude. You just aren't up for that kind of hostility tonight.
Leo

You're dressed. You're wearing falsies. You're already three vodka sodas in. And yet, for some reason, you're not feeling that usual tingle in your vagina that says "I'm going to have a f*cking blast tonight." Granted, you're not one to cancel plans—and you're the first to give anyone who tries major sh*t—but like, does going out even sound that good? Luckily, since you're usually the one calling the shots (and buying them), it's simple to be like, "Sorry guys, I have a headache. Have fun," and turn off notifications for the rest of the night. Sure, everyone will bad mouth you behind your back, but that's only because without you, your friends will be buying their own drinks and going home by 10pm. Enjoy your night off, Leo. You earned it.
Virgo

Dreading the drunk plans you made last week that are looming ahead, Virgo? That checks out. Even though you love having people depend on you, you could really do with a night off. The problem is, you were the one who made the reservations. And created the dress code for the evening. Annnnnd sent out the itinerary. You know if you bail, your perfectly envisioned night of bar hopping will turn into your idiot friends going to the same bar they always hit up and drunk crying in the corner. But why is that your fault? You've spent so long planning for this night, now that it's here you're kind of over it. Either fake a stomach bug or go along with the night, moping on the dance floor when half the people show up sans costume and take a cab home by 11. Either way, you're in for an obnoxious evening.
Libra

You're not one to back out of plans. Seriously, you're not. You hate those people who just like, disappear when they start dating someone new and bible, you'd never do that. And you mean it! And even though you swiped with a 10 while you were getting ready and he asked you out at the same time you were supposed to meet your friends, that doesn't mean you're going to bail on your girls just to get laid. Honestly, anyone who does that is THE worst. *Phone buzzes* Awww he said you look beautiful. I mean duh, you do. But that was nice of him to—*phone buzzes.* Oh my God, he's so funny. Maybe you'll just see him for a drink like, after? *Phone buzzes.* He has a Tesla? *Phone buzzes* And he's on his way to see you. Sh*t. Well, your friends will understand, right? I mean, this could be ~the one.~ I know, I know… you said that about the guy with the beard last month, but this time is different.
Scorpio

Aww, Scorpio! This isn't your first time canceling plans, but it is your first time actually thinking through the decision. More often than not you just pick a fight to get out of something or blatantly ignore what you were supposed to do in an effort to avoid going to coffee with your new internet friend. So, the fact that you're even thinking through this decision is like, very big of you. Congrats! I mean, you probably already canceled your plans by saying something like "hungover," "feeling ugly," or "I hate you," but still. Good on you for thinking of others!
Sagittarius

How does a Sag cancel plans? They just don't commit in the first place! You're not a piece of sh*t on purpose, but what do people expect? You to just agree to go to something when you don't know how you'll feel, if you'll want to go, or if something better will come along? Pshhh, as if. While you're not one to commit to anything, if you do RSVP yes and change your mind last-minute (which you will, obviously), you'll just pretend your phone broke, your car wouldn't start, or you suddenly came down with a serious case of sobriety. Next time, just remember: If you never agree to anything, you'll never have to lie your way out of it.
Capricorn

Your friends know you to be the definition of driven, which is why you have the perfect excuse to get out of plans: Goal chasing, baby. Since you're already the one in your group who got a promotion, snagged a #SponCon, discovered an ab, and got verified on social, it's not surprising if you blow off a happy hour to "get some work done." Whether you say you got called into the office, received a last-minute assignment, or have a meeting you just have to take with a *top secret* marketing firm, no one will think twice when you bail for the sake of your own success (even though it's only because they all want to mooch off you). That fact that you'll ~actually~ be at home, smoking weed and masturbating to Bridgerton can stay between you and me.
Aquarius

As one of the Queens of Canceling on Plans, you've got bailing down to an art form. You don't need me to tell you how to do it, because honestly? You're basically a pro. From claiming a family emergency and tagging yourself at a hospital to saying you have a last-minute work project and staying logged into Slack all day, you're no stranger to creating excuses to get out of sh*t. So, put your feet up, let everyone know your cat is sick, and enjoy a night off with Netflix and not wearing heels. Your friends probably don't even know you're allergic to cats anyway, let alone that you don't have one.
Pisces

If there's one sign that has a hard time following through with bailing on plans, it's Pisces. No matter how many times you say you just want to stay home, you don't want to spend money, or you have work in the morning, no one really cares—they'll all just yell at you until you order an Uber for the entire group. While sure, you could just like, try to say no, will you actually stick with it, or will you find yourself at a club at 2am nursing a watered-down vodka and trying not to think about the fact that you have to wake up in four hours? The only way for you to successfully get out of sh*t is to color your hair, fake your own death, and flee to another country. That way, you'll get at least a few years before another plan comes along, and you'll start the cycle all over again. But it's that or standing your ground and honestly, running away just sounds easier.
Images: HOMME PRODUCTIONS / Stocksy.com Giphy (12)
Welcome To Your Quarter-Moon Crisis: Weekly Horoscopes November 4-8
Yes, Mercury is still in retrograde and yes, that is a valid excuse for calling out of work, but fear not! This week brings us a quarter moon in Aquarius and some much needed stabilizing energy for this topsy-turvy retrograde world. Now is the perfect time to restore some much-needed balance to your life, even if you're one of those people who hears the word "stable" and is like, "What? Who is that? Is stable a carb?" Looking at you, Scorpios.
Aries

How well do you play with others, Aries? You know what, don't even answer that. This week is the perfect time to reassess how you work in groups. Sure, group projects are annoying as f*ck (What is this? Middle school?), but they're also an essential part of life. Focus this week on really listening when you're in a group setting, and actually taking other people's ideas into account. Sure, 99.9% of the sh*t Karen from Accounting says is useless garbage, but that other .1% could be exactly what you needed to take your next project across the finish line.
Taurus

How are those career goals, Taurus? Have they changed? Is there some sh*t you can let go? As this year comes to a close, now is a perfect time to take a look at your goals and see what, if anything, needs adjustment. Maybe a promotion you've been vying for all year has lost some of its shine, or a graduate program you've been busting your ass to prep for is no longer top of mind. That's totally fine! Goals and priorities shift all the time. Like how when you were six you wanted to be a princess/fashion designer, but now you've seen enough movies to know that life would be extremely stressful.
Gemini

This week, Gemini, you're tap water—aka, completely unfiltered. And with Mercury already in retrograde, this can be a pretty dangerous combo. Your usual gift for gab combined with this outspokenness means you could be in danger of putting your foot in your mouth in the worst way. Keep an extra close eye on your communications this week (aka make sure you're not sending that shady text about Ashley to Ashley) and if all else fails, vent your feelings in the group chat. It's the best way to avoid accidentally-on-purpose insulting your coworker's child's art while they're standing right behind you.
Cancer

Ow owwww, Cancer! This week, the Moon's erotic energy is coming (get it?) for you, and you don't want to let that sh*t go to waste. Turn the lights down low, invest in a high-end water-based lubricant, and be sure your roommates are all up to speed on what a sock around your bedroom doorknob means. Most importantly, whether you're with a long-term partner or somebody new, tear down that protective shell so that you can really let loose in the bedroom. Not saying you need to become a porn star overnight, but variety is the spice of life and this is the week to get spicy!
Leo

Keep your guard up, Leo. This week, scammers abound and you might find out that someone close to you is trying to take you for a ride. And not the fun kind with weed. Your naturally people-pleasing sign loves to be liked, but make sure those around you aren't using that quality to manipulate you into doing some sh*t you don't want to do. Like, do we really believe Rachel forgot her wallet and needs you to cover her for happy hour again? Oh, and her promise to Venmo you for it later? Fat f*cking chance.
Virgo

Your health-conscious tendencies are turned up to 11 this week, so don't be surprised if you find yourself pulled toward starting a plant-based diet, or at least trying an impossible burger. This is the time to finish up all those annual doctor's appointments, stock up on nourishing comfort foods, and to actually get that flu shot! Herd immunity…it's all the rage these days! Or at least, it should be.
Libra

Valentine's Day has come early for you, Libra, and for once changes in your love life are going to be for the better. Now is not the time to settle for a guy just because he is tall or has a (part-time) job. Now is the time to hone in on what you really want in a partner (a bedframe, a savings account, owns a hairbrush, etc…) and you might be surprised to find someone who fits that description standing right in front of you! Or on Ship. Either works.
Scorpio

Is this the 1950s? Because you're feeling domestic as f*ck this week, Scorpio. If you haven't taken the time to pull your sweaters out of storage, crank the thermostat, and otherwise fall-ify your living space, now is the time. This is also a great week to fire up the old slow cooker and commit yourself to seven hours of watching chili become chili. Bonus points if you pair that with a large bottle of wine you finish 100% by yourself.
Sagittarius

Take a good hard look at your friend group, Sagittarius. Who is real, and who is fake? Just as the trees are shedding those annoying, crusty leaves, you need to shed those annoying, crusty people who are draining your beautiful branches. As hard as it might seem, you know in your heart which friends are only there for your iPhone 11 camera, and which friends would help you commit low-level crimes without asking too many questions. Keep the real ones close, and let the fake friends live their sad-ass one-camera life without you.
Capricorn

And now for one of Capricorns' favorite activities…financial planning! The Moon is providing the stabilizing force you need to really get your finances on track, and lucky for you, you live for that sh*t. Take a look not only at your budget, but at your salary. How can you take your checking account to the next level? Are you being paid what you deserve? What are "stocks"? Answer these questions by 2020, and you could be Forbes' next self-made billionaire by 2021. Kylie Jenner, we're coming for you!
Aquarius

Set your phone to do not disturb now, Aquarius, because you're going to be inundated with requests to hang this week. You're just that popular. But lucky for you, a stable Moon in your sign means you're also going to be able to determine which invites are worth your time, and which get left on read. Sure, planning a different event for every night of the week sounds fun on Monday morning, but come Thursday you'll be running on fumes, and its not even the weekend yet. Remember Aquarius, sleep is important. Like, vital.
Pisces

Pay close attention to your emotions this week, Pisces, because they're going to tell you something. Your usually good intuition is particularly on-point right now, so the vibes you get from different people, places, and situations should not be ignored. Dude at the bar giving you serious creeper vibes? Stay the f*ck away. New girl at work looking like she might Single White Female you? Do not let her know where you live. You'll thank yourself later when either or both of them end up the subject of the next Netflix true crime docuseries.
Images: Giphy (12)
Pump The Brakes: Weekly Horoscopes April 29-May 3
You all know about Mercury retrograde (aka the reason for all of life's problems), but have you heard about the sh*tshow that is Saturn retrograde? Saturn is all about rules and discipline (fun), and its retrograde status means you're going to be questioning everything in your life. (Not that you're not already doing that.) And how long will this existential crisis last? Oh, just five months. Fun! Read your weekly horoscopes to see what is in store for you this week and during Saturn retrograde in general.
Aries

You might want to chill on the career moves for this week, Aries. I'm not saying call out "sick" and spend all week dissecting the most recent Game of Thrones episode—though you totally could do that if you wanted. But if you're planning to ask for a raise maybe wait until Saturday, when a New Moon in Taurus is seriously upping your earning potential.
Taurus

I know you're dying to reward yourself with a summer vacation right now (it is Taurus season, after all), but pump the breaks on purchasing any flights just yet. Saturn's retrograde is making hastily planned getaways your enemy right now, so make sure any trips on the horizon are more of a "meticulously planned Tulum bachelorette" situation and not "that's what you get for waking up in Vegas" situation.
Gemini

This week is all about you, which is great because that's every Gemini's low-key favorite topic. The spring energy has had you social butterflying all over the place, but this week try to set aside some time to hang out with your absolute favorite person: yourself. Take a walk, test out a new bath bomb, cook a fancy meal for yourself, or just sit in your cozy-ass bed bingeing Netflix. You deserve to spend time with you, too.
Cancer

Saturn has you in the mood for some structure and security, which means it's time for the dreaded "what are we?" talk. And I'm not just talking about your love life. It's time to apply the "what are we?" philosophy to all aspects of your life. Is your job The One or is it just some f*ckboy who treats you like sh*t? Is your apartment a forever thing or a this-is-comfortable-for-now thing? Don't be afraid of the answer—breaking a lease is wayyyy easier than breaking an actual person's heart.
Leo

Omfg Leo we get it, you're having a fitness kick rn. There's no early morning spin class you can't attend. No yoga move you will not attempt. At this rate, your summer body (aka your body during the summertime) is going to be the stuff Insta dreams are made of. Just try not to rub it in all the other sign's faces.
Virgo

Saturn retrograde means one thing and one thing only for you, Virgo: think before you post. Dose everyone *really* need to see every single thing you've eaten this week, a full record of every shot you took Saturday night, and a video of you doing karaoke? Hard pass. Give yourself at least 30 seconds before posting these next five months and remember, there is always the "close friends" option.
Libra

When was the last time you called your mom, Libra? Saturn has you feeling seriously family oriented so do your best to ward off homesickness by shooting your favorite family member (or friend that is basically family) a few texts throughout the day. You'll feel better, and as an added bonus, you'll be less annoying to the people who are not legally obligated to love you.
Scorpio

Chill on the negative comments, Scorpio! Saturn has you keeping it a little *too* real, both IRL and on social media. We all know Twitter is terrible, so what good does it serve you to get into it with your ex boyfriend's college roommate's cousin about why he believes vaccines cause diarrhea or whatever the f*ck his deal is. You'll literally live longer if you don't engage.
Sagittarius

Saturn has you in the mood to truly assess your finances, so maybe set aside some time on Friday to look at all your debit card receipts for the past week. While it might be painful to actually see how much you've been spending on Postmates, you can't change a habit unless you know what it is. Cut yourself a break and order one last sushi boat before starting your new, budgeted life. You deserve it.
Capricorn

Your time is f*cking valuable, Capricorn, so stop wasting it! Saturn has you taking a biiiiggg look at all the waste in your life, from trash exes to other stupid sh*t that's been sucking up your time and preventing you from being your best self. As an added bonus, a schedule purge will mean you finally have time to finish that one book you've been reading 2011.
Aquarius

You're basically Cher giving her skis to Pismo Beach disaster victims, because you're feeling soooo charitable right now. This week put a little good out into this world by donating money or time to a charity. It's like the old saying goes, "'Tis a far, far, better thing doing stuff for other people."
Pisces

Your social media is about to get a makeover! Saturn has you rethinking how you present yourself to the world, and we all know that (unfortunately) starts with your social media profiles. Go back to the beginning and see if there aren't at least a few things that you might not want visible to potential employers (i.e keg stand photos from college) or just to the general public (like your college eyebrows) and delete, delete, delete.
Images: Giphy (12)
The One Sign You Should Never Date According To Your Horoscope
You would never buy a shirt without asking your friends if it looked good on you first, so why would you date someone without asking the stars? I mean, yeah we know most horoscopes are like completely made up questionably reliable, but if the moon can affect the tides, then it's totally possible the stars can help you find love. Or in the very least, you should know what signs you're compatible with. One thing's for sure, whichever sign is the one that makes a 30-year-old dude keep a Bob Marley poster over his bed is def least compatible.  Here's our guide to which signs you should never date if you're a…. fill in the blank.
Aries
You're a fire sign, which means you're passionate and also overly confident. I mean, that's not exactly a bad thing, because you've got the goods to back it up. Basically when you say, "I love adventure," you actually mean it. Unfortunately this means you should avoid dating a Cancer at all costs. Cancers are mild and not very active, which works well if you're like into staying in and coordinating your outfits, which you are not. Cancer is going to feel intimidated by everything you do and probably harbor that shit—like, you'll definitely feel like the crazy one if you date a Cancer.

Taurus
Generally speaking, you're an easygoing person. You're a fixed sign, which means even though you like being the center of attention, you've got stability in your blood. So you're like the Camille Grammer of the group—you are part of the in crowd but you're not the one trying to start drama. Because of this, though, you should def run if a Leo or Aquarius comes into your life. The Aquarius sign is constantly changing, which will annoy the shit out of you. You will find their moods so unstable that you could be talking for 6 months and still feel like you never really dated. You need something more stable and honest, and the uncertainty of Aquarius is such a turn off you were probably only attracted to him because you were drunk or on birth control that flipped your emotions around. Sorry, but it's not going to work.
Gemini
You're a deep person with many moods, and even your close friends will still feel like they don't really know you because you always keep a part of you guarded. How very Don Draper of you. You do not like expressing deep emotions to people, and you're more like a golden retriever puppy in that you're gentle and affectionate but people don't always trust you enough not to keep an eye on you. You're also a huge flirt, which means you're not going to get along with Scorpio, because they're jealous AF. You also should stay away from Pisces, because even though you don't think a little bit of lying is harmful, Pisces is so intuitive that they'll always know when you're being dishonest. The fact that Pisces can pick up all your mood changes is going to annoy you, because you like the privacy of hiding behind a shallow niceness without people looking too much into it. Unfortunately Pisces won't be satisfied with you until they know the truth. Basically, you need to date a Dan Humphrey, not a Chuck Bass that will obsess over you in an overbearing way.

Cancer
You're a very emotional and loving person, which means you get along with someone who can show they're caring. Like sometimes you have sex just to get to the cuddling, because the intimacy is what you crave. You need to date someone who can protect you, like Edward Cullen but without the aggressive vampire shit. You probably hate blow jobs, so you shouldn't date a Scorpio, who is going to be highly sexual. However, Scorpios have a deep love, so this can work in your favor if you're like hot enough to get by on mediocre sex. You also want to stay away from Aries, because their aggression is like Scorpio, only without the passion. You'll just feel like you're always in a fight or you did something wrong, which isn't the good basis of a relationship.
Leo
Obviously all betches love attention, but the Leos are on another level. You shine in the spotlight and everyone is charmed by you. You can walk into a room and it'll feel like every 90s teen movie where the hot girls walk through the halls and everyone turns to high five you. Unfortunately this means you're not very compatible with Scorpios because they are so jealous they'll make you feel bad for being liked. Sorry, you can't help it you're so popular. Also stay away from Taurus, because your energies are going to clash.

Virgo
You're an Earth sign, which means you're pretty grounded. Like when you say you're chill, you actually mean it. You're hardworking and loyal, which means you don't really understand why anyone would cheat. You would actually enjoy going on a Groupon cooking date, because you're practical and you like to feel like you're doing something useful. You will not get along with Gemini, because their impossible mood swings will drive you crazy. Like, you want to hear "I love you" in month three and Gemini might say it, but they'll also say it to three other people. What a Ben Higgins move. You need to know you're the only one—love isn't a Monica and Brandy song for you.
Libra
You are an air sign, which means you're balanced but also easygoing. You can have fun getting drunk at brunch or dancing on top of tables in VIP at 2am. Unfortunately, sometimes you have a hard time making decisions because you are so easygoing, which means you need to be with someone who is more decisive than you. You aren't a great match with Capricorn or Cancer, but that doesn't mean it can't work either. Honestly, you're pretty balanced so you can probably figure out any relationship, but you're better off dating someone who can understand you, and Capricorns are so stubborn they won't even pretend you're right in an argument. You might not know what you want to do Friday night, but Capricorn will rub it in your face if you make the wrong decision and end up having a shitty time waiting in line somewhere. You just want someone who can go with your flow and keep you in check, not make you feel negative about yourself. Stay away from Capricorn if you can help it.

Scorpio
If you're a Scorpio, you already know you have trouble in almost every relationship. That's because you're highly sexual but also jealous AF. Every relationship you're in is electric, but it's also terrifying. Like Taylor Swift says, it will definitely go down in flames. But at least you'll have great sex while you're burning. If Libras get along with most signs, you get along with the least. But even lower on the totem pole of compatibility are Leo and Aquarius. You'll end up breaking up with these signs three or four times and still find a way to get back together. That's because you kind of crave the drama and you can't stand it when people leave you. No relationship for you is ever really over because you keep tabs on your exes like Trump watches Fox & Friends. The Leo will piss you off the most because of how much he likes attention and he'll make you feel like you're always fighting for his affection. To be honest, everyone will piss you off at some point.
Sagittarius
You are a fire sign but you're also very generous. So you will travel and seek adventure but you'll bring your friends along for the ride. You value your freedom like the Kardashians need a forward facing camera. This means you do not get along with clingy people, and the first sign of someone getting attached to you will send you running. You do not get along well with Pisces, because they will fixate on you until you feel like you need to check in to a fake city out of town just to get some space for a day.

Capricorn
You are a strong leader and are used to taking control, which means you probably have made the first move on multiple occasions. Still, you're responsible, so you probably never had to buy Plan B. Good for you, I guess. You're least compatible with Aries and Libra, and more than likely you won't even be attracted to either of these signs. If you try to date an Aries, you're going to piss him off with your lack of emotions. It's not that you don't have emotions, it's just that you don't now how to connect to them publicly. So you end up having drunk screaming fights outside a pizza stand at 1am and then the makeup sex is just okay.
Aquarius
You're a very chill person who's loyal and can think for herself, which means you don't fuck around with fuckboys. Like, you're down for a good time, but as soon as you feel disrespected, you're out of there. You love a good conversation, so you might be attracted to Scorpio at first because of their deep connection to the emotional side of you, but the trust issues are going to get in the way real quick. You're never going to want to let Scorpio control you, and that's what they will try to do. So if you know what's good for you, keep Scorpio as a hookup but don't get too attached.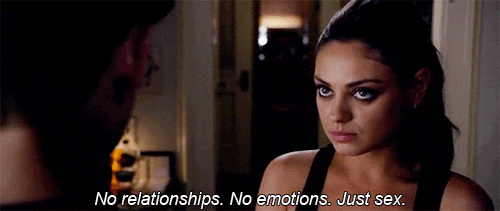 Pisces
You're a deep and emotional person, but you don't do casual relationships very often. You've tried one night stands but they always end up calling you back. You're adventurous but you connect to people easily, so they end up sticking around. You have a hard time reading Gemini, and they'll frustrate you until it ends in flames. Actually, in the case of Gemini, it will end in smoke, because you'll never be able to find the fire to actually put it out. That's because Geminis will just divert the problem without ever giving you the answers you want, which will frustrate your need for the truth until you eventually just block him and walk away. He'll probably still try to Snapchat you a month later, but just don't respond if you know what's good for you.