The Best Exercises To Tone Every Part Of Your Body
Bikini szn is fast approaching, and you know what that means: Time to try on bathing suits, wonder what the hell happened to the ab crack you totally had last summer, remember that you spent the whole winter eating mozzarella sticks, and then look up where your gym is actually located so you can use that membership you forgot about once August hit. So I did some research and compiled a list of some of the best workouts to tone different parts of your body. Let this list guide you the next time you're too broke to pay for another SoulCycle class or you're feeling lost at the gym. Bonus, a lot of these exercises can be done from the comfort of your own home, and we all know not leaving your house always beats actually going outside.
Abs
For some people, having abs is way easier than others (thank you, genetics). I personally have abs, they just so happen to be hiding behind a layer of fat. But before you start doing a million crunches, there are a ton of ab exercises that are way better than traditional crunches. For instance, doing Pilates is a killer way to get abs. If you've never tried it, it's super hard but effective, since it incorporates a ton of ab-targeted exercises. The plank is another of the best workouts to tone your abs, but it can get boring. These exercises below are a little more complex than simple crunches or planks, yet still effective in toning your abs.
Double Dumbbell Drag: Start in a plank position with a dumbbell or kettlebell on the outside of your right arm. While engaging your core and ensuring you don't move your hips, take your left arm under your right and move the dumbbell/kettlebell to the outside of your left arm. Repeat with the right arm. Make sure to keep your wrist beneath your shoulders. Add a push-up if you're fancy.

Plank Hand Taps: If someone is hogging the dumbbells, this one is perfect for you. Start in a plank position and lift your left hand to tap your right shoulder. Repeat on the other side.

Alternating Toe Reach: Lie on your back with your legs straight on the ground and arms straight above your head. Raise your right hand to meet your left leg in the air above your body. Make sure to engage your abs with each move. Repeat with your left hand and right leg.

Arms
A fear of mine is to have the dreaded chicken wing arms, but toning your arms takes a lot of commitment. That means when I don't want to work out, I Google images of Michelle Obama's arms and that motivates me real quick. Here are some of the best arm toning exercises I found.
Upright Row: Stand straight with a dumbbell in each hand, in front of your legs. Raise your arms until they reach your chest, keeping the front of your hands straight in front of you. Lower your arms back down. Repeat.

Tricep Kickbacks: Stand with your legs hip-width apart and your upper body slightly leaning forward from your hips. With a dumbbell in each hand, bend your arm from your elbow towards your chest, then back behind you.

Dumbbell Punch: Standing hip-width apart and with a dumbbell in each hand, pretend you are punching your ex in the face, alternating between each hand.
Glutes
We all like nice butts, and we cannot lie, and sometimes traditional squats won't cut it. If you're tired of people telling you to do squats, here are some more interesting exercises.
Plie Squat: If you speak in ballet talk, start in second position with your feet turned out. If you don't, click here. Go into a plie (aka a squat). Keep your core engaged and each time you recover from the squat, squeeze your butt.

Split Squat Jump: Start with your feet together, and jump up, landing with your legs split in a plie squat until your thighs are parallel to the ground. Push up from the squat and jump your legs back together.

Fire Hydrant: Get on all fours, and lift your left leg up like you are a dog peeing on a fire hydrant. Keep your back flat by engaging your core. Do 15 reps and repeat on the right side.

Legs
If Beyoncé has taught me one thing, it's that toned legs make all the difference.
Reverse Lunge: Start with your legs together. Lift your right leg and bend into a lunge. Bring your feet back together. Repeat with your left leg.

Pistol Squat: Balance on your right leg with your left leg lifted just above the ground. With your arms straight in front of you, lower yourself to the ground and then back up. Repeat with your right leg extended in front of you.

Lateral (Band) Walk: Stand with your legs together. If you want extra resistance, place a resistance band around your knees. Open your right leg to be about hip-width apart and then bring your left leg to meet your right. Repeat starting with your left leg.

Back
Rocking a backless top and showcasing a toned af back would be amazing. Other than the fact that I always need to wear a bra (thanks DDD), my back isn't as toned, tanned, fit, and ready as I'd like it to be. Basically, I should take my own advice and do these workouts more often.
Reverse Fly: Leaning forward from your hips, place your arms straight below you with a dumbbell in each hand. Open your arms to each side, keeping them straight. Squeeze your shoulder blades and then release your arms back in front of you.

Forward Raise: Keeping your legs hip-width apart, back straight, and a dumbbell in each hand, extend your arms straight in front of you. Once they are in line with your shoulders, lower them back to your legs.

Lateral Raise: Repeat the above exercise, but instead of raising your arms in front of you, raise them to either side of you.

Chest
Some people believe working out your chest will give your boobs a perky boost. I've never stuck to an exercise long enough to see any results, but lmk in the comments if you have.
Medicine Ball Push-Up: Do a traditional push-up, but place a medicine ball under your right hand so your back is on a slant. Repeat with the medicine ball under your left hand.

Chest Fly: Lie on your back with your legs bent in an L shape. With a dumbbell in each hand, hold them straight above your chest toward the ceiling. Open your arms until your elbows hover over the ground, but keep your forearms towards the ceiling. Engage your abs to keep your legs supported.

Dumbbell Pullover: Lie on your back with your legs bent, like you are about to do a crunch. Hold a dumbbell in each hand. Raise your arms above your head towards the back of the room, then raise them towards the ceiling until they are directly over your shoulders. Repeat.

Images: Luis Quintero / Unsplash, Giphy (16), Tenor (1) Gfycat (1)
What His Swimsuit Says About How Big Of A Douche He Is
I learned two important lessons from my time analyzing men's underwear. 1) I'm basically the female version of Tan, and 2) there are way more bad options than good when it comes to covering men's junk. The situation is no different when we're looking at bathing suits—*remembers Speedos exist*—actually, it's worse. Ultimately, scoping out guys at your local beach/pool/YMCA (I don't judge) isn't about finding your sartorial soulmate. It's really about avoiding these common red flags. Read on for what his swimsuit says about him, and the swimsuits that should make you run far, far away.
Swim Briefs
Let's start with the worst. "Swim briefs" are Speedos, plain and simple. Calling them swim briefs is the equivalent of referring to Q-tips as "cotton swabs." So even using this term is sufficient reason to excuse yourself to the bathroom and never return. For those lucky souls who have never encountered a Speedo, I'll paint you a picture. They do bare minimum in the front, and either barely cover his ass or go full thong. In other words, if you hook up with a guy wearing a Speedo, you could plausibly mistake it for your own underwear while trying to get dressed. These are strangely popular among Europeans, so consider yourself warned before meeting your Italian Hinge match at Le Bain.

Square Leg/Square-Cut Shorts
Looks like we're going least to most coverage here! Square-cut shorts are the bathing suit equivalent of boxer briefs. This cut can be sexy when revealed under pants, but IMO it's a little aggressive as the sole thing covering your lower half. (*Thinks back to the cheeky Brazilian bikini I just ordered.* Nope, I stand by it.) I feel like Jordan from The Bachelorette definitely wears this kind of bathing suit, to give you a sense of the overall dateability conveyed by this style. It's the ultimate for guys who want to show off every inch of their bodies without committing fashion suicide. AKA every guy who cracked 1,000 followers on IG and now thinks they're too good to answer your texts. Not that I'm bitter, we were obvs growing apart anyway. But yeah, guys who wear this swimsuit are likely way more into themselves than they are you. Sorry!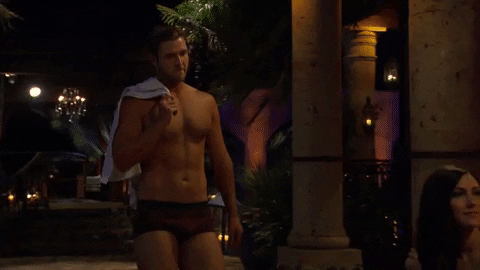 Swim Trunks
Ayyy, we've arrived at the only socially acceptable swim suit for men. Feels good. You'll recognize swim trunks from every time you've seen a male go in water without baring their full ass. They're your basic loose short, completely indistinguishable from actual male shorts to the naked eye. With swim trunks, the main thing you want to look out for is the print they choose. My personal preference is a solid that's flattering to their skin tone, or a simple print that's on-theme without being obnoxious. (E.g. *subtle* floral/Hawaiian, nautical, etc. Don't @ me, I like the tiny sailboat thing.)
If they're covered in giant flamingos, pineapples, or American flags, they're frat bros who didn't have to do anything other than breathe to get laid in college and don't intend to start now. Give them a few years of getting rejected by women like you and come back to them. Like wine, except instead of wine it's a 27-year-old man-baby. Anyone who wears plaid swim trunks is a psychopath or in middle school, and you can't convince me otherwise.

Board Shorts
Board shorts are…ok. They're really just the sloppier, oversized version of swim trunks, often worn by little kids or guys who really don't care about the fit of their clothes. Acceptable on surfers, for whom these serve a legit practical purpose. In all other scenarios, it's the sartorial equivalent of what you put on to pick up Gatorade while hungover.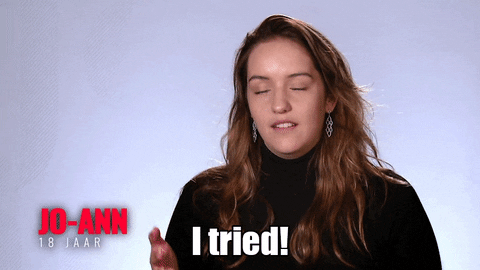 Jammers
First time hearing of jammers? Don't worry, me too. While I'd hoped this was a term for dressed-up jammies, it's actually a swimsuit specifically designed for athletic performance. AKA this bitch better be training for the Olympics. Otherwise, he's just weirdly proud of his thigh girth or trying to hide some kind of rash. Not a risk I'm interested in taking.

There you have it. If you're looking for a guy to actually date (so old-fashioned, I know), swim trunks only please. If you're already dating and looking to fine-tune his wardrobe, throw out all his obnoxious prints and board shorts. Everyone else, please feel free to hook up with the Speedo/short short/jammer wearing guys out there and report back. Don't say I didn't warn you when all they talk about is their dating app matches, muscle tone, and favorite protein powder. Wow, I'm just describing Jordan. He'll be missed.
Images: Giphy (5)
3 Unexpected Ways Show Off Your Butt
You and I both know you haven't been paying for $30 SoulCycle classes because you "just love the way exercise makes you feel." You've been working hard to look good, and now it's time to show off your butt that you've been working so hard for. Sure, you could rock those high-waisted shorts with the hemline that's literally at your ass cheeks, but that might not work in all occasions, like work and family gatherings. Or like, maybe it's cold outside, IDK. So you want to make your butt look round and toned without actually exposing it. Life is hard. Keep in mind as you shop for your own butt-flattering ensemble that there are a few key outfit components that will help draw attention to your derriere. I've styled three occasion-specific outfits that will best show off your butt. And don't worry if you're ass is basically nonexistent—these outfits will work for flat and bubble butt girls alike. There is a god.
For Being Out & About Running Errands…
You probably already know what I'm going to say here. Yup, YOGA PANTS. Ask any guy on a college campus (or like, in existence) and he'll tell you the wonders of yoga pants and the magic they do for a girl's ass. To up the ante even further, wear your Lulus with a crop top to show off your midriff and really accentuate your waist. This will draw attention to the contrast in size between your tiny waist and now-looking-extra-fat ass.

From left: Brandy Melville Serena rainbow top; Lulu Lemon Wunder Under hi-rise tight full-on Luon 28″
For When You're Daytime Casual
Daytime casual can pretty much mean anything from shopping with your friends to dinner with your boyfriend's family. These are the outfits you wear when you want to look like a put-together classy lady and not like your true trash bag self headed to 1Oak. This is the instance when you'll most likely reach for your jeans, so let's discuss what to look for in your denim specifically.
When shopping for denim to accentuate your ass, look for styles that will contour your butt. I know it sounds ridic, but then again what don't we contour these days? You want to look for jeans that have strategically placed sanding—basically, envision your best Mudd jeans from middle school. Remember how the butt was a lighter shade than the rest of the pants? There was a reason for that. That's the same kind of style you'll need now in order to perfectly flaunt the shape of your butt. Lighter washes of denim in general will help draw additional attention to your ass, so get yourself a pair of Levis which are vvvv trendy right now.
Another thing to look for when choosing your jeans is back pocket details. Details, such as pocket flaps and zippers, add volume to your butt and draw more attention to it. But be careful, because huge pockets will make your butt look smaller, so look for smaller pockets. You should also always look for high rise styles to, again, highlight the contrast between your butt and waist. Pair your high waisted denim with a peplum top which automatically accentuates curves.

From left: Ale by Allesandra x Revolve Caridad top; AGOLDE Jamie high rise
For When You're Out On The Town…
Head to your local Body Central or Wet Seal (if that still exists) because the only thing you'll need to show off your ass is a bodycon dress! If you want to look *slightly* more classy, pick one with a high neck and long sleeves. This style will make you look hot without looking like you're trying to look hot, even though you are trying to look hot. I know, being a girl is hard. Anyway, a solid colored style of dress will look chic as hell and show off your ass without distracting away from it.

Cue "Anaconda" by Nicki Minaj 'cause you're ready to show off that ass whatever the occasion!
Images: Brandy Melville; Lululemon; Revolve (2); Free People
The 5 Denim Shorts That Will Convince Everyone You Actually Do Squats
Betches may receive a portion of revenue if you click a link and purchase a product or service. The links are independently placed and do not influence editorial content.
I hate when someone asks me to name my best feature or say what I love most about myself. I guess I'm referring to those annoying AF ice breaker activities our employers force us to do that make us feel like we're still in like, kindergarten. Instead of saying, "I guess I like my eyes," what I 'd really like to say is that I love my stone cold heart and chronic resting bitch face. And, I am pretty proud of myself for surviving flat ass syndrome too.
I know many of you are not as lucky as me (obviously). Some of you probably do an overly intense squat routine everyday, or simply settle with wearing saggy pants (which is not okay). If you're fed up with exerting energy (that can be better used scrolling TikTok) at the gym, and you're sick of your bodycon dresses looking like shift dresses, buy some of these butt-lifting shorts for a J. Lo booty. You probably won't break the internet by trying to balance a glass of Champagne on your ass, but you can change your Insta bio to Miss New Booty—which is clearly the better option.

The Perfect Fit Shorts

The lighter the color, the more flattering they are for emphasizing your bum. These shorts are at a perfect high-rise to accentuate your waist and give you an hourglass shape. The uneven hem in the front and the back elongates your legs so people think your butt is held by more material, therefore looking bigger than it really is. Plus, they stretch so the more you can chug at the bar, the merrier.
Shop it: L'AGENCE Zoe The Perfect Fit Shorts, $255, Shopbop
Jimmy Jimmy Short

Denim shorts that have a flexible hem look best when they're folded. Fold at an angle, with the longest edge going towards your inner thigh. The cuffed hem on these shorts cup your butt a little tighter and push your butt up just enough so it looks perky and firm. Bubble butt, here you come.
Shop it: Paige Jimmy Jimmy Short, $159, Revolve
Corelida Short

Even if they're not denim, find a pair of shorts with an intricate design throughout. Plus, the ruffle is an added bum-booster. Add them to your vacay wardrobe for a pop of color with a neutral flirty top. People will probably get lost in a trance staring at you as you strut your stuff. They can look, but they can't touch.
Shop it: Camila Coelho Corelida Short, $148, Revolve
Wrangler Cheeky Denim Short

Pay attention to the washes and cuts of denim shorts to find a pair that best suits your booty. This style is created individually, each with a unique vintage wash that serves the same purpose as contouring your ass. If you really want to highlight your cheeks—not the ones on your face—go for a cheeky cut that angles just enough to give a sneak peak.
Shop it: Urban Renewal Remade Wrangler Cheeky Denim Short, $59, Urban Outfitters
Bombshell Shorts

I'm kind of convinced Khloé Kardashian has some sort of potion in her line of denim that makes your ass look like you just did 1,000 squats overnight. They're fucking magical, I tell you. The length of these shorts shows off your long legs, while the material hugs your waist in just the right places to make your butt look fuller.
Shop it: Bombshell Shorts, $89, Good American
Feature Image Credit: Art Laurence Luzon on Pexels
4 Squat Moves For A Kardashian Ass, Sans Injections
If you spent your winter with too much Netflix and not enough treadmill, you're probably thinking it's too late for your spring break bod. Like, maybe you procrastinated going to the gym too much and now you're freaking out about the Cabo trip next week.  Don't worry, like we've learned in last-minute dress shopping, there's always an overnight express delivery option, and fitness is no different. Sort of. Because we're such a good friend, we're going to tell you the secret to making your ass look like you didn't say yes to the dressing. That secret is squats.
If you want to get an ass like Serena without the four kids (or whatever the lyric is), all you need to do is these simple squat exercises and you'll literally see results in less than two weeks. Like, you could get a butt before your next period. Just do squats everyday until you get on that plane for spring break and you'll give Jen Selter a run for her money. Without actually having to run, that is.
1. Classic Squats (25-50 Reps)
Stand with your legs in second position, slightly wider than shoulder width. If you don't know what second position is, we're sorry your parents didn't love you enough as a child. Make sure your toes are pointing forward in line with your knees. Then with your arms out in front of you, sit into your squat until your butt is on the same level as your knees. Keep your back as upright as possible. Pretend like you're sitting down into a chair or trying to take a shit in the woods or something—whatever helps you picture it. Feel free to put on a song about butts while you do this—we recommend "Anaconda" or "Bubble Butt" or the ever-classic "Dance (A$$)." You should feel it in your glutes, and your inner thighs will get a little sore too. If you start to feel the burn, you'll know it's working. Just like laying out in the sun. Which you'll soon be doing when you show off your new butt at the beach. If you're in a time crunch you can just do 100 of these classic squats a day and skip the rest or add some weights to step it tf up.
2. Moving Squats (25-50 Reps)
We know you like a challenge so you'll get bored after doing the classic squat 50 times. Even the most rewarding long-term relationship needs the occasional thing to spice it up. So vary up your squats by moving while you do them. Take a step out to the right (or left, honestly whatever) and then go down into a squat. When you stand back up, step with your left over and back out with your right into the squat. Do this a few times, then go the other way. You'll feel kind of like a crab walking when you do this, but that's good because it will make you think of the ocean, which you don't want to be at with a lame flat butt.

3. Jumping Squats (25 Reps)
At this point you're probably 6% closer to a Kim K butt, but you're not done yet. This time, plant yourself in the classic squat position. Instead of sitting and standing back up, you'll jump when you stand back up from the squat. When you land, bend your knees and go straight back into the squat.
4. In And Out Jumping Squats (25 Reps)
At this point you're almost done with the workout and probably have listened to "Bubble Butt" at least twice, but don't worry, we're almost done. This jumping squat is very much like the one we just did, but instead of jumping straight up and down, you'll now jump in with your legs together when you stand up, much like those Russian nutcracker dolls that kick out when you pull a string on them. Jump in and jump out into a squat as many times as you want, but we suggest 25.

At the end of the day, your butt is a magical thing, because unlike most of the other stuff on your body, you can actually pretty easily work it out to make it better. #Blessings. You can't exercise your way to bigger boobs (unfortunately), so focus on the squats and you'll be spring break ready before the TSA can detain you at the airport for traveling with your friend Molly on Spring Break.
More moves for a better butt here!