Why Wasn't Kelley At The Women Tell All? Chris Harrison's Explanation Is B.S.
On Monday night's Women Tell All episode of The Bachelor, Peter and the women worked their way through much of the drama that's gone down this season. Kelsey was applauded for being in touch with her emotions (lol ok), Victoria denied one more time that she's the most prolific home wrecker in Virginia Beach history, and Rachel Lindsay reminded us all that racism is never okay. But there was  one notable thing that wasn't addressed at all on the show: where the f*ck was Kelley?
As we all know, Kelley finished fifth on this season of The Bachelor, and despite her refusal to take the drama too seriously, she was an important player in some of the most interesting storylines. I mean, she met Peter before the season ever started, and we STILL never got to the bottom of whether or not they hooked up! But by all accounts, Kelley wasn't even invited to the Women Tell All taping, despite the fact that she was in LA at the time. (Natasha, who finished sixth, was invited, but wasn't able to make it.) So what gives? She should've had her own hot seat segment, or some kind of featured moment, or even been invited, at the very least! Why would ABC just pretend that one of the season's central figures doesn't exist?

Chris Harrison actually addressed the Kelley controversy last week on the Almost Famous podcast with Ashley Iaconetti, saying that the producers "felt Kelley didn't play an integral part to the storyline." I'm sorry, what? I don't pretend to know everything that goes on behind the scenes of The Bachelor (just some of it), but anyone who's even generally aware of this season would call bullsh*t on this explanation. Chris, if you're gonna go on these podcasts and answer questions about this stuff, you have to come up with excuses that sound like they could at least be a little true… this really was a weak one.
In Ashley I's most recent Bachelor recap for Cosmopolitan, it's clear that she's not buying Chris' reasoning, either. She echoes the popular internet theory—started by Reality Steve—that Kelley did something to piss off the producers, so her lack of a WTA invitation could be some kind of retaliation. On a season full of women who seemed eager to buy into drama and acted like their lives depended on it, Kelley seemed more than happy to just have a good time and see what happened. While she still ended up being great TV, I'm sure the producers didn't love that she wasn't buying into all their manipulation. Last month, she liked this tweet saying that she "clearly hates Peter and this process", and that kind of says it all. Hannah Ann would NEVER.
I respect Kelly so much more than I thought I would because she clearly hates Peter and this process and she's not hiding it #TheBachelor

— alaina antonelli (@alainpennylaine) February 4, 2020
In her recap, Ashley I also suggested that ABC might have been worried that, had she been invited to Women Tell All, Kelley would have complained about how she was edited on her last date on the show. If you'll recall, that was the date where it basically looked like Kelley was sh*tting on the other women for their lack of real careers, and she got a lot of backlash for judging her fellow contestants. Maybe it was the edit, maybe it wasn't, but this would still be a lame reason for not inviting her. People blame their behavior on the edit all the time on reality TV, and all Chris Harrison would have had to say is "the cameras don't lie" or something like that. Andy Cohen has pulled this move dozens of times, and it literally always works.
I'm still frustrated that Kelley wasn't there on Monday night, but at least there was plenty of other stuff to talk about on this season's Women Tell All. Say what you will about this season, but it has not been lacking in drama. But in the future, I'm gonna need Chris Harrison to miss me with these weak excuses, and give us the real tea about decisions like this. Also, Kelley better f*cking get an invite to Paradise this summer, because that's the only thing that can make this right. It's what we deserve!
Images: ABC; Giphy; alainpennylaine / Twitter
12 Beauty Products 'Bachelor' Contestants Swear By
Regardless of whether you hate them or love them, it's undeniable that the women of The Bachelor know a thing or two about beauty. Whether it's how to maintain your makeup on the beaches of paradise or getting that perfect no-makeup makeup look while chilling in the mansion, these girls clearly know which products you should be blowing your entire paycheck on buying. So, given their authority on the matter, here are each of their must-have beauty products they can't live without, and so we shouldn't be either.
1. Cassie Randolph

Laneige Lip Sleeping Mask, $20
If you haven't heard about this lip mask by now, then I'm sorry but you don't have any friends… or just definitely don't follow Cassie Randolph on Instagram. Because, if you did, you would know how much she loves this product. This lip sleeping mask is Cassie's holy grail for keeping her lips hydrated and, since she is in fact the face of effortless California beauty, I'm taking her word for it. 
2. Lauren Bushnell

Lauren Bushnell Lane is living the DREAM post-Bachelor life. She's a Revolve influencer who also just married a country music star—what more could any ex-contestant want? Also, did anyone else see her proposal video from Chris Lane? I legit cried and like, I don't even know these people. Anyway, Lauren's hair always looks amazing and she credits this dry texture foam via IG for helping her create her signature look. So yes, I'll be adding this to my cart as well.
3. Amanda Stanton

Kate Somerville EradiKate Acne Treatment, $26
First off, I didn't even know Amanda Stanton ever got pimples…it just doesn't seem possible, she's too perfect. But apparently she does, and she shared with us via Insta stories that this Kate Somerville acne treatment is her saving grace. And it clearly works considering I've never seen Amanda with any sort of blemish, EVER.
4. JoJo Fletcher

Dr. Dennis Gross Alpha Beta Extra Strength Daily Peel, $88
If you can't afford to get facials and laser treatments every week like all of these ex-Bachelor contestants can, then this product, which is one of JoJo's faves, is the next best thing. Of course, JoJo actually does get all of those expensive treatments anyway but, according to her Instagram "beauty" highlights, she's a fan of these peels as well. And, I can personally vouch for the fact that these peel pads are incredible and worth the steep price.
5. Becca Tilley

Becca Tilley, the famous virgin before it was a singular Bachelor personality trait (looking at you Colton Underwood) is one of the most beautiful women to ever grace this show. On her Instagram, she attributes her great skin to this device which exfoliates the skin (and also happens to look super cute on your bathroom vanity). Which, sadly, is indeed a trait I look for in my beauty products.
6. Ashley Iaconetti

iS Clinical Active Serum, $138
Ashely I. is obsessed with everything beauty. So when it comes to skincare, we can trust that she knows which products actually work. This serum is by iS Clinical, which is a brand favorite amongst influencers and celebrities beyond #BachelorNation. So, no offense to Ashley I., but there are some actual A-listers vouching for it as well. It's expensive, which is why I've never personally tried it yet. However, if you're like, rich or something and have tried it then please, let us peasants know how it is.
7. Kaitlyn Bristowe

Tan Luxe The Face Illuminating Self-Tan Drops, $49
Another Bachelor fave product that I also happen to use and love is the Tan Luxe Face Self-Tan drops. Kaitlyn shared with E! that she uses this oil so she can get away with wearing less makeup. Which like, same sis, I use this product in place of having to wear foundation. It's amazing for blurring imperfections and creating the appearance of an even skin tone, making it a great substitute for your daily face beat.
8. Hannah Brown

Kevyn Aucoin Gossamer Loose Powder, $72
Don't worry guys, I'm not about to give you Hannah Brown's mascara recommendation here. Hopefully, by now someone has introduced her to a good waterproof one. But anyways, I'm here to let you in on her makeup artist's secret for keeping Hannah's makeup in place during those long hours as The Bachelorette. Hannah's makeup artist, Gina Modica, credits this loose powder to keeping Hannah's makeup flawless all night long.
9. Hannah Godwin

Tarte Shape Tape Concealer, $27
Hannah Godwin is a fan of this cult-favorite concealer product as her go-to for covering her dark circles. Everyone who has tried this product also raves about it so like, even if you don't trust Hannah's judgment (because I mean she did have that little lapse in judgment with Blake), you can at least just trust the rest of the internet.
10. Demi Burnett

Besides being known for being unapologetically herself, when you think of Demi you can't help but picture her long, gorgeous locks. No matter what, even amidst the heat and humidity of Paradise, her hair always looked fresh and bouncy. Considering my hair is the complete opposite, I'll definitely be trying her go-to product, this Biosilk treatment, and basically just pray for a miracle.
11. Tayshia Adams

This eye cream from Kiehl's is actually a men's product, but if Tayshia swears by it, then IDC because gender is a social construct anyway. Kiehl's is a trusted brand on its own and, apparently, this eye cream kept Tayshia looking her best, even after a night of long-ass rose ceremonies. This eye cream contains caffeine and Vitamin B3 to reduce puffiness and dark circles, which I imagine is something every contestant could actually use on this show.
12. Caelynn Miller-Keyes

Boscia White Charcoal Mattifying Makeup Setting Spray, $38
Any Bachelor In Paradise alum who still looks stunning a few weeks into the season, even as their eyelash extensions get mangled and their spray tans fade, can be trusted with their recommendation for a makeup setting spray. Of course, it helps that all these girls are all so stunning to start with, but being able to maintain a full face of makeup without ANY air conditioning anywhere is a true feat. And for that reason, I'll be purchasing Caelynn's go-to setting spray. Plus, it must be good if it's getting her through the van life with Deaniebabies.
I mean, I don't know which of these aspiring influencers I can trust is actually "here for the right reasons" but pretty sure I can trust almost all of them on which beauty products are worth it. And, at the end of the day, is anyone ever truly there for the "right reasons" anyway? Groundbreaking but like, something to think about.
Images: Charley Gallay/Getty Images for PUMA; Sephora (6); Dermstore; Revolve; Ulta (3); Kiehl's
Betches may receive a portion of revenue if you click a link and purchase a product or service. The links are independently placed and do not influence editorial content.
Jared And Ashley Are Getting Dragged For Doing Sketchy Ads
Even during the off-season, there really is never a dull moment in Bachelor Nation. Not only do we get to dissect major news, like Chris and Katie's breakup earlier this week, but it's also a pleasure just to watch these people be clowns on social media. C-list fame makes people do weird things, and no couple exemplifies this quite like Jared Haibon and Ashley Iaconetti. The President and First Lady of being thirsty took to Instagram stories on Thursday night to shill a product, and well, it didn't go over super well.
Instead of Ashley's typical mind-numbing #spon for products like teeth whitening kits or dog security cameras (why?), this time, she was shilling for Certapet, an online service that helps get your pet certified as an Emotional Support Animal, or ESA. Ashley rambles on for several story slides about how Jared has anxiety with flying, and that it got worse once they were together because "he's now more responsible" for other people. In my expert opinion, that's a fancy way of saying Ashley is high-maintenance as f*ck, and even the most chill person would have a panic attack sitting next to her on a plane.

But lucky for Jared, the folks at Certapet got him a letter saying his dog, Lois, could fly with him, and now everything is better! So easy! Of course, Emotional Support Animals are a real thing, and Jared has been open about his anxiety in the past, but people on Reddit had some thoughts about Ashley turning this into an opportunity to make money. One Redditor said, "They really will shill anything. If you have a legitimate need for an ESA, your doctor or therapist can write a letter for you." Another added, "if he truly has anxiety and he needs an ESA, he should talk to a real therapist. Websites like this aren't legit and ruin the system for folks who actually need ESAs."
Most people agreed that there's nothing wrong with Jared having an ESA if he actually needs one, but using a questionably legit online service rather than going through an actual medical professional, and then posting about it on Instagram with a discount code (that you probably earn a commission from), isn't a great look.

Because I live for getting to the bottom of these people's spammy Instagram ads, I did a little investigating on how Certapet actually works. And as I expected, their website is frustratingly light on actual details about how the process works. When you get to the homepage, the first thing you see is that you can "Get your ESA letter NOW for Less Than $1/Day!"
I hate to break it to Certapet, but that literally means nothing. Is it less than $1 a day for a week? A month? 72 years? This isn't how people pay for things in the real world outside of shady infomercials. I wanted to know how much this sh*t actually costs, so I first went to the FAQ section of the site, and came up fully empty-handed. It does say that the letter is valid for one year, and then you can pay a reduced rate to renew it. Great, still no actual price.
From there, I left the site and just Googled "how much does Certapet cost," which finally led me to an actual number. Apparently, you can either get a housing letter or a travel letter for $149, and if you want both, it's $199. So I guess if it's broken out over a year, that is less than a dollar a day, but that's still a f*cking stupid, intentionally vague way of saying it. Also, it is not cheap even though they try to paint it that way with this "less than $1/day" nonsense.

In terms of the process that Certapet uses, you could probably guess that they're a little vague about that, too. First, you complete a pre-screening, and then a more thorough assessment about your mental health. From there, "your assigned mental health professional" decides whether or not you get to pass go and collect give them $200. Certapet doesn't share what percentage of people get approved, but I have a feeling that if your credit card goes through, it's damn near 100%. Just a hunch. They say it takes less than 48 hours to get your ESA letter, so there can only be so much careful consideration going into these decisions if they take as much time as an Amazon Prime order.
Of course, mental health is important, and people who need an ESA should absolutely look into it, but the idea of turning this process into Instagram spon-con feels a little wrong. The past few years have seen a huge rise in ESA certifications, and sites like Certapet make it easier for people without actual mental health conditions to cheat the system. The New York Times reported earlier this year that one company providing ESA had seen its number of registered animals skyrocket from 2,400 to over 200,000 since 2011. While some of this can possibly be attributed to increased awareness of mental health in general, that's probably not the only reason. When you create a loophole that basically lets people do things they wouldn't otherwise be allowed to do, it's safe to assume some people would exploit that loophole.
At the end of the day, Jared and Ashley didn't really do anything malicious here—it's not like they bought a fake service dog vest online, or did ads for Saudi Arabia. But just to avoid being problematic in the future, it would probably be wise of them to stick to sponsorships for things like teeth whitening systems. I would say they should stop doing sponsored posts altogether, but they've gotta make money somehow.
Images: Shutterstock; Ashley_iaconetti / Instagram (2); Certapet
Here's How Much It Costs To Get A Video Shout-Out From Your Favorite Celebs
I'll admit it: I love a good, inane method of communication. (Poking on Facebook, pinging on Blackberry, you name it.) I also love seeing celebrities participate in dumb sh*t for a paycheck, which brings me to Cameo. Cameo is a service that allows you to send your friends messages in the form of a selfie video from a chosen celebrity. I'll explain this a few more ways until it settles into your brain. Say you're making happy hour plans. You could text your friend like a normal person—OR you could pay Kevin from The Office $145 to do it for you. (Oh yeah, celebrities on Cameo each have their own rate.) Naturally, I had to find out which celebrities actually signed up to become on-demand greeting cards—and the answers won't disappoint you. Here are the weirdest, most random celebrities on Cameo and available for hire.*
*I don't really do sports, so feel free to browse the athlete section on your own.
Ben Higgins ($50)
Oh Ben! I'd wondered where you went after Happily Ever After, but I didn't think you'd fallen so far. First of all, $50 is way too low for the most charming Bachelor in recent history, especially when you see that Nick Viall is on here for $75. I actually feel like Ben would be a good choice for an interaction you're a little nervous about, like telling your boyfriend that you adopted a dog while he was at work. Wouldn't it just be harder to get upset looking at his bashful, country-boy eyes? Or am I just another crazed Higgins fan, waiting for my chance to kneel at his feet on live TV? Time will tell.
Other Bachelor cast members: Ashley and Jared ($65), Robby Hayes ($50), Corinne Olympios ($40), Chris Harrison ($425)
James Kennedy ($100)
And now, the one that I am personally most likely to use. James has been deeply up against it this season of Vanderpump Rules, by which I mean he has faced some consequences for his actions. As a result, he has looked like a wounded dog with lifeless eyes in every scene for the past two weeks, and I can think of no one less equipped to be sending out cheerful videos for hire. For reference, you could have Scheana record the same message for $75, but at least James' version would be less likely to include an orgasm.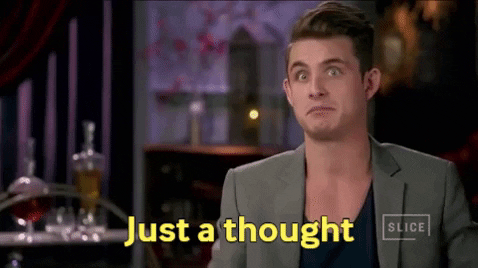 Billy Zane ($500)
With Billy Zane, we've moved out of what I'm calling the "small players" ($200 and under) and into the major leagues. For a cool $500, you can have the villain from Titanic wish your parents a happy anniversary. Or tell your boss you're taking the rest of the week off. I don't really understand how or why Billy Zane has become such a punch line in pop culture, but I do kind of feel like a video message from him could ruin my day. Sorry Billy, I'll always be Team Leo!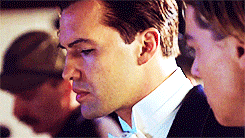 Stormy Daniels ($666)
Got any politically minded friends? Devoted readers of The 'Sup who regularly ruin brunch with depressing updates from the outside world? Show them that you're paying attention with a very current $666 video message from none other than Stormy Daniels. If nothing else, you'll be helping her pay off those legal fees.
Caitlin Jenner ($1,000)
Finally, if you're really looking for a splurge: Caitlin Jenner. As the most expensive option on this list, she is also one of the only two whose profession is listed as "Icon." (Most include titles like "TV Star" or "Reality Star," or the name of the series they're on). The other icon on this list is "George Jung aka 'Boston George,'" an American drug trafficker who was played by Johnny Depp in the movie Blow. A message from this famed criminal is only $65, so up to you which "icon" you'd like to go with. I'd also like to note that Caitlin Jenner is the only member of the Kardashian/Jenner clan on this site.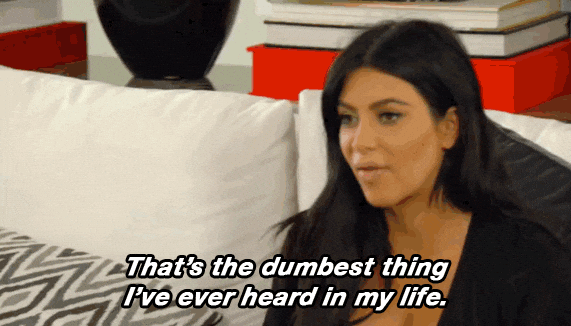 Other usual suspects are on this site—Bella Thorne ($110), Snooki ($300). What I've learned from this research is that I love listing celebrities' names with prices attached, and it is possible that reality TV pays less well than I thought. Hopefully these celebrities on Cameo have brightened your day as much as mine.
Images: Giphy (3)
We Literally Can't Believe Ashley Iaconetti & Jared Haibon Are Engaged
Holy shit. The stars have (apparently) aligned, and our favorite crying psycho, Ashley Iaconetti of Bachelor fame is OFFICIALLY engaged to Teen Wolf extra and Class B Fuckboy, Jared Haibon. That's right. Proving there is no limit to what people will do to stay relevant, Ashley and Jared are engaged.
Let's recap this shit, shall we? Jared and Ashley met three years ago on Bachelor in Paradise season 2 in 2015. Ashley liked Jared IMMEDIATELY. Jared wanted to hit that, found out she was a virgin, freaked out, and doubled down with skanks instead. Ashley spent the next 2-3 years showing us just which mascaras last through emotional episodes and how to sound halfway understandable while boogers are running down your chin.
Ashley CONTINUED to pine after Jared for the next three years. She started dating Canadian Tom Brady lookalike Kevin Wendt on The Bachelor: Winter Games, where past losers contestants on this absolute dumpster fire of a show got together to embarrass themselves and attempt to land more FitTea deals in an effort to never work again. Ashley gave up her long-guarded v card to Dr. Canada, they broke up in March, Jared slid into her DMs, and SUDDENLY they were a couple. WEIRD GUYS.
Ashley and Jared started OFFICIALLY DATING in May. That's May of 2018 for those of you who don't mark these dates in a very long, sad, handwritten Bachelor news calendar (I definitely don't do that). They put up a whole Insta video about their "story" which was very long, drawn out, and solidified Jared's status as an aging white man with not enough facial hair to hide his very oddly pronounced jawline.
So what the fuck happened? According to People magazine, Haibon got down on one knee in Mexico while the couple were busy filming for the upcoming season of Bachelor in Paradise on Sunday. Why they were even AT BiP, I have no idea. My guess is that Chris Harrison is a messy bitch and was hoping they'd break up on air. Joke's on you, Chris! Their love is REAL. Ashley wore yellow and attempted to look surprised. Jared tried to hide the look of defeat with a sad smile.
Let's take bets on how long this lasts. Will The Bachelor capitalize on this with a televised wedding? How about a children's book about how being a psycho eventually pays off? Definite yes to both.
Ashley Iaconetti Gave Everything She Had To A Boy Who Changed His Mind
Well, that didn't last long. Human fountain of tears Ashley Iaconetti and poorly assembled James Marsden doll Kevin Wendt have officially broken up after falling down for each other on The Bachelor Winter Games.
Ashley I and Kevin technically won Winter Games, in the sense that they only got slightly injured while participating in children's activities. So impressive! But now, the show has ended. The weather is warmer. Ashley's hymen is no longer intact, and unfortunately neither is this relationship.

This is an especially confusing breakup because just four days ago, they were all over each other's Instas. Don't tell me social media is fake?!
If an emotional Princess Jasmine look-alike can't find love after multiple reality dating shows, what hope is there for the rest of us?
Sources are saying that it was difficult for them to maintain this relationship long-distance. We'll get official confirmation when Kevin joins Ashley on her Almost Famous podcast. I will also almost certainly not listen to this. Can the one rabid Ashley I fan fill me in on their fake reasoning in the comments?
Honestly, I'm sad that the longest-term relationship that Ashley's had is with her eyelash extensions. (Girl, can I PLEASE get a recommendation?!) Also, aside from the never-ending tears, Ashley is mostly known for being a virgin. Will she be able to keep up her career now? I hope ABC paid her to give it up in that shitty "fantasy suite," because now she needs a new distinguishing quality. There's already a Russian orphan, blonde identical twins, a Playboy model who showed off her entire vagina, and a girl who stabbed her ex-boyfriend with a stiletto. Best of luck to ya, Ash.
I'm sure that Ashley's career will be fine now that she's no longer a virgin who can't drive. And Kevin can go back to Canada where they have universal healthcare, hottie Justin Trudeau, and like, fucking kumbaya circles every day. See ya on Paradise, girl!
Images: Ashley Iaconetti / Instagram; Giphy
Ben Higgins Is Hanging Out With Ashley Iaconetti
Less than a week after breaking off his engagement with Lauren B., it seems Ben Higgins may have already moved on to a new Bachelor alum: Ashley Iaconetti. The two were spotted at a Bryan Adams concert in LA over the weekend, and may have been the only people under the age of 45 in attendance.
Eyewitnesses told TMZ that Ben and Ashley definitely went to the concert together and "were chatting it up," as one does when one attends a concert or social gathering in the company of another person. So scandalous. However, before you get too excited or start tweeting "HOW COULD YOU??" at Ben, apparently sources say they weren't "chatting" exclusively and there was no PDA between the two.

SNORE. Where's the drama? Oh right, I forgot that Ben was one of the most boring Bachelors in history and his most scandalous moment was telling two women he loved them. I know that's like, a cardinal sin in the Bachelor-verse, but really when you think about it, a guy displaying the emotional intelligence of a goldfish is not exactly new or controversial. Anyway, Ben and Ashley are apparently launching a podcast together called "Almost Famous," so this whole thing was basically just a publicity stunt that we all fell for. I will not be listening to their podcast out of protest of this fake news (and not because I never would have listened to it in the first place and didn't even know it existed).
Ashley I. herself told UsWeekly that she and Ben are "Totally just friends!" which is suspiciously what every couple who is decidedly not just friends says. So could romance be on the horizon for these two? I mean, I could see it. They both cry a lot. And are brunettes. And if that's not the foundation for a rock-solid relationship, I don't know what is.

We still don't know who's going to be on Bachelor in Paradise yet (*looks angrily at Mike Fleiss*), but an Ashley I./Ben H. mashup isn't totally out of the question. Will Ashley ever find a guy to love her? Will Ben become the new Jared? Will they cry a literal river of tears and then float off together into the sunset? Anything is technically possible when we have literally zero details and all we can do is wildly speculate!
I don't know, guys. It's a slow news day. Namaste.