What We Know About The 3 New 'Vanderpump Rules' Cast Members
I know I complain a lot about how much time The Bachelor takes up in my sad little life, but the one show I would never dare speak ill of is Vanderpump Rules. There's just something so comforting about watching borderline sociopaths lie to their friends and family without emotion or remorse. It's like mozzarella sticks for the soul. And just as I was starting to really miss my precious garbage angels, they popped right up to give me that sweet, deep-fried, cheesy fix. This week, the cast members got together to film the opening credits for season 8. Now, while I care about my OGs very much, I've seen enough pictures of Jax and Brittany's wedding to last me a lifetime, so it's time to take a gander at the fresh blood. Let's stalk the Vanderpump Rules newbies.
Max Boyens
According to US Weekly, the place I got to for all my C-list celebrity news and the occasional legging recommendation, Max is the general manager of TomTom. Which sounds like a sweet gig in theory, but having to follow the insane whims of a man rocking a Flock of Seagulls haircut day after day must be a tough pill to swallow. So, I'm already proud of you, Max. You're doing amazing, sweetie. 
US Weekly also reported that Max was briefly linked to Scheana, which I assume means that he went over to her apartment one time, ate a handful of pretzels, and now she's filed the paperwork needed to acquire a marriage certificate.
Now that we have that out of the way, let's make some broad assumptions based on his Instagram! It appears that Max likes karaoke, is from San Diego, has style that Sandoval approves of, has a cocktail company he's looking to promote, and is way too wordy for a man whose career is clearly based on his looks. I hate him already. I can't wait. 
Dayna Kathan
Dayna appears to be a SUR employee, which must be nice for Lisa because I'm pretty sure the others don't actually work at the restaurant anymore, and those goat cheese balls aren't going to serve themselves!
Apparently we've already seen Dayna on VPR, because Celebrity Insider reports she was one of the women in the hotel room at the Mondrian when Jax FaceTimed Brittany. According to the article, she will be bringing drama to their relationship, and fingers crossed it happens quickly, because I have $100 that says their marriage only lasts 125 days and I'm looking to cash in. Mama needs some new shoes! (Kidding, I really need some dinner that's not 99-cent ramen noodles). 
Based on the T-shirt she over-wears, Dayna is a Beyoncé fan, which is not surprising because she is a human woman with ears. She also appears to be a comedian, which I'm surprised Ariana is okay with since she takes sketch comedy VERY seriously. I don't expect Dayna to last long on Vanderpump Rules, but I hope she has fun. 
Brett Caprioni
And finally we have reached Brett Caprioni, the most horrifying fairest one of all. He works at SUR, but I'm more interested in the fact that he's a YouTuber, which explains why I have no idea who he is since I spend my weekends shaking my cane at teenagers and hollering things like "back when I was a kid we had RESPECT!" from a safe distance. I took a look at his page, and he seems to be very into eating healthy and working out, which explains his hot bod and why Jax will most likely attempt to destroy him this season. Just a guess! 
I'm also taking an educated guess that he has had lip fillers (that baby picture he posted has no lips to be found—sorry baby Brett, you were still cute), and I'm also guessing that he makes people call him "BrettCap" in full, every time they talk to him, and if they don't he spits in their drink. He just gives off that vibe, ya know? Plus he's from Jersey and we do that sh*t. Maybe I will like him, after all. 
And that's what we have to look forward to this season on Vanderpump Rules. I can't wait to watch even more beautiful people in dysfunctional relationships drink to excess! 
Images: Shutterstock; Giphy, issamaximillian, dadadayns, brettcap / Instagram
'Vanderpump Rules' Recap: Stassi's Mom Has A Lot Going On
Hi all! I'm back for my second and final Vanderpump Rules recap, as you'll be back to your regularly scheduled programming upon Sgt. Olivia Betchson's return next week. I'll be sad because I will technically no longer receive the early screeners, but I'll be happy because I was able to memorize the passwords to get me into the site. JK, NBC!! This brain is like a sieve for passwords. Please still let Betches watch your show early!
As a reminder, last week James's mom begged Lisa for his job back, Lala and Brittany got their butts all pretty, and Stassi and Ariana had a joint cold themed birthday party which ended in a Stassi meltdown. Will she be forced to use her shattered iPhone for a year and a half like the rest of us peasants? Let's find out!
We open on the morning after the party. Everyone looks like they're in their late 30's and were binge-drinking until the wee hours of the night. Oh wait…
The girls are recounting what happened last night. Apparently after Stassi smashed her phone, she came out screaming at Beau, and he proceeded to cry and say he wasn't her punching bag. Ruh roh.
Stassi and Beau meet up outside and it appears that neither one has stopped crying since we ended last week's episode. Can we get some tissues over here?
Beau: You dick-punched my heart
Me:

Stassi is feeling a lot of regret over her drunken actions and is worried Beau is going to dump her. Girl, I know this feeling. In fact, It's Britney, Betch and I call it "I hate me," and we often gchat it to each other after we've vomited into a garbage can at work.
Beau is very forgiving and sweet and I'm wondering if Stassi can please lead me to the factory in heaven where she found him so I can pick one up for myself. I will request that mine wear pants.
If there's one person that is feeling good in the morning it's James, because he's temporarily, once again, replaced his alcohol addiction with an ice cream addiction. Better be careful with that rocky road James, I wouldn't want anyone to tell you to lose some f*cking weight.
James's ice cream friend: How did sobriety work out for you?
James: 

Literally this exact scene played out two years ago and we know how that ended up. Maybe he needs a better flavor of ice cream? Perhaps hit up a Ben & Jerry's instead? They put potato chips in ice cream! It's bonkers, it makes no sense, and it is DIVINE.
Ice Cream Man and James have a lovely conversation, discussing what he likes about himself when he's sober and why he shouldn't take that next drink. Then it immediately cuts to the interview session where James is sitting next to a cocktail. Should this come with a spoiler alert?
Over at SUR, Lisa has called a staff meeting so they can all gossip about James. It seems like the managers are all on James's side and are mad that he got fired since Tuesday nights were good for business. WOW. Honestly I am so freaking mad right now. This is why women don't say anything about harassment in the workplace! Because to some people, money is more important than the fact that a co-worker just kissed my head when I explicitly pulled away and said I was sick. I'm just saying HYPOTHETICALLY, of course.
Brittany is me right now. This is bullsh*t. I'm sorry Lisa, but by scolding Brittany you are making yourself look bad right now. NOW SCHEANA IS TELLING BRITTANY NOT TO WORK WHEN JAMES IS THERE. GUYS. I've had enough. I think 2019 is the year I go off the grid. I'm not talking like, "moving to a shack on the beach in Hawaii and becoming one with mother nature and not getting the internet" kind of off the grid. I mean like, "moving to Mars" off the grid. F*ck this planet.
Then, of course, Jax has to ruin the point Brittany is making by asking how many times James has been fired. Jax, you hypocritical little kleptomaniac with a nose job addiction, please shut up.
Now Billie Lee says that it's all Kristen's fault that James blows up and ruins his life. Exsqueeze me? Look, I have a Kristen Doute voodoo doll in my purse and even I don't think it's her fault James drinks to the point of blacking out and unleashes his rage on the closest female present. No one else is responsible for his actions!! These people are like 40 f*cking years old, how do they not know this yet? Does your brain stop learning once you've starred on a reality TV show? Can we get a study going?
This meeting is clearly a clusterf*ck. Lisa, next time you fire someone maybe just stand strong in your decision and not let your bartenders have an opinion on it?
Over at Stassi's apartment, she is about to Skype with her publisher and she's wondering if she looks literary-chic. Hold the phone, STASSI IS GETTING A BOOK?! Brb while I cry about my life and the hundreds of thousands of dollars wasted on my degrees and my zero book deals to show for it. Turns out I could have just bullied my friends on TV for years instead.
Okay I've returned, but my face does look concerningly like everyone's post-birthday party face. FYI Stassi you don't need to worry about looking "literary-chic" for your Skype date. As someone who worked at a major publishing house for many years, I can assure you that 90% of the people there are wearing a sweater they knitted of their cat. Here's a big secret, don't tell: It ain't like anything like Younger. Oh wait. It turns out I know her publicist! I can assure you that she actually does dress nicely and is super sweet so I take it all back. She doesn't even have any cats. Hi Meagan!
Stassi is stressed about getting her book done because she "has so much to do." Her excuse is that Kristen's mom is in town. TBH the same thing happens to me with writing these articles except I'm too busy because I have so many more episodes of Criminal Minds to watch. What? It won't be on Netflix forever!  
Over to Lisa and Ken at SUR. They're talking about how they're hosting a Daily Mail party at Tom Tom. Schwartz and Sandoval are there "auditioning" cocktails for the party. I'd legit give my left arm to have someone audition cocktails for me. It's useless anyway, and I never know what to do with it in pictures.
Okay one of these drinks literally has balls of mozzarella cheese on top. Well HELLO BOYS, are you reading my mind?! One simple note: when you bring me this drink, turn those mozzarella balls into mozzarella sticks and your fancy drink into marinara sauce and We. Are. In. Business.
Stassi, Katie, and Brittany are headed to this place called Rage Ground where you can break a ton of sh*t and no one will file a police report against you. SIGN ME UP. Do these exist in New Jersey? Because I have to say, I think we might be group of people that would get a lot of use out of something like this.

OHHH SMASHING PLATES OVER THEIR RENT. I can get on board with that. Although I'd need about 400 more plates and I'd like my landlord to lay on the ground. But sadly I can't afford to go to Rage Ground since my rent is so high.
Oh JESUS TAKE THE WHEEL. Scheana is on a date with Robby from The Bachelor. I'm glad they told me that it was him, though, because I honestly thought Adam just got botox in between episodes. I swear, Robby and Adam are like if your mom got you a Ken Doll for Christmas and your aunt got you the same thing and then you took them out of the boxes and laid them next to each other and gave one a set of veneers with your leftover chiclets. And it totally works out because the real life versions are also not anatomically correct.
Oh what do you know, Robby is friends with Adam. And the tangled web these famewhores weave gets even more tangled.
Stassi calls Robby a "cheesy douche" and I've never felt more understood. Also, that phrase could describe about 99% of the dudes on The Bachelor. Except you, Sean Lowe, my beloved! I would never say that about you. Call me?
Ugh this whole date is uncomfortable and honestly it feels like a Bachelor date. They did something ridiculous that no one would do in real life, then sat down and talked about their feelings and before anyone said anything real, Robby went in for the kiss. It's like if Robby is on a reality show and doesn't go on a contrived date, his spray tan will rebel against him and evaporate.
Scheana rn:

But seriously, is this her audition tape for next season?
It's unloading day at Tom Tom, and Nick Alain is there to decorate the space. I can't wait to see it! The Toms show up even though they were told not to. How many precious, irreplaceable, one-of-a kind clocks do we think Schwartzie can destroy in a single accidental touch?
Later that day Kristen is having a relaunch for her T-shirt line. Guys, I'm no Anna Wintour, but this T-shirt line is objectively terrible, am I right? Like, I distinctly recall making iron-on T-shirts in high school that were more innovative than this. Doute, stick to what you're good at. Digging up dirt on your ex-boyfriends, ruining their lives, and grinning maniacally in the corner while it all goes down.
We flashback to Ariana and Lala talking about James. Lala wants to try and connect with him. TBH I can't really pay attention to them because I'm trying to figure out where they are and why there is a white board behind Lala that appears to have a drawing of a superhero potato? And it also has the words "NECK: prevent sagging". An important goal. But, is this something you really need to whiteboard? I would certainly use a whiteboard when I'm hunting serial killers or mapping out the Philly Special, but you don't really need one figure out how to prevent neck sagging. Or do you??
Lala calls James from the party, and naturally he is suspicious of her intentions. James agrees to meet up even though he she won't tell him what it's about. I can tell you what it's not about, though. It's not about the pasta!
Beau shows up at the party, and if I'm not mistaken he is wearing the sweater version of the weird floral dress Stassi was wearing the day after her party? Did they find a pair of curtains they really liked and commission Giselle from Enchanted into making them matching outfits? I see no other explanation.
OH BOY. James is DJing the party at Tom Tom. ARE YOU KIDDING ME. Look, I am all for second chances (or in James's case, third chances or tenth chances or whatever) but give him time to better himself! Make him prove it! He's done nothing except get ice cream and cry, and as we all know from the wise Lorelai Gilmore, that is the wallowing stage. He needs more time.
At the party, Stassi's mom is telling Beau "her clock is ticking" and she needs grandchildren. What? Isn't Stassi's brother like, eleven? Slow your roll, lady.
Lala and James meet up for iced vanilla lattes and soul searching. James is real with her and tells her that it's the alcohol and he knows he needs to stop. I do think it was nice of Lala to show James some grace and I hope it helps him get his sh*t together. I won't hold my breath though, because I don't want to die.
Katie, Stassi, Kristen, and their moms all go out to dinner together. Dayna, Stassi's mom, seems v obsessed with Kristen. I'm uncomfortable. Is she already drunk?

At dinner, Stassi's mom is all over Stassi and is actually putting her face in her hair and smelling her, and TBH if my mom ever did that to me I'd ghost her. Thanks for giving me life and feeding me and answering my calls when I need to know if chicken is too old to eat, but we're never speaking again, k?
Now Dayna is claiming that her ovaries are being absorbed into her body? Wait. Is that what menopause is? I don't have a strong grasp on science, but I feel pretty confident saying this is not what happens. Is her doctor really just a woman she found sitting in the corner of the Palm Springs supermarket doing tarot card readings?
Kristen and Stassi are literally attacking each other at this dinner in front of their moms! Dayna leaves the table to go cry and Kristen and Katie's moms are wishing they had a DeLorean so they could go back and say no to this dinner invitation.
Dayna is sobbing, "I just need her to hold me and tell me that she loves me." I really appreciate Bravo showing me the cast's moms this season. It's all making so much sense. And making me very thankful for my mentally stable non-alcoholic mother.
Stassi is scared that one day that's going to be her. Why yes it is, Stassi. And one day is today.
And that's all! Thank you guys for reading, and for those of you that hated me last week, I only cried about it a little!
Images: Giphy (5)
Who Had A Worse Birthday: Stassi Or Ariana? A Timeline
This article required a lot of deep-diving into old Vanderpump Rules (ya welcome). So before I get into the issue at hand, I need to vent a few things. Wow, it's weird seeing Kristen and Tom together. Katie, how did you ever justify that hair? And present-day Jax looks like someone who ate season 1 Jax. I am shooketh. What a journey it's been. On the topic of aging, it's the most contentious happiest time of the year! Sunday, June 24, is the birthday of both Ariana and Stassi. Historically, this is when they evenly divide their mutual acquaintances and compete over who can throw a better party. In honor of these two fab ladies, let's take a look at who did it better over the years. Happy birthday, and try to play nice this year!
Seasons 1-3
Tricks, no significant Ariana yet. Seasons 1-2, she's not yet (openly) with Sandoval, so we're not allowed to fully care about her. Or see her birthday parties. And season 3 has no Stassi. For a quick recap of Stassi's birthdays: season 1 is Vegas with horrible ex-boyfriends Jax and Frank; season 2 is Cabo and everyone hates Scheana. Also, the description of Stassi as Malibu Barbie in these seasons is hauntingly accurate. Moving on!

Season 4
Still no Stassi (sad), but Ariana does a great job stepping in as the resident birthday bitch. Weirdly, Peter decides to be her competition on this and throws a guys-only trip to Vegas. For, as Ariana puts it, "the day after fucking birthday." Obviously, this launches an all-out war between the men and women of SUR. Katie tries and fails to assert any control over Schwartz, yet again. Ariana gets deep and talks about the loss of her father, but Sandoval's brain is chanting "bulldozers" too loud for him to give a shit. In a move that ultimately surprises no one, every single guy who is invited goes, even as their girlfriends beg them otherwise. The girls stay home and make out with each other. The win goes to first-time player Peter, who as punishment is never allowed to celebrate his birthday on camera again.
Ariana does throw a party, and it's interesting. It's "kid themed," which means they all dress like slutty versions of 6-year-olds and jump on giant trampolines. The fake sumo wrestling and bounce houses I could do without. But the pool floats, tequila, and option of pouring a bucket of cold water on Sandoval's head make it way better than any party I've thrown.

Season 5
This year is more of a contest of who's having a worse time. Stassi takes Katie, Kristen, and Scheana to Montauk so that Bravo can kick off Summer House. Kyle does a bad job hitting on Stassi and Stassi does an even worse job handling it. Scheana and Kristen bitch about not liking seafood. Katie takes too many shots and no one wants to deal with it. The house is nice and all, but ultimately they're getting drunk in a kitchen with East Coasters they don't know.
Ariana, on the other hand, has a NASCAR birthday weekend in Sonoma. For the producers' enjoyment reasons unknown, this involves packing Jax, Brittany, Sandoval, Schwartz, and Ariana into an RV. Jax bullies the shit out of Brittany, Ariana teaches Brittany what "misogynistic" means. Someone clogs the toilet. It is, quite literally, a shitty time. Which birthday party is better depends on what's important to you: not being bored to death, or having access to a real shower. I know my preference.

Season 6
Finally, we get to Season 6. As I'm sure you all remember, Ariana throws a Kings and Queens themed birthday party. Stassi also throws a party, and the theme is murder. Ariana's birthday is great opportunity to mix lingerie with fur. Stassi's is an opportunity to let Katie paint your face and watch her take ass shots. Stassi's freaking out because she's hopped up on tequila and Adderall and invited her shithead of a boyfriend Patrick. She leaves Katie and Kristen with a bill for over a thousand dollars, which they do not take well. Ariana's party involves fewer breakdowns, but a lot more of Scheana's exposed skin. Again, it's a pick your poison situation.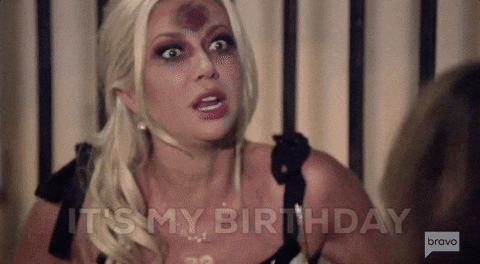 All told, I'd have to say Ariana's parties are better if you're into elaborate themes and dressing up. The one year Stassi tried to do that was…weird. But historically, Stassi nails the whole luxury trip/drunk by the pool type of birthday, which is my personal preference. It's a shame that most of them came with a side of Stassi screaming incoherently, but you win some, you lose some. Happy birthday again to Ariana and Stassi, and can't wait to see what they dream up next.
Images: Giphy (4)