5 Free Fitness Apps You Can Do From Home
Sometimes there's not enough time, or motivation, in the day to get to the gym. And sometimes, we simply don't have the funds for a membership (or you'd rather spend what little money you have on food or alcohol…no judgment). But, thanks to the invention of the smartphone, you don't have to actually step foot in a gym to get your workout in. There are a lot of good fitness apps that require a paid subscription, but I'm going to go ahead and jump to the conclusion that if you don't want to spend $10 a month to go to Planet Fitness or wherever, you probably also don't want to spend money for an app, either. That's why I picked out my top five favorite free fitness apps to download and get sweating to. (I don't feel bad anymore about seeing 5 + hours at the end of the day on my screen time…I'm working out!) Grab your weights and your cutest pair of leggings, and let's get started.

This app offers categories of workouts for every muscle in your body, including abs, butt, back, shoulders, arms, and more. The exercises are mostly for your at-home gym sesh, but they do offer a few workout routines for during the day, like "deskercise", "chair exercises", and "office stretch"… but please, be low-key if you're doing them at work. What I love about this app is that they offer plenty of workouts that you can do in only seven minutes. These include 7M Butt, 7M Sweat, and 7M Beginner. I love these guides because I know I can get through seven minutes of work without the thought of "when is this overrrrr??" repeating in my head the entire workout. You can see your progress on a calendar based on your workout history and calories burned. Def recommend.


When setting up the app, it will ask you a few questions to help personalize your workouts. It asks for what you think your level is (beginner, intermediate, or pro) and how many sessions a week you want to work out (2, 3, or 4). It then asks you for your goal, whether that be to lose weight, stay fit, or gain muscle. This way, the experience will be tailored to you and your body. Fitness Challenge gives you an outline of your workout before starting, so you know what you're getting into before you begin. It tells you how much time the workout will last, what exactly you'll be doing, and how many times you're doing it. It comes with five categories to choose from: full body, sexy legs and butt, abs and flat tummy, bikini body, and skinny toned arms. Count me in.


If you're a yogi, this is the app for you, but in addition to yoga, Daily Yoga also incorporates other mainstream workouts. Once signed in, you choose your goal. This app's options are: start as beginner, stay healthy, lose weight, skill improvement, muscle tone, and stress relief. I LOVE how they named these goals. But Daily Yoga doesn't only provide workouts—it goes one step further, offering audio and music to guide you through your practices. They have guided meditations, mantras, mindfulness training, and more—all of which you can download straight to your phone. I recommend listening to the music before bed at night for a spa-like relaxation that'll put you into a deep sleep.


You can sign up for FitOn through FACEBOOK, which is great, because then you don't have to waste time plugging in personal info and can get moving instead. It does ask a few questions to personalize your experience, though, which I do appreciate. It first asks you about your goal. Are you using the app to lose weight? Reduce stress? For post-natal fitness? I like this app because it doesn't just give you three basic goal choices; it has a bunch more to offer. After that, it asks for your favorite types of workouts ranging from yoga, to HIIT, and dance. Then, you're in! If you aren't ready to work out right away, you can set reminders to do so later on, which I use way too frequently. It gives you a ton of choices, like which trainer you want to take, the target area you want to work on, and trending activities to start. FitOn even gives you a custom-made schedule. You can see all your upcoming workouts and the intensity of each. You can even invite your friends to share your progress, if you're competitive like that. There is also a section on advice from trainers, ranging from articles to videos that are informational and worth a watch.


If you aren't into high-intensity workouts or sweating too much, this app is perfect for you. It's all about walking, and only walking. Walking is the perfect way to burn off calories and reduce stress. I think walking is one of the most important workouts—especially walking outside. Obvs if it's crazy weather, just hop on the treadmill, NBD. The app goes by days, so they have a list of workouts designed for you each day to complete. You can walk for meditation, renewal, midlife women, stress, or for burning off the cheese pizza you had for dinner last night, which I like to do. (Okay, so that last option I made up.) All totally great. It also tracks your steps and calories burned, if you're over your iPhone health app after the latest update, which most of us are.
There are so many other free fitness apps you can check out, but these ones offer a good range of services that everyone can enjoy and are easy to use. These are the perfect start to get motivated and move throughout your week. You can use them in your living room, at your office, outside walking your pup, or even in class (def be cautious though…). Hope these apps help you and guide you to achieve your goals.
Images: Dane Wetton / Unsplash; Workout For Women; Fitness Challenge; Daily Yoga; FitOn; BetterMe: Walking
A List Of Single Tech Bros You Can Marry To Get Rich
Anyone who says they haven't at least thought about what it would be like to marry rich is a fucking liar. Many of us probably spend time imagining the fabulous life you could lead if only you had a romantic meet-cute with Zac Efron (while hiking with your dog in the Los Angeles hills and your pooch runs away straight into his arms… or something. Haven't put much thought into it). But a life of glamorous riches with a celebrity comes with the price of fame and red carpets and having to work out all the time. So I think it's time we replace that celebrity fantasy with a successful tech entrepreneur fantasy—because if you want a partner that can support you financially while you pursue your dream job of pop culture blogging/Netflix bingeing, it'd be way cooler if they were also intelligent, inventive, and successful af.
Unfortunately our favorite tech boy feminist and Reddit co-founder, Alexis Ohanian, is no longer on the market (one more reason to love Serena Williams), but there are plenty of other viable-ish options out there, and they're probably online dating (because tech). So get your asses out to Silicon Valley, consider the advantages (besides $$$) and disadvantages of dating a tech founder, and start compiling a list of DM's to slide into.
Elon Musk: Tesla, SpaceX

Elon doesn't really fly under the radar like our other contenders, and you probably won't find him on Hinge (unfortunately). But he recently split from Amber Heard, so he is definitely emotionally unavailable on the market. He runs Tesla, SpaceX and The Boring Company—which is digging holes in L.A. to get rid of traffic, so he's a total do-gooder and world saver. He's worth about $19 billion, has been divorced three times (twice from the same woman), and only has six children for you to help raise.
Advantages: All the Teslas in the world, and a good chance he would take you to Mars.
Disadvantages: He runs like, a million companies and has like, a million children, so there probably isn't much time for cuddles.
Jack Dorsey: Twitter

Jack is the CEO and co-founder of Twitter and the CEO and founder of Square (Venmo's less successful stepsister). He's 41 years old and worth around $3 billion. He has tattoos and stuff so he was probably an emo kid in high school, and I once saw him speak at a Square holiday party—he's SUPER into himself. Maybe you'll be into him too.
Advantages: Maybe you could get him to disable Trump's Twitter account, for good.
Disadvantages: Twitter has gone through a few rounds of layoffs recently, and his companies don't appear to have any way of ever making money.
John Zimmer: Lyft

As the co-founder and president of Lyft (a company worth $11 billion), John could definitely provide for an intellectually challenging and financially supportive lifestyle. Plus Uber is the worst, which makes Lyft (its top competitor) the best, right? John is 33 years old, a self-proclaimed nice guy (hopefully not too nice because nobody wants that), and your mom will totally love him.
Advantages: Free rides for life.
Disadvantages: Potential pink mustache fetish.
Drew Houston: Dropbox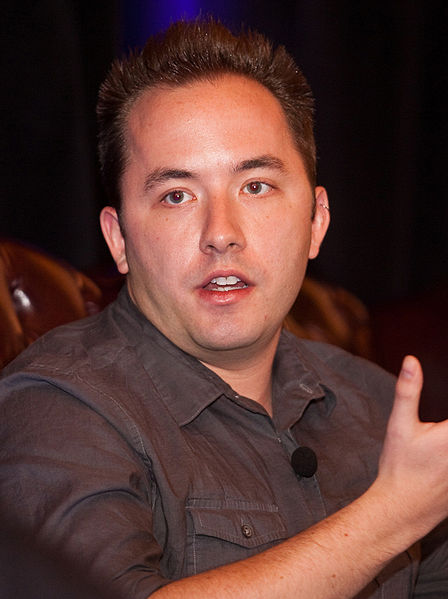 Drew is the founder and CEO of Dropbox, that file storing and sharing software that somehow still hasn't figured out how to make file storing and sharing all that easy. He's worth an estimated $1 billion and sorta looks like a chubbier version of Elon Musk—no, just me? He loves talking about being a founder and he could probably be a boyfriend/life coach hybrid if you are into that sort of thing.
Advantages: Unlimited storage for your food pics.
Disadvantages: You would have to figure out how Dropbox works.
Images: Wikimedia (5)
How to Flex on Your Friends Without Being Annoying
Let's be real, the only reason you're posting on Snapchat is because you look good, but obvs you can't just post a selfie without a caption. I mean, a caption can make the difference between you looking chill and witty versus just thirsty AF. Everyone knows you're posting pics on social media to flex on your friends, but much like CrossFit (at least we assume), everyday can't just be leg day. As in, you might have your selfie game on point, but if your captions are always the same old shit, sorry but you can't sit with us.
Well you're welcome because a new app CapGenius takes the effort out of coming up with clever captions because it does it for you. It's honestly the best thing for Snapchat since the dog filter. Basically you download the app and it comes with a keyboard that has pre-written captions for every category imaginable. You know how you ask your friends "what should my caption be?" because you know your crush is going to view your story? Well this app is like if you asked your friends, but your friends were funnier and more clever and didn't just make the same 5 jokes over and over. And also you didn't have to wait for them to respond because you're busy and time is of the essence.

The captions are split up in categories, including quotes by celebrities such as Aziz Ansari, Beyoncé, and yours truly, The Betches… so it's literally like if we helped you write your captions. You're welcome. Look, we know you're witty if you want to be, but who has the time? You're busy #winning so you can't spend 20 minutes deciding what you want to say about your rooftop pic. You just want everyone to know you're on a rooftop.

For example, if I wanted to snap a picture of me doing Sirasana in my new yoga pants, I might type in the keyword "Yoga" and choose the caption "Namaslay all day". There's every key word you would need, from tacos to coffee to 420. It's like a pocket thesaurus for witty captions except less nerdy.

You can also submit your own caption options if you agree, you think you're really funny. If you're the one your friends always ask for help on captions, then you might get featured on the app yourself.
The bottom line is, no matter how hot you are, if you're posting too many selfies with no context to your stories, you're going to come off annoying af. So avoid being an Anne Hathaway trying too hard and just get the CapGenius app, loser. You wouldn't buy a skirt without asking your friends first, so why would you post a selfie without asking the Betches first?
Download CapGenius here, and follow them on Twitter @CapGeniusApp.
How To Send A Hot Nude Without Ruining Your Life
The average betch receives at least half a dozen requests for nudes each week—unless she's on Tinder, in which case the limit does not exist. The vast majority of the time, these requests go unanswered, but every once in a while, someone will live up to the right standards and we'll deign to bless them with a nude. Whether that person is a hot rando or your long-time SO*, the last thing you want to do is embarrass yourself with a poor-quality nude. I mean, your body is a gift to man- and womankind, but that doesn't mean you know how to take a good photo of it. You don't want to spend all that time in spin class only to wind up looking like an undercooked sausage in the pic you're using to seduce someone. But that's where I come in. Here are 7 tips for taking a successful nude—you can thank me after you get laid.
*Btw, don't let some fuckboy pressure you into sending nudes if you're not into it. That's what his imagination and/or internet connection is for. This is only for the rarest of occasions in which you are having a good boob/butt day and are also feeling extremely generous AND a male has proved himself extremely worthy.
1. Pay Attention To The Lighting
Ever noticed how you'll look fabulously tanned and muscular in photos taken in your bedroom but sallow and dead-eyed in your kitchen? That would be the differences in lighting—it might seem like no biggie, but bad lighting is the number one cause of selfie deaths. If there's a spot in your room where you always take flawless Instas, take your inaugural nude selfie there, and if you have a bunch of windows, daylight is also your new BFF. However, we recommend keeping your curtains drawn so you don't get any new secret admirers. Most importantly, stay the hell away from florescent lamps.

2. Angles Are Everything
You've definitely figured this out from selfies by now, but angles are super important when it comes to nudes, too. Luckily, they basically follow the same rules as regular selfies. Aim from above or head-on, and only take a photo from below if you want the recipient to be distracted counting your chins. (Maybe you do. I don't know the details of your sex life, nor do I care to.) Also, protip: Unlike what everyone tells you about aging, when it comes to nudes, gravity can be your friend. I have tricked many a fuckboy into thinking my tits are big and not three finger-widths apart simply by leaning over and angling the camera downward. I'm a magician, I know. And while we're on the importance of angles, if you've learned anything from the numerous celebrity photo hacks it's NOT TO PUT YOUR FACE IN YOUR FUCKING NUDES. I don't care if I do have a one-in-a-kind birthmark the shape of Texas on my left boob, if those shits get leaked, you can best believe I'm gonna deny it to the grave.
3. Don't Stick To The Definition Of "Nude"
Nudes involve nudity by definition, but don't feel like you have to be totally naked from the get-go. This is especially true if you're surprising someone with a pic—as anyone who's gotten a dick pic before (aka everyone) knows, it can be a little alarming to be confronted with a straight-up naked human. Try taking a pic with some cute underwear or wearing nothing but a sheet, or crop out ~relevant~ bits of your body. It's practically artsy at that point, but not in the regular annoying way.

4. Use Your Reflection
There's a reason Kim K has posted approximately a bajillion barely-clothed selfies of her reflection: it lets you show off your whole body without having to contort into too many weird positions. Use a full-length mirror if you have one (in a place where you won't traumatize your roommates, obvs) or head to the bathroom. The other bonus is it's easy to use your phone to block out your face in the picture—no, I will not quit harping on this point. I don't care if he's your boyfriend, husband, or you made him sign an NDA—you cannot trust anyone in this day and age.
When you're like I have nothing to wear LOL pic.twitter.com/UlSLZb1fp1

— Kim Kardashian West (@KimKardashian) March 7, 2016
5. Clean Your Fucking Room
Wherever you're staging your mini-photoshoot, take 30 seconds to clean it up, or at least move the shit to the other side of your room. Nothing kills the mood like the sight of your middle school retainer and a pile of dirty towels in the corner. I don't care how hot you are—if your bedroom looks like it could have been featured on Hoarding: Buried Alive, no guy will be able to look past that. Just ask Ross Geller.
6. Get Your Top Model On
All that time you spent in middle school watching America's Next Top Model marathons is finally paying off—it's time to contort like you've never contorted before. Flex your abs! Pout your lips! Smize!!!!! If you're just starting out, there's literally nothing wrong with checking out the Instagrams of D-list celebs who post a lot of skin (read: Ariel Winter, Kardashian-wannabe extraordinaire) for posing inspiration. Or shoot for the stars and let the Queen of Selfies, Kim K, be your guide—eventually, you'll figure out what makes you look/feel the sexiest. Unfortunately, that's usually what makes you the most physically uncomfortable, but whatevs. If it's in the pursuit of sexting, it's worth it.

7. If You Must Save, Save It Somewhere Private
When I'm old and saggy, I fully intend to have a photo album, possibly on display, of all the sexy selfies I took when I was young and hot and could do pushups without my joints clicking. Save your faves to make yourself feel better when your metabolism goes to shit. Just be sure to do it somewhere super private—people are assholes, and people with internet connections and no concept of a conscience are even bigger assholes. Signal is some app this guy I'm fucking who works in tech told me about that's apparently double-encrypted. IDK what that means exactly but it sounds super secure so like, maybe try that?
8. Show The Bottom Half Of Your Face AT MOST
If the whole Russian hacking thing has you wondering about the security of your selfies, try protecting your identity with some good old fashioned facial obstruction. Your SO already sees a million photos of your face daily via Snapchat, so your eyes will probably not be missed. The mouth is the sexiest part of the face anyway, so framing your nudes from the mouth down makes total sense. Plus, when you're running for president and Putin leaks your photostream you can be like, "I mean I guess that could be my jawline but like…who's to say?"

9. Wear His Clothes
As discussed in #3, your nudes don't have to be strictly nude. Guys have a weird thing for seeing girls in their clothes. It's like, you're inside them for a change. Anyone who's ever been Tom Cruise in Risky Business for Halloween/every mixer understands this rule. So a sexy photo with you in his jersey and nothing else could actually end up being a thousand times more boner-inducing than any shot that actually includes your boobs. Plus his giant shirt will make you look skinny, which is always a plus.

10. Make It A Boomerang
Take your nudes into the 21st century by making them into a boomerang. It'll set your nudes apart from all the others your SO has received, plus the extra motion gives you the option to try multiple poses and angles. Just make sure you don't accidentally post to Insta.
If you follow the steps above, you're on your way to taking a decent nude selfie, although obviously some article on the internet isn't going to turn you into Gigi Hadid. Anyway, good luck, godspeed, etc. etc.
How To Order At Sweetgreen Like A Betch
We're not getting paid to say this, but whichever betch invented Sweetgreen is fucking brilliant. I mean, we've been eating salad at least twelve times a week forever, but Sweetgreen has managed to make us look somewhat normal for doing so.
For those of you who live under a rock—or like, in Kentucky or something—Sweetgreen is the holy grail of salad bars. Not only do the salads actually taste delicious, but the lunch line is literally longer than the one for Kanye's Soho pop-up shop and is usually filled with a mix of trendy models and college interns picking up a Kale Caesar for like, the CEO of Twitter. Ordering is an artform, so you don't want to fuck this up. Here's how to navigate Sweetgreen like a betch:
The App

First things first: get the app. The only things betches hate more than mixed-in dressings are long lines and human contact, so the Sweetgreen app is the best thing ever. You literally compile your salad, click to pay, input a pickup time, and show up. The only downside to ordering in advance is that they don't mix in the ingredients for you, and shaking it yourself is exhausting. It's still worth it though—and a good arm workout. At least, that's what I tell myself after 17 straight days of avoiding the gym. Irregardless, at 1pm, your lunch is waiting for you on a wooden shelf and you didn't even have to talk to one person in the process. The magic of modern technology.
The Warm Bowls

We usually opt for a customized salad, but the predetermined warm bowls are a respectable choice when you're in a rush and can't start weighing the pros and cons of romaine versus arugula. Kendrick Lamar collaborated with SG last year on their Beets Don't Kale My Vibe bowl which we miss dearly, but the new selections are sick too. The Harvest Bowl is a go-to when you need a carb boost, and the Guacamole Greens is perfect if you're craving Chipotle (but obviously it's better for you).
The Custom Order

Customizing your own salad is a fucking science. A few basic rules: mix different types of lettuce, always get the sweet potato, only get the portobello mushrooms if they're super dark, and try whatever's in season. Sweetgreen prides itself on having ingredients straight from the farm, so take advantage of that because God knows the only time a betch will get close to a farm is if she gets forced into shoveling cow shit on a Bachelor group date.
The Premiums

The proteins at Sweetgreen are the icing on the cake, minus all the icing and all the cake because well, it's salad. We recommend the chicken if you're basic AF, but their sesame tofu is dope if you're vegetarian—as long as you promise not to talk about it. The salmon is a staple too but make sure you ask for it separately so they don't toss it in with the rest of the ingredients and fuck it up. Honestly, you can't go wrong, and their cheese is good if you're willing to eat dairy and you're starving yourself. You don't fuck with a girl and her feta salad post-spin class. You also don't judge her (to her face) for saying yes to the bread.
The Dressing

If we were ordering at any other establishment, we'd obviously look down at anyone opting for dressing on their salad, and instead ask for a sprinkle of fresh lemon or a gust of wind. However, Sweetgreen's dressings are actually made fresh everyday and there's no shit in them. The Cucumber Tahini Yogurt is almost too creamy to be legitimately healthy, and yet it is. The Miso Sesame and Pesto are other go-to's, or go for the Spicy Cashew if you want the heat. You really can't go wrong, but don't expect to find any of that Ranch or Thousand Island bullshit here. I mean, you can try Sears.
How To Come Up With The Perfect Insta Caption & Clapback For Your Group Text
It's a common struggle betches know all too well: you take a fire selfie and want to share it with the world. Your highlight is on point, the lighting situation is ideal, and you've already chosen the perfect filter to play up your nearly emaciated cheekbones. The only problem? You can't think of a fucking caption to save your life. "I'm probably gonna delete this later, but I just thought I looked funny lol" is not going to cut it. So what are you supposed to do, not grace your social media followers with your beauty?
Alternative scenario: You're all roasting your DD friend in the group chat. It's all fun and games until the object of roasting turns to you. You're blanking. You know you'll come up with an amazing comeback five hours from now when you're taking a shower, but that obviously doesn't help you now. So what's a betch to do? Solution: download our new app CapGenius.
WTF is CapGenius? It's our new philanthropy venture app that will help you craft the perfect caption or comeback for any situation. And by "help you" we mean "do it for you" aka the best kind of help.
"This fun little addition to your iPhone keyboard offers a search engine for quips, puns, quotes, lyrics and other phrases that you can quickly pop into your Instagram posts, status updates, snaps, tweets, texts, and more." —TechCrunch
So here's how it works:
1. Download CapGenius

Fucking duh. Download it here in the Apple store.
2. Take Your Selfie/Food Pic, Blah Blah Blah, & Instagram It

Should be self-evident, but nothing is in this day and age anymore.
3. Open Up The CapGenius Keyboard

Change your keyboard the same way you'd add a bitmoji or Kimoji.
4. Search CapGenius For The Right Category & Browse

Instagramming a photo of pizza? Consider the pizza category. Looking for a way to humble brag about your selfie? There's a selfie category for that. Going the emo sub-Insta route? Song Lyrics is probably the one for you. I'm not going to tell you how to live your life; these are just a few ideas.
5. Select The Caption You Want

And it's done! Again, this also works in group chats, booty call texts, when you just don't know how to respond to that guy's text… you name it, we've thought of it. You basically never have to use your brain again. What a world we live in.