6 Documentaries To Watch To Educate Yourself On Systemic Racism
While we are showing support for and standing in solidarity with Black Lives Matter, and many of us are donating if we are able, it's important to be as educated as possible on why this fight against police brutality and systemic racism is so important. Sadly, for many of us, our formal education on racism and civil rights stopped at the 1960s, and probably wasn't nearly comprehensive enough to begin with, leaving out decades of important information.
As most of us are still spending a lot of time at home right now, this is the perfect time to get to work on being a more educated ally. Luckily, the streaming services you already spend all your time on have some amazing documentaries readily available. In the last few days, many activists like Dom Roberts and Kota Lovette have used their platforms to make some suggestions on what to watch. Of course, watching these movies is just the tip of the iceberg in terms of being a good ally, but here are some recommendations for where to get started.
'13th' – Netflix

In this deeply unsettling doc, Ava DuVernay examines how, since the end of the Civil War, our country has perpetuated slavery through racist mechanisms like segregation and the War on Drugs. DuVernay explains why these structures have led to an enormous mass incarceration problem, and how corporations profit from keeping black people behind bars. While not an easy watch by any means, 13th does an unflinching job of illustrating how our legal system is rigged against black people.
'I Am Not Your Negro' – Amazon Prime
Writer and activist James Baldwin was a crucial voice in the Civil Rights Movement, and the film I Am Not Your Negro uses his own words to powerfully depict the ongoing struggle for equality in our country. Along with archival footage and recordings, Samuel L. Jackson narrates from one of Baldwin's unfinished works, and the final result is a fascinating look at both James Baldwin's life and his views on race. His words may be from decades ago, but they're just as timely today.
'LA 92' – Netflix

You've probably heard a lot of references to the Rodney King riots, or the LA riots from the '90s, but a lot of us don't really have the proper context. Perhaps they should teach this stuff in schools? In 1992, protests broke out in LA in response to four police officers being found not guilty of using excessive force in a brutal arrest and beating of Rodney King. The whole thing was caught on video, and people were outraged that the officers were acquitted. More than 50 people were killed in the days of riots that followed, and many more were injured, and this documentary does an excellent job of teaching us about this landmark event.
'O.J.: Made In America' – Hulu

You probably know the general details of the O.J. Simpson trial, but this epic seven-hour documentary is an absolute must-watch. Of course, there's the true crime element, which is incredibly interesting, but director Ezra Edelstein weaves O.J.'s story seamlessly with the background of what was happening in Los Angeles at the time. This includes the 1992 riots, and other events that led to an incredibly volatile relationship between the black community and the LAPD. This film is really a staggering feat of storytelling, and no matter how much you know about O.J., there's plenty more to learn.
'Knock Down The House' – Netflix

The events happening now don't exist in a vacuum—they're the product of hundreds of years of racist policies and attitudes. If we are going to make meaningful changes moving forward, we have to have a government that will work for us, and Knock Down The House follows the efforts to make that a reality. The film follows Alexandria Ocasio-Cortez and three other female grassroots candidates on their 2018 Congressional campaigns, and the institutional challenges designed to keep people like them out of power. I rewatched this over the weekend, and it's one of the few things that has actually made me feel hopeful for the future.
'The Death And Life Of Marsha P. Johnson' – Netflix

As we move into Pride month, it's extremely important to remember that we owe the entire Pride movement to queer black people rioting for their rights. Marsha P. Johnson was an activist and trans woman who is known for being a primary figure in the Stonewall Riots of 1969. She was an icon in the queer community, until she died under mysterious circumstances in 1992. This documentary is both a celebration of her life, and an attempt to find justice for her death. If you plan on celebrating Pride this month, this should be on your viewing list.
There are no shortage of documentaries, movies, books, TV shows, and podcasts on important topics like these, so keep searching for resources to learn as much as possible. In this post, activist Dom Roberts shared some more recommendations of things to watch, all of which are great options.
It's on all of us to do our part right now, and the least we can do is learn about why this fight is so important. If you have other movies, books, or shows you've found helpful, please leave them in the comments.
Images: Clay Banks / Unsplash; Courtesy of Netflix (4); ESPN Press Room; domrobxrts / Instagram
Here's How Politicians Would Spend Their Quarantines
Hey girl, wanna quarantine & chill? Welp, hope so, because you don't have much choice. Trump has urged Americans to limit gatherings to 10 people or less. Quarantining ourselves will help keep COVID-19 from spreading, and it's especially important for young people to take on this responsibility, as we are often carriers who can spread the virus unknowingly to elders or people with other health conditions, who are more likely to experience serious effects from the disease.
While some of us are working from home, and many of us are stuck without work or paid time off (send love and cash to any service workers/independent contractors you can!), most politicians are still out in these streets. I guess they have a duty to fulfill in these dark times…let's see if they can rise to the occasion.
But since we're home, we've decided to spend some time coming up with how some of our most beloved and most despised politicians would spend their quarantine & chill time. Let the games begin!
Bernie Sanders
Bernie is going to take this time to get set up on the Youtube so he can continue making videos once again asking for us for our financial support. His wife, Jane, will be his videographer, and they will go widely unseen since Bernie doesn't realize it's all about the TikTok at this point. He will ignore Hulu's repeated recommendation that he stream "Hillary."
Bernie will also, of course, take this time to really lean into his bedhead and socially distance himself from any type of hairbrush or comb. Jane supports him in this journey because their love is pure.

Elizabeth Warren
Liz will be damned if this quarantine stops her from being productive. She's color-coding her closet, reorganizing the food pantry, doing her friend's taxes, and making spreadsheets simply for the fun of it.
If she, her husband, and Bailey want to watch a movie? You bet your sweet ass Liz has made a PowerPoint presentation breaking down which options are best and why.
Liz will, of course, continue coming up with bulletproof political plans that will go underappreciated by the American public.
Mike Pence
Things are finally as God intended: Pence is at home with Mother, away from any other nasty woman's presence.
Here, Mother can provide Pence with the 8 glasses of warm, whole milk he requires per day, while she reads him the Hyde Amendment (the legislative provision barring the use of federal funds to pay for abortion) out loud to soothe him. All is well.

Mitch McConnell
Mitch McConnell will treat social distancing the same way he treats his time on Capitol hill: by ignoring the many bills currently on his desk that could literally save lives. He and his wife, Transportation Secretary Elaine Chao, will further map their path to corrupt the federal entire government until McConnell is exposed to the virus, after which he will retreat back into his shell to self-quarantine for 14 days.
Joe Biden
Tbh who fucking knows, but I can confidently predict he would go on live TV and say something like, "I spent my quarantine time like I did every Christmas as a kid: riding my tractor down to the graveyard to have chicken fights with Ol' Man Popsicle Stick, who, have you me, under many things, as they say, would not, on account of, you know, the thing."

AOC
No amount of social distancing can stop this content queen from setting Twitter ablaze with her hot takes. Anyone with a bad take is getting retweeted WITH comment and dragged to clap back hell.
No internet troll is safe. No conservative commentator can hide. She's coming for you.
Susan Collins
Hopefully sitting in a corner and thinking about what she's done. And then regretting it.
That's all I'll say on that.
Brett Kavanaugh
Speaking of Susan Collins…
You just KNOW Brett is the guy who is going out to crowded bars and getting blackout, even after we've been told to socially distance ourselves.
Nothing can stop him from going out with his boys Tobin, Squi, and P.J.!!! Time to chug some beers and FSU because this is AMERICA and no one can tell him no (and if they do it will not compute).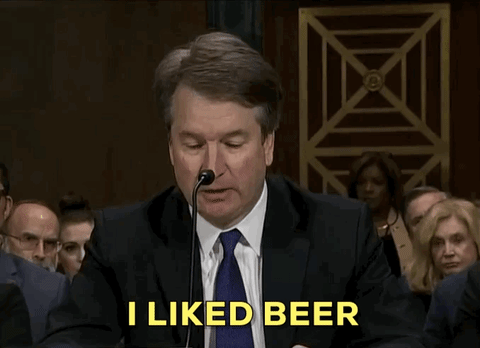 RBG
A GoFundMe has been put together to provide RBG with a glass box, a la the one Joe locks his victims in in You, but obviously less creepy and fully equipped with everything Ruth needs for her daily workouts.
Food and water will be brought to RBG by a person in a hazmat suit, who will deliver it through a small opening in the box. Again, much like Joe from You, but with the intent to keep this woman tf alive, not to kill her. She is routinely let out so she can be measured for the top-secret, Bloomberg-funded RBG clone that we are definitely not making.
Cory Booker
Cory Booker gets to spend his quarantine time the way we all wish we could spend ours: with Rosario Dawson. The two are finally together without the distractions of his busy political life and her busy celebrity/being a perfect person life.
With this extra free time, Cory will of course continue to pursue his passion of tweeting out bad jokes about coffee. Fuck it, he might just turn it into a passion project and make a coffee table book full of lame coffee jokes. The perfect present for all of our dads.
"Sleep" and I broke up a few nights ago. I'm dating "Coffee" now. She's Hot!

— Cory Booker (@CoryBooker) May 29, 2009
Maxine Waters
Maxine Walters will be reclaiming her time, tyvm.
Donald Trump
Social distancing as president is what Trump had always thought this job would be like. He's locking himself in his room, ordering all the McDonald's fish fillets in the greater D.C. area, stockpiling Diet Coke, and watching Fox News.
Melania is pretending to have COVID-19 as an excuse to not be near him.
At long last, peace, quiet, and a lack of total responsibility. America is finally great again.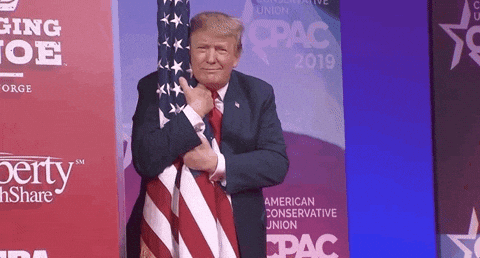 Want more stories like this? Subscribe to the Betches Sup newsletter for a lunchtime briefing to make you laugh, instead of cry, about the news.
Images: Giphy (5)
A Troll Tried To Shame Alexandria Ocasio-Cortez And It Totally Backfired
Well folks, it finally happened. The right figured out how to savagely take down left-wing, newly sworn in congresswoman and bold lip legend Alexandria Ocasio-Cortez. The battle has been won, as a Twitter user dragged Ocasio-Cortez by posting a video of her *checks notes* innocently dancing along to a song from The Breakfast Club and seemingly having some sober fun on a college campus?
That's right, some idiot thought he could destroy the voice of our generation by exposing her as a great dancer who also went to Boston University. Nice try, asshole. The whole thing obviously backfired, because of course we are all obsessed with this adorable video of AOC showing off her dance moves as a youthful, adorable college kid. I mean, weird that she's on the rooftop of her college and not learning how to poorly blow smoke O's while smoking weed out of a carrot, but I'll let that slide.
The original (which has since been deleted of course) read:
Here is America's favorite commie know-it-all acting like the clueless nitwit she is…
…High School video of "Sandy" Ocasio-Cortez
Here's the video from some other guy so you can watch it yourself:
…High School video of Alexandria Ocasio-Cortez — Congratulations New York! pic.twitter.com/VSKdUImhZj

— Dan Jordan (@realdanjordan) January 2, 2019
A big LOL to the fact that conservatives think a woman being sworn into Congress should be discredited because she once ~danced~ as a teen, but are totes fine with the fact that a man was sworn into the Supreme Court after eye witnesses told stories about him belligerently punching a man in the face at a bar for literally no reason and putting his dick in a woman's face at a college party just for funsies. Not to mention, he had a friend name Squee…and casually was accused of sexual assault by multiple women. Very cool and very legal.
Anyway, the internet responded as it should for once and was like "lol what r u talking about tho?"
And here's the live footage of my initial response to the video:
Anyway, republicans are clearly obsessed with AOC (just wait til you read the eventual comments on this article…wow) and they're honestly starting to look v desperate. Looking forward to their next devastating takedown of her, in which they release a clip of her curing cancer while rocking red lipstick and revealing that she's also an incredible singer or some shit. Keep 'em coming guys, these are honestly entertaining.
Update: AOC has responded, and because she's AOC, it's the f*cking best:
I hear the GOP thinks women dancing are scandalous.

Wait till they find out Congresswomen dance too! ????????

Have a great weekend everyone 🙂 pic.twitter.com/9y6ALOw4F6

— Alexandria Ocasio-Cortez (@AOC) January 4, 2019

Heads up, you need to keep up with the news. It's not cute anymore. That's why we've created a 5x weekly newsletter called The 'Sup that will explain all the news of the week in a hilarious af way. Because if we weren't laughing, we'd be crying. Sign up for The 'Sup now!