Why You Need To Start Using Vitamin C In Your Skincare Routine
Until about two years ago, whenever someone mentioned vitamin C, my mind automatically went to orange juice. Now, though, I am an adult who associates orange juice with hangovers and vitamin C with skincare. If you're one of those people who just learned to moisturize like, two years ago, then I understand why you'd be skeptical of adding another ingredient to your skincare routine. After all, you've got cleansers, toners, serums, night cream—is vitamin C really necessary, or is it one of those things the beauty industry tries to push on us that we don't really need? Well, like it or not, vitamin C falls into the "actually necessary" camp. But don't just take my word for it—we spoke to board-certified dermatologist Dr. Shari Marchbein on why incorporating vitamin C into your skincare routine is actually important, and how you should be doing it.
Dr. Marchbein says that "Vitamin C is a powerful antioxidant that helps protect from and repair free radical damage, can reduce the appearance of brown spots, and even out skin tone." **buys 87 vitamin C-based serums** If you share my dream of perfect skin, keep reading for a few more benefits of vitamin C and why you should incorporate it into your skincare routine. 
Why Should We Incorporate Vitamin C Into Our Routine?
As I mentioned, vitamin C is as preventative as it is reparative, so working it into your skincare routine immediately is a good call. Like Hannah Ann upon arrival to the Fantasy Suite, I was hesitant to introduce a new ingredient to my sensitive skin, especially one that's associated with anti-aging, because tbh I'm only 26. Starting anti-aging processes too early can actually be bad for your face because certain ingredients (think retinol, hydroxy acids, and peptides) are too aggressive on your still-young skin, and will actually backfire by speeding up the aging process. Yikes, who knew?
However, vitamin C protects against free radicals, which, without going into too much science, are damaging to your skin and are found in everything you'd assume would be bad for your skin: pollution such as smog, dust, and cigarette smoke, as well as our frenemy, the sun. Vitamin C works both as a shield against free radicals and also to lighten dark spots on the skin. Basically, vitamin C is your new best friend. To drive my point home, Dr. Marchbein adds, "Vitamin C also plays a critical role in the formation of collagen (which is one of the many reasons dermatologists recommend the daily application of vitamin C to the skin each morning)."
Can Anyone Use Vitamin C?
Simple answer? Yes. However, for people who want to see a result rather than just practice preventative caution, vitamin C is especially good for you because it visibly lightens dark spots. If you have acne scars/marks that haven't completely faded, sun spots, etc., vitamin C will help even out the skin and take the dark out of those areas of your face and neck. Dr. Marchbein says, "For those with acne, use vitamin C to help lighten and prevent further darkening of post-inflammatory hyper-pigmentation." Hyper-pigmentation is a fancy word for dark spots caused by an excess production of melanin, and can be caused by non-active acne, sun damage, or changing hormones during pregnancy. While hyper-pigmentation is usually harmless, vitamin C will help diffuse the darkness of those affected areas.

Are There Any Downsides To Using Vitamin C?
Like the worrywart that I am, I had to ask. Dr. Marchbein urgently stresses the importance of wearing SPF if you're using vitamin C during the daytime. Obv, you should wear SPF anyway, but especially so if you're trying to break down your dark spots. The sun naturally darkens your skin (duh), so asking your vitamin C to lighten a few spots while the sun goes to work is a little counterintuitive, right? She warns that while "Vitamin C serums do not inherently make you more sensitive to the sun," it's possible that some products "may be combined with other ingredients that might." Regardless, she also advises, "since UV damage is the ultimate skin-ager, causes wrinkles, sunspots etc, wearing daily SPF 30+ is the most important step in any morning skincare routine."
What Type Of Products Should You Be Using?
Personally, I use Image's Vital C Hydrating Facial Cleanser because it leaves my skin feeling clean, but without the tight, stripped of all life feeling that other cleansers offer. After using it for nearly a year, I have definitely noticed a more radiant look and literally zero dark spots. However, if you want something a little more dramatic, Dr. Marchbein suggests using a serum because the active ingredients (namely, the vitamin C) will be more concentrated.  "Remember that not all serums and ingredients are created equally," she says. "A vitamin C serum from one brand may be vastly different from a vitamin C serum from another brand based on the strength, other ingredients it is formulated with, how it is packaged, and whether it is exposed to light which can oxidize it." She tells us, "It's important to pick products with active ingredients that have good science and research behind them." Preach, doc. Generally, the products that oxidize aren't worth your money because oxidized vitamin C is pretty ineffective. 
She adds , "Skinceuticals Phloretin CF, Skinbetter Alto Defense serum, and Isdinceutics Flavo-C Ultraglican Antioxidant Ampoules are some of my favorite medical-grade antioxidant vitamin C serums." But if you want something a little less intense, she recommends Ole Henriksen Truth serum, CeraVe Skin Renewing Vitamin C serum, La Roche-Posay Pure Vitamin C, Olay Tone Perfection Serum Vitamin B3 + Vitamin C, and Drunk Elephant C-Firma Day serum. 


Skinbetter Alto Defense serum

Flavo-C Ultraglican Antioxidant Ampoules


CeraVe Skin Renewing Vitamin C Serum


Olay Tone Perfection Serum Vitamin B3 + Vitamin C
Well, there you have it. Your soon-to-be-flawless mug can only benefit from using vitamin C products regularly. After chatting with Dr. Marchbein, I picked myself up two serums, the Drunk Elephant one she recommended and a cheaper option from Glossier (Super Glow). It hasn't been long enough to decide which is better, but my skin hasn't revolted against me (yet) for introducing two new products into my routine, so I'm counting this experiment as a success in my book. One thing to remember, though: everyone's skin is different, so if a product has rave reviews, but sets your skin on fire when you use it, that doesn't mean it's a sh*t product; it just means that you need something a little less concentrated (like a cleanser!). 

Drunk Elephant C-Firma Day serum

Glossier Super Glow vitamin C and magnesium serum
Images: Noah Buscher / Unsplash
Betches may receive a portion of revenue if you click a link and purchase a product or service. The links are independently placed and do not influence editorial content.
6 Night Creams That Will Fix Your Skin While You Sleep
None of us ever get the amount of sleep we actually need to function as a contributing member of society, and we most definitely do not get our beauty sleep, ever. There's always something that seems to f*ck up our sleep schedule and give us Crypt Keeper skin overnight—things like taking 2am tequila shots, binge-watching The Bachelor, or just stressing out over f*ckboys' texts. All the Starbucks, organic smoothies, and contour sticks in the world will only work for so long. You may think it's too soon to start buying night creams while you're 20- or 30-something years old, but you'd be wrong. Overnight creams are actually the life-saver we don't nearly appreciate as much as we should. They're like, so hydrating, anti-aging, and v brightening. Amazing, so here are the best night creams you should buy if you want to wake up with flawless-looking skin.


The Tula Beauty Sleep Overnight Repair Cream works its magic while you sleep, smoothing your wrinkles and brightening your skin overnight so that by the time you wake up, you will look as fresh and glowing as ever. The cream can be used for all skin types and has fruit extracts and probiotics to hydrate and nourish your skin. We love to see it.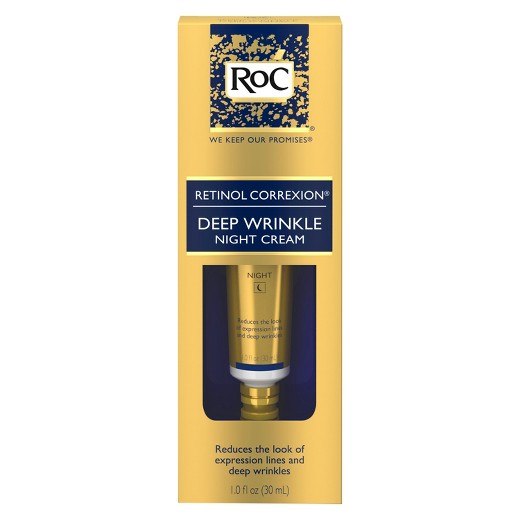 If you didn't already know, retinol is basically like, crack for your skin. And I mean that in the best way possible. It actually reverses aging, tightens big-ass pores, and helps your wrinkles disappear ASAP. It smoothes and evens out your skin tone, so eye bags and tiny lines are gone.

Again, this is full of that good sh*t, aka retinol, so already you know it's amazing. It's super lightweight and creamy, so you won't feel like a greaseball after putting it on. It tightens your face (but not too tight that it feels like you just got botox), and it reduces any signs of wrinkles by the time you wake up.

This soufflé (which sounds bougie and great already) helps your skin get some beauty sleep of its own overnight. Think of it as rubbing Chobani on your face before bed. Okay, well, it sounds better in theory since Greek yogurt is a natural skin-soother, softener, and hydration-giver, but I swear this sh*t is good. It's a facial mask and night cream in one, so you wake up feeling refreshed and looking five years younger.

Most overnight creams can be ridiculously expensive and cost like, more than your average bar tab. However, there are still some good options at your nearest drugstore that work just as well. Our good ol' go-to Neutrogena cream is full of vitamins for a deep moisturizing, oil-free, non-comedogenic wrinkle cream that won't make you break out.

Anything from Philosophy is obviously amazing, so this speaks for itself. The Renewed Hope in a Jar helps combat winter dry skin throughout the night and provides you with literal glowing skin by the time you wake up for work in the morning. It's fab for sensitive skin so you def won't wake up to pimples, and it refines your skin tone so there aren't any awkward red or discolored patches.
Betches may receive a portion of revenue if you click a link in this article and buy a product or service. The links are independently placed and do not influence editorial content.
Images: Linda Prebreza / Pexels, Giphy (1)
How Far Is Too Far When It Comes To Fillers?
If the women gracing our reality TV screens are any indication, the fillers trend isn't slowing down anytime soon. The statistics confirm this: in the United States, the use of fillers has increased tremendously from 1.8 million procedures in 2010 to 2.68 million in 2018, according to data from the American Society of Plastic Surgeons. With so many people going under the needle, I *Carrie Bradshaw voice* couldn't help but wonder: are fillers even safe? To find out, I spoke with Dr. Oren Tepper, a board-certified plastic surgeon, and the Director of Aesthetic Surgery at Montefiore Health System.
What Exactly Are Fillers?
Like the name suggests, fillers are used to fill in wrinkles and other creases or depressions on the face by injecting a substance into the facial tissue. There are a variety of substances that can be used depending on what the patient is trying to achieve and the doctor's preferences. Some examples are hyaluronic acid, collagen, fat and even stem cells.
Who Are Good Candidates For Fillers?

Because fillers can be used to address so many different facial issues, most people are good candidates for fillers. As far as the age range, Dr. Tepper says he has seen patients as young as in their twenties to those in their elderly years taking advantage of the procedure.
Who Should NOT Get Fillers?
Of course, those that have had bad reactions in the past are more likely to have issues again. You should also avoid fillers if you have a bleeding disorder, inflamed skin, are taking blood thinners, are pregnant or breastfeeding, or have a history of an allergic reaction to fillers.
What Are The Side Effects?
Swelling is to be expected and can range from being minor to requiring a few days to a week to subside. More seriously, a bluish discoloration can occur if the fillers are injected too close to the skin and, in rare cases, if the filler finds its way into the bloodstream, it can occlude the arteries and result in tissue loss. Dr. Tepper says that these more serious complications are relatively rare, however, occurring in fewer than 1% of cases. The FDA also cites scarring, blurred vision, and blindness as other rare but serious risks that can occur if the filler is injected into a blood vessel.
How Much Is Too Much?

According to Dr. Tepper, the general rule of thumb is that if somebody notices you have fillers, you've gone too far. I guess most Bravolebrities have yet to get this memo. The goal is to subtly enhance your natural facial features—key word being subtly. Another important factor is ratios. Dr. Tepper says that while "volume alone may not be the threshold for what makes somebody look unnatural or natural, the ratio of your upper lip to your lower lip is a real giveaway." Generally, when the upper lip is equal to or bigger in size than the lower lip, the result looks overdone and unnatural. What's worse, an oversized upper lip can actually make someone appear older. Too much filler on the upper lip pulls it down and accelerates its natural drooping, which, according to Dr. Tepper, is about 1 millimeter every decade. Great, now I have another thing to be worried about. Another option, if you're thinking of getting lip fillers in particular, is to take a more comprehensive approach and consider how you want your mouth to look as a whole. Dr. Tepper recently teamed with aesthetic dentist Dr. Jonathan Levine to introduce LipSync, a dual-specialty approach that changes both lip length and tooth position, so your entire smile looks better and you avoid the dreaded balloon lips effect.
But if you do go too far, there are some ways you can fix a f*ck up. According to the American Board of Cosmetic Surgery, mild irregularities like lumpiness or slight asymmetry may be fixed be massaging the area, which your provider can do or help you do at home. Certain types of fillers can be dissolved by injecting an enzyme (more on that in a sec), but otherwise, the best option is just to wait for the fillers to get absorbed by your body.
How Long Does It Last?

This depends on which type of filler is injected into the face. Dr. Tepper estimates that hyaluronic acid fillers will last anywhere from six months to a year and a half. One of the benefits of using hyaluronic acid is that if you are unhappy with the results, there's an enzyme that can be injected afterwards to dissolve the filler. For those seeking something longer lasting, approximately half of any fat injected as filler stays in the face, according to Dr. Tepper. While there are permanent fillers such as silicone, Dr. Tepper does not recommend using them. Not only are the results irreversible, they can lead to disfigurement, infection and other serious problems. Yikes.
What's This Going To Cost Me?
This varies tremendously depending on the filler used, the practitioner you go to and the area(s) to be treated, but Dr. Tepper estimated that the procedure usually costs about $1,000 per area on average.
Are There More Natural Alternatives?
While sadly there is no magic face cream that will annihilate your wrinkles and pay off your student loans, certain fillers are more natural than others. Using fat or stem cells may be a good choice for those who don't like the idea of injecting unnatural substances into their body. Dr. Tepper will often inject saline into the desired area to give the patient a sense of the results, but this only lasts several hours rather than several months. A lip lift is another procedure that can add volume without injecting filler. If you're looking for something sans needle, topical retinoids are a good preventative measure that can help fight wrinkles and hold off the need for the needle.
What Should I Know Before Committing?
It's important that patients considering fillers understand exactly what they are getting into. In Dr. Tepper's experience, many people mistake overdone filler for botched plastic surgery: "The overdone lips, the overinflated cheeks. Those are not surgical issues, those are overfilling." In order to avoid this, it's okay to start small and get a few injections in stages over a period of time in order to carefully assess the results instead of doing everything at once. This is especially true for those who haven't had the procedure before. Dr. Tepper uses MirrorMe3D, an innovative, new visual technology with the ability to scan and print out a 3D version of your face. This allows patients to see what they could and should look like following a procedure, as well as what has been done throughout the years in case they visit more than one doctor.
At the end of the day, fillers are generally safe and effective, so long as you stick to the non-permanent versions and visit a doctor with proper training and credentials. While it might seem tempting to click on that 50% off Groupon, refrain, lest you end up looking like a case study on Botched. Or, we could all just collectively agree that wrinkles are perfectly natural and forego the whole thing entirely. Crazy, I know.
Images: Sara Bakhshi / Unsplash; Giphy (3)
Injectables Are Less Stigmatized Than Ever, But Is That A Good Thing?
It's 2019, anxiety is a national pastime, and if you're in your mid-to-late-twenties or beyond, it means you're already worried about aging, which is probably not helping the situation. Now more than ever, there are options available to slow the formation of wrinkles, most intriguing among them being preventative Botox. In the procedure, smaller doses of Botox are used to relax fine lines so they will not become deeper and etched in over time. But injecting neurotoxins into your face also creates a stress of its own. Before you convince yourself everyone's doing it and you should, too, read on for questions you should consider first.
Do I Have To Start Now?
My FBI agent has been working extra hard because every Ad on Hulu & social media is something to do w/ Botox or plastic surgery. I ain't mad at em tho

— Cydney Kessler (@CydneyAg18) June 30, 2019
Preventative Botox has been shown to prevent signs of facial aging, but that doesn't mean that it is a one size fits all treatment. "I have 22-year-old patients who could potentially benefit from it and 42-year-olds who may not," says New York Dermatologist Dr. Dendy Engelman. "It's more important to pay attention to your skin than your age." Skin type, amount of sun exposure, and how expressive you are are a few contributing factors. Don't inject anything into your face without first getting a clue as to where you need it. A good rule of thumb: see if your skin holds an expression line beyond when you're making that expression. "Just because your friend or sister is doing it doesn't mean you should," says Engelman. She adds, "Even if it would be helpful, you may need it in a different part of your face than your friend for your best result."
What Are The Risks?
Does botox help resting bitch face? Asking for a friend.

— Lady Disturbed ? PAX West (@lladydisturbed) June 30, 2019
The increased interest in Botox, especially among a younger clientele, has given rise to aesthetic bars, designed in the style of blowout bars. They make injections both accessible and nonthreatening, because you can order them off a menu in a less clinical-looking space. But be wary of being able to order your injections à la carte. "You may end up getting what you ordered, but that doesn't mean you'll like it," warns Engelman. She notes patients often don't understand the best method to get the look they want, which makes shopping around for an injector problematic for your face. But that's nothing compared to the risk of nerve damage and (although extremely rare) blindness. So don't lose sight of the fact that's it's still a procedure. Engelman expresses concern that injectors at aesthetic bars may be less skilled than doctors who are constantly trained in new techniques, have extensively studied facial anatomy, and can expertly guide you through all available treatment options. 
Who Should I Go To?
one thing I love about the women in my generation is how transparent so many of us are about getting filler/Botox/plastic surgery – like yes go off get those smile lines filled honey get those new and improved titties and be proud of it

— it's ya boy, uh… (@SierraMayhem) June 30, 2019
"Anything that makes you feel prettier can be addictive," says Engelman. So, overdoing it is a possibility, especially if your injector is unlikely to tell you when enough is enough. If you start preventative Botox young, you should only need about two appointments a year, so be cautious of anyone who allows or suggests more. The best part about living in a time where people are open about their treatments? If you like someone's look, you can probably just ask someone what they're doing or who they're seeing. Similarly, Instagram can be a great way to research a doctor's particular aesthetic. But first, always check a doctor's certifications: "Just because there's an MD behind their name doesn't mean they are necessarily an expert in the field," advises Engelman. She recommends you go to a doctor who's board certified in dermatology or plastic surgery (these specifications should be easy to find on their website). And ask to see their personal patient before-and-after images, not just theoretical results. They should have them. "You want to make sure you're both on the same page," says Engelman.
Is Botox What Even I Need?
Remember years ago when Nicole was getting a ton of shit for her Botox treatments and now she's 52 looking 37 on Big Little Lies lmao pic.twitter.com/J2MQnXJjgZ

— Noah Cassiel (@NCassiel) July 1, 2019
Engelman says that young patients tend to come into her office asking about aggressive treatments when what they need is to focus on healthy skin care practices. She recommends getting into a prevention routine including antioxidants, a vitamin A derivative (aka a retinol or retin-A), and most importantly, SUNSCREEN. If you don't protect your skin but you're interested in Botox, "It's a little like sitting in your pulmonologist's office and smoking," says Engelman. Studies show up to 90% of your skin's aging is determined by UV radiation, which can come from the sun, infrared, or blue light. Translation: wear sunscreen 365 days a year, indoor and out, if you want to head off aging at the pass. See what an improvement it makes if you stick to a skin care routine for at least 8-12 weeks. It sounds simple, but you might be surprised at the results you get if you start taking care of your skin differently.
The amount of open discussion surrounding Botox and its widely increased availability makes it seem that the stigma surrounding injectables has all but disappeared. That is great. It was not healthy for us to believe that celebrities look the way they do year after year just because they drink a lot of water. It is great that, if you need intervention for something that you're self-conscious about, you need not be insecure about the treatment as well. These "tweakments" are now an open beauty secret. But just like anything else, scrolling through your Instagram feed can make the lives and decisions of others feel more effortless than they actually are. Feeling like you have to change your look or freeze your face in time—because otherwise you will look out of place around the people you surround yourself with (on the internet or in real life)—is still a problem. 
Images: NCassiel, SierraMayhem, lladydisturbed, CydneyAg18 / Twitter
7 Celebs Who Haven't Aged & Honestly It's Rude
No one wants to look old. That's just the way it is. Every year, we spend billions of dollars on serums and SPFs and masks that are all designed to hold off the fact that we're all getting a little bit closer to death. Sorry if that was dramatic, but it's the truth. Whether you're a botox aficionado or just obsessed with skincare, we all just want to age gracefully.
But somehow, there are certain celebrities who don't age gracefully. Instead, they seem not to age at all. While I'm sure this has something to do with being able to afford the best treatments, procedures, and products on the market, there's no substitute for good genes. I don't know what secrets these stars have up their sleeves, but they all look freakishly good for their age (or any age).
Reese Witherspoon
Reese Witherspoon is 43 years old, but she still looks the exact same as she did when she played Elle Woods for the first time. That was 18 years ago, in case you don't feel old already. This photo of Reese was taken two nights ago at the season 2 premiere of Big Little Lies, and I'm personally offended at how radiant her skin looks. She also has an amazing style that's classy and sophisticated, but never makes her seem older than she is. I want Reese to be my mom, but she looks more like my older sister if we're being honest.
Jennifer Lopez
Talking about Jennifer Lopez looking amazing is nothing new, but I'm still shocked every time I see a photo of her. Her killer body is thanks to a killer workout, but her face is just as flawless. My skin hasn't looked that good since I was nine years old. I truly would not believe that she was 49 years old, but she's been famous since before I was born. At this rate, she'll probably look this good after I'm dead, too.
Gabrielle Union
In the past, I've definitely been guilty of sleeping on Gabrielle Union, and shame on me for that. Gabrielle is hilarious, talented, and absolutely STUNNING. She posted the above photo a few days ago, while on vacation in Greece with her hubby Dwyane Wade. As evidenced in the caption, she is 46 YEARS OLD. Is she a witch? Did she make a deal with the devil? There is simply no other explanation. Gab just had her first child (god bless shady baby) last fall, but she's still going to be the hottest mom at daycare.
Paul Rudd
how the fuck is paul rudd 50????? what kind of water is this guy drinking?????‍♀️ pic.twitter.com/cceituhtDN

— gabrielle (@billionstark) May 31, 2019
I wasn't initially going to include any men on this list, but then I remembered that Paul Rudd TURNED 50 LAST MONTH. I don't understand this, because he still looks exactly like he did in Clueless, which was basically a quarter of a century ago. It's just not fair. On his birthday in April, everyone pointed out that this is what happens when you're charming and unproblematic, which is true. Find me anyone who doesn't love Paul Rudd, and I'll tell them why they're wrong.
Naomi Campbell
As a model, it's obviously part of the job description to be ridiculously attractive, but most models are out of the game before they turn 30. Naomi, however, just turned 49, and is still killing the game. She looked absolutely stunning at this year's Met Gala, and she also closed Valentino's most recent haute couture show. I would let her throw a cell phone at me literally any day of the week.
Jennifer Aniston
jennifer aniston is 50… IM pic.twitter.com/n4MaMsTSpM

— julia ? (@queerdeliagoode) May 30, 2019
I guess starring in one of the most successful TV shows of all time clears your skin right up. Jen turned 50 in February of this year, but her face is still frozen somewhere in the mid-90s. Minus the haircut, thankfully. Now all she needs to do is get back with Brad Pitt and it will really feel like we've all gone back in time.
Angela Bassett
See that woman in the photo? Yeah, she's 60. I'm super happy for all these stars looking ageless well into their 40s, but Angela Bassett really takes it to the next level. She's basically looked the same since the 1970s. She played a Voodoo priestess on one season of American Horror Story, so she must have put a spell on herself to never get a day older. It's working.
Who's your favorite ageless celebrity? Do you have any secrets to keep your skin looking fresh? What am I doing wrong? Bueller?
Images: Shutterstock; reesewitherspoon, jlo, gabunion, Naomi, im.angelabassett / Instagram; billionstark, queerdeliagoode / Twitter
Types Of Sunscreen That Are Bad For You & What To Use Instead
Look, I'll start this article by saying I'm no dermatologist. In fact, I'm like, the opposite—just a girl with a career in fashion and a degree in Communications. Credible, I know. But, regardless, I love me some good research and staying up-to-date on the latest in wellness. (With my greatest claim to "health extraordinaire" being that I switched my whole family over to almond milk before it was a mainstream thing to do so. Am I like, Dr.Oz??? ) That being said, I've come across a lot of articles recently about the potentially harmful effects of sunscreen, particularly chemical sunscreens. And, considering as a generation we're becoming hyper-aware of not only what we're putting into our bodies, but also on our bodies, I had to dig further into the matter. Especially since I'm like, v into skin care, too. A girl who works in fashion AND also happens to be into skin care?! Who would have thought!?! Did I mention I was in a sorority, too??? But like, believe it or not, I'm actually smart, and in my quest to better my own life and yours, I'm here to share my findings. Here are some suncreens that are not as harmful for you as some of the ones you might see at a drugstore near you.

Okay, so to put it into the most simplistic terms, there are two types of sunscreen: chemical and physical. One uses chemical ingredients that actually absorb the sun's rays to protect the skin, while the other creates a physical barrier to reflect them. And, as you can probably guess, the better-for-you option here is the one that creates the physical barrier. This is because, with a physical barrier, you're not absorbing all those potentially harmful chemicals into your skin. There are ingredients in chemical sunscreens that are thought to be endocrine disruptors, which may interfere with thyroid and hormone function. Unfortunately, physical sunscreens, typically mineral sunscreens, tend to be thicker and more pasty, which is a huge deterrent for most people. Fortunately though, nowadays, there are plenty of high quality and more sheer options. You know, so you don't have to look like Casper the friendly ghost strutting around the beach in your best bikini.

I know I'm going to crush a lot of souls here, particularly that of middle aged dads everywhere, but spray sunscreens are the worst culprits of the chemical sunscreens. Again, not only do you have to worry about the chemicals soaking into your skin, you also need to worry about breathing them in as well. *Sigh* Must everything in life we love be so bad??? Well, fortunately, no. Switch to a different type of spray sunscreen, such as the one above from BeautyCounter, which is a non-aerosol mineral mist, to help prevent a lot of those potential health risks while still protecting your skin.

I don't know about you, but I've trusted Neutrogena with my life. And apparently, quite literally. I've been using Neutrogena for my go-to face sunscreen, because if I'm going to put anything on this stunning face of mine, it should be a dermatologist approved skin care brand, right??? Wrong. Apparently, according to the EWG, Neutrogena is one of the top sunscreen brands to avoid because they use high concentrations of hormone disrupting chemicals. What else in my life has been a lie?? Of course, no one wants to be walking around with a white chalky face like a mime, which can be the case with some mineral sunscreens. So, try this one from Drunk Elephant, which is not only sheer, but also protective and even simultaneously addresses other skincare concerns as well.
I know this isn't what you guys want to hear, but, at the end of the day, the best way to protect your skin and overall health is to minimize the time spent in the sun. Or, if you must go in the sun, primarily protect yourself with clothing and beach accessories. Then, also follow with a mineral sunscreen, applied every hour or so. I mean, I definitely don't want to be an old wrinkly hag, and I certainly don't want skin cancer either. (#Priorities.) So, personally, I'll just be sticking with my trusty self-tanner. Sure, my hands may be orange, but that sure beats the health risks associated with too much sun exposure, or now even with my sunscreens. Thank you, next.
Images: @tomasalas / Unsplash; Attitude Living; BeautyCounter; Sephora
Betches may receive a portion of revenue if you click a link and purchase a product or service. The links are independently placed and do not influence editorial content.
WTF Is Red Light Therapy & Should You Try It?
It's no secret by now that I'm a fan of high-tech beauty hacks. So when I was offered the chance to write about red light therapy, I dove in—despite having absolutely no idea what it was. 48 hours later, I'm semi-seriously considering taking out a loan to buy a Joovv Elite and converting a wall of my (tiny) apartment into a red light therapy studio. (Don't worry, I'll explain what a Joovv is, my uninitiated friends.) But first, a rundown of WTF red light therapy actually is, how it works, and how quickly whether you should do it. 
What Is Red Light Therapy?
Red light therapy is, in the end, very much what it sounds like: a form of therapy for your body using red light. To be more specific, using wavelengths of red and near infrared light, and to be psychotically specific, using red light "in the mid-600 nanometer range" and near infrared light "in the mid-800s." (You do not need to understand these words in order to reap the benefits. But should you, for example, have a very irritating boyfriend who demands to know the science behind all your beauty treatments, you can now cite those numbers for him.) These wavelengths penetrate "roughly 5 millimeters below the skin's surface," stirring up all kinds of sh*t in your cells without damaging the surface of your skin. A win in my book.
How Does Red Light Therapy Work?
The reason such specific wavelengths are required is that you're going after a very specific effect: to strengthen the mitochondria in your cells. I've been waiting my entire adult life to use this fact that I learned in middle school, and here it is: the mitochondria is the powerhouse of the cell. Unfortunately, my understanding never went far enough to know what that means, so I dove back into my research. According to Healthline, the mitochondria creates energy, or energy-carrying molecules called ATP (adenosine triphosphate. Do I have a PhD yet?). When red light stimulates the mitochondria, it creates more ATP—and with more ATP, cells have more energy to get sh*t done.
can you imagine falling in love with someone who doesn't know that mitochondria is the powerhouse of the cell

— keely flaherty (@keelyflaherty) March 24, 2018
What Does Red Light Therapy Do?
To get a more nuanced view of red light therapy's effects, I spoke to Lindsay Malachowski, the Director of Operations at SKINNEY Medspa. First, I ran the effects I was most hoping were true by her: the wonders red light therapy is meant to perform for your skin. According to Joovv, a company offering at-home red light therapy devices, RLT is clinically proven to boost collagen production, reduce inflammation and redness, and improve the appearance of wrinkles. (I am aware that clinically proven implies there are clinical studies I could read. I prefer a more human approach.) When I asked Malachowski about these claims, she confirmed them as true—with some caveats.
Red light therapy, Malachowski explains, is "the most gentle form of photodynamic therapy:" AKA it's effective, but not going to get you the most dramatic results. Because it's LED rather than laser, and doesn't work directly on the surface of the skin, it provides less "significant changes" than a laser treatment like Fraxel or IPL. That's not to say RLT is useless—Malachowski specifically states that it's an effective treatment to reduce redness, inflammation, breakouts, and eczema, with the added benefit of having no downtime afterward. Finally, while she affirms that red light therapy "does stimulate collagen," she notes that here, too, it's not the most dramatic treatment available on the market. (For that, she recommends non-invasive ultrasound or radio-frequency like Ultherapy.)
When I next asked Malachowski about red light therapy's weight loss and fat reduction effects, she was notably less enthusiastic. According to her, there's "little scientific evidence" supporting those particular claims. She doesn't have much more to say about that, except to recommend CoolSculpting or EmSculpt to those looking for those results.
When I spoke to Joovv's cofounder, Scott Nelson, he directed my attention to a whole other side of red light therapy benefits: namely, those that don't immediately appear in the mirror (sue me, I'm vain). When I asked which groups of people would benefit most from red light therapy, he mentioned immediately that it can lead to "better-looking skin," but he also mentioned people suffering from joint pain, trouble sleeping, or struggling with muscle recovery. He also mentioned that "elite athletes" use red light therapy to achieve "that edge" when it comes to increasing their performance or cutting down their recovery time. For what it's worth, Joovv's clients do include pro athletes Zach Johnson, Anthony Pettis, and Duncan Keith. As for better sleep, he says that using red light therapy "on a regular basis" will quickly improve sleep quality and REM cycles.
So, Where Do I Get It Done?
Good question! Certain salons and spas offer red light therapy treatments, including SKINNEY MedSpa. (It's not offered as a service on its own, but it's a 20-minute portion of their Hi Tech Facial, and they also offer it after Botox, filler, and Fraxel treatments to speed up healing.) Other treatment settings might include lying in a red light therapy bed for 20 minutes, offered by aesthetician Mzia Shiman in NYC.
If you're looking for an at-home version (a phrase I've always personally been happy to hear), Joovv sells red light therapy devices in sizes ranging from purse-friendly to a six-foot-tall wall-mounted model. For these, Nelson recommends a daily treatment of 8-10 minutes, standing three to six inches from the device. When I asked how quickly you saw results (I'm impatient, okay?), he let me know that effects like pain and inflammation relief could be seen in a single session. Effects on the skin, however, would take up to 4-6 weeks of daily treatment.
So, will I be marching out to begin my 4-6 weeks of dedicated red light therapy? Honestly, definitely, but I'm not a hard sell on products that promise to solve all my problems. While experts may not agree on all the effects of red light therapy, there does seem to be substantial scientific evidence that it's a useful treatment for skin quality, pain relief, and improved sleep. Other claims you can test for yourself, and write blog posts about if you so choose. But if this treatment is even half as effective as the clinical trials supporting it would suggest, I'd say it's definitely worth a shot.
Images: @skinneymedspa, @jolenegoring / Instagram; @keelyflaherty / Twitter
I Actually Believe In Day And Night Creams Now—Here's Why
As someone who reads and writes about skincare on a daily basis, I find myself hitting something I call "skincare fatigue." Just when I'd mastered toner (kind of), I start hearing about serums, retinol creams, and whatever the f*ck an "essence" is. Thankfully, the concept of day cream vs. night cream isn't new to me—but actually using a different moisturizer for morning and evening is. I'd always kind of figured that "needing" two different moisturizers was just a way for companies to sell you more products. But three weeks in to my new regime, I'm sold. Here's why.
Night Cream Needs Time To Sink In
The purchase that kicked off this whole venture is Tatcha's Dewy Skin Cream, a moisturizer I feel confident in calling pure magic. From the moment I got my hands on all that silky lavender goodness, I loved it so much I wanted to take a bath in it. This moisturizer has brought my skin back to life after a night out, scared burgeoning pimples back into hiding, and—praise be—NOT activated my rosacea, which just about every other celeb-approved moisturizer does. (Looking at you, La Mer. I wanted so badly to love you.)

Now that my shameless Tatcha evangelizing is out of the way, on to the real point. Because I was so excited about this moisturizer, I was using it morning and night—and quickly realized my mistake. I have a four-step routine I stick to: cleanser, toner, treatment, moisturizer. Because the sun exists, and because my skin is so dry that sunscreen alone does not moisturize it, I have to follow up that four-step routine with an SPF cream in the morning—all before adding any makeup.
Now, anyone who's tried to quickly apply five different face products and then add foundation on top will immediately see the problem here. My beloved Tatcha moisturizer is on the thicker side, which is perfect for my dry skin—but it takes a solid 15-20 minutes to be completely absorbed. That would be fine if it were my only morning skincare step, but I also have to give my toner and treatment steps 5-10 minutes each to sink in. That gets us up to 30 minutes on pre-make-up skincare, minimum. In my week of trying to use the Dewy Skin Cream as a day cream, I don't think I managed to put foundation on once. Since I never had enough time to let the moisturizer sink in all the way, even my sunscreen was barely getting absorbed—which means I was going out looking like a greasy, white-tinged mess.
Note: Dewy Skin Cream isn't advertised specifically as a night cream—there's a different night cream from that product line—but that's how it works best for me. As a rule, night creams will be thicker than day creams, and are formulated to moisturize while you sleep.
Me, waking up post-Tatcha moisturizer: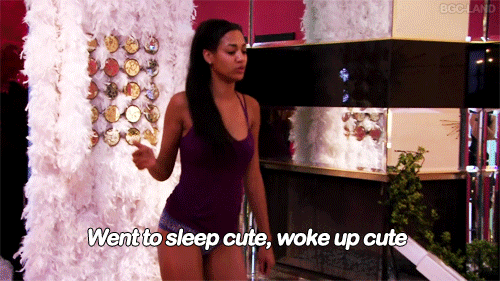 Day Cream Protects; Night Cream Repairs
Day cream, I learned, has one major job: to protect your face from the sun, so basically to contain as much SPF as you can stand. (For reference, I use SPF 46—do not come at me with your SPF 15 liquid foundation). Like I said before, I have a special breed of lizard skin that requires me to pair said SPF 46 lotion with a second day cream—but if you have the option of combining these steps, I strongly recommend you do. I love this one from Origins (so brightening), or this SPF 50 IT Cosmetics CC cream. (No, I don't know what a CC cream is, and my head will explode if I research further.) I own this cream, and would refer to it as somewhere between light coverage foundation and tinted moisturizer.

Scott Disick knows what's up, a sentence I never thought I'd utter.
If you are like me, and SPF products aren't moisturizing enough on their own, I recommend a super lightweight cream that sinks in quickly. My personal fave for this is Cerave, which makes both a day cream and a night cream.
While day cream bears the brunt of sun protection, your night cream can and should have active ingredients too. We've already discussed the benefit of adding retinol to your daily routine, and 2019 is heading toward being the year of glycolic acid. These ingredients are both great, because they help speed up cell turnover, AKA get rid of the dead skin and bring in the new, better skin. Very scientific, I know. However, both of these ingredients also make your skin more sensitive to the sun. I can personally attest to this—this past December, I used a retinol oil and then went out for a day of skiing. Within 24 hours, I developed dark, rough patches of sunburn on my face like I'd never seen before, and they lasted well through New Year's Eve. Happy 2019 to me!
So, while retinol and AHAs are a good addition to night creams, they should absolutely be avoided in your day creams. On the flip side, you're welcome to put on SPF at night—but unless you're sleeping at a campsite, I'm not sure why you would.
Ultimately, you could just say f*ck it and use the same lightweight moisturizer with zero active ingredients for both day and night (plus sunscreen, obv). But if you have skin that's on the dryer side, I highly recommend investing in a thicker night cream—and not making the mistake I did of piling it on in the morning, too.
Images: Tatcha; Giphy (2)